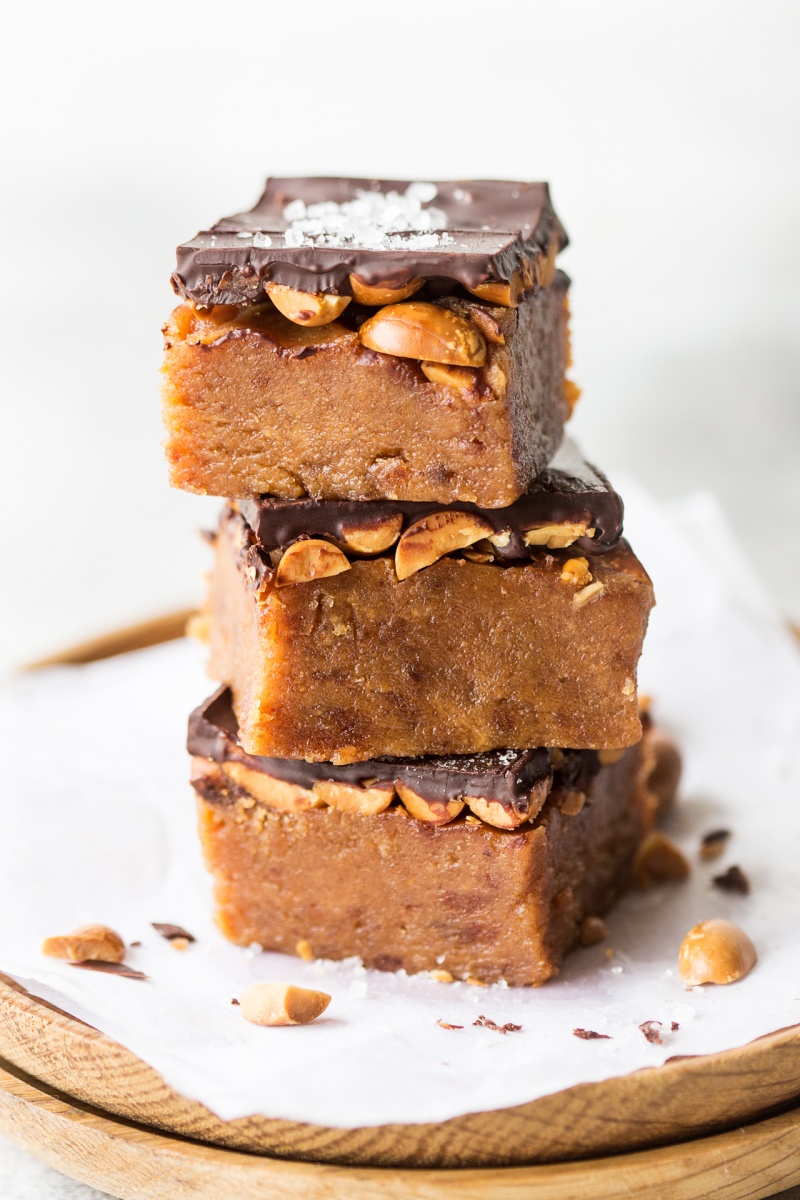 Happy weekend, you guys! Hope this week has treated you well and that the weekend continues in the same vein. I've had a bit of a challenging start to the week – felt a bit low – but things fell back into place towards the end and I thought I would celebrate with a sweet recipe for peanut butter fudge!
While stuffing our faces with photoshoot leftovers, Duncan and myself mused over how we have both had a strange love and hate relationship with peanut butter (separately as we didn't know each other then). We both did not try peanut butter until our twenties (it wasn't big in post-communist Poland, I tell ya) and neither of us got what all the fuss was all about. Nowadays, we both love it, Duncan so much so that he has it on his bagel pretty much every single day.
I appreciate its taste too, but I have a mild allergy to it so I tend to have it very sparingly and only occasionally. One thing I cannot resist though, is peanut butter combined with dark chocolate and a hefty pinch of salt, which is what this fudge pretty much is, with the addition of a layer of roasted peanuts for some extra crunch.
It's easy to make, delicious and requires no oven time whatsoever, which I thought those of you who are still lucky to have hot summer weather might especially appreciate. The fudge layer has been sweetened with nothing but dates and the chocolate layer can be either dairy-free dark chocolate or coconut oil mixed in with raw cacao powder and a touch of maple syrup (or other sweetener of your choice). I hope you will enjoy it as much as we do!!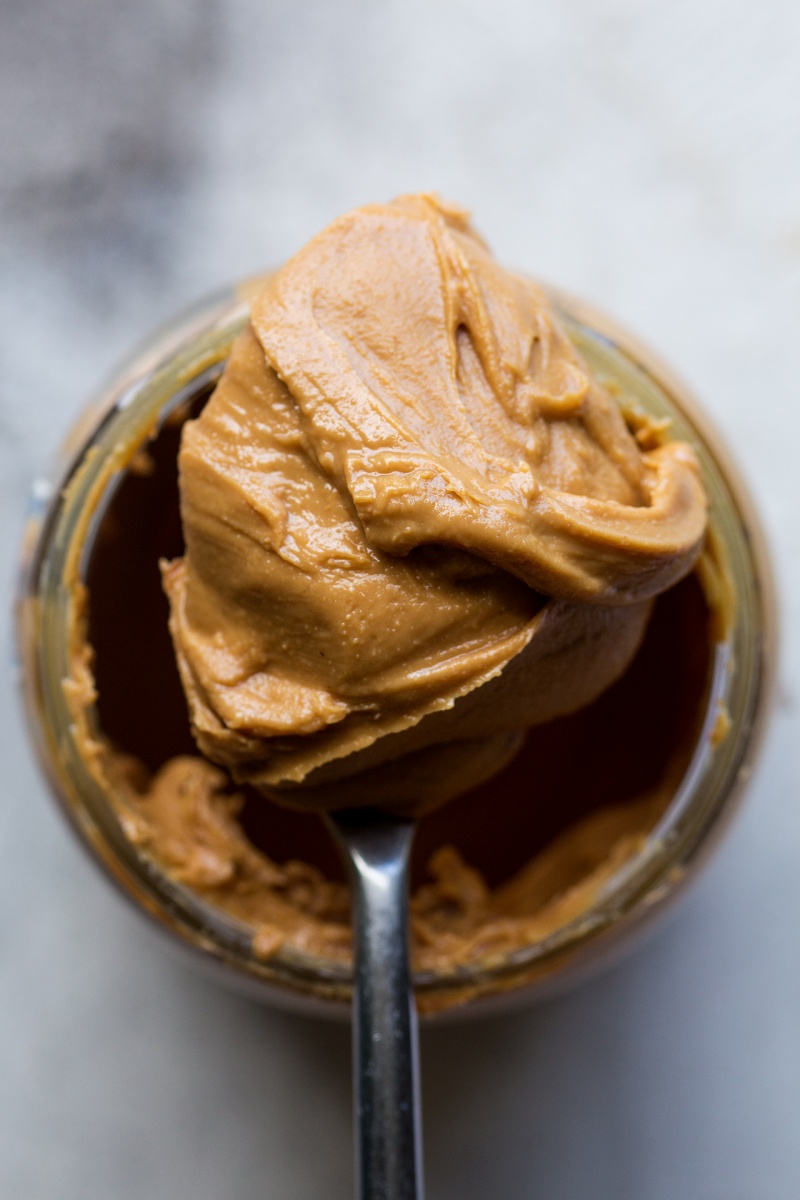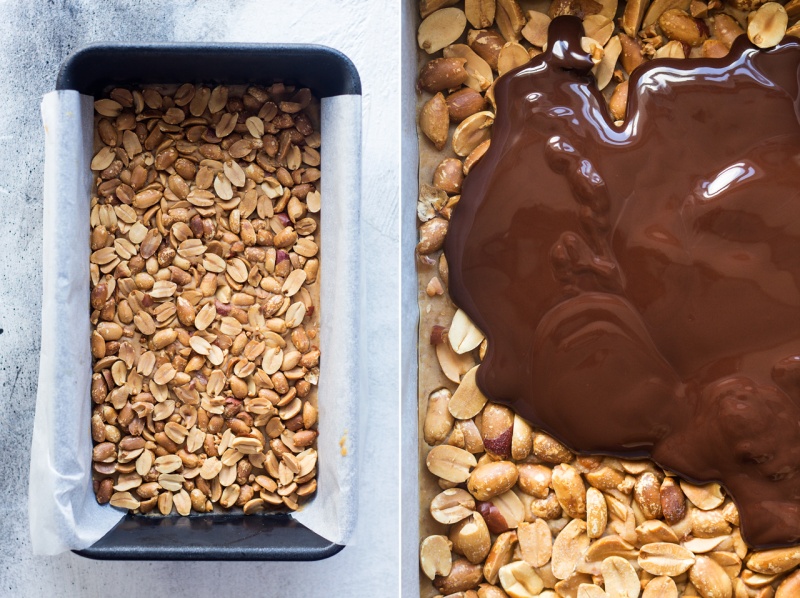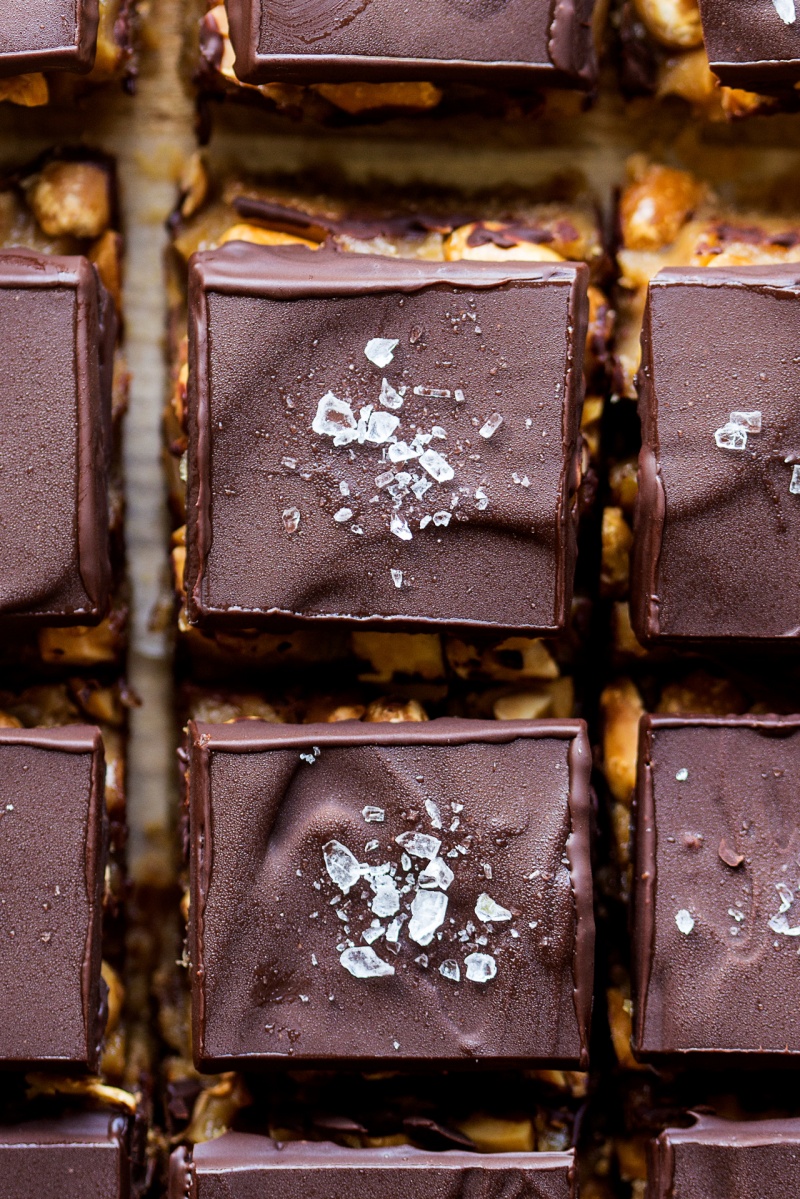 PEANUT BUTTER LAYER
250 g / 9 oz / approx. 10 Medjool dates*, more to taste
4 tbsp / ¼ cup coconut cream (I scoop mine from a tin of chilled full fat coconut milk)
240 ml / 1 cup smooth peanut butter (I used this brand)
110 g / ½ cup roasted or unroasted** peanuts
CHOCOLATE LAYER (optional)
100 g / 3 oz vegan dark (70%) chocolate
ALTERNATIVE CHOCOLATE LAYER (optional)
METHOD
Pit the dates and chop them roughly. Put them in a food processor and process until a fairly smooth paste forms. Add the coconut cream at this point, especially if the date mixture appears too dry to blend well.
Add the peanut butter, process until just combined. Take care not to process it for too long as it may release peanut butter oil, making the mixture greasy.
Line a baking tin or a tupperware box (I used a baking tin of the following dimensions 12 cm / 4.5″ x 22 cm / 8.5″) with a piece of baking paper. Press the peanut mixture into the box neatly. Place in the freezer for 20 minutes to firm up.
Gently melt the chocolate over a double boiler. Alternatively melt coconut oil over a double boiler but do not let it get hot. Once melted, whisk in the cacao powder and maple syrup. Allow the chocolate layer to cool down so that it isn't warm to the touch, but remains pourable.
Sprinkle a layer of peanuts on top of the chilled fudge and embed them into the mixture by applying light pressure with your hand or the bottom of a glass.
Pour the chocolate layer over the top, even the layer out and place it in the freezer for a few hours (I tend to keep it in the freezer overnight), until set.
Cut into pieces with a heated-up knife – if you have a gas stove, simply warm the knife on a burner. Sprinkle the top with coarse salt if using. Store in an air-tight container in the freezer.
NOTES
*I recommend using Medjool or other soft and sticky dates as you will get a better texture if you don't have to use boiling water to soften the dates. If that's not possible and you do have to soak your dates first, make sure you wring them out really well before processing.
**If all you have are unroasted peanuts, you can roast them in a 180° C / 355° F oven for about 15-20 minutes, giving them a stir now and again. Cool them down before using.