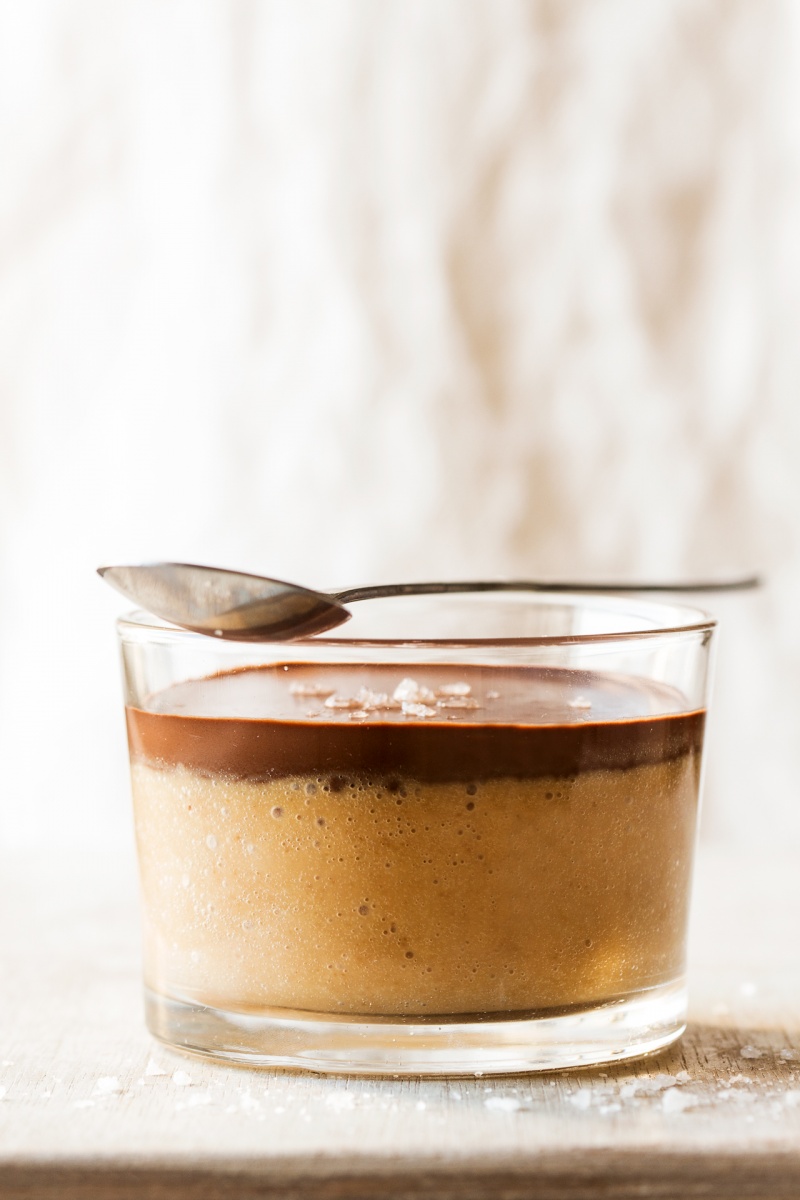 Man, it was so haaaaard to keep this recipe under wraps! It took a lot of tries to get this puppy just so and once I finally succeeded, I was so excited I wanted to share!! Duncan says I'm like an excitable little bird sometimes, especially when it comes to food discoveries. I'm declining to comment… 😉
So this indecently fluffy peanut butter mousse with creamy chocolate ganache on top was destined to be published later in the year, but there was no way I was gonna wait that long!
It owes its fluffiness to my favourite vegan egg replacer – the magical chickpea brine, also known as aquafaba. Now that I've done two successful chocolate mousse recipes with it (healthy and less healthy version), I have decided to be more daring when it comes to the flavour profile and see if I can marry it up with peanut butter, which I am obsessed with lately, BTW. I had my work cut out and many failed attempts under my belt, but the end result was well worth the effort, in my opinion!
This dessert was, in part, inspired by GU pots, which I used to console myself with when living in London and doing a job I didn't get on with. Yes, I know that ingesting sinful chocolate desserts on a regular basis wasn't going to help my job situation, but it sort of made sense at the time… And just like GU pots, this may seem like a small dessert but don't be fooled, it's pretty rich so a little goes a long way.
The peanut butter layer is peanutty, fluffy and sweet. The ganache that sits on top is creamy and not very sweet (although it does depend on the chocolate brand you use, the Greek brand I use isn't that sweet), which contrasts nicely with the peanut butter mousse below. And a delicate sprinkling of salt on top complements both very well and adds yet another flavour dimension.
If you don't want to use a chocolate bar, you can also make a ganache from raw cacao powder and coconut oil and sweeten it to taste. I recommend leaving it fairy savoury. Whatever you do, just make this mousse!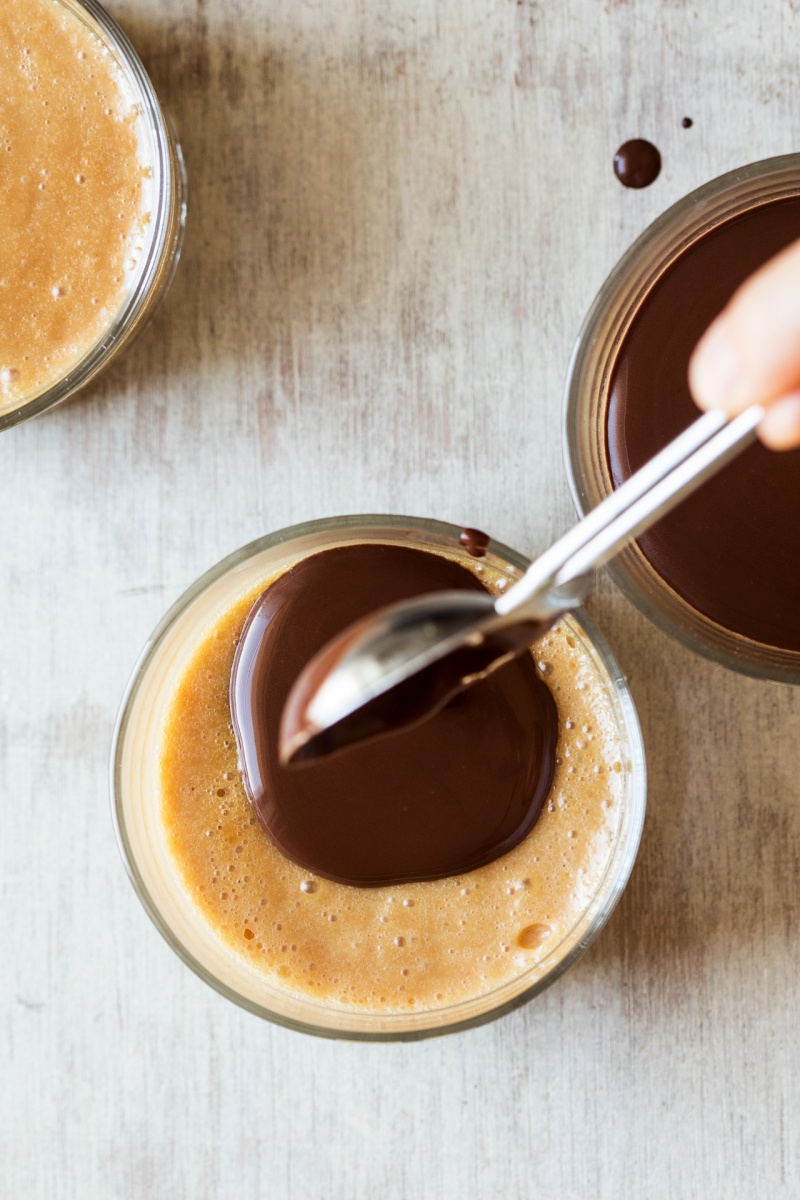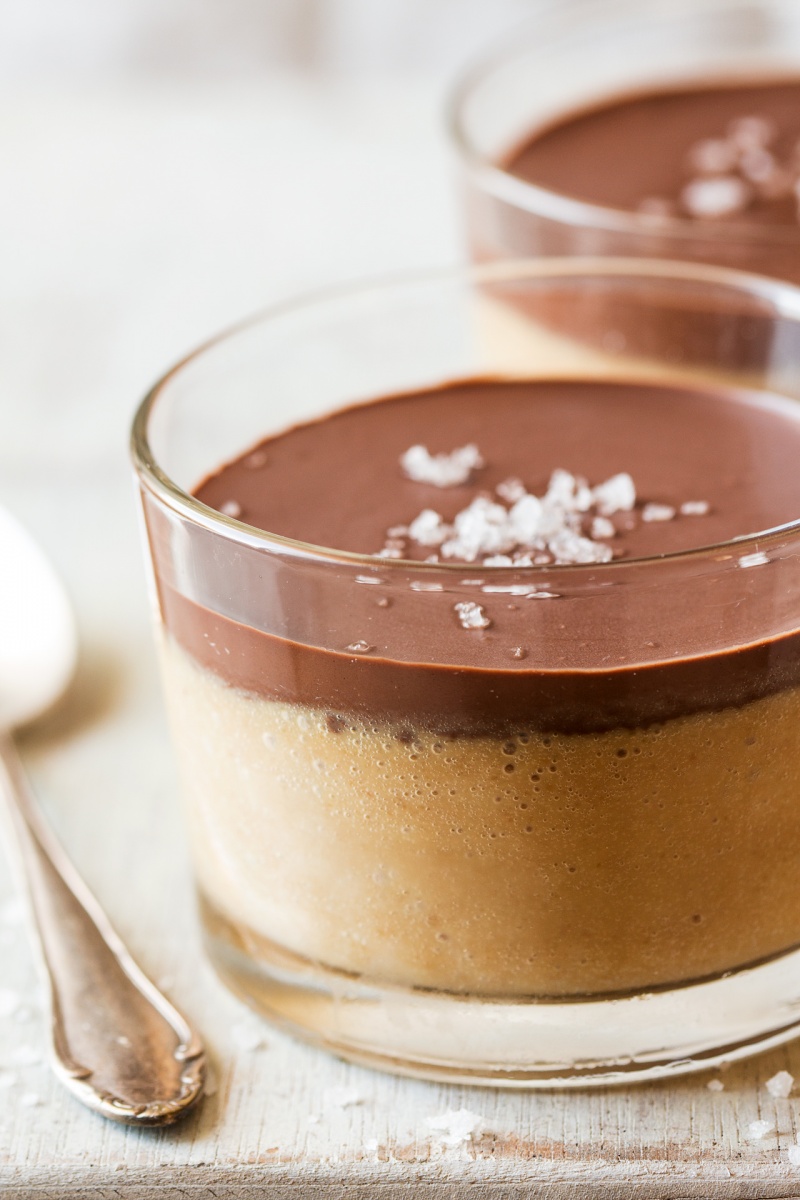 PEANUT BUTTER MOUSSE
120 ml / ½ cup aquafaba
½ tsp vinegar or lemon juice
120 ml / ½ cup smooth peanut butter (I used this brand)*
45-60 ml / 3-4 tbsp maple syrup, adjust to taste
45 ml / 3 tbsp coconut cream (from a tin of full fat coconut milk)**
GANACHE (optional)
80 g / 2.75 oz vegan dark (70%) chocolate
100 ml / 7 tbsp plant milk
coarsely ground sea salt, to decorate
REFINED SUGAR-FREE GANACHE (optional)
60 ml / ¼ cup mild coconut oil
30-45 ml / 2-3 tbsp maple syrup (adjust to taste)
20 g / scant ¼ cup raw cacao powder
45 ml / 3 tbsp almond milk (any thin plant milk)
coarsely ground sea salt, to decorate
METHOD
Place smooth peanut butter, maple syrup and coconut cream in a medium bowl. Whisk with a wire whisk until you obtain a uniform mixture. Don't panic if the mixture appears to seize halfway through, it happened to me on two occasions but more vigorous mixing recovered it. If mixing doesn't help, add a tiny splash of water and whisk some more.
Place aquafaba in a clean (that's very important as any grease residue will prevent the aquafaba from foaming) glass or metal bowl. Add vinegar (or lemon juice). Whip it until you achieve stiff peaks – you should be able to invert the bowl and the whipped aquafaba should not budge an inch. If it does it means that it hasn't been whipped enough.
Fold stiff aquafaba into the peanut mixture with a clean spatula until the two are well incorporated. Do it very gently as you don't want to knock too much air out while mixing. The mixture will deflate a fair bit, don't worry, that's normal. Pour the mixture between 4 small glasses and place them in the fridge for 8 hours (or overnight) for the mousse to set.
Once the mousse has had a chance to set, place the chopped up chocolate and almond milk in a bowl over a water bath. Set the hob on the lowest setting and allow the two to melt into each other. Do not stir until most of the chocolate has melted. Take off the heat and gently mix the two together with a wire whisk.
Allow the ganache to cool down before topping the peanut butter mousse with it.
Once the ganache is cool but still pourable, divide it evenly between the 4 ramekins and place them into the fridge (or freezer to speed things up) to set. Sprinkle the tops with coarse sea salt just before serving.
NOTES
*I used unsweetened peanut butter for this (I used the
Sun-Pat no added sugar
). You could also use a
homemade
one although the mousse may be less smooth as there are always tiny particles of peanuts left in it.
**Please do not skip this ingredient. I have tried making this dessert without it twice but the peanut butter mixture seized (became grainy and oily) once added to the aquafaba. I have also tried with various amounts (2-4 tbsp) of almond milk, but I found that it tends to produce a mousse that has a bit of water at the bottom of the jar. I feel that this extra fat (found in coconut cream) is needed to render the mousse stable.