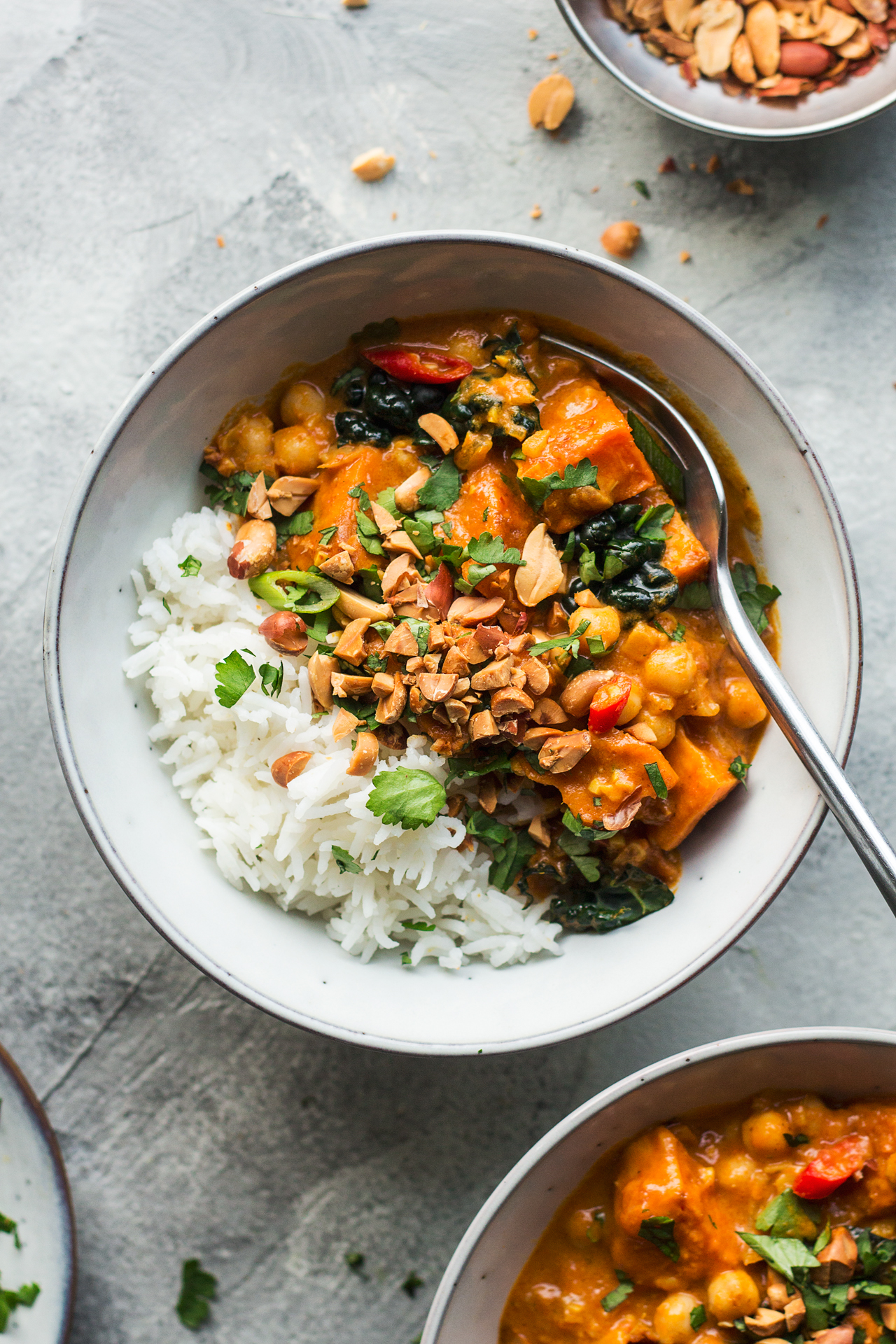 Yesterday was a truly miserable day around these parts. Both me and Tina sat at home all day long watching it rain and wishing it had stopped. Me, because I stupidly procrastinated my running when I woke up – I am not a morning person, you see – I ignored the fact that the weather forecast made it clear that unless I get my ass in gear first thing, there is no chance for running in anything other than torrential rain with an occasional 'hail massage' thrown in!!
Despite my renewed love of running, I'm too soft for running in the torrential rain, so I stayed in. I am not proud of myself, but it was just too much self-flagellation for my taste. Instead, I did some chores, replied to a few emails, did some recipe planning and cooked this vibrant vegan peanut curry with sweet potato for dinner. It's easy to make, filling, comforting and full of flavour.
If you don't have red Thai paste to hand, use a different ready-made curry paste with compatible flavours of lemongrass, ginger, chilli and garlic. In fact, I ran out of red Thai curry paste once, yet I found a Malay rendang curry paste in my cupboard and used it instead, and it also worked a treat.
As it's only about a month 'til Xmas, I will be switching gears and you'll see more traditional Xmas dishes on here for the next four weeks, so I thought it would be fun to smuggle in one more South East Asian-inspired dish before Xmas fever grips us all 😛 . This simple peanut and sweet potato curry was a big hit in our house and I hope it will become one of your favourite midweek meals also.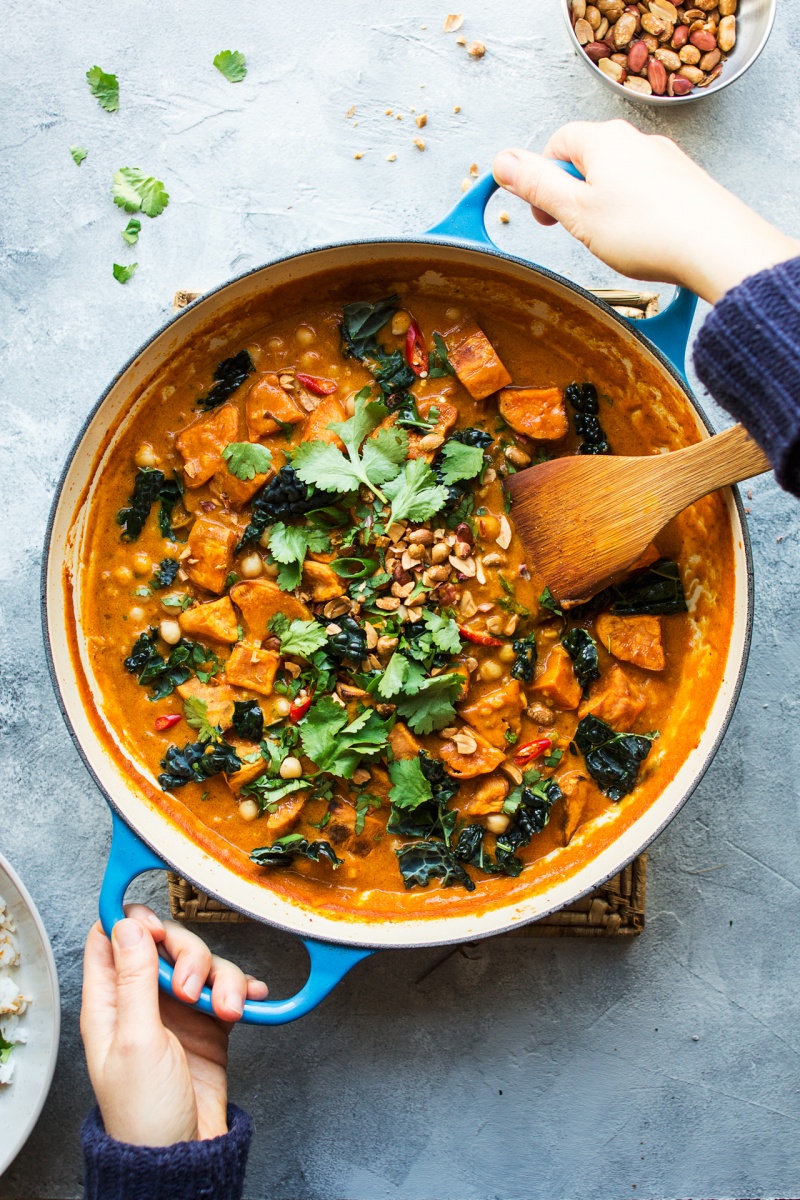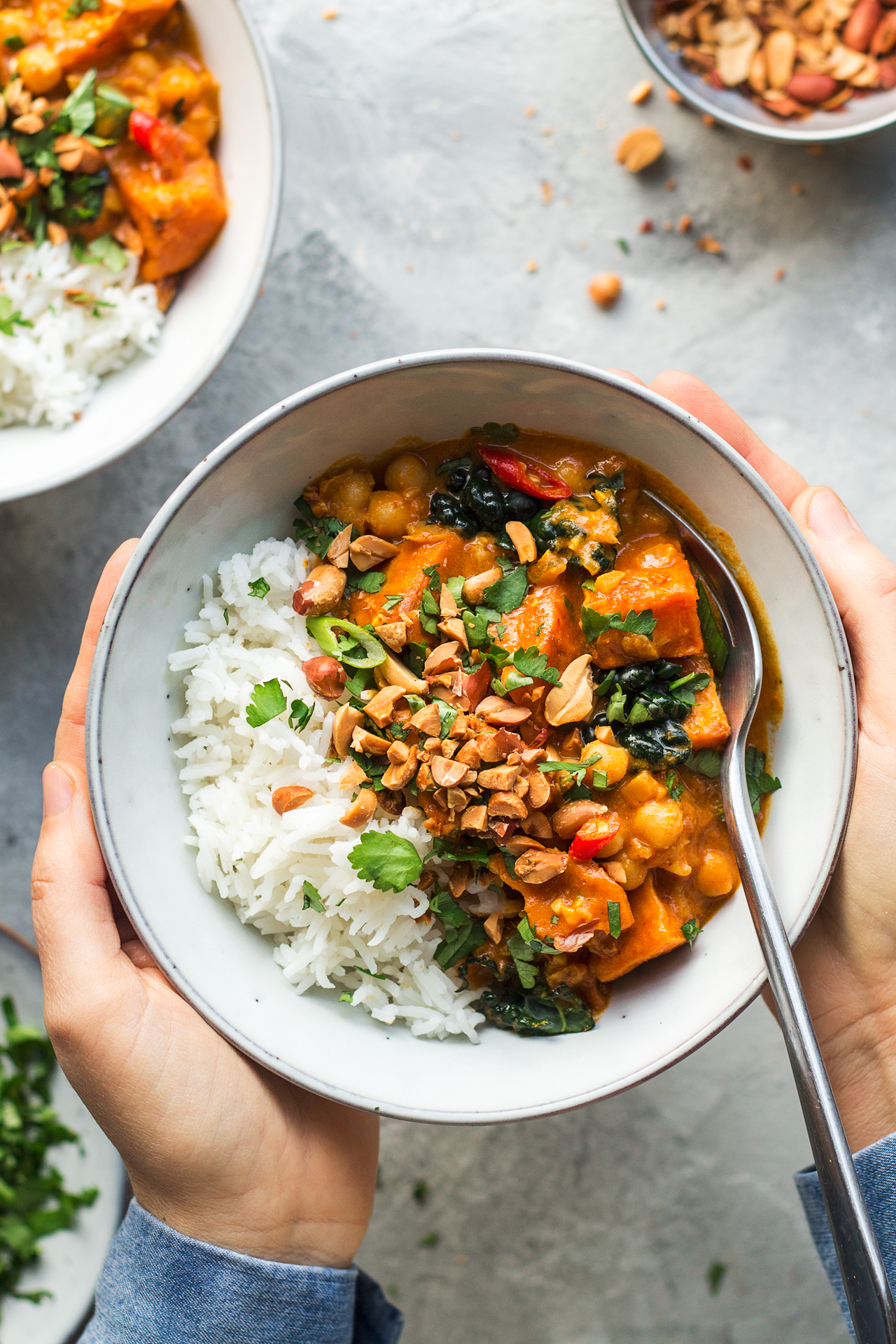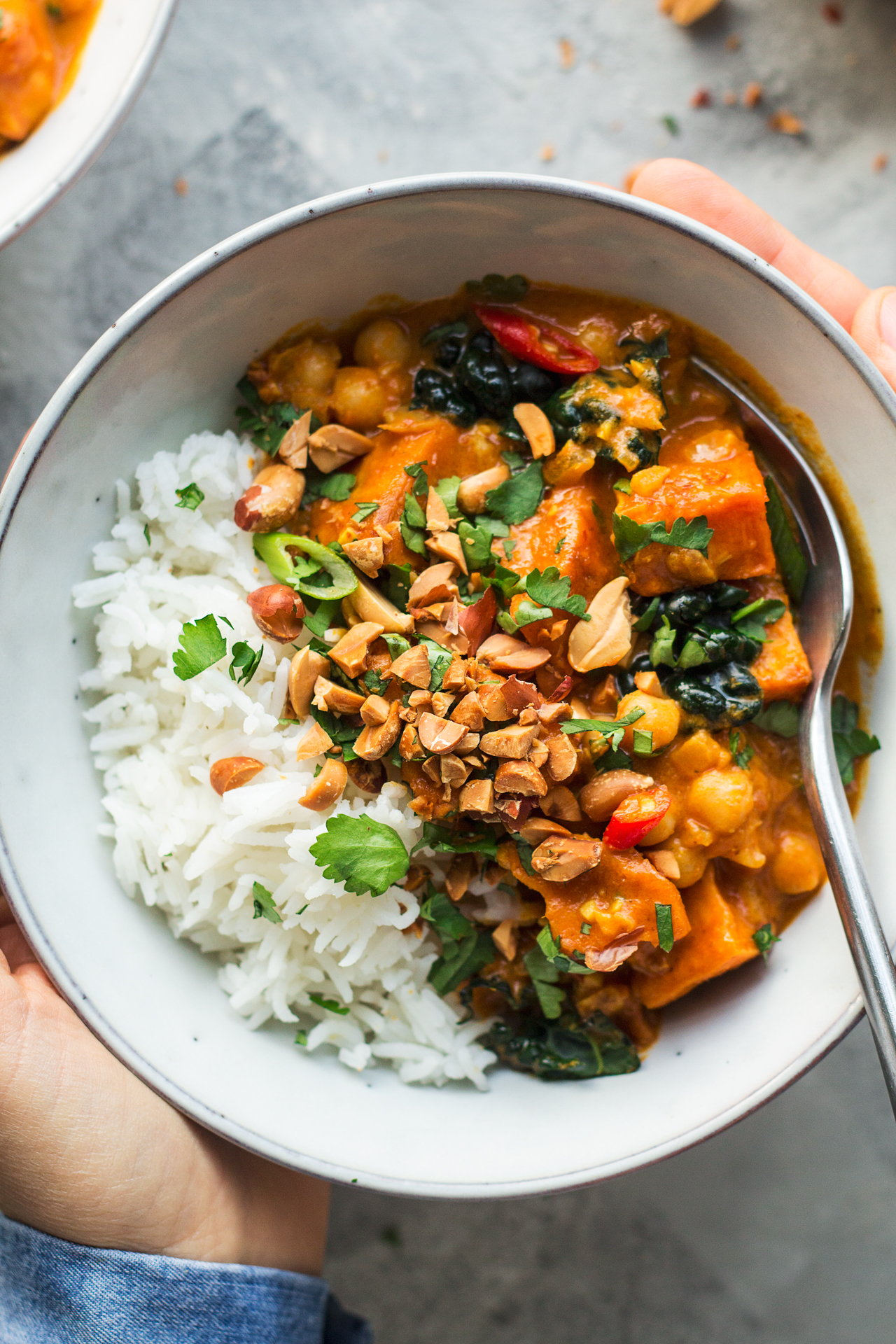 2 tbsp / 30 ml oil (I used rice bran)
2 medium shallots, diced finely
2 garlic cloves, diced finely
thumb-size piece of ginger, diced finely
½ tsp ground turmeric
2 tbsp vegan Thai red curry paste or rendang curry paste, depending on your heat tolerance
200 ml / 7 oz canned (½ a can) tomatoes (I used peeled plum tomatoes) or 2 ripe tomatoes, peeled
2 tbsp peanut butter
200 ml / 7 oz coconut milk (½ can)
heaped ½ tsp salt, more to taste
juice of half a lime
1-2 tsp sugar (I used coconut sugar) (optional)
1 large sweet potato (approx. 400 g), cubed
100 g / 3.5 oz kale or spinach leaves
200 g / 1 cup cooked chickpeas
fresh coriander, to serve
chopped roasted peanuts, to serve
METHOD
Heat up the oil in a heavy-bottomed pot.
Add the diced shallots and fry them on a low heat until almost translucent (for about 5-7 minutes), stirring from time to time.
Add the diced garlic and ginger. Keep on frying gently for another 5 minutes or so, stirring regularly.
Mix the turmeric and the red curry paste into the aromatics and keep on frying them off gently for about 3 minutes until you see the oils separating.
Stir in ½ can of tomatoes. If using whole plum tomatoes like I do, squash them with a fork once in the pan.
Next, add in about 480 ml / 2 cups of water (or stock of you have any handy).
Allow the sauce to come to a gentle simmer and simmer on a low heat until the tomatoes fall apart and the sauce becomes more uniform, without large tomato chunks in it.
Mix in the peanut butter and coconut milk.
Season with salt, lime juice and a touch of sugar (optionally) remembering that the sweet potato will add further sweetness.
Put the cubed sweet potato into the sauce and cover the pot. Allow it to simmer gently in the sauce for about 13 minutes.
Add the chopped up kale and simmer for about 2-3 more minutes, until tender. Finally add in the drained chickpeas for a minute, just to warm them up.
Serve on top of rice garnished with fresh coriander and chopped roasted peanuts.
NOTES
If you can, allow the curry flavours to develop overnight as it always tastes better the day after it has been made. If you are making this dish a day in advance, I recommend not cooking the vegetables until just before serving.