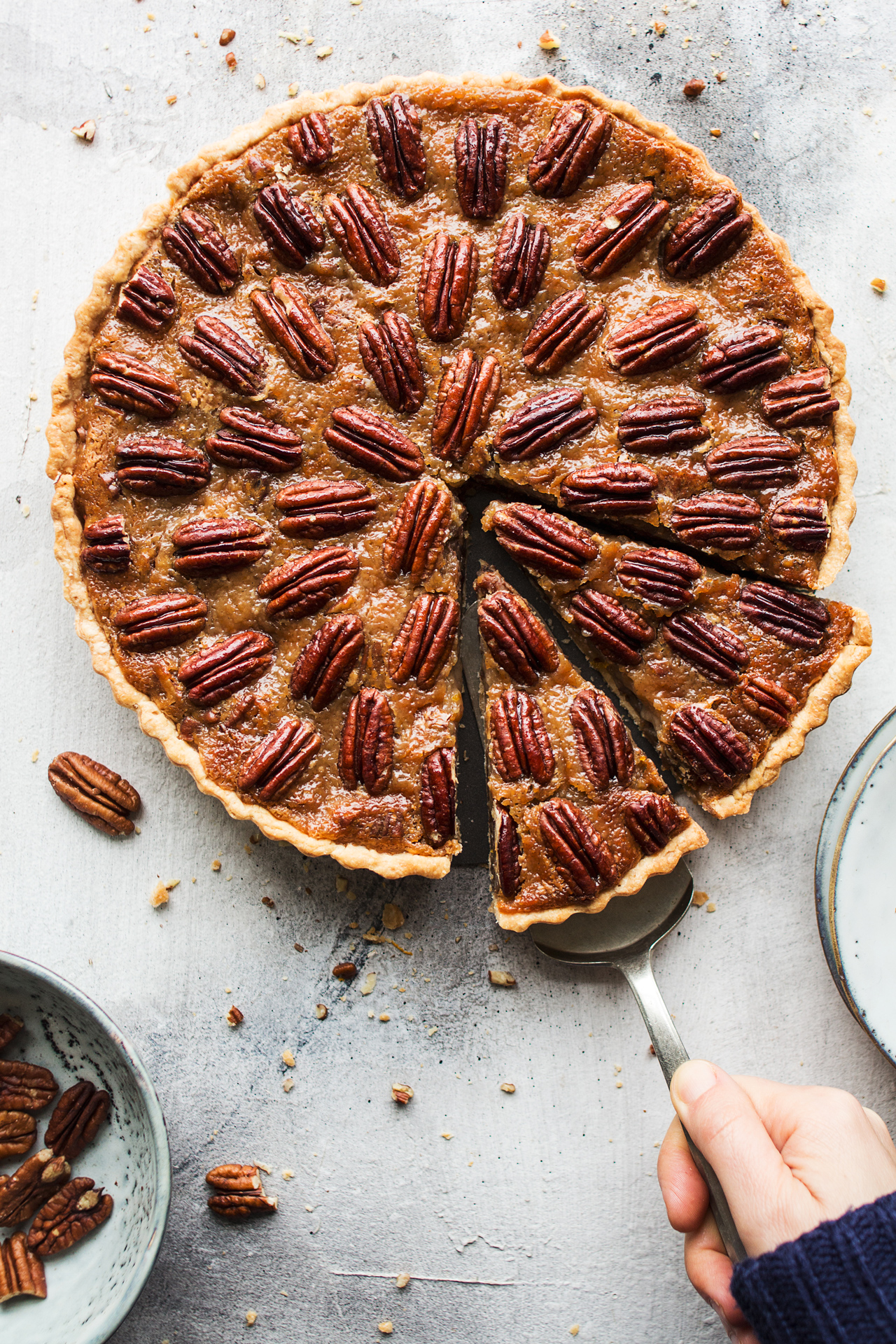 While we don't celebrate Thanksgiving here, vegan pecan pie eating is something I could easily get behind. It happens to combine some of my favourite flavours on Earth: buttery pecans bathed in an aromatic concoction of maple syrup, vanilla, cinnamon and orange zest, which I know is not necessarily traditional, but I like its festive overtones, so I added it to mine. This recipe creation was full of drama so I am especially happy that it made it to the blog and I'm able to share it with you today. I hope you'll make it and love it!!
Firstly, I've had to make it several times to get the proportions right. As it's a fairly technical recipe, I was prepared for that, but it was still a little tiring nevertheless. Third time lucky, the pie was ready and did not end up looking too bad either, so I was ready to crack on with the photos.
The issue was the light or the lack of thereof. The weather forecast was pretty clear on the fact that there was no sunshine or white cloud to be had at all this week – it was black cloud back-to-back. What is one to do? So I dusted off my artificial light setup and got to work. I did some test shots and I was fairly happy with them, so I was in a good headspace until about 10 hours later when Duncan got home from work to find me in the middle of a shoot-induced mess, on the verge of tears.
After 10 hours of solid work and tinkering, I had no decent photos to show for myself. I HATED the outcome and, what's worse, I couldn't figure out why exactly. I was exhausted and despondent and I lost all sense of perspective. I was sobbing uncontrollably, doubting my ability to take a single decent photo ever and wanting to ditch the whole thing.
Duncan tried to talk some sense into me – bless him – he is good like that, but I was having none of it. As I was worried that the pie will look worse for wear the day after, I pushed myself to do a few missing shots after dinner, but I was still not happy with the results of my work. I went to bed all anxious and upset as I was staring down the barrel of having to make the pie again. But I was out of some key ingredients too, and worst of all I had no idea how to get decent shots with my light setup, so I was feeling stuck and helpless.
I woke up to see the pie look as good as on the day it was made and while there was truly no blue skies to be had, grey cloud morphed into a whitish cloud, so I figured I would give the natural light one more go. I did the entire shot in just over an hour and I am finally happy to share these with you.
I also had a good look at the room I was shooting in and realised that what most likely screwed me was the magnolia painted walls and yellowish curtains which reflected a nasty, yellowish cast into my photos, making this dreamy pie look completely unappetising. There is not much I can do about that as I cannot cover up such a vast surface area unless I pitch a white tent up in the middle of my dining room! It's a rented house, so repainting isn't really an option, but it made me realise where I was going wrong despite trying every trick in the book.
I guess I am doomed to be chasing elusive white clouds for a little while longer…until I figure this conundrum out. Ah, they joys of food photography in winter gloom…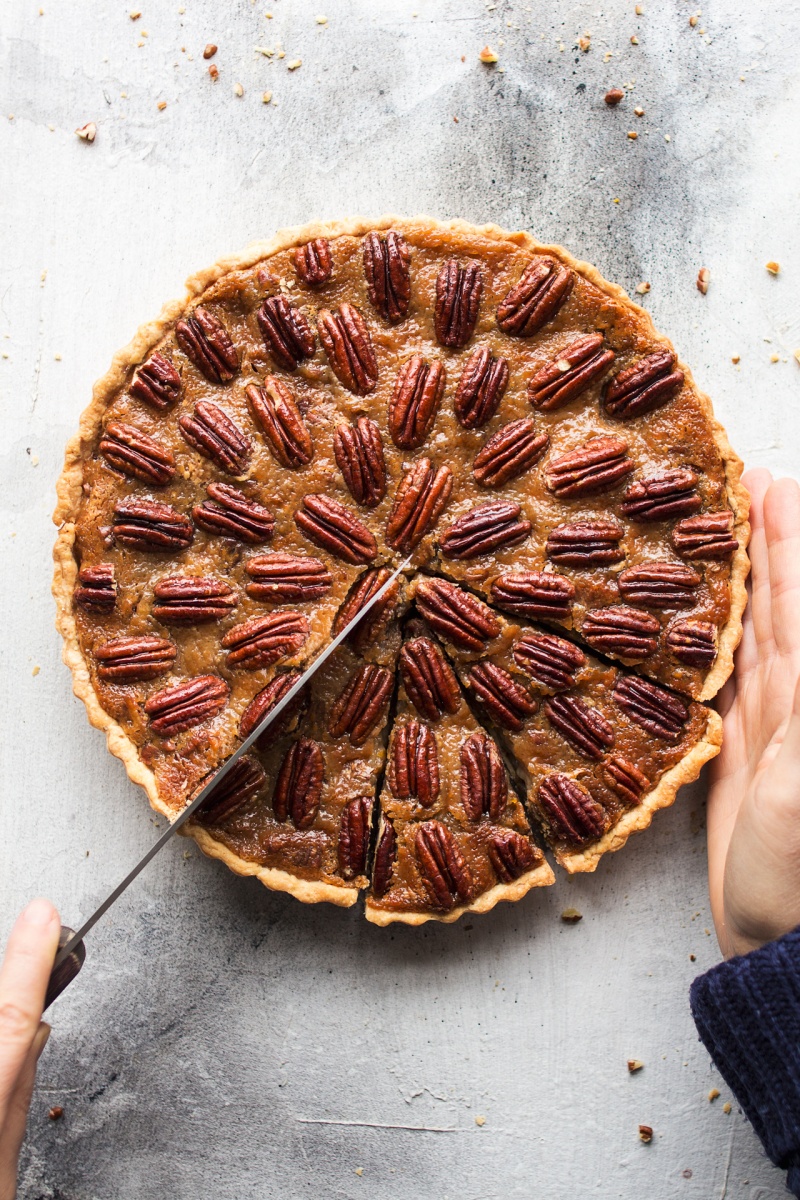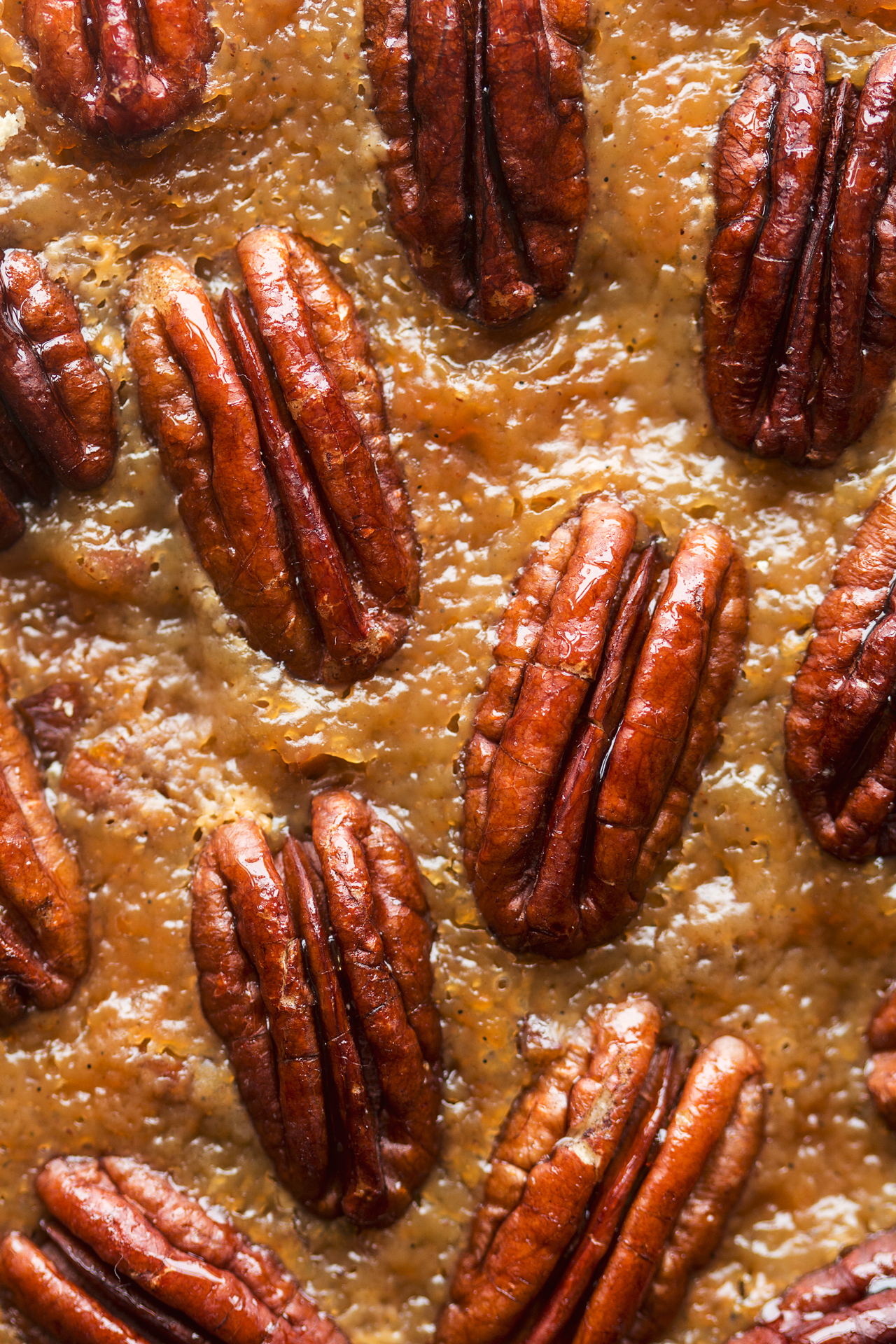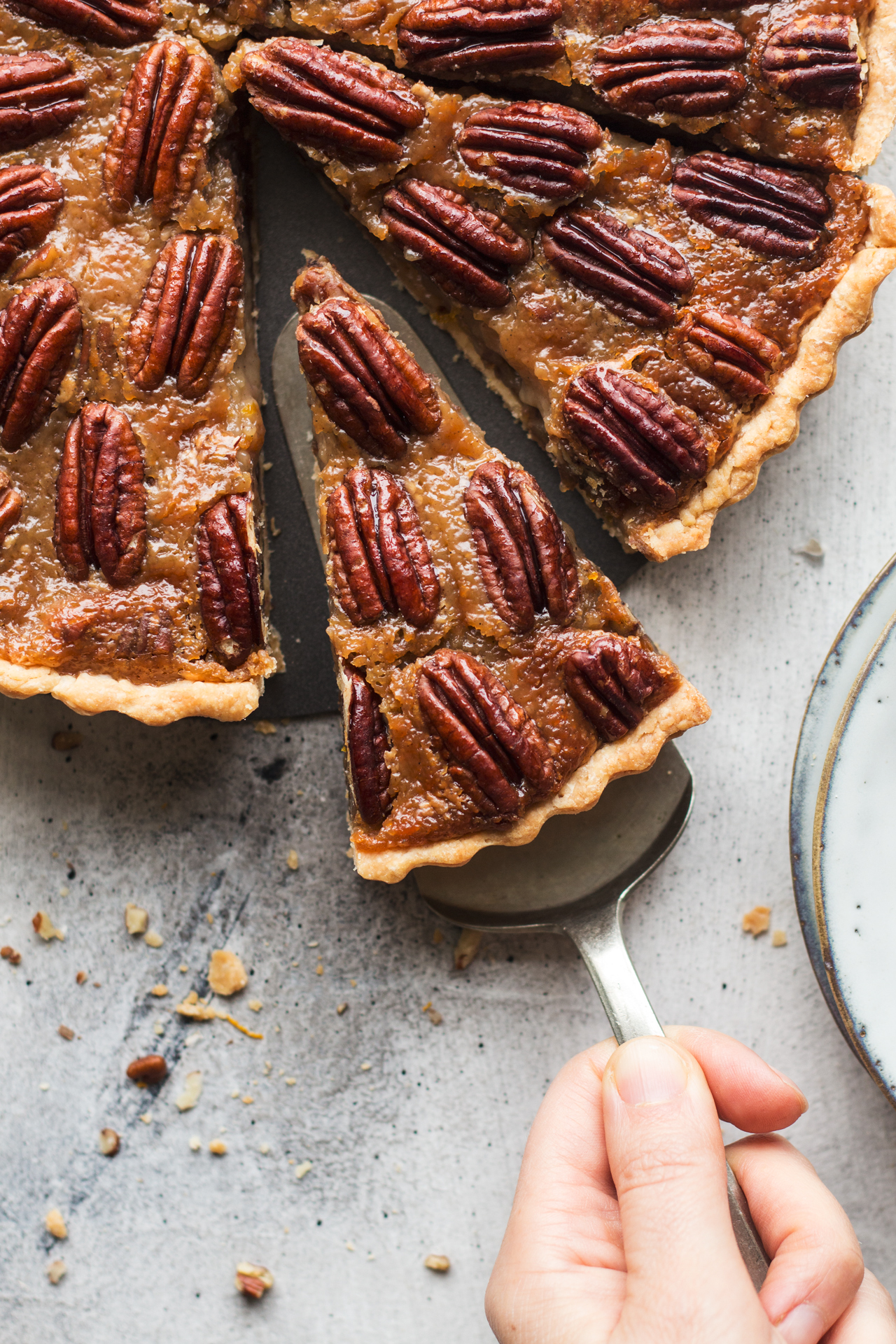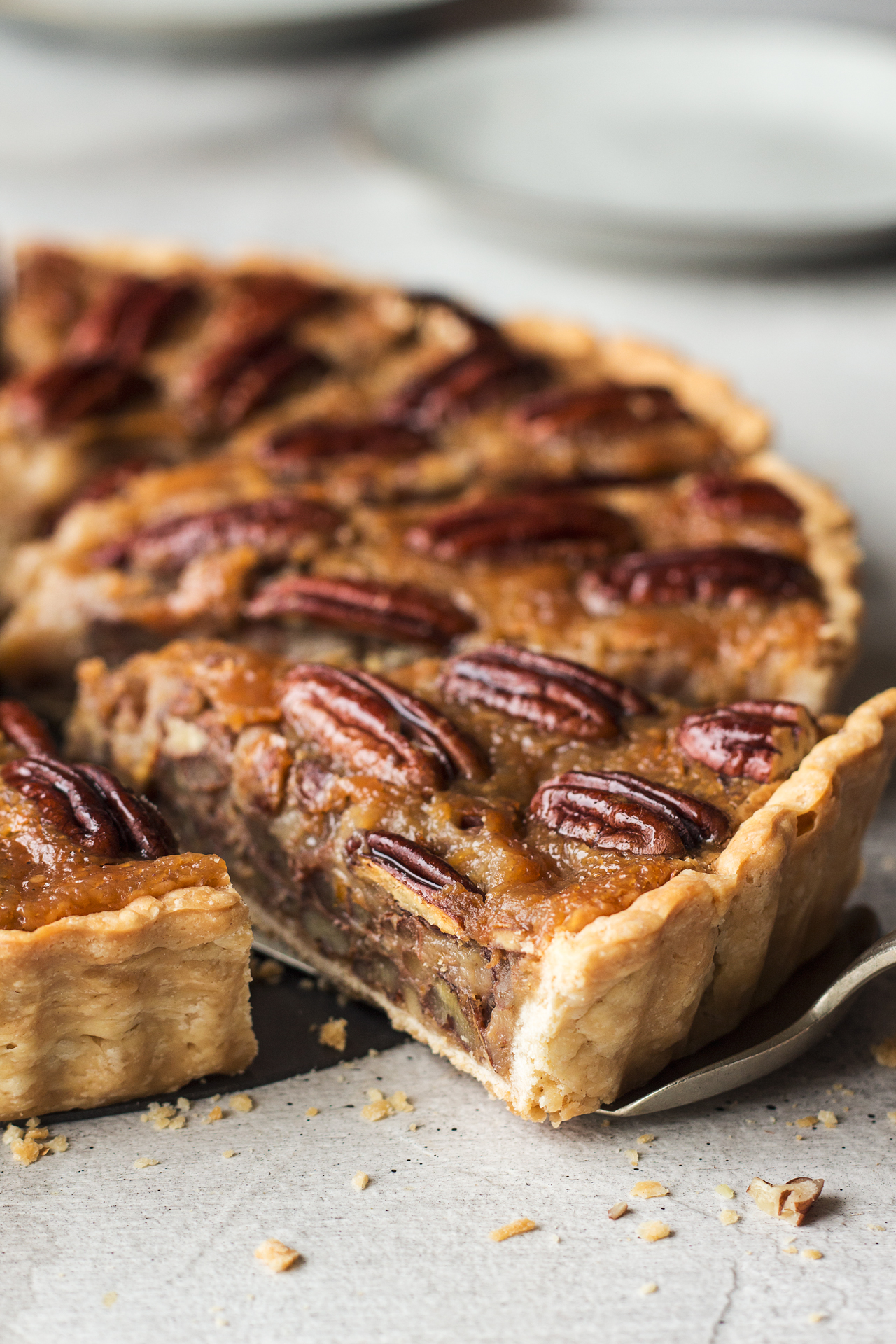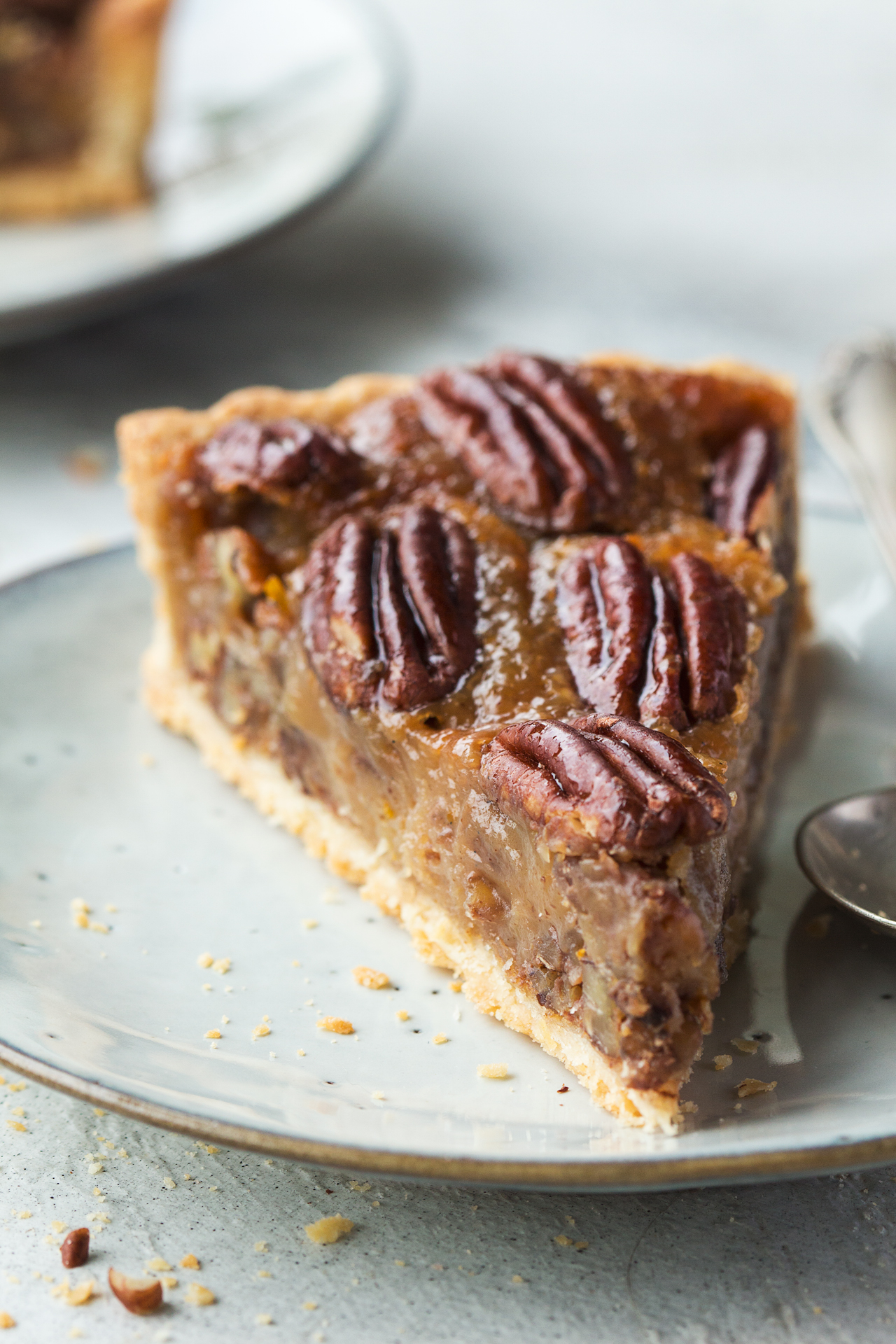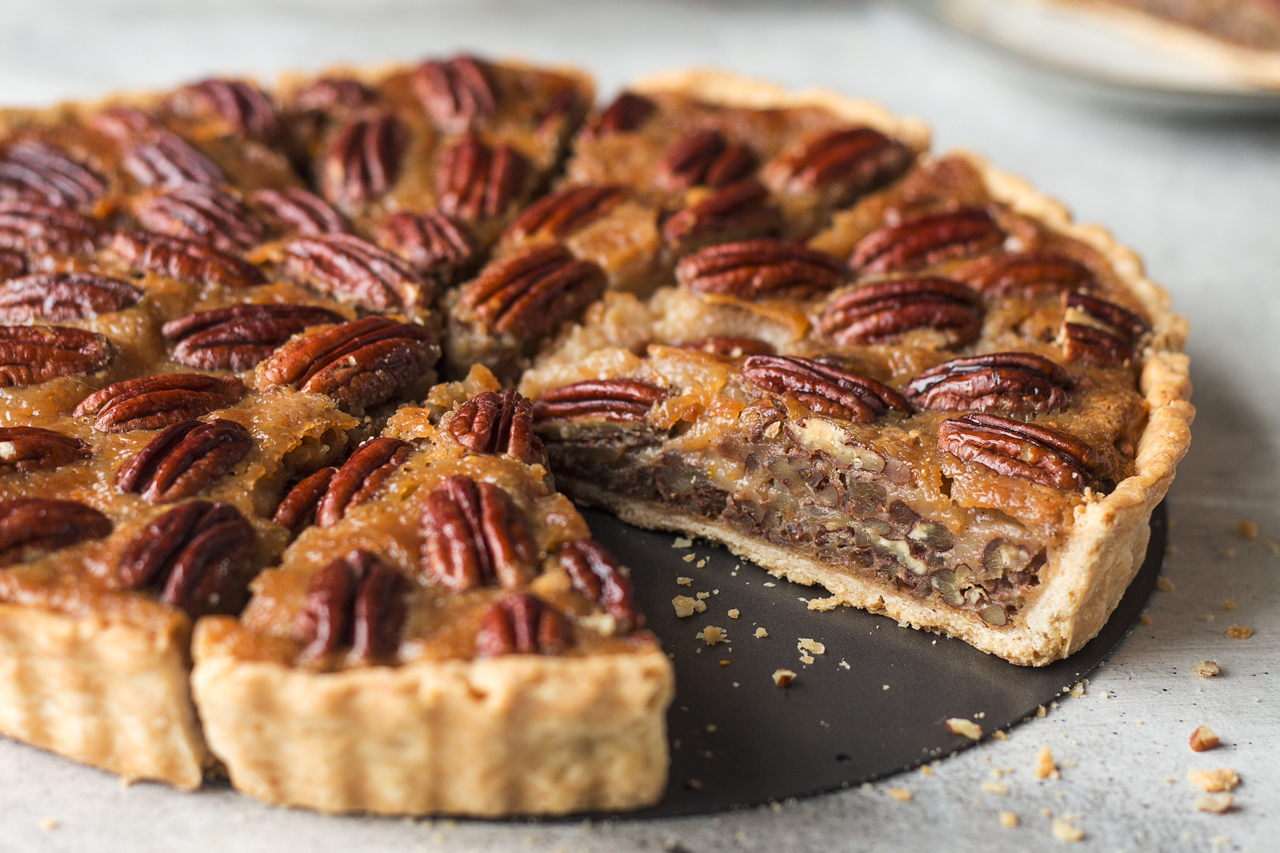 PASTRY
240 g / 2 cups all purpose white flour or GF all purpose flour, sifted
½ tsp xantham gum (only if using GF flour)
a pinch of fine salt
120 g / ½ cup + 2 tbsp cold vegan butter block or refined coconut oil
FILLING
METHOD
PASTRY
Combine flour, xanthan gum (only if making GF flour mix) and salt in the food processor bowl. Alternatively, you can make the pastry by hand using two knives – see photos here.
Chop vegan butter (or coconut oil) into small pieces and add it to the dry ingredients. Pulse the machine a few times to cut the fat into the flour.

Gradually trickle in about 4 tbsp (60 ml) ice cold water while pulsing the mixture. You've added enough water when the mixture starts to resemble breadcrumbs and clumps together in your hand when squeezed but does not feel wet – you want to add as little water as possible.
Transfer the mixture to a clean work bench. Gently press the dough together with your hands into a disc, but do not knead – handle as little as you can or else your pastry will be tough.

Wrap the pastry in a piece of cling film and chill in the fridge for at least 60 minutes or as long as you need.
Remove the dough from the fridge and roll it out between on a lightly floured surface until you get a circle large enough to cover your entire tart case, about 2-3 mm in thickness.
Place the rolled-out dough over a tart case and gently line the inside of it with the pastry. Tuck the pastry in well, ensuring that it fits snugly into all the nooks and crannies. Trim the excess pastry with a sharp knife. Patch any holes up with the cut off excess. If making gluten-free pastry (which tends to be more crumbly), you may be better off placing the crumbled pastry in the tart case and simply moulding the pastry with your hands to the shape of the tart tin.
Pierce the bottom of the pastry with a fork in a few places and chill the pastry-lined tart case in the fridge for about another 60 minutes.
45 min into pastry chilling time, preheat the oven to 180° C / 355° F. Line the pastry case with a large piece of crumpled baking paper and fill with baking beads or rice for a blind bake.
Blind bake the pastry for 15 minutes. Remove the paper and beads and bake for another 10 minutes.
FILLING
Place the maple syrup, sugar and coconut oil in a small saucepan. Bring to a gentle simmer, stirring the whole time. Set aside to cool.
In a food processor combine drained tofu, vanilla paste, orange zest, cinnamon and salt. Blend until silky smooth.
Add the cooled sugar mixture to the tofu mixture along with the tapioca starch. Blend until smooth.
ASSEMBLY
Heat up the oven to 180° C / 355° F.
Add the chopped pecans to the cool filling and fill the prebaked tart case.
Decorate the top with pecan halves, brush them lightly with leftover filling.
Bake for 30 minutes, then reduce the oven temperature to 160° C / 320° F and bake for a further 25-30 minutes, until the edges are cooked.
Cool the tart completely before cutting.