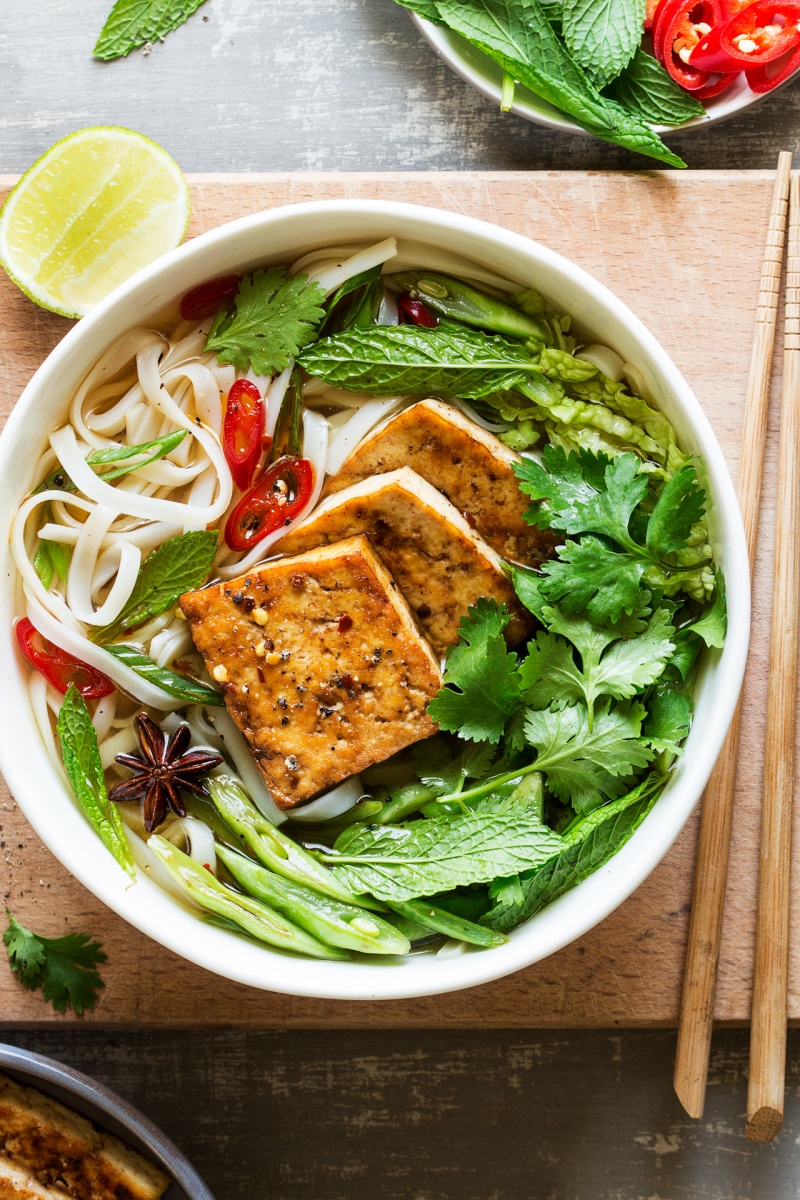 A soup is on today's menu. It's not any old soup though, it's the world-famous Vietnamese soup – pho – packed full of fresh herbs, veggies, pan-fried tofu and oodles of noodles. It's filling, yet light and fragrant, perfect for still chilly, spring evenings.
Flavoursome broth is the key to a good vegan pho and that's harder to do with just vegetables alone. There is a trick though, which I learned from a cookbook author Andrea Nguyen who wrote an entire cookbook devoted to pho. Her trick is to flavour the broth with a nutritional yeast extract, which gives the broth bags of 'je ne sais quoi' or 'umami' as it's technically called. It really works a treat!
I've been thinking long and hard about the recipes for this transition period between spring and summer. Even though in Greece summer moves in quicker than in the rest of Europe, we are not there yet. Some days are beach hot, others cloudy and windy and evenings are decisively still on the cold side, so a bowl of hot soup isn't as crazy as it may seem.
This dish with its tropical roots hugs you on a chilly evening while being a nod to summer. It's packed full of stir-fried beans and fresh herbs. If you are after a lighter meal or want to make this dish even more summery, I encourage you to swap traditional rice noodles for zucchini noodles (AKA zoodles) too. They'll fit right in.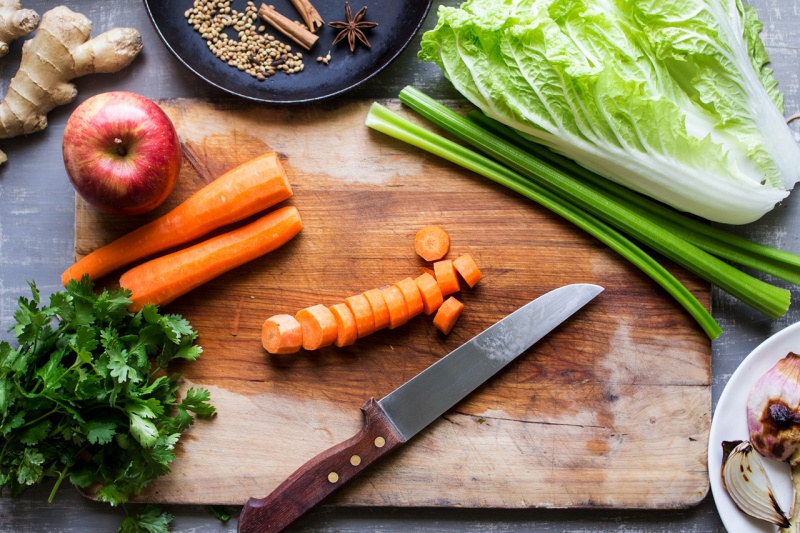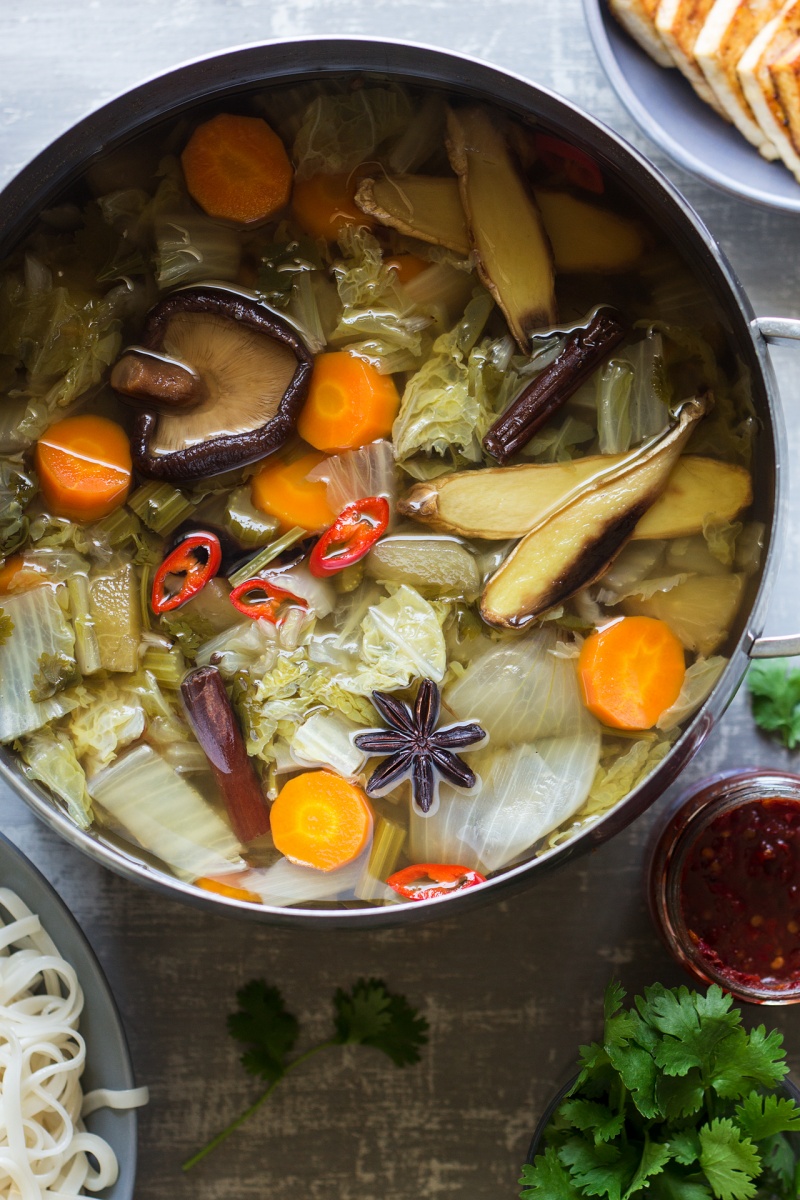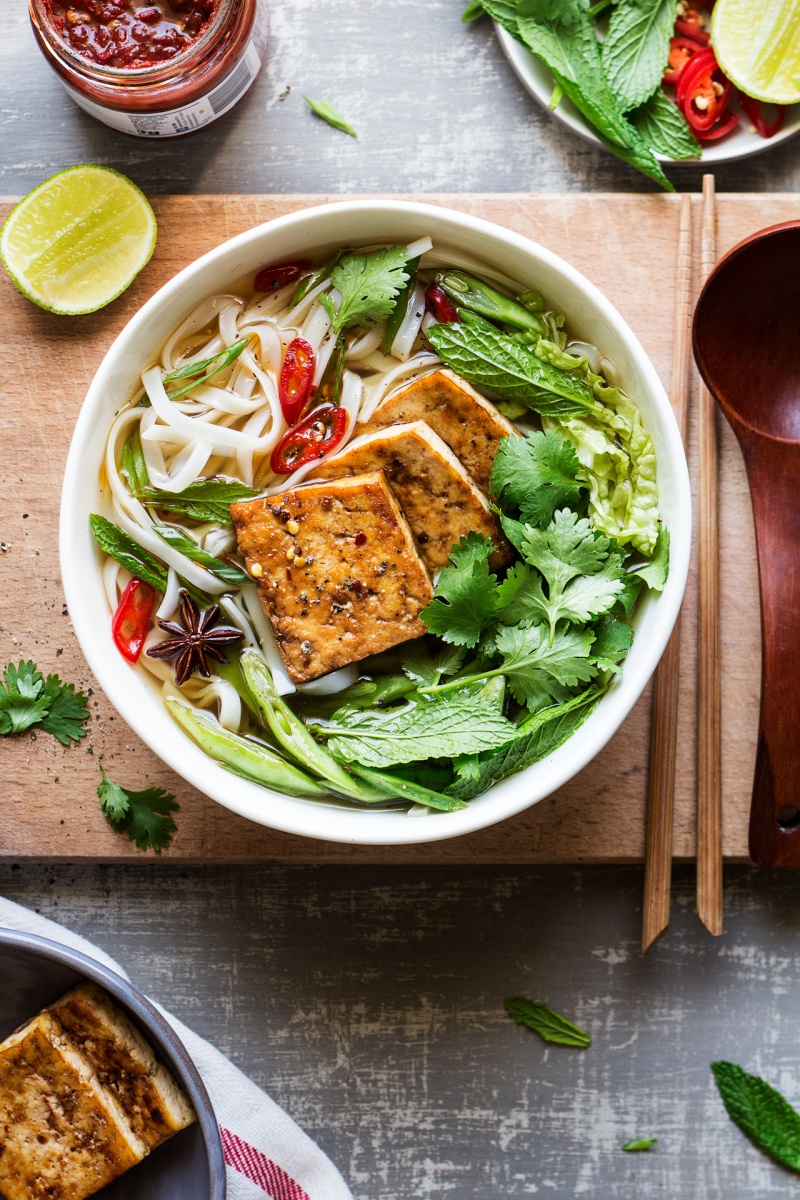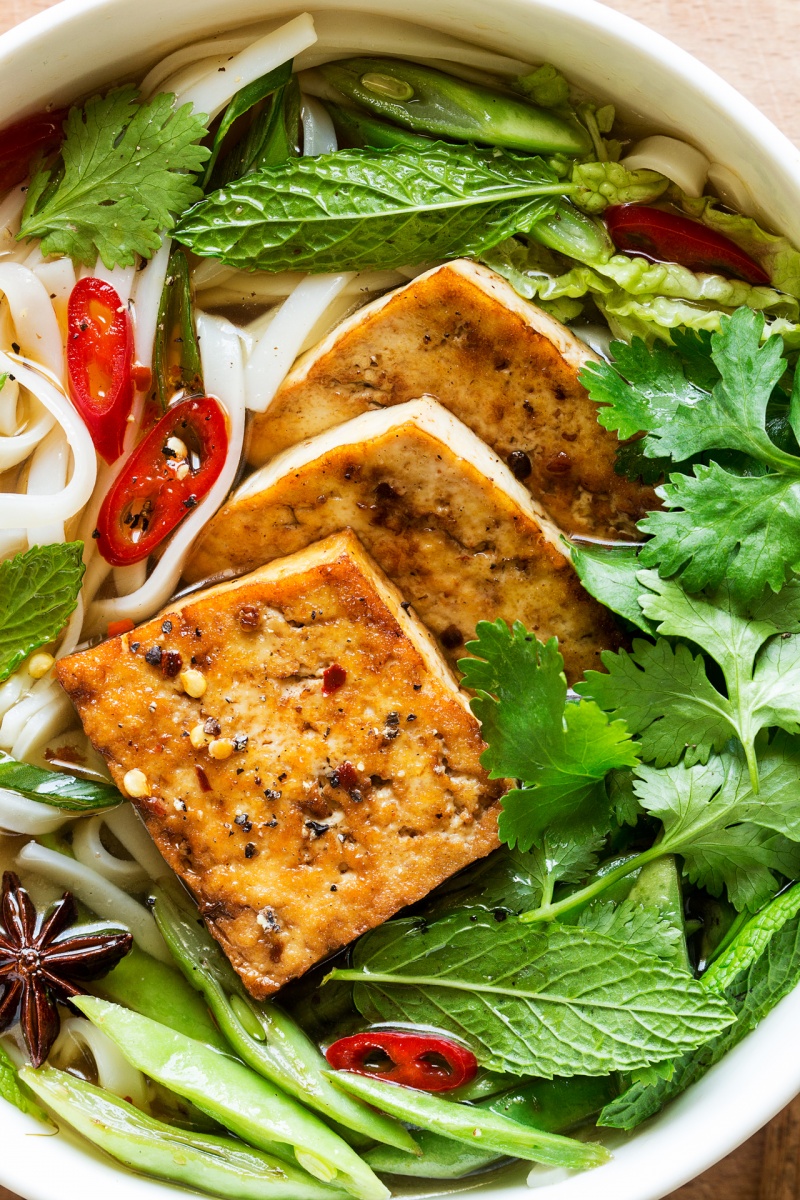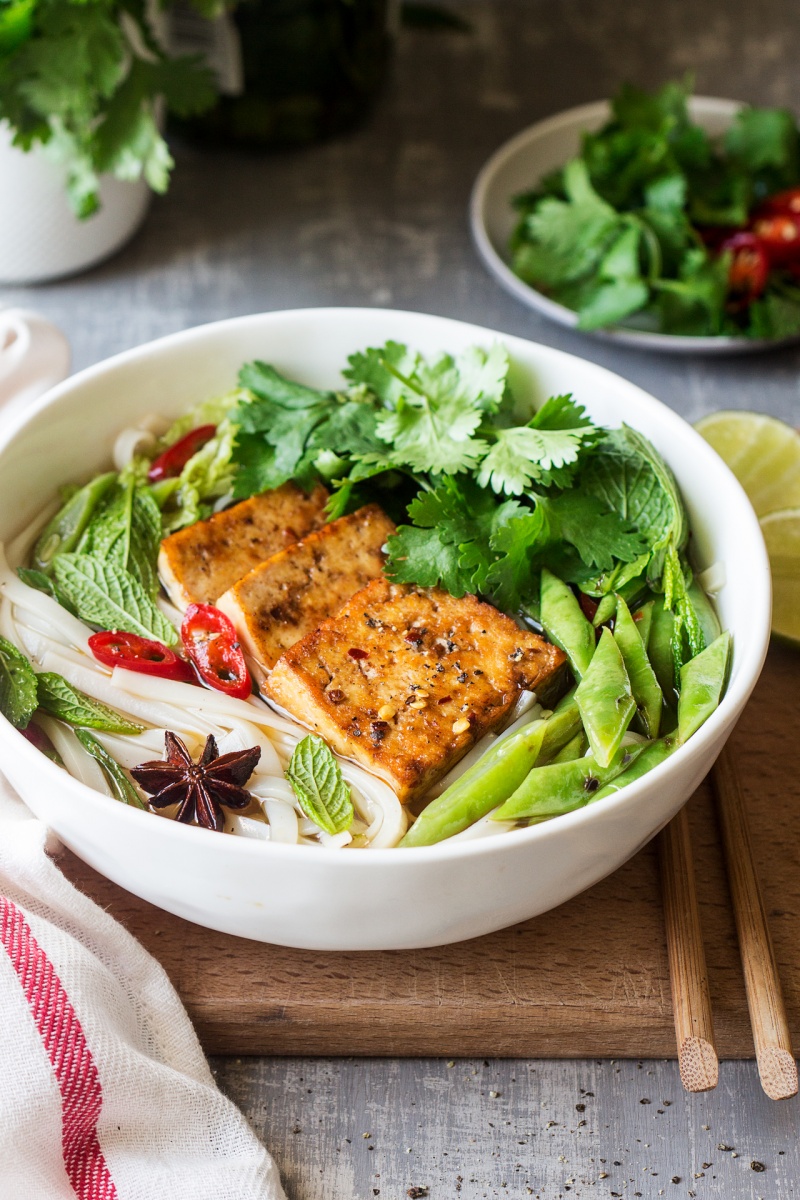 BROTH (approx. 6 cups / 1.5 l)
1 small Chinese cabbage (approx. 500 g / 1 lb)
4 celery stalks (120 g), washed and cut into large chunks
3 medium carrots (250 g), washed and cut into large chunks
1 Fuji apple, peeled and diced
1 large onion, cut into quarters
5 cm / 2″ piece of ginger
a bunch of fresh coriander (stalks for the broth, leaves for serving)
1 star anise
2 tsp coriander seeds
3 cloves
2 x 2.5 cm / 1″ pieces of Ceylon cinnamon
1 large dried shiitake mushroom
4 tbsp nutritional yeast
2½ tsp sea salt, more to taste
1-2 tbsp lime juice
GARNISHES AND SEASONINGS
200 g / 7 oz flat rice noodles or zoodles
200 g / 7 oz firm or extra firm tofu, pressed*
200 g / 7 oz flat green beans
peanut oil (or other high smoke point oil), for frying
fresh coriander
fresh mint
1 red chilli, sliced
1 spring onion, sliced
3-4 tbsp tamari / soy sauce or vegan fish sauce
chilli condiment like sambal oelek, to taste (optional)
METHOD
Wash ginger and slice it (no need to peel it) into thin slices lengthwise. Spread slices of ginger and quartered onion on a baking tray. Place under a grill / broiler (175° C / 390° F) for about 15-20 minutes to get a nice char. Keep an eye on them and flip them every 5 minutes to make sure they get charred on all sides. Let them cool and rinse under a cold tap to get rid of any flaky charred bits – you don't want them floating in your stock.
Dry roast all the spices: cinnamon, coriander seeds, cloves and star anise in a small pan until aromatic and fragrant. Make sure you give the pan a shake very frequently as they can burn easily.
Wash all the vegetables well. Chop (no need to peel them if scrubbed well) the carrots and apple. Slice celery stalks and chop cabbage leaves into a rough dice. Place all of them in a large pot with a lid together with charred aromatics, toasted spices, coriander stalks, shiitake mushroom and salt. Pour 1.75 l / 9 cups of water into the pot. Place the lid on and bring to a simmer. Simmer, covered, for about 60 minutes.
Cut your tofu into equal size pieces. Place them in a shallow dish and marinate in 1 tbsp of tamari (or soy sauce) and a touch of chilli paste (I used sambal oelek). After a few minutes, flip them to the other side to make sure it's seasoned evenly.
Fry tofu in 1-2 tbsp of hot oil (I used peanut) until golden on both sides. Blot on a piece of kitchen towel. You could also bake it, but it will take longer. Spread marinated tofu on a paper-lined baking tray and bake it in a 180° C / 355° F oven for about 30-40 min, flipping once half way through the baking.
While the broth is simmering, place nutritional yeast in a measuring cup and pour 180 ml (¾ cup) of boiling water over it. Set aside for the murkier liquid to settle at the bottom.
Cook your noodles according to the instructions on the packet. It's worth undercooking them a touch as when they get immersed in a steaming hot broth they'll soften a little more. Instead of rice noodles, you could also use zucchini strands (zoodles) if you want a lighter meal.
Cut beans on the diagonal. Heat up a tablespoon of oil in a small pan / wok and once hot, add sliced beans. Stir-fry for 2-3 minutes until cooked but still crunchy. Season with salt and pepper. Set aside.
Strain the broth through a fine sieve – squeeze as much liquid out of the veggies as you can. Season with lime juice (I used 2 tbsp), nutritional yeast extract (only use the clear part floating on the top, discard the murkier stuff), and tamari (soy sauce) or vegan fish sauce to taste.
Place a cluster of noodles, a few bits of tofu and stir-fried beans in each soup bowl. Pour hot soup on top. Garnish with sliced spring onions, hot chilli slices, chilli sauce of choice (optional), fresh mint and coriander leaves.
NOTES
My pho broth recipe has been adapted from
this recipe
.
*To press the tofu without a tofu press, wrap your tofu in a paper towel, place it on a plate and weigh it down with something heavy (like a can of coconut milk, for example). Once the paper towel becomes wet, change it for a new one. Repeat a few times until the paper towel stays almost dry. Pressed tofu is tastier as it absorbs flavours better.