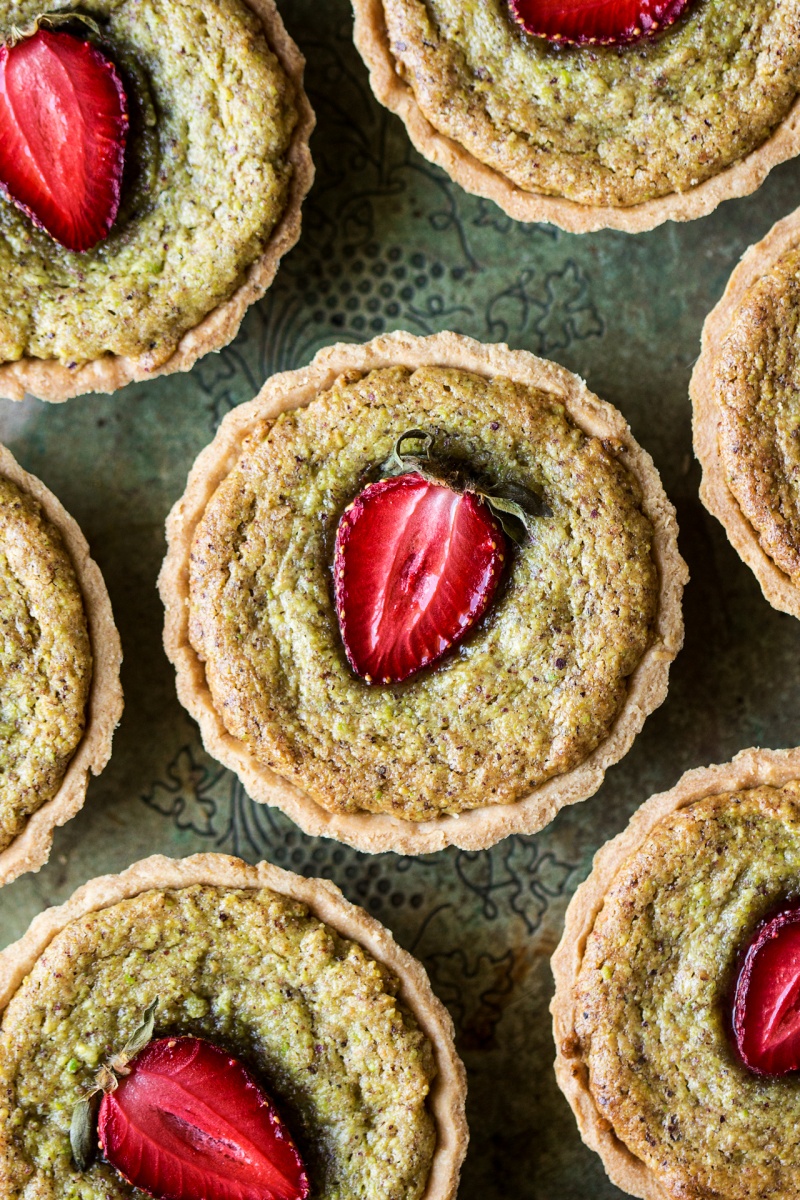 I have a little treat for you today, guys! Cute and delicious pistachio frangipane mini tarts, which would also be a perfect treat for your mums, if you live in the parts of the world which celebrate Mother's Day this Sunday. Polish Mother's Day is on 26th of May, plus my mom is all the way back in Poland so I won't be able to make these for her. It's a shame as I think it's exactly the sort of dessert she would like.
Speaking of my mum, we had a bit of a drama this past weekend as I didn't have time to call her for a chat and unbeknown to me, my Whatsapp has stopped notifying me of any calls or messages as I failed to upgrade it (ooops!).
I made a mental note to call mum on Monday afternoon once I got a test cook out of the way, but she beat me to it. She sounded super worried and panicked and was clearly relieved to hear my voice. Turns out that she has been trying to reach me via Whatsup for two days and started imagining the worst as it has been just over a week since we last spoke. I was really surprised! But me saying to her 'Come on mom, I live on a quiet island, what could have possibly happened to me other than being pecked by bored seagulls?' She didn't appreciate the humour in that.
She made me promise to check in with her more often, even if that's just to say 'I don't have time to chat, but I'm alive and the birds are behaving 😉 '. Mums, bless them! Sometimes they can get overly protective, but it's nice to know that there is at least one person who really cares about you and no matter how old you are, you'll always be her baby girl 🙂 !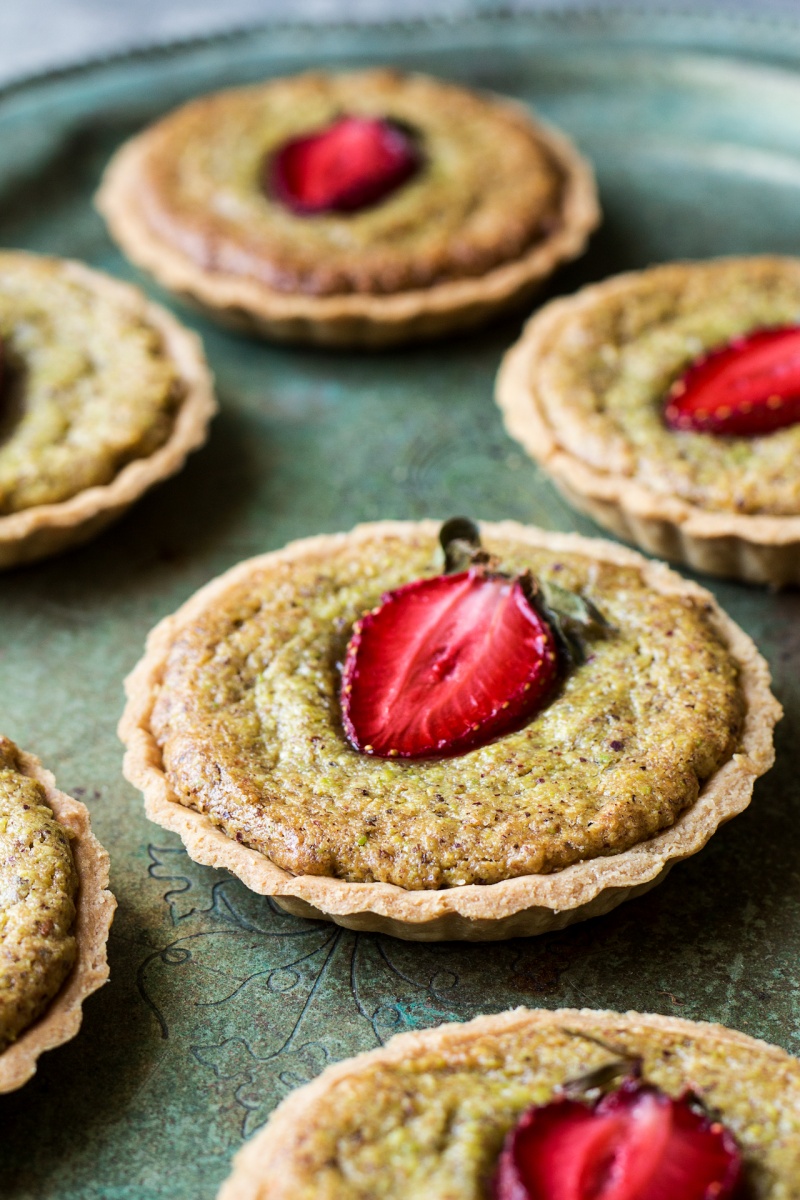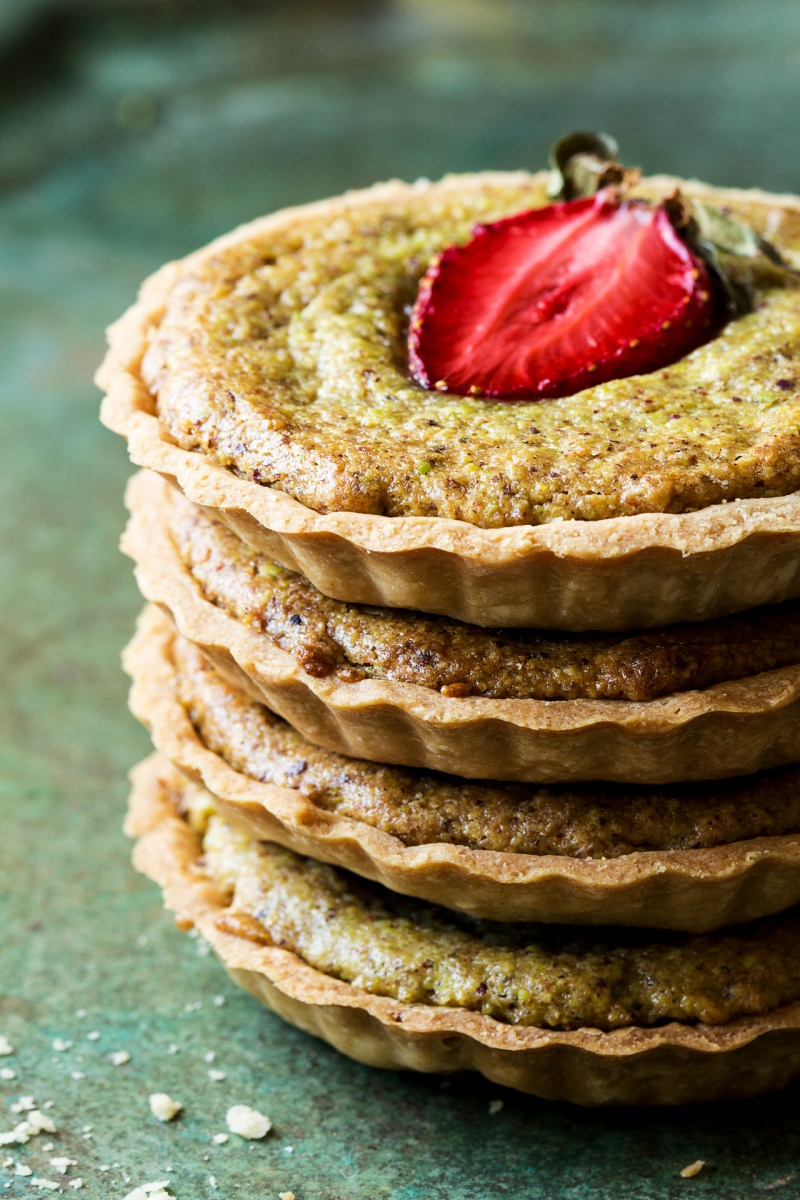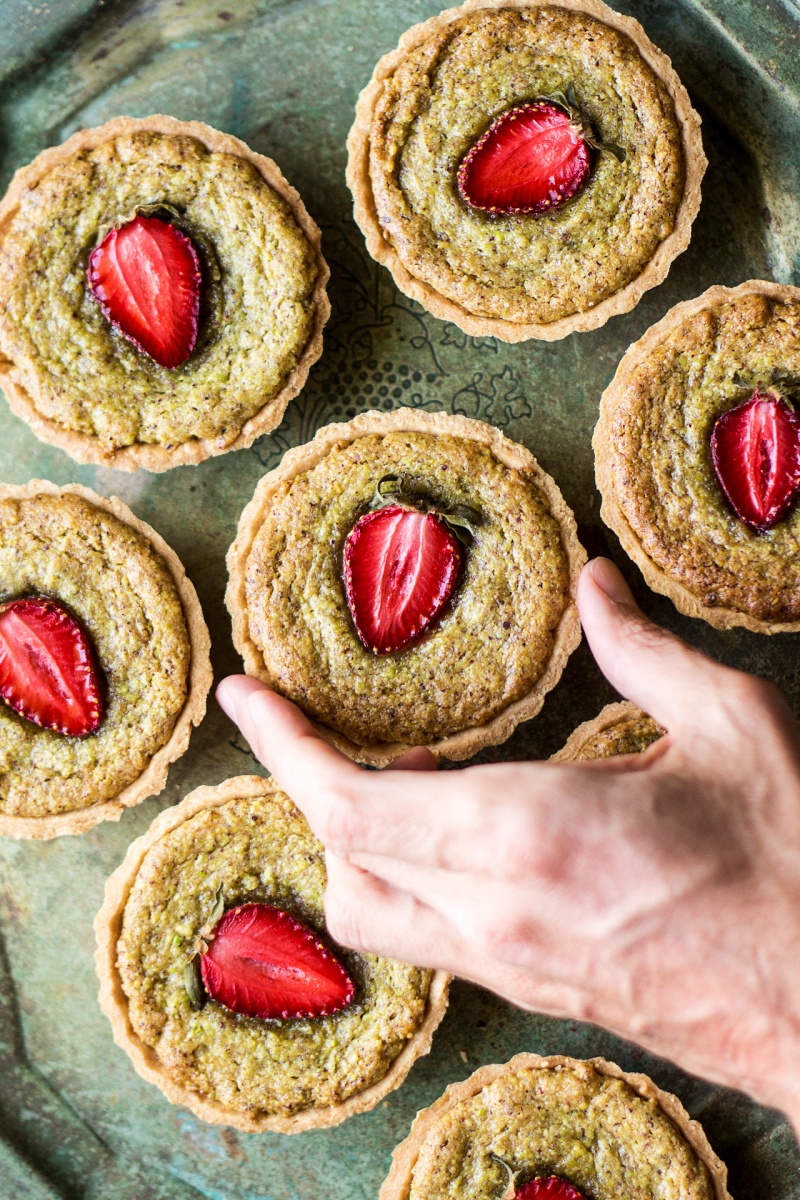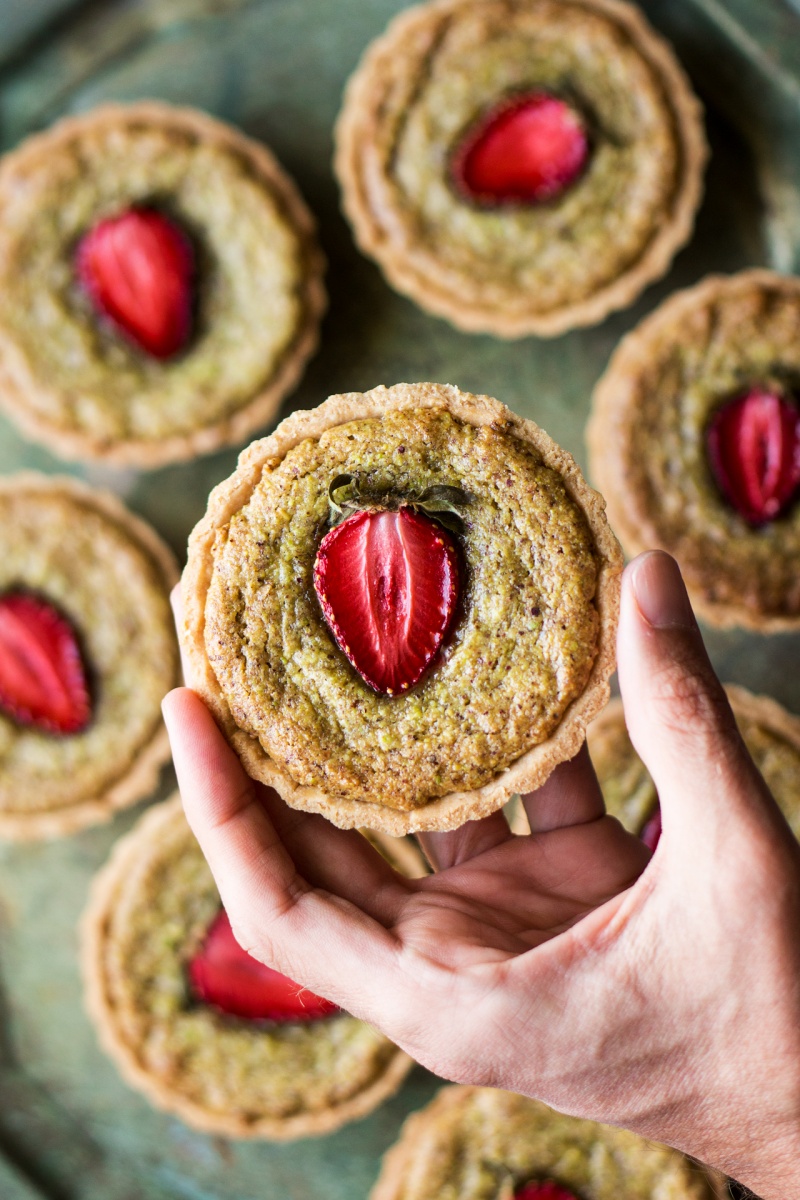 PASTRY CASES
120 g / 1 cup white pastry flour, sifted
4 tsp icing sugar
45 g / 3 level tbsp (not melted!) refined coconut oil*
GLUTEN-FREE PASTRY CASES
FRANGIPANE FILLING
20 ml / 4 tsp mild olive oil
35 g / 3 tbsp caster sugar
4 level tsp plain flour
1½ tbsp gelatinous aquafaba homemade / from a tin**
60 g / 2 oz pistachios or pistachio meal
½ tsp matcha powder (optional)
4 strawberry halves
METHOD
PASTRY CASES
Combine sifted flour, icing sugar, (plus cornstarch and xanthan gum if making GF pastry) in a large bowl. Add softened coconut oil and rub it into the dry ingredients with your fingers until your flour looks like breadcrumbs and there are no lumps of coconut oil left.
Add cold water – be careful, do it gradually – how much water you'll need depends on how absorbent your flour is. I added just under 2 tbsp. Combine all the ingredients into a dough gently, but do not knead (that's important for the gluten version) or the pastry will be tough. Wrap it in a piece of cling film and chill in the fridge for 45 minutes.
Remove the dough from the fridge and divide into 6 portions. Roll each portion out between two sheets of baking paper until you get a rough circle, about 2 mm in thickness. Place the rolled-out dough over a mini tart case and gently line the inside of the hole with the pastry. Tuck the pastry in well, ensuring that it snugly fits into all the nooks and crannies. Trim the excess pastry with a sharp knife. Repeat with the remaining tart cases.
Pierce the pastry with a fork in a few places and chill pastry-lined tart cases in the fridge for about another about 60 minutes.
45 min into pastry chilling time, preheat the oven to 175° C / 350° F. Line the pastry cases with pieces of baking paper and fill with baking beads or rice for a blind bake.
Blind bake the pastry for 10 minutes. Remove the paper and beads and bake for another 10 minutes.
PISTACHIO FRANGIPANE FILLING
If you can't find pistachio meal, grind shelled pistachios in a coffee grinder and sift. Return large pieces that remain on the sieve back into the grinder and grind again until you get a fine powder. Mix the two together well. If you don't have a coffee grinder, you can use a food processor instead , but that will result in a coarser grind and therefore a less delicate frangipane.
While the pastry cases are baking, prepare the filling. Cream oil and sugar with an electric whisk. Next, whisk in the flour. Finally add aquafaba, one tablespoon at a time. Whisk well after each portion of aquafaba.
Gently fold in ground pistachios with a spatula. If prefer less sweet desserts, try adding a bit of matcha powder to the batter, it will contrast the sweetness nicely. You should end up with a very sticky and thick batter.
Divide the batter between pastry cases – use a silicon spatula or clean fingers to tap the filling into the cases snugly. Place half a strawberry on top of each filling – don't worry about it sticking above the level of the filling – the filling will rise during baking a bit and be snug around the strawberry. If you have large strawberries though, you can chop the bottom of the halves off to make them a little less tall.
Bake the tarts for about 20-22 minutes, until the filling is just a touch browned around the rim. Remove from the oven and allow the tarts to cool down before removing them from the tins. The tops will crisp up nicely as the tarts cool down.
NOTES
*You can use olive oil instead, but I found that refined coconut oil renders the pastry a bit more delicate.
**For this particular application, aquafaba should be as close as possible to an egg white consistency so I recommend making it yourself, from dry chickpeas – here is how. If you would rather use aquafaba from a tin of chickpeas, pour it into a pot and reduce on the stove by about 2/3. Cool before using to achieve a thick, gelatinous aquafaba.
I used 4 mini tart tins that have a diameter of 8 cm and height of 2 cm.