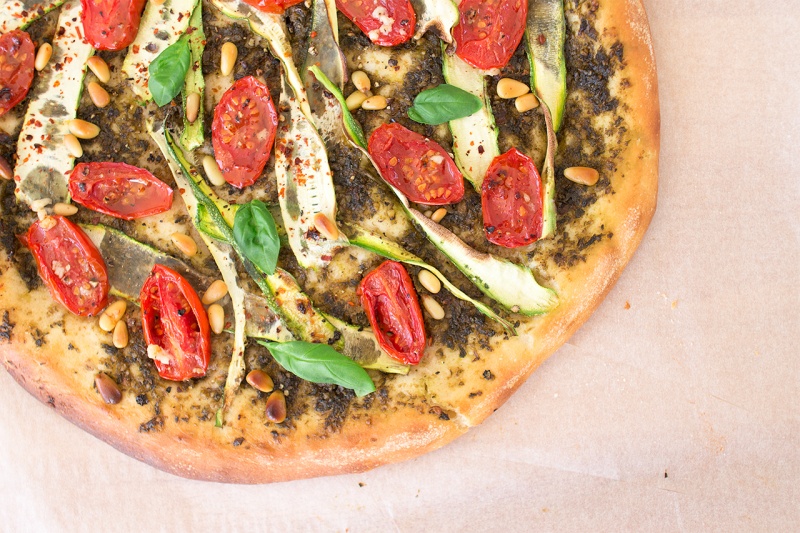 We've been meaning to make a pizza with a vegan topping for a while, but somehow we haven't get round to it yet. Our recent dinner at a great pizza place on Antiparos (a little sister island of Paros) Lollo's has put vegan pizza back on our culinary roadmap. I was very nicely surprised that they had added not one, but two vegan pizza toppings to the menu – they seem to be very in tune with people's changing eating habits, which is awesome. I had a spicy cherry tomatoes number and it was so delicious and satisfying. Ever since I had it, I've been thinking that we need to make one for the blog too.
So we bought all the necessary groceries and we were ready to go. As luck would have it, it was one of the hottest days of the year so far (30° C) and we had to turn our oven up to as high as it would go. We were a bit cranky about that and drank gallons of water while working. It was a true joint collaboration. Duncan is the dough master in our house (he calls the kitchen the dough-jo) so he kneaded and shaped the dough while I came up with and prepared the topping. I whipped up my pesto in a pestle and mortar from a basil plant that I miraculously have not managed to kill yet, but if you can buy a vegan pesto why not make your life easier? Especially when it's so hot… Really, it's the pesto and sweet cherry tomatoes that make this pizza. After the pizza came out of the oven, I had two jobs: one of photographing it and the other of stopping Duncan from eating it. He was put out by the fact that there was all this beautiful-smelling pizza around him and he couldn't eat any of it. Then I came up with a brilliant, yet slightly cruel idea, of photographing him holding a slice of pizza. Good job you cannot see his face in the photo – it was not a happy one…'Are you done yet? Can I eat yet?' – like a three-year-old, I swear…;)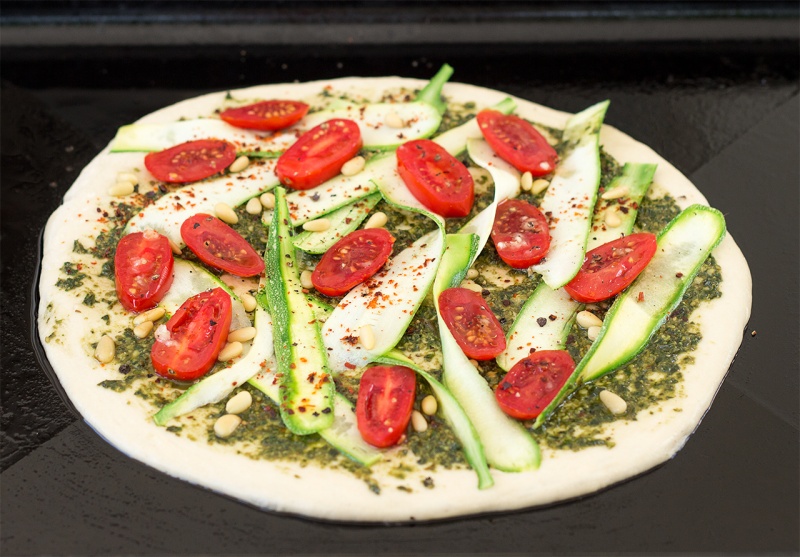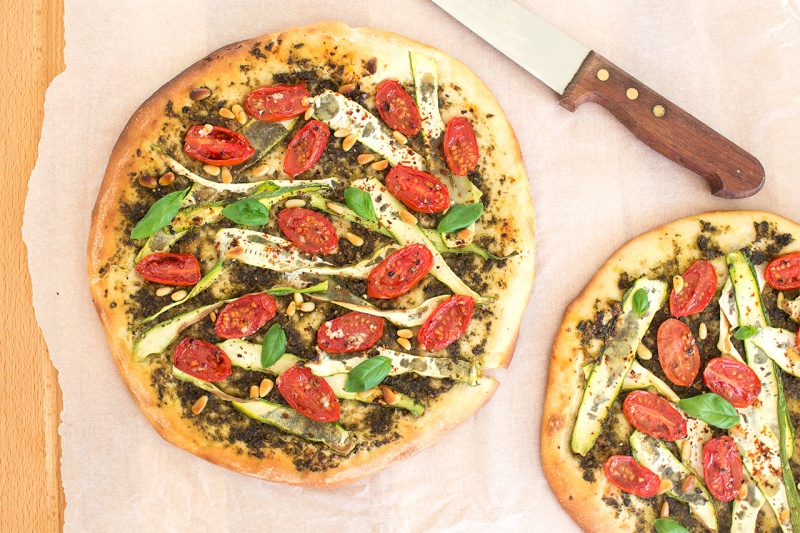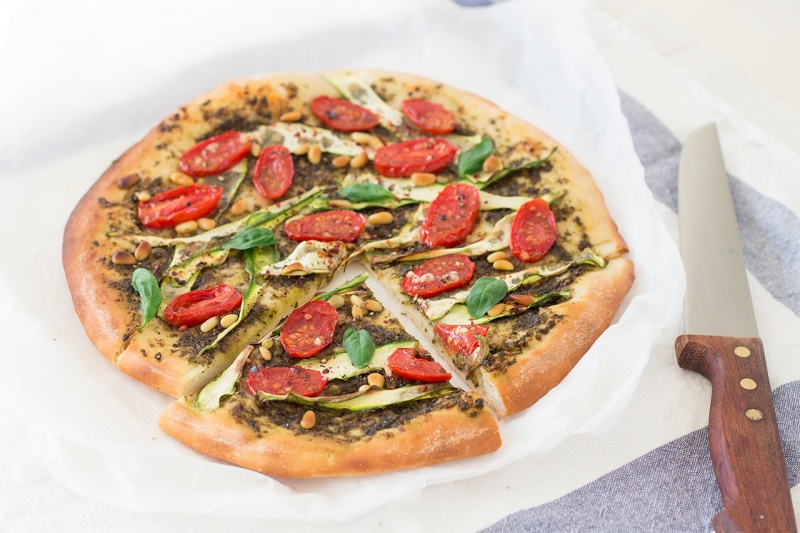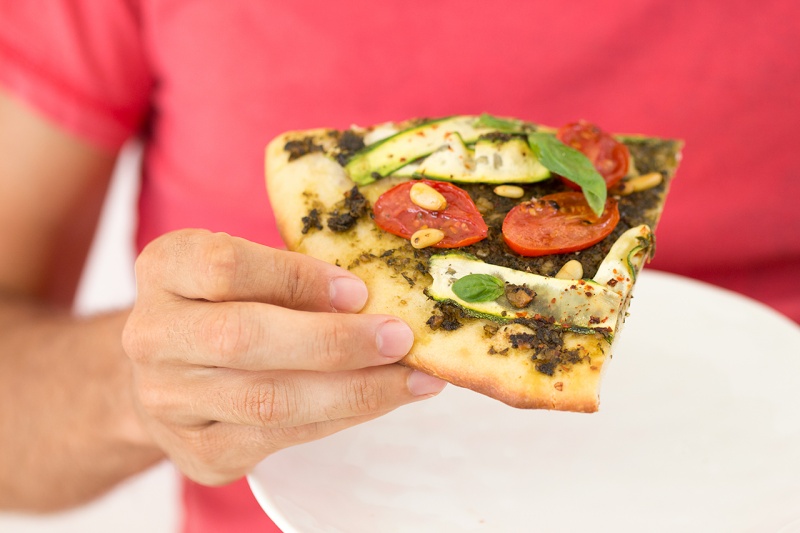 PIZZA DOUGH
250 g strong flour
250 g all-purpose flour
10 g salt
7 g sachet fast-action dried yeast
320 ml water (lukewarm)
1 tbsp olive oil
PESTO (makes 200 ml)
¼ cup pine nuts or walnuts
50 g basil leaves
½-1 small garlic clove, pressed
about 90 ml / 6 tbsp virgin olive oil
squeeze of lemon
pinch of coarse salt
pepper
TOPPING
3 small courgettes
10-15 cherry tomatoes, halved
2 tbsp pine nuts, raw
1 tbsp of olive oil + ½ crushed garlic clove mixed in
2 pinches of chilli (if using)
fresh basil leaves (optional)
salt & pepper
METHOD
DOUGH
Mix the flour, salt and yeast in a large mixing bowl.
Pour in the lukewarm water and olive oil. Stir everything together with a large wooden spoon.
When the mixture has mostly stuck together turn the mixture out on to a work surface or bread board.
Knead the mixture by holding one end of the dough in one hand and stretching it out with the other hand (see photo below). Reform the dough, turn it 90 degrees and start again. Repeat this for 10 minutes .

When the dough is shiny and smooth, put it in a large mixing bowl, coat it in a thin layer of olive oil and cover the bowl with a tea towel.
Leave this in a warm place (but not too warm – ie not next to an open fire!) for between one and two hours (until it has doubled in size). You can use this time to make the pesto.
PESTO
Toast pine nuts for the pesto (the ones that go on the pizza should remain raw) in a dry pan on a low heat. Stir them very frequently as they burn easily.
Crush roasted pine nuts in a pestle and mortar along with garlic. Add basil leaves and coarse salt and work it into a pesto.
Slowly trickle in olive oil while working the pestle to emulsify the mixture. Season to taste with more salt, pepper and a dash of lemon juice.
ASSEMBLY
Set the oven to 250° C or 480° F.
Shave courgettes with a speed peeler until you hit the watery centre with seeds. Blot courgette shavings on a piece of kitchen towel to get rid of the excess moisture.
Empty the dough out on to a work surface and push the air out with your fingertips.
Roll out 2-3 small pizzas. Put each on a well-oiled baking tray. Spread a thin layer of pesto on each pizza. Arrange tomato halves, courgette shavings and pine nuts on top. Brush open side of tomatoes with garlic oil. Season with salt, pepper and a sprinkle of chilli if you like.
Bake each pizza in the hot oven for about 8-10 mins.