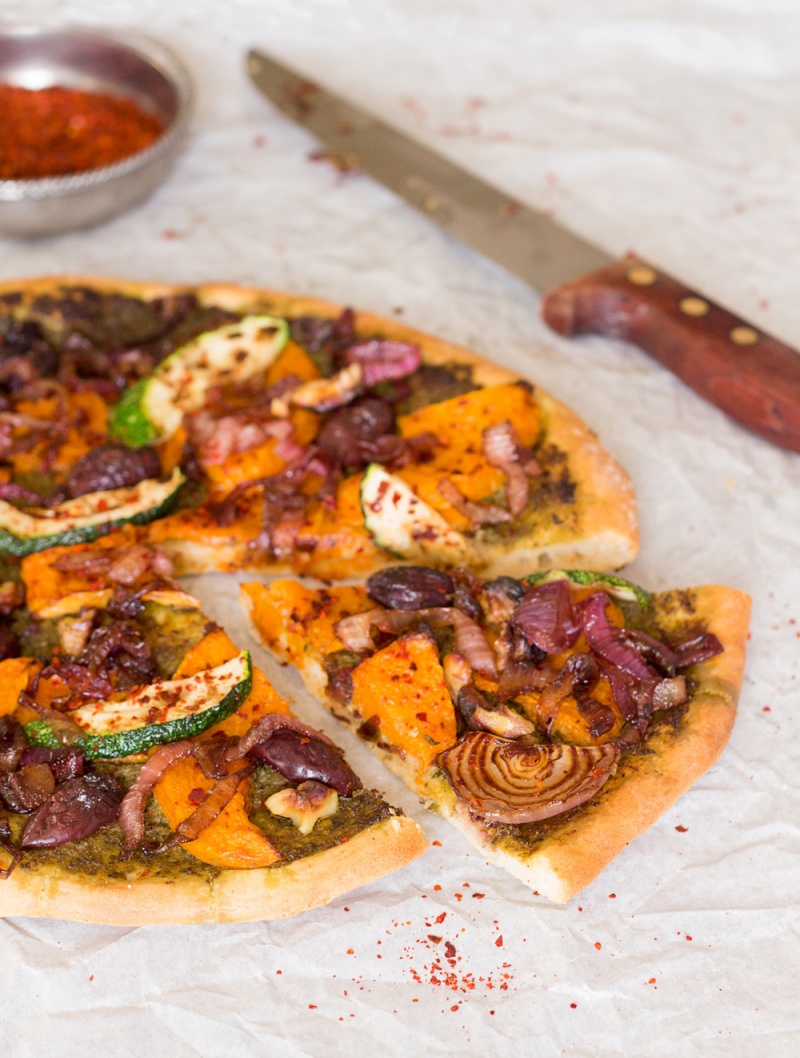 It's been a while since we made a vegan pizza! Last time, it was the peak of Greek summer (30° C in the shade) and we were both wondering what on earth possessed us to make a pizza on the hottest day of the year! It's autumn now, and therefore much cooler and making fall pizza in this weather is actually quite a nice pastime. We wanted to make a fall pizza that celebrates autumn's flavours. We have also happened to buy one big ass pumpkin in a bit of a shopping frenzy and once we got home we started wondering what on earth can we do with that much of it… Well, some of it ended up on our fall pizza. To balance the pumpkin's sweet flavour, we've paired it up with slightly bitter pesto, acidic balsamic vinegar and salty olives. We also added a sprinkle of walnuts for a bit of extra crunch and a touch of chilli cos…we like chilli. As soon as we bit into our respective slices we knew that we will make it again and again! We hope you'll love it too. As usual, the dough was lovingly kneaded by our dough master (AKA Duncan) and I came up with the topping. The cat pretty much did nothing, apart from trying to steal a piece of raw pizza dough when I was spreading rocket pesto on it. It has strange taste in food, that one!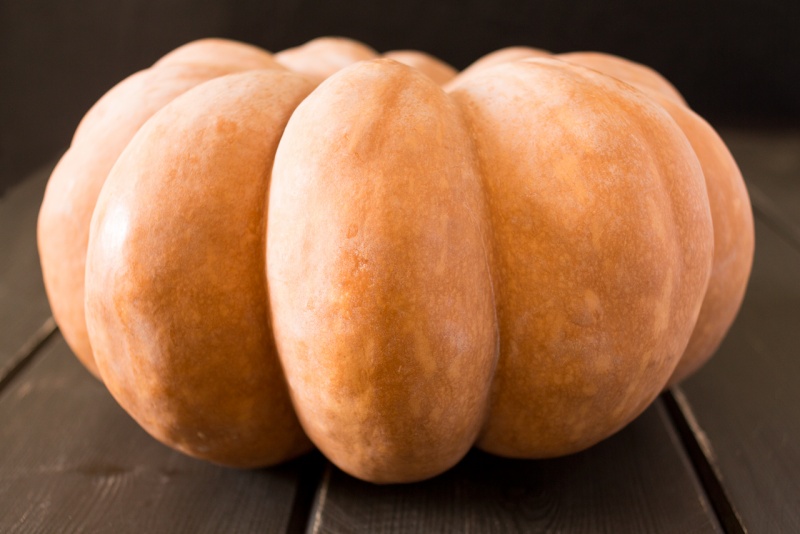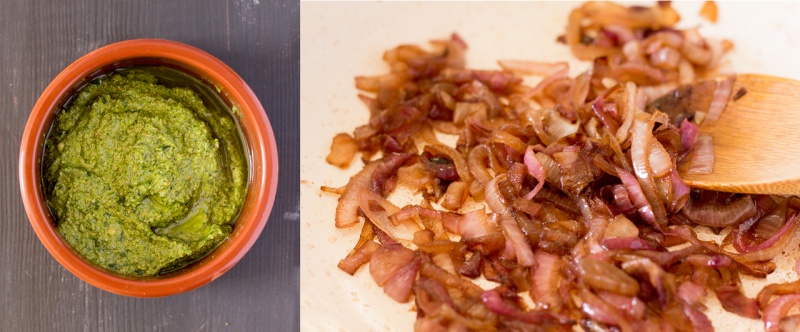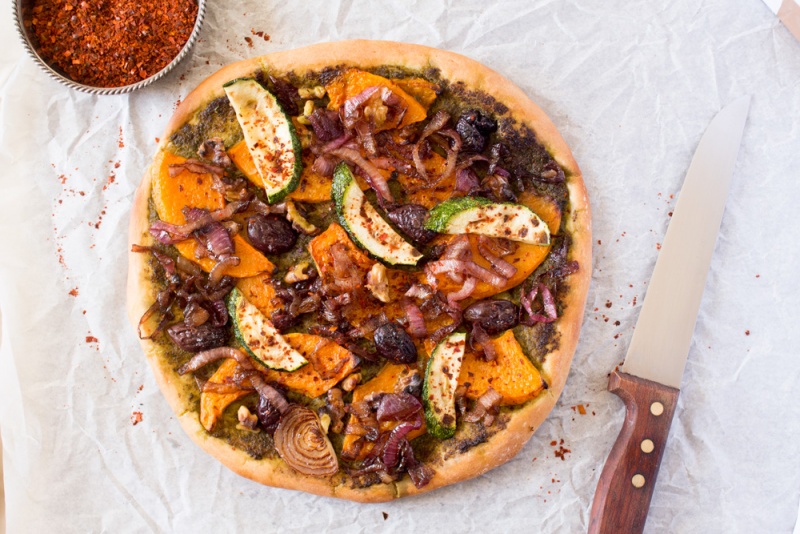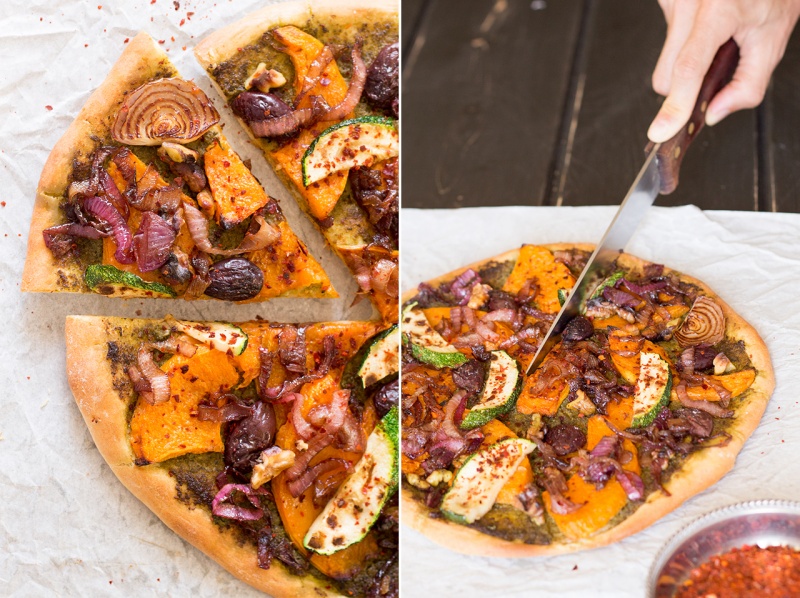 PIZZA DOUGH
250 g strong flour
250 g all-purpose flour
10 g salt
7 g sachet fast-action dried yeast
320 ml water (lukewarm)
1 tbsp olive oil
CARAMELISED ONIONS
2 medium red onions
1-2 tsp brown sugar
1 tbsp balsamic vinegar
2 tbsp / 30 ml olive oil
pinch of salt
ROCKET PESTO
¼ cup walnuts
50 g rocket leaves
1 small garlic clove, pressed
about 90 ml / 6 tbsp virgin olive oil
squeeze of lemon
pinch of coarse salt
pepper
TOPPING
2 segments of large pumpkin, cut into ½ slices
1 courgette, cut into ½ slices
handful of Kalamata olives, pitted
handful of walnuts
2 pinches of chilli flakes
olive oil
salt & pepper
METHOD
DOUGH & PRE-ROASTING VEGETABLES
Mix the flour, salt and yeast in a large mixing bowl.
Pour in the lukewarm water and olive oil. Stir everything together with a large wooden spoon.
When the mixture has mostly stuck together turn the mixture out on to a work surface or bread board.
Knead the mixture by holding one end of the dough in one hand and stretching it out with the other hand (see photo below). Reform the dough, turn it 90 degrees and start again. Repeat this for 10 minutes .

When the dough is shiny and smooth, put it in a large mixing bowl, coat it in a thin layer of olive oil and cover the bowl with a tea towel.
Leave this in a warm place (but not too warm – ie not next to an open fire!) for between one and two hours (until it has doubled in size). You can use this time to start on caramelised onions and make the pesto.
Set the oven to 200° C / 390° F. Brush sliced pumpkin in a bit of olive oil and place on a lined baking tray. Roast the pumpkin until soft (about 25-30 mins) but before it starts to get coloured. After pumpkin has been in the oven for 20 mins, add courgette slices to the baking tray to soften them a little.
CARAMELISED ONIONS
Warm up 2 tbsp of olive oil in a large pan. Peel the onions and slice them into 3 mm slices – if you slice them too finely, they will dry out rather than caramelise.
Add sliced onions to the pan, stir them well to coat them in the olive oil. Cook the onions on a very low heat (I used setting 2 out of 6) to soften them – to get them nice and caramelised, you mustn't rush the process.
Once soft, add salt, sugar and balsamic vinegar and cook some more. Finally add a splash of water to deglaze the pan and gather all the sweet oniony goodness stuck to the pan. Continue cooking until the water cooks out.
PESTO
Toast walnuts for the pesto in a dry pan on a low heat. Stir them very frequently as they burn easily.
Using a hand blender with a chopping attachment, chop rocket finley, add sliced garlic and walnuts.
Add in olive oil to emulsify the mixture. Season to taste with more salt, pepper and a dash of lemon juice.
ASSEMBLY
Once your pumpkin and courgette has been pre-roasted, put the oven temperature up to 250° C or 480° F and enable the fan if your oven has one.
Empty the dough out on to a work surface and push the air out with your fingertips.
Roll out 2-3 small pizzas. Put each on a well-oiled baking tray. Spread a thin layer of pesto on each pizza. Arrange pre-roasted pumpkin, courgette, olive halves and a few raw walnuts on the pesto layer. Sprinkle with a bit of chilli, salt and pepper and bake for about 8-10 min (until the crust is nice and golden).
Once you remove pizza from the oven, scatter a few caramelised onions on top.