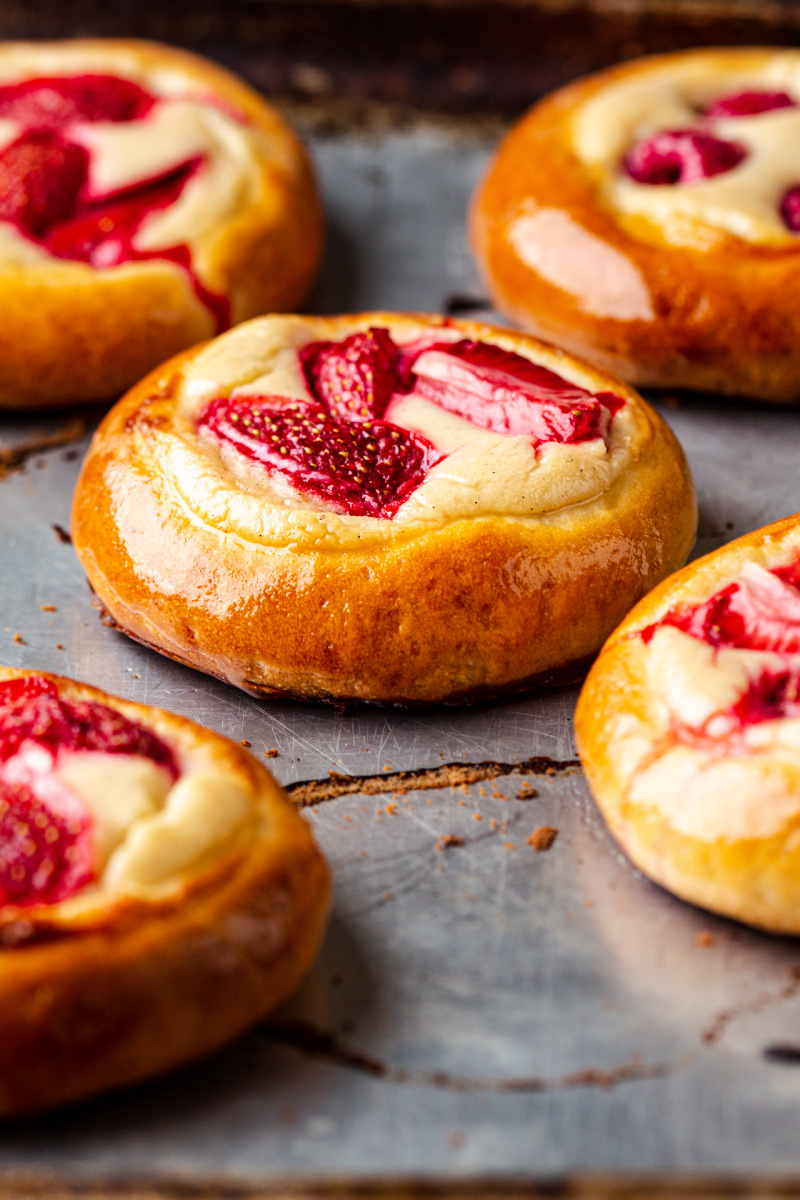 Happy Wednesday! And I hope you like cheesecake as I'm in a cheesecake mood these days. After my last recipe, I've developed a hankering for cheesecake filled buns with juicy raspberries and strawberries. I don't normally publish sweet recipes on a Wednesday (a self-protection mechanism mainly 😉 ), but it was a craving I could not shake off.
And then I realised that Duncan was heading off for a two day kayaking trip this morning so I had a perfect excuse to bake. I got to make them, which made me happy, and he and his fellow kayakers will get a nice treat after a long day on the river – everyone wins. I hope they go down well.
They are one many traditional Polish bakes I grew up on, alongside their plain versions and bilberry filled rolls. They remind me of summers back home and I am feeling a little nostalgic and homesick lately, perhaps because I have not been able to see my mom for a year and a half now, so I thought I would make something that transports my senses back home. It did smell like a bakery here when they were in the oven last night.
These fluffy rolls are really simple to make and very portable – perfect for a picnic or a trip. They are delicious with a cup of strong black coffee or on their own. In Poland, they often work as a 'on the go' breakfast, our equivalent of a French croissant if you like. Not the healthiest, I'll admit, but darn tasty!
The filling is really versatile – they can be topped with any berries you like or anything a little tart like sour cherries, rhubarb or even gooseberries will work well with the sweet cheesecake filling underneath. Just keep sourness of your fruit in mind when seasoning the filling with lemon juice. I like my filling with quite a decisive tang but if you don't simply replace some of the lemon juice with plant milk to your preference. Also, they are not meant to be doughnut-sweet, but if that's what you prefer feel free to add more sugar to my recipe – your call. I hope you'll enjoy them if you decide to give them a go.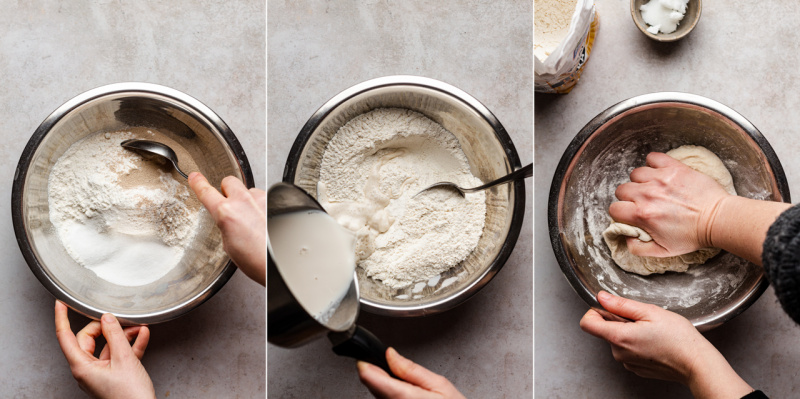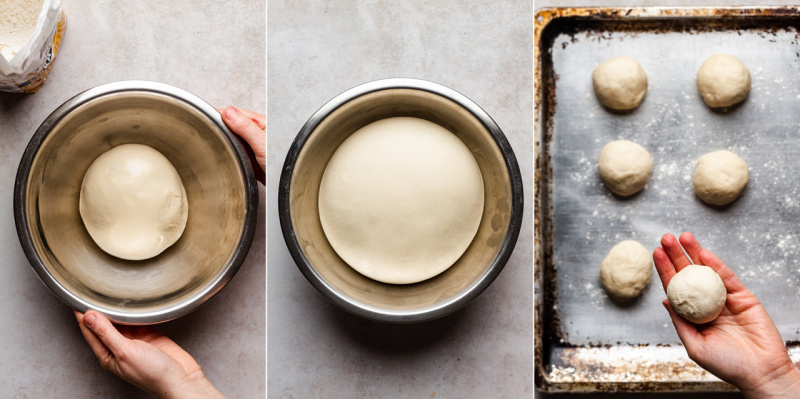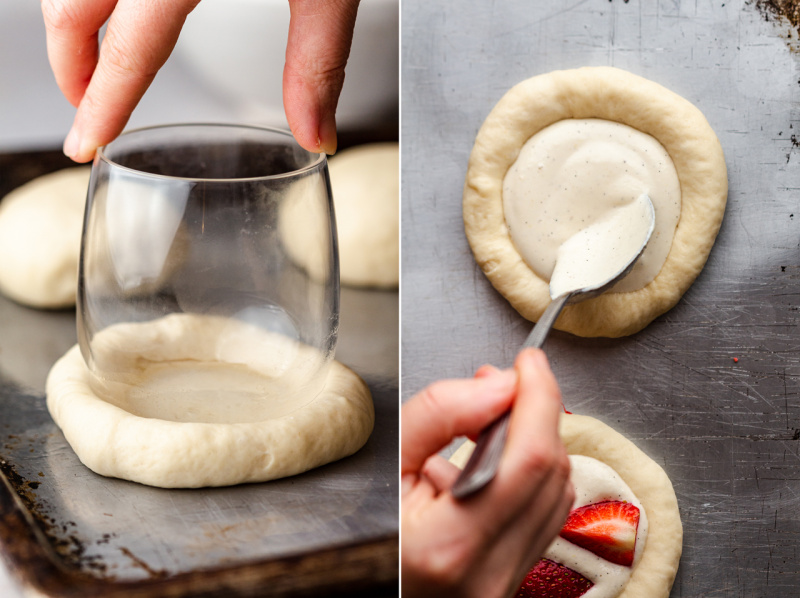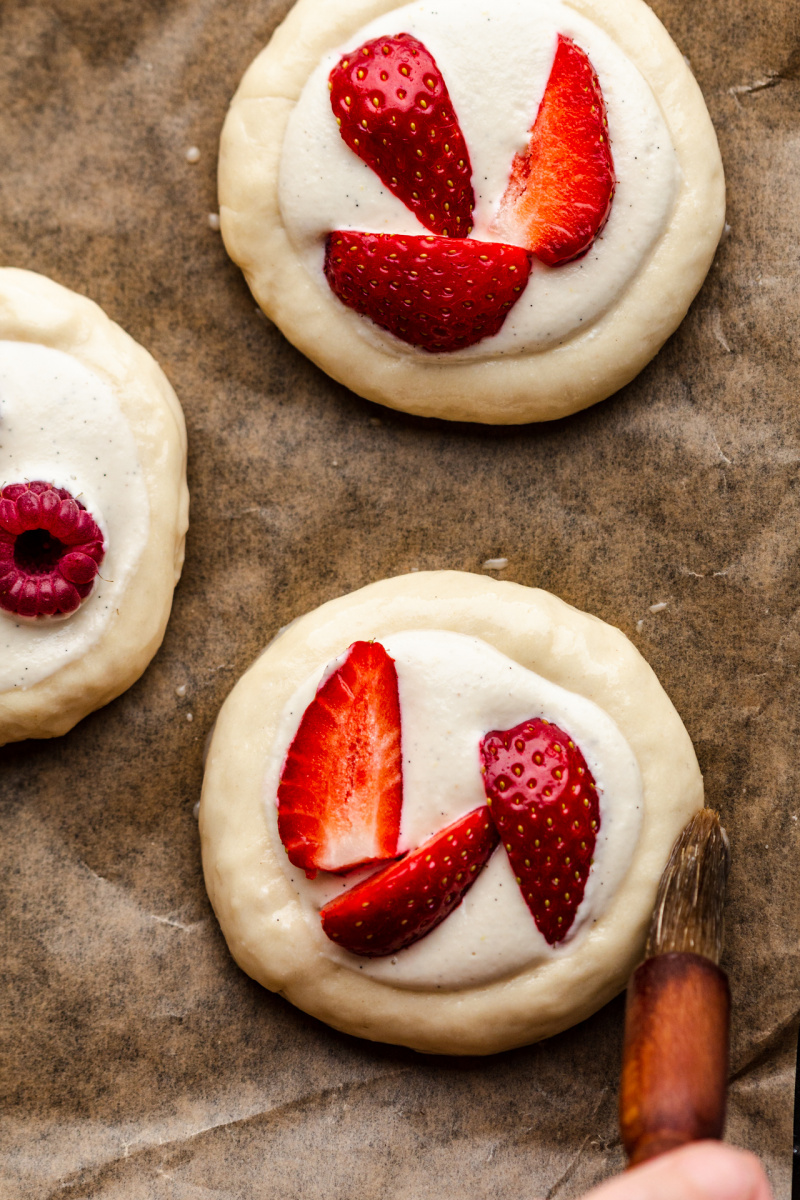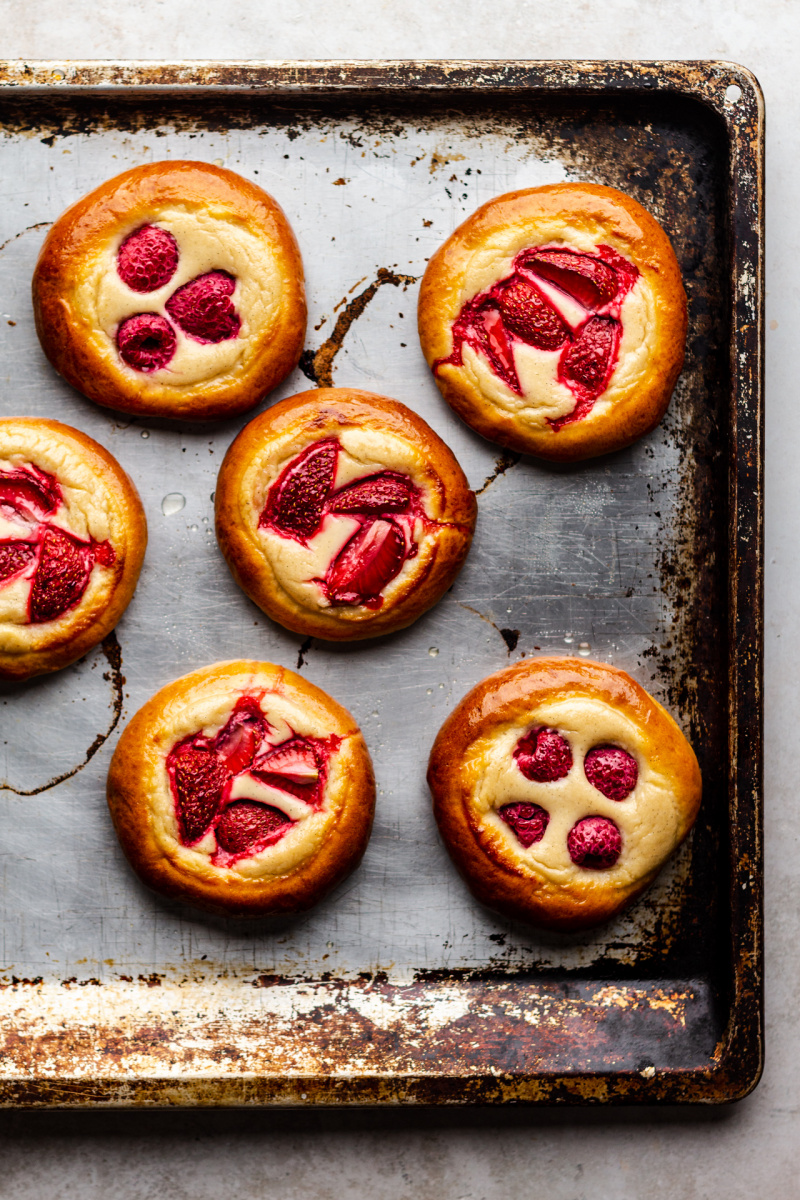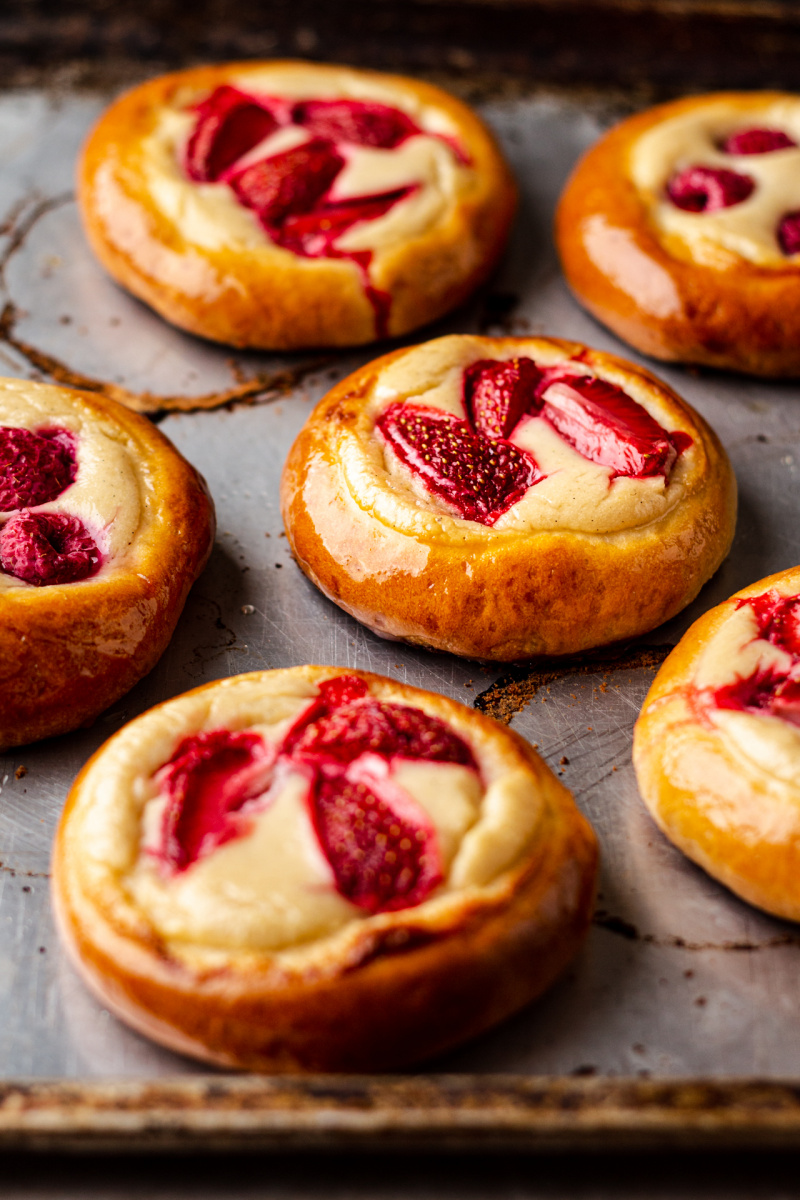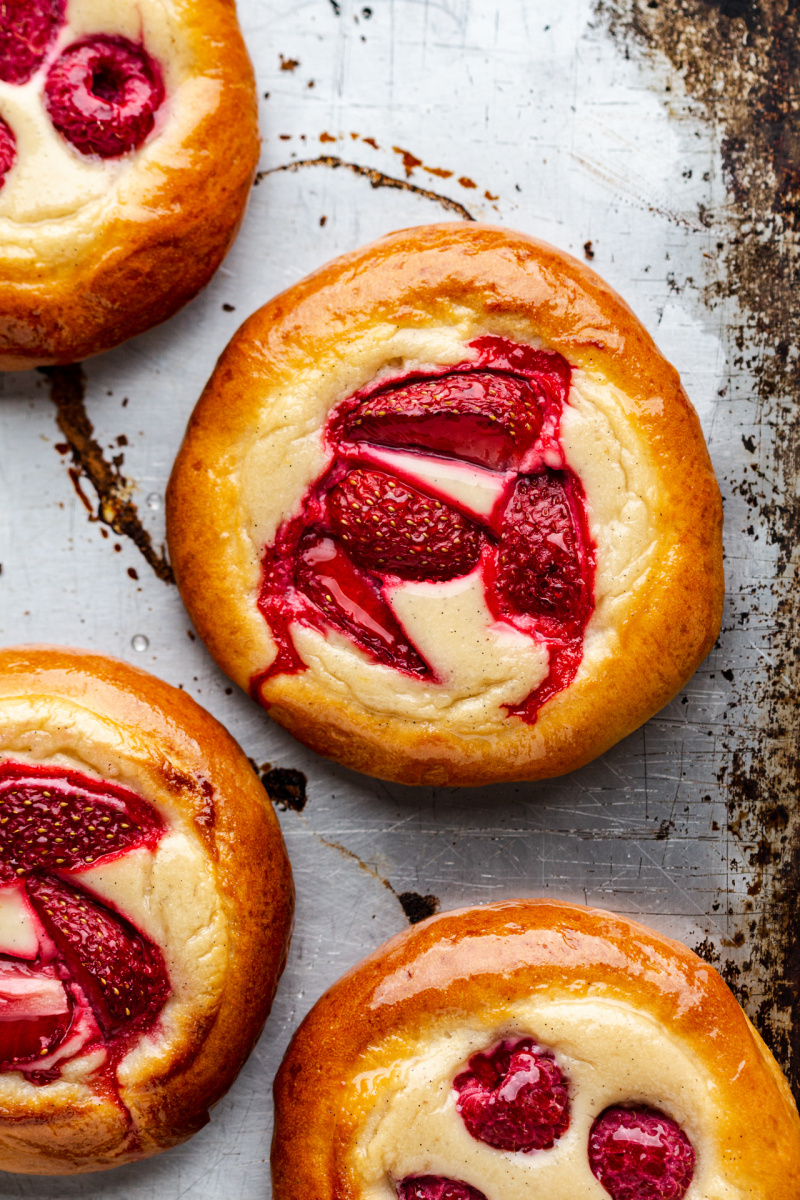 DOUGH
250 g / 2 cups AP wheat flour*, plus extra for dusting
¼ tsp fine salt
7 g / 2¼ tsp instant dried yeast*
35 g / 3 tbsp sugar (coconut sugar if refined sugar-free)
approx. 160 ml / 2/3 cup lukewarm plant milk
30 g / 2 heaped tbsp mild coconut oil (or vegan butter)*
vegan 'eggwash' – 2 tsp plant milk + 1 tsp maple syrup
FILLING
135 g / 1 cup raw cashews, soaked in boiling water for minimum 20 minutes
1 lemon, zest + 2-4 tbsp juice (I like 4 tbsp)*
2 tsp vanilla extract
80 ml / 1/3 cup maple syrup or sugar (see method)
80 ml / 1/3 cup plant milk, if using sugar
15 g / 1 heaped tbsp mild coconut oil or vegan butter
150 g / 5.25 oz ripe berries
METHOD
FILLING
Place all the liquids at the bottom of your blender. If using vegan butter or hardened coconut oil, soften it a little first. If using sugar (other than icing sugar), dissolve it in 80 ml / 1/3 cup plant milk first. If using maple syrup, you may need to add an extra 1-2 tbsp plant milk to loosen the cream.
Blend in drained and rinsed cashews until the mixture is silky smooth. As opposed to other cashew creams I made on here, this mixture needs to be fairly loose as this allows for some of the moisture to evaporate during baking and prevents the filling from drying out too much.
DOUGH
Mix the flour, salt, instant yeast and sugar in a large mixing bowl.
Pour in most of the plant milk (hold back 1 tbsp). If using maple syrup instead of sugar, adjust the amount of plant milk accordingly. Bring all the ingredients together with a wooden spoon.
When the mixture has mostly stuck together, turn the mixture out on to a work surface. If the mixture feels dry, add the rest of plant milk. The dough should be a little sticky initially but quite easy to work with.
Knead the mixture by holding one end of the dough in one hand and stretching it out with the other hand. Reform the dough, turn it 90 degrees and start again. Repeat this for about 5 minutes.
Work the coconut oil (no need to melt it) into the dough. To begin with the dough will be slippery and will look like it's been ruined. Keep working it and eventually all the fat will get absorbed by the dough and it will become elastic and smooth (it takes about 10 minutes) .
Put the dough in a large clean bowl, coat it in a thin layer of oil and cover the bowl with a clean kitchen towel. Set aside, in a warm (but not too warm) place for 1-1½ hours, until the dough doubles in size.
Once the dough has doubled in size, punch all the air out of it and divide it into 6-7 identical portions.
Roll each portion into a ball, place them in a lightly oiled baking tray and cover with a kitchen towel. Set aside for about 30-45 minutes, until the balls rise again slightly.
Heat up the oven to 180° C / 355° F.
Flatten each ball with your hand then press a lightly oiled glass bottom into each ball to create a deep indent for the filling. If the dough springs back (which it should), use your fingers to perfect the shape of the indent. Fill with the sweet 'cheese' mixture you've made earlier and top with berries.
Brush the dough (not the filling) with a mixture of plant milk and maple syrup. Bake for about 20 minutes. Brush with a little maple syrup (or sugar syrup) while still hot for that bakery shine.
NOTES
*FLOUR: I used all purpose flour – it produces a softer result, but some people use 50% all purpose and 50% bread flour or even all bread flour. I would advise against using wholewheat flour as the result will be coarser and less pleasant to eat. I have not tested these with GF flour as gluten is a key here so it won't work without a serious dose of magic, I'm afraid.
*YEAST: make sure you use the right kind of yeast. I used instant yeast (which gets added directly to the flour), but if you have dried active yeast, for example, it will need activating in the liquid (allocated for this recipe) first. Please follow the instructions on the packet.
*FAT: for a softer & more indulgent result, you can add more coconut oil / vegan butter into the dough – traditional recipes use closer to 50 g / 4 tbsp but I don't think that's necessary.
*LEMON JUICE: adjust to taste but be sure to compensate for with plant milk if using less than 4 tbsp.