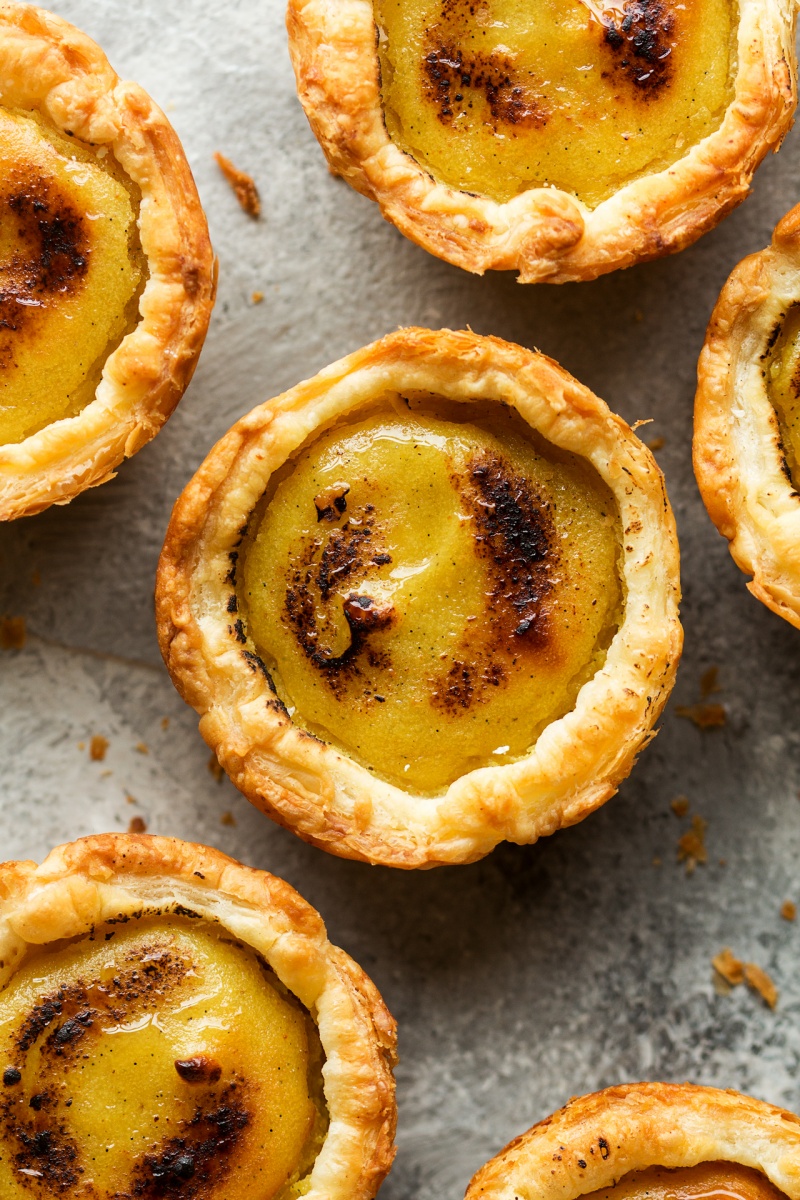 It's Duncan who you've got to thank for this recipe. He was on me to veganise Portuguese custard tarts for a long time, while I was somewhat reluctant. I don't know why… I guess given how much the traditional recipe relies on dairy and eggs, I just didn't think the taste would be anything to write home about… Boy, I was so wrong! These puppies are aaaammmaaazing and I don't make proclamations like this lightly.
Even though my initial hunch that using a mixture of cashews and silken tofu was the best way to replicate the silkiness and richness of a traditional custard filling, I still had to spend a lot of time getting the ratios exactly right and I experimented with different custard consistencies to get this final result. I was getting a bit custard obsessed and kept on tinkering and tinkering, always feeling like I should try again as I can improve on what I've got.
Luckily for you, you've got Duncan. While I would happily keep on going, he is much more capable of drawing a line under things. He is my voice of reason who often tells me: 'Ania, you've done enough. Everybody loves these, please don't waste the time you could be spending on a new recipe instead!!' I know he is right. I can be a pain. And I've learned never to argue back (or to at least pick my battles) as my perfectionism can certainly get out of hand at times and isn't doing anyone any good. I mean, let's face it, a recipe is useless to you unless it's published, right? Well, it is published now and I hope you'll make these pronto (or should I say rápido) and will love them as much as we did!
Make a simple custard base by blending the first three ingredients, then transfer the mixture to a pot and thicken in with cornflour slurry over low heat.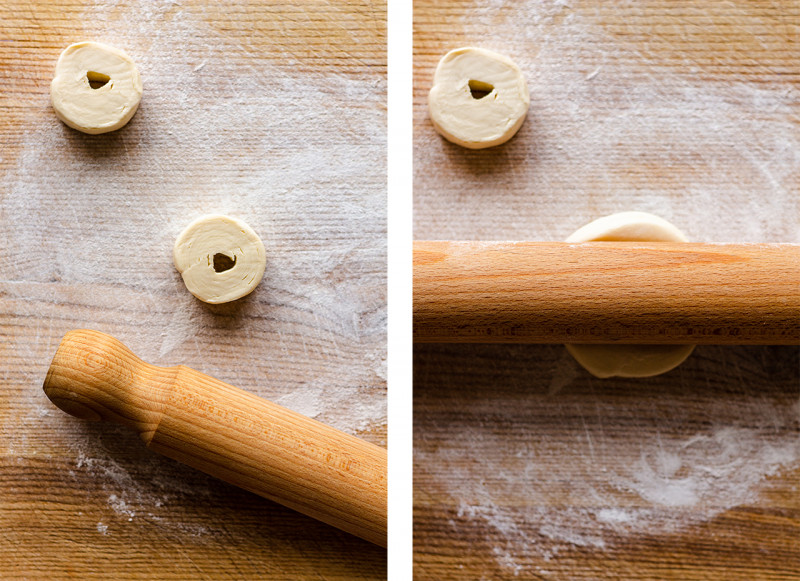 Roll out coils of puff pastry on a lightly floured surface until you obtain circles of pastry big enough to line muffin hole moulds completely.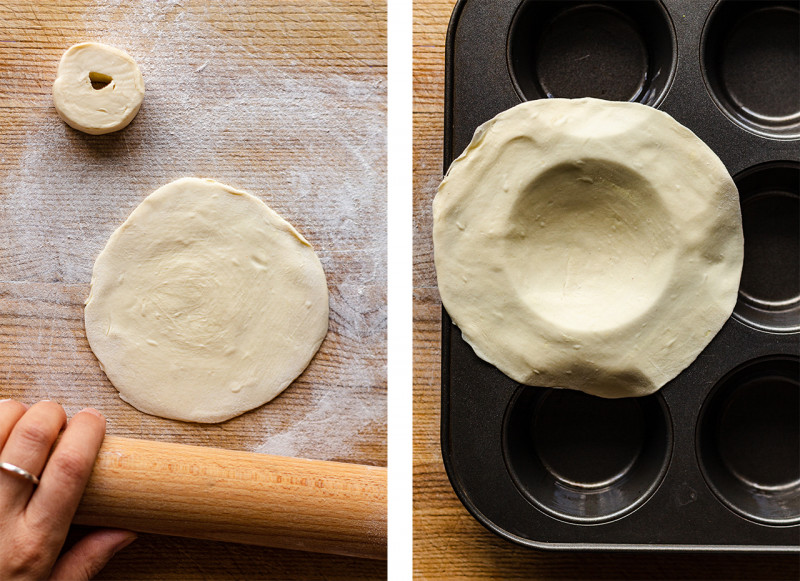 Lay rolled out pastry over a muffin hole mould. Using your fingers, gently line the inside of the muffin hole with the pastry so that it fits snugly.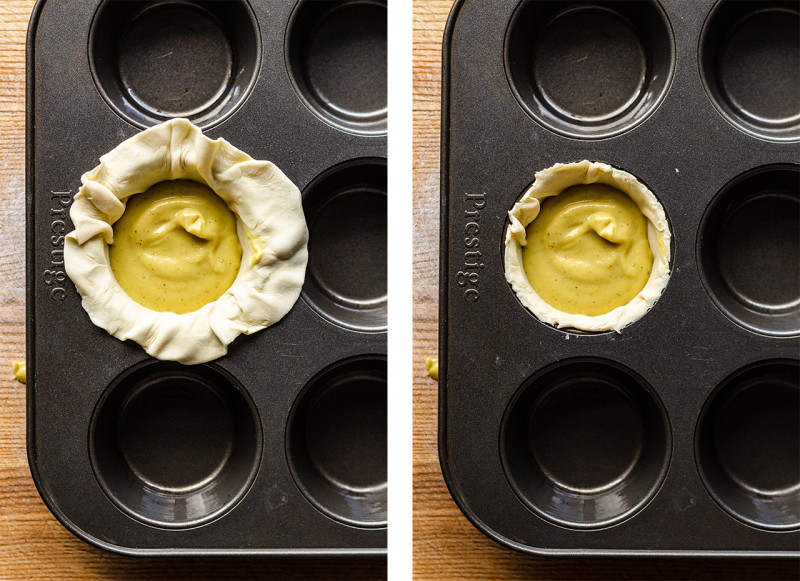 Fill with thickened custard, then trim excess pastry off using a sharp knife. Bake until the filling is barely set and the pastry is puffed up and golden.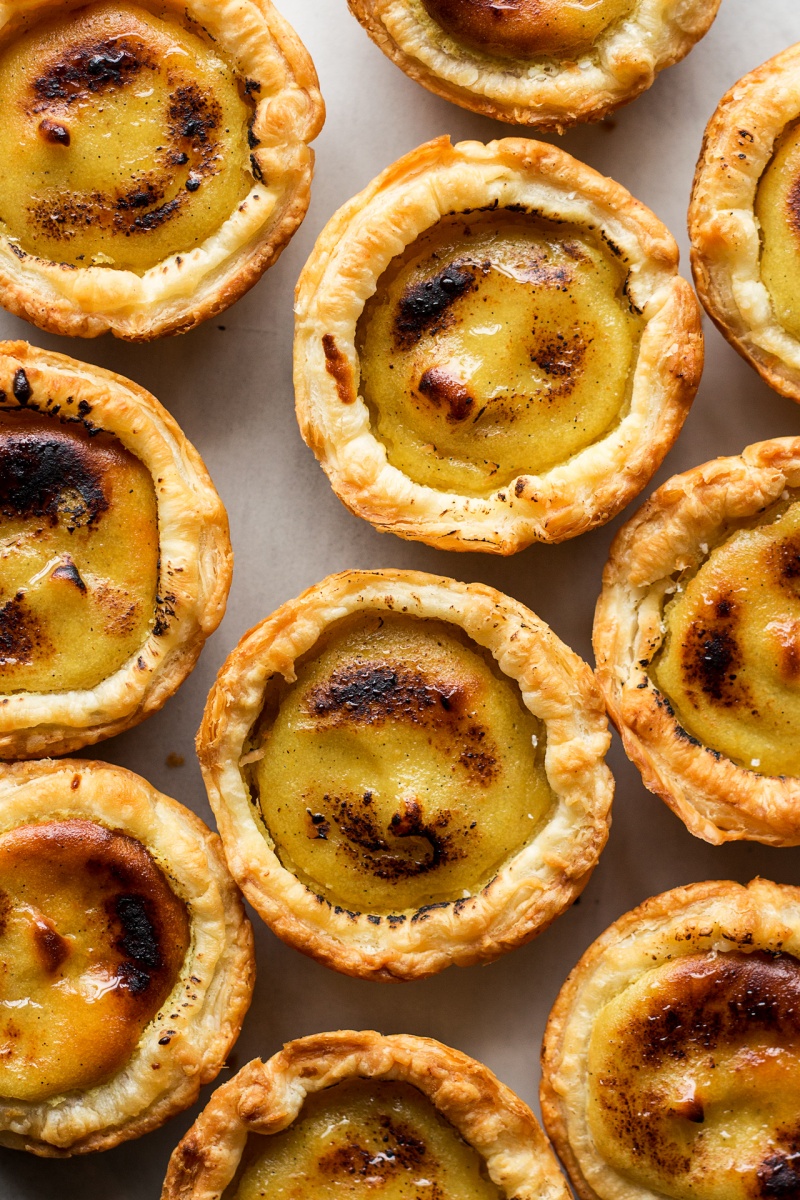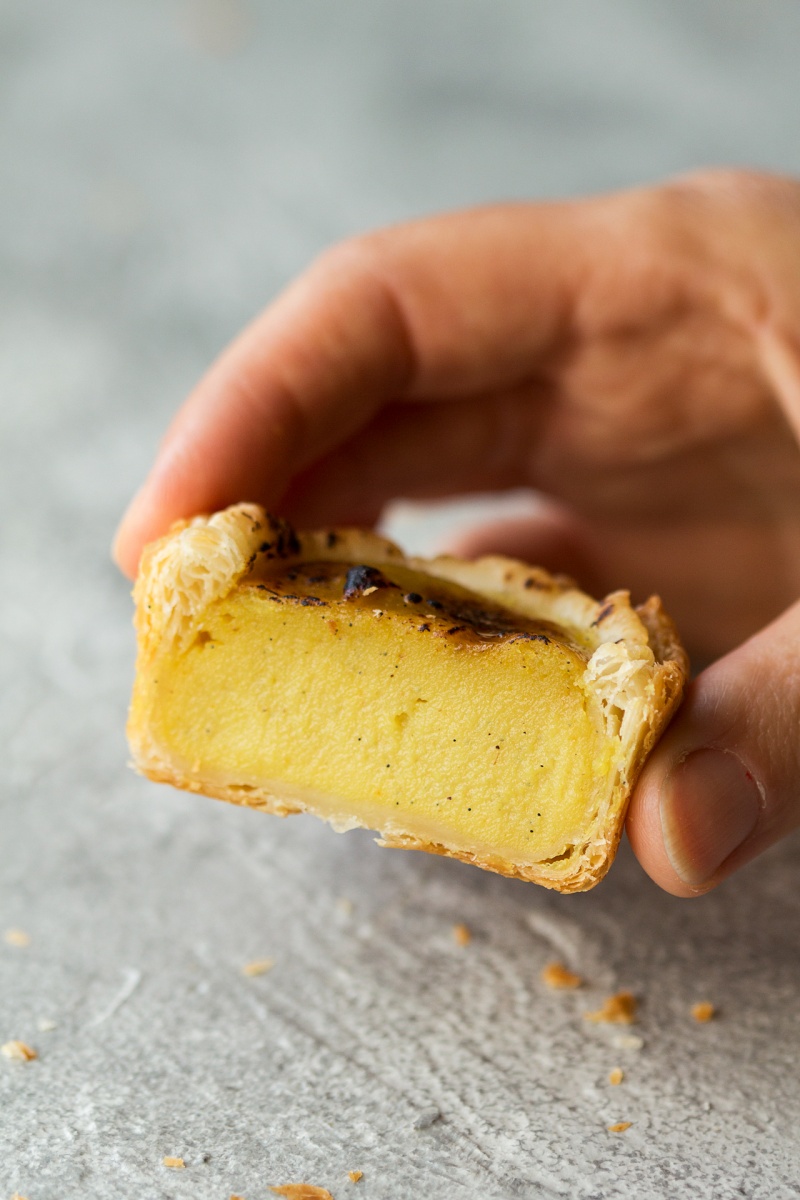 CUSTARD
120-150 ml / ½ cup + 1-2 more tbsp maple syrup, adjust to taste
125 g / 1 cup raw cashews, soaked in boiling water for 30 mins
200 g / 7 oz silken tofu (I use Clearspring)
zest of 1 lemon + 1 tbsp lemon juice
2 tsp vanilla paste or vanilla extract
a pinch of ground saffron (or saffron threads) or a few pinches of turmeric
2 tsp cornflour / cornstarch dissolved in 1 tsp water
REMAINING INGREDIENTS
320 g / 11 oz vegan puff pastry*
oil, to grease the baking tin
1 tbsp ground cinnamon mixed with 2 tbsp icing sugar (optional)
METHOD
CUSTARD
Place 120 ml / ½ cup of maple syrup and drained cashews in a blender. Process until silky smooth (if the mixture is bitsy, keep on processing, it will get smooth eventually even if you have an average blender like mine).
Add all the remaining ingredients apart from saffron (if using) and cornflour / cornstarch and process until smooth. Sweeten with extra maple syrup to taste, if needed. If you plan on sweetening your pastry (see step 2 of the ASSEMBLY section), this may not be necessary.
If using saffron to colour the mixture, place it in a tiny bit (a teaspoon) of plant milk and let it sit for a few minutes, then add the golden liquid to the mixture. Go easy on the amount as it's very potent. Turmeric can be added straight into the blender, but again, do not add too much (1/8 tsp is the maximum amount you will be able to get away with without overpowering the mixture).
Transfer the mixture to a medium pot and warm it up gently on the stove, whisking with a wire whisk the entire time. Slowly trickle in the cornflour / cornstarch dissolved in water and carry on mixing to prevent lumps from forming.
Allow the mixture to come to a gentle boil and simmer, stirring the entire time, just until it thickens.
Once thickened, take the pot off the heat and allow it to cool down completely before filling the pastry.
ASSEMBLY
Heat up the oven to 200° C / 390° F and grease a 12 hole muffin tin with a small amount of oil.
Unroll the sheet of puff pastry, remove a piece of grease-proof paper and tightly roll it back up. At this point, you may want to sprinkle the unrolled sheet with a mixture of cinnamon and icing sugar to give the pastry itself some sweetness. I personally didn't do that as I prefer the contrast of unsweetened pastry with a sweet filling.
Measure the length of the log and cut it into 12 equal segments – my pastry sheet was 23 cm (9″) long so each segment was 1.9 cm (0.75″) thick.
Dust the working surface with a little bit of all purpose flour. Place the first segment on the working surface, cut side down and gently flatten the coil with a rolling pin into a large, thin circle. Roll the pastry fairly thin (2-3 mm / 0.08-0.1″), it expands a lot during baking.
Place the circle of pastry over the muffin hole and gently push it into the hole, making sure the pastry fits in snuggly all the way to the edges of the base. Cut the excess pastry off with a sharp knife.
Fill the pastry with custard, leaving a gap of at least 1 cm / 0.4″ at the end of the pastry – the custard will rise and puff up as it bakes.
Continue the same way with the remaining 11 pastry segments.
Place the tray into the hot oven and bake for about 15 minutes. Allow the tarts to cool down before removing them from the tin.
If you have a chef's torch, sprinkle the tops with icing sugar or brush with maple syrup and blowtorch the tops. If you don't have a torch, place them under a hot grill / broiler for a few minutes, but watch them like a hawk as they will burn easily.
Dust them with cinnamon icing sugar before serving if you wish.
NOTES
*Puff pastry is often accidentally (as a cost saving measure) vegan so even if the pastry isn't labelled as vegan, check the ingredients. Give the ones marketed as 'butter puff pastry' or 'all butter puff pastry' a wide berth, of course.