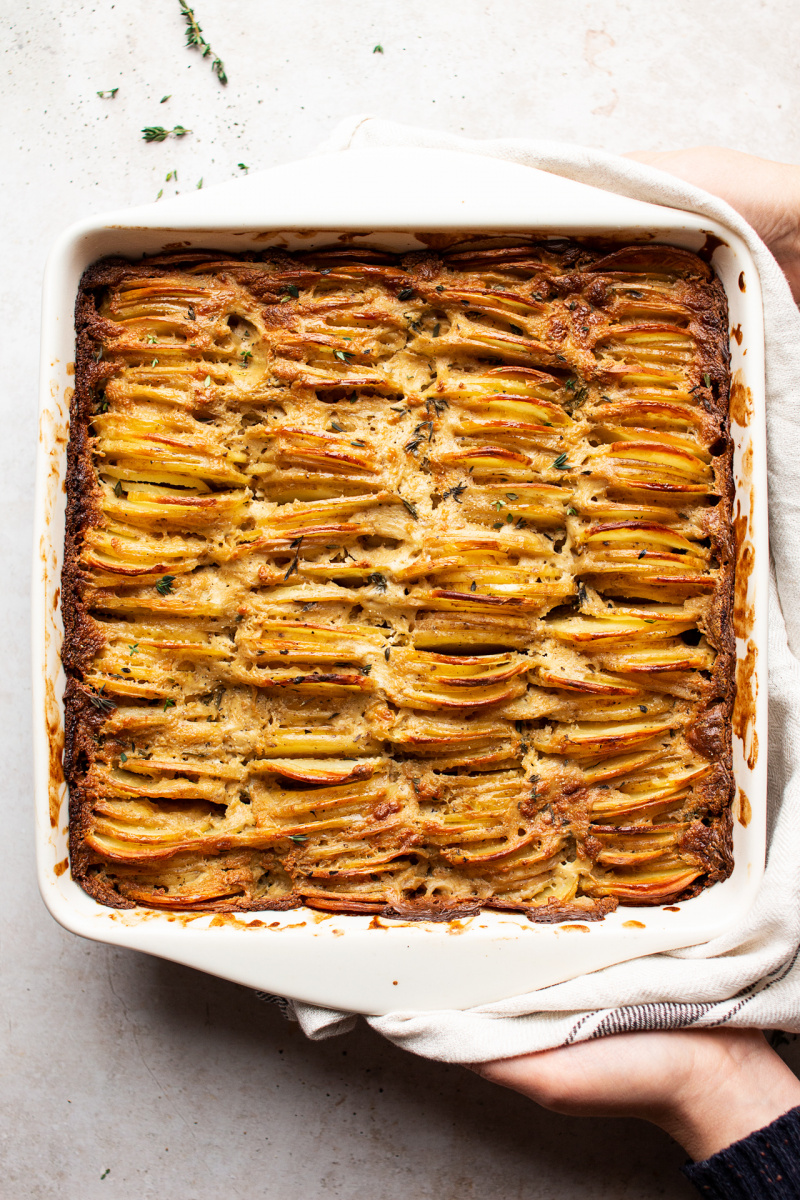 Hope you guys are well? I'm back in my kitchen full time and getting to grips with the fact that Xmas is only just a month away from now – where did the time go? I have plenty of Xmas recipes planned but first up, I know that a lot of you are about to celebrate Thanksgiving this Thursday, so I made one last Thanksgiving appropriate dish featuring potatoes (lots of them) and cream – what's not to like, eh?
Well, as it's a vegan recipe obviously it's not cream per se but a creamy concoction of cashews, plant milk, aromatics, plenty of herbs and spices. It hugs thinly sliced potatoes like a fluffy blanket allowing them to cook to perfection and infusing them with a lot of flavour. The jagged edges stick out above the sauce and get deliciously crispy in the process.
The beauty of this dish is that you do not need to worry about picking the same size potatoes as the more variation between the height of the slices the better. The sauce gets made in a blender in seconds and the potatoes get cooked in the sauce so there is no precooking or peeling needed, so it's a fairly low-effort dish that can feed a crowd. Vegan comfort food at its best.
When we tested this dish the other night, I made a small portion of it and a mountain of pasta too as I have trouble knowing what is enough food. We ended up eating an entire tray (although a lot smaller) of this bake with some good red wine to help it along 😉 . It wasn't the plan, but it was really addictive yet so filling that the pasta remained untouched.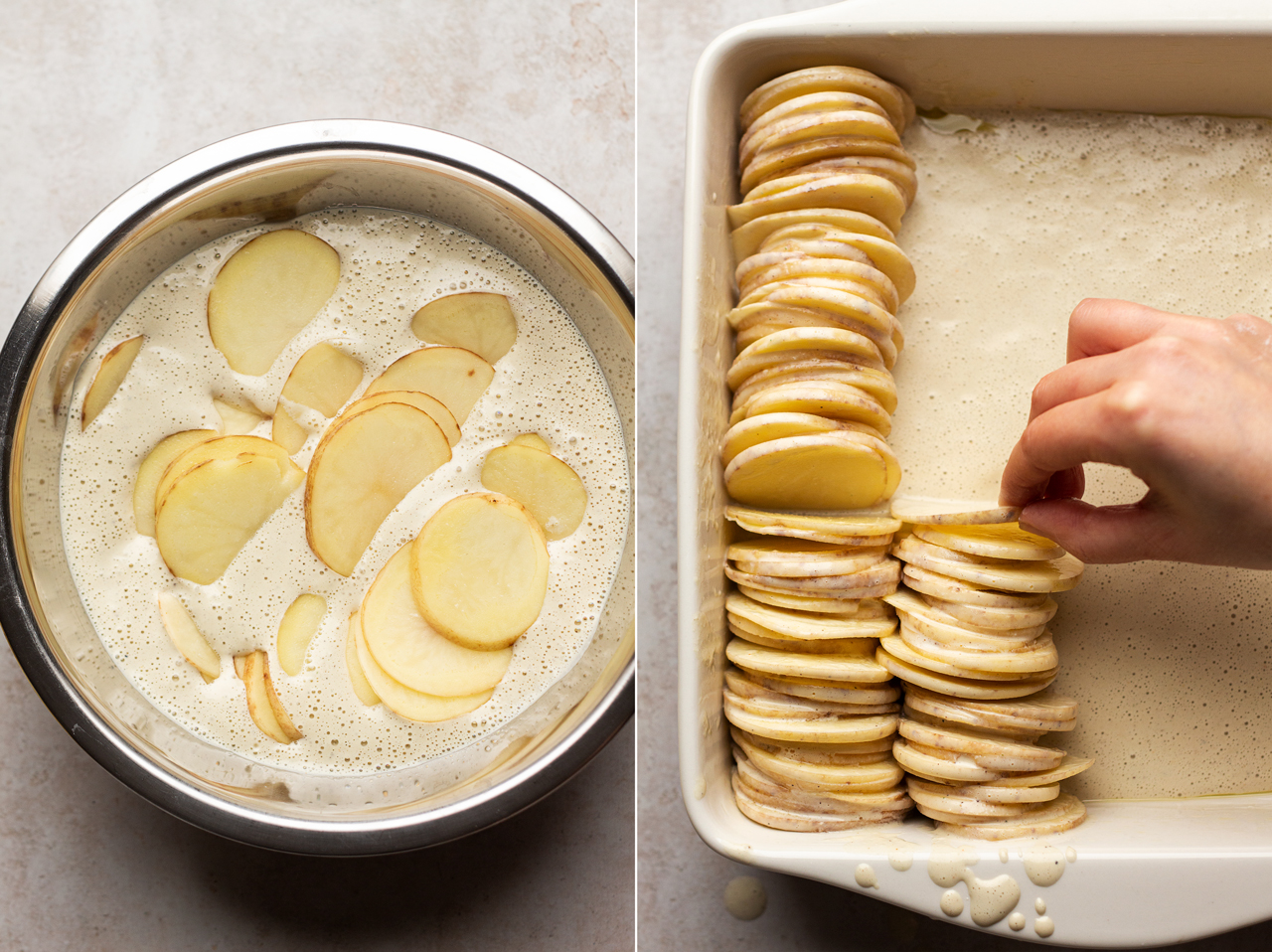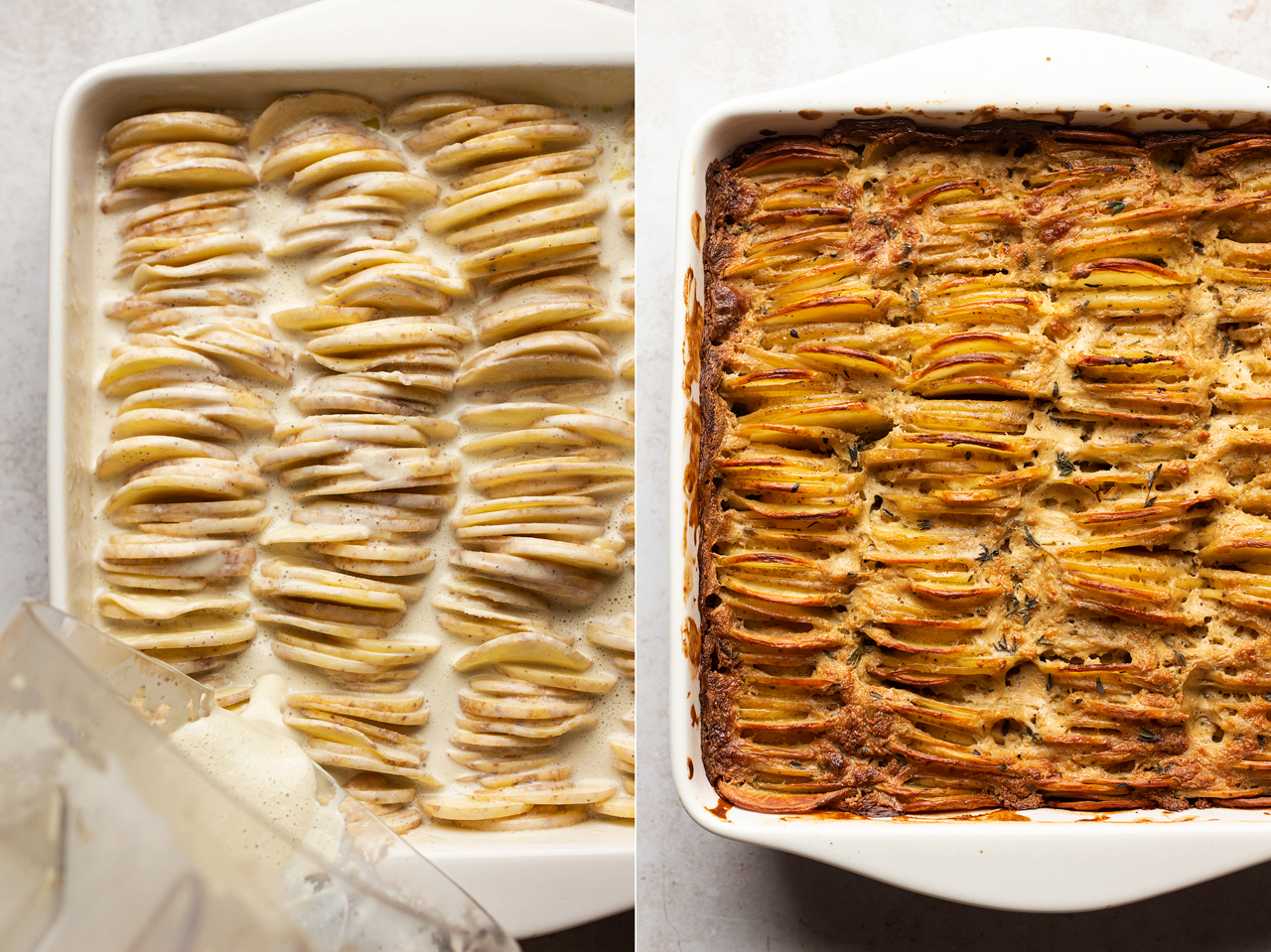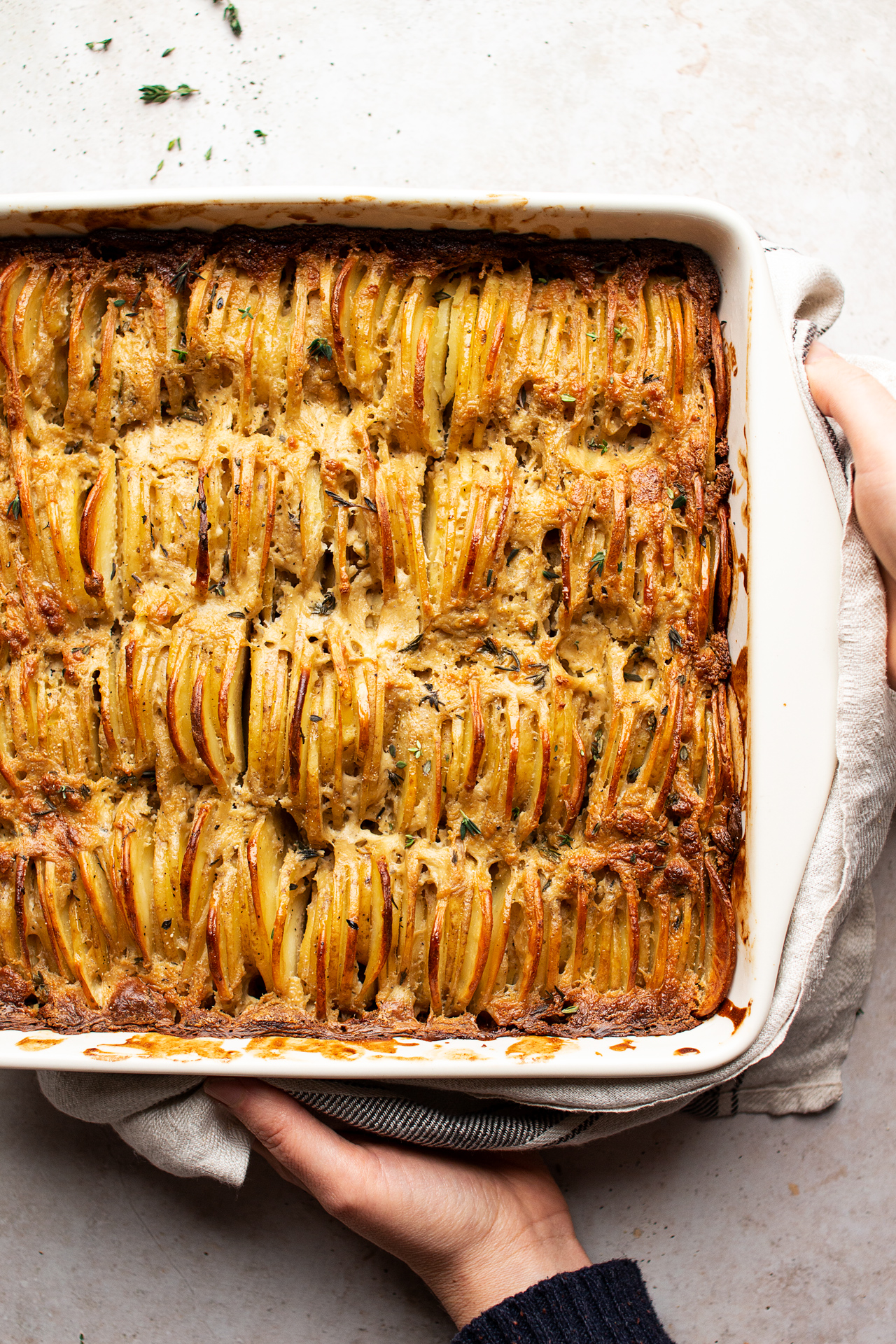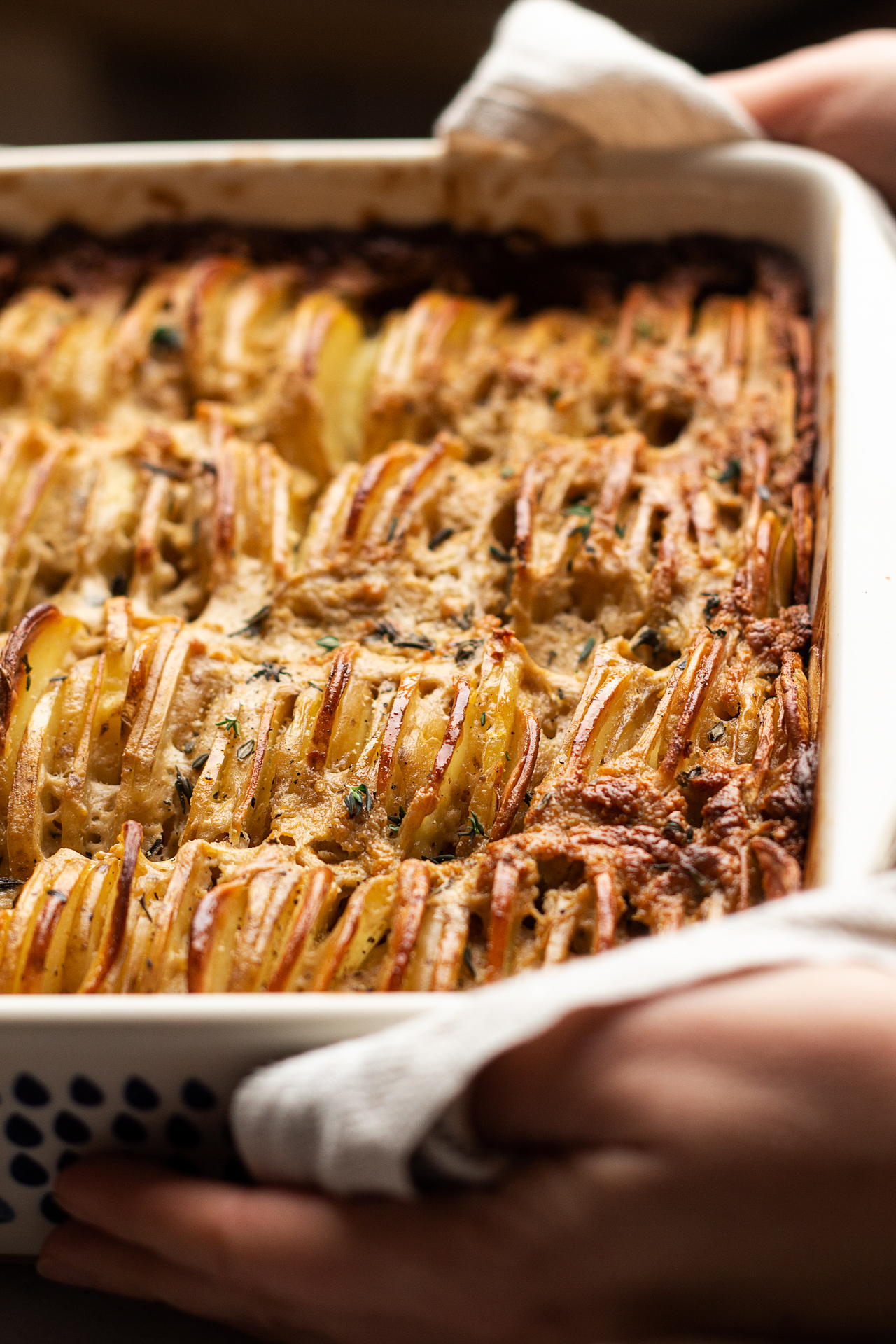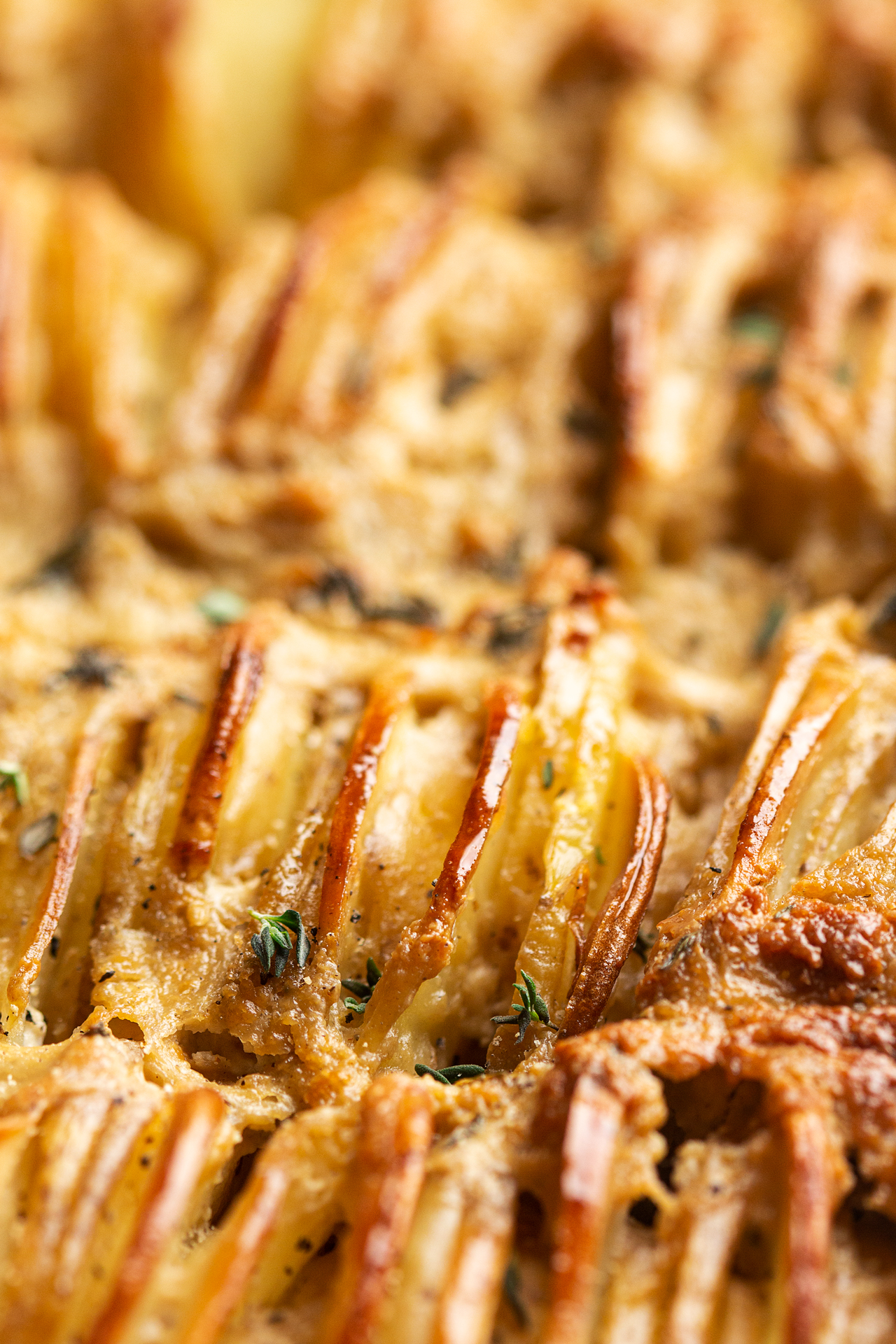 150 g / 1 cup raw cashews (soaked in boiling water for 1 hr)*
420 ml / 1¾ cups unsweetened almond or oat milk
3 large garlic cloves, peeled
1 small shallot, peeled
1 tbsp lemon juice or apple cider vinegar, adjust to taste
1 heaped tbsp white miso paste (use GF miso if required)
4 tbsp / ¼ cup nutritional yeast
2 sprigs of fresh rosemary, leaves only
4 sprigs of fresh thyme, leaves only
¼ tsp ground nutmeg, adjust to taste
1/8 tsp cayenne pepper, adjust to taste (skip if you don't like heat)
generous amount of black pepper, adjust to taste
approx. 1¾ tsp sea salt flakes (I used Maldon, use less if using fine table salt), adjust to taste
10 ml / 2 tsp olive oil
approx. 2 kg / 4.4 lb starchy potatoes (russet or Maris Piper)
METHOD
Place drained cashews in an upright blender with 240 ml / 1 cup of plant milk, blend until super smooth.
Add all the remaining sauce ingredients up to and including salt, blend until smooth. The sauce is quite intense tasting as it has to flavour all of the potatoes and it loses some of its potency once baked, but feel free to adjust the seasoning (salt, dry spices and herbs) to your liking. Transfer the sauce to a large mixing bowl.
Grease an oven proof dish with a generous amount of olive oil and preheat the oven to 200° C / 390° F (no fan).
Wash all the potatoes well, dry them on a kitchen towel and slice them evenly using a vegetable mandolin, on 3 mm / 1/8″ setting (middle one in my case). You are welcome to peel the potatoes, I did not feel the need.
Tip sliced potatoes into the bowl with the creamy sauce, mix well so that they are fully coated.
Arrange sauce-coated potato slices in the prepared baking dish in the vertical fashion so that the cut sides press up against each other and the skin side faces up. Pack them fairly tightly, alternating big and small slices so that the top is as jagged as possible – it results in a crispier top.
Fill the baking dish with the rest of the sauce, it should reach to about half the height of the baking dish (but leave a good portion of potatoes exposed to get those crispy tops even if that means you have some leftover sauce) and tightly cover the top of the baking dish with a piece of kitchen foil.
Bake for about 30 minutes then take the cover off and bake for a further 45-60 minutes, until the tops are crispy and the potato slices are thoroughly cooked in the cream. Rest it for a few minutes before serving.
NOTES
*If you are allergic to nuts, I would use a mixture of silken tofu and olive oil instead. The former will provide creaminess and the latter the fat that cashews naturally contain.
The baking dish I used has the following dimensions: 25 cm x 25 cm x 5 cm (10″ x 10″ x 2″)
My recipe is a vegan adaptation from this recipe.