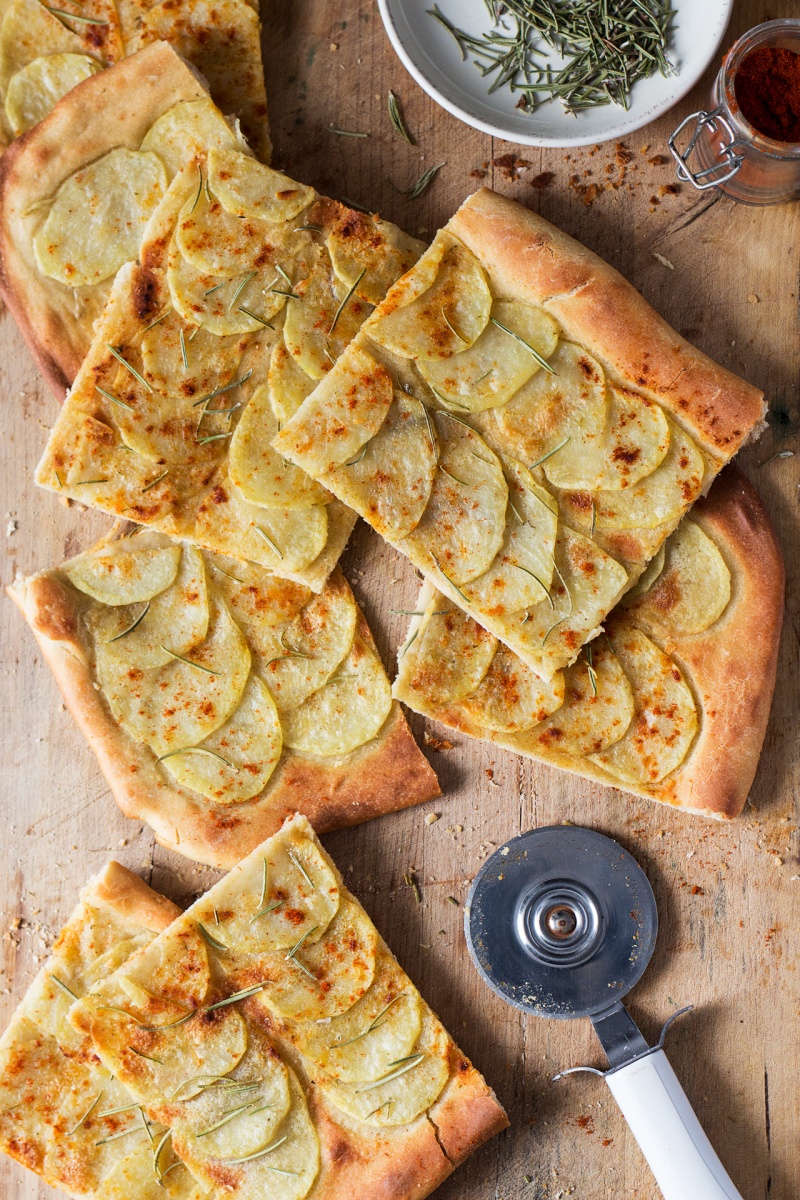 Is traditional Italian pizza without cheese even a thing? Si, naturalmente! Pizza con patate e rosmarino proves that a well-made pizza does not need cheese to be delicious and super satisfying. It's very simple to make, requires only a few staple ingredients and tastes soooo good that the lack of cheese is the last thing on your mind.
Every summer season, a top-notch pizzeria, Lollo's, opens up on Antiparos, a small island right next to ours (a small ferry leaves from outside of our main door and takes us to the other island in about 10 minutes). Pizza con patate e rosmarino is one of the pizzas they offer on their vegan menu and Duncan orders it every time we go – it's his hands-down favourite.
I personally tend to opt for tomato-based pizzas loaded with seasonal veggies in the summer heat, but I'm totally jumping on the potato pizza train for cooler winter months. We made it quite a few times this autumn and I'm hooked.
It's simple and comforting at the same time. The combination of potatoes, garlic, rosemary and a sprinkling of chilli (if you are a girl (or a boy) after my own heart) is a work of genius! The only word of warning I have for you is don't hoover up an almost whole vegan potato pizza if you are planning to go for a run or a brisk walk 2 hours later. It may be light as far as pizzas go, but it is possibly best consumed after you get the running out of the way first 😉 .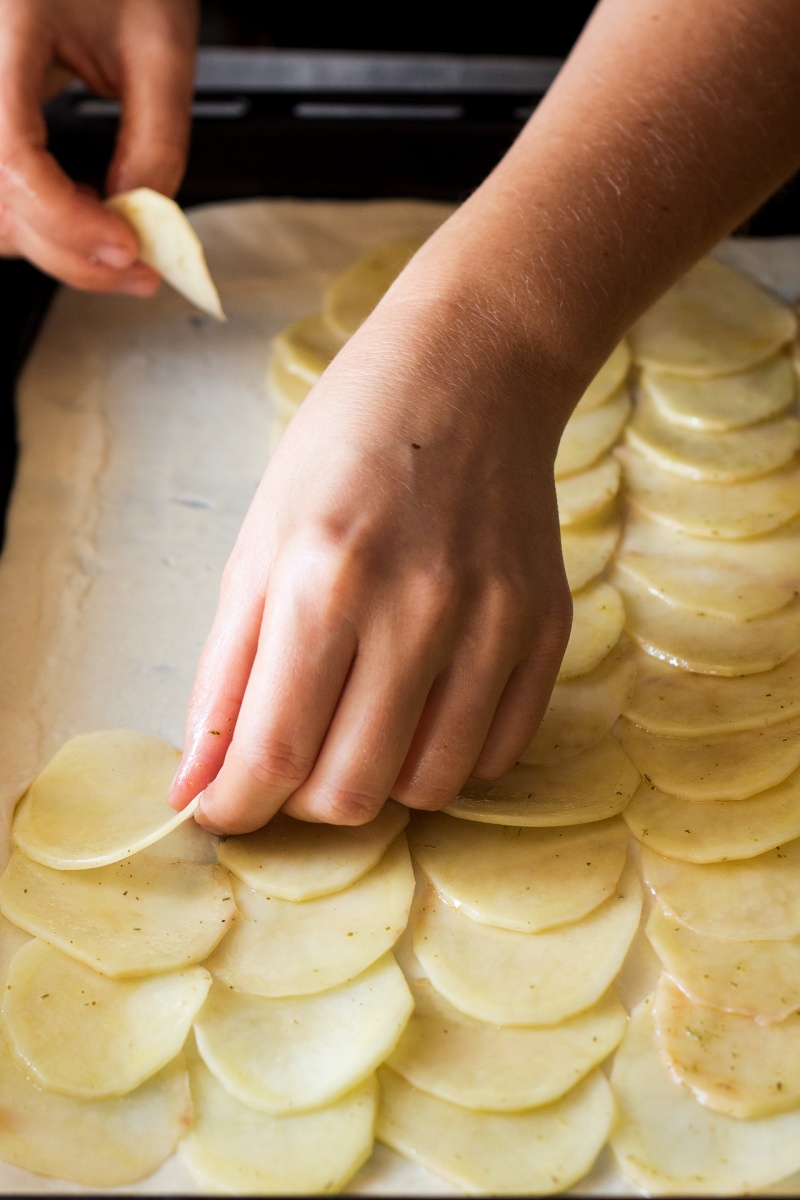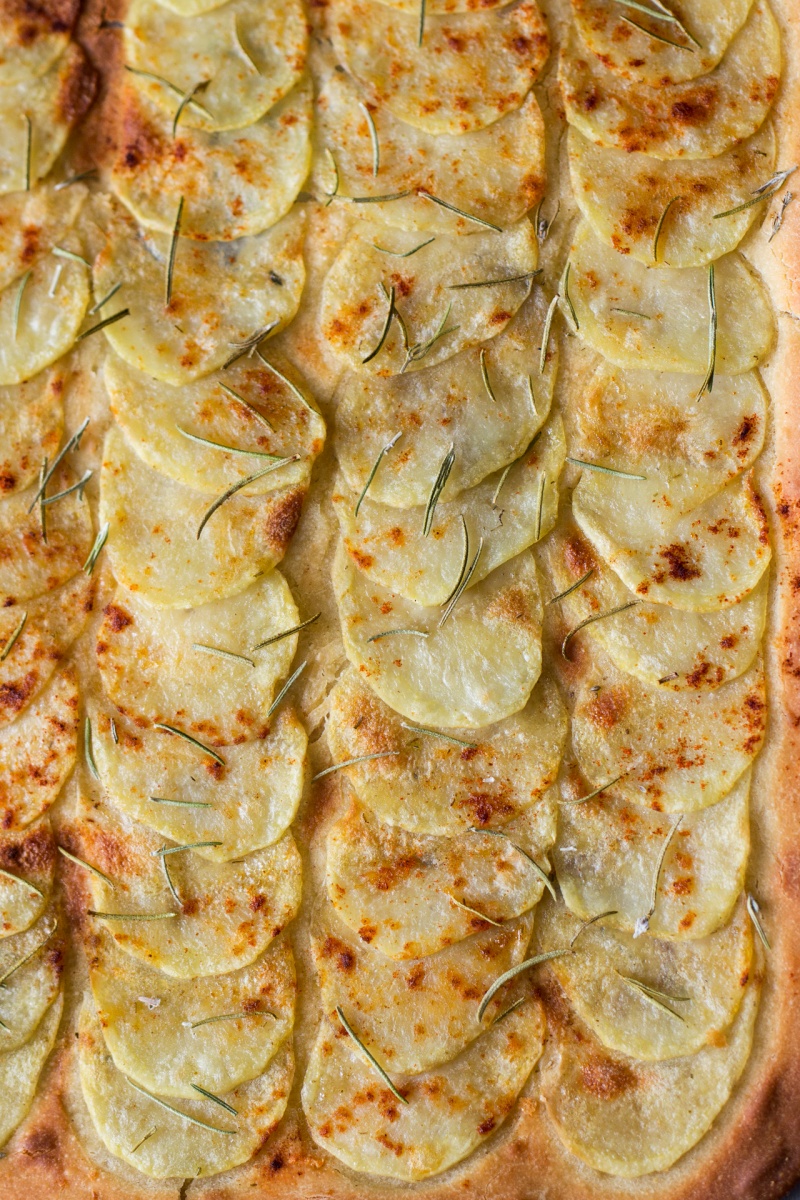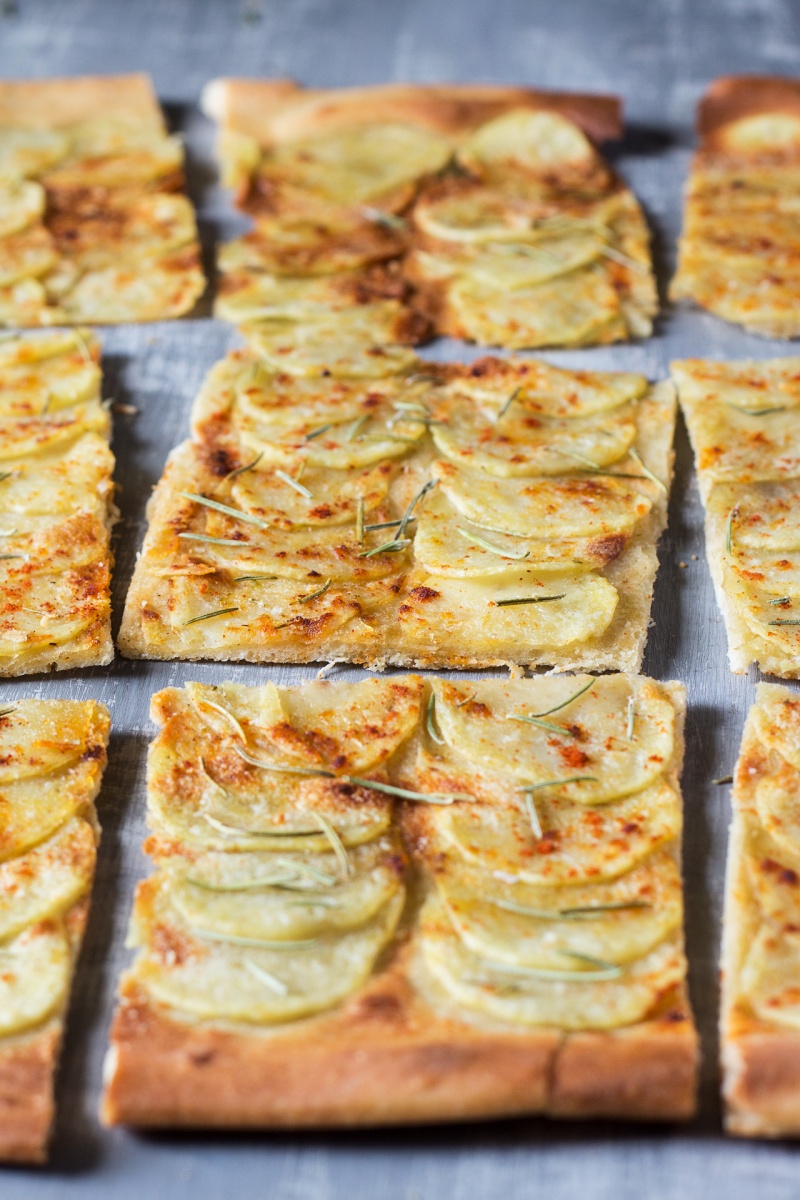 TOPPING
3 medium potatoes
dry rosemary
sea salt
2 garlic cloves, grated finely
sweet paprika or chilli powder (optional)
PIZZA DOUGH
250 g strong flour
250 g all-purpose flour
10 g salt
7 g sachet fast-action dried yeast
320 ml water (lukewarm)
1 tbsp olive oil
METHOD
POTATO TOPPING
Peel the potatoes and slice them very thinly using the lowest setting on a mandolin slicer or a sharp knife. If using a knife, make sure the slices are thin and of the same thickness so that they cook evenly.
Rinse sliced potatoes and plunge them into a bowl of lukewarm water with a teaspoon of salt. This will get rid of excess starch and allow the potatoes to crisp up more. Leave them to soak for at least 1 hour. Make the pizza dough whilst waiting.
Rinse the potato slices out and place them in a single layer on a long piece of kitchen towel. Cover with another piece of kitchen towel and place another, single, layer of potato on top. Cover with another piece of kitchen towel. Continue in the same way until you've used up all your potato slices up. The point of this is to dry the potato slices as much as possible before topping the pizza.
Mix the grated garlic with 1-2 tbsp of olive oil. Pound a generous pinch of sea salt with a few pinches of rosemary in a pestle and mortar to create rosemary salt.
Just before the dough is ready to be rolled out, place the dried potato slices in a large bowl. Toss them in a bit of olive oil. Don't season with salt just yet as it will make the potatoes release more water and will prevent crisping up.
PIZZA DOUGH
Mix the flour, salt and yeast in a large mixing bowl.
Pour in the lukewarm water and olive oil. Stir everything together with a large wooden spoon.
When the mixture has mostly stuck together, turn the mixture out on to a work surface or a bread board.
Knead the mixture by holding one end of the dough in one hand and stretching it out with the other hand (see photo below). Reform the dough, turn it 90 degrees and start again. Repeat this for 10 minutes.

When the dough is shiny and smooth, put it in a large mixing bowl, coat it in a thin layer of olive oil and cover the bowl with a tea towel.
Leave this in a warm place (but not too warm – ie not next to an open fire!) for between one and two hours (until it has doubled in size).
Set the oven to 250° C / 480° F and brush two baking trays with olive oil – don't be stingy as otherwise the pizza may end up sticking to the trays.
After the dough has proved, empty it out on to a work surface and push the air out with your fingertips.
Divide the dough in half. Place one half in the middle of an oiled baking tray and roll it out into a large rectangle using a small rolling pin or push the dough out with your fingers.
Brush the dough with half of your garlic oil and sprinkle with salt. Place lightly oiled potato slices on top, make sure the slices do not overlap by more than about 30%. Sprinkle rosemary salt, extra dry (or fresh rosemary) on top and paprika or / and chilli powder if you'd like some spice.
Bake for about 12 minutes. While the first pizza is baking, prepare the second one in the same way and again, bake for 12 minutes.