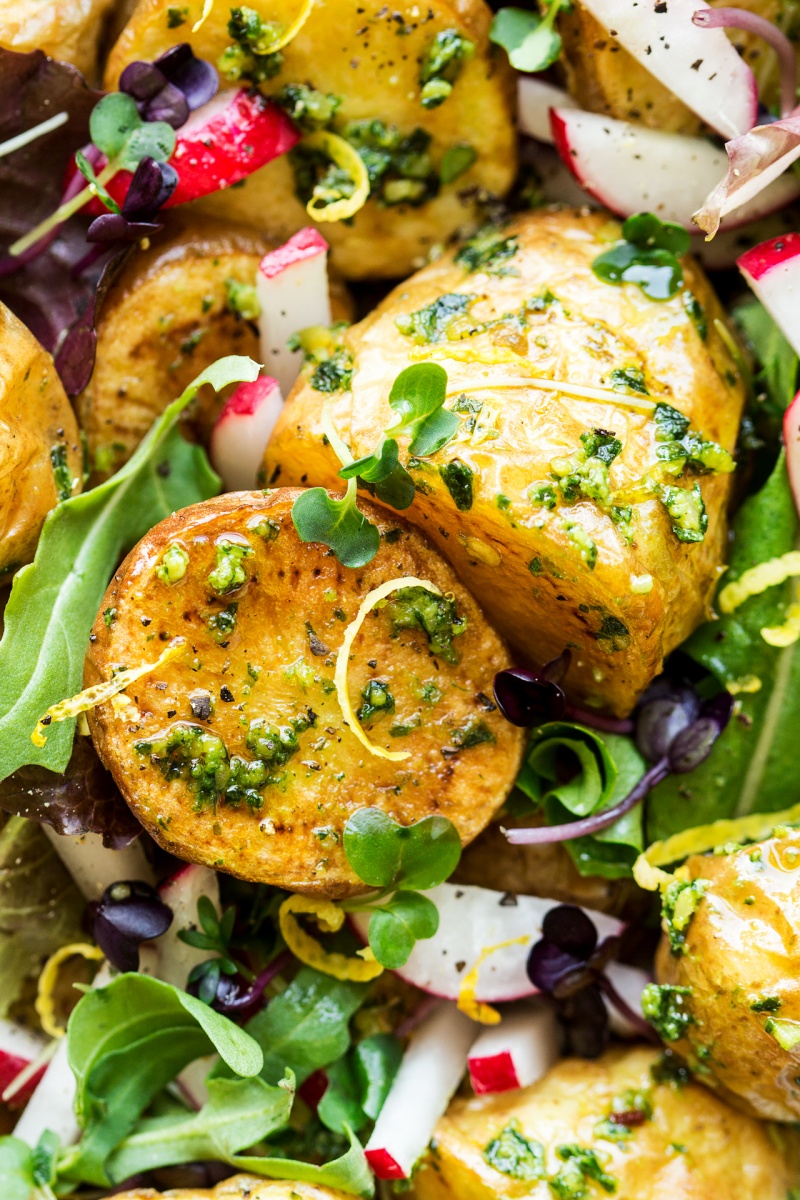 Despite having been born in a country where the potato is king, I don't actually eat spuds very often. I guess it's because they are such a staple of the 'meat and two veg' kind of dinner and I stopped eating meals like that as soon as I moved away from home. Plus, going vegan four years ago evolved the way I eat and think about food even more.
I do occasionally have homemade chips (who can say no to those?) or a mash if I'm making a classic dish like this one, but with my tastebuds being constantly pulled in the vaguely South-East Asian and Mediterranean direction, potatoes do not get much of the limelight, I'll admit.
I do have a massive weakness for new potatoes though. When I was a kid my gran would give me freshly boiled potatoes with cold butter on them and attempted to sprinkle them with dill, which I always fought. That hot, soft potato and fridge cold, creamy butter and a generous sprinkle of salt is definitely a key flavour memory of mine. As I don't consume butter anymore, this potato salad is a bit of a departure but still super tasty and pretty addictive.
I roasted my potatoes in the oven as, despite it being May, it's still quite chilly here in the UK, so I felt like I needed some extra comfort. If you would rather have a skinnier version of this salad, boil or steam your potatoes instead. I then made a super simple dressing by mixing some wild garlic pesto (basil or mint vegan pesto will work just as well), which I had handy from a recent recipe and some lemon juice.
I bulked up the salad with a variety of green leaves, spicy radishes and a selection of sprouts, which I grow myself as it's rather exciting to watch tiny little seeds transform into miniature plants in a matter of days. They are cheap and it is super handy to have a handful of fresh tasting and super healthy sprouts on hand to jazz up my meals.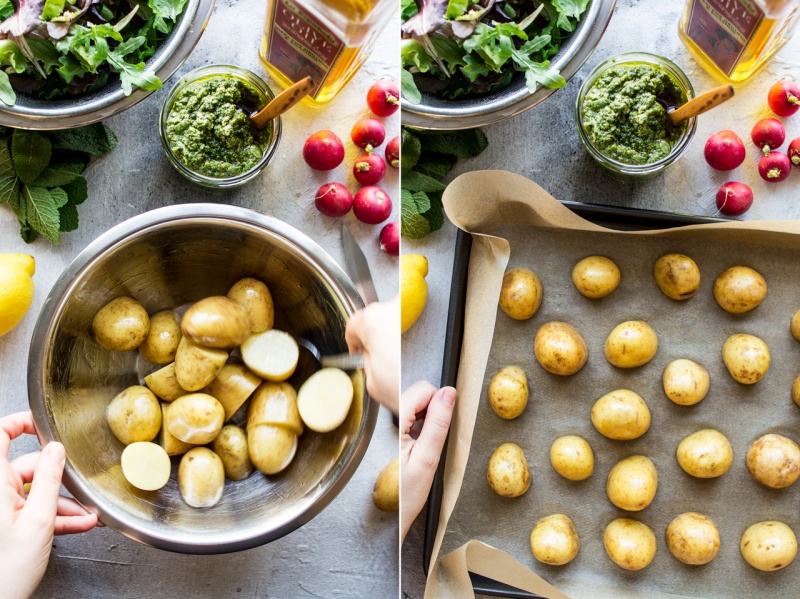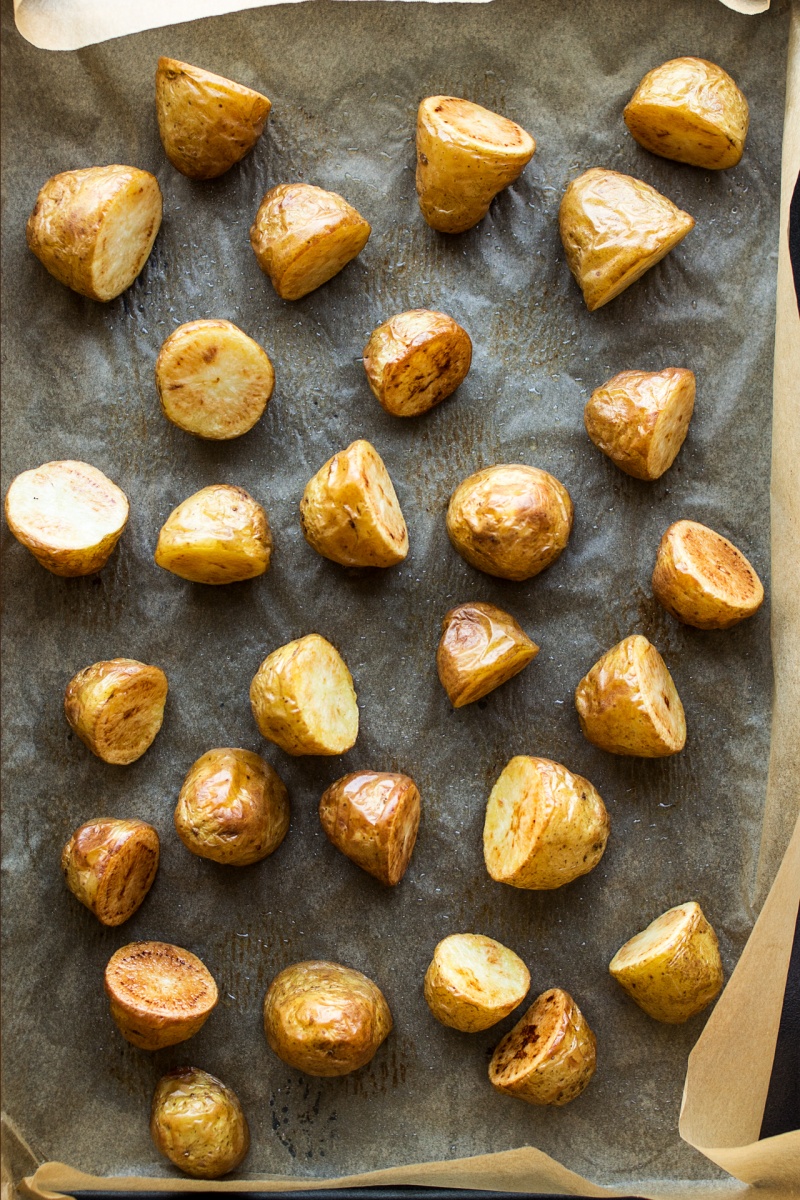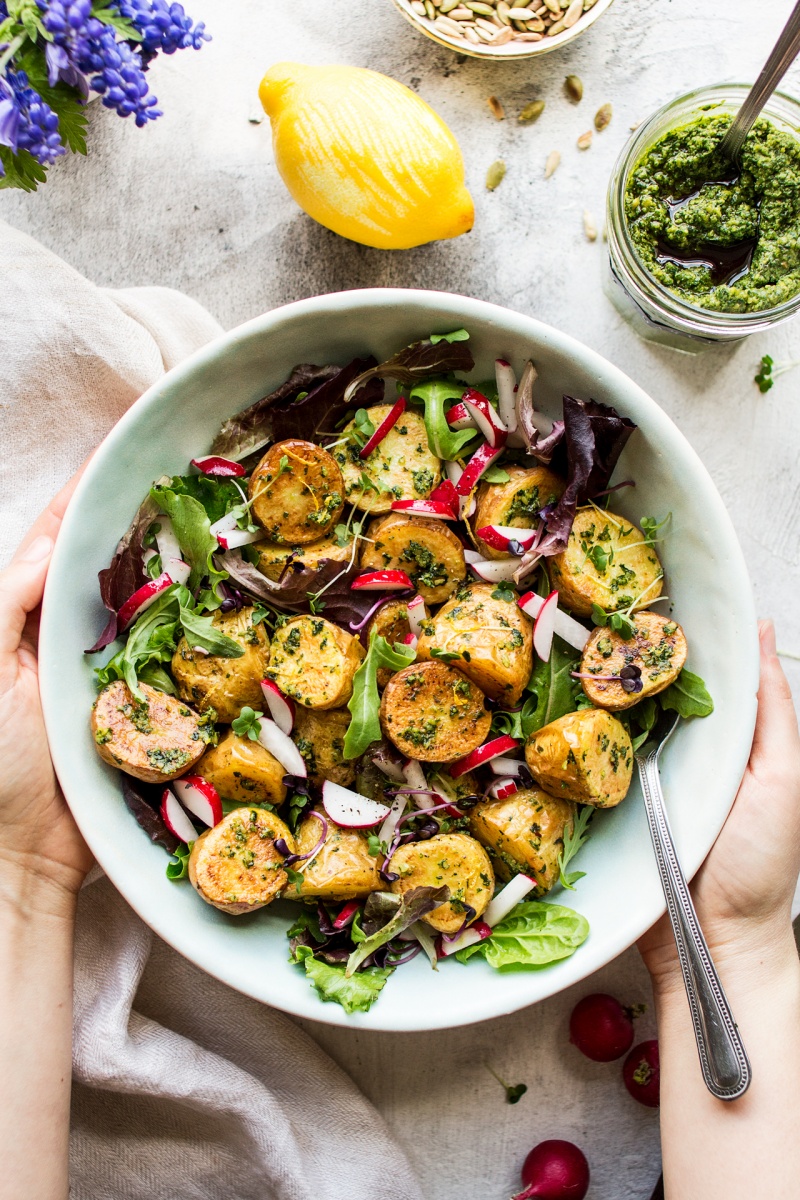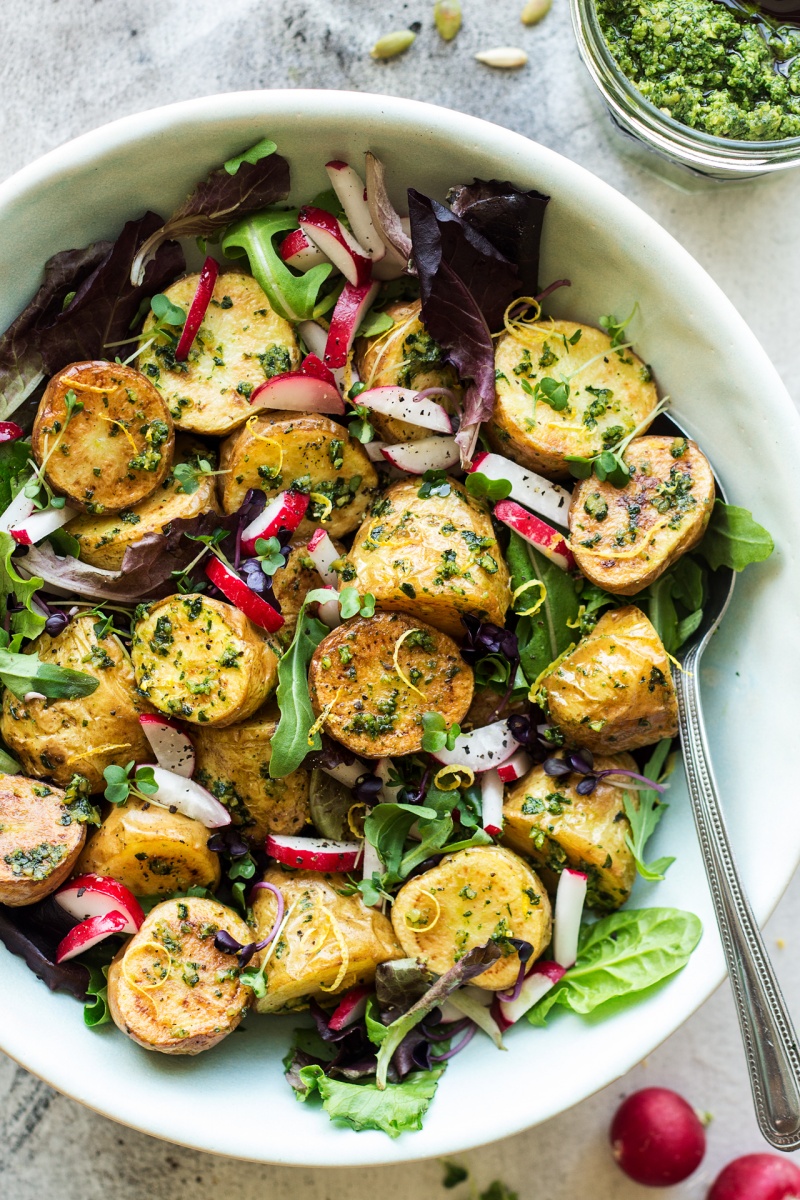 500 g / 1 lb small new potatoes suitable for roasting (I used Charlotte)
10-15 ml / 2-3 tsp olive oil
2 tbsp vegan pesto, homemade or shop-bought
100 g / 3.5 oz assorted salad leaves
100 g / 3.5 oz radishes, chopped into matchsticks
50 g / 2 oz baby cress and / or sprouts (I used homegrown radish sprouts)
juice and zest of 1 lemon (optional)
salt, to taste
black pepper, to taste
METHOD
Scrub your potatoes clean and dry them well in a kitchen towel or allow them to air dry.
Heat up the oven to 200° C / 390° F fan forced (or otherwise 220° C / 430° F) and line a large baking tray with baking paper. Alternatively, you could also boil or steam your potatoes, which takes approximately 15-20 minutes depending on the size of your potatoes.
Cut the potatoes in half, place them in a bowl and coat them with 2-3 tsp of olive oil.
Arrange the potatoes on the prepared baking tray cut side down, leaving plenty of space around each potato. Bake for about 20 minutes. If you have some very small halves, they will be done after 15 minutes, so check up on them after that time and remove them from the tray if necessary. To check if they are done, insert a toothpick into them – if it slides in easily, they are ready.
Coat the roasted potatoes in about 1 heaped tablespoon of pesto and allow them to cool a little.
Place in a large bowl with lettuce leaves, chopped radishes, salad cress and radish sprouts (if using).
Combine the remaining amount of pesto with some lemon juice or water (if you don't like things too lemony). Season with salt and pepper and drizzle over the salad. Scatter some lemon zest on top.