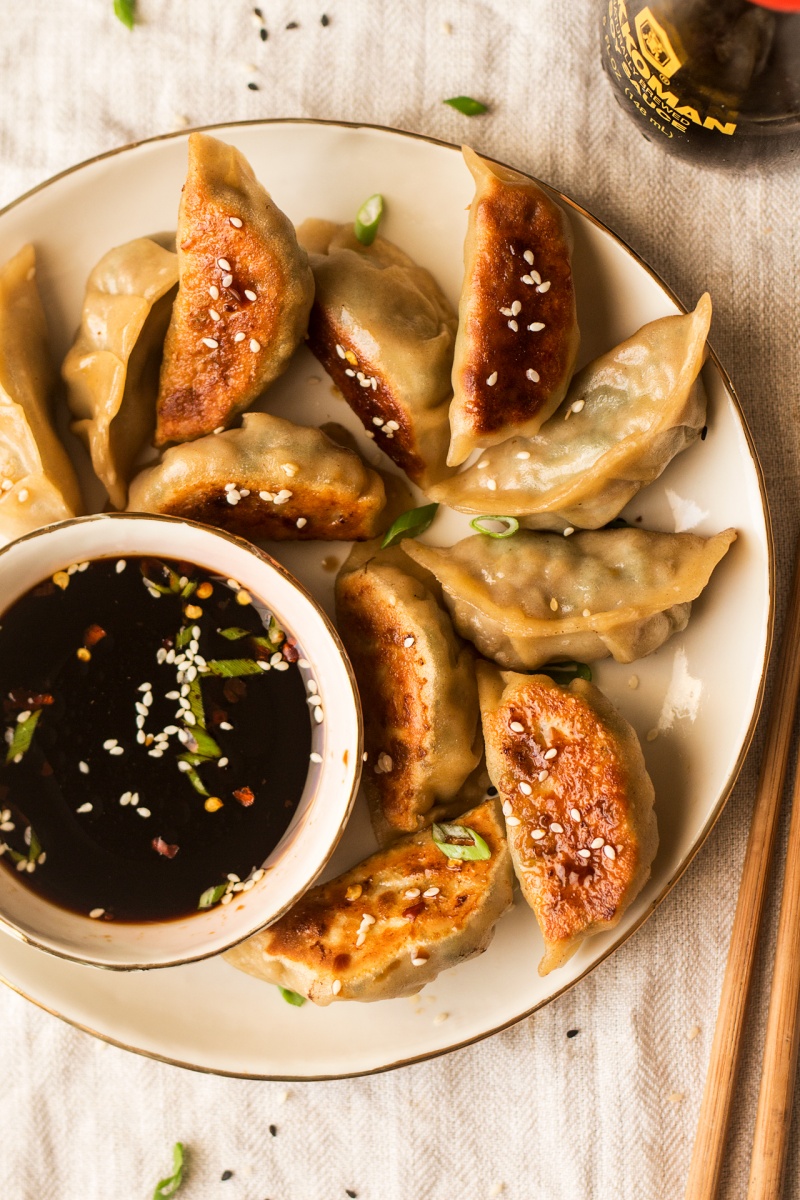 It's the weekend at last and if you enjoy cooking, a family vegan potsticker making session is a great way to spend your Saturday, especially when the weather does not entice you outside…
I love potstickers and I enjoy making them too, but I do get a tad discouraged seeing how quickly they disappear down Duncan's mouth (he is a prolific dumpling eater). I guess it's a compliment and I should treat it as such, but they do take a lot of time and effort to make and to see them all hoovered up in less than 15 minutes makes feel that maybe I should have made something quicker to put together.
This is why I don't make them very often, but when I do I try to rope Duncan in for the pleating part as it's more fun doing it together! You can chat, have some wine while you make them and have a good laugh as each subsequent dumpling looks wonkier…and wonkier. As long as they taste great that's all that counts, right?
These puppies are stuffed with oyster mushrooms, dried shiitake and spinach. They taste great with a simple dipping sauce. And if you end up with any leftover filling (I tend to be quite generous filling these), don't worry, it will make an awesome lunch, stirred through some brown rice and drizzled with Sriracha and some soy sauce.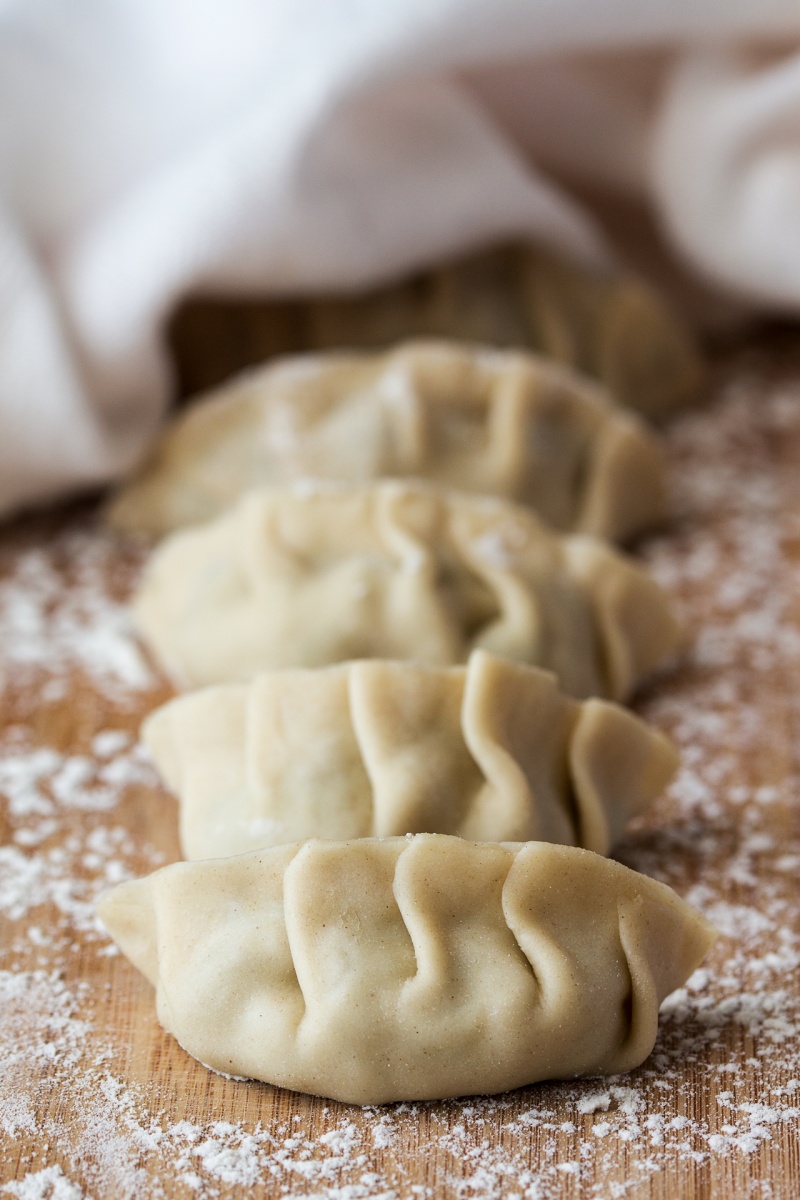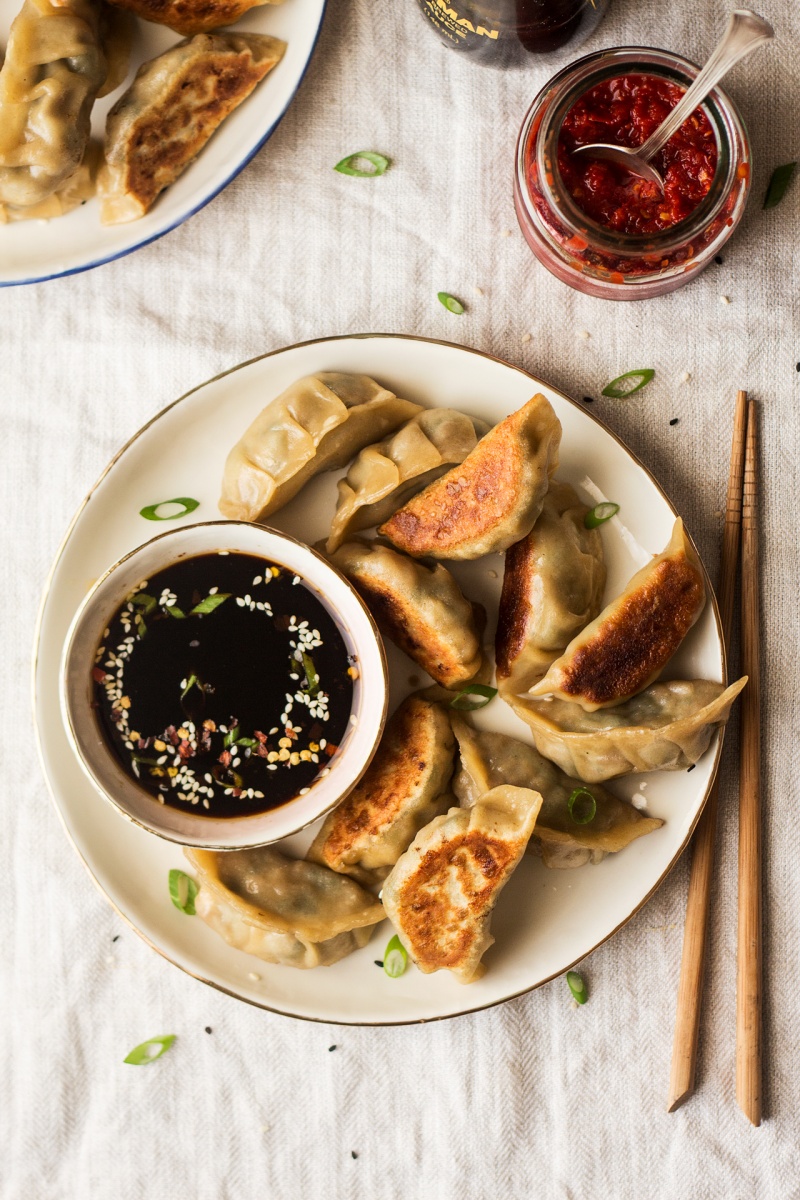 DOUGH
240 g / 2 cups plain flour
1 tsp fine sea salt
approx. 130 ml / ½ cup + 2 tsp hot water
1 tbsp / 15 ml plant oil
FILLING
1-2 tbsp peanut (or other vegetable) oil (+ more for frying)
4 spring onions, white part finely chopped
3 large garlic cloves, finely chopped
2 heaped tbsp finely chopped ginger
300 g / 10 oz oyster mushrooms
3 dried shiitake mushrooms, soaked in boiling water
300 g / 10 oz spinach, chopped finely
¼ tsp Chinese five spice, adjust to taste
1/8 tsp white pepper
¼ tsp hot chilli flakes, adjust to taste
30-45 ml / 2-3 tbsp soy sauce
15 ml / 1 tbsp rice vinegar
2 tsp mirin
approx. 2 tbsp panko (or regular) breadcrumbs (optional)
DIPPING SAUCE
30 ml / 2 tbsp dark soy sauce
8 ml / 1½ tsp toasted sesame oil
15 ml / 1 tbsp rice vinegar
fresh chilli, finely sliced or pinch of chilli flakes
1 tsp sesame seeds
2 cm / 1″ finely sliced spring onion
METHOD
In a mixing bowl, combine flour and salt. Add 120 ml / ½ cup of hot water and 1 tbsp of oil. Once combined roughly with a wooden spoon, start combining the dough with your hands. It will need a bit more water but it is very important to add the water in gradually, teaspoon by teaspoon. Knead it for a few minutes with your hands and then set aside for 30 minutes under a clean kitchen towel or pierced (so that it can breathe) cling film so that the dough doesn't dry up.
Heat up olive oil in a pan. Fry spring onions, garlic and ginger. Keep on stirring to make sure they don't burn.
Chop soaked shiitake and oyster mushrooms into a fine dice. Add to the onion, garlic and ginger mixture together with chopped spinach, five spice, white pepper and chilli. Let the excess moisture from the mushrooms and spinach cook out.
Season with soy sauce, rice vinegar and mirin. Continue frying the filling until excess water evaporates but not so long that the mixture is too dry (it should clump together easily). If the mixture is too wet, add a handful of breadcrumbs to soak up the excess moisture.
Once the dough has had a chance to rest, divide it into 4 even portions. Roll the first portion into a thick snake shape and then divide it into 8 even pieces.
Roll the first piece into a ball in your hands, then place on the table and flatten it into a thick disc with the palm of your hand. Hold the disc with your right hand and a rolling pin in your left hand – make sure that the rolling pin makes contact with the bottom of the dough disc. Keep on rotating the disc a few degrees with your right hand, while you roll the rolling pin back and forth over the disc in order to create a large, flat circle of dough (see this video for the exact technique).
Place a heaped teaspoon of the mixture in the centre of the flattened circle and seal the dough over the filling at the top – here is another helpful video – I used technique number 5. Go over each dumpling twice to make sure everything is sealed completely.
Put the finished dumplings on a lightly floured surface and cover them with a kitchen towel while making the rest so that they don't dry out.
Heat up a little peanut oil in a lidded frying pan. Once the oil is hot, place as many potstickers as you can (you may need to do this in batches) on the pan without them touching each other. Fry for 2 minutes, then add a splash of water to the pan (1 cm) and put the lid on. Let the dumplings cook in their own steam for about 6-8 minutes – depending on how thin your dough is. Once all the water has cooked out, take the lid off and leave the potstickers on heat for another minute or two so that the bottom is nice and crispy.
Mix all dipping sauce ingredients in a bowl. Serve potstickers immediately with the dipping sauce on the side.