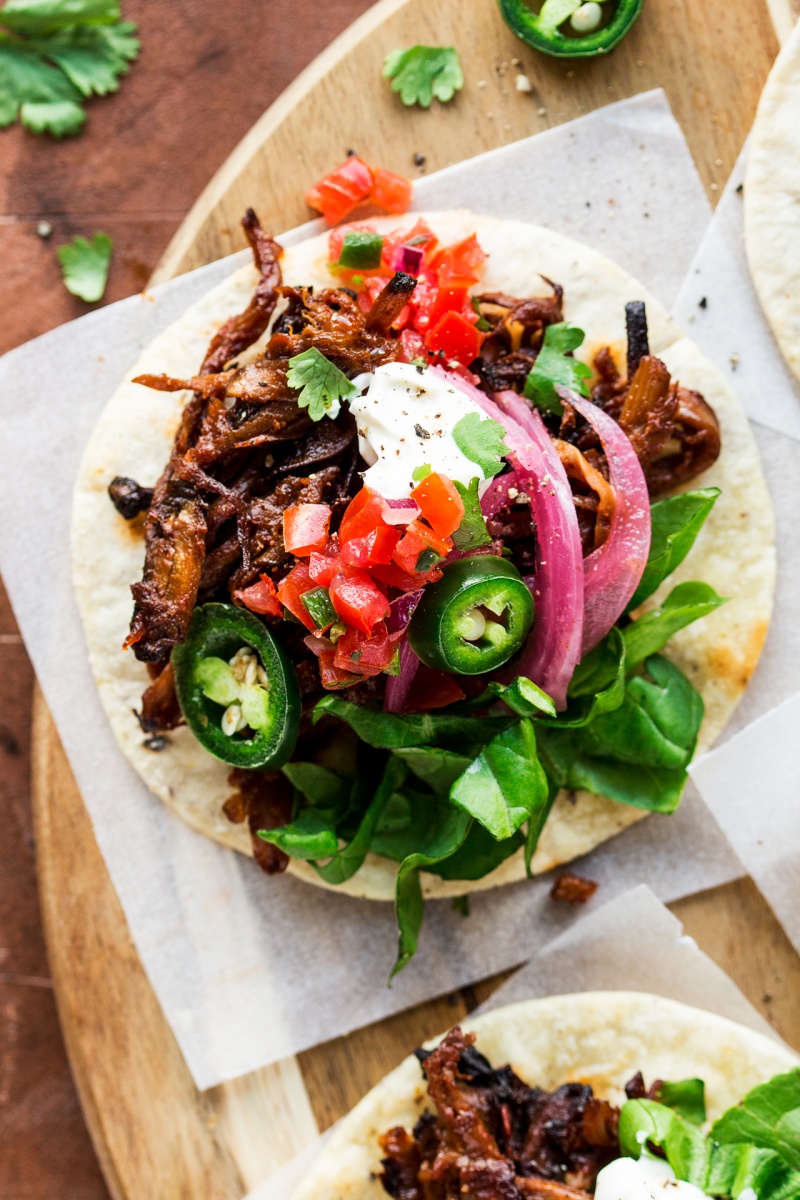 How about a plate of deliciously smoky and juicy pulled mushroom tacos this weekend? Pulled what!? Mushrooms! No, I am not pulling your leg (sorry, could not help myself 😉 ), promise. They are a thing and they are blooming delicious! If you've been following my blog for a while, you might have guessed that I'm a big fan of young jackfruit, which I have used in many recipes to replicate the texture of meat with great success and I cannot believe I'm about to say this, but… Move over jackfruit, there is a new kid on the block!
I first learned about this trick of shredding King Oyster mushroom stems into a meat-like texture from Derek Sarno's video and I thought it was genius. I knew that they make convincing vegan scallops, but this was way cooler and I had to give it a go. When I spotted the meaty mushrooms in an Asian store in town I was over the moon – I know, I need to get out more…
I tried a couple of different ways of preparing them, but treating them the same way I prepare the jackfruit turned out to be a clear winner – stew in the spices and condiments first and then bake in a hot oven till the edges get a little charred and crispy.
I tucked my smoky pulled mushroom filling in some small corn tortillas and dressed them with a simple tomato salsa, some cos lettuce, a few strands of sharp quick-pickled onions, a dollop of vegan sour cream and a sprinkle of fresh coriander and I was a very happy bunny indeed.
These meatless 'meaty' tacos make for ideal finger food and go hand in hand with some beers in the sun (I'm counting on you this weekend, Bristol!) and some fairly relaxed hosting as you can prepare everything well in advance. I don't know about you, but since this is a long weekend and the weather is meant to be gorgeous, that's very much in my weekend plans.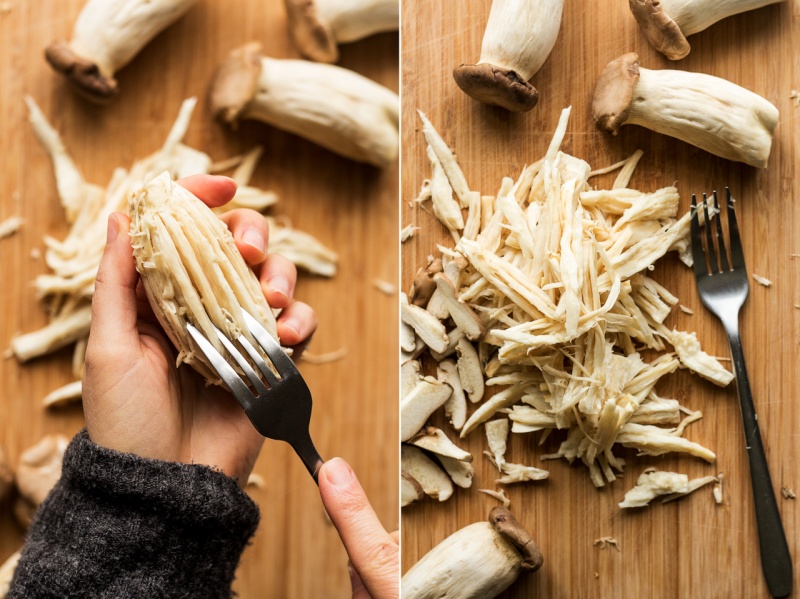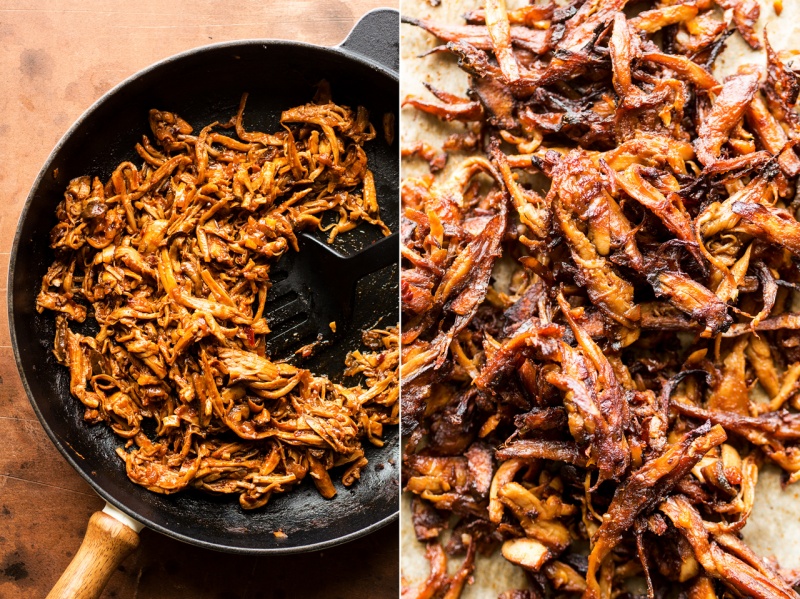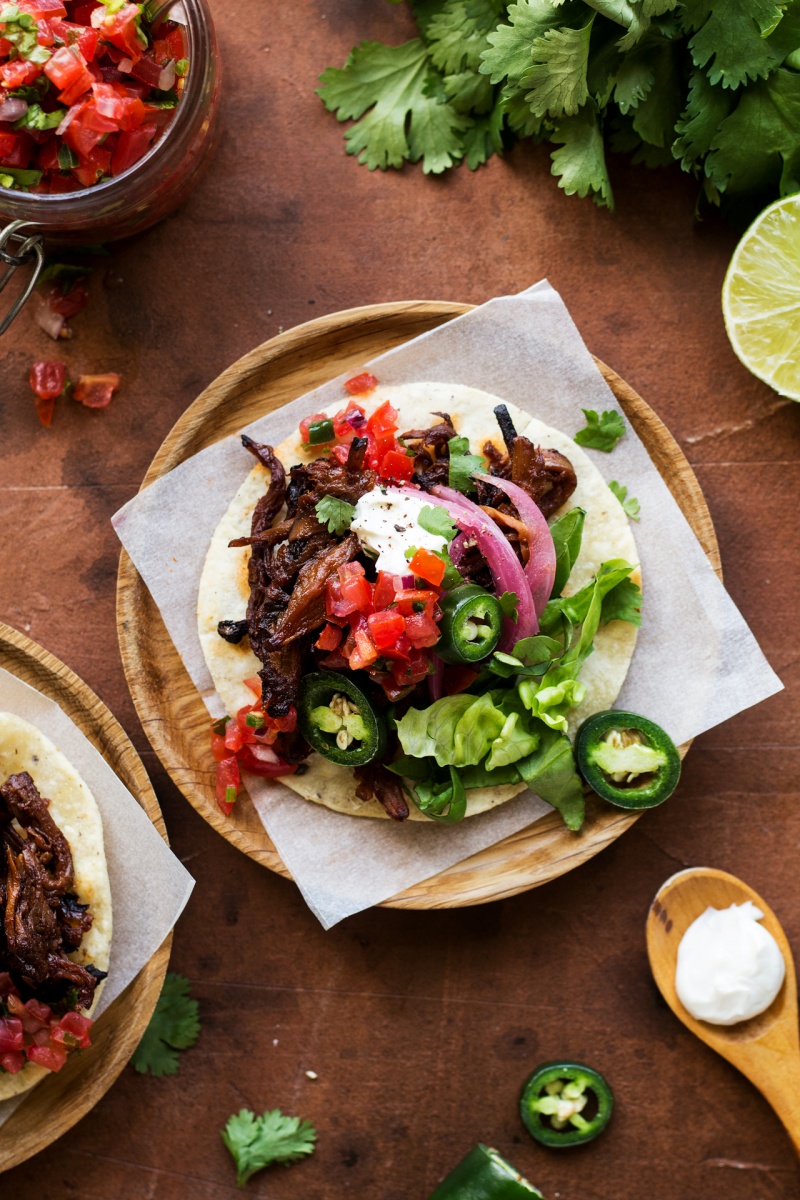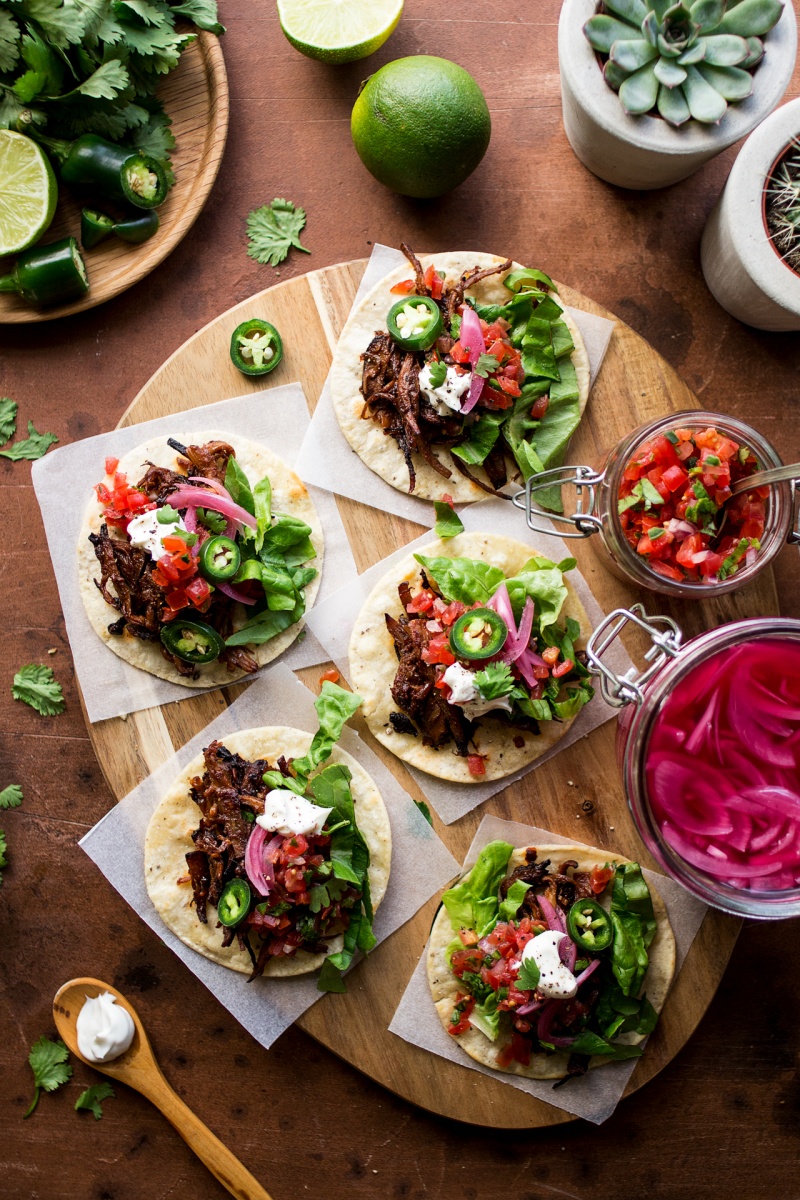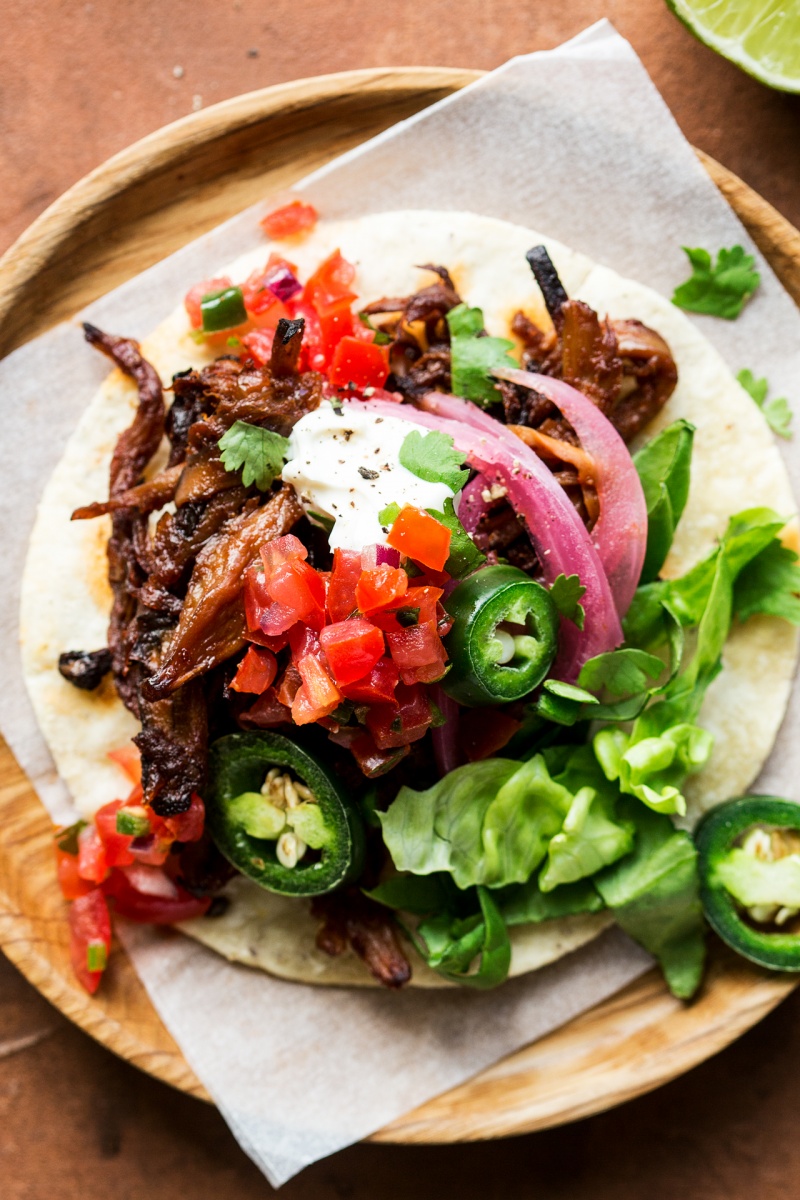 PULLED MUSHROOMS (for the best flavour, make a day ahead)
400 g / 14 oz king oyster mushrooms
2 tbsp olive oil
1 small white onion, finely diced
2 cloves garlic, finely diced
1 heaped tsp ground cumin
1 tsp smoked paprika
1 tsp ground coriander
1 tsp tomato paste
1-2 tsp adobo paste (or chilli paste)
2-3 tbsp soy sauce or tamari (for GF version)
60 ml / ¼ cup stock (or water)
1 tbsp maple syrup
a good pinch white or black pepper
SALSA
15 ripe plum tomatoes
¼ red onion, finely diced
½ small jalapeno chilli (adjust to taste), finely diced
small handful of coriander, super finely chopped
2 tsp lime juice
1 tsp olive oil
½ tsp maple syrup
salt and pepper, to taste
REMAINING INGREDIENTS
15 small tacos (I used shop-bought 10 cm corn tacos)
Romaine lettuce, shredded
quick-pickled red onions (details in this recipe)
small bunch of coriander
vegan sour cream or creme fraiche (I used Oatly)
METHOD
PULLED MUSHROOMS
Wipe the mushrooms clean and cut off the caps. Slice the caps thinly.
Shred the stems using a fork to make incisions and then pull individual strands apart with your hands (see photos).
Heat up 2 tbsp of oil in a heavy bottom frying pan.
Throw in the diced onion, fry on a gentle heat for about 10 minutes (stirring from time to time) until translucent and lightly browned in places.
Add the diced garlic and fry for another 2-4 minutes, until fragrant.
Add the cumin, smoked paprika and coriander. Fry them off gently, stirring the whole time, for a minute or so.
Mix in the tomato and adobo (or chilli) paste.
Add in all the mushrooms (caps and all). Coat them in what's already on the pan.
Add soy sauce (I ended up using 3 tbsp, but you are welcome start off with 2) and 60 ml / ¼ cup stock.
Allow the mushrooms to cook in the liquid until most of the liquid gets absorbed. Season with maple syrup and some pepper. You are welcome to add some more acidity, but for me, the tomato and adobo paste provided enough. Cook for another 5 minutes and allow the mixture to cool down. If making a day ahead, refrigerate overnight.
Just before you are ready to assemble the tacos, set the oven to 180° C / 355° F fan function (or 200° C / 390° F if your oven has no fan setting).
Spread the mushrooms pieces on a baking paper-lined baking tray and bake for about 15 minutes, depending on how browned you would like your end product.
SALSA
Chop your tomatoes very finely, optionally deseeding them as you go along.
Mix in the diced onion, jalapeno chilli and coriander.
Dress with lime juice, olive oil and maple syrup and season with salt and pepper.
ASSEMBLY
Assemble your tacos by putting pulled mushroom, chopped lettuce, tomato salsa, pickled onions (if using) and coriander in the middle of each taco. Dot with vegan sour cream.