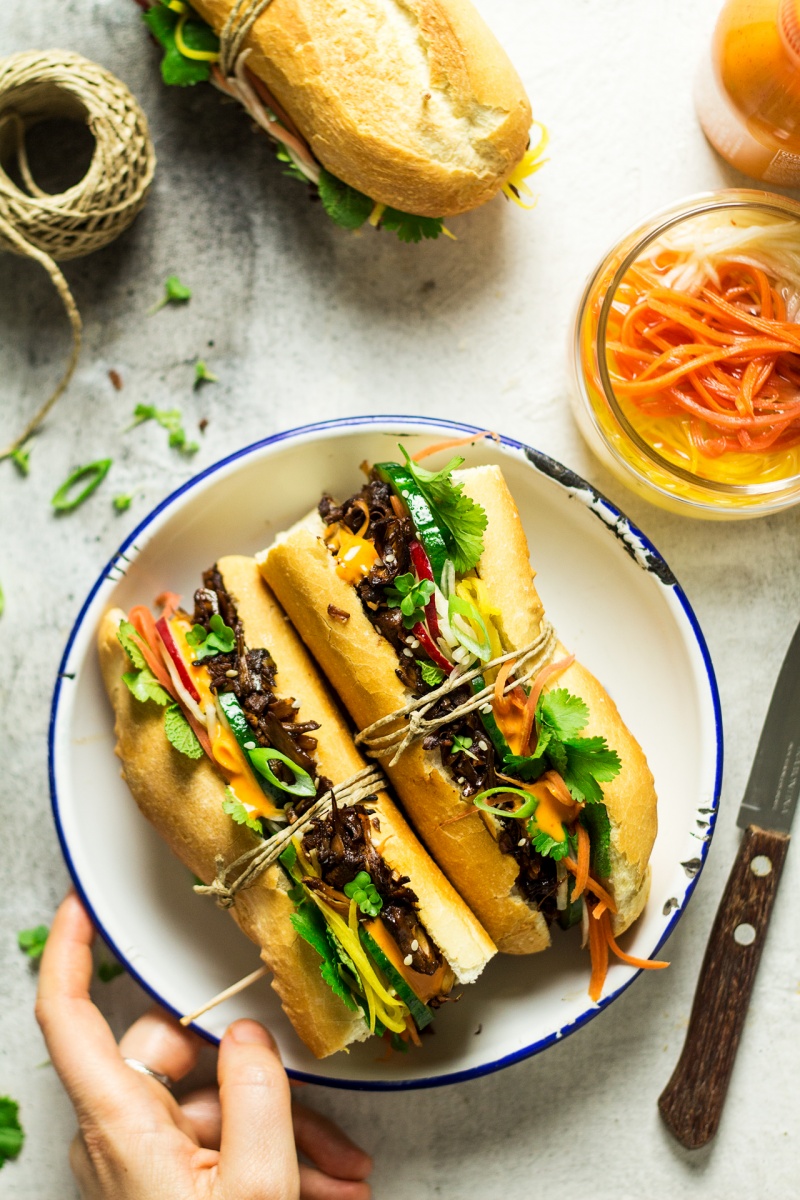 Hello, I'm waving to you from icy Krakow. Okay, I'd better stick my hands into my pockets 'cos I cannot feel my fingers anymore…While severe winter weather does happen here occasionally, this year Krakow seems to be in quite a company.
According to the World Meteorological Organisation, the cold snap that is sweeping across Europe this week is yet another sign of global warming, which is a little counterintuitive, but sadly true. Seriously, what have we done and why can't we get this into our thick heads that no planet equals no us? I worry…
I was supposed to be home by now, but due to the 'Beast from the East' (as this weather spell has been affectionately dubbed in the UK press), most European airports came to a complete standstill and my flight got cancelled just as I was packing my suitcase. As there was no earlier flight than on Sunday night, I am going to stay in Krakow for four more days.
It's not ideal as I have heaps of work to get on with and I miss Duncan and Tina terribly, but hey ho, c'est la vie! There are worse places to be for sure, so it's all good. I am a bit sick of the cold and running out of layers to keep me warm. I'm currently sitting in my brother's house, wrapped up in two massive jumpers and a giant snoody and despite the hot tea in my mug and hot radiators, I cannot stop shivering.
Today's recipe will be ideal if you decide to go on a trip once the weather lets up – if you are a fellow European, there is no hope until the second half of March, so you have plenty of time to gather your ingredients. It's my second take on the world-famous Vietnamese sandwich, this time featuring my favourite meat replacer to date – young jackfruit. Together with crunchy veg, sour pickles, fresh coriander and spicy Sriracha mayo, this lemongrass marinated and baked jackfruit makes for a really special sandwich. One that is bound to put a smile on your face, especially after a long walk or hike.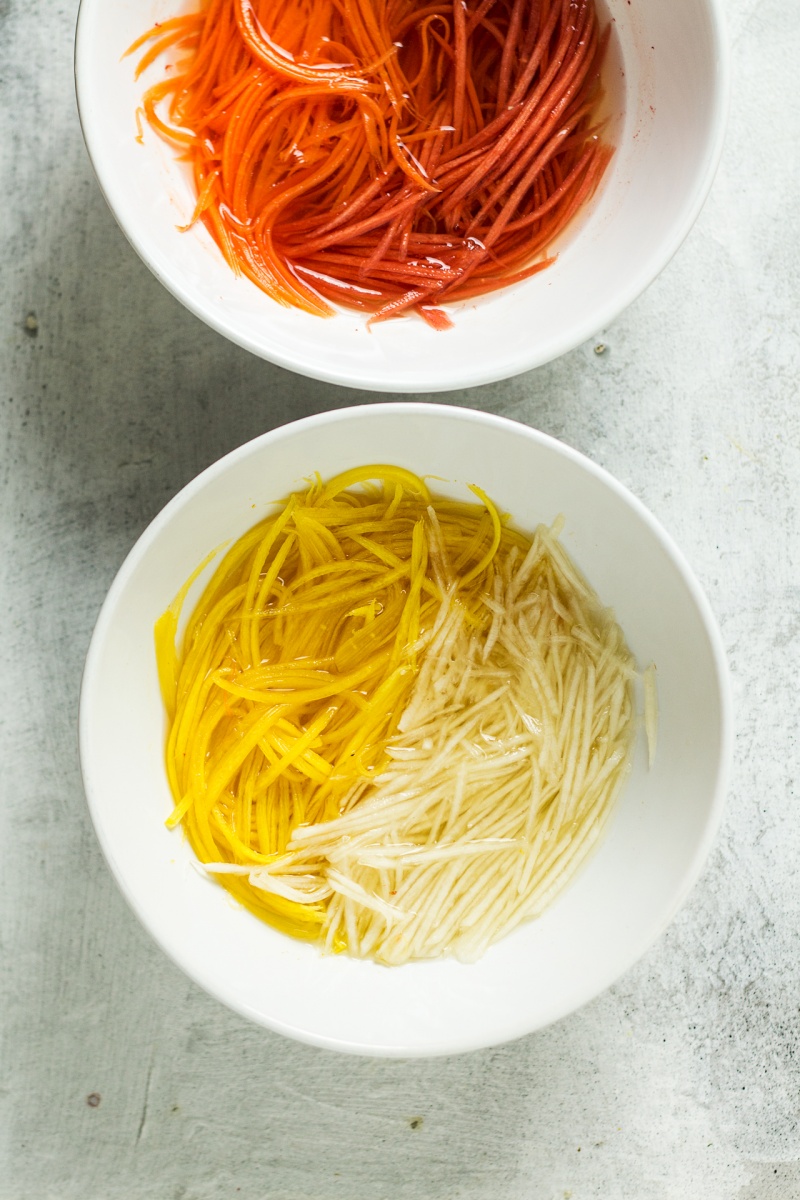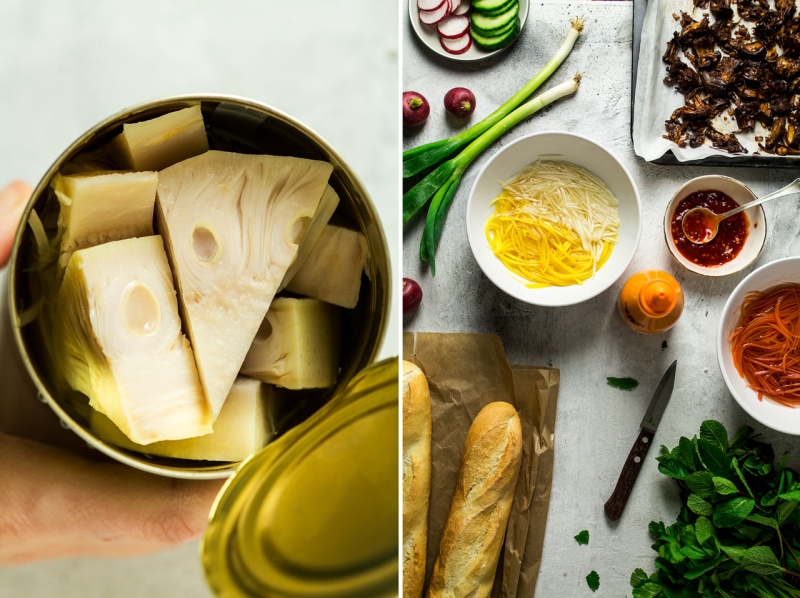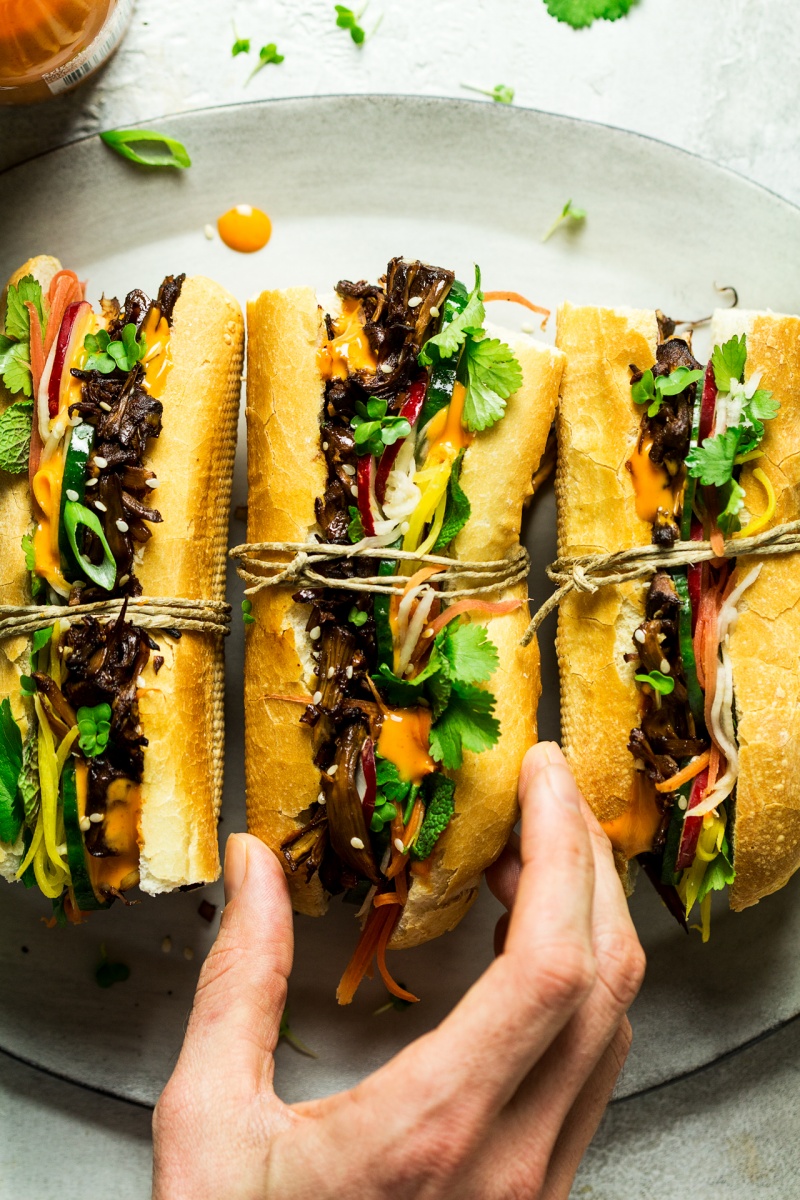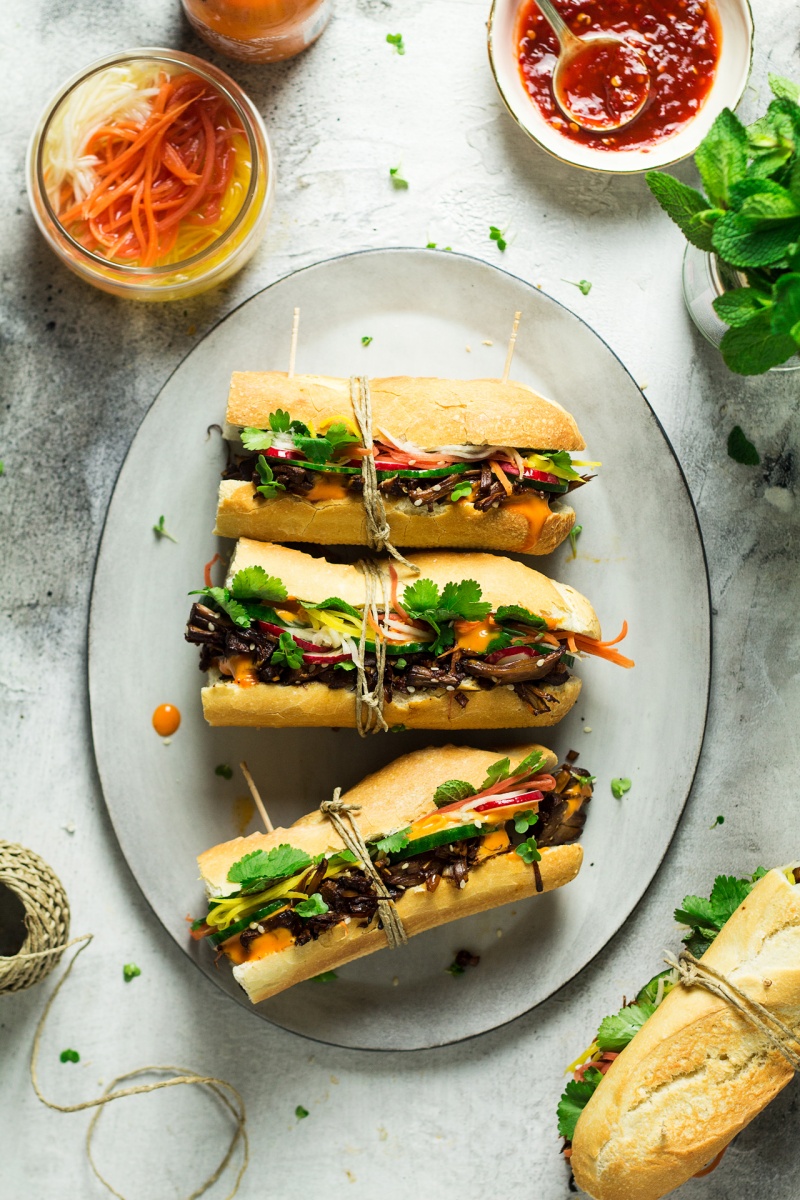 VEGAN PULLED PORK (for the best flavour, make a day ahead)
2 x 565 g / 20 oz tins young (green) jackfruit in water
2-4 tbsp olive oil, adjust to your preference
1 large shallot, finely diced
4 cloves garlic, finely diced
2.5 cm / 1″ fresh ginger, finely grated
2 lemongrass stalks, inner part finely chopped
1 tsp ground coriander
1 tbsp tomato paste
1-2 tsp sambal oelek (Indonesian chilli paste) or chilli powder, to taste
3 tbsp soy sauce or tamari
2 tbsp maple syrup
2 tsp lime juice or rice wine vinegar, adjust to taste
¼ tsp white pepper (black is okay too)
a pinch ground cloves, adjust to taste
PICKLES (make a day ahead if you can)
3 carrots (I used colourful heritage carrots)
1 medium turnip
½ cup / 120 ml rice wine vinegar
2-4 tbsp sugar or maple syrup, adjust to taste
1 tsp salt
REMAINING INGREDIENTS
2 long baguettes (GF if gluten intolerant)
cucumber, sliced thinly
radishes, sliced thinly
pickles
fresh coriander / cilantro leaves
a punnet of baby cress (optional)
spring onion, green part sliced thinly
Sriracha mayo, shop-bought or homemade
METHOD
VEGAN PULLED PORK
Drain both jackfruit tins. Cut the firm, pointy ends off each triangular piece of jackfruit (you can still use them if you wish, I don't). Set aside.
Heat up olive oil in a medium, heavy-bottomed pan. Fry diced shallot until softened, translucent and lightly caramelised. Add chopped garlic, ginger and lemongrass and fry off gently until soft and fragrant.
Add ground coriander to the aromatics. Fry it off gently, stirring the whole time, for a minute or so.
Mix in the tomato and chilli paste.
Now add in the prepared jackfruit along with soy sauce, maple syrup and lime juice or vinegar. Mix everything really well. Squash the jackfruit pieces with your mixing spoon so that the individual fibres separate more. Season with white pepper and a good pinch of ground cloves. Simmer the mixture gently for another 10-15 minutes and then allow it to cool down. Place in the fridge overnight to intensify the flavour.
Just before you are ready to assemble your sandwiches, set the oven to 200° C / 390° F (fan function). Spread the jackfruit pieces on a baking paper-lined baking tray and bake for about 20-25 minutes, until a little browned in places.
PICKLES
Peel your veggies and julienne them if you own a julienne peeler, shave into ribbons with a speed peeler or slice very thinly using a mandoline.
Place prepped veggies in a sterilised (rinsed with boiling water) jar.
Put rice vinegar, ½ cup / 120 ml water (more water if you want the pickles to be less sharp), sugar (adjust the amount to taste) and salt in a small pot and bring to the boil. Continue simmering for about 10 minutes.
Pour hot pickling liquid over the raw vegetables. Once the pickling liquid cools down, keep the jar in the fridge.
ASSEMBLY
Cut the baguettes into smaller pieces, then in half and toast them lightly under a grill.
Fill them with a layer of cucumber and radish slices, vegan pulled pork, pickles, fresh coriander, baby cress and spring onion. Top with a few dollops of Sriracha mayo before closing the sandwich.