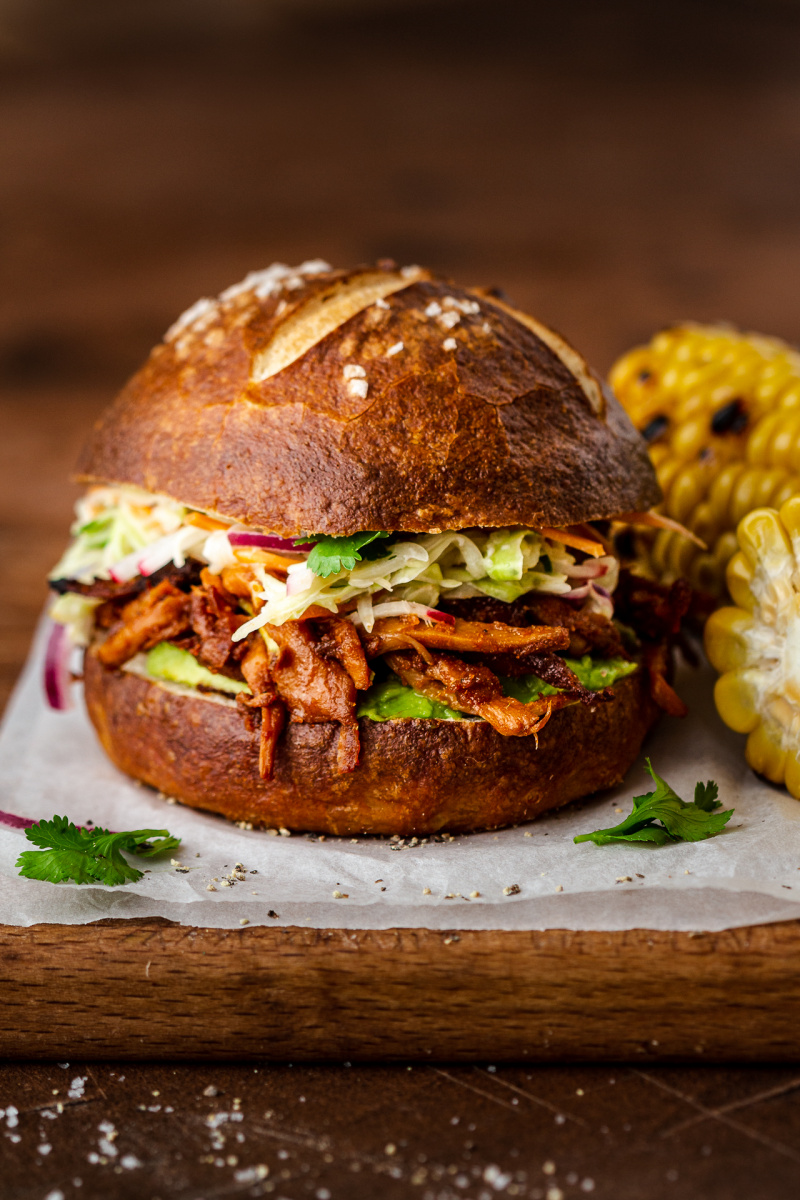 Happy weekend guys! Hope you have exciting things planned! I'm emerging briefly from my bathroom renovation chaos to bring you a new recipe, which I've been tinkering with in the background. We are 1 week in with our bathroom refurbishment and it looks like we won't be done until almost the end of the month, sadly, but we are in good spirits and managing to wash using our backyard, a watering can and some creativity 😉 so we're not too down about it.
Two days in our contractor discovered that the floor joists are completely rotten through and there is nothing supporting the floor other than the vestibule doorframe below. It's a miracle we have not fallen through while taking a shower one day. We all got a little panicked and I started imagining being without a bathroom for months but luckily the disaster was averted. Our contractor's mate came to our rescue and patched up the structure without needing to destroy the ceiling underneath. We were so relieved.
All in all we lost 3 days to this and our fitter has holidays booked straight after the slot we were booked in for, so there will be a bit of waiting time until he can finish the job. It's all good, as long as we have a bath and a toilet in place, which we hope to have by the end of this week, we can manage. All in all, we are pretty excited about having this work done finally and cannot wait to see the end result. Our bathroom guy is great – such a pleasure to have around – and he really came through for us when the chips were down (it's funny, in my head I always pictured this saying to be about potato chips even though I knew it made no sense, hahaha) so we are not that stressed.
Recipewise, I bring you a bit of comfort. It's been cold, wet and windy over here lately so I felt like this dish is appropriate – comforting yet perfect for a BBQ should the sun decide to make more of a permanent appearance again. I made deliciously crusty, soft and salty Pretzel buns (recipe here) filled with smoky pulled mushroom 'meat' and a crunchy and creamy slaw. They make a delicious lunch on their own or with a side of some grilled corn on the cob, some chunky chips (I'm obsessed clearly) and a tumbler of craft beer if you are that way inclined. We've really enjoyed testing this recipe and I hope you'll enjoy making and eating it too.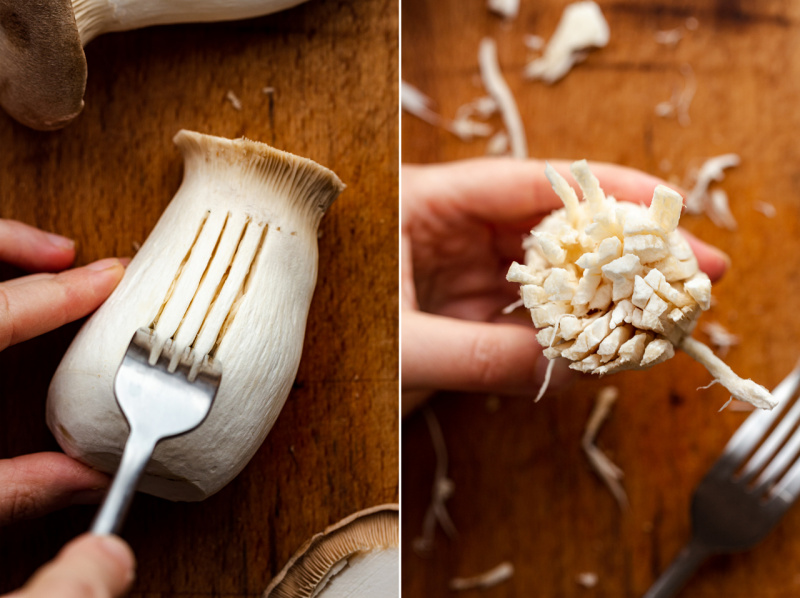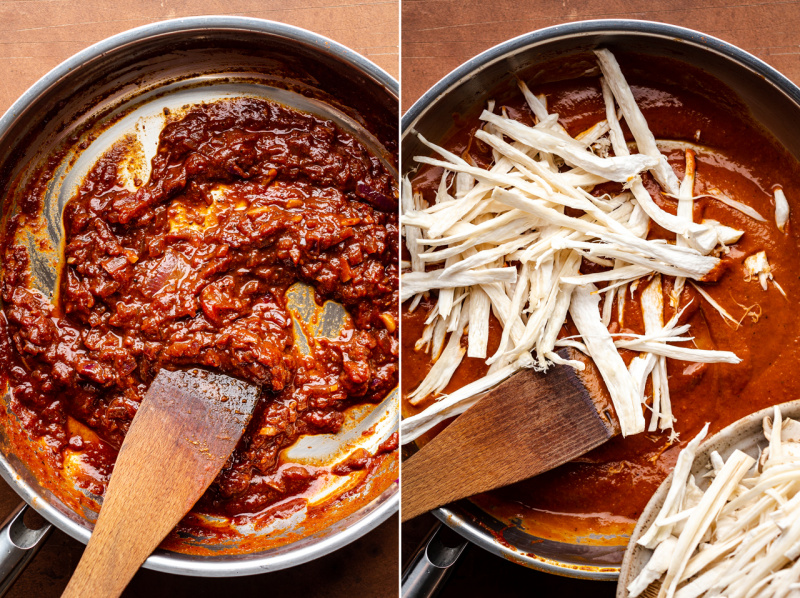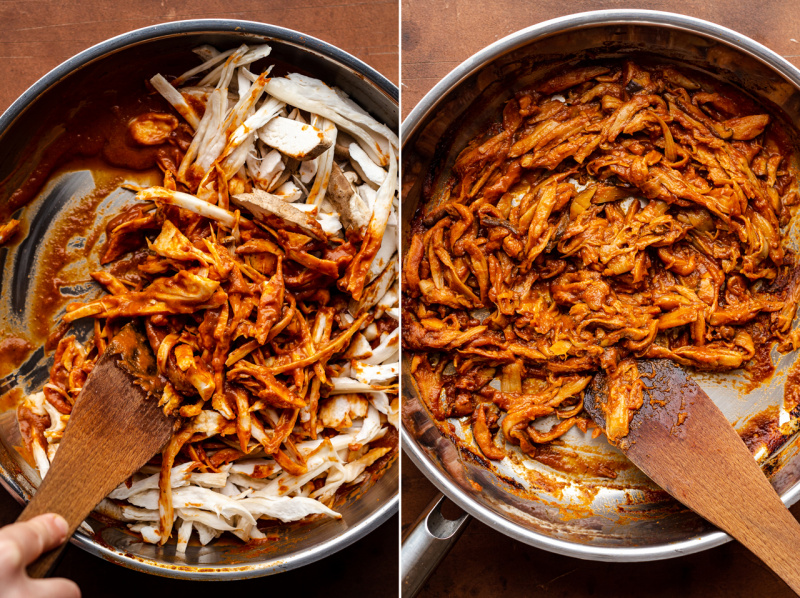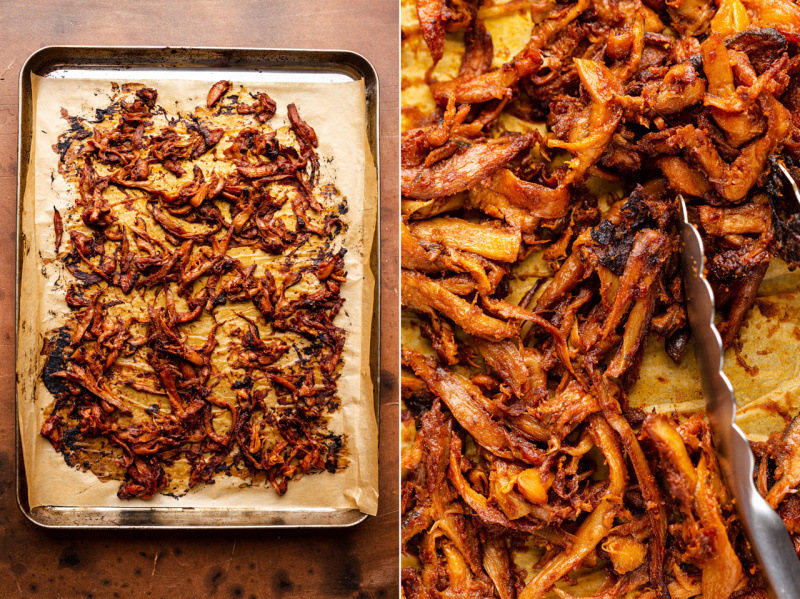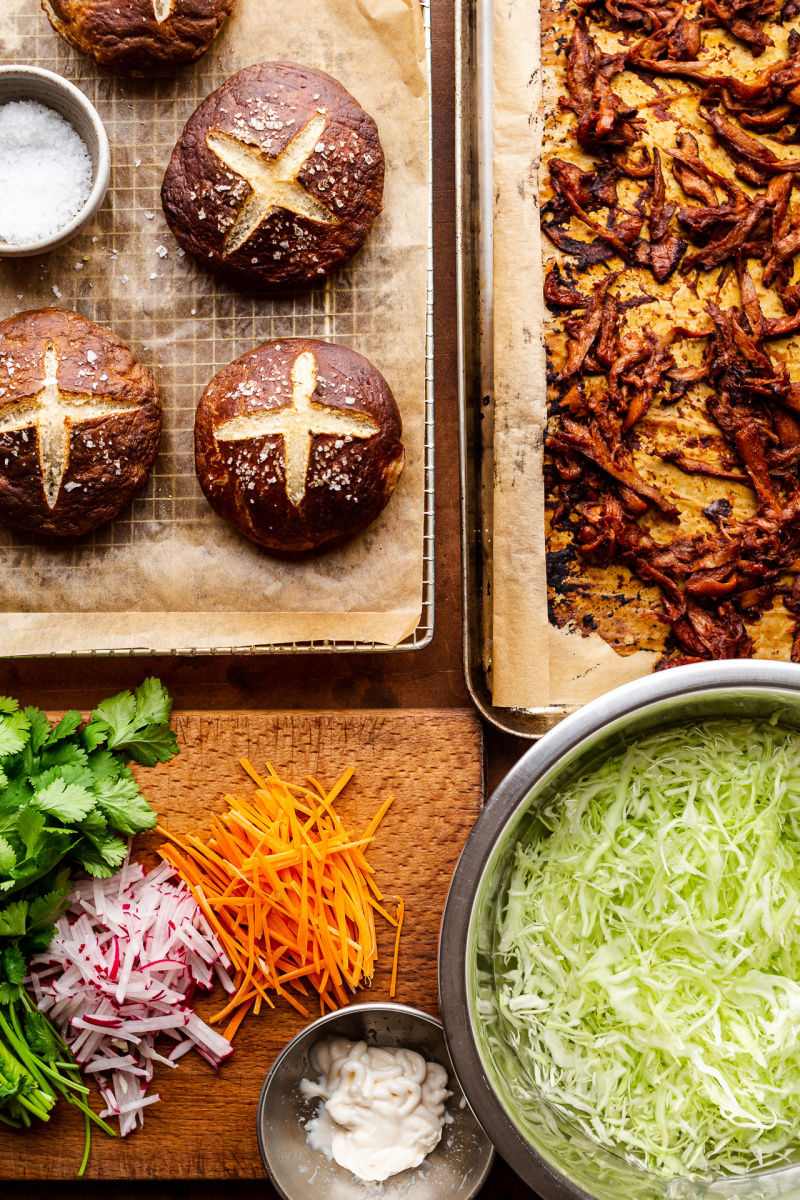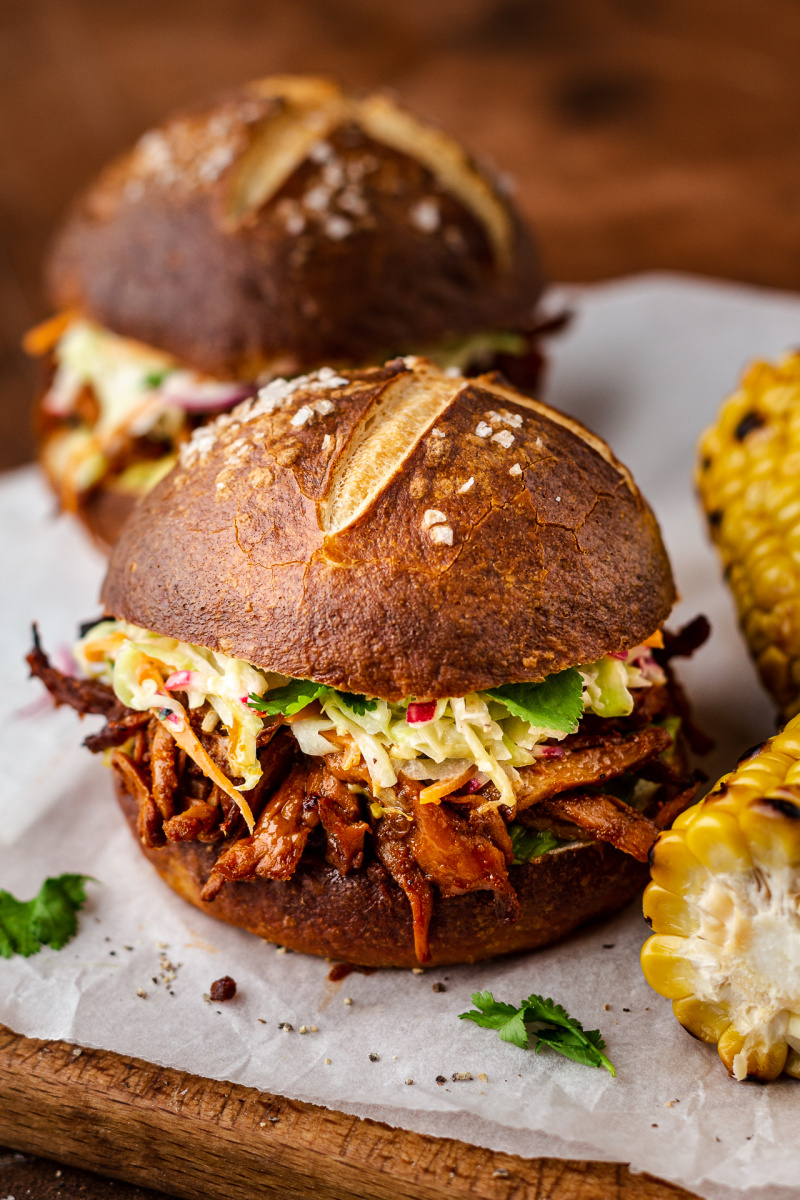 PULLED 'PORK' (for the best flavour, make a day ahead)
300 g / 10½ oz king oyster mushrooms*
20 ml / 1½ tbsp olive oil
1 large shallot or ½ small onion, finely diced
3 cloves garlic, finely diced
1½ tsp smoked paprika
1 tsp ground cumin
1 tsp ground coriander
1/8 tsp cayenne, adjust to taste
¼ tsp ground cloves
¼ tsp black pepper
30 ml / 2 tbsp soy sauce or tamari (for GF version)
200 g / ½ x 14 oz can of plum tomatoes
25 g / 2 tbsp brown sugar or maple syrup
20 ml / 1½ tbsp apple cider vinegar
a few drops of liquid smoke (optional)
salt, to taste
SLAW
150 g / 2 packed cups finely shredded young cabbage
6 radishes finely shredded
1 carrot, finely shredded
small handful of coriander, super finely chopped
4 tbsp / ¼ cup vegan mayo
2 tsp lime (or lemon) juice
½ tsp maple syrup
1 garlic clove, finely grated
2 tsp Dijon mustard
salt and pepper, to taste
REMAINING INGREDIENTS
METHOD
PULLED 'PORK' (for the best flavour, make a day ahead)
Wipe the mushrooms clean and cut off the caps. Slice the caps thinly.
Dig a fork's tines into the stems to shred them and then pull individual strands apart with your hands (see photos).
Heat up the oil in a heavy bottom frying pan.
Throw in the diced shallot / onion, fry on a gentle heat for about 10 minutes (stirring from time to time) until translucent and lightly browned in places.
Add the diced garlic and fry for another 2-4 minutes, until fragrant.
Lower the heat, add all the dried spices. Fry them off gently, stirring the whole time, for a minute or so.
Add in soy sauce, plum tomatoes, brown sugar, apple cider vinegar, liquid smoke and about 120 ml / ½ cup of water. Simmer on medium-low for about 20 minutes until the tomatoes break down – top the pan with water if it's starting to look too dry at any point.
At this point, I like to transfer the mixture (keep the pan for the next step) to a small blender and blitz until smooth. If you want to skip this step, make sure tomatoes are fully broken down before adding the mushrooms in.
Return the sauce to the frying pan, add in all of the mushrooms (caps including) to the pan and stir well to coat.
Add approximately 240 ml / 1 cup of water to the pan. Allow the mushrooms to simmer in the sauce for about 20 minutes until excess water evaporates and the mushrooms are soft.
At this point, you may want to store the cooled off mixture in the fridge overnight to intensify the flavours.
Set the oven to 180° C / 355° F fan function (or 200° C / 390° F if your oven has no fan setting).
Spread the mushrooms on a baking paper-lined baking tray and bake for about 25-30 minutes, giving the mixture a good stir every 10 minutes or so.
SLAW
Bring the first four ingredients in a bowl together. I like to keep the cabbage in a bowl of ice water for 30 minutes or so to make it extra crunchy.
In a separate, small, bowl combine vegan mayo, lime juice, maple syrup, grated garlic and Dijon mustard. Season with salt and pepper to taste.
Stir the mayo dressing through the veggies until evenly coated. Check the seasoning before filling the buns with the slaw.
ASSEMBLY
Cut the buns in half, spread some vegan butter (or ripe avocado – that's what I like to use) on both halves of the buns. Fill with pickles (if liked), pulled mushrooms, slaw. Consume straight away.
*MUSHROOMS – if you cannot find king oyster mushrooms, regular oyster mushrooms (shredded along the gills) would also make a good substitute. Failing that, I'm pretty sure that Portobello mushrooms or drained young jackfruit would also render a nice end result.
*PRETZEL BUN recipe with tips and step-by-step photos here.