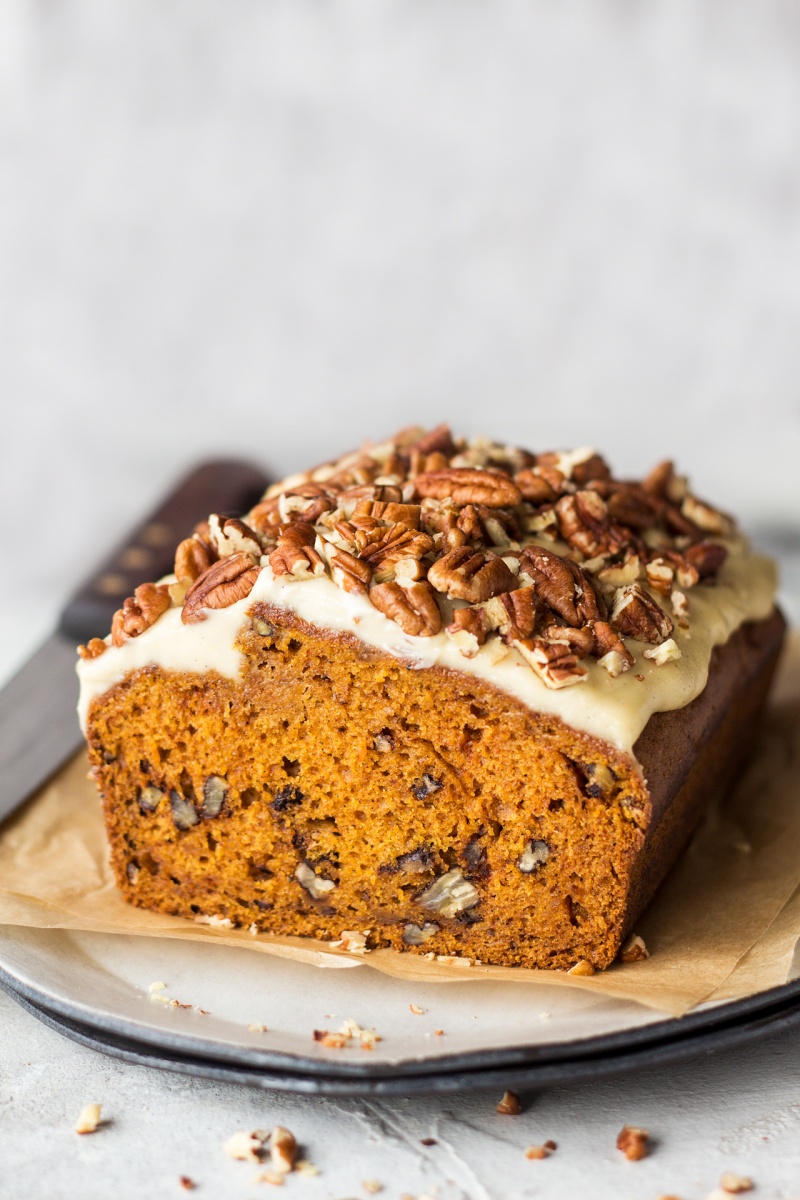 I am despairing a little bit as when I sat down to plan all my recipes up until Xmas, I realised that 75% of them are sweets!! What can I say, I love tarts, cakes and cookies, and in an ideal world, I would devote this blog to them alone. This would not be a very wise move, however, as I don't just love making them…
So in a bid to inject some balance into my life, I tend to make more savoury dishes and punctuate them with an occasional sweet post. As balance isn't something that the festive period is famous for, this rule will be thrown out in the upcoming months as I desperately need to get rid of all the festive dessert ideas percolating in my head while they are still seasonally appropriate. You don't mind, do you? 😉 .
This vegan pumpkin bread is dedicated to one of my readers, Dominika, who emailed me the other day asking for a pumpkin bread recipe. As I happen to love pumpkin and Xmas spices, she was in luck. I was happy to oblige. I have had to make my own pumpkin puree as it isn't something that the UK is big on and given how straight forward it is – I simply cubed and steamed my pumpkin and then blended it using a food processor – I was happy to do so. If you live in the US or any other country where pumpkin puree is an autumn staple, you'll be able to make this bread in half the time.
This pumpkin bread is deliciously decadent, studded with crunchy pecans, beautifully enhanced with a range of autumn-reminiscent spices and topped with an indulgent maple frosting. One of my test versions included dark chocolate chunks in the bread too, but I concluded that it's possibly too much. However, if you aren't keen on frosting, but want to give it something a little bit extra, be sure to include those instead.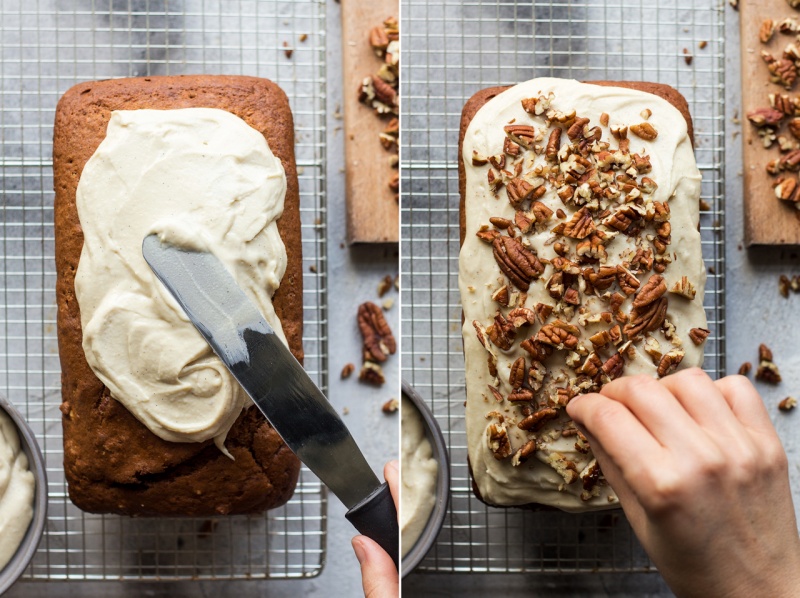 MAPLE FROSTING
¼ cup coconut cream (from a tin of full fat coconut milk, I use this brand)
4 tbsp maple syrup, adjust to taste
3 tbsp lemon juice
2 tsp vanilla essence
225 g / 1½ cups cashews, soaked overnight or in boiling water for 1 hr
WET INGREDIENTS
300 ml / 1¼ cups pumpkin puree*
60 ml / ¼ cup mild tasting oil (if using coconut oil, melted)
80 ml / 1/3 cup almond milk (or other thin plant milk)
175 g / ¾ cup + 2 tbsp coconut sugar or demerara sugar**
2 tsp lemon / lime juice (or white wine vinegar)
DRY INGREDIENTS
225 g / 1¾ cups + 1 tbsp all purpose white flour, GF cake flour mix or buckwheat flour, sifted
1¼ tsp baking powder
1 tsp baking soda
1½ tsp cinnamon
1 tsp ginger
½ tsp nutmeg
½ tsp allspice
¼ tsp cloves
5 green cardamom pods, seeds crushed
150 g / 5 oz pecans, chopped coarsely
METHOD
MAPLE FROSTING (make ahead if you can!)
PLEASE NOTE that this recipe yields 1½ cups of frosting, enough to ice two cakes, but I do not recommend halving it as this is the smallest amount the blender can handle.
Put all the liquid ingredients: coconut cream, maple syrup, lemon juice and vanilla extract at the bottom of the blender.
Rinse the cashews and chop them roughly. If you own a very powerful blender (like a Vitamix or Blendtec) this step may be completely redundant, but with my average blender, this is the only way I can achieve a smooth consistency without adding too much liquid.
Add about a quarter of the chopped cashews. Process until smooth then add another quarter and process until smooth. Continue until you've added all the cashews.
Towards the end, the mixture will become very thick and heavy and your blender may struggle to turn. To remedy this, start making circles on the surface of your mixture (in the direction of the turning blades) with a spatula to prevent air pockets forming under the mixture's surface. Be careful not to dip the spatula in too deep as you don't want to accidentally touch the turning blades. If you follow the technique I've described above, there should be enough moisture in this recipe to turn the cashews into a smooth and creamy frosting.
Place the mixture in the refrigerator for a few hours to firm up, or if you are pressed for time, place it in the freezer for 45 minutes.
CAKE
Warm up the oven to 180° C / 355° F and grease a 900 g / 2 lb cake tin with a few drops of oil.
In a large mixing bowl, combine the pumpkin puree with the oil, almond milk, sugar and lemon juice in a large bowl. Mix very well.
Sift the flour and the remaining dry ingredients into a smaller bowl and mix well. Alternatively, you could sift them straight into the wet ingredients, but make sure you combine everything thoroughly.
Add the dry ingredients to the wet ones in three batches, mixing well each time.
Mix until there is no dry flour left, but do not overmix (that's only important if you are using a flour containing gluten)!
Fold half the pecans into the cake batter gently.
Transfer the batter into the prepared baking tin. It should be fairy thick.
Bake for about 50 minutes, or until a toothpick comes out fairy clean (this cake should be moist). Remove the cake from the oven and allow it to cool down completely before removing from the tin and applying the frosting.
Use a serrated knife to slice the cake – it produces neater looking slices.
NOTES
*I made my own pumpkin puree by steaming cubed butternut squash (yes, it's a type of pumpkin) for about 40 minutes and blending it in a food processor until smooth. You can use any fleshy pumpkin you like.
I used a 2 lb / 900 g cake tin of the following dimensions: 18.5cm / 7″ x 8cm / 3″ x 6cm / 2.5″. (I used one like this).
Although I give approximate US cup measurements for ease, I encourage you to weigh your dry ingredients when baking. Baking is a science and using cups for dry ingredients is an inherently imprecise measuring method. An incorrect measuring of flour can ruin a perfectly good cake, for example.