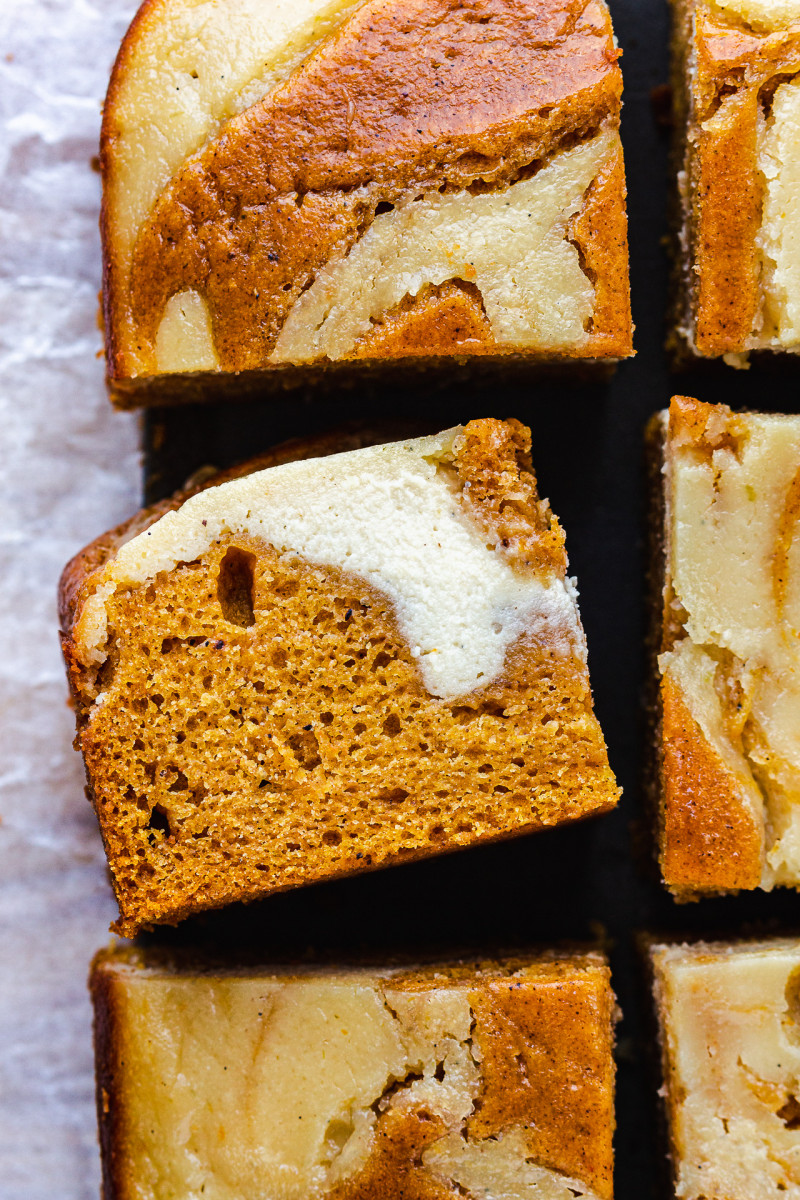 And just like that it's pumpkin season again so I made a vegan pumpkin cake with cheesecake swirls to celebrate all things autumn. This vegan pumpkin cake is not only easy to make, but also delicious and pretty to look at too. Moist, fluffy and beautifully spiced pumpkin cake gets topped with a creamy vegan cheesecake fragrant with lemon and orange zest and they go dancing together so to speak…
This autumnal cake is really simple to make. The base is a fluffy spiced sponge that comes together in a single mixing bowl, there is no need for a creaming fat and sugar, you simply need a spoon and a little bit of gentle folding to make it come together. The cheesecake part is even easier. All you need to do is to whack all of the ingredients into a small blender (I like to use my smoothie maker for this) and give them a good whizz. Then a fun part, you pour most of the cake batter to the bottom of the cake tin, follow up with the cheesecake mixture and finally dollop some leftover cake batter on top. Then use a chopstick, a skewer or a toothpick and make pretty swirls on the surface of the cake. And that's it, it really is that simple.
This cake went down really well with my husband, friends and neighbours so I hope it will brighten up your weekend too.
MORE ABOUT THE INGREDIENTS
CASHEWS: Raw cashews form the base of the cheesecake layer. Soak them in boiling water for 30 minutes or in cold water overnight to soften, drain, rinse and they are ready to blend.
VEGAN BUTTER: Cheesecake is all about creaminess so a small amount of vegan butter helps with that. There is no need to melt it, just add it to the blender as is. If you don't have vegan butter, use coconut oil (fragrance free ideally) instead.
LEMON JUICE: I used a generous amount of lemon juice to give the cashew layer beautiful tang. I also use a couple of teaspoons of lemon juice in the cake batter to help with the rise – lemon juice comes into a reaction with baking soda.
CITRUS ZEST: I love a combination of lemon and orange (you can use tangerines too) zest in this cheesecake layer. It gives the cake a festive touch.
PUMPKIN PURÉE: If you don't live in the US where pumpkin purée is a baking and cooking staple, it's easy to make one yourself. Simply steam cubed pumpkin until a skewer goes in easily and then turn it into a purée in a food processor or a blender.
PLANT MILK: You can use any plant milk you have to hand. I went with soya as that's what I had, but oat, almond, rice, cashew – any plant milk will work just fine.
VEGETABLE OIL: A small amount of vegetable oil keeps this cake fluffy and moist at the same time. I use grapeseed oil, but any other neutral tasting oil will work just well. If using olive oil, use a mild variety as you don't want its flavour to come through.
SUGAR: In the cake, you could use any sugar you have – I went for demerara sugar, but caster sugar or coconut sugar also work well. In the cheesecake layer, I recommend using caster sugar as it's white which means that that layer will stay white and very small, which means it will dissolve easily during baking.
FLOUR: I used plain flour for the regular version and a combination of a good gluten-free flour mix and a touch of xanthan gum for the gluten-free version.
SPICES: I used several warming dry spices for this cake, you could also use ready made pumpkin spice mix if you have it.
BAKING AGENTS: I used a combination baking powder and baking soda (they are not the same) to give this cake just enough of a lift.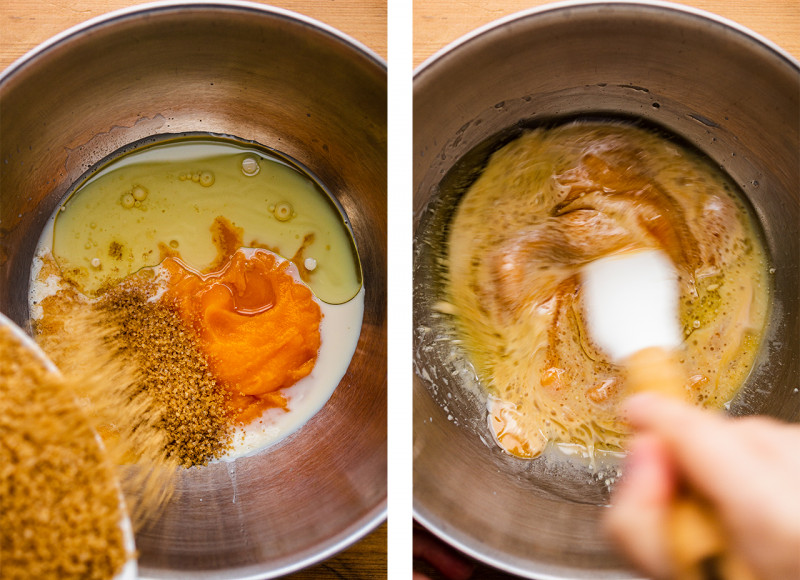 Combine all of the wet ingredients in a large mixing bowl, mix until homogenous.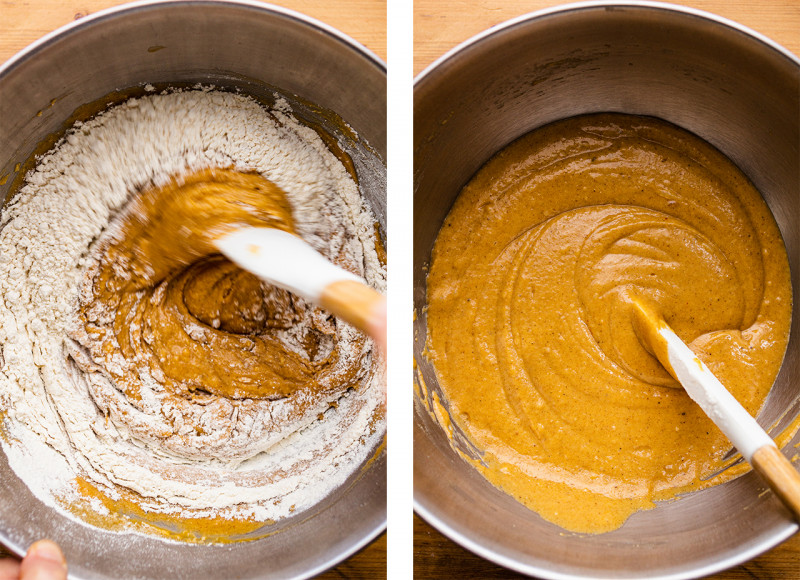 Sift dry ingredients into the wet ingredients. Gently fold dry ingredients into the wet ones until well combined and there are no flour pockets left. If using gluten flour, take care not to overmix.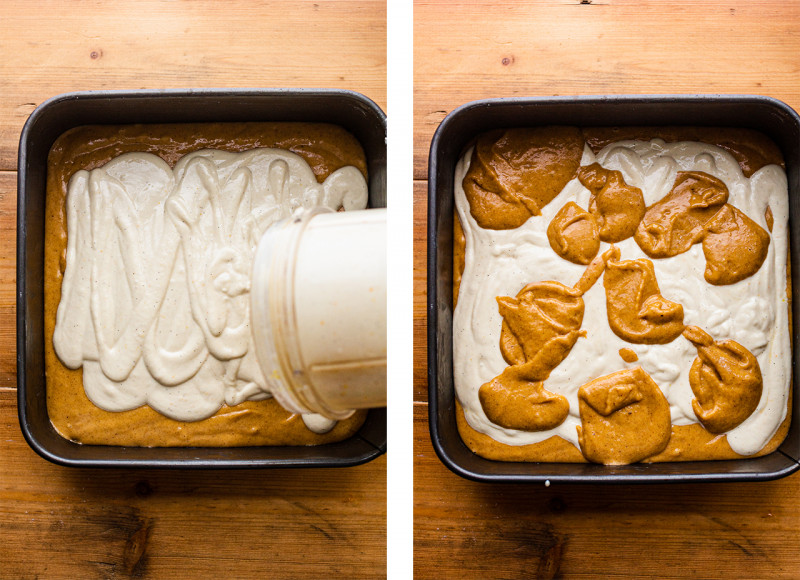 Reserve a portion of the cake batter and pour the rest of it into the prepared tin. Pour cheesecake mixture on top, then dollop reserved batter on top of the cheesecake layer and using a chopstick, create decorative swirls. Bake for 30 minutes.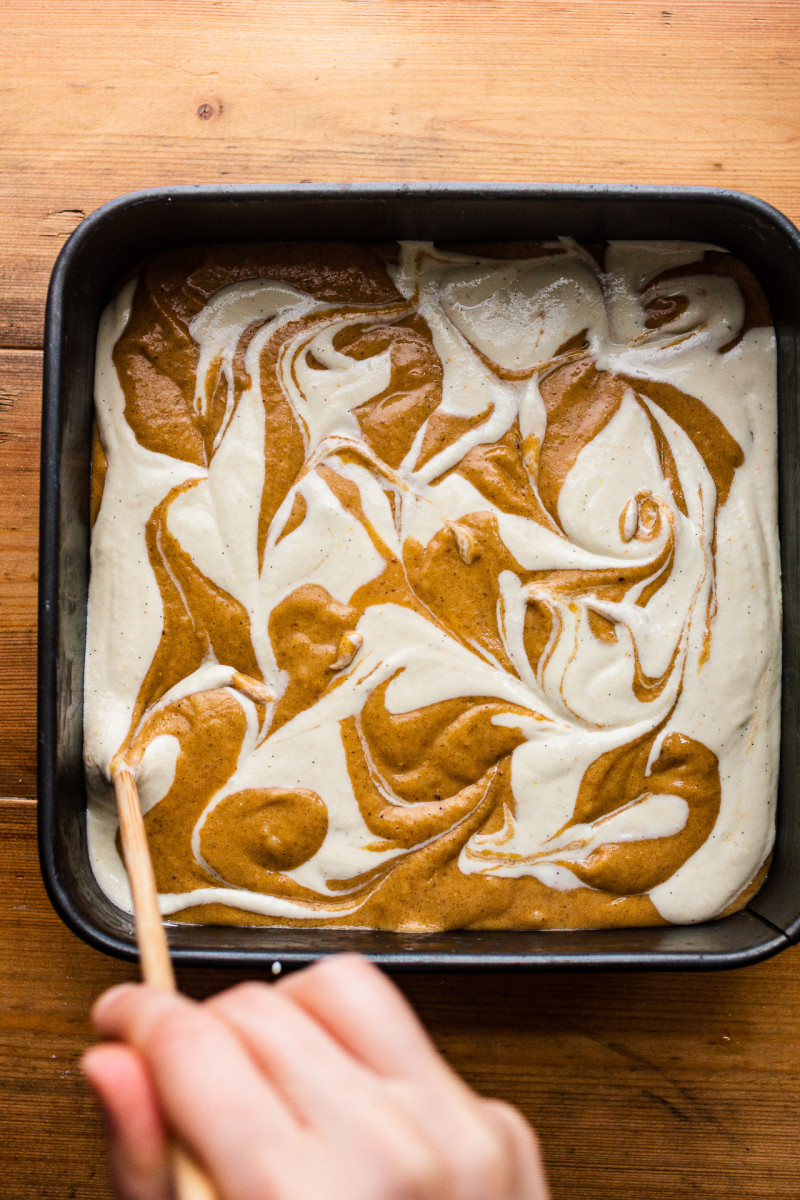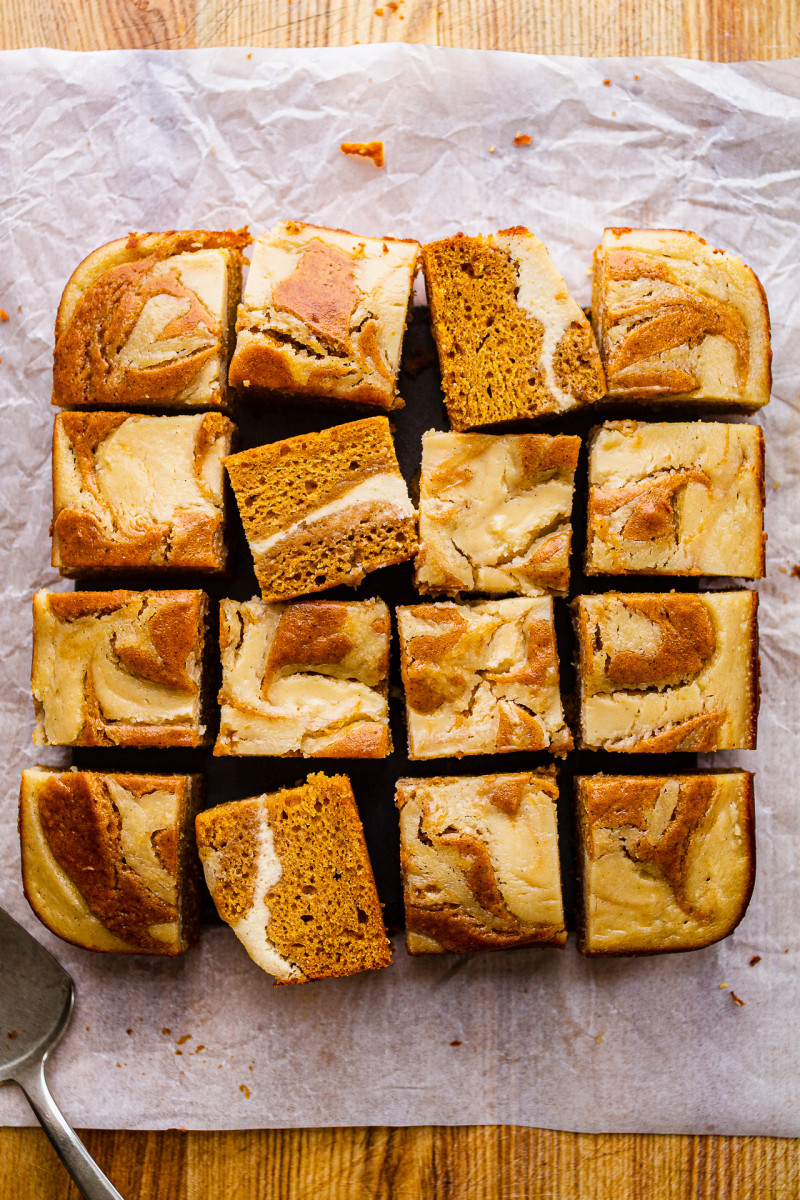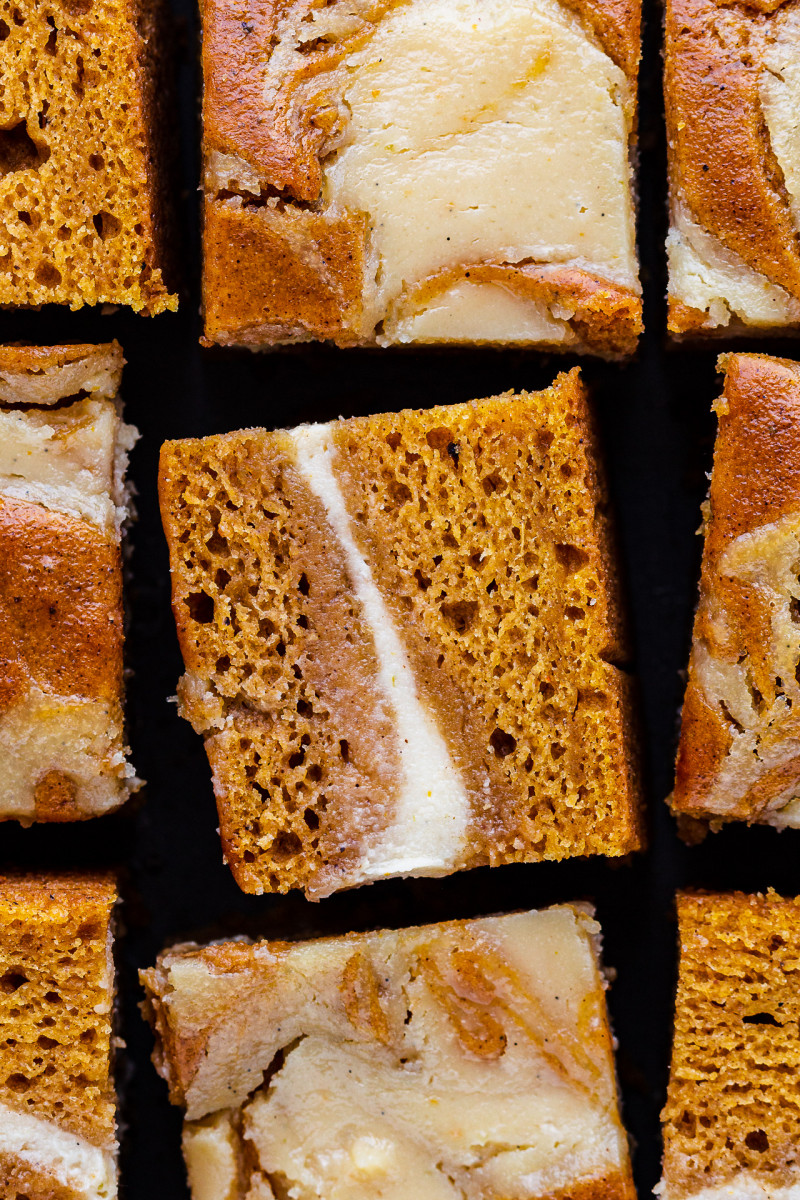 CHEESECAKE MIXTURE
130 g / 1 cup cashews, soaked
25 g / 2 tbsp vegan butter (no need to melt)
65 g / 1/3 caster sugar
80 ml / 1/3 cup plant milk
60 ml / ¼ cup lemon juice + zest of ½ lemon
zest of ½ orange
10 ml / 2 tsp vanilla extract
CAKE WET INGREDIENTS
300 g / 10.5 oz (approx. 1¼ cup) pumpkin purée*
120 ml / ½ cup plant milk (I used soy)
60 ml / ¼ cup mild tasting oil (I used grapeseed oil)
175 g / ¾ cup + 2 tbsp sugar (I used demerara)
10 ml / 2 tsp lemon juice
CAKE DRY INGREDIENTS
220 g / 1¾ cups all purpose white flour or GF flour mix
1 tsp baking powder
1 tsp baking soda
SPICES: 2 tsp cinnamon, 1 tsp ginger, ¾ tsp cardamom, ½ tsp nutmeg, 1/8 tsp cloves
¼ tsp fine salt
½ tsp xanthan gum (recommended only if using GF flour mix)
METHOD
CHEESECAKE MIXTURE
Place all of the cheesecake ingredients in a small blender. Blend until silky smooth. Set aside.
CAKE
Heat up the oven to 180° C / 355° F. Line the bottom of a 20 cm / 8 inch square cake tin with a piece of parchment paper and grease the sides.
In a large mixing bowl, combine the pumpkin purée with plant milk, sugar, oil and lemon juice. Mix very well.
Place a sieve over the mixing bowl and sift in half of the flour, both baking agents, dry spices and salt. If using GF flour mix that does not contain xanthan gum, I recommend adding it too.
Using a spatula, start incorporating the dry ingredients into the wet ones by making small circles in the middle of the bowl first (to minimise lumps), gradually extending the circles to incorporate more and more flour. Be slow and gentle.
Next, sift in the other half of the flour and proceed as in the previous step.
Mix until there is no dry flour left, but do not overmix (that's only important if you are using a flour containing gluten)!
Hold back ½ cup of the cake batter, transfer the rest into the prepared baking tin.
Pour the cheesecake mixture on top so that it covers the entire cake. Dollop leftover batter on top of the cheesecake mixture and use a toothpick to create decorative swirls on the surface.
Bake for 30 minutes. Remove the oven and allow it to cool down before refrigerating for a few hours or overnight – it will cut neater. Keep in an air-tight container in the fridge for 3-4 days.
NOTES
*PUMPKIN PURÉE: If you cannot get pumpkin purée, make it yourself by blending 300 g / 10.5 oz of steamed pumpkin in a blender (add the plant milk allocated to this recipe to help it blend).
BAKING TIN SIZE: I used a 20 cm / 8″ square brownie tin for this recipe.