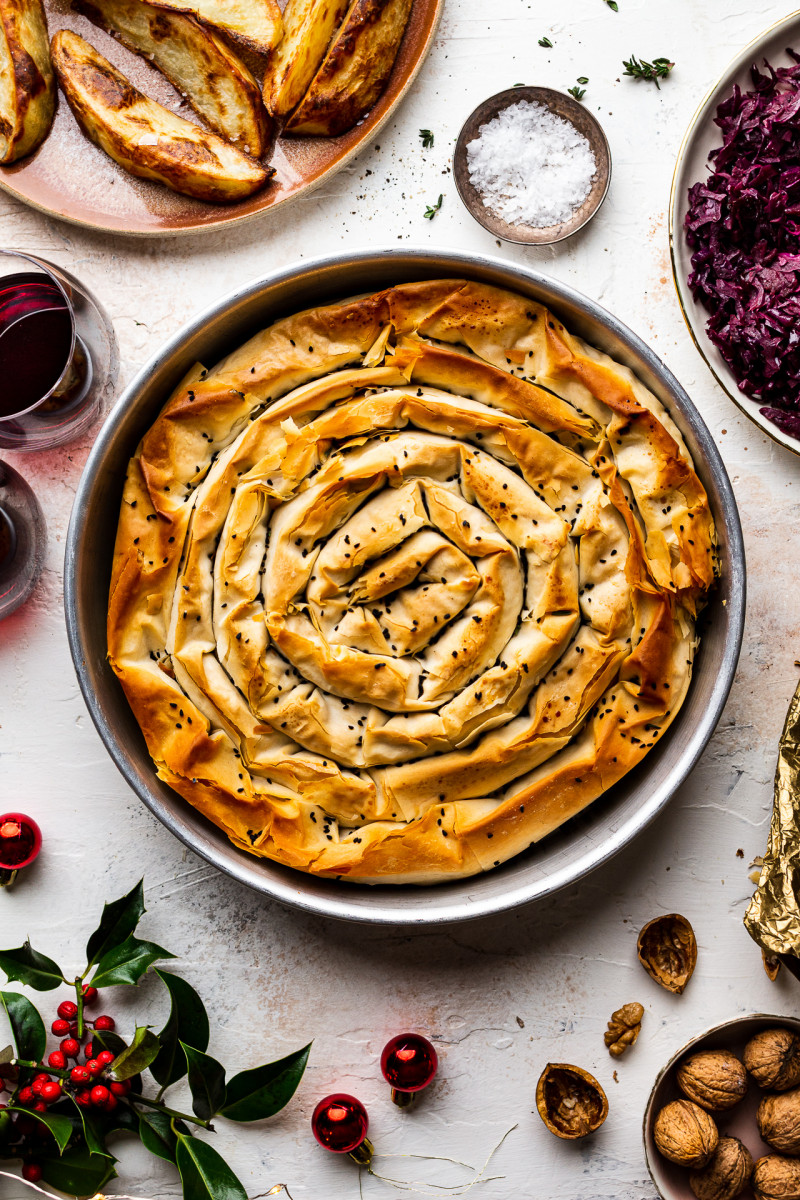 Happy weekend everyone! I am beyond happy to be able to create a new recipe for your this week. It's been a tough week and I wasn't sure I will be in a state to do anything for a very long time. My neck went into a spasm on Friday morning (I must have slept funny), but I was okay, in a bit of pain but manageable. Then on Monday, I woke up in excruciating pain and my neck muscles started spasming with such ferocity that nothing brought any relief and even the simplest and tiniest movement brought me to tears. It was awful and it would not let up at all.
Because of the new, highly contagious COVID variant, I wasn't keen on going to Accident and Emergency (ER), plus I found sitting up in a chair unbearable so waiting for my turn for hours was not something I could face. I decided to try and sleep it off and although sleeping with a wry neck is a massive challenge, the spasm slowly started to ease off by Wednesday. I even managed to do some gentle yoga yesterday morning and although my range of movement is still a little restricted it's getting better every day. I am beyond grateful as the pain was so intense.
So because of all this, I've had to skip my usual Wednesday recipe. I hasten to rectify this with a new Xmas-themed centrepiece. The shape of this spiral file (or phyllo) pie is inspired by my experience of living in Greece. I took my spiral spanakopita and gave it a bit of a winter upgrade. I stuffed the coils with a mixture of sweet roasted butternut squash, tangy and lemony cashew 'cheese' and tangy-sweet balsamic onions.
Although the instructions look long (I'm a chronic overexplainer, you see!), the filling is actually quite simple to make and a lot of it happens on a single baking tray, in the oven. And don't let the intricate looking coiling put you off either, as long as there is a wide segment of the counter space you can take over for a bit you will be fine, promise. I hope you are up for this challenge and if you like the general idea, but are not up for making a spiral, try this pastry method instead. Anyway, I hope you'll give this Greek-inspired festive filo (phyllo) pie a go and that you'll enjoy it if you do.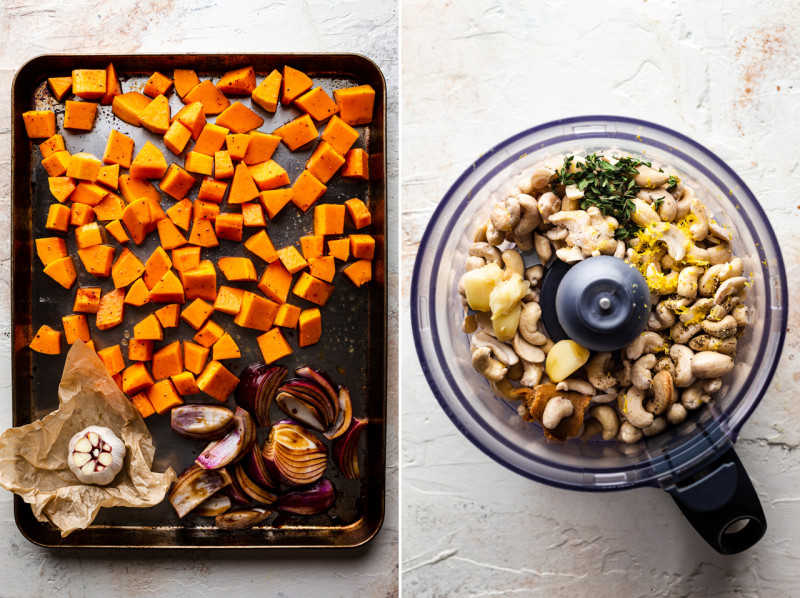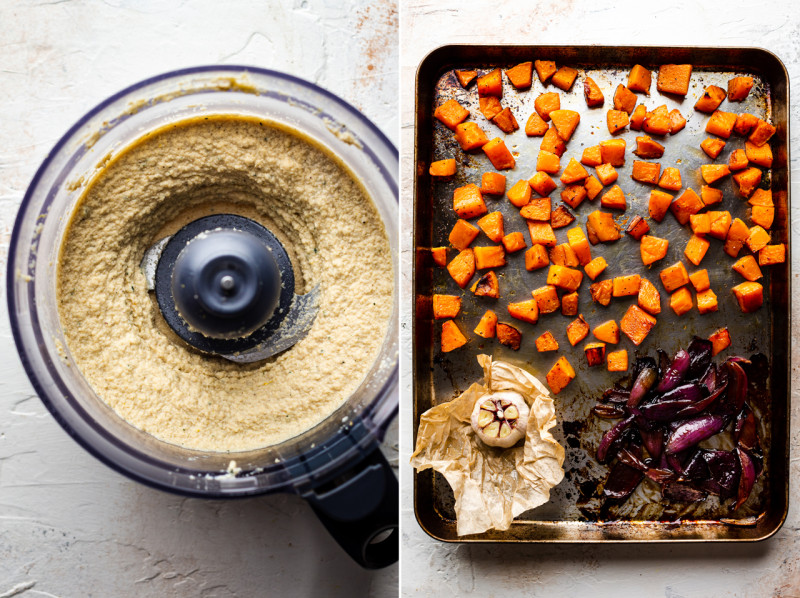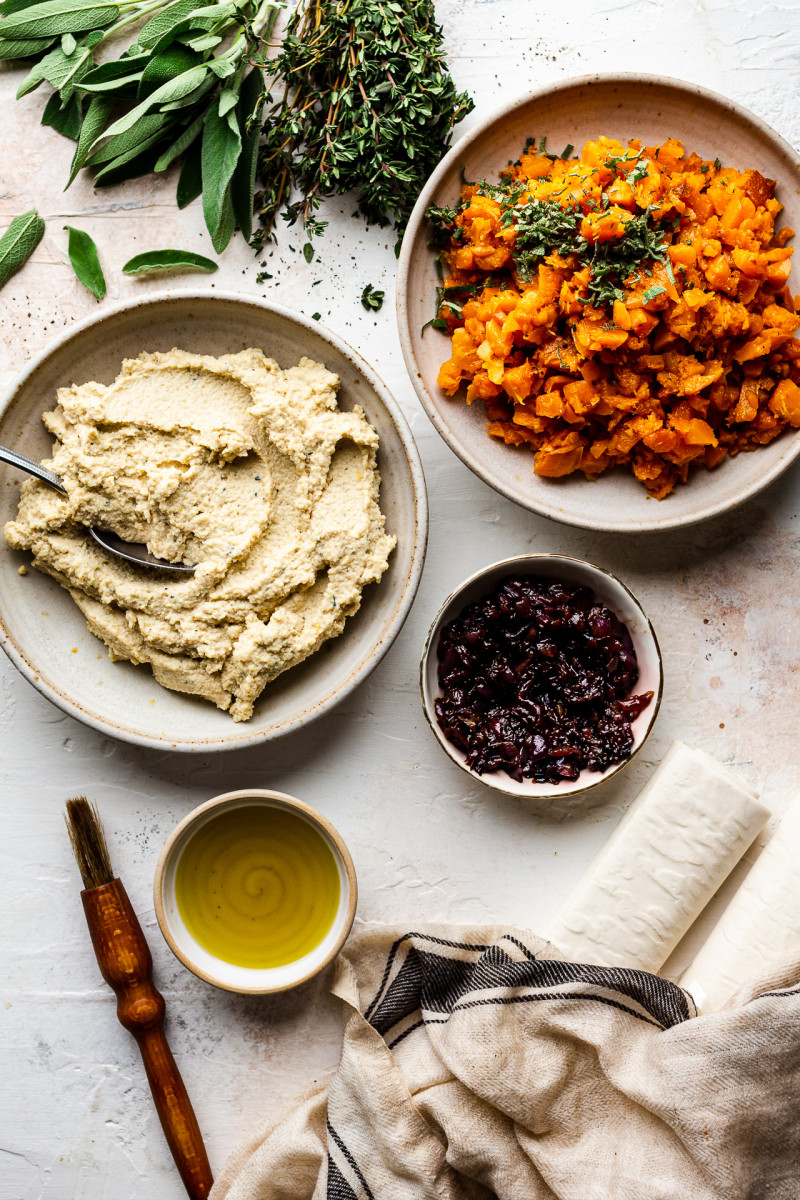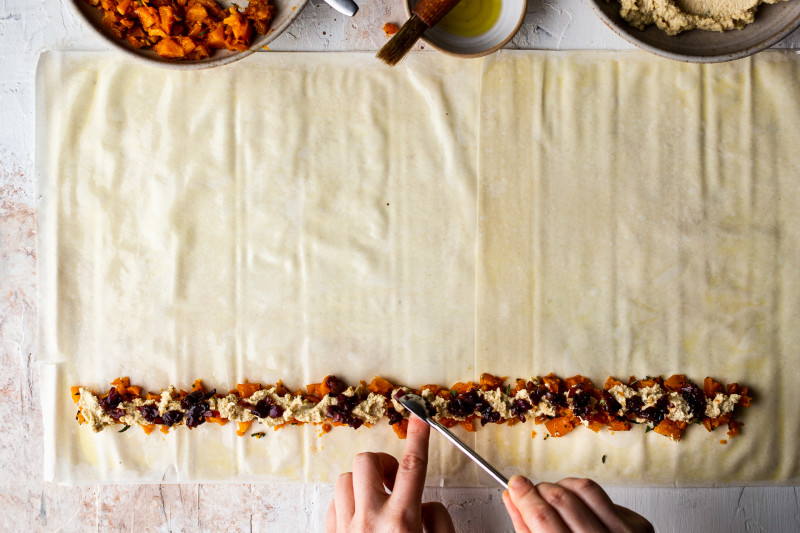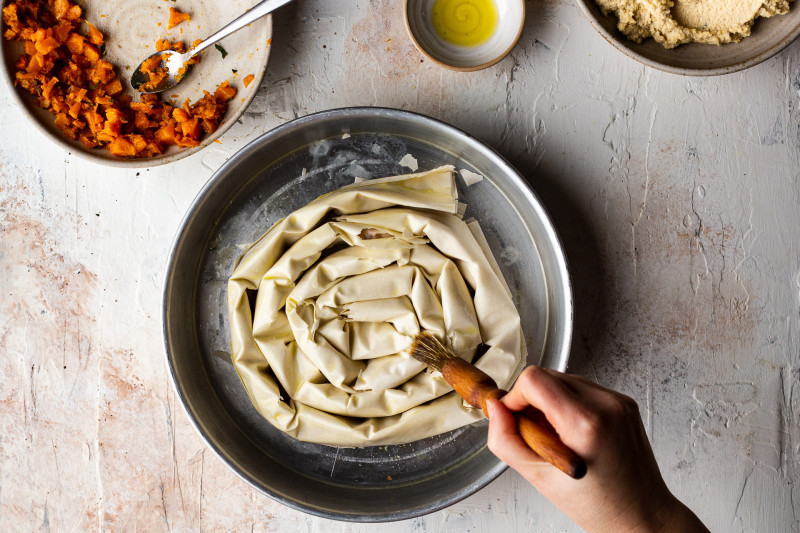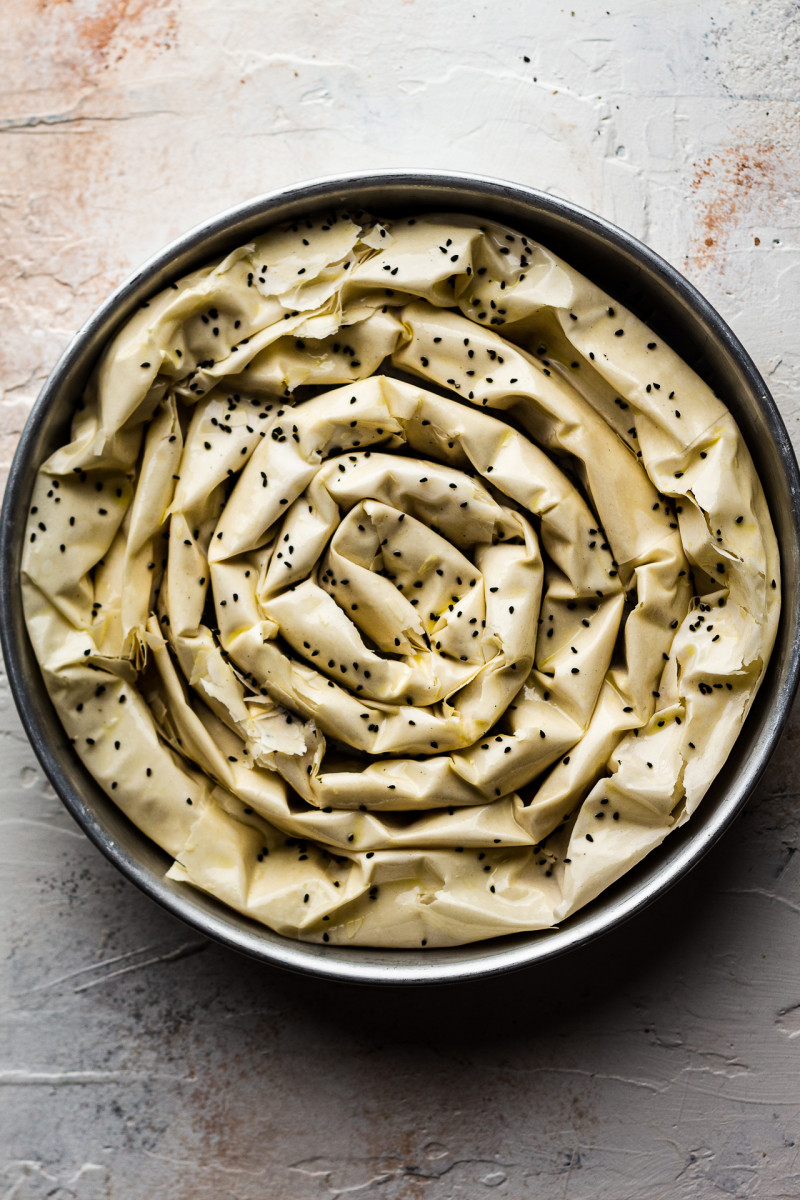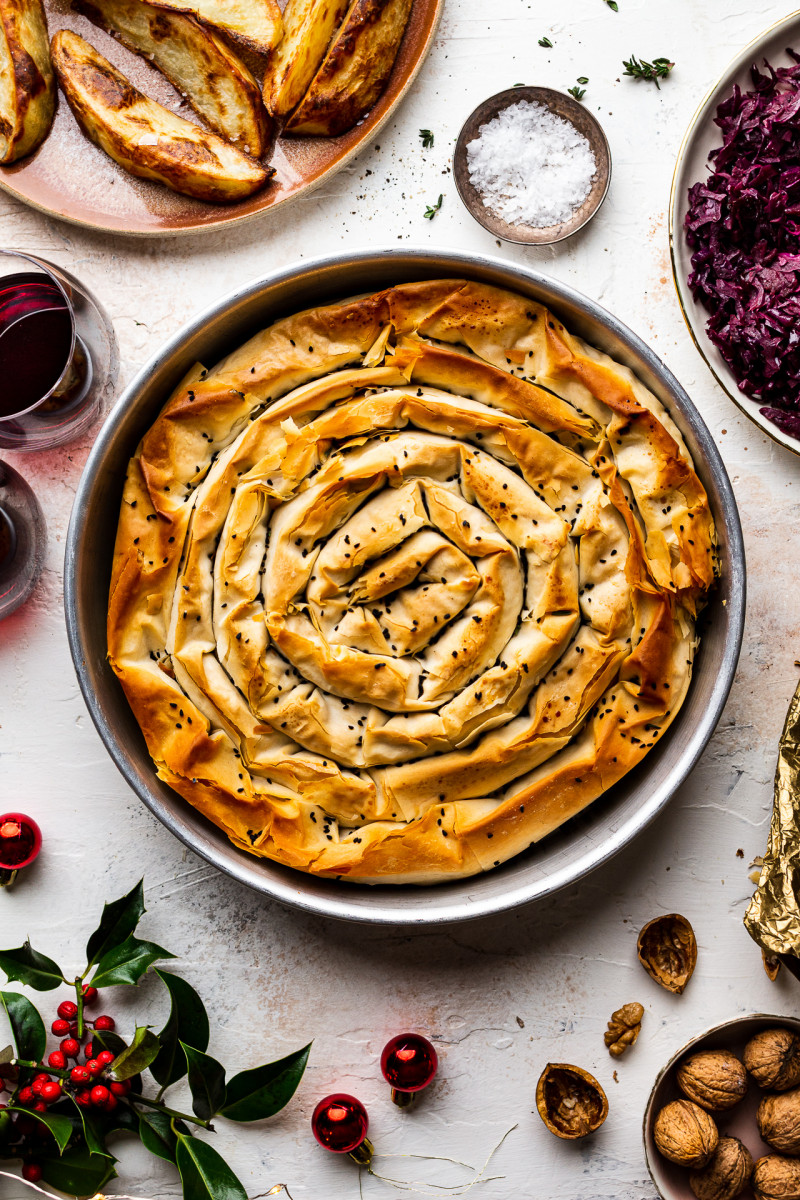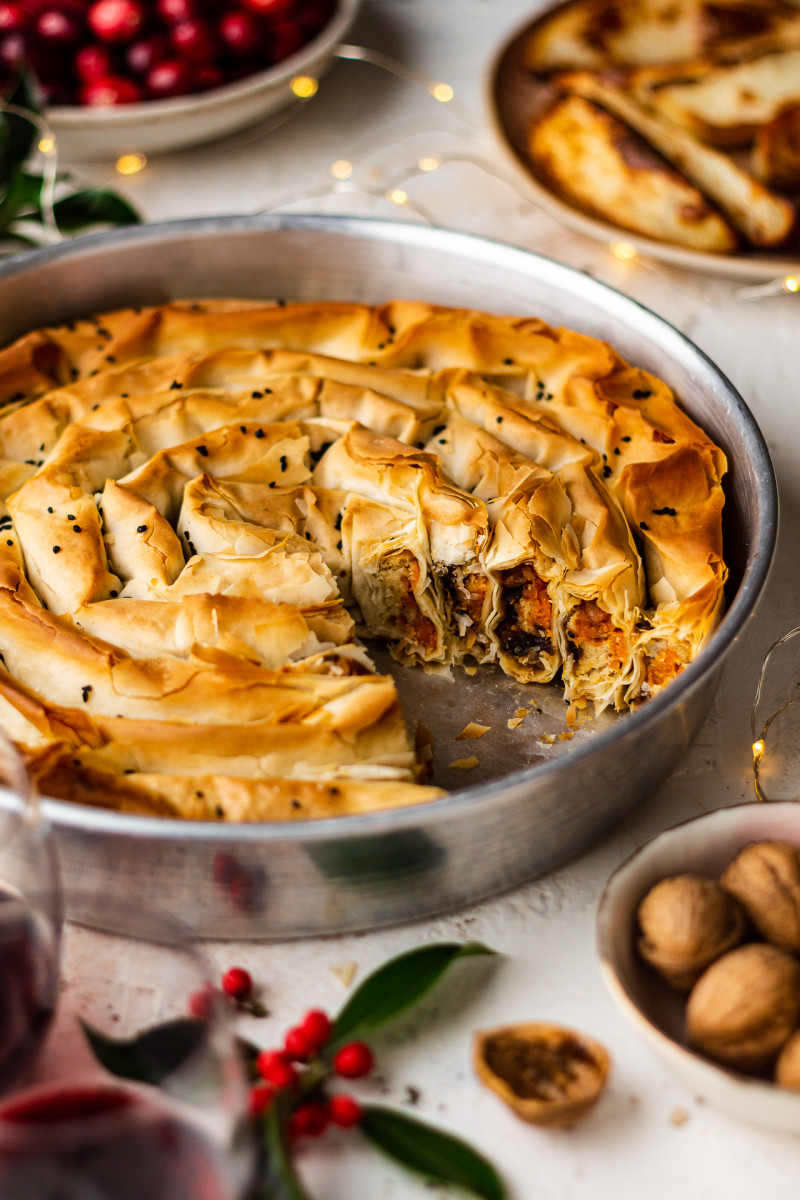 750 g / 26½ oz peeled & diced butternut squash* or firm pumpkin
45 ml / 3 tbsp olive oil, divided
fine salt, adjust to taste
¼ tsp black pepper, adjust to taste
1 medium red onion
4 tsp quality balsamic vinegar
1 head of garlic
130 g / 1 cup cashews, soaked*
30 ml / 2 tbsp lemon juice + zest 1 lemon
15 ml / 1 tbsp neutral plant milk
1 tsp fresh thyme leaves, more to taste
2 tsp white miso paste
2 tbsp nutritional yeast
8 sage leaves, chopped very finely
2 x 250 g / 8¾ oz vegan (a lot of them are!) filo pastry*, thawed in the fridge
nigella or sesame seeds, to garnish (optional)
METHOD
FILLINGS
Preheat the oven to 200° C / 390° F (or 180° C / 355° F on a fan setting). Grab a large baking tray. Toss cubed butternut squash in 1 tbsp (15 ml) of olive oil, season with salt and pepper and arrange on 2/3 of the baking tray.
Cut onion into quarters leave the bottom intact. Coat in 1 tsp (5 ml) of oil and 2 tsp (10 ml) of balsamic vinegar and place next to the squash. While you want the squash spread out as much as possible, ensure that the onion pieces are bunched together so that they don't dry out too much.
Finally, cut the top of the garlic head off, drizzle the exposed cloves with a teaspoon (5 ml) of olive oil and wrap the entire head in a piece of kitchen foil or overproof paper. Place on the tray, next to the onions and squash.
Bake for 15 minutes, after 15 minutes toss the pumpkin pieces and add another 2 tsp (10 ml) of balsamic to the onions giving them a stir too. Bake for another 15 minutes.
Remove the garlic and the onions if ready (they should be soft and caramelised), whack the oven up to 220° C / 425° F and spread the butternut squash on the entire tray. Allow it to finish cooking and caramelise for another 10-15 minutes.
While the butternut squash is finishing off, place drained cashews, roasted garlic cloves (I used the entire head but you can use fewer if you wish), lemon juice and zest, plant milk, thyme, miso, nutritional yeast and a tablespoon (15 ml) of olive oil in a food processor and process until smooth. Season with salt and pepper to taste.
Chop balsamic onions very finely, you can also use a processor or mini chopper if you wish, but I don't find it necessary.
Once the squash is cold, chop it quite finely and stir chopped sage through it. Again, you can also use a food processor if you wish, but I didn't as I like to keep some texture. You could also mix all three fillings together if you wish, but I chose to keep all the layers separate.
ASSEMBLY
Preheat the oven to 160° C fan / 320° F fan (or 180° C / 355° F without a fan, although I recommend using a fan if your oven has one – it helps to crisp the pastry up) and grease a round tin or a baking tray with a bit of olive oil. If you don't have a tin the right size, do not worry, use a large baking tray – this pie is pretty self-contained.
To assemble the pie, clear a large area of your work bench to make room for a long row of pastry sheets joined together. Keep the pastry sheets you are not working with under a damp kitchen towel so that they do not dry out and become brittle.
Place a rectangle of pastry in front of you, making sure the longer side is parallel to you. Then place another rectangle to its right overlapping the ends by 5 cm / 2″. Follow up with the third sheet arranged in the same manner. You should end up with a very long rectangle of pastry.
Using a pastry brush, quickly grease the entire area with some olive oil and double all the pastry sheets, overlapping them in the same manner.
Brush the entire area with a little bit of oil again before arranging the filling on top. I placed a row of pumpkin, followed by cheese and dollops of balsamic onions here and there for pops of flavour.
Put a long snake of filling along the longer edge of the pastry leaving a 5 cm / 2″ margin at the bottom. Try to make the filling amount the same everywhere. I ended up using 6 double sheets so I used half of the filling on the first 3 double sheets and the remainder for the remaining 3 double sheets.
Starting from the bottom, gently roll the pastry into a long, slightly loose snake. Gently coil the snake and place in the greased baking tin, seam down.
Repeat steps 3-7 with the remaining pastry until you fill your tin.
Nest this new coil in the tin tucking its beginning onto the end of the first coil.
Brush the pastry with some more olive oil and sprinkle with seeds for garnish.
Bake for approximately 45 minutes, until golden brown. Allow the pie to 'set' after baking before cutting into it. This pie is best eaten fresh but if you want to reheat it, it is best to reheat individual coils at 200° C / 390° F for 10 minutes or so.
NOTES
*BUTTERNUT SQUASH: About 1 kg / 2¼ oz before peeling. 3 cups of diced butternut squash once baked.
*CASHEWS: I used raw (unroasted) cashews soaked in water overnight or in boiling water for about 1 hr. If you don't like cashews, firm tofu or soaked flaked almonds will work well too.
*FILO PASTRY: This recipe uses a total of 12 pastry sheets (6 double sheets) so you you'll need two 250 g / 8¾ oz packets (you'll have a couple of leftover sheets unless you want to triple the sheets which is also an option). A lot of commercially available filo is accidentally vegan (unless it's an all butter version) but be sure to check the ingredients before you buy. Allow thawed pastry to sit at room temperature for 2 hrs before assembling the pie, as per the instructions on the packet.
*FREEZING: I have not tried freezing this pie yet, but in Greece pies like this are often sold frozen so I don't expect it to cause any issues.