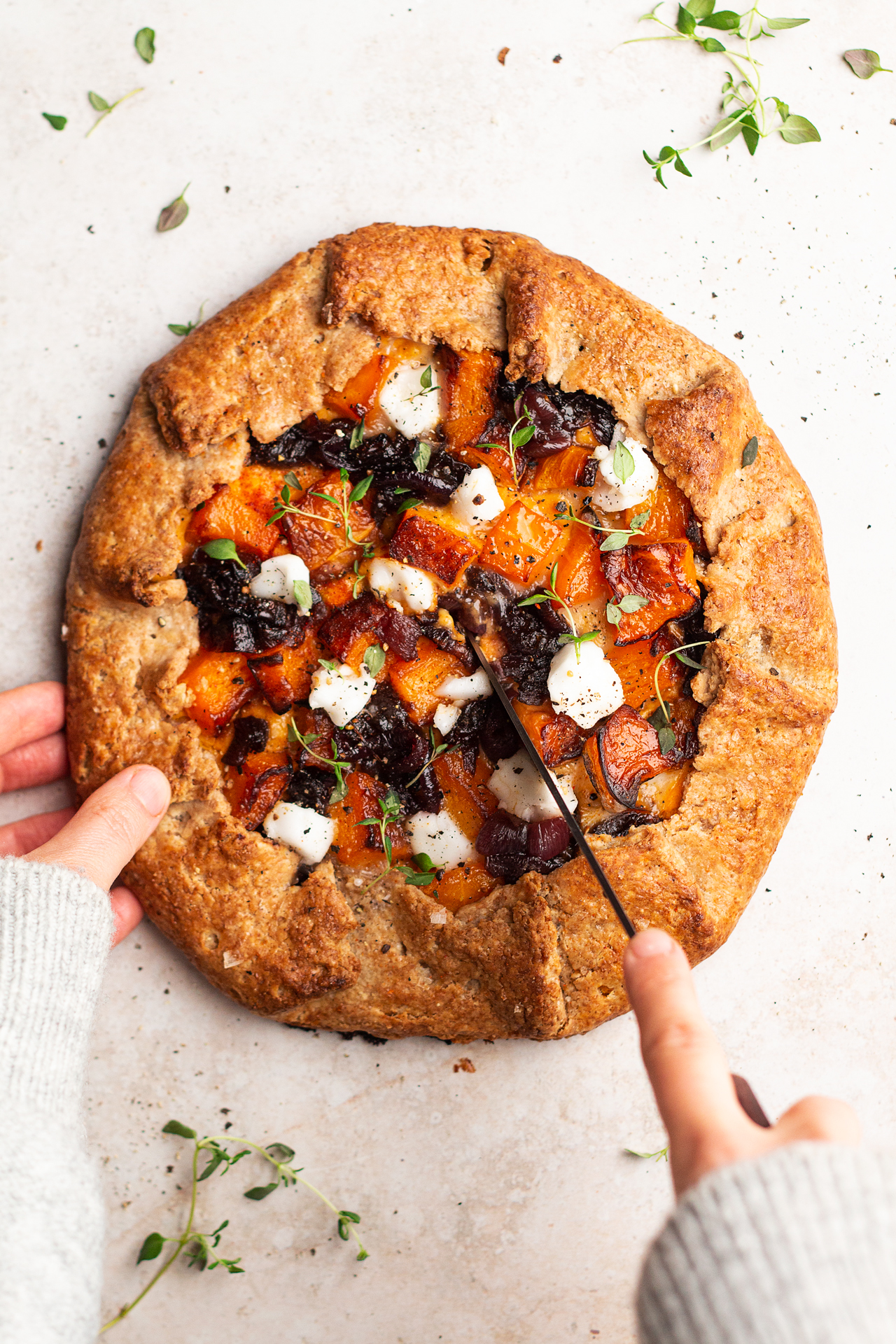 This past week has been somewhat hellish and I am so glad that it is over, even though this weekend won't yet be relaxing either. On Monday, we've had a wall between our kitchen-diner and living room knocked down for more open-space living. While I was prepared for mess, I was not prepared for the amount of ubiquitous black dust this operation was going to generate. Had I known, I would have moved some of the stuff out of the house rather than just upstairs, as while the dust fallout was definitely worse downstairs, nothing was spared. Even clothes in the closets upstairs received a thin sprinkling. Certainly this experience has cured me from any thoughts of extending the kitchen one day.
On Tuesday, I was told that the dusty part is out of the way and I am okay to clean. I proceeded to spring clean the kitchen only just to discover that the builders were trimming some plasterboard inside and black dust I had painstakingly managed to get rid of was swiftly replaced with a brand new coating of white dust. I was mad to have wasted half a day and decided not to touch anything (unless I really need to use it) until this is done. We were living in horrible conditions from Monday till Wednesday, then we did a superficial clean and are now waiting until the rest of the living room is plastered (next week hopefully) before we can get some more of the dust out.
What I find the most frustrating about the whole thing is waiting. If I could clean things and know that they will stay clean, it would help me feel less like I am drowning in dirt, but I appreciate that isn't really the nature of renovating anything. Waiting time is an essential part of the process. If there is ever going to be a next time (and we certainly won't rush into it anytime soon), we will try to find alternative accommodation for the duration of the work, I think.
While renovating is a pain, it has already been worth it. The living room still has a way to go – we need to finish wallpaper stripping, have the remaining three walls plastered, paint, level and restore the floor and put new skirting up – the knock-down has already improved the layout by making the living room feel more airy and spacious. We won't be able to start buying furniture (like a much missed sofa!!) until the end of January, but we are both happy with the decision to open up downstairs and excited about the prospect of having a great living space at some point in the hopefully not too distant future.
While I have not been able to cook much this week, I have got a new Thanksgiving (or just autumn / fall) appropriate recipe for you today. It's a delicious pumpkin (or squash) galette with caramelised red onion. It's a freehand pie so it is really easy to put together. A real advantage of not having to line a pastry case is that there is a considerably lower risk of overworking the dough (which is what makes pastry tough) – great news for pastry newbies. The filling is simple too and if you want to simplify it further, use red onion chutney instead of caramelising the onions yourself, although they require hardly any effort. Serve this guaranteed crowd pleaser dish alongside a few other vegan sides for a plant-based Thanksgiving or a neat Sunday dinner.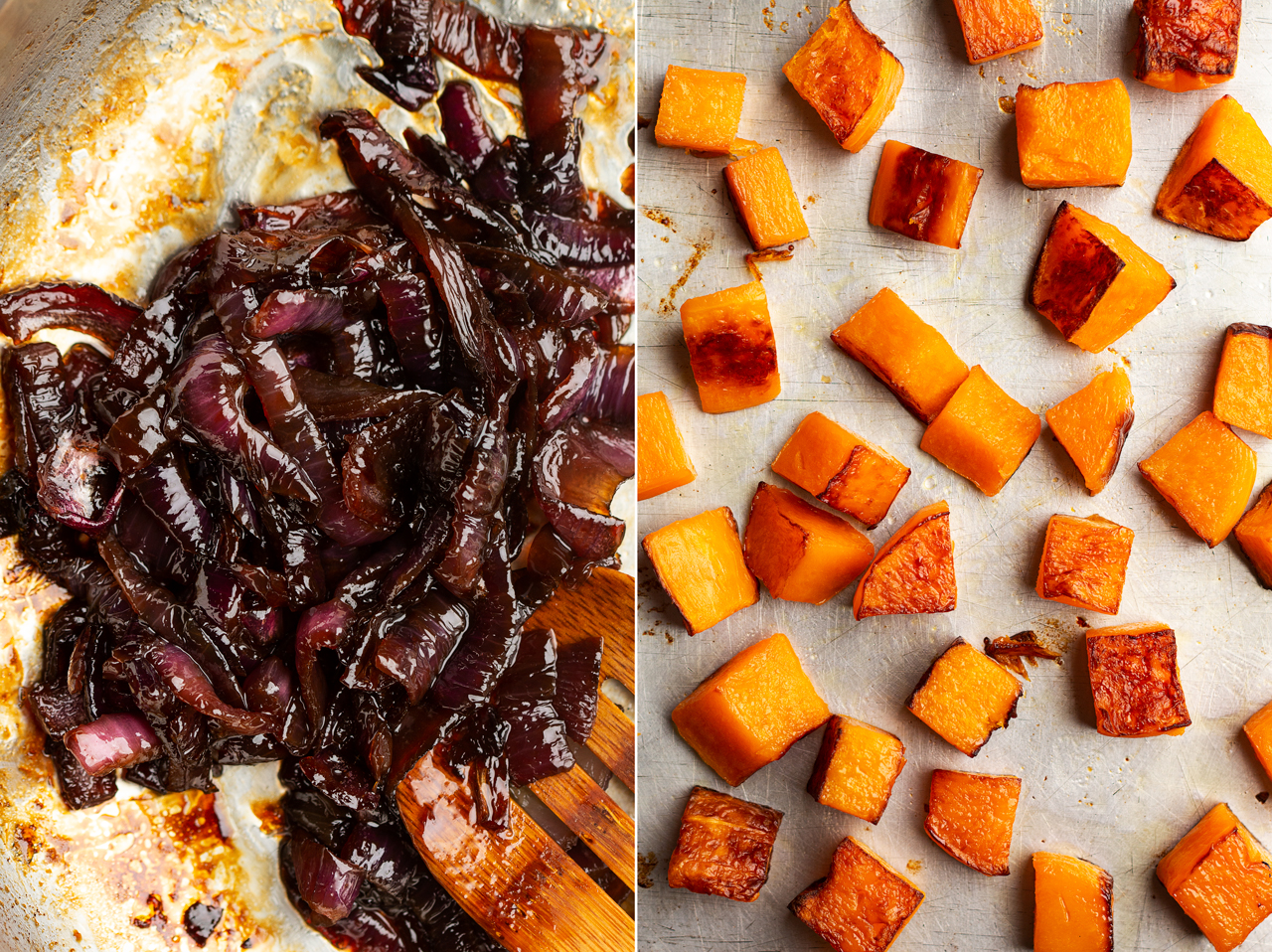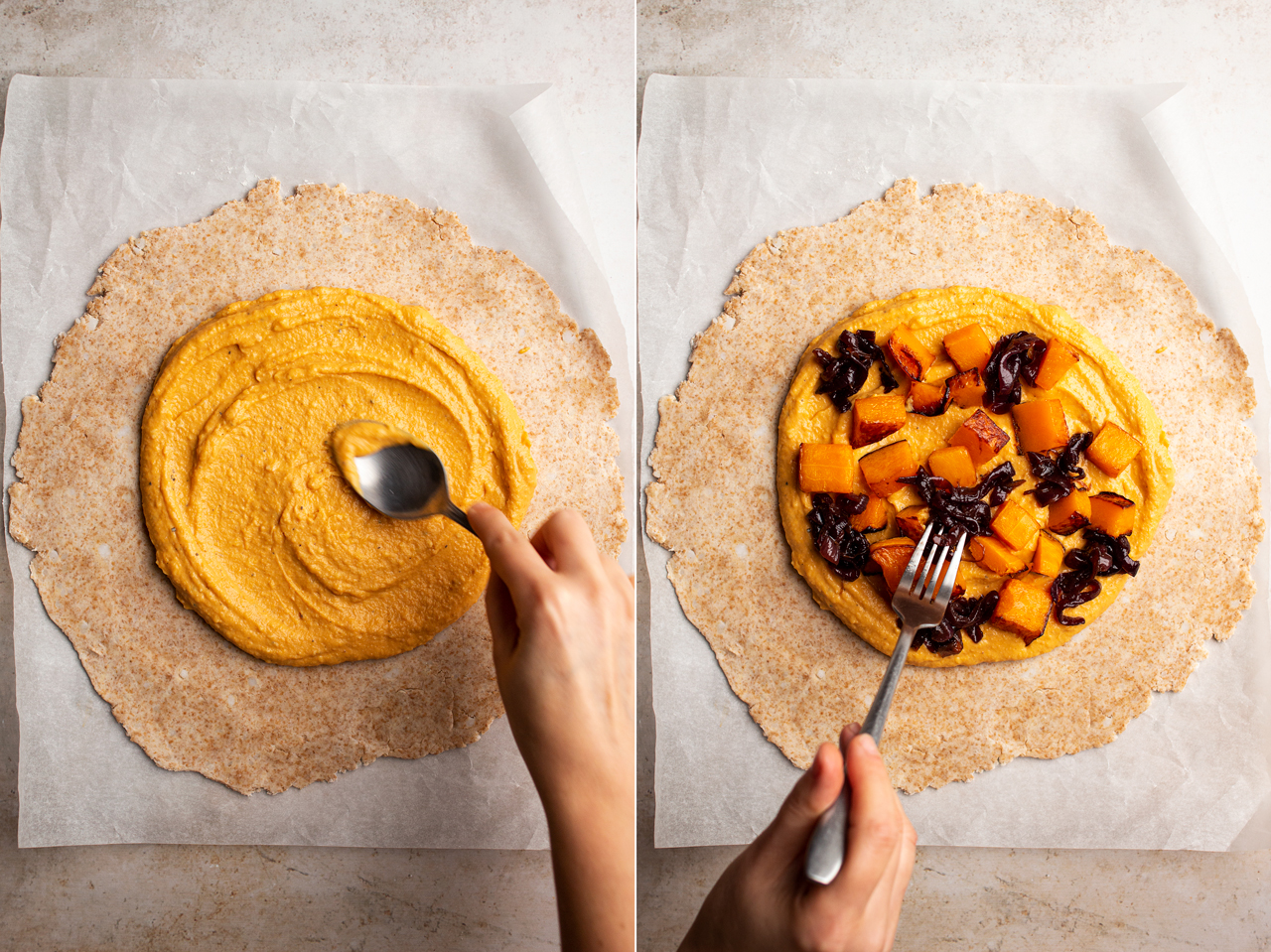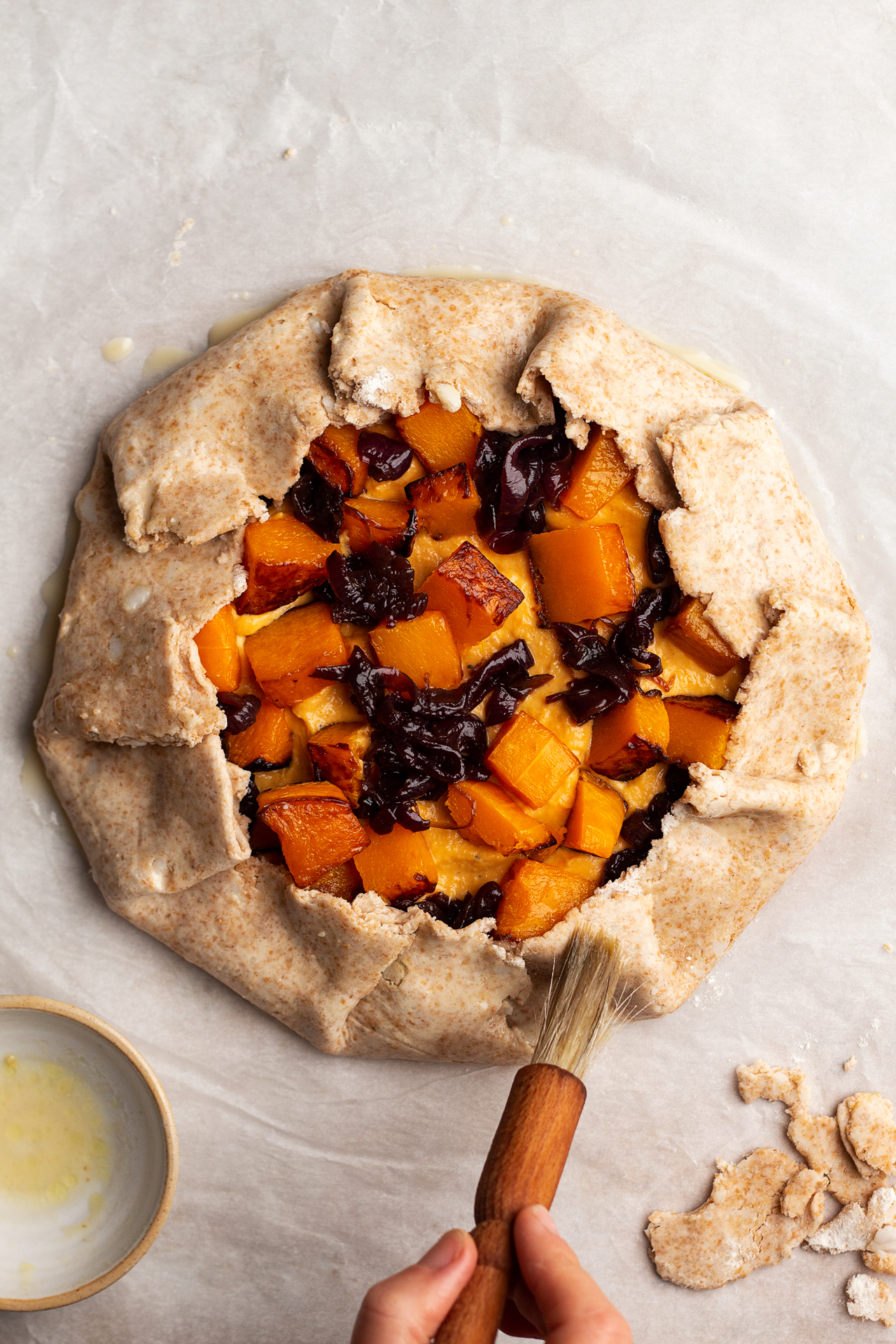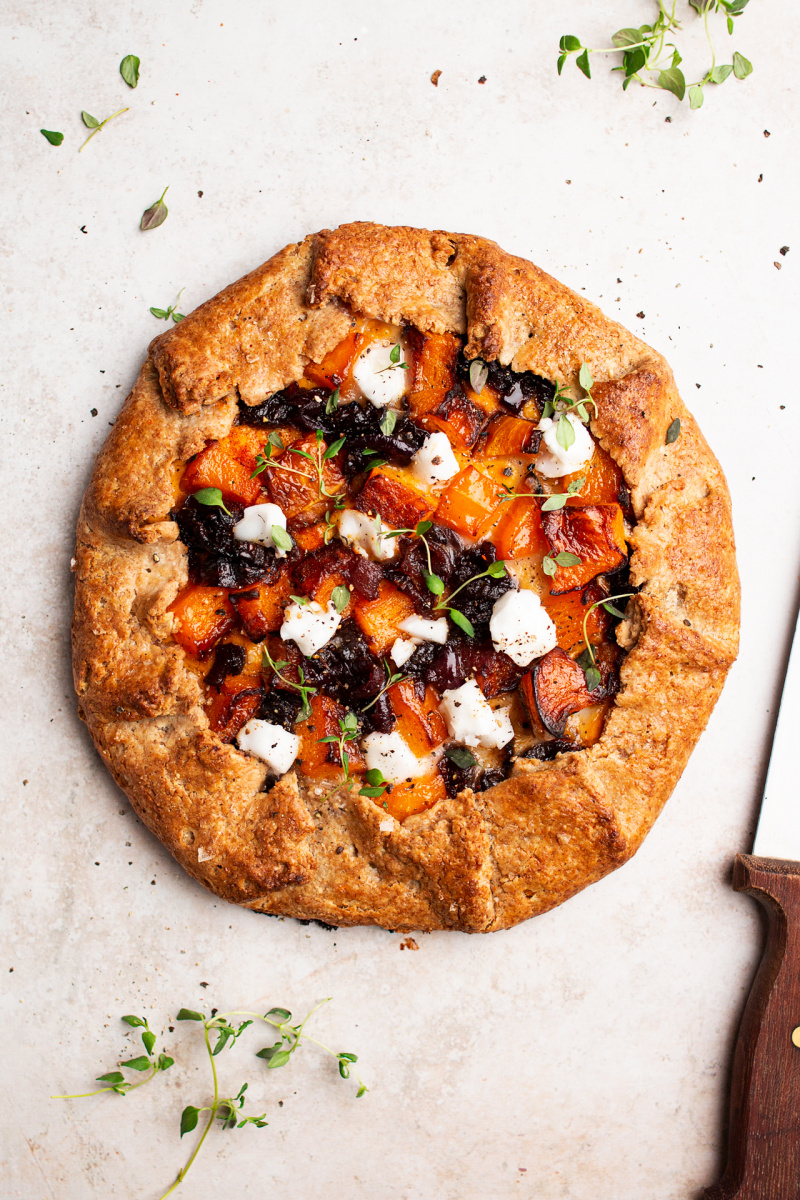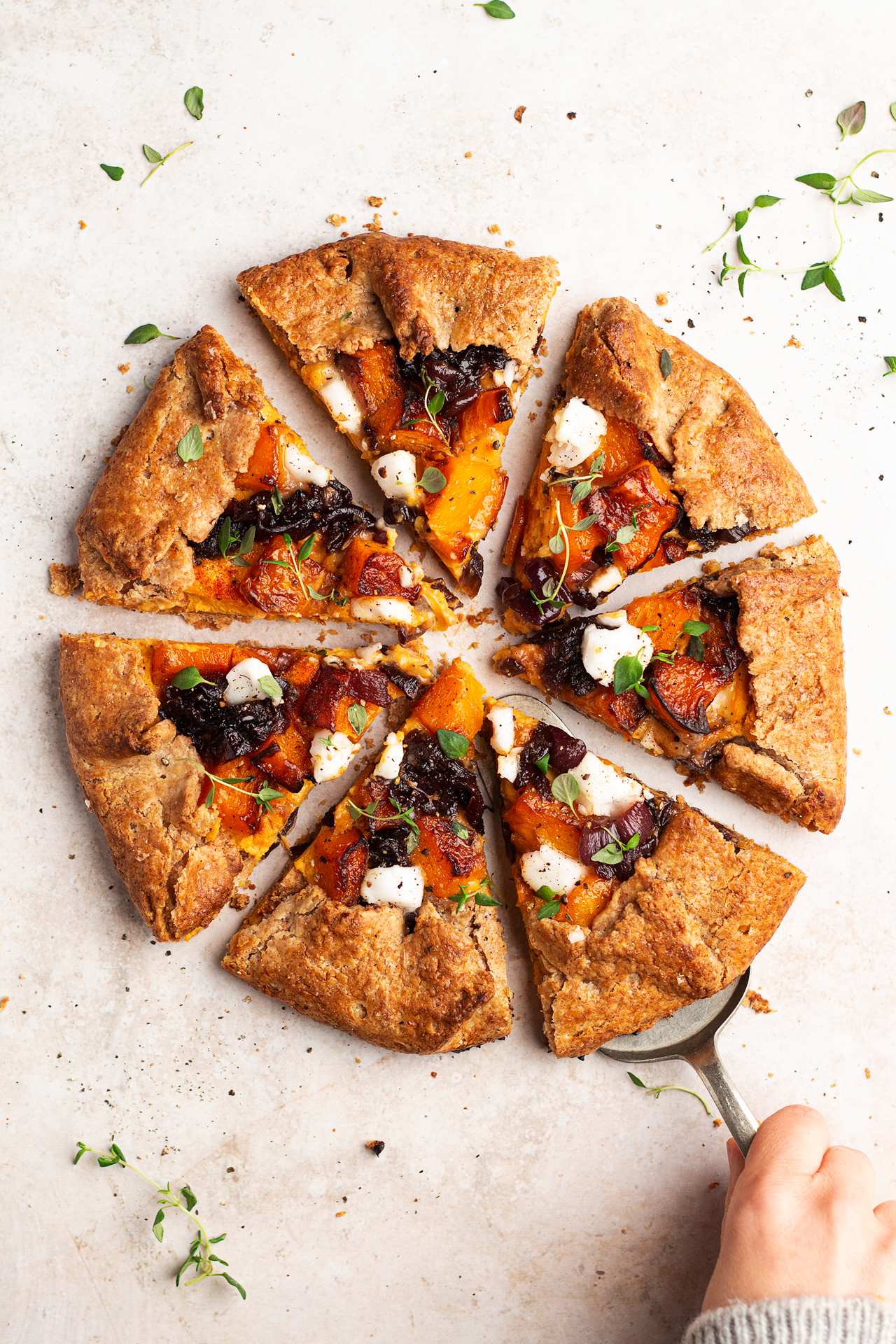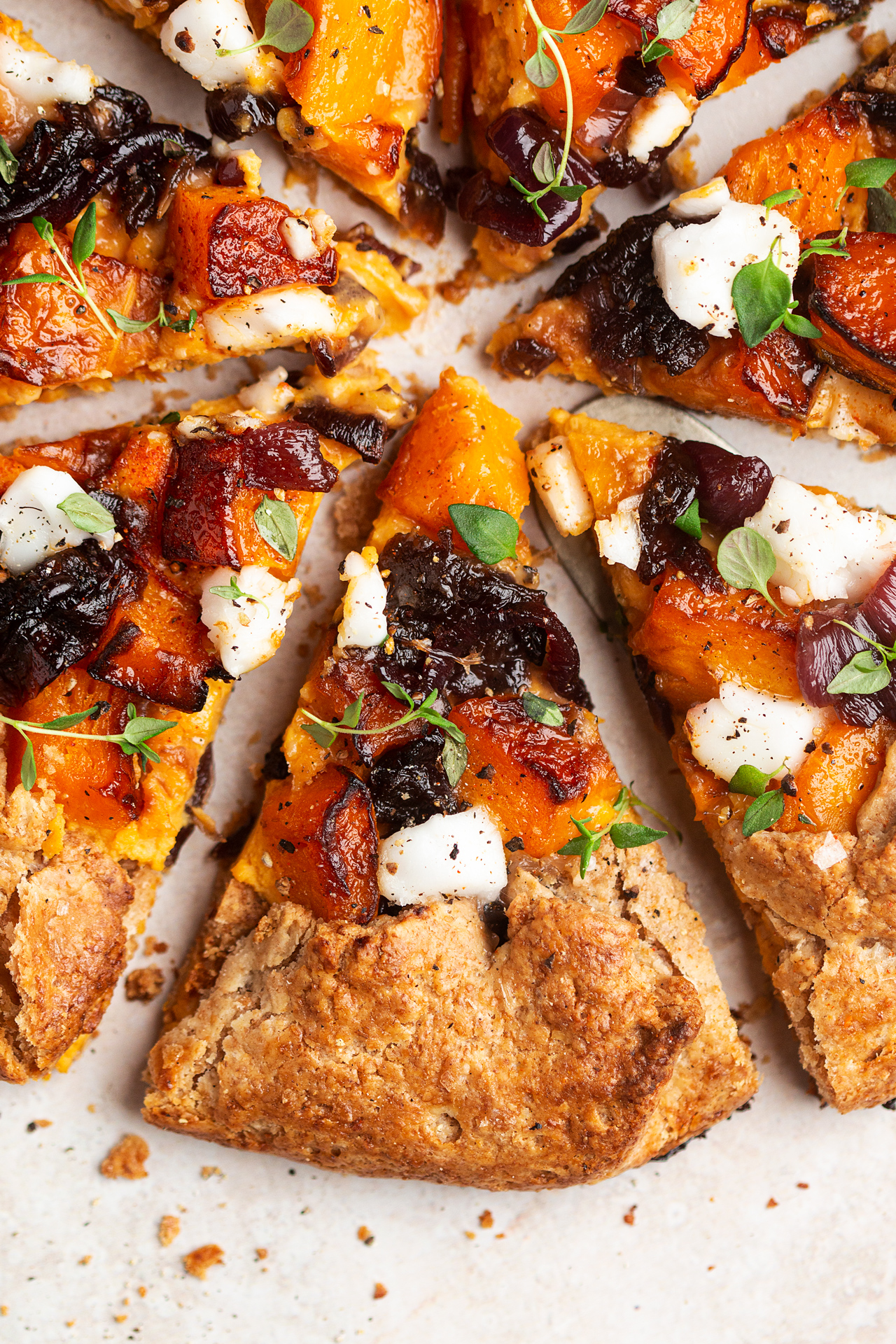 PASTRY
60 ml / ¼ cup thick vegan yoghurt (I used coconut)
1½ tsp apple cider vinegar (or other acid)
150 g / slightly heaped 1¼ cups spelt flour*
½ tsp salt
75 g / 1/3 cup solid (not melted!) refined coconut oil, chopped up into small pieces
sweetened soy milk, to glaze
FILLING
500 g / 18 oz peeled and cored pumpkin or squash**
1 tbsp olive oil
100 g / 3.5 oz silken tofu (I used Clearspring)
2 tbsp nutritional yeast
½-1 raw garlic clove, finely grated
4 tsp lemon juice
salt and pepper, to taste
1/8 tsp cayenne pepper, to taste
1/8 tsp nutmeg, adjust to taste
1 tbsp chickpea or regular flour
fresh thyme leaves, to decorate (optional)
vegan feta or cashew ricotta, to decorate (optional)
CARAMELISED ONION (optional)
4 tsp olive oil
1 large red onion, sliced thickly
sea salt, to taste
2 tbsp balsamic vinegar
1-2 tsp sugar, adjust to taste
METHOD
PASTRY
In a small bowl, mix vegan yogurt, apple cider vinegar and 2½ tbsp (35 ml) of cold water. Place in the fridge.
Place flour and salt in a medium size bowl. Mix well.
Add chopped coconut oil and cut it into the flour with a pastry cutter or two knifes. You can also use a food processor to do this, but take care not to overmix.
Once the mixture is uniform and there are no large lumps left (to check, shake the bowl lightly, they will come to the surface), rub the small bits of oil into the flour with your fingers until there are no lumps left.
Add yogurt mixture and mix it into the dough with a spoon, then use your hands to gently bring the dough together, but do not knead. If the dough is too dry to bring together, you may need to add a touch more water, but do so very gradually, teaspoon by teaspoon. Rest the pastry in the fridge for at least 30 minutes.
FILLING
Heat up the oven to 190° C / 375° F and coat pumpkin / squash with olive oil.
Bake until soft (about 30 minutes), giving the pumpkin a stir once half way through the baking time.
You can use a food processor to make the filling, but you don't have to. To make the filling in a food processor, place one lightly packed cup of cubed roasted pumpkin and the remaining filling ingredients (up to but excluding thyme) and blitz until smooth. Alternatively, mash hot pumpkin with a fork and use a wire whisk to incorporate all the filling ingredients into the mashed pumpkin. It won't be as smooth, but I find that it doesn't really matter in this dish so much.
CARAMELISED ONIONS
Heat up the oil in a large, non-stick (I used stainless steel) frying pan.
Add thickly (that's important!) sliced onion into the pan, allow it to cook very slowly (approx. 20 minutes) until softened (not browned), giving it a good stir often.
Season with salt, add balsamic vinegar and sugar and allow the onion to caramelise slowly, stirring regularly, for another 5-10 minutes.
ASSEMBLY
Place a large piece of baking paper on the counter, sprinkle it with flour and place chilled pastry on top. Whack it with a rolling pin a few times to flatten.
Slowly and gently roll the dough out into a rough circle.
Place the filling inside the circle leaving a generous margin all around the filling. Top with pieces of baked pumpkin / squash, caramelised onions (or onion chutney). Season with a bit of salt and pepper.
Fold the excess pastry over the filling, brush it with soy milk and bake in 200° C / 390° F oven for about 40-45 minutes.
Allow the galette to cool a little, top with fresh thyme leaves and crumbled (or dolloped) vegan cheese (if using).
NOTES
*You can also use 50% spelt and 50% all purpose wheat flour, or 50% wholemeal wheat flour and 50% all purpose wheat flour.
**It's best to pick a dense, fleshy pumpkin / squash variety for this dish.
The pastry has been veganised and adapted from this recipe.