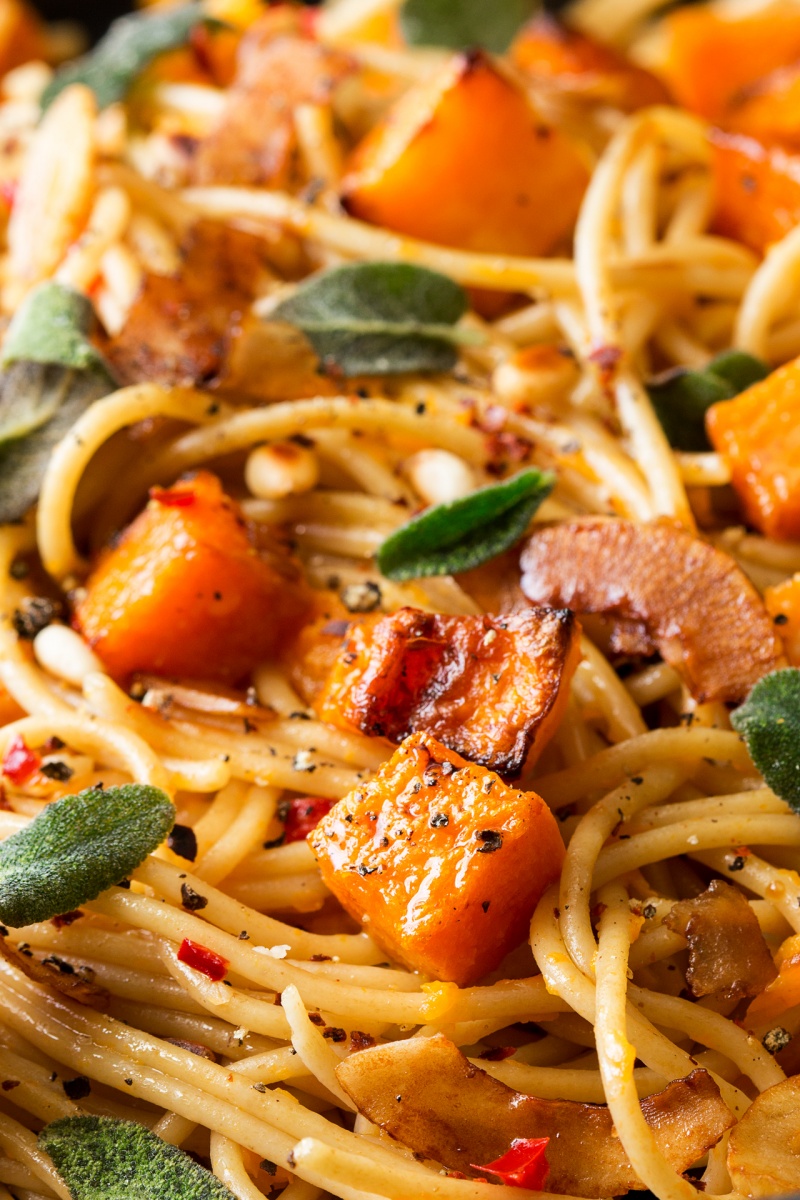 Last night, after 18 hrs 'on the road', we finally arrived on our little island in the middle of the Aegean Sea. Seeing it with fresh eyes we both went to each other: 'how the heck did we end up living here?!' After the extremely warm (although cold temperature-wise) reception of the never sleeping Krakow and Warsaw, middle-of-the-night Paros, with only a handful of passengers stepping off the ferry felt a bit like a desert island!
It is so nice to be home though, in your own bed. Our cat, Tina, showed up in the window as soon as she saw the lights and graced us with her presence on our sofa. Things are far from perfect, but we think that she is moving into forgiveness for saving little Lupo's life. At last! This morning, we got up late (it's amazing how much travelling takes a toll on you, given that most of the time you spent sitting on your behind and reading a book) to a beautiful sunshine and blue sea view and we remembered the reasons why Paros became our home! Despite the sun, it is still rather cold here, as the Siberian wind continues to blow so we are not digging our flip flops out just yet 🙂 . On the menu today is a simple vegan pumpkin pasta with coconut bacon (have you tried turning coconut flakes into bacon yet?) and fried sage leaves which I picked myself in the Paros hills. Pumpkin and sage is a great old combo and this is one of the weekday dishes I make regularly as I am a sucker for savoury pumpkin dishes. If you happen to be a fan (it's one of our most loved recipes) of my last year's pumpkin pasta (recipe here), give this one a go too and you may end up liking it even more 😉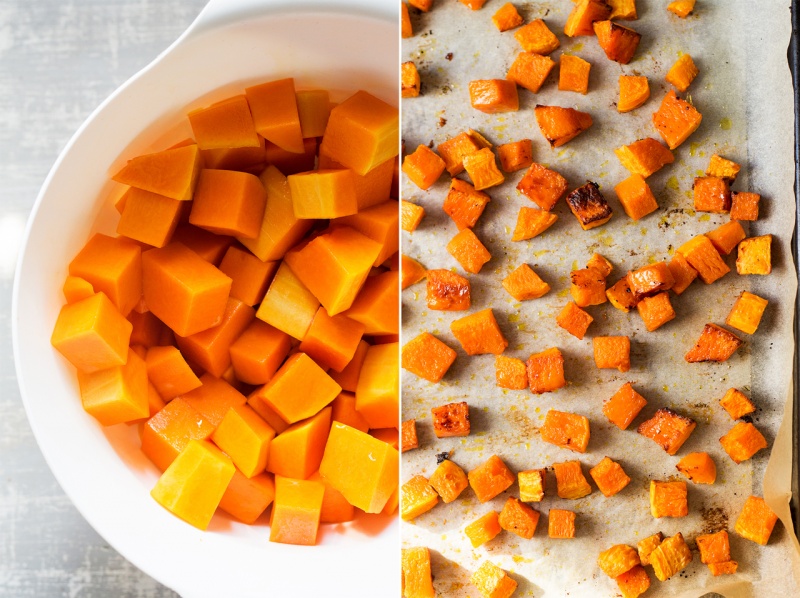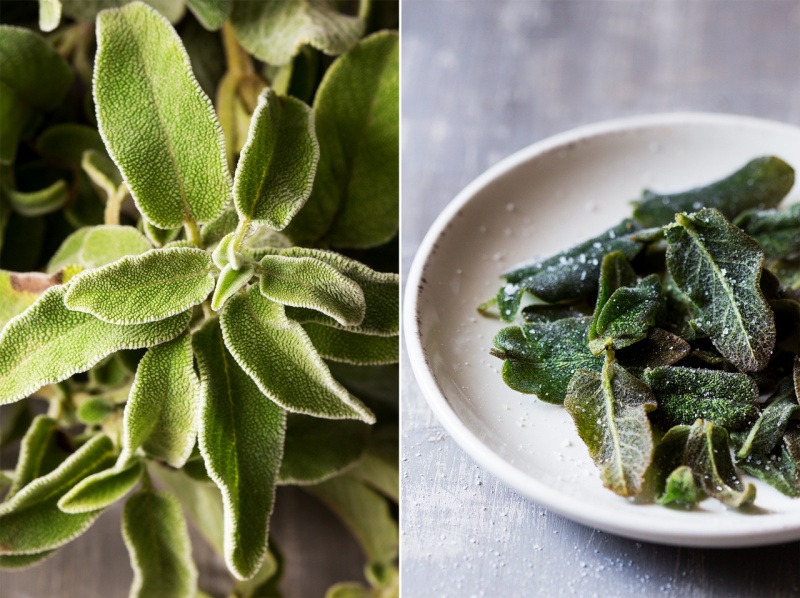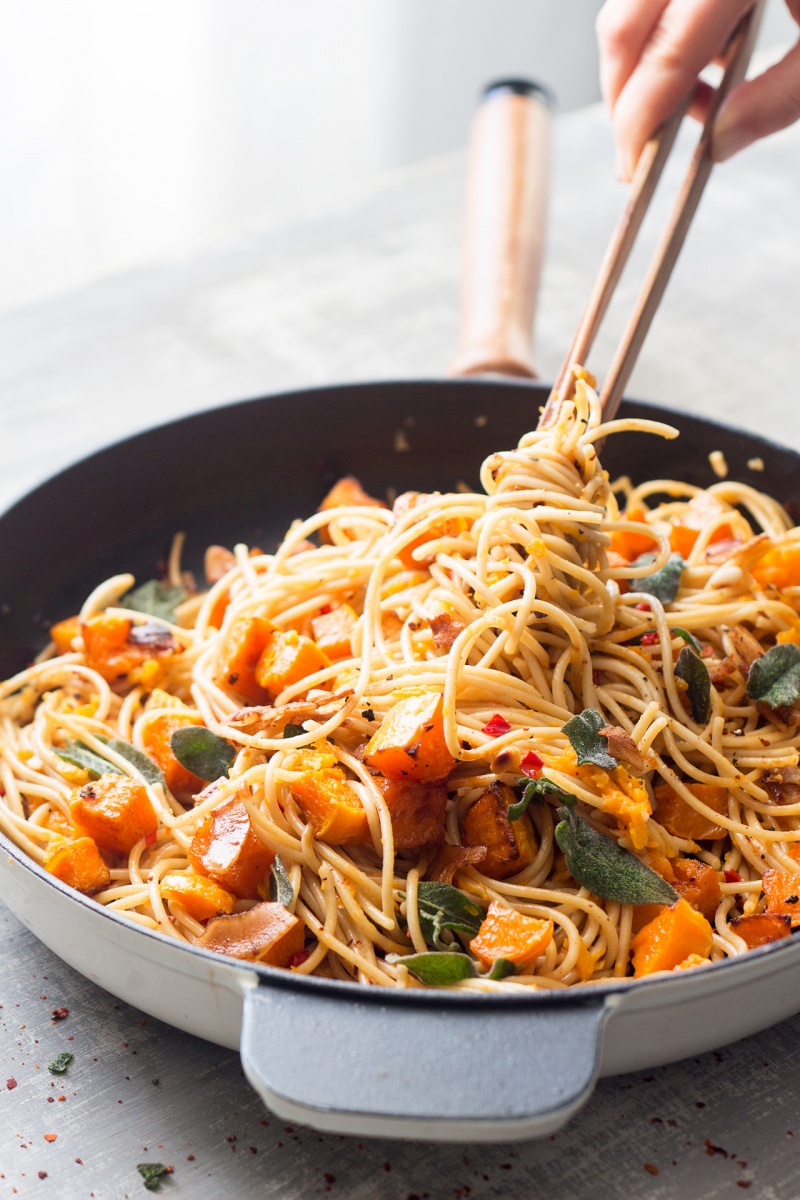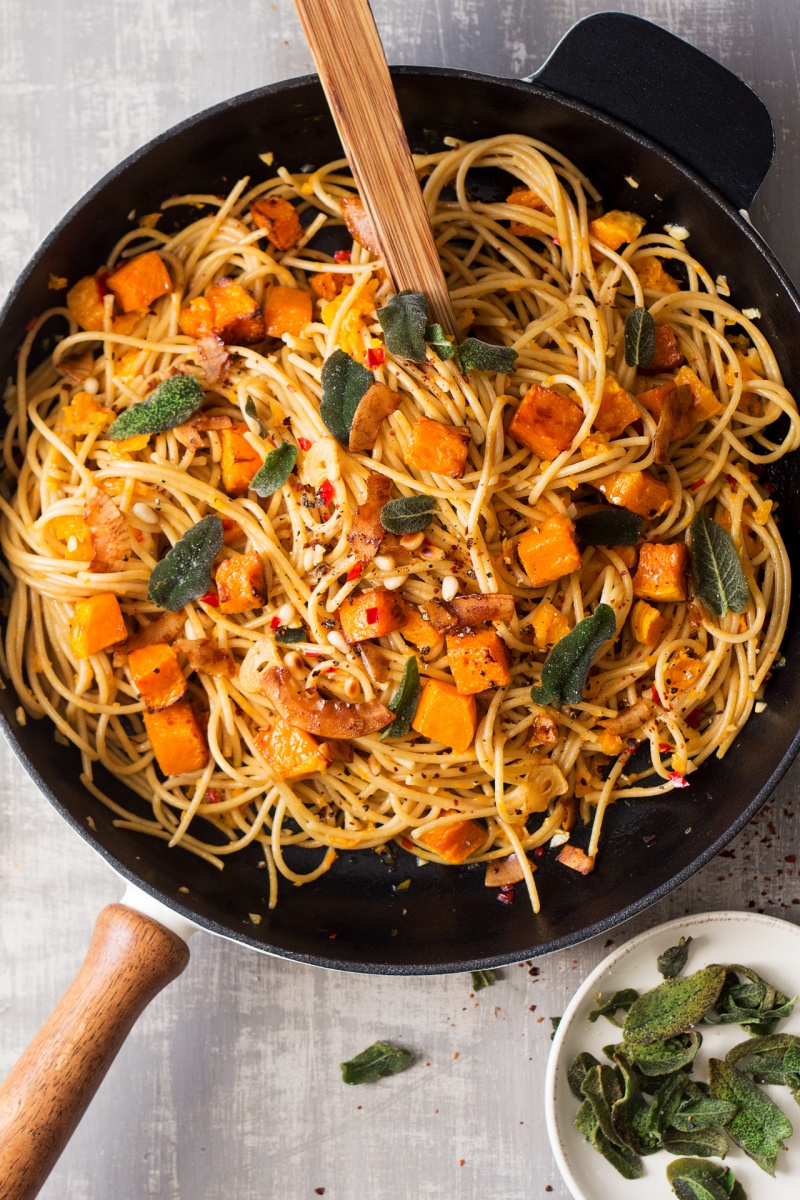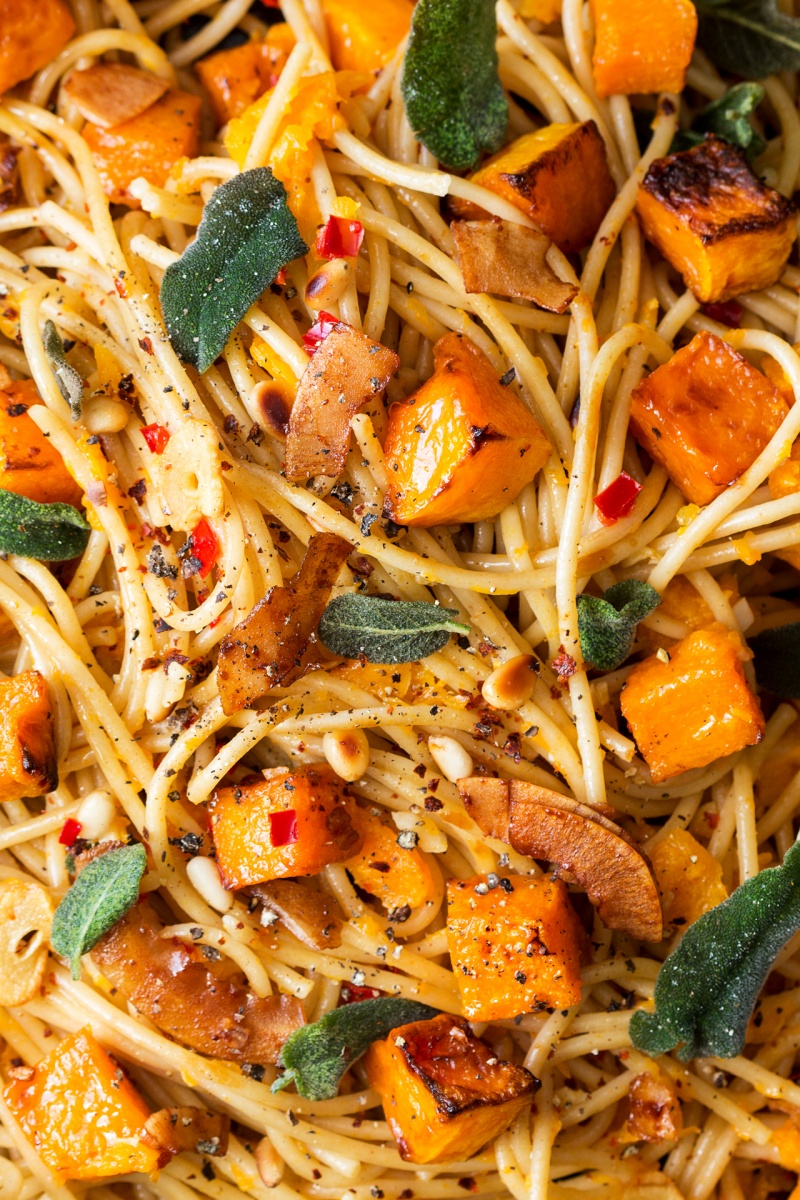 COCONUT BACON
½ cup (loosely packed) raw coconut flakes
1 tsp olive oil
1 tsp maple syrup
½ tsp liquid smoke (I used hickory flavour)
1 tbsp tamari or soy sauce
PASTA
3-4 tbsp / 45-60 ml olive oil
20 small sage leaves (I used wild sage) or 12 large
200 g pasta (use gluten-free if you are gluten intolerant)
1 red chilli, finely diced OR chilli flakes to taste
2 garlic cloves, finely diced
700 g / 1 lb butternut squash / pumpkin*, cubed small
2 tbsp pine nuts, toasted on a dry pan
juice of ½ lemon
salt and pepper to taste
METHOD
COCONUT BACON
Heat up the oven to 100° C / 210° F and line a baking tray with a piece of baking paper.
In a small bowl, mix olive oil, maple syrup, liquid smoke and soy sauce (or tamari) together.
Coat coconut flakes in the marinade and marinate for 10-20 min, giving them a good stir now and then.
Spread marinated coconut flakes on the prepared baking tray making sure individual pieces do not overlap or touch (as much as possible). The more room they have, the crispier they will turn out.
Bake for about 15 minutes, until browned but not burnt. 'Bacon' flakes will get more crispy as they cool. Store in an air-tight container.
PASTA
Coat cubed butternut squash in 1 tbsp of olive oil and season with salt. Bake in a 225° C / 435° F oven for about 40 minutes, until butternut squash gets soft and caramelised. Give it a stir half way through the cooking time to make sure all the pieces caramelise at a similar pace.
Place a medium pot of water on the stove and let the water come to the boil. Measure / weigh out your pasta.
About 20 minutes in, heat up 2-3 tbsp of olive oil in a small pan. Once the oil gets hot, add half of your sage leaves. Coat the leaves in oil and fry them for a few seconds until the sides curl up slightly but before the leaves lose their colour. Fish them out and place on a piece of kitchen towel and sprinkle with a bit of salt. Proceed to fry the remaining leaves in the same way.
Once the water comes to the boil, cook your pasta for a minute shorter than you would normally.
Transfer the oil you've fried sage in into a large frying pan and let it heat up on a low-medium heat. Once hot, add finely diced garlic and chilli (if using). Fry them both off gently, stirring frequently so that they don't burn.
Mash half the butternut squash with a fork. You can also use a food processor or blender for a smoother texture, but I prefer the lazy way in this case both for texture and speed! Put mashed butternut squash into the pan with chilli and garlic and add a splash of pasta cooking water to loosen the 'sauce' up a bit.
Add drained pasta and butternut squash cubes into the pan. Toss well. Taste and season with salt and pepper, a squeeze of lemon juice and additional chilli if needed.
Serve immediately with toasted pine nuts, crushed fried sage leaves and coconut bacon on top.
NOTES
*I've had a lot of enquiries, mostly from my USA-based readers, asking me why this recipe has pumpkin in the name when it uses butternut squash. To my mind, butternut squash (also known as 'butternut pumpkin' in Australia, New Zealand, Germany and my native Poland, to name just a few…), is a type of pumpkin. You are welcome to use any pumpkin variety you have to hand as long as it has firm and dense (rather than watery) flesh.