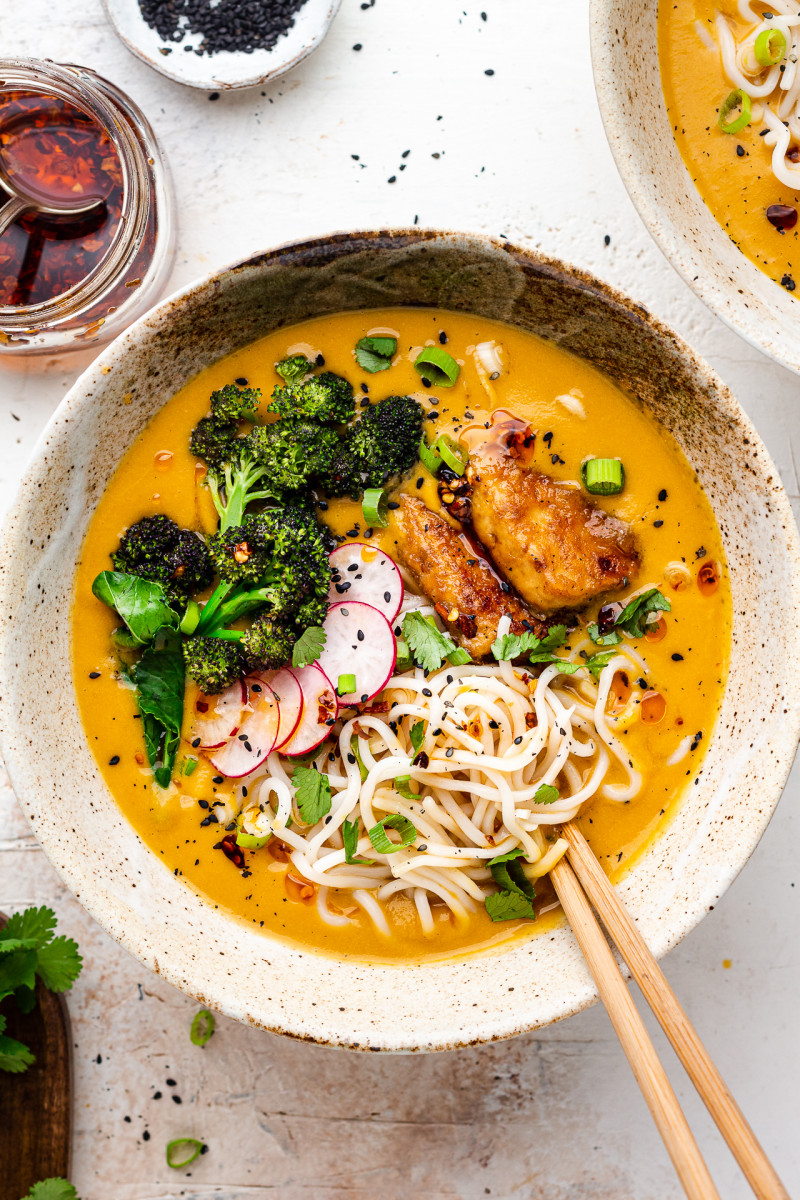 New year, new me! Who else is tired of this new year trope? As I am the kind of person that is on a constant cycle of self-improvement, I really don't need an extra stick to beat myself with really… With this in mind, I don't plan to delve into diet food this January, but bring you cosy, comforting and nourishing food that will make this dreary winter feel a little less oppressive.
Today's recipe – my first of this year – is a fairly simple but delicious ramen-inspired soup. It's by no means authentic – it's a bit of a fusion and a bit of cheat but I find it delicious, nourishing and perfect for this time of the year so I thought I would share. My aim was to use up some butternut squash I had lying around in a new way and to make it as hands off as possible.
The bulk of this soup gets made in an oven so that ticks 'hands-off' part to a large degree. I char sweet pumpkin flesh and a bunch of aromatics in a hot oven and then blend them with some soy milk and a host of flavour enhancers until thick and creamy.
The toppings are also fairly simple. I tend to use shop-bought tofu that I either whack into the oven alongside the veg or pan-fry in a small amount of oil when I am feeling indulgent. If you would rather make your own tofu, you could also do that. For the photos I marinated well pressed tofu in a mixture of soy sauce, mirin and sake for a few hours, then coated it in a thin layer of potato starch and pan-fried it. It's delicious, but it requires some forward planning so I skip this entire process when I want to have a bowl of nourishing soup in front of me fast!
Anyway, this simple ramen-inspired pumpkin soup has been a big success in my house and I hope you will fall in love with it too. Happy January!
MORE ABOUT THE INGREDIENTS
SOUP
GARLIC: If it seems like this recipe is over the top with garlic, don't worry. The head of garlic gets roasted and beautifully caramelised in the oven and all the harshness is taken out of it. If you are still a bit unsure, use half of the roasted cloves and add more if needed. The raw garlic clove adds a bit of zing and freshness to this soup at the end, but I mellow it by steeping it in vinegar at the beginning so there is no harsh garlic taste here either, I promise.
RICE WINE VINEGAR: I used a small amount of rice wine vinegar (Mizkan is the brand I am currently using) to contrast the sweetness of the pumpkin beautifully. Add more if your palate craves it!
PUMPKIN: Sweet roasted pumpkin is what gives this simple soup body and creaminess without making it heavy. I used butternut squash (or butternut pumpkin as it's known in many countries worldwise), but any sweet firm pumpkin will work just as well.
GINGER: I like a little ginger kick here but not too much so I've used only a small piece, use more if you prefer.
CHILLI: I used a medium heat red chilli that I roasted in the oven with all other vegetables to mellow it a little. If you are not keen on spicy heat, simply skip it and maybe add a small drizzle of chilli oil at the end if liked. Otherwise, use only half of this chilli (save the other half for another dish) or scrape the seeds out (that's where most of the heat lies) and only use the flesh for a gentle kick.
SHALLOT: I charred halved banana shallot to deepen and mellow its flavour. You can use any shallots or even half a small onion if that's what you have.
VEGETABLE OIL: Any neutral vegetable oil will work here like peanut oil, sunflower oil, grapeseed oil or rice bran oil.
SOY MILK: I used creamy soy milk (made out of just soy and water, no additives) to add creaminess to this simple soup. You can use any neutral flavour plant milk instead or water and a tablespoon or two of nut butter (peanut butter works well) or seed butter (hulled tahini).
UMAMI STOCK CUBE: As this is a bit of a cheat recipe and all the action happens in the oven, I added an umami stock cube to this soup to give it more of a depth of flavour. If you happen to have kombu (seaweed that is a traditional ramen ingredient) in your cupboard already, you may want to simmer a large piece of it in the water that you'll be adding to this soup in step 9 for 20 minutes or so to infuse it with even more flavour. Once done, fish your kombu out and add seaweed infused water to dilute the soup, boost its nutritional profile and its flavour at the same time.
MISO PASTE: Pumpkin and miso are a match made in heaven and I am big fan of them both so adding a hefty amount of miso paste to this soup is no brainer. I opted for white miso paste, which is quite mellow, but more assertive red miso will work just as well – although you may want to decrease its amount to taste.
SOY SAUCE: A small amount of soy sauce is nice to add more flavour and adjust the seasoning. If you are gluten-free or making this dish for someone who is make sure to use gluten-free tamari instead. Or if neither of these are available, use a small amount of salt to finish this dish off.
MIRIN: A touch of mirin, sweet Japanese wine, complements the flavours of this soup really well. It reinforces sweetness of the pumpkin and contrasts with a touch of vinegar nicely. If you haven't got any mirin in your cupboard, use a smaller amount (as it's way sweeter) of maple syrup or even sugar.
TOPPINGS
NOODLES: Use any noodles you enjoy. As this soup is on the thicker side, I went for thicker ramen noodles rather than the wavy instant type that probably comes to mind when you hear 'ramen'. I used pre-cooked ramen noodles by a company called Seven Moons. They take 2 minutes to cook and I really enjoy them. Depending on appetite, I suggest approximately 400-600 g / 14-21 oz of pre-cooked ramen noodles for 4 portions. If you are using dry ramen noodles, you want something like 250-300 g / 8.8-10.5 oz instead.
TOFU: When I make this or any other soup like that for myself at home, I often reach for shop-bought pre-marinated tofu to cut down on my workload and prep time and this is what I advise for this recipe. If you prefer to prepare your own tofu from scratch, however, that's also an option. For these photos, I marinated well-pressed tofu in a simple marinade (2 tbsp soy sauce, 2 tbsp mirin, 2 tbsp cooking sake) for a few hours, then coated it in potato starch and pan-fried in oil.
BROCCOLI: You can use any greens you enjoy. I opted for purple tenderstem broccoli as it's grown in the UK at this time of the year and widely available in local supermarkets. Pak choi, choi sum, Chinese spinach, napa cabbage would all be just as appropriate.
CHILLI OIL: I love to top my ramen with chilli oil – it's a fairly ubiquitous ramen condiment that any ramen or Asian food lover is bound to have in their cupboard or fridge. I make an all purpose (only chilli flakes and salt) chilli oil that I drizzle on everything all the time, but you can get a more exciting chilli oil in well stocked Asian grocers. Alongside chilli flakes, it tends to contain garlic, onion, star anise, fennel, peppercorns. If you don't like spicy heat, use a drizzle of flavoursome toasted sesame oil instead.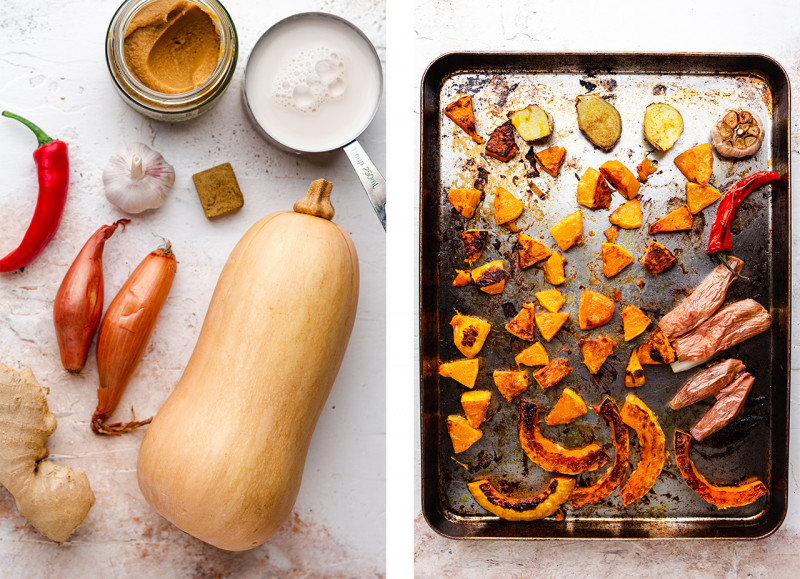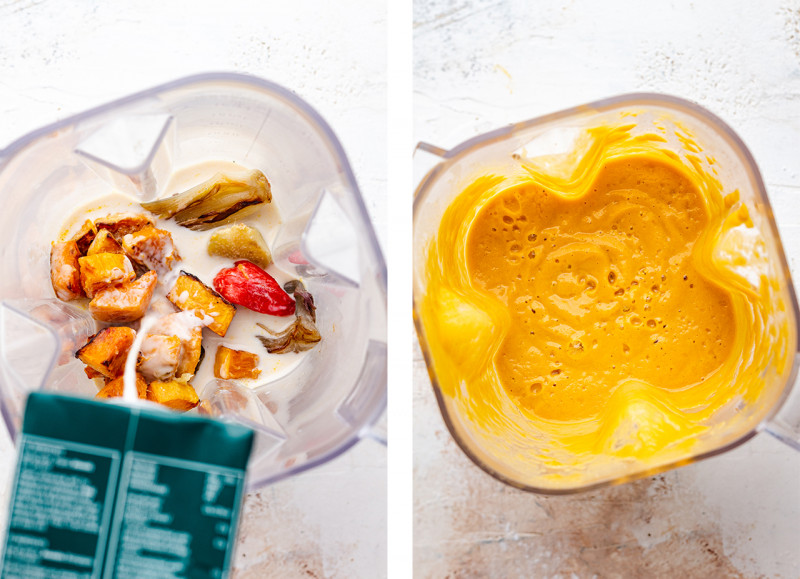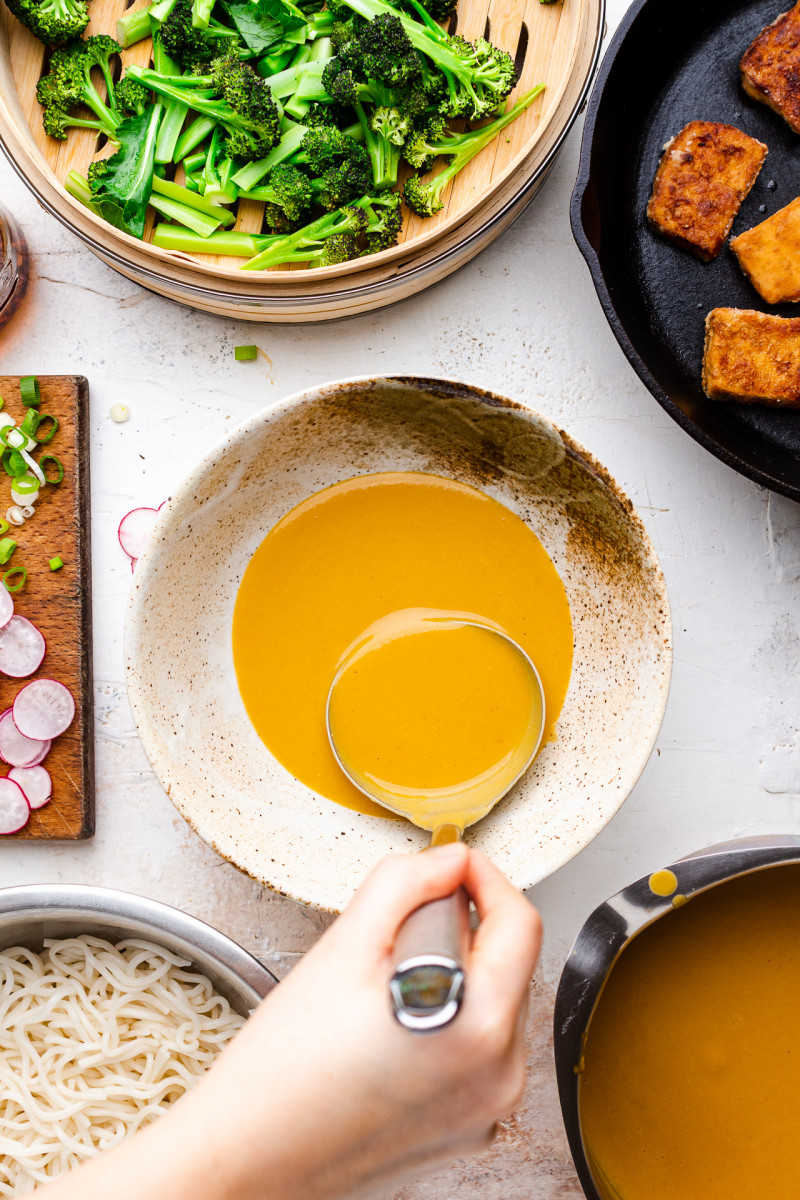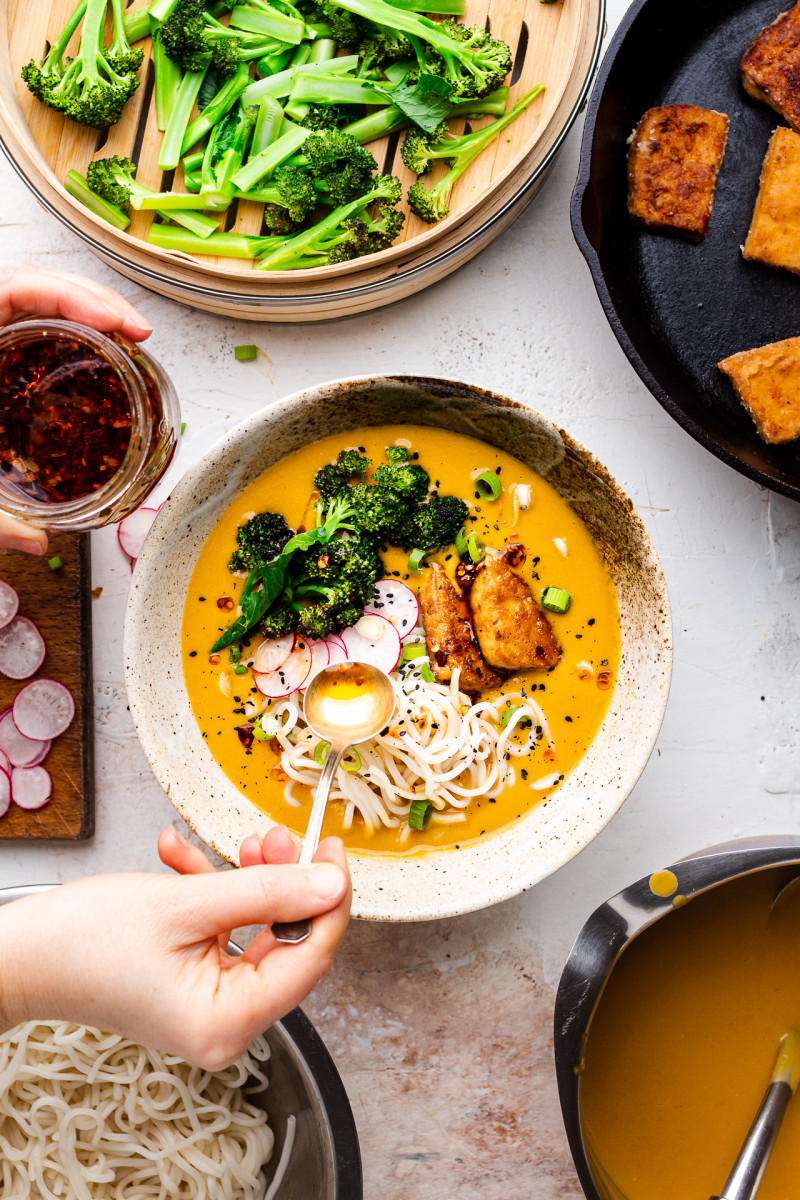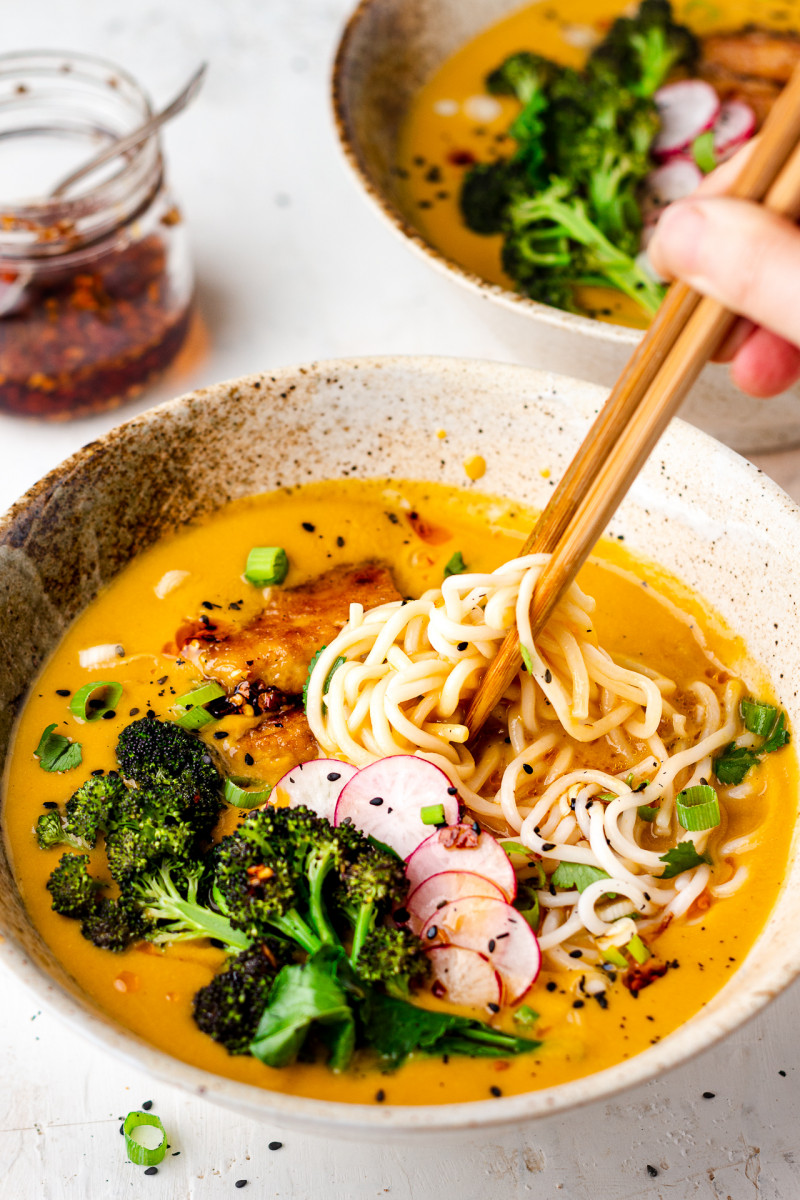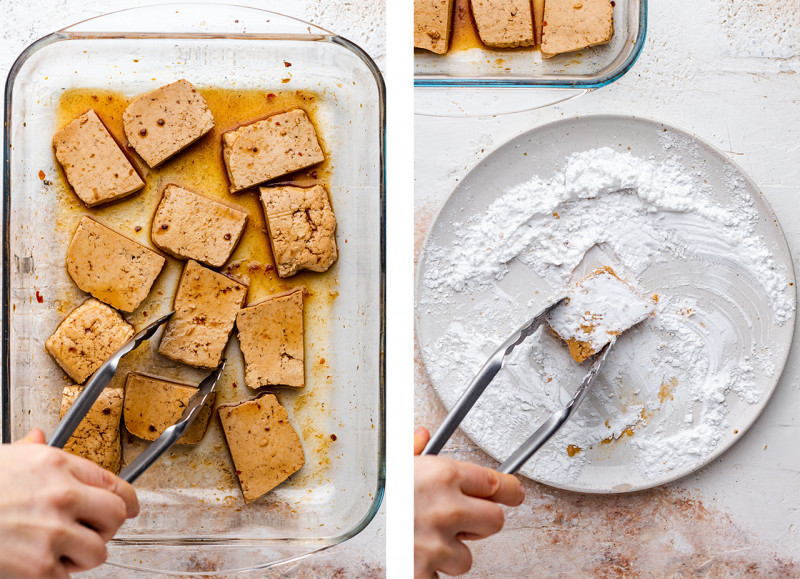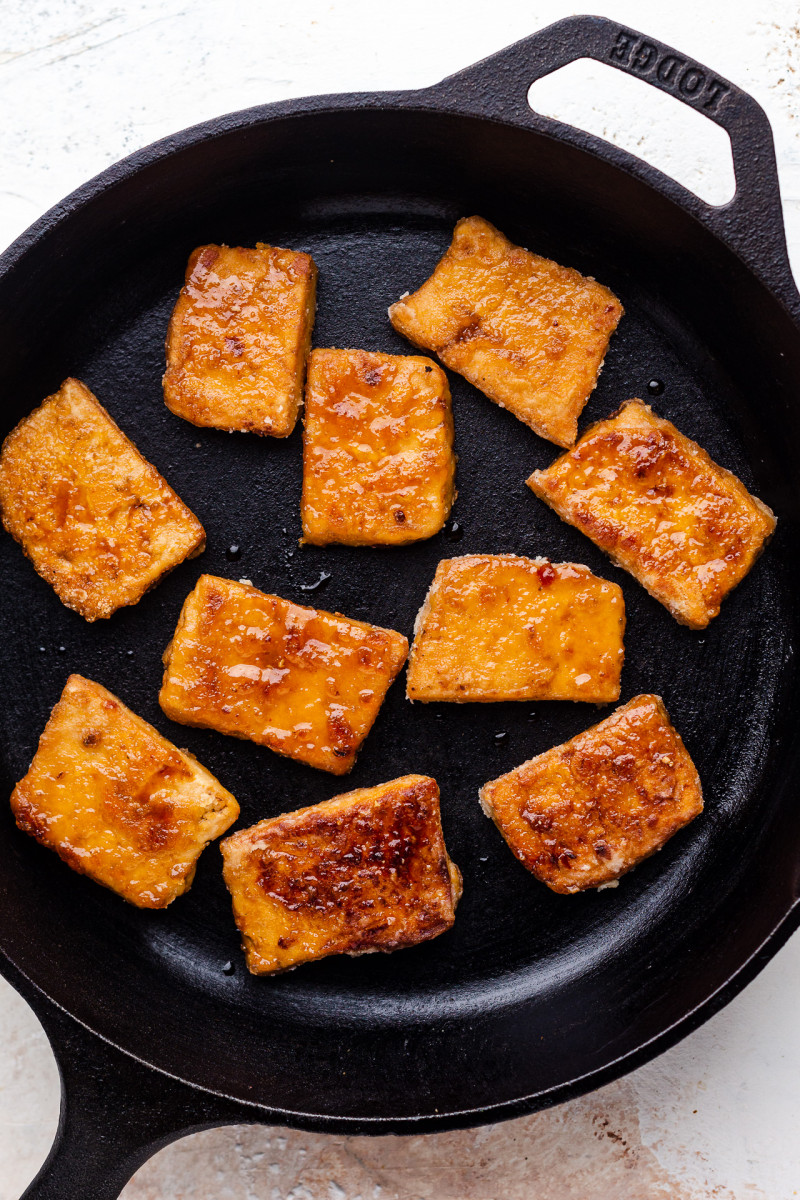 SOUP
1 head of garlic + 1 extra clove
10 ml / 2 tsp rice wine vinegar
500 g / 17.5 oz sweet firm pumpkin or butternut squash
2.5 cm / 1″ piece of ginger
1 medium heat red chilli
1 large banana shallot
15 ml / 1 tbsp vegetable oil
480 ml / 2 cups soy milk*
1 vegan umami stock cube (I used mushroom cube)
60 g / 4 tbsp white miso paste (GF if required)
15 ml / 1 tbsp soy sauce or (if GF) tamari
20 ml / 4 tsp mirin or 2 tsp maple syrup
TOPPINGS
600 g / 21 oz pre-cooked ramen noodles or GF noodles of choice
200 g / 7 oz tenderstem broccoli*
4 radishes, thinly sliced
300 g / 10.5 oz your favourite tofu
green parts of spring onions / scallions, thinly sliced
sesame seeds, to garnish
chilli oil, to garnish
METHOD
Place rice vinegar in a small bowl and finely grate a clove of garlic into it, set aside until needed.
Heat up the oven 220° C / 425° F (or 200° C / 390° F if using fan function) and grab a large baking tray.
Cut the top of the garlic head off to expose the cloves, drizzle with ½ tsp of oil, wrap in kitchen foil and pop on the baking tray.
Peel your pumpkin (unless the skin is tender and edible), and cut into 2.5 cm / 1 inch cubes. Place in a mixing bowl (keep it afterwards for the next step) and stir 2 tsp of oil through it. Scatter on the baking tray and pop into the oven for 15 minutes.
Throw a whole chilli and unpeeled ginger cut into 2 slices into the bowl with residual oil, toss to coat. Cut shallot in half (keep the skin on) and brush the underside with a bit of oil.
After 15 minutes, flip pumpkin pieces to the other side. Add chilli, ginger slices and shallot (cut side down) to the baking tray. Bake for further 15 minutes – until pumpkin, chilli and the underside of the shallot look charred and ginger is soft. If some ingredients are ready before others, remove them from the baking tray.
As soon as chilli is ready, place it under a small bowl for 5 minutes – the steam will help to take the skin off. Skin it and remove the seeds if you don't want too much heat. Peel the ginger and shallots. Place them in a blender with charred pumpkin and squeezed out garlic cloves.
Add soy milk, a stock cube, miso paste and garlic steeped in vinegar to the blender. Blend until smooth then transfer to a large pot.
Add approximately 2.5 cups (600 ml) of water to the pot to give the soup the right consistency – you want the soup thick and nourishing but not like a cream of soup. Taste and season with soy sauce (or salt) and mirin (or maple syrup).
Warm the soup up just before you are ready to plate.
TOPPINGS
Prepare your favourite tofu. For ease, I use shop-bought premarinated tofu that I just whack into the oven (alongside pumpkin), but you could also make a simple tofu yourself. I marinate well-pressed tofu in a simple marinade (2 tbsp soy sauce, 2 tbsp mirin, 2 tbsp cooking sake) for as long as I can, then coat it in potato starch and pan-fry in oil.
Boil a pot water and grab a bamboo steamer. Prepare broccoli by cutting them into bite-size segments and slicing stems in half vertically.
Once the water comes to a boil, place prepared brocolli in the steamer above the pot. Cook until knife tender, approximately 7 minutes.
Boil the noodles in the water underneath the steamer. My pre-cooked Seven Moons ramen noodles needed 2 minutes, follow the instructions on your packet.
ASSEMBLY
Divide noodles and hot soup between bowls, top with sliced of tofu, steamed broccoli, thinly sliced radish and spring onions. Scatter some sesame seeds on top and drizzle with chilli oil (or toasted sesame oil if you do not like heat).
NOTES
*SOY MILK: I like using soy milk (soy and water, no additives) as it's creamy, full of plant-based protein and the flavour works well here, but if you cannot have soy, use another neutral tasting plant milk instead. You could also use water and simply add 1-2 tbsp of your favourite nut butter to make this soup creamy – peanut butter or tahini would work well here.
*TENDERSTEM BROCCOLI: you can use any greens you enjoy. I opted for purple tenderstem broccoli as it's grown in the UK at this time of the year and widely available in local supermarkets. Pak choi, choi sum, Chinese spinach, napa cabbage would all be just as appropriate.