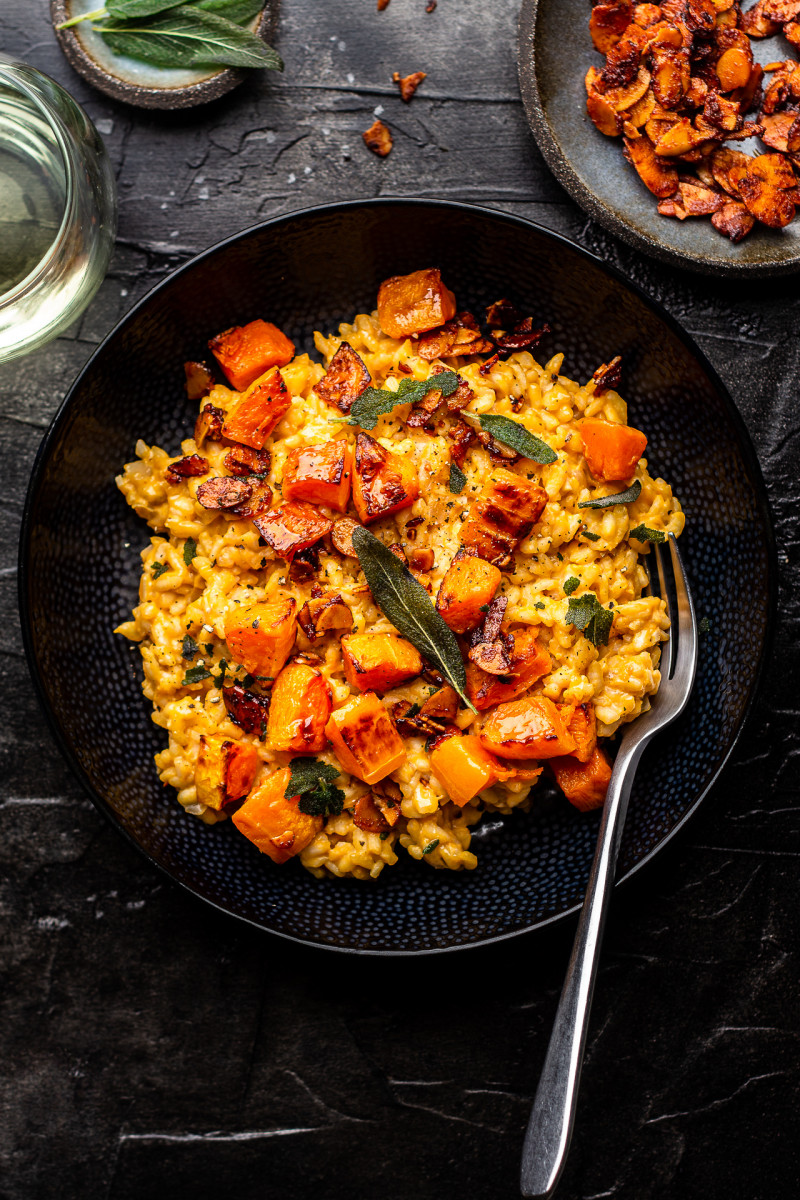 I was planning to post another recipe today, but when Eunice (a pet name for a vicious storm that's currently sweeping through Europe) hit and debris started flying off neighbours' roofs, I suddenly did not feel like leaving my house in search of ingredients…I did a quick fridge and pantry check and realised that I have all the ingredients for my pumpkin risotto and since I haven't published a recipe for it yet, here it is! Perfect storm weather comfort food!
Risotto has a bit of a reputation for being hard to nail, but I don't think it's fully justified. Of course, like with most things there are a few 'dos' and 'donts' and it benefits from a little bit of finesse, but it's not something that is difficult to master, I promise. Let me talk through the ingredients I used in this recipe and why and the process in more depth.
MORE ABOUT THE INGREDIENTS
PUMPKIN: You want to use a firm and pleasant to eat pumpkin (like Kabocha, Acorn Squash, Butternut Squash – which is called Butternut Pumpkin in most places in the world by the way), not the bland and watery kind intended for Halloween lanterns. I roasted my pumpkin in the oven untilbeautifully caramelised. I used some of it to turn into a puree (which got added to the risotto directly) and left some whole to top the dish with. You could use canned pumpkin at a push although some flavour will be lost as canned pumpkin isn't made from roasted pumpkin as far as I am aware. I would use approximately 1 cup (240 ml) of pumpkin puree.
RICE: Getting the right type of rice is absolutely vital as it has certain cooking properties that other rice grains do not and those properties make risotto what it is. What you need is a stumpy rice grain with a lot of starch called Arborio, named after a town of that name. It is sometimes branded as simply 'risotto rice' in the UK supermarkets. Luckily, it's easily accessible, gone are the days when you had to find an Italian deli in town to get your hands on it. Carnaroli is another popular risotto making rice variety, it is a little harder to get (at least here), but considered to be even better than arborio for risottos.
WINE: White white is a classic flavour building block in a risotto, but if you don't want to use alcohol, simply increase the amount of veggie stock / water and add a touch of balsamic vinegar to compensate for the acidity that wine brings to the dish.
GARLIC: Garlic is such an immediate and accessible flavour enhancer and if you have been here before you know that I am a fiend! I've employed it here in two different ways. I used some sautéed garlic to add that mouth watering brightness to the dish as well as an entire head of roasted garlic (you can use fewer cloves if you wish) to add a bit of mellow sweetness and more depth of flavour.
VEGGIE STOCK: Vegetable stock infuses rice with a lot of flavour, while you can use a stock cube dissolved in water, homemade stock is always best. I have, however, used water in this recipe on many occasions as a combination of miso, nutritional yeast, roasted garlic and pureed roasted pumpkin provide plenty of flavour, so don't stress if you don't have any veggie stock on hand.
MISO: If you've been cooking vegan meals for a while now, you will be familiar with miso as it's such a beautiful plant-based flavour booster and a vegan cupboard staple. I love to use it in general, but a combination of miso and pumpkin is particularly special, so using it in this dish was a no brainer.
NUTRITIONAL YEAST: Another vegan seasoning staple, which adds a lot of depth of flavour and a hint of cheesiness. Typically, a risotto is laced with cheese – sometimes more than one kind and grated parmesan (which many people don't realise isn't even vegetarian as it contains rennet – an enzyme obtained from the lining of calves' stomachs) is certainly a commonplace addition to a traditional risotto. This is why I add nutritional yeast – it adds complexity of flavour and a hint of cheesiness without a hit of stomach lining. If you haven't got any in your cupboard though, it's not the end of the world, simply skip it.
VEGAN CREAM: Traditional risotto gets its creaminess from the slow cooking of the rice, but also from a hefty amount of added fat – often butter, cream AND cheese are added. I always found it a little too much personally, but I find that a little bit of added fat can be nice. You can achieve that in a variety of different ways. You could simply add a knob of vegan butter if you wish, or a splash of vegan cream, like oat, soya or cashew (see Notes under the recipe for making quick cashew cream at home).
A tablespoon of cashew butter (diluted in some water first) is also nice option – it has a neutral, slightly sweet flavour, which enhances sweet pumpkin beautifully. It's convenient as all you need to do is to open a jar. In terms of amount, adjust to your own personal preference. I prefer to add just a little but if you prefer a more indulgent main dish, you can be a little heavier handed. You could also replace half of the stock with creamy, neutral flavoured, plant milk (I like using almond or soy milk here) to make the risotto creamier without the need for vegan cream.
LEMON JUICE / BALSAMIC: A small amount provides a nice contrast with sweet pumpkin and creamy and sweet cashew butter but make sure to taste the dish and only add if your tastebuds deem it necessary – your pumpkin may be less sweet than mine, for example.
ALMOND BACON: This is a totally optional extra, but both me and Duncan agreed that it's a lovely, savoury addition.
MORE ABOUT THE METHOD
DON'T RINSE: As opposed to other types of rice, arborio (or carnaroli) rice should not be rinsed before making a risotto. Rinsing rice gets rid of excess starch, which helps to keep rice grains separate after cooking, but in this case what we want is the exact opposite.
GO SLOW: Make sure you heat it at low-medium at all times. A properly made risotto takes a bit of time to make, so don't rush things.
KEEP STOCK WARM: It is important that, apart from the wine, the liquids that you gradually add to your rice are warm so that the rice continues to cook uninterrupted as you slowly ladle stock into the pan. If the stock was cold, the whole dish would have to come to temperature with each stock addition, which would disrupt the cooking process.
STIR OFTEN: Another important thing to remember is that as opposed to some other rice dishes, like paella, risotto needs to be frequently yet gently and slowly stirred so that it releases amylopectin – a type of starch present in risotto rice that is responsible for its characteristic creaminess.
IS IT DONE?!: A risotto is done when its rice grains are fully cooked yet retain a little bit of a bite ('al dente' for short). Once your rice reaches that stage, stop adding liquids even if you have some leftover, cover the pan with a lid and let the dish rest briefly (3 minutes or so) before plating. As for consistency, run a wooden spoon through the middle of your pan, if the risotto rushes back to fill the space, it's too runny so it needs a little longer on the stove. It should very slowly move to fill the trail left by your spoon instead.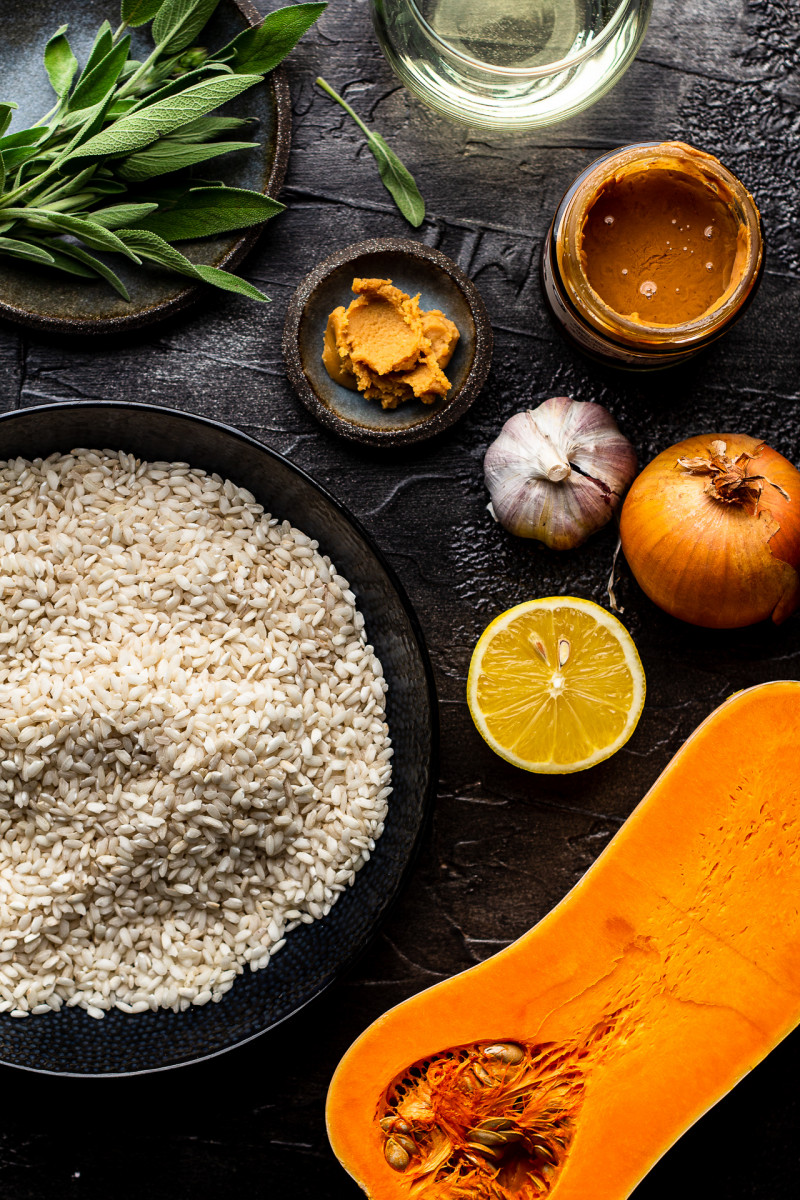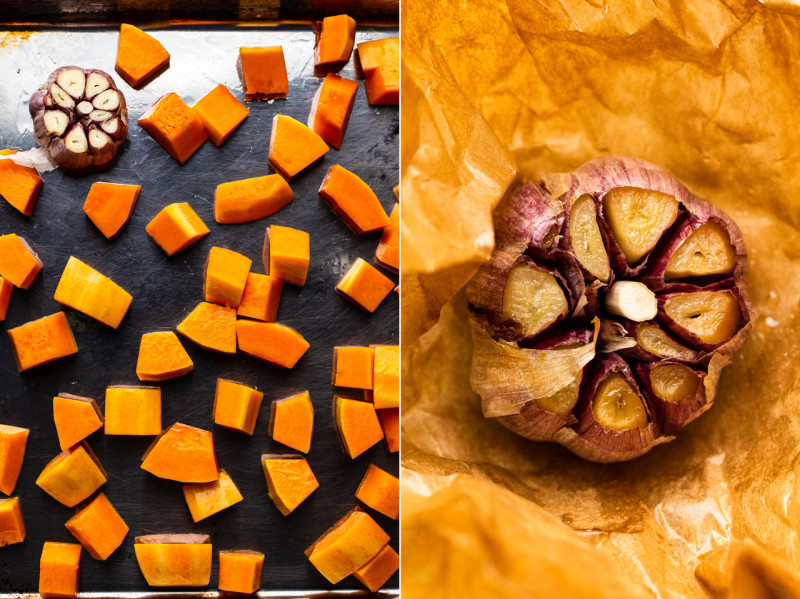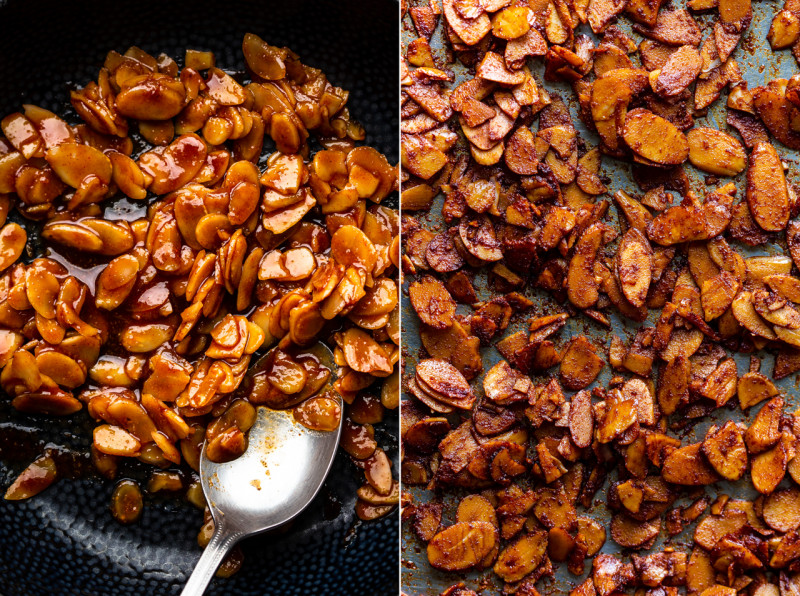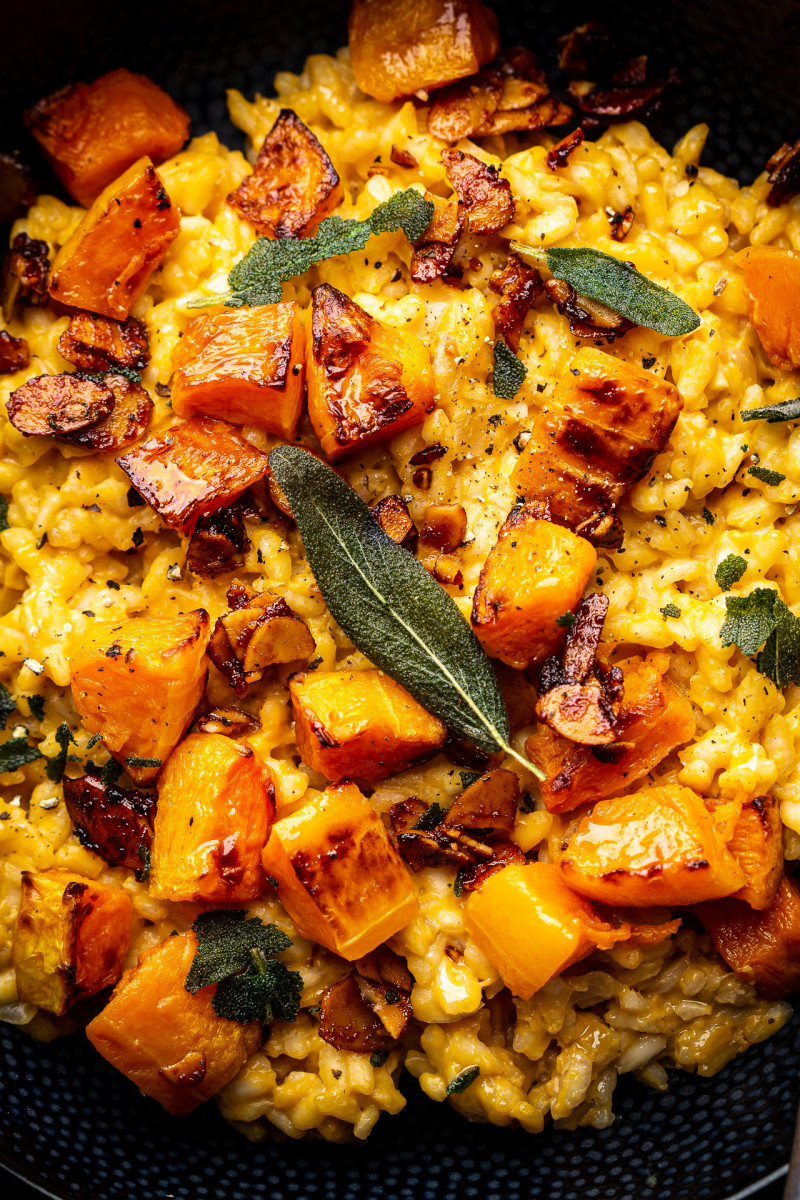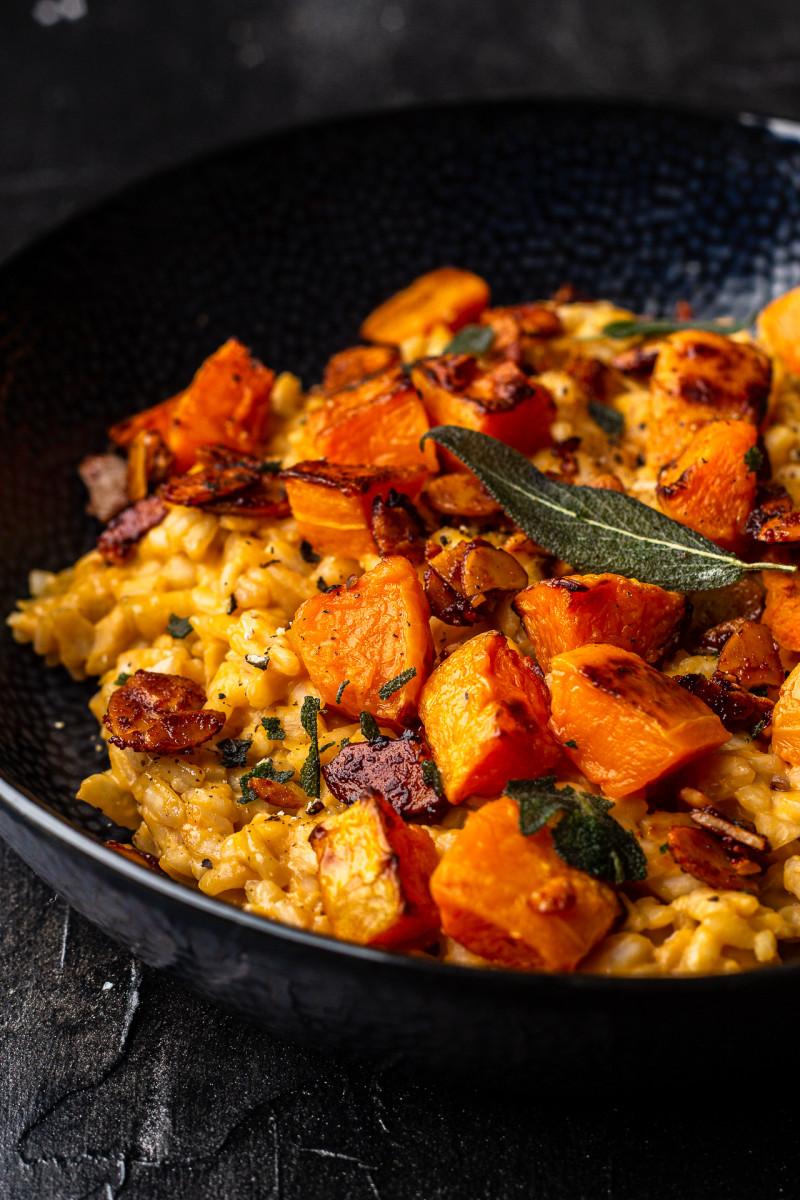 750 g / 26 oz butternut squash (or other firm pumpkin)
45 ml / 3 tbsp olive oil, divided
1 head of garlic + 3 garlic cloves, divided
10 sage leaves
1 large onion, finely diced
3 cups / 750 ml veggie stock or water
36 g / 2 tbsp white miso paste
3 tbsp nutritional yeast (optional)
300 g / 1½ cups risotto rice
180 ml / ¾ cup vegan white wine
salt and black pepper, to taste
60 ml / ¼ cup vegan cream* OR 12 g / 1 tbsp of cashew butter in 60 ml / ¼ cup water (optional)
15 ml / 1 tbsp quality balsamic vinegar or lemon juice (optional)
TOPPING (optional)
METHOD
Heat up the oven to 220° C / 425° F (regular setting, no fan) and grab a very large baking tray. If you aren't a good multitasker and have not made risotto before, complete steps 1,2,3 and 11 BEFORE adding rice to the pan (step 8).
Cut butternut squash into a 1.25 cm / ½" dice and coat in 15 ml / 1 tbsp of olive oil. Season lightly and spread on the baking tray. Cut the top of the garlic head off to expose the cloves, drizzle with ½ tsp of olive oil and wrap it up completely in two layers of greaseproof baking paper or in a piece of kitchen foil and place on the tray, next to the pumpkin. Put into the hot oven.
Give the pumpkin a good stir after 20 minutes and check on the garlic – it is done when the cloves are soft all the way through. Remove the garlic from the oven if done. Carry on roasting the pumpkin until soft and lightly charred – another 10 minutes.
Heat up 2 tbsp of olive oil in a heavy bottomed pan or pot, one that you have a fitted lid for. Add sage leaves and allow them to crisp up in the hot oil for 30-45 seconds. Once done – they will become darker in colour and stiff – fish them out of the oil and place on a piece of kitchen paper, set aside.
Add diced onion to the sage flavoured oil. Fry on a low heat until translucent, stirring from time to time. Season, keeping in mind that both miso and your stock (if salted) will contribute some saltiness too, so go easy.
Warm up veggie stock in a separate pot. Take a splash of warm stock and pour it into a separate bowl with miso paste and nutritional yeast. Mix the three together until you get a smooth, lump-free mixture and then add it back to the main pot. Stir well. Keep this stock hot.
Once onion is translucent, add chopped garlic cloves and season again lightly. Fry, stirring frequently, until fragrant and softened (about 2 minutes).
Mix in arborio rice and fry it off for a few seconds, stirring frequently.
Next add wine and give the rice a good stir so that it doesn't stick to the pan. Allow the wine to cook off completely before adding the first small portion (60 ml / ¼ cup or so) of the hot stock.
Keep on adding the stock, in small amounts, until fully absorbed by the rice before adding the next portion. Make sure to stir the rice often to activate the starch, which makes for a creamy risotto.
Once pumpkin is out of the oven, transfer 1 cup (about 150 g) of roasted pumpkin, squeezed out garlic cloves and 1 cup of water to a blender. Blend until smooth. Then add it the rest of the stock and warm the whole thing up, before adding into the the risotto bit by bit, like you did with the stock up to this point.
Keep on adding the liquid (you may not need all of it) to the rice until the rice is almost cooked. Decrease the amounts of liquid towards the end as you want the rice cooked correctly – soft but with a little of a bite (al dente) as well as the correct consistency – if you run a wooden spoon through the middle of the risotto, rice should fill the space behind your spoon very slowly.
Once the rice is al dente, stir in some vegan cream if using, fine tune the seasoning and add a bit of balsamic vinegar if you like a touch of acidity to break through the creaminess. Switch the heat off, cover the pan and allow the risotto to rest for 3-5 minutes.
Divide the risotto between bowls, top with roasted butternut squash, crumbled sage leaves and optionally almond bacon.
NOTES
*VEGAN CREAM – Oat, soya or cashew cream all work well. To make quick cashew cream at home, soak 35 g / ¼ cup cashews in boiling water for 30 minutes, drain and blend with 120 ml / ½ cup of water until smooth. Store leftovers in the fridge for 2-3 days.