Come on dear Sun, show your face again pleeeeaassseee! After some short lived (3 days!) summer-like weather, we are back to 'way too chilly for May' again. I now understand why the British spend so much time discussing weather. It's because it always keeps you on your toes. As soon as you've unpacked all your summer clothes again, you'll need your winter parka again, no doubt!
So while the weather is way too cold for a picnic, let's practise making come picnic-appropriate food so that we are ready when the sun graces us with its presence again. As for the rest of the world readers, I know, I know, these are very British problems indeed, but this stuff is real…Sun is life.
My today's offering to you is a tray of vegan quiches with wild garlic. They can be made into one large vegan quiche, of course, but as I have a penchant for small things, I made several small ones instead.
The filling is made with wild garlic that I picked in the Wye valley over the weekend. I put it in a glass of water and into the fridge and it kept well for 3 days, so don't worry if you pick more than you can immediately use up. If you are not into foraging, you can always make the filling with garlic cloves and a bunch of herbs (fresh basil or mint leaves will work) and some asparagus as it's very much in season.
I'm loving foraging for food and I'm planning to school myself on wild mushroom picking so that come autumn, I am ready to pick the nicest and most harmless 😉 mushrooms around. This is where living in a wet climate pays off.
If anyone has recommendations on essential mushroom foraging literature, I'm all ears as I'm well aware that I really need to know what I'm doing. If the blog suddenly grinds to a halt and you hear nothing from me for a while, that probably means that I did not know my mushrooms after all…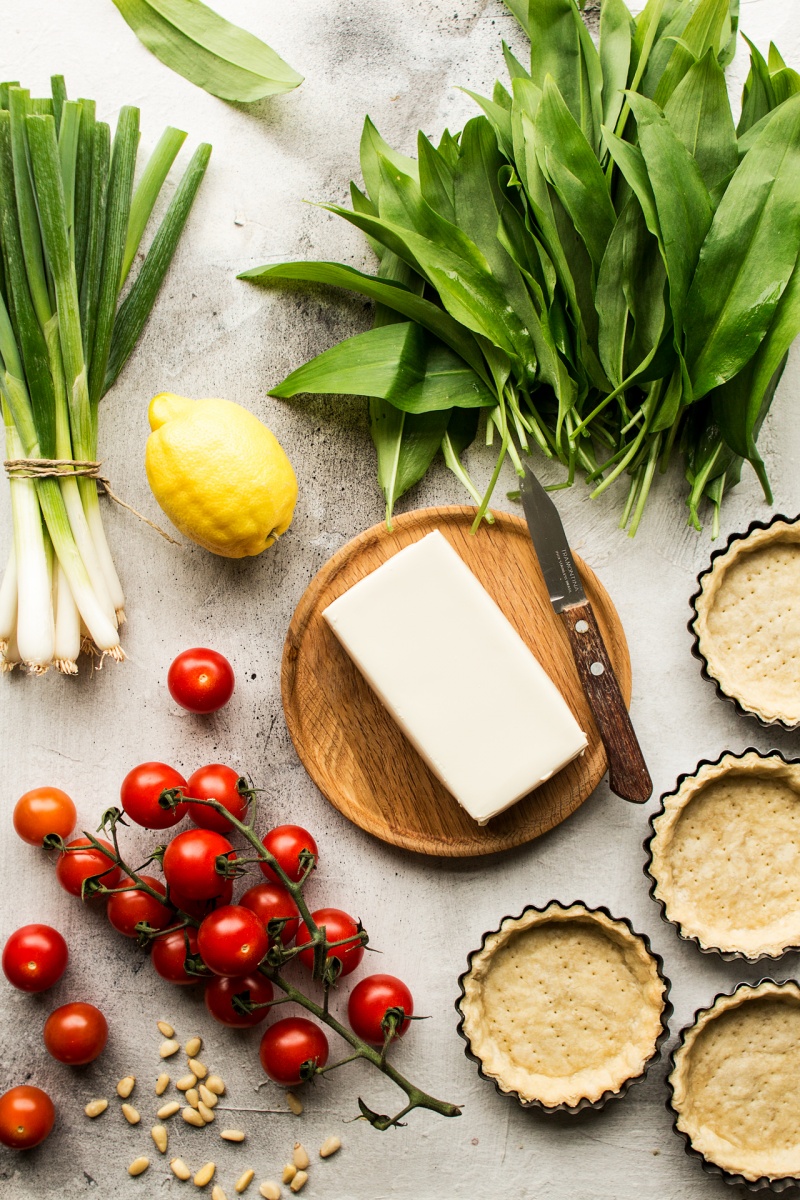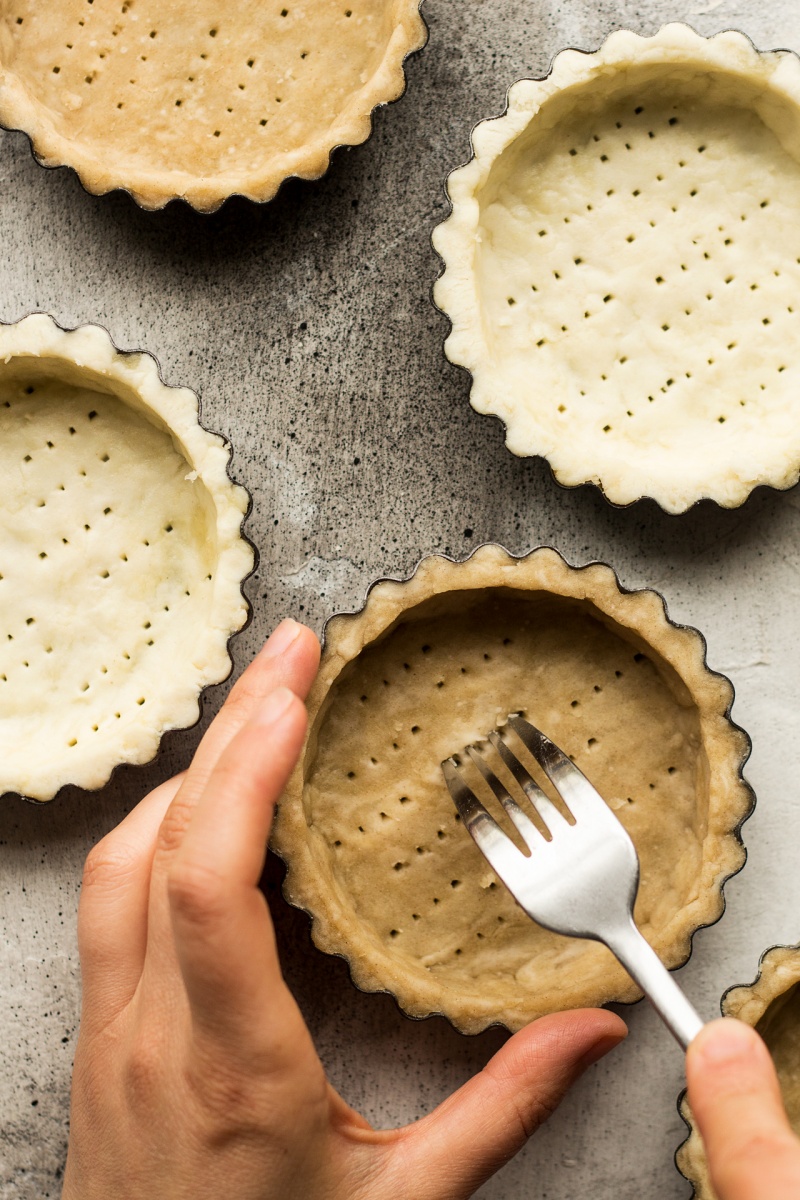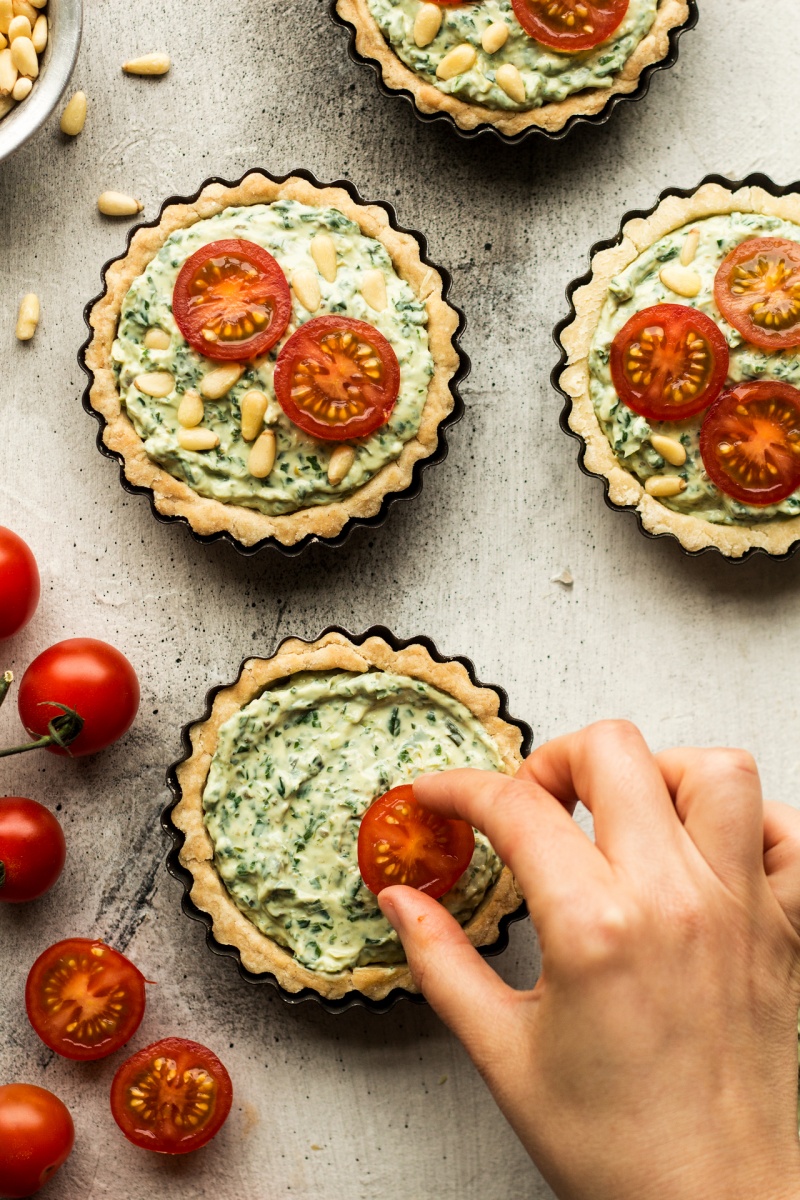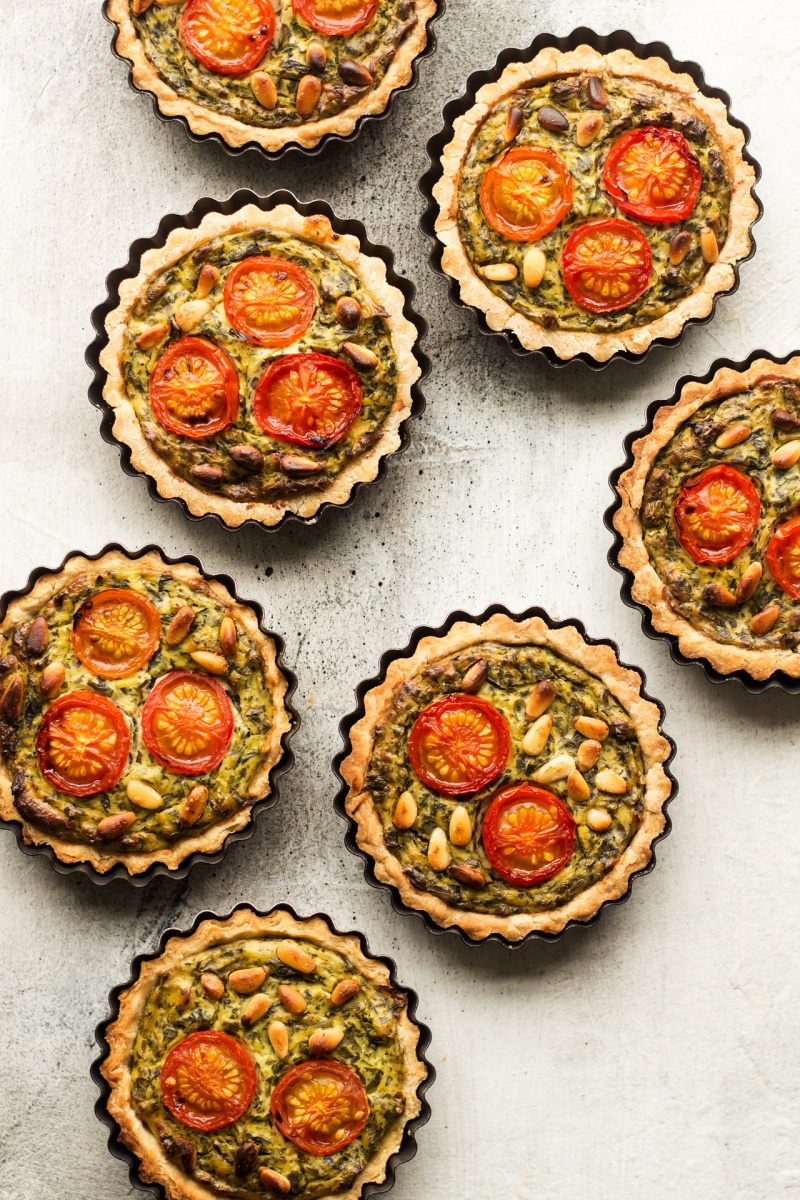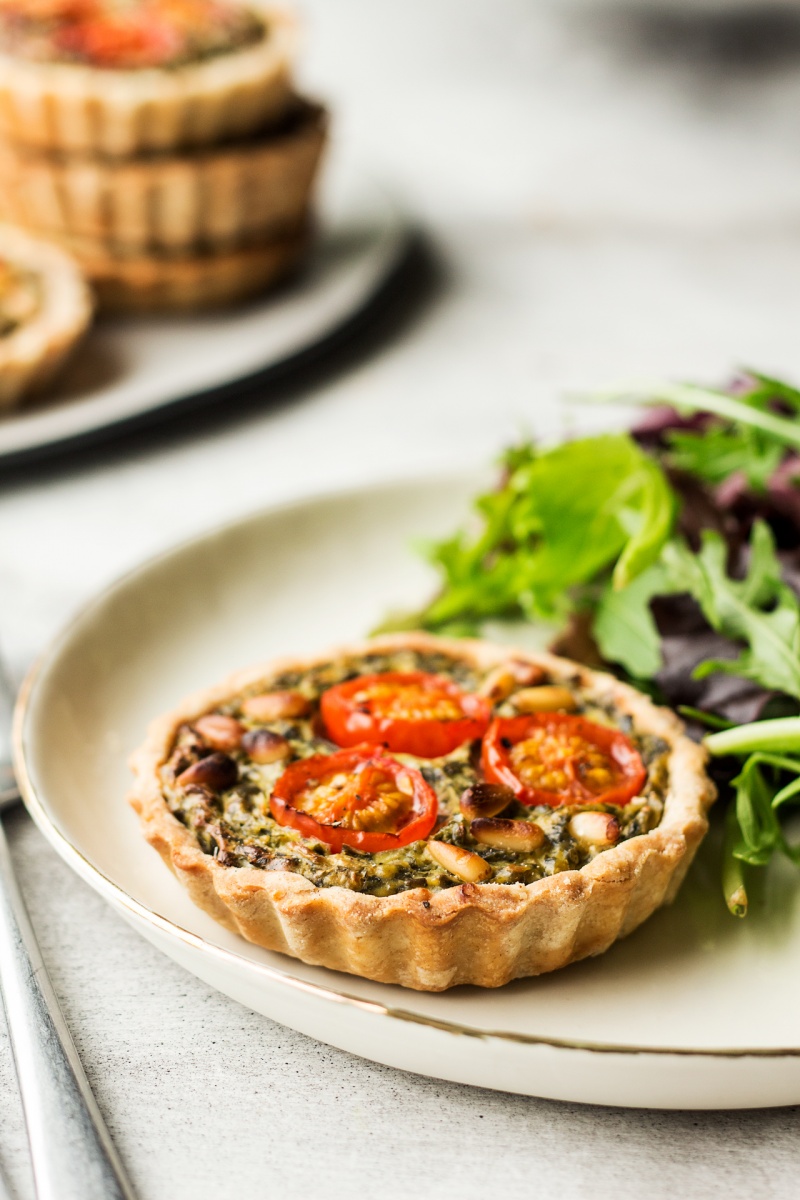 REGULAR PASTRY
240 g / 2 cups all purpose flour
½ tsp fine sea salt
6 tbsp mild olive oil or mild coconut oil
GLUTEN-FREE PASTRY
FILLING
10 ml / 2 tsp olive oil
4 spring onions, sliced thinly
60 g / 2 oz wild garlic, chopped small
15 g / 0.5 oz fresh basil or mint leaves, chopped small
300 g / 10.5 oz silken tofu (I used Clearspring)
zest of 1 lemon + 3 tbsp lemon juice
1 heaped tbsp capers, chopped
2 tbsp nutritional yeast
¼ tsp herbs de provence
¼ tsp nutmeg
¼ tsp fine sea salt, adjust to taste
black pepper, to taste
2 tbsp chickpea flour
8 cherry tomatoes, halved
2 tbsp pine nuts, to decorate
METHOD
PASTRY
Place the flour, salt and xantham gum (if using a gluten-free flour mix that does not contain it already) in a large bowl. Mix well.
Add the oil and incorporate it into the flour with a fork or your fingers until all the flour is coated in oil and resembles little pebbles.
Slowly trickle in some cold water, start with 60 ml / ¼ cup and add more if needed, but proceed with caution, adding a tiny bit at a time.
Bring all the dough together, but do not knead if you are working with gluten flour (overworking the dough will make the pastry tough). Form the dough into a ball and refrigerate for about 30 minutes.
Remove the dough from the fridge and let it sit at room temperature for about 5 minutes.
Divide the dough into 6 parts. Roll each part into a ball, flatten and roll out flat between two sheets of baking paper to prevent sticking. When it comes to gluten-free dough, you may find it easier (I did) to simply mould it to the inside of the tart tins with your fingers.
Line the tart tins with the dough and trim the excess pastry off with a knife. Pierce the dough-lined pastry cases with a fork and refrigerate while the oven is heating up.
Heat up the oven to 160° C / 320° F fan forced (180° C / 355° F no fan) and cut little squares of baking paper a touch bigger than your tart tins.
Remove the dough from the fridge, place a square of baking paper inside each tin and fill with baking beads (or dry beans). Blind bake for 15 minutes.
Carefully remove the beads and the baking paper inserts and return the tins to the oven for another 5 minutes. Remove from the oven and set aside.
Increase the oven temperature to 200° C / 390° F fan forced (or otherwise 220° C / 430° F).
FILLING
Heat up 2 tsp of olive oil in a medium frying pan.
Once hot, add the sliced spring onions and chopped wild garlic leaves. Fry on a gentle heat until the spring onions become soft and fragrant and the wild garlic leaves wilt, stirring frequently.
Place all the filling ingredients apart from the cherry tomatoes and pine nuts in a food processor. Process until super smooth. Taste and adjust the seasoning to taste.
Fill the pre-baked tart cases with the tofu filling so that the filling is level with the crust.
Stick the tomato halves and pine nuts into each tart.
Bake in a 200° C / 390° F fan forced (220° C / 430° F no fan) oven for about 20 minutes, until the tops are nicely browned. If your oven bakes unevenly (like mine), I recommend rotating the cases after 15 minutes or so.
Remove the tarts from the oven and allow them to cool down completely to give the filling a chance to set fully.
NOTES