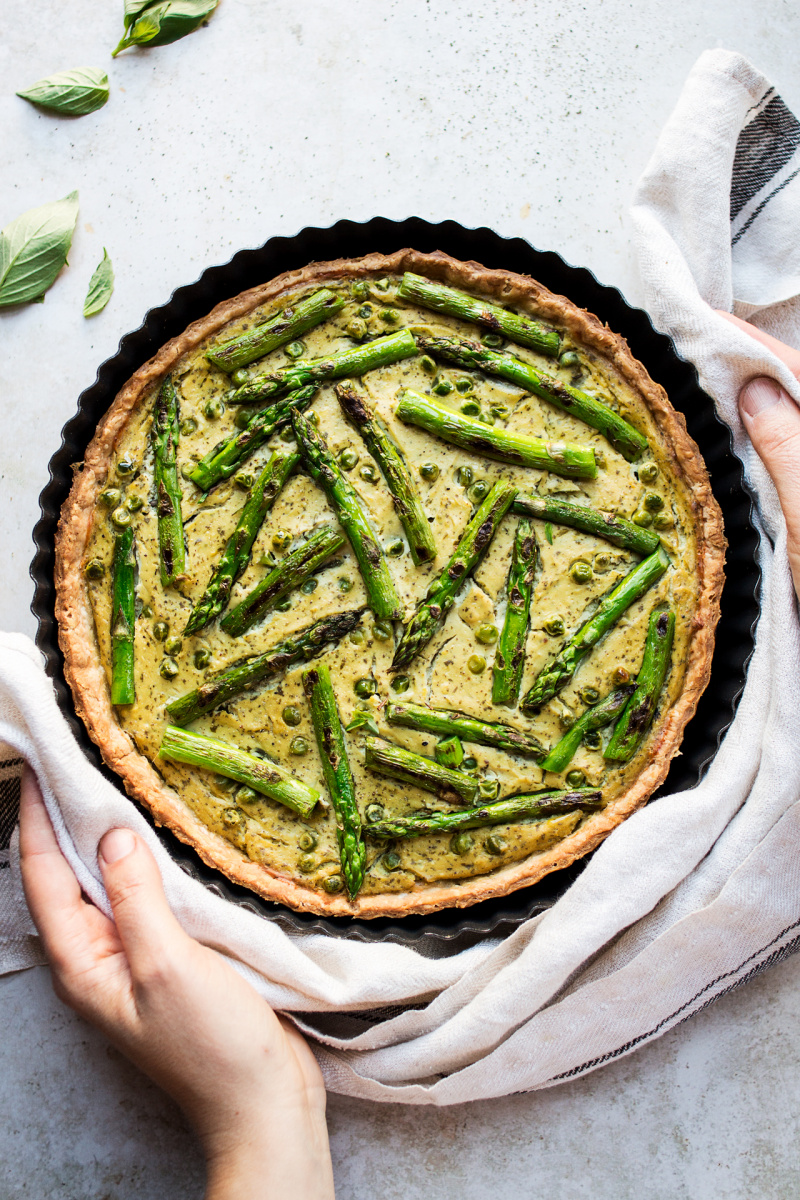 Hope you have something restorative planned this weekend, guys? I am reading this book about emotional eating right now and the author says that our days need to be filled with tasks that both deplete our energy and restore it. The former are obligations and duties like work, looking after the kids etc. and the latter things that we enjoy doing and can immerse ourselves in, like yoga, reading, going on a bike ride, painting etc. For the sake of good mental health, your day should consist of both types of activities and although in our 24/7 world the first type usually prevails, we need to find space for the latter type on a daily basis too.
It is so common sense, but I definitely struggle to take quality (scrolling through social media doesn't count 😉 ) 'me time' daily, although now that we are more settled in our new home and we have more fun activities on our doorstep, I am getting better at it. Tomorrow, I am off to my 2nd pottery workshop and I am super excited. I will finally get to see three (slightly wonky, I think) bowls I managed to produce last time so that's really cool and I am looking forward to practising what I learnt so far. I'm really looking forward to it. I also started doing improv – I will tell you about it another time and I am planning to attend my first yoga class next week – with Duncan needing looking after this week, I've decided to postpone until he recovers.
Speaking of which, thank you to everyone who has been enquiring about Duncan's health. He is doing much better than even a couple of days ago and while he is still on bed rest, we both hope that he will be right as rain by next week.
Today's recipe is something I have been meaning to share with you since this time last year. It's a vegan quiche to celebrate the end of asparagus season here in the UK and I know I am cutting it a bit fine as the end of season is literally this weekend (summer solstice marks it), but I am hoping you'll still manage to get a bunch and try out this recipe. If you get unlucky, replace the asparagus with other seasonal veg – zucchini, sweet cherry toms, garlicky mushrooms etc.
I've had trouble with today's shoot, so apologies for no cross section photo but the quiche took ages to cool and by the time it was ready for cutting all the light was gone…I took on a bit much and messed up the pastry and I was getting really stressed as I knew that I would not be able to do any work tomorrow. Luckily, the weather has finally cleared up and it's been beautifully sunny all day, so I managed to get the final shot. I hope you'll enjoy this recipe and have a lovely weekend! x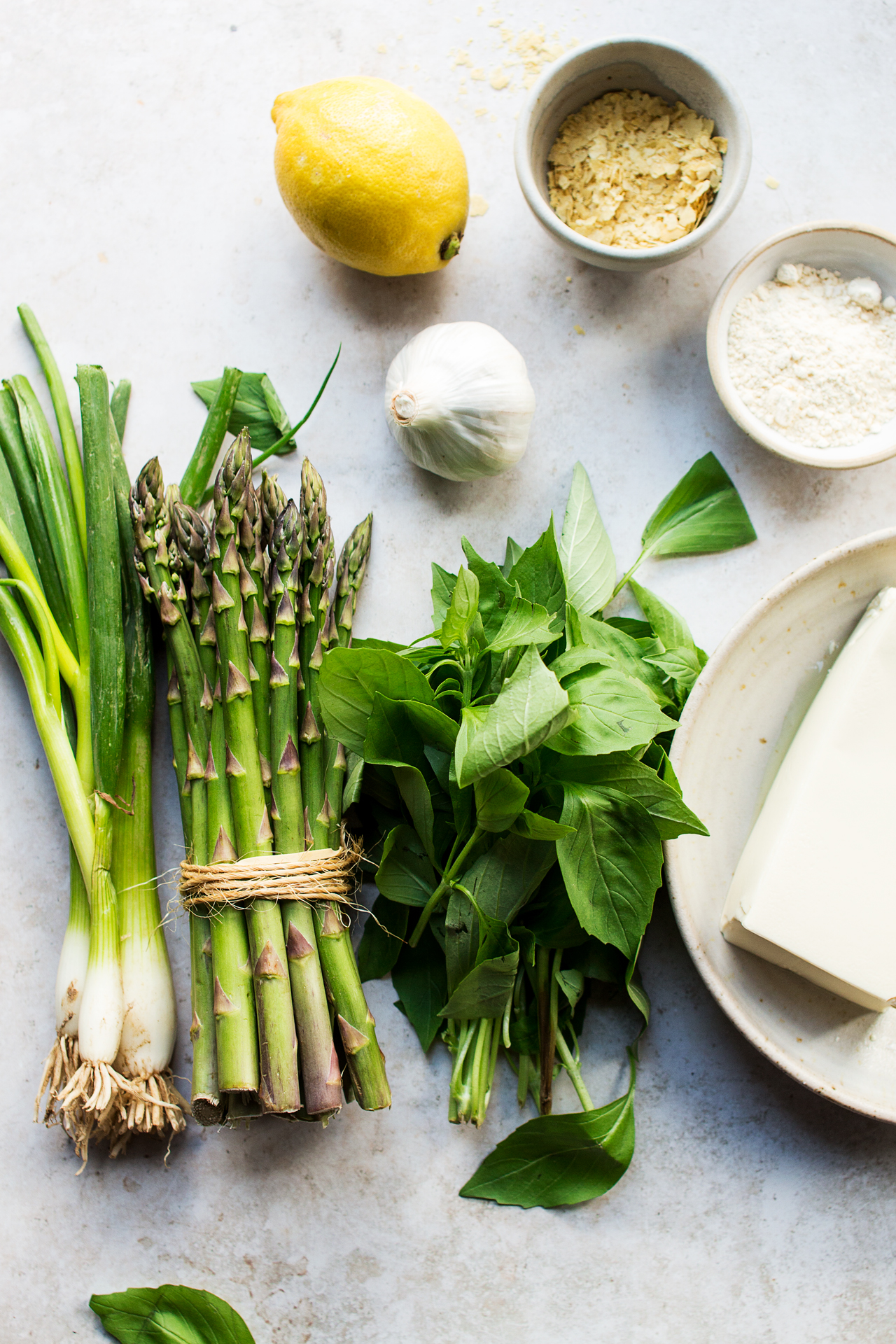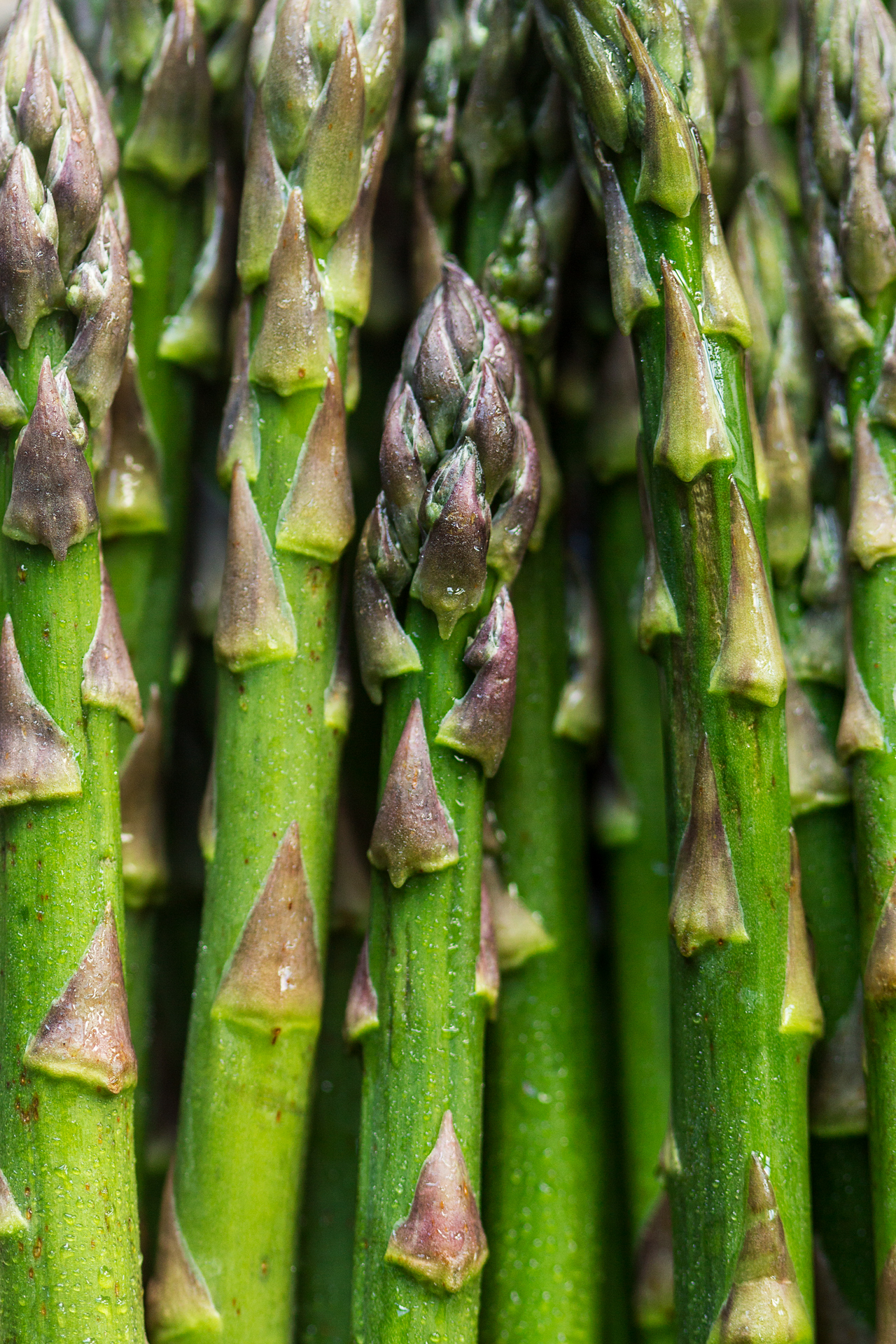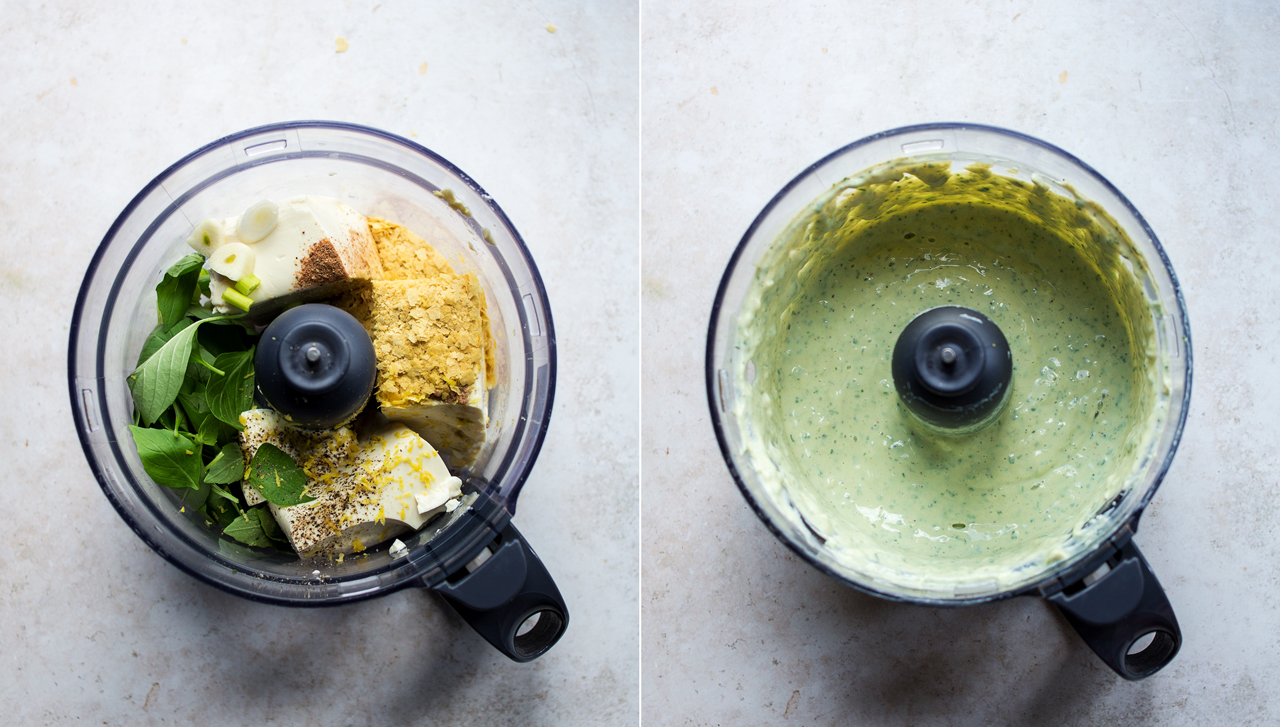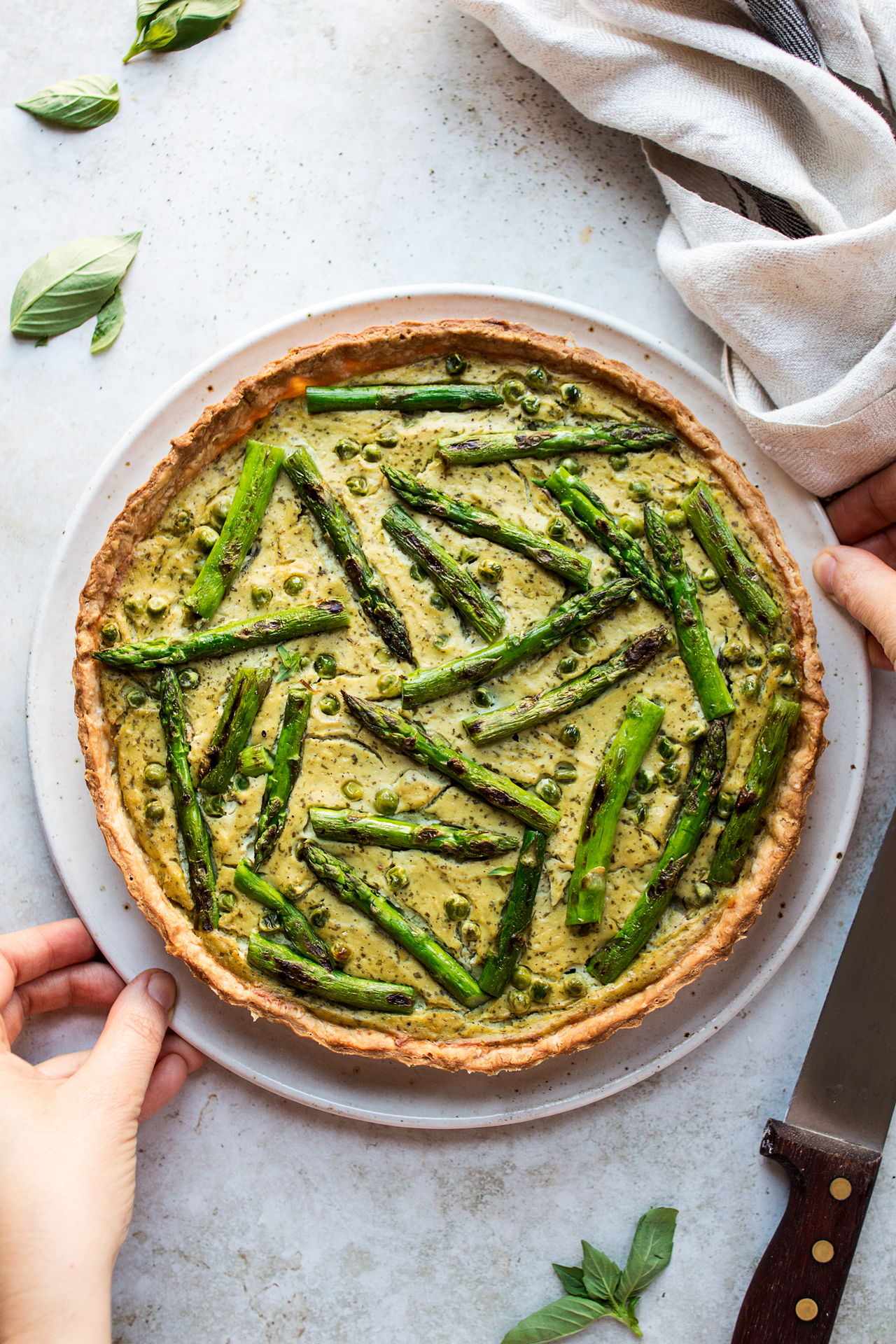 PASTRY
250 g / 2 cups all purpose flour
1 tsp fine sea salt
90 g / 6 tbsp mild coconut oil, unmelted
GLUTEN-FREE PASTRY
FILLING
2 spring onions, sliced thinly
1 garlic clove
25 g / 0.9 oz fresh basil leaves
450 g / 15.5 oz firm silken tofu (I used Clearspring)
zest of 1 unwaxed lemon + 3 tbsp lemon juice, adjust to taste
3 tbsp nutritional yeast
scant ½ tsp nutmeg, adjust to taste
½ tsp fine sea salt, adjust to taste
¼ tsp fine black salt / kala namak*, adjust to taste
black pepper, to taste
3 tbsp chickpea flour
300 g / 10.5 oz asparagus
1 cup defrosted petit pois (optional)
METHOD
PASTRY
Sift the flour (and xanthan gum if making GF pastry) into a large bowl.
Add the salt and chopped coconut oil and cut it into the flour with two knifes. Here is a handy guide to making shortcurst pastry that I follow.
Once the mixture is uniform and there are no large lumps left (to check, shake the bowl lightly, they will come to the surface), rub the small bits of oil into the flour with your fingers until there are no lumps left. Yes, I know, it does take some time!
Finally add in about 75 ml / 5 tbsp of ice cold water and mix it into the flour mixture with a cutlery knife.
You may need a bit more water, but add it very gradually (teaspoon by teaspoon) as too much will make the pastry tough. To check if more water is needed, grab a handful of mixed dough with your hands, if it is very dry, add a little more water, mix it in and check again.
Once the dough is the right consistency, form it into a flattened ball quickly – handle the dough as little as possible, wrap it in cling film and chill for 30-60 minutes.
Remove the dough from the fridge and roll it out between two sheets of baking paper until you get a circle large enough to cover your entire tart case, about 2-3 mm in thickness. Place the rolled-out dough over a tart case and gently line the inside of it with the pastry. Tuck the pastry in well, ensuring that it fits snugly into all the nooks and crannies. Trim the excess pastry with a sharp knife or by rolling a rolling pin along the baking case edge. Patch any holes up with the cut off excess. If making gluten-free pastry (which tends to be more crumbly), you may be better off placing the crumbled pastry in the tart case and simply moulding the pastry with your hands to the shape of the tart tin – you do not need to worry about overworking the pastry as it contains no gluten.
Pierce the bottom of the pastry with a fork in a few places and chill the pastry-lined tart case in the fridge for about another 30 minutes.
45 min into pastry chilling time, preheat the oven to 180° C / 355° F. Line the pastry case with a large piece of crumpled baking paper and fill with baking beads or rice for a blind bake.
Blind bake the pastry for 15 minutes. Remove the paper and beads and bake for another 10 minutes.
FILLING
Place all the filling ingredients apart from chickpea flour, asparagus and petit pois in a food processor. Process until super smooth. Adjust the seasoning to taste. Add in chickpea flour once you are happy with the flavour and process until well mixed in.
Slice the spears that go underneath the filling into halves lengthwise. Fill the pre-baked tart case with a layer of asparagus and petit pois (if using). Then pour the tofu filling over the asparagus and smooth with a spatula. You can either decorate the quiche with asparagus before it gets baked but beware that it will wilt in the oven and not look THAT attractive when the quiche comes out. If looks aren't that important, do that. Alternatively, you could do what I did, which is I charred the asparagus on a hot griddle pan separately and decorated the tart with charred asparagus AFTER baking.
Bake in a 200° C / 390° F fan forced (220° C / 430° F no fan) oven for about 35 minutes, until the top is nicely browned. If your oven bakes unevenly, I recommend rotating the tart case after 15 minutes or so.
Remove from the oven and allow the quiche to cool down completely to give the filling a chance to set fully.
NOTES
*Replace with regular salt if unavailable. Black salt contributes a subtle eggy taste thanks to its high sulphur content.