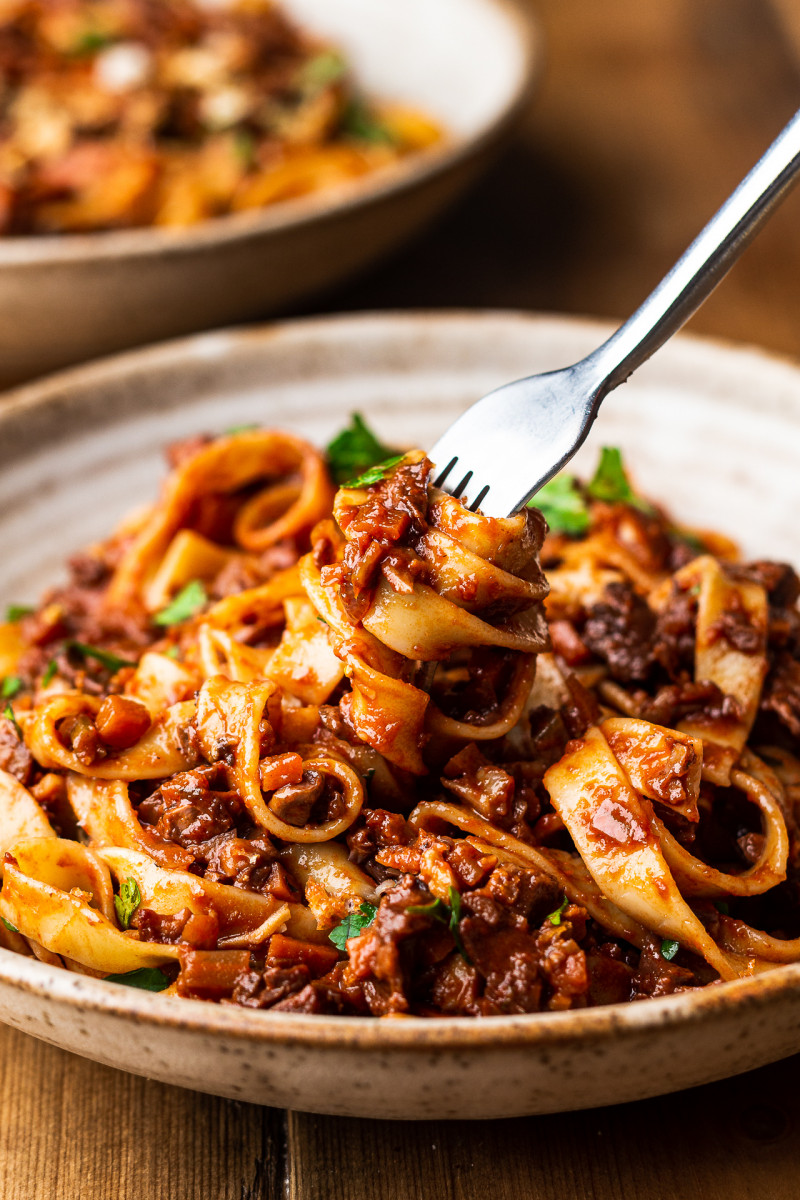 It's been a tough week and we are in need of some comfort. Our four legged family member has had a bit of a setback after her operation and we've been worried sick. She started getting a bit more excited about food and going outside today so things are looking up, but she is still not completely out of the woods. She is booked in for a check-up on Monday, fingers crossed it goes well.
As pasta is high up on my list of comfort foods, I've been busy making a new kind of vegan ragu this past week. It's delicious, with a great depth of flavour and lots of texture. It's been a hit in our house and I hope it will be in yours too. The recipe has quite a few ingredients, but don't panic – most of them are cupboard staples and a few tricky ones can totally be replaced – this recipe is really flexible. It can be prepared in advance – in fact, like any ragu recipe, it benefits from being made at least a day ahead as it gives all the flavours a chance to develop and get acquainted with one another 🙂 . Right, let's jump straight into it, below are some tips and suggestions you may find useful.
MORE ABOUT THE INGREDIENTS
PORCINI: These dry wild mushrooms add heaps of flavour so it's worth using them if you can find them / afford them. I find that buying them in bulk online is cheaper than getting them at a grocery store and they last forever if stored in an airtight jar in a dry cupboard. It's not the end of the world if you don't have them though, I made versions of this ragu without porcini and they were still delicious. A mushroom stock cube (sometimes called an umami stock cube) is a great replacement for the porcini stock and extra walnuts would make up for the chopped up rehydrated porcini.
OYSTER MUSHROOMS: These are widely available in the UK these days. They have a great meat-like texture and have a lower water content than chestnut / cremini mushrooms for example so that's why I chose them for this recipe. Fresh shiitake will also work nicely, but if that's not an option, regular mushrooms will do too. If using regular mushrooms, I would recommend cooking the water off in a pan first, before marinating and baking.
NUTRITIONAL YEAST: If you are a seasoned (no pun intended) vegan, you probably have this in your cupboard already as it's such a great seasoning, but if not a heaped teaspoon of red (or white) miso will do the trick too.
CUMIN, CINNAMON, NUTMEG: I've made different versions of this ragu with various spices and each of them works beautifully. I've only used a small amount for a bit of background flavour, feel free to increase to ½ tsp or more if you like it and are confident with your spices. Cinnamon spiced tomato based sauces are a mainstay of Greek cooking, cumin is a Middle Eastern influence and nutmeg is traditionally used in classic French and Italian ragu recipes.
FRESH HERBS: I like to use fresh herbs here, but you can totally use dried herbs too. Start of with ½ tsp each and add more to taste.
WINE: Wine adds a lovely depth of flavour, but if you don't consume alcohol, simply use veggie stock and a small amount of quality balsamic vinegar.
TOMATO PASSATA: I used tomato passata (essentially pureed tomatoes) as it's quicker and therefore more convenient to use than canned tomatoes and I wanted this recipe to be fairly straightforward. Alternatively you can use a 400 g / 14 oz can of canned tomatoes (quality plum tomatoes would be my choice) and about 240-480 ml / 1-2 cups of water to break them down during the simmering process.
WALNUTS: I like using them for a bit of surprise crunch and extra nutrition, but you can easily swap them out for cooked lentils, for example.
SUGAR: While you can skip it, I feel like a tiny amount of sweetness is useful to round the flavours of this ragu a little. I tend to add 1 tsp of sugar to all of my sauces. Alternatively, a date syrup – available in Middle Eastern grocers or you can make it yourself – is a great and convenient addition that melds in nicely, especially if the sauce features spices like cumin or cinnamon.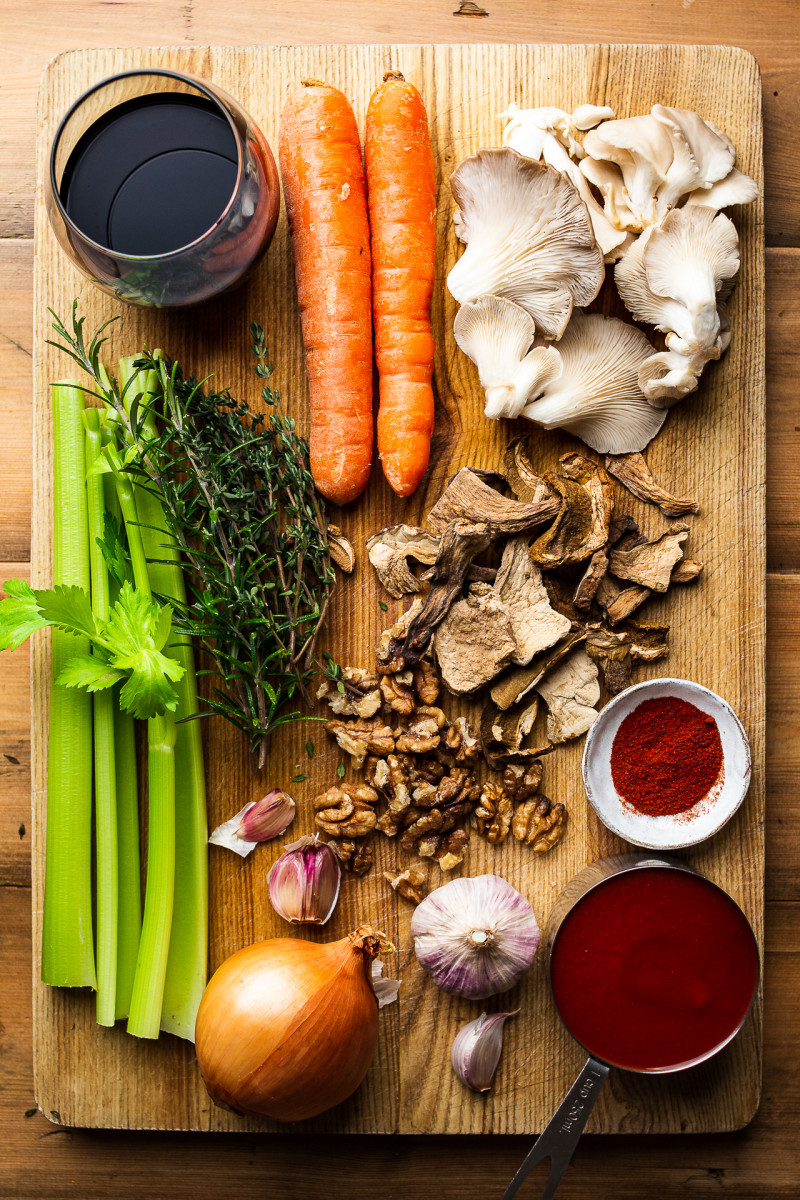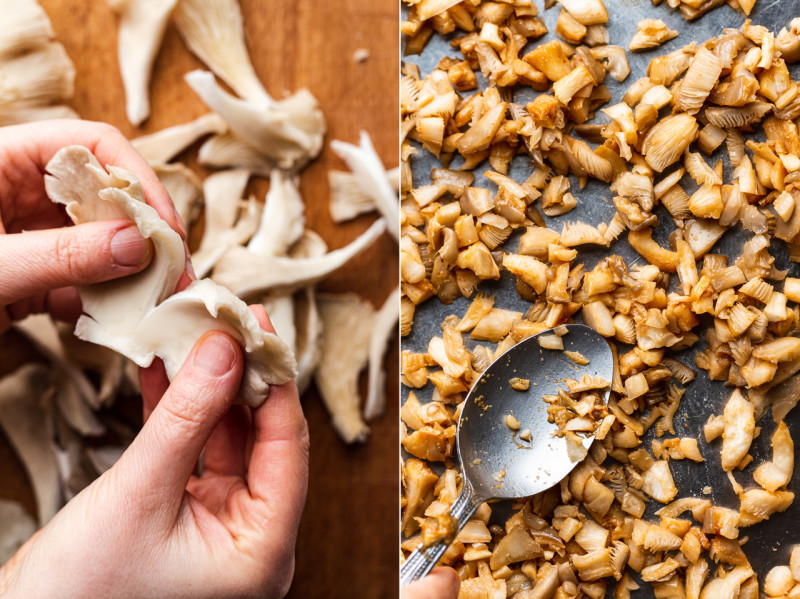 Tear the mushrooms into strips using your hands, chop into a rough dice and coat in the marinade. Spread on a baking tray and bake until golden.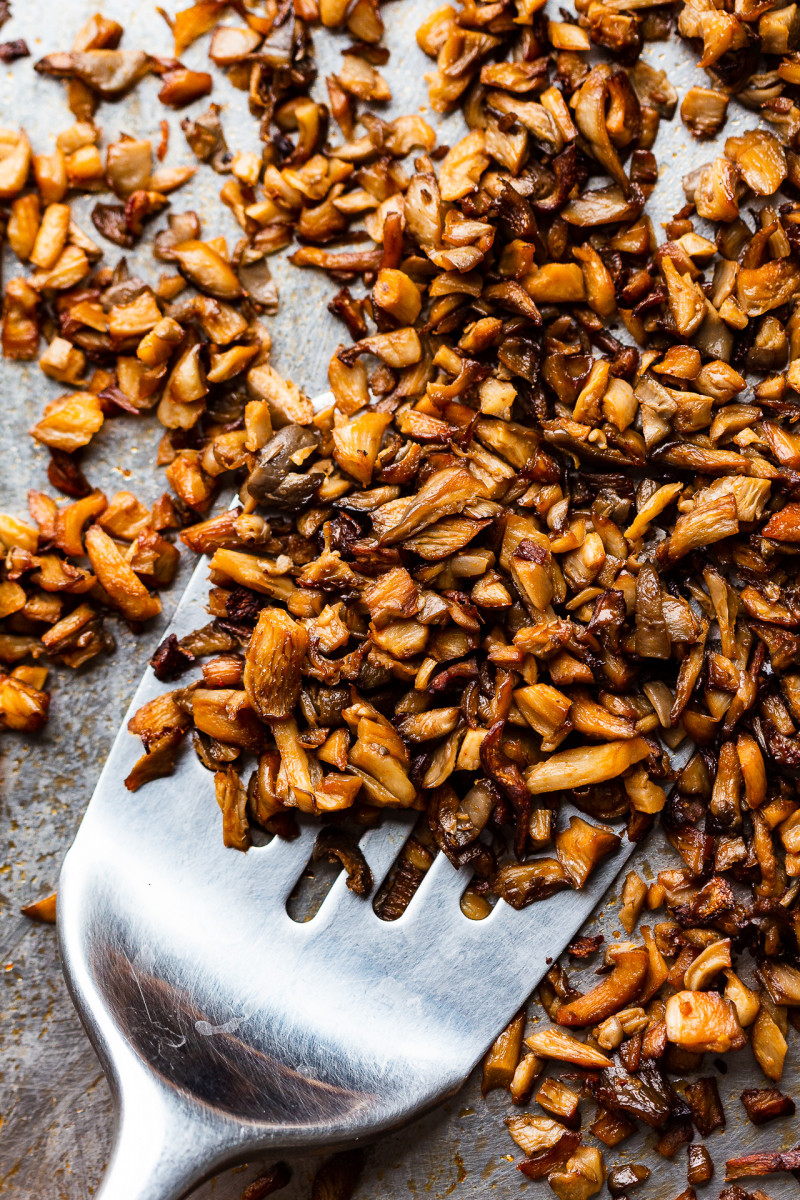 This is what mushroom mince should look like when it's done. Add it into the sauce at the end to bulk it up, add texture and flavour.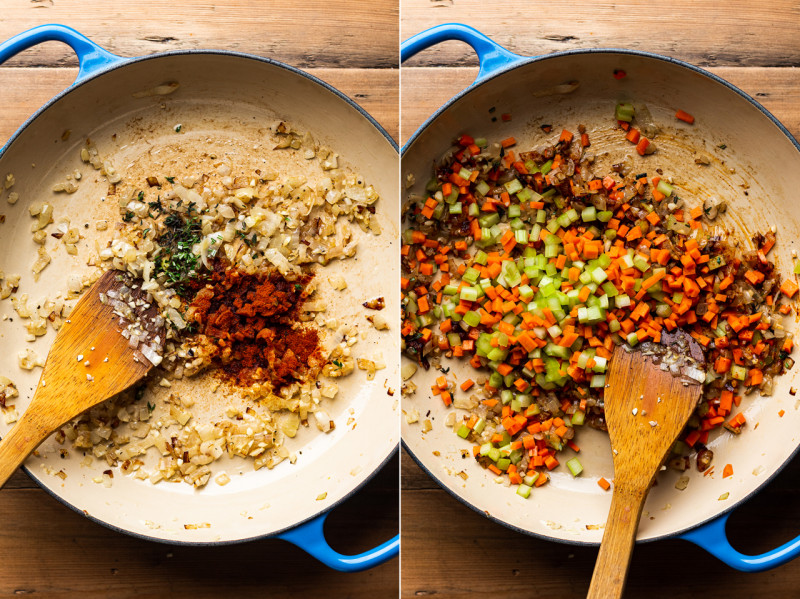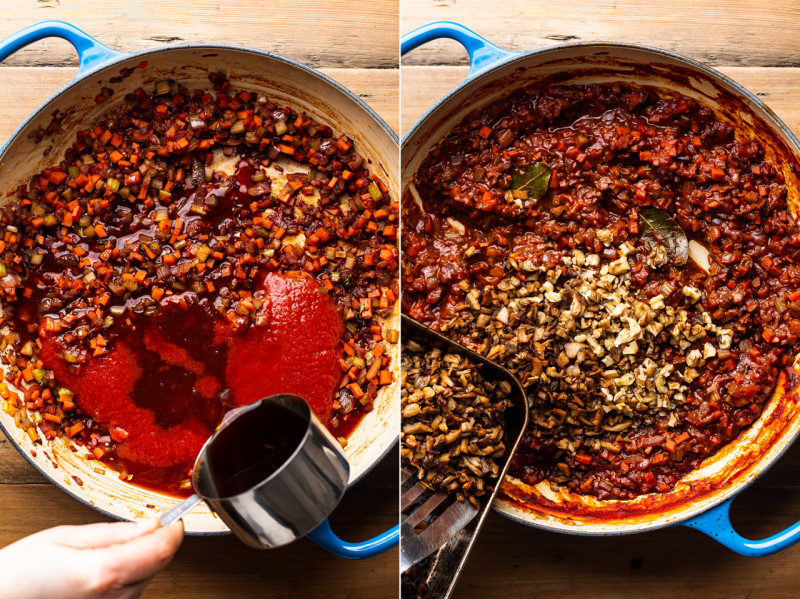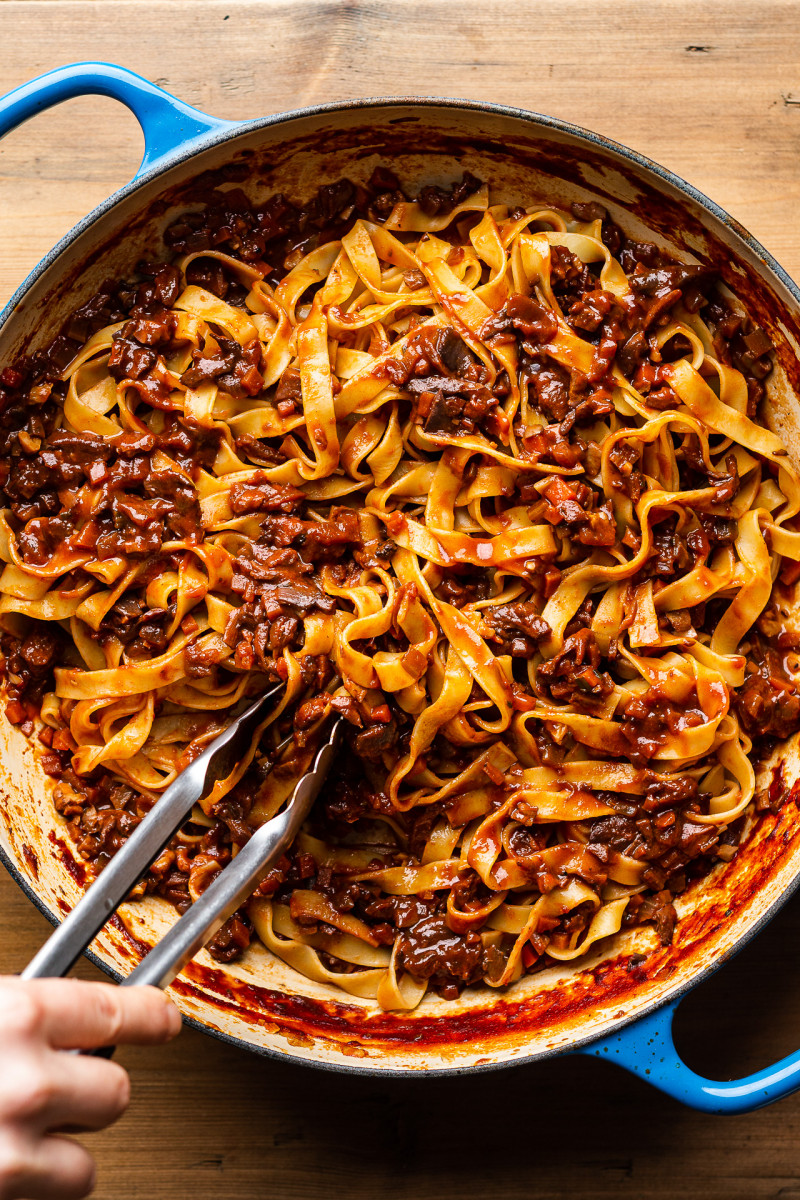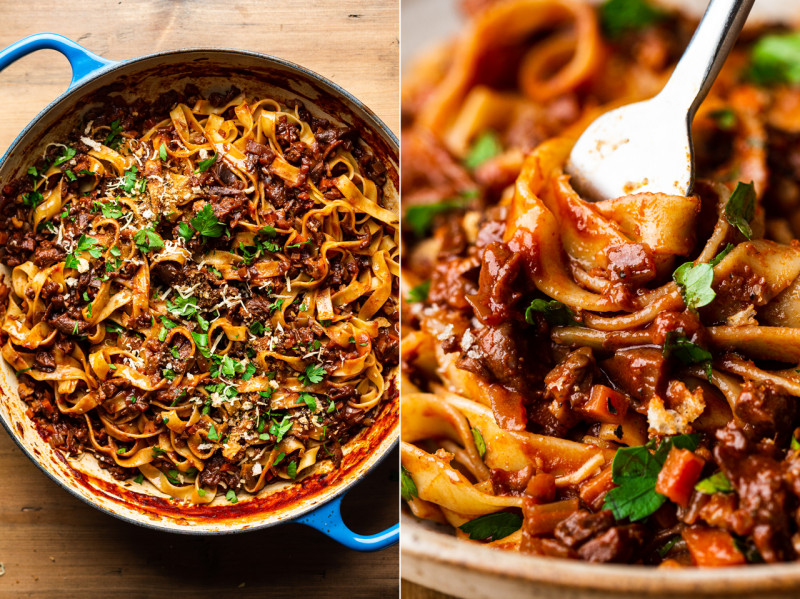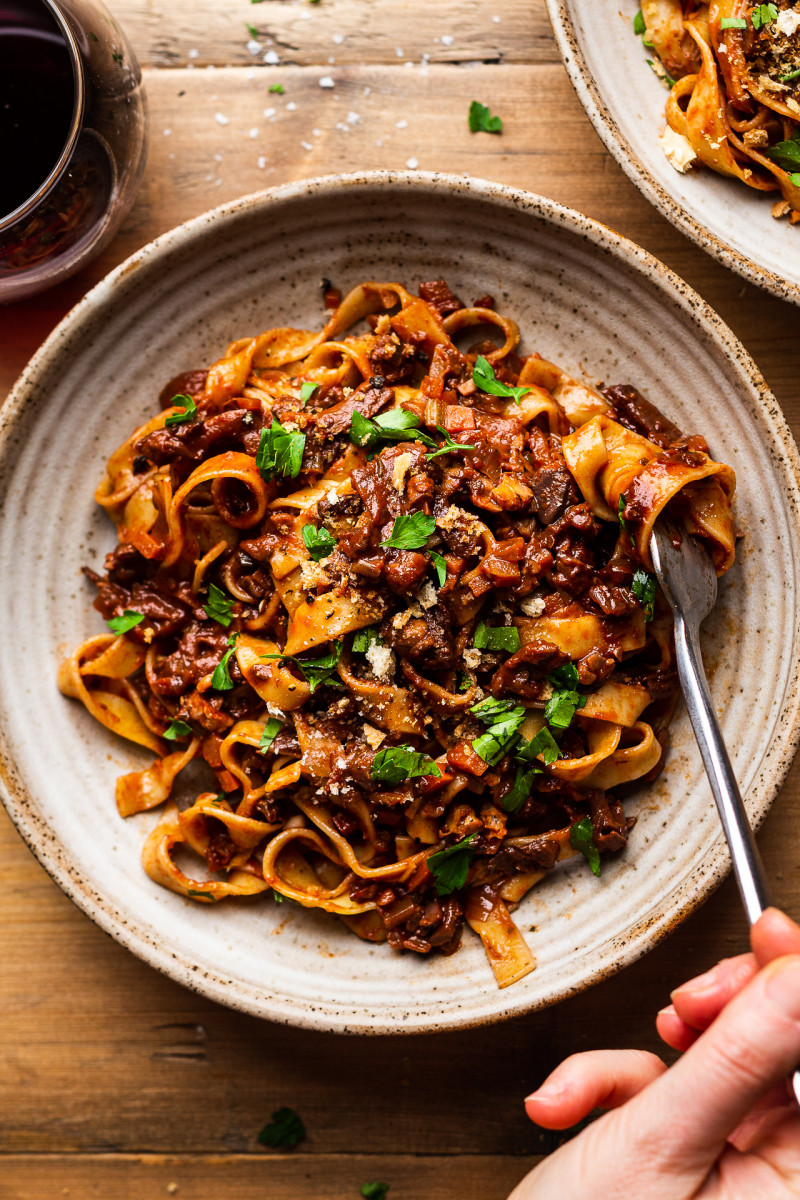 VEGAN RAGU
15 g / 1/3 oz dried porcini (optional) or mushroom stock cube
300 g / 10½ oz oyster mushrooms
45 ml / 3 tbsp olive oil, divided
30 ml / 2 tbsp soy sauce (or tamari if GF), divided
2 tsp smoked paprika, divided
6 tsp tomato paste / concentrate / purée, divided
1 tbsp nutritional yeast
1 medium onion, finely diced
4 garlic cloves, finely diced
¼ tsp ground cumin (cinnamon or nutmeg is also delicious)
a good pinch of chilli flakes (optional)
2 sprigs rosemary, leaves chopped finely
4 thyme sprigs, leaves picked
2 carrots, very finely diced
2 celery stalks, very finely diced
180 ml / ¾ cup vegan red wine
360 ml / 1½ cups tomato passata
2 dry bay leaves
50 g / ½ cup walnuts, chopped
salt and black pepper, to taste
1 tsp sugar (optional), adjust to taste
REMAINING INGREDIENTS
fresh thyme or parsley, to garnish
homemade vegan parmesan, to garnish (optional)
500 g / 17½ oz dry tagliatelle (GF if required), cooked
METHOD
If using porcini, soak them in 480 ml / 2 cups of boiling water as much in advance as you can. You can use a mushroom stock cube dissolved in boiling water instead.
Preheat the oven to 200° C / 390° F (or 180° C / 355° F on a fan setting) and grab a large baking tray.
Cut any wooden, tough bits off the mushroom stems. Using your hands, tear the mushrooms into strips starting from the cap. Chop mushroom strips into a dice.
In a mixing bowl, combine 15 ml / 1 tbsp olive oil, 15 ml / 1 tbsp soy sauce, 1 tsp smoked paprika, 1 tsp tomato puree and nutritional yeast (a sprinkle of garlic powder is also nice). Mix well and coat chopped mushrooms in this mixture. You can leave the mushrooms to marinate for a few hours, but you can also just bake them straight away – it makes little difference to the overall ragu flavour.
Spread mushrooms on a baking tray and bake for about 10 minutes, give them a good stir and bake for a further 10-15 minutes.
While the mushrooms are baking, heat 30 ml / 2 tbsp of olive oil in a heavy-bottomed pan. Add diced onion and sauté on a low heat for a few minutes, until the onion is soft and translucent.
Add the chopped garlic and sauté for a about 2-3 minutes (until it softens and becomes fragrant), stirring frequently.
Season (bearing in mind that soy sauce contributes saltiness too), add the remaining teaspoon of smoked paprika, cumin, chilli and chopped herbs. Stir well to coat.
Next, add in carrots and celery dice. Sauté for a few minutes before adding wine. Allow the wine to cook off before adding tomato passata.
Rinse rehydrated porcini under the tap to ensure there is no grit in them, dice very finely and add to the pan together with mushroom stock taking care not to tip in the grit that settles at the bottom.
Add tomato passata, the rest of the tomato paste, 15 ml / 1 tbsp soy sauce and bay leaves. Reduce the sauce (lid off) on a low heat for about 20 minutes. Give it a stir from time to time.
Stir in chopped walnuts and baked oyster mushrooms. Taste, adjust the seasoning if needed. For best flavour, store the sauce in the fridge overnight for the flavours to meld.
When serving with pasta, reserve about 240 ml / 1 cup of pasta cooking water (you may not need all of it) to loosen the sauce a little and make it coat your pasta strands better.
NOTES
Please see the tips on ingredients and possible swaps in blog post above the photos.
NUTRITIONAL INFO
*per 0.5 cup sauce (1/7th of the total recipe)