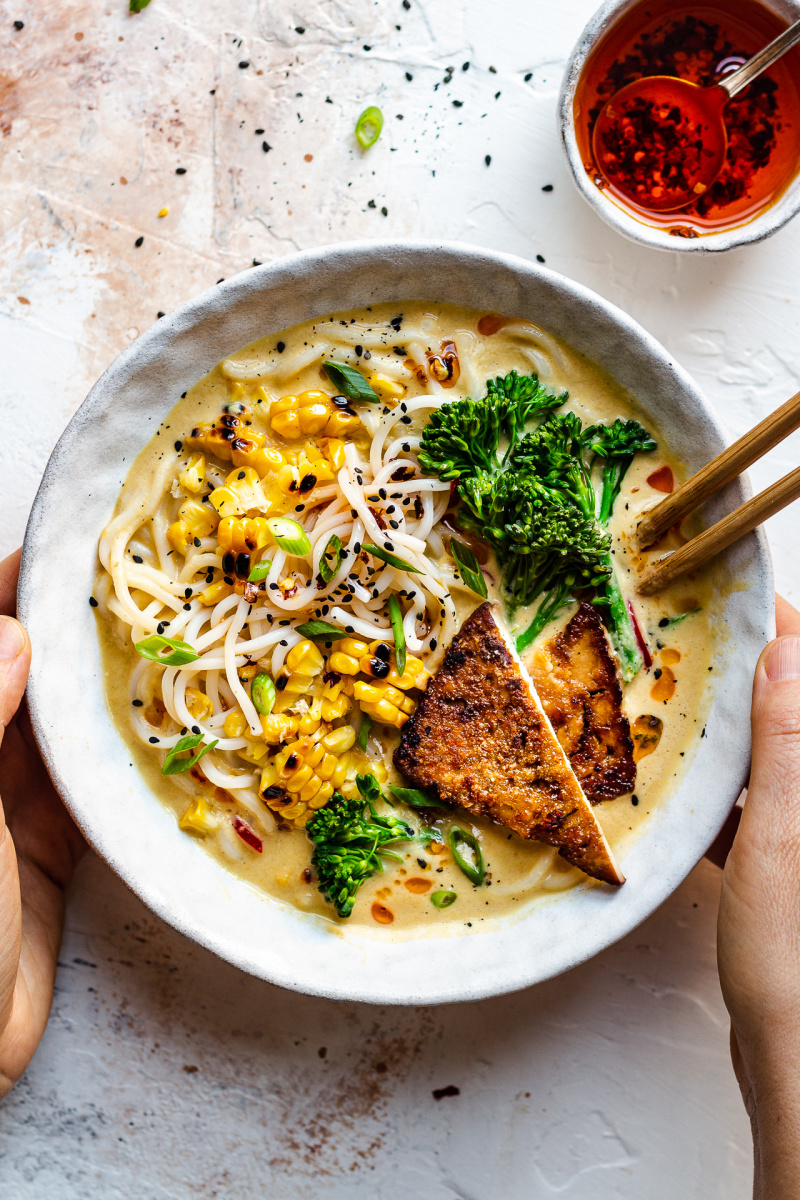 If you follow me on Instagram, you might have seen that I posted a poll asking if my followers are still keen to see some summer recipes or if I should wave goodbye to summer and embrace pumpkins. To my delight summer recipes won by quite a big margin. We've had a pretty mediocre summer here in the UK and being unable to travel abroad, I feel like I want to make the most of the September sun, which has been quite generous lately and that's why I'm reluctant to part with the summer mode and summer produce just yet.
Corn is firmly in my late summer favourites and we enjoy it daily. Typically charred on a griddle pan (that's a must) and shaved into a seasonal salad but today I've made it into a more comforting, warming meal that is just perfect for chilly evenings. I made a corn ramen inspired by two of my previous recipes, this miso corn soup and my recent corn chowder with vegan chorizo.
This soup is creamy and sweet, warming and lightly spiced with ginger and chilli. It's not difficult to make and it is a perfect for using up cooked corn. I tend to char my corn on a griddle pan first as it adds an extra flavour dimension, but cooked corn would work well enough too. Dried shiitake mushrooms and kombu are defining ramen broth ingredients so if you can get hold of them – I get them in my local Asian grocer, but you can also buy them online – don't skip them.
First, I sauté all the aromatics in a little oil until lightly charred, then I add water, kombu, dried mushrooms and shaved corn cobs to make a simple, flavoursome stock, which will form the base of this dish. To add body, creaminess and sweetness, I blitz charred corn kernels with some creamy soy milk until smooth and add it to the broth. All you need to do next is to season and garnish with your favourite toppings. I used pre-cooked ramen noodles, steamed broccoli and green beans, my favourite tofu, some leftover corn kernels and a drizzle of chilli (or sesame if you don't like chilli) oil for an extra kick. It looks impressive and tastes great, but it isn't really that hard to make, promise. We've enjoyed it immensely and I hope you and your loved ones will do too.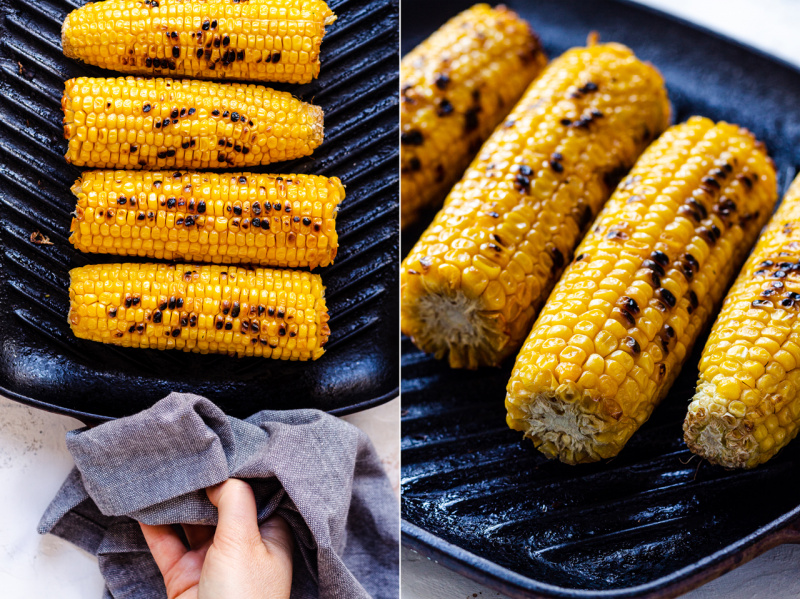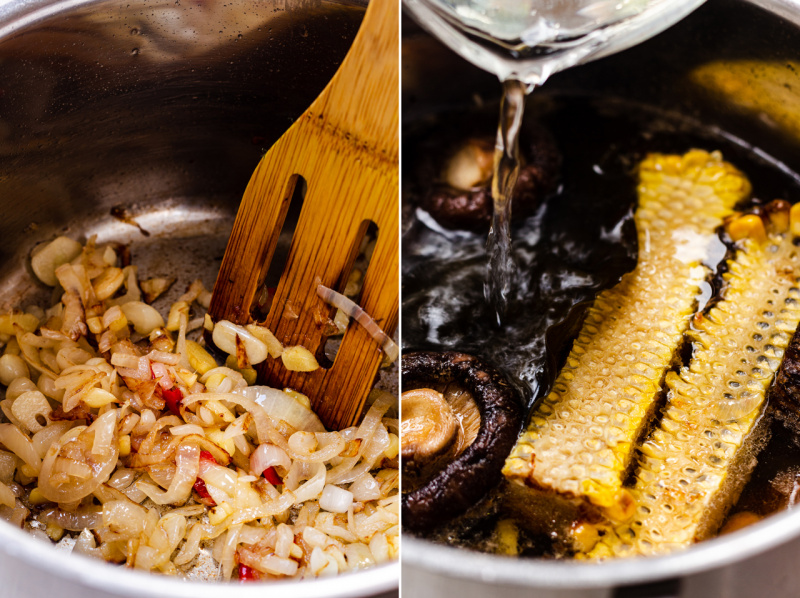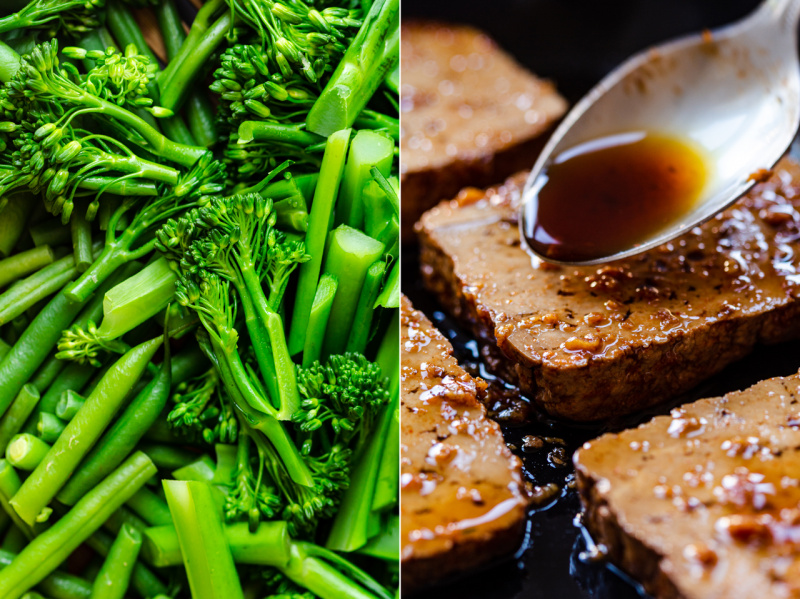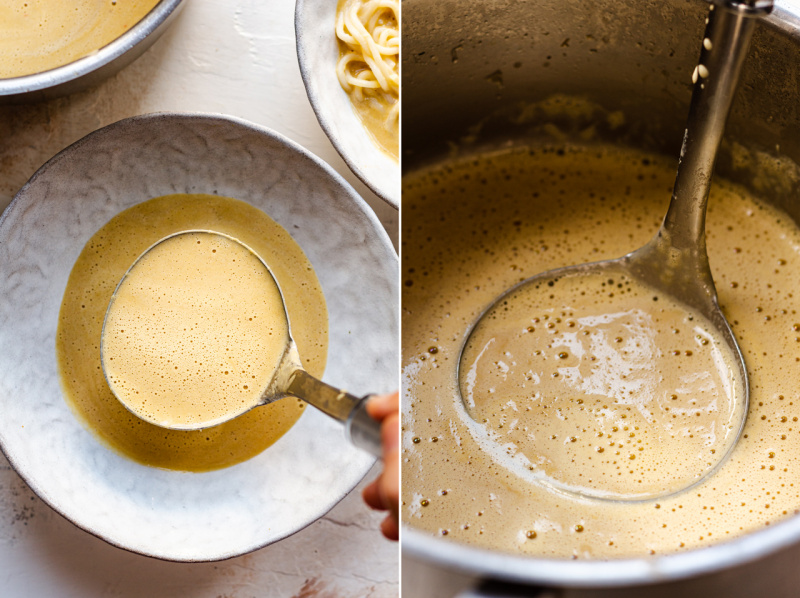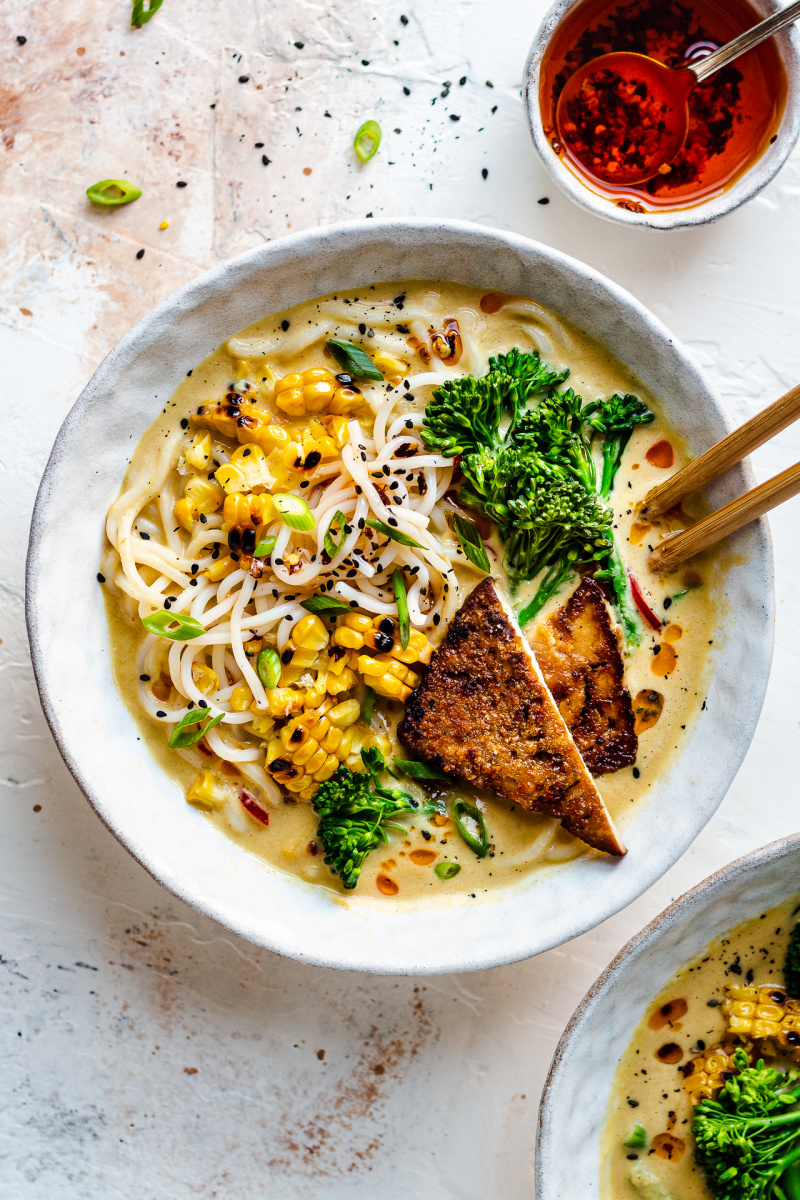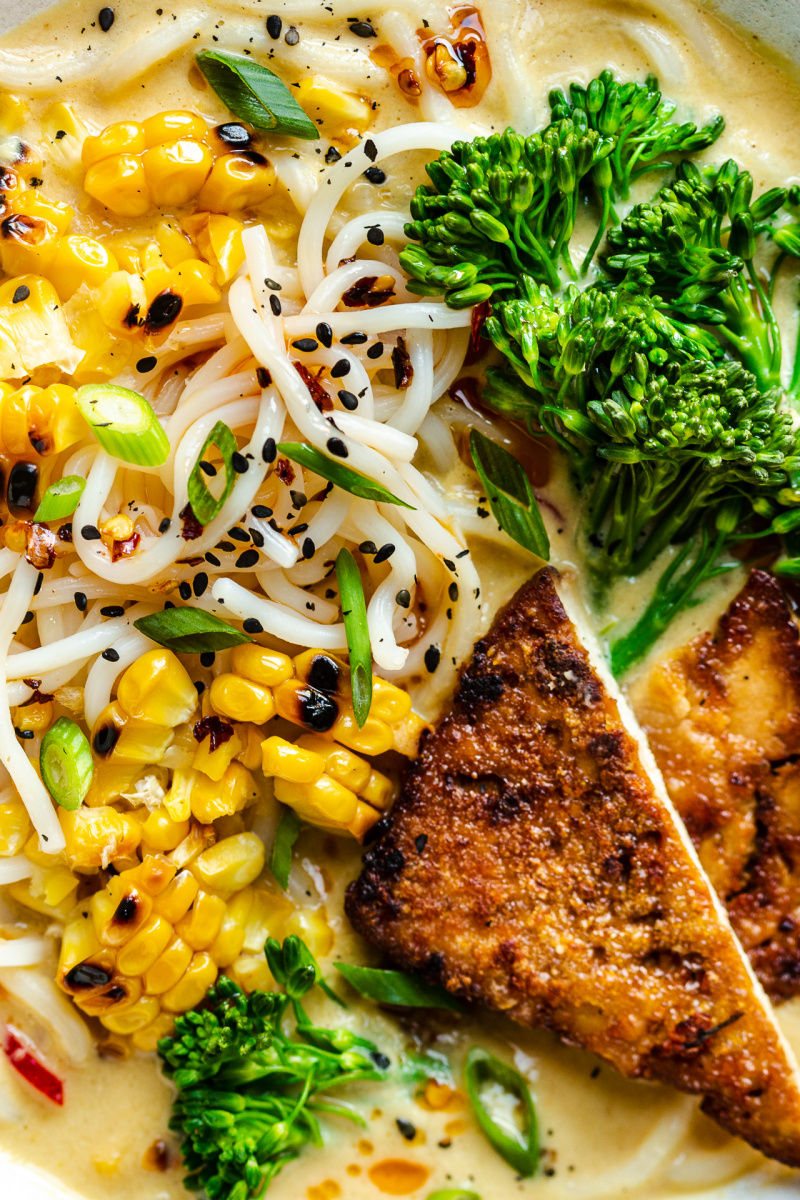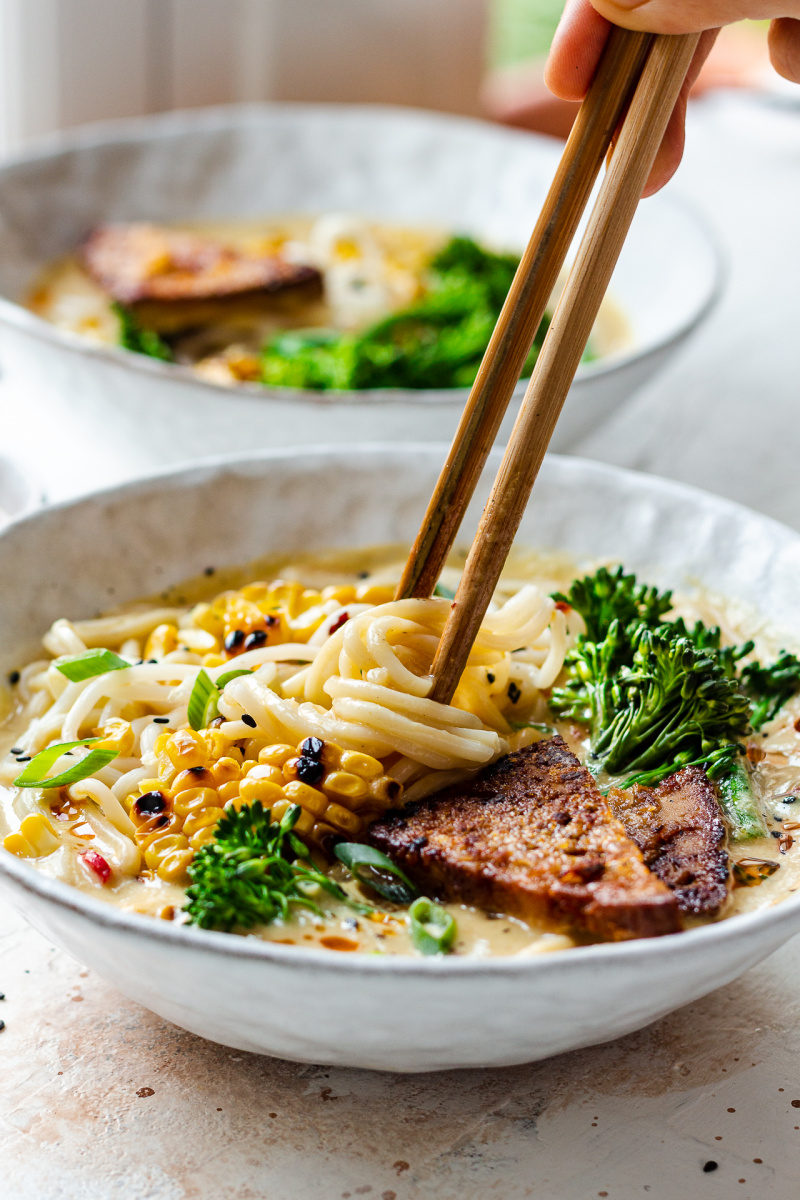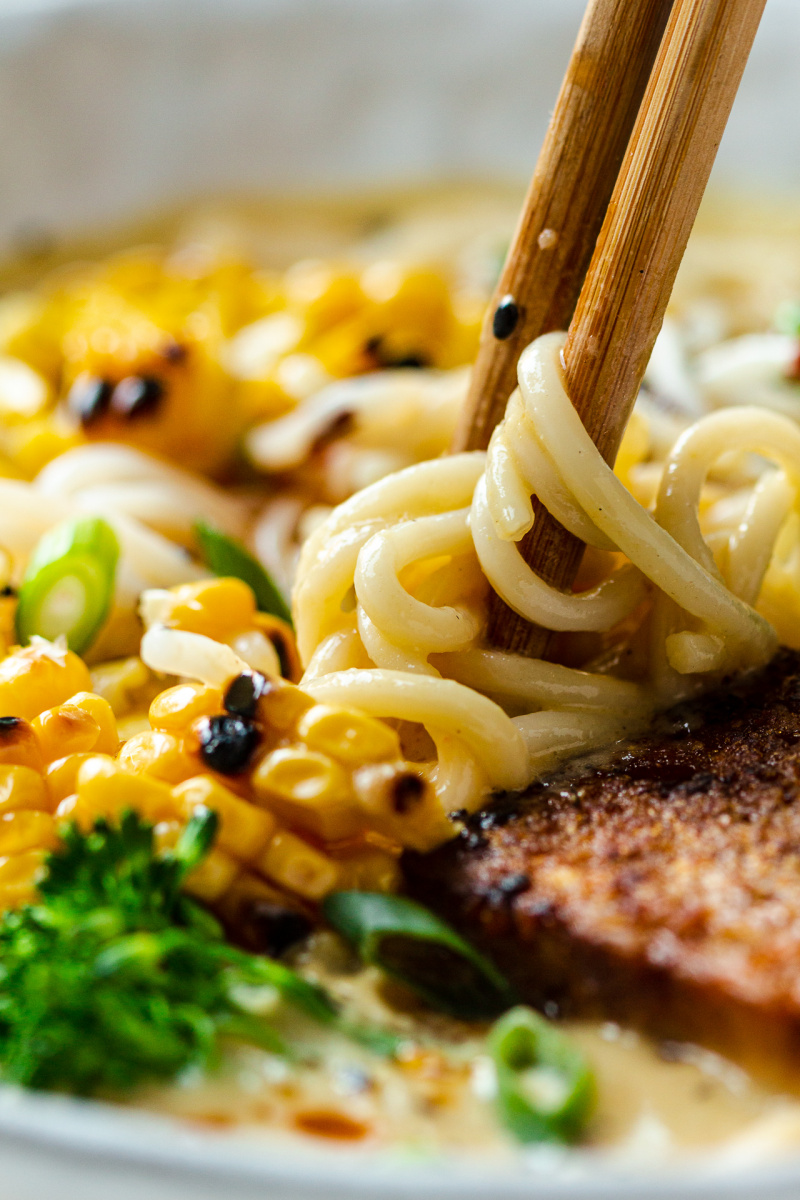 SOUP
20 g / ¾ oz kombu
4 corns on the cob*
30-45 ml / 2-3 tbsp vegetable oil
3 shallots, sliced roughly
4 garlic cloves, sliced thinly
20 g / ¾ oz ginger, peeled and sliced
½ medium hot chilli, sliced roughly (adjust to taste)
360 ml / 1½ cup soy milk (almond or oat milk work too)
30 ml / 2 tbsp shiro / white miso paste (GF if required)
coarse sea salt or soy sauce / tamari, to taste
15-30 ml / 1-2 tbsp rice wine vinegar
20 ml / 4 tsp chilli oil or toasted sesame oil
TOPPING SUGGESTIONS
100 g / 3½ oz tender stem broccoli / green beans, per bowl
50 g / 1¾ oz your favourite tofu or tempeh, per bowl
noodles (GF if required), 100 g / 3½ oz precooked noodles, per bowl
green parts of spring onions / scallions, thinly sliced
sesame seeds, to garnish
METHOD
Immerse dried shiitake and kombu in 1 litre / 4 cups of cold water, allow them to sit as long as you can – overnight is ideal, but not necessary.
Heat up a griddle pan. Brush corn cobs with a little oil and arrange them on a griddle pan. Char on medium heat, turning every 3-5 minutes as necessary until cooked and lightly charred all over.
Heat up 1-2 tbsp of oil in a medium pot. Once hot, add shallots, garlic, ginger and chilli (if using). Sauté on low / medium heat, stirring frequent, until lightly charred in places.
Meanwhile, shave the kernels off the cobs with a sharp knife. Save the cobs and divide the kernels in half.
Add in kombu, shittake, their soaking liquid and shaved corn cobs. Bring to a simmer – remove kombu just before the broth comes to the boil – and carry on simmering for 30 minutes to create a veggie stock.
While the stock is simmering, steam your veggies (tenderstem broccoli takes 6-7 minutes, green beans take about 4 minutes), pan-fry / bake the tofu and cook the noodles – they can be cooked in the soup at the end but I prefer to do it separately to have more control.
Once the stock is ready, fish out the mushrooms (you can slice them thinly and have in the soup or use in another dish) and corn cobs, pour the rest of it into a blender together with half of the corn kernels, soy milk, miso paste and a good pinch of salt and blitz until super smooth.
Return the soup to the pot and warm it up gently. Season with vinegar and more salt (or soy sauce / tamari). Corn is sweet so I didn't feel the need to add any sweet seasoning but if you do, a touch of mirin will work well. If you wanted the ramen extra indulgent, you can whisk in a tablespoon of cashew or almond butter* in at the end.
Divide between bowls, serve with cooked ramen noodles, steamed veggies, your favourite tofu and remaining charred corn kernels. Garnish the bowls with chilli (or toasted sesame) oil, spring onions / scallions and crushed sesame seeds.
NOTES
*CORN: In winter, you can use frozen (thawed) or canned corn instead. For best flavour, drain, pat dry and char it on a hot skillet (I use
cast iron skillet
) in a small amount of oil before incorporating into the soup. 1 corn on the cob equals approximately ½ cup of shaved corn kernels.
*NUT BUTTER: any nut or seed butter will work provided its flavour doesn't clash/dominate.