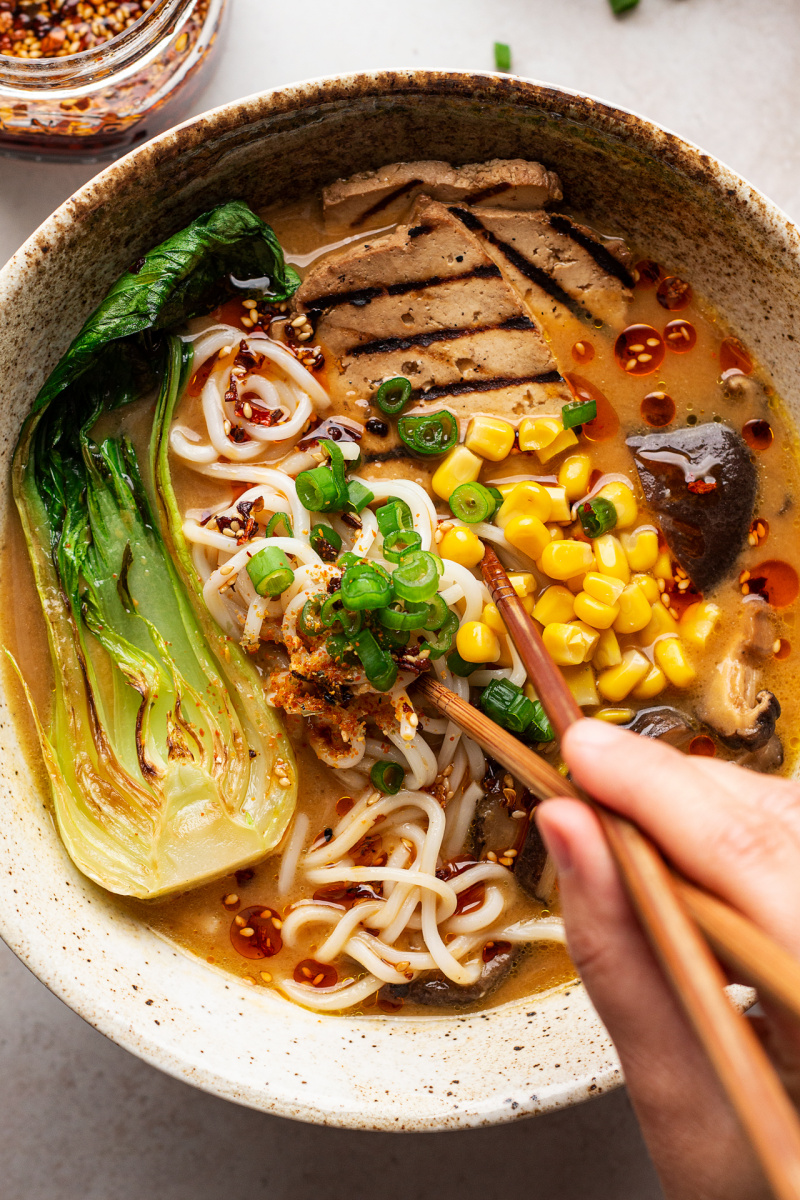 Despite sunny weather being more of a permanent fixture in these parts lately, the evenings remain cold. I insist on sitting out on my deckchair (which still doubles up as my sofa in the evenings – tough times 😉 ) in the sun whenever I am able to, even past when it's reasonable to do so. Once the sun hides behind the buildings, I bring my blanket and a hot cup of herbal tea to maximise time spent outside, with a book.
This is what living in the UK does to you – you start getting really territorial about every last ray of sunshine as you never know what the ever changing weather patterns will bring you tomorrow 😉 . Sitting out in my, slightly unkempt right now (I blame not being fully well yet for a lack of weeding motivation) garden, listening to the birds laughing at my cat from up high and watching her crazy cat antics is one of the happiest moments for me, right now.
The other being going for walks with Duncan. We went for a long walk on Sunday for the first time in ages and it was surreal how vibrant and green everything seemed. I kept on staring at trees and plants like I never have before, as if I've suddenly been released from prison. The prison of my own house so not too bad, but still. We both enjoyed that walk so much that we followed with a shorter one yesterday as soon as Duncan finished working yesterday. We are lucky (well, it's not coincidental, we planned it) to live by a lovely park and a big green area on our doorstep despite not living too far away from the city centre and we really appreciate our decision (just a year ago!) to move to this area of Bristol, especially so now.
So I don't know about you, but I am still in the mood for warming and comforting foods right now and a bowl of hot vegan ramen makes for a perfect dinner after you've been out in your garden, walking or exercising. It's a perfect dish for this winter-spring transition – not too heavy, yet it sticks to your bones, as they say (what a great saying, BTW!)
Now, a word of warning – if you are looking for a quick recipe, this is not it but it is worth the time spent, I promise! Ramen is not difficult to make but it does require love to coax the maximum flavour out of each and every ingredient and in the cooking world, love equals time. Actually, that's not just in cooking, spending time with someone is the best way to make them feel loved too (my cat is like, 'doh, hooman! is that your golden thought for the day?! Really? Is this the best you've got?')
So like I say, it's not a difficult recipe, but it does take time. Toppings-wise, the world is your oyster (speaking of which, charred oyster mushrooms make a delicious ramen topping) so use whatever you have on hand. I have included suggestions below but as ramen is mostly about the broth and in the interest of keeping the recipe manageable, that's what I focused on. As for the toppings, let your creatively run wild. Make the soup your own. Enjoy!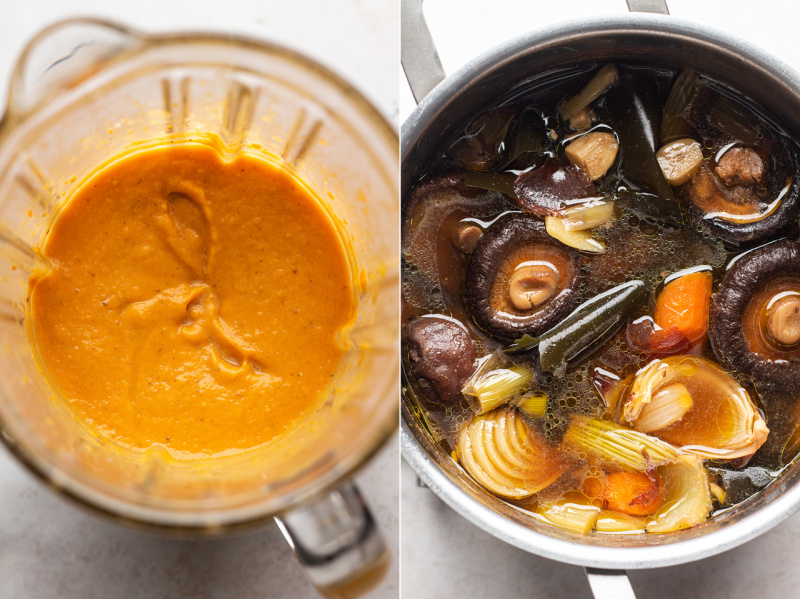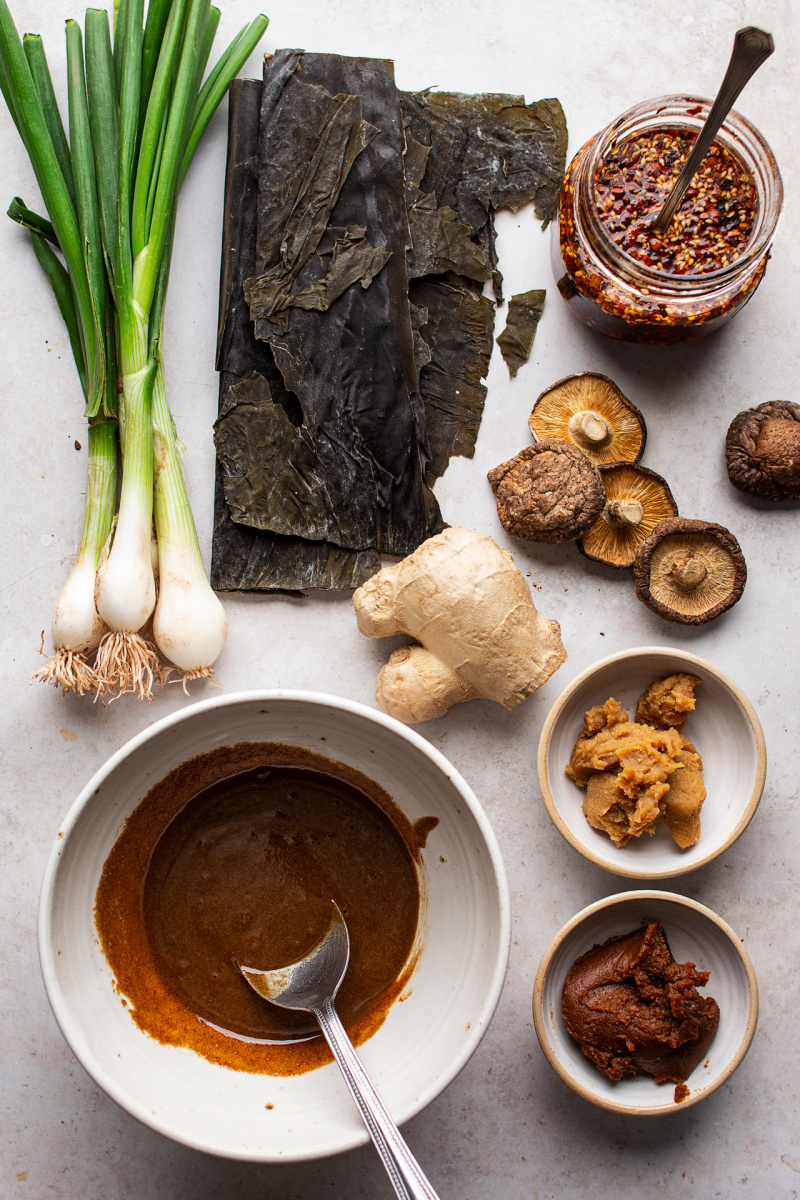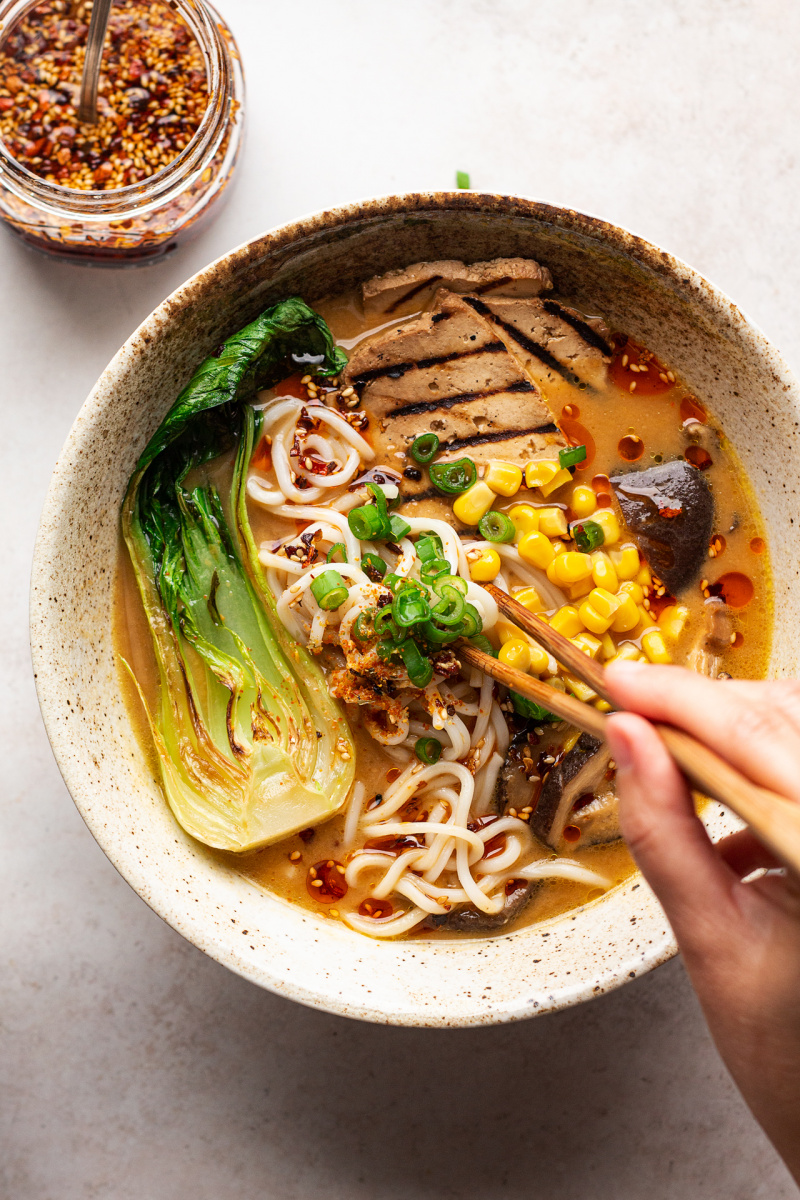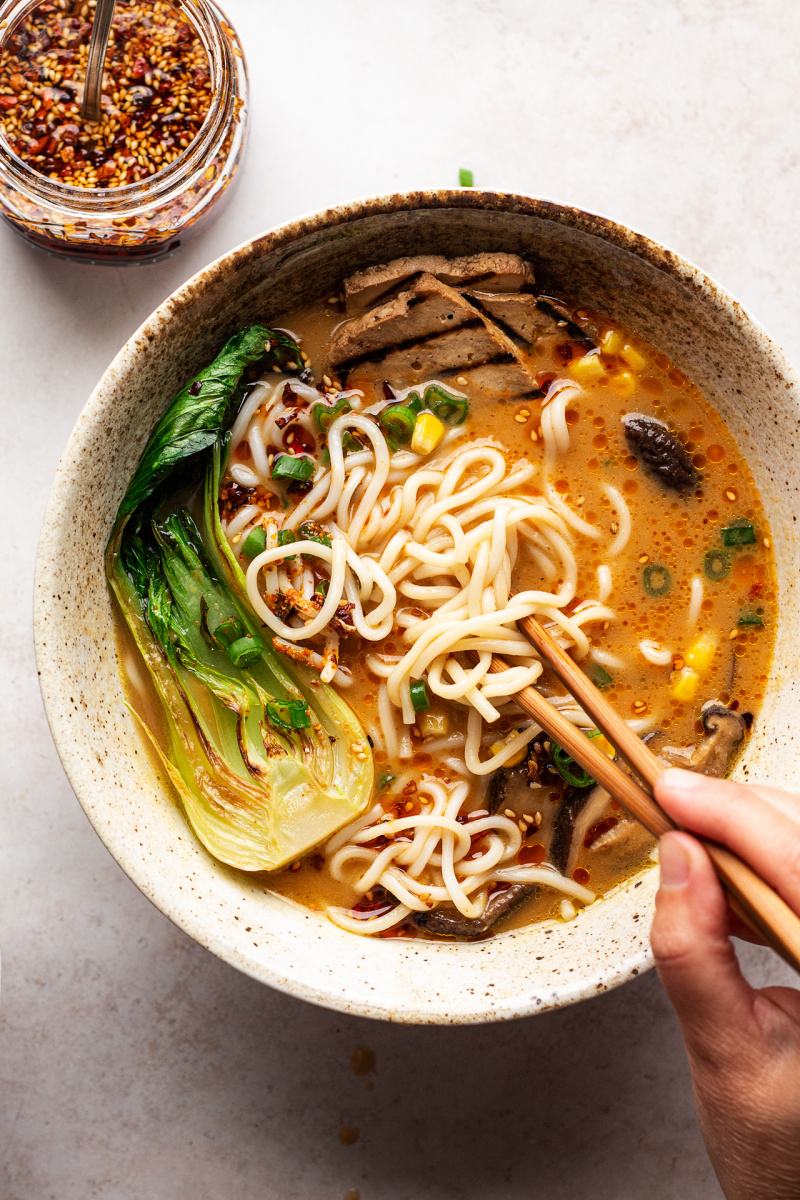 OVEN-MADE VEG STOCK*
RAMEN STOCK
FLAVOURINGS
TOPPING SUGGESTIONS
METHOD
Heat up the oven 200° C / 390° F and grab a large baking dish.
Wash carrots and celery, dry with a kitchen towel and chop into 4 cm / 1.5″ chunks. Peel sweet potato and cube it into 1.25 cm / 0.5″ pieces. Leave garlic cloves unpeeled and whole. Leave onion unpeeled but trim the root and chop into quarters.
Coat all of the vegetables in about 2 tbsp of oil and arrange them on a baking tray. I like to keep the sweet potato pieces all together. Bake for about 20 minutes.
After 20 minutes, stir 1 tbsp of red miso paste through the vegetables. Carry on baking for another 20-25 minutes, until the veggies get lightly charred.
Towards the end of the baking time, heat up 1 tbsp oil in a large pot. Add ginger, 4 garlic cloves, spring onions and a good pinch of coarse salt. Sauté, stirring frequently, until the veggies get nicely caramelised (not burnt though).
Remove the veggies from the oven once ready. Place sweet potato chunks and garlic cloves aside. Add the rest of the baked veggies to the pot with ginger, garlic and spring onions. Add 1 litre / 4 cups of water (use some of this water to deglaze the baking tray and add that to the pot too). Then add shiitake and kombu and their liquids (if you have had a chance to soak them earlier otherwise add an extra 480 ml / 2 cups of water).
Bring to a gentle (low heat) simmer and allow everything to simmer very gently for about 60-90 minutes. Remove kombu after about 20 minutes as it doesn't like prolonged cooking.
While your stock is simmering, prepare your noodles and other toppings. Pick whatever you have in your pantry.
Place sweet potato cubes and squeezed out garlic cloves (discard the skins) and soy milk in the blender. Blitz until smooth – we will use this to make the broth heartier, creamier and more aromatic. If you don't have a blender, mash the potato and garlic with a fork and blend until smooth with soy milk using a wire whisk – it won't be as silky smooth but it will do just fine.
Strain the stock, reserving all the shiitake for the topping. Squeeze all of vegetables well to obtain maximum flavour in your stock. You should get approximately 1 litre / 4 cups of stock at this point – top up with more water if necessary. Return strained stock to the pot and whisk sweet potato / garlic / soy milk mixture in and finely grated garlic clove to add a bit of brightness to the soup. Warm up.
Place flavourings at the bottom of each serving bowl – adjust to taste. I used 2 tsp sesame paste, 1 tsp miso, 1 tsp mirin, 1 tsp tamari / soy sauce and 2 tsp rice vinegar. Top with 300 ml / 1¼ cups of broth and whisk well. Add cooked noodles and the rest of your toppings.
*You can replace this with 1 litre / 4 cups of quality vegan stock. If you choose to do that, add the tablespoon of miso in step 3 – after the veggies have caramelised a little already.
**Ideally soak them both together for 8 hrs (or as long as you can) in 480 ml / 2 cups of water. Clean the mushrooms first and make sure to weigh them down as they tend to bob up to the surface.
My recipe has been inspired by this genius vegan ramen recipe.