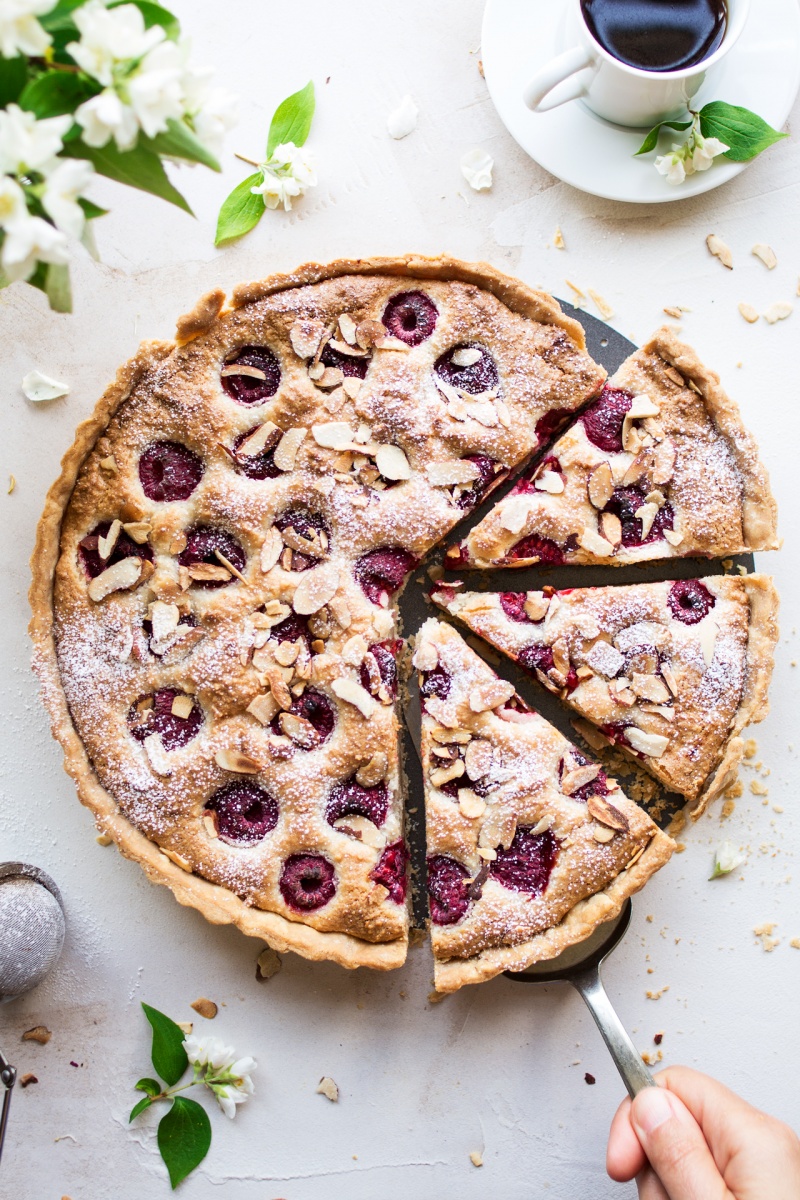 I've managed to contain my sweet tooth for a while and steer clear of making sweet recipes, but I cracked once I saw beautiful raspberries at my green grocers. All I could think of was is how good they'd taste surrounded by sweet almond frangipane!
I've been wanting to make this twist on a bakewell tart for a while, but I wasn't able to get raspberries in Greece, so I've been awaiting raspberry season rather eagerly this year. I think cherry bakewell tart is more traditional, although I asked a couple of British friends and they weren't so sure. Their point of reference were those shop-bought Mr Kipling's mini bakewell tarts, which, no offence, are a mockery of the real thing, if you ask me.
The truth is you could make this classic dessert with a whole host of fruit: raspberries, blackberries, sweet or sour cherries, peaches, plums, figs and even pears work well, but for me, personally, tart raspberries and a sweet almond filling is the best combo ever!
This tart isn't difficult to make at all and since it works with virtually any summer fruit, you'll have plenty of time to practise it in the coming months and I'm sure no one will complain.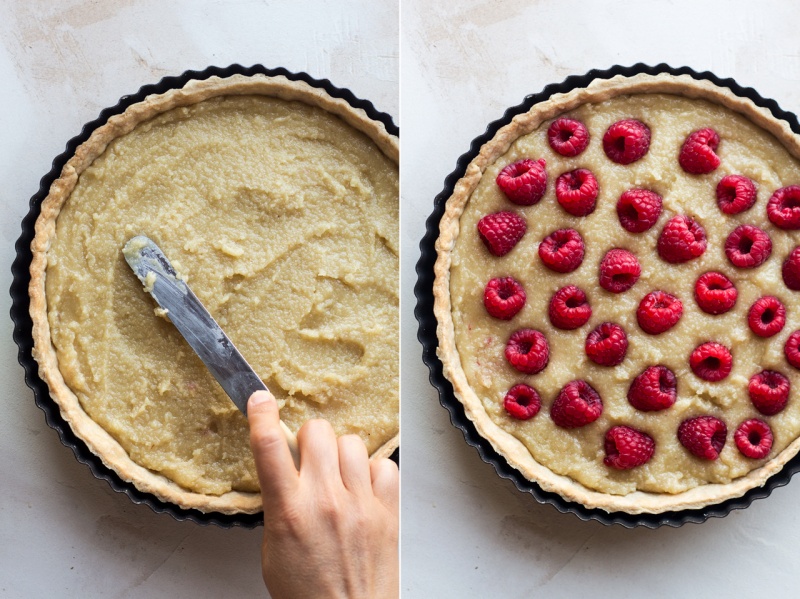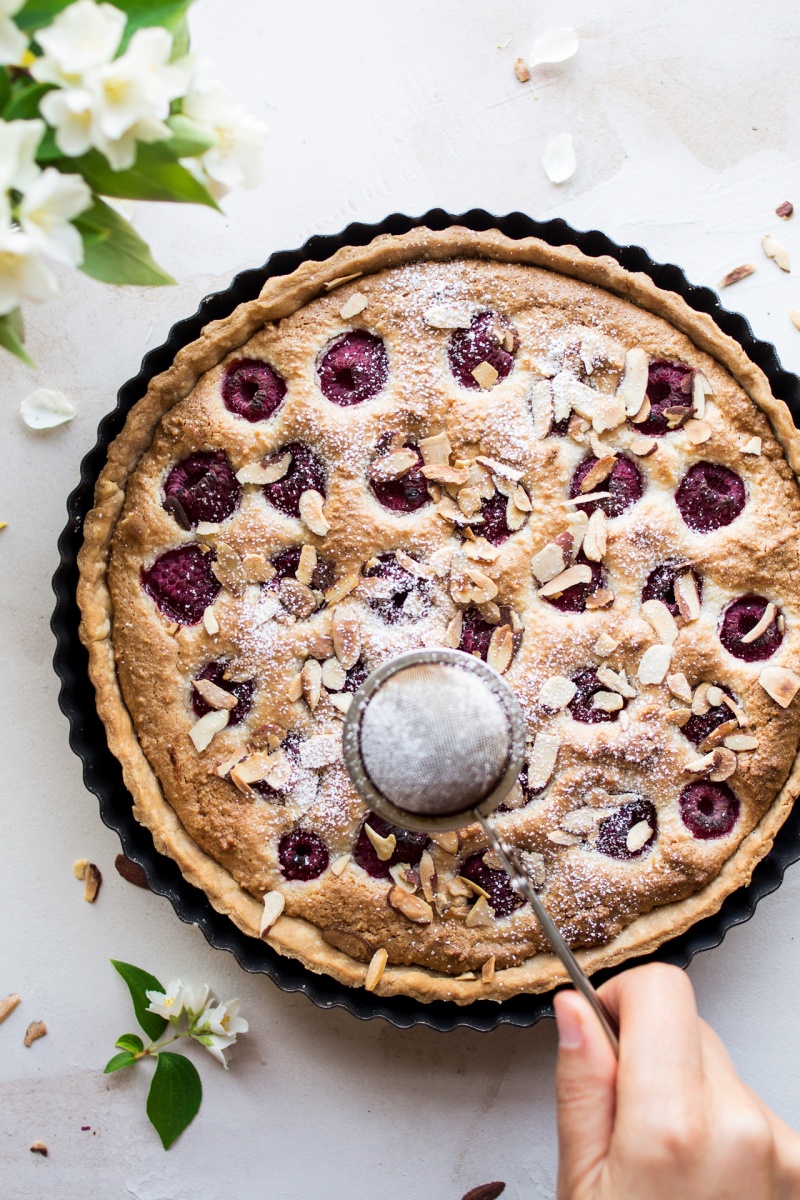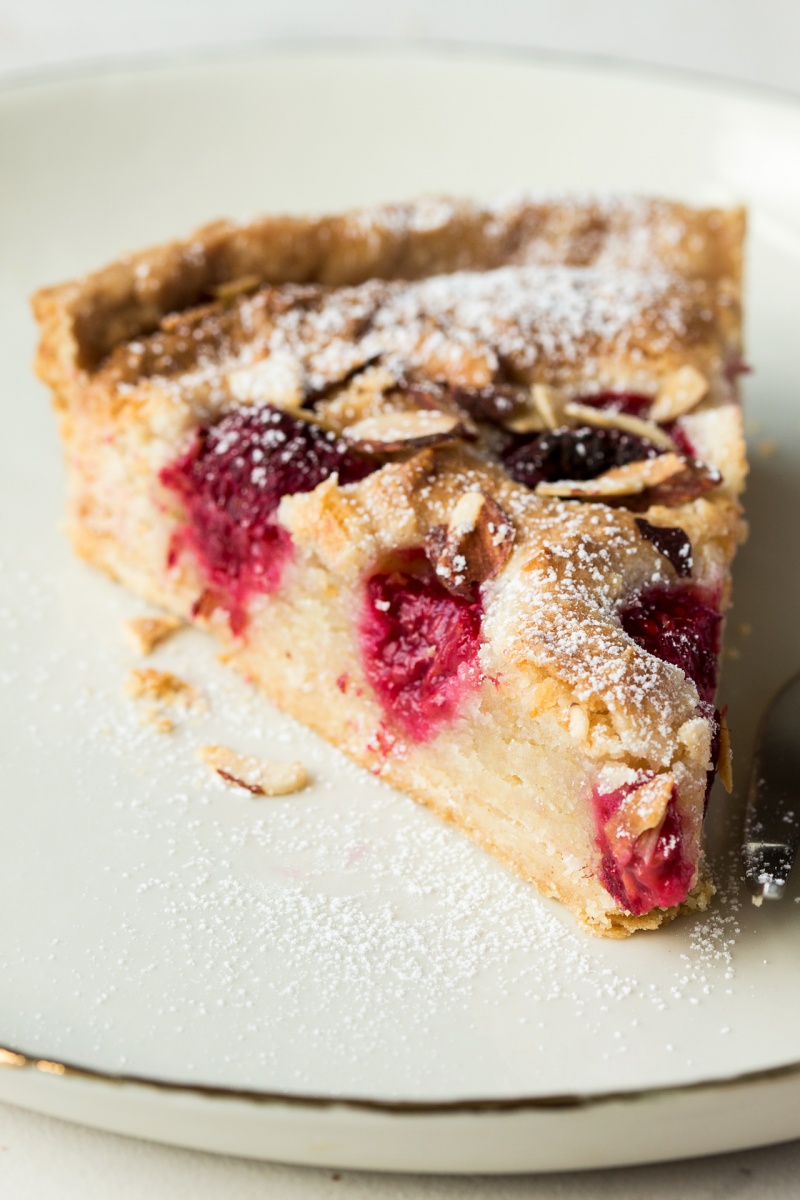 PASTRY
GLUTEN-FREE PASTRY
FILLING
METHOD
PASTRY
Combine the flour, icing sugar, (plus cornstarch and xanthan gum if making GF pastry) in a large bowl. If using maple syrup instead of icing sugar, don't add it just yet. Add the softened coconut oil and rub it into the dry ingredients with your fingers until your flour looks like breadcrumbs and there are no lumps of coconut oil left.
If you are using maple syrup, add it now and the chances are that you will not need to add any water to bring the dough together. If using icing sugar, add cold water – be careful, do it gradually – how much water you'll need depends on how absorbent your flour is. I added about 4 tbsp / ¼ cup. Combine all the ingredients into a dough gently, but do not knead (that's important for the gluten version) or the pastry will be tough. Wrap it up in a piece of cling film and chill in the fridge for 30 minutes.
Remove the dough from the fridge and roll it out between two sheets of baking paper until you get a circle large enough to cover your entire tart case, about 2-3 mm in thickness. Place the rolled-out dough over a tart case and gently line the inside of it with the pastry. Tuck the pastry in well, ensuring that it fits snugly into all the nooks and crannies. Trim the excess pastry with a sharp knife and patch any holes with the cut-off excess. If making gluten-free pastry (which tends to be more crumbly), you may be better off placing the crumbled pastry in the tart case and simply moulding the pastry with your hands to the shape of the tart tin – you do not need to worry about overworking the pastry as it contains no gluten.
Pierce the bottom of the pastry with a fork in a few places and chill the pastry-lined tart case in the fridge for about another 60 minutes.
45 min into pastry chilling time, preheat the oven to 175° C / 350° F. Line the pastry case with a large piece of crumpled baking paper and fill with baking beads or rice for a blind bake.
Blind bake the pastry for 15 minutes. Remove the paper and beads and bake for another 10 minutes.
FILLING
While the pastry cases are baking, prepare the filling. Cream oil and sugar (or maple syrup) with an electric whisk. Next, whisk in the flour. Add aquafaba, small amount at a time. Whisk well after each portion of aquafaba.
Finally, gently fold in the almond meal and almond essence with a spatula. You should end up with a thick batter (it will be a bit less thick if you used maple syrup instead of sugar).
Fill the pastry case with almond frangipane and use a silicon spatula to spread the filling evenly.
Push as many raspberries as you can into the filling. It will rise during baking a fair bit so don't worry if raspberries are sticking out. If using frozen raspberries, dip each raspberry into cornflour / cornstach first before pushing it into the filling as frozen fruit tends to ooze more water during baking.
Bake the tart for about 45 minutes, until the filling is nicely browned. I found that the maple syrup filling tends to take a little longer in the oven (by 10 minutes or so). Remove from the oven and allow the tart to cool down before removing it from the tin and cutting it into slices. The top will crisp up nicely as the tart cools down.
NOTES
*You can use olive oil instead, but I found that refined coconut oil renders the pastry a bit more delicate. A good tip I've picked up from an amazing vegan chef,
Isa Chandra Moskowitz
, is to place olive oil in a plastic container and freeze for about an hour before making the pastry. It should look "opaque and congealed but still somewhat soft, like the consistency of slightly melted sorbet." Rub frozen oil into the flour mixture until the flour looks 'pebbly', then proceed as per the instructions above.
This recipe has been adapted from my earlier frangipane recipe.