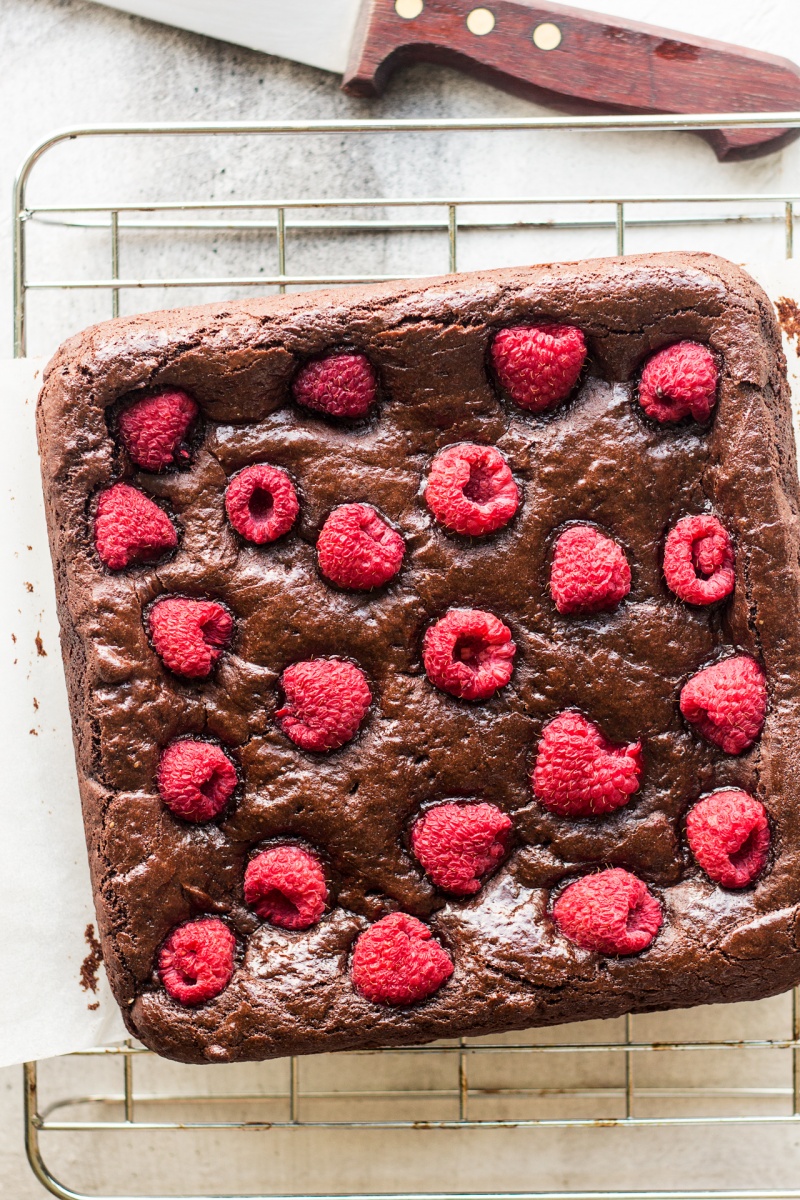 Dark chocolate and raspberries…What a heavenly combo! It is one of my personal favourites at least! As I have lived on an arid rock in the middle of the Mediterranean Sea (also known as Paros) for the past four years, I have missed berries big time. Raspberries in particular! So I'm starting my raspberry season a little early this year. Tina the cat and myself made you a tray of gooey raspberry brownies today. If you follow us on Instagram and have seen yesterday's story, you'll know what I'm referring to.
Our sweet Tina has this endearing habit of assisting me on my photoshoots. She gets particularly enthused when there are a lot of cables hanging around and sometimes she can be a bit of a menace as she starts chasing my laptop cable when I'm in the middle of a tricky take. If I don't spot her in time, all my elaborately prepared food could end up on the floor… Other than that she is a lot of fun and melts my heart on a daily basis.
Today, I had breakfast outside as I'm trying to soak up any bit of sunshine I'm given and she came over, arranged herself on my feet and demanded constant belly rubs looking all pleased with herself. The exact same thing happened at lunch and it made me muse on how I never even thought I liked cats before. How can you not? They are so adorbs…as we say in this house 😉 .
I love hanging out with her, but I am a bit worried about her not getting enough 'independent cat time' outside, so I encourage her to be out as much as I can. She will stay out happily when Duncan or I are in the garden, but isn't that comfortable on her own due to the bully cat who lives next door and who continues to seek her out and attack her.
I tried to talk to his owner about some sort of time share arrangement, but she has been ignoring all my texts so I finally gave up on this idea and reconciled with having to walk Tina out as much as I can. It's bad enough as it is but last week things took a turn for the worse!
I had to leave the house for a few hours. Tina was sleeping on my bed but, as the weather was lovely, I left the bedroom window ajar so that she can could go out if she fancied it at some point. When I got home a few hours later, Tina was nowhere to be found and instead of Tina I found her nemesis casually roaming in OUR house! That takes the biscuit, doesn't it (Tina's commentary 'what kind of biscuit, hooman? Toona or other fwish?')
Not only did he terrify poor Tina who, although very timid, can be rather crafty so luckily she managed to hide in a hole under our bath, but he also left me a present in the shape of his poo on the carpet! As you can possibly imagine, I was livid and had to work really hard on not harming the bugger. I let him out and texted my neighbour about the incident immediately. I did not get as much as an apology…
It's a really difficult situation as it breaks out hearts to see Tina so frighted of him all the time, especially that it was her comfort that made us rent a house with a large garden, which she now hardly ever uses.
People have suggested all kinds of physical deterrents to keep the other cat away, but frankly he is not scared of anything (we did buy a Supersoaker to tackle him with cold water), plus we don't want Tina to suffer the negative consequences of some of these deterrents as, if they are likely to keep him away, the chances are they will be very unpleasant for her too. Not much we can do other than move when our contract is up, which is a bummer as finding a house that would accept a pet was mission impossible back in October.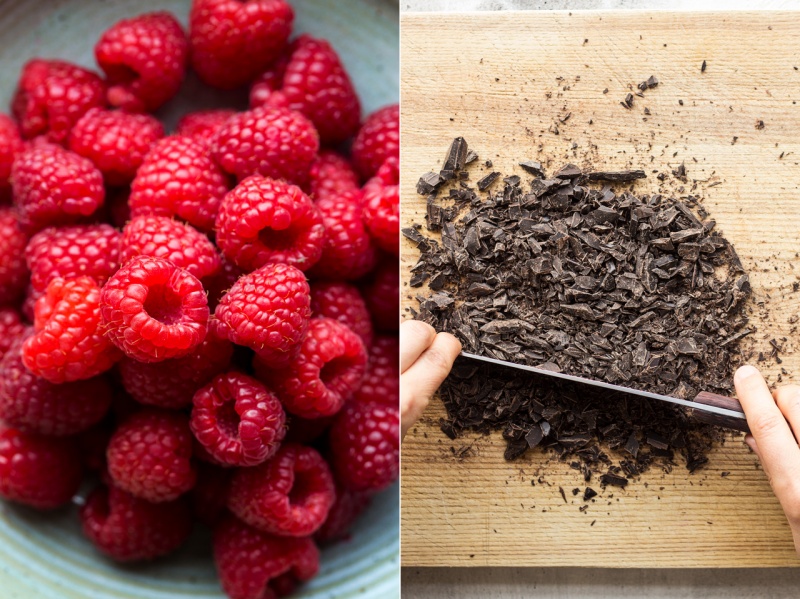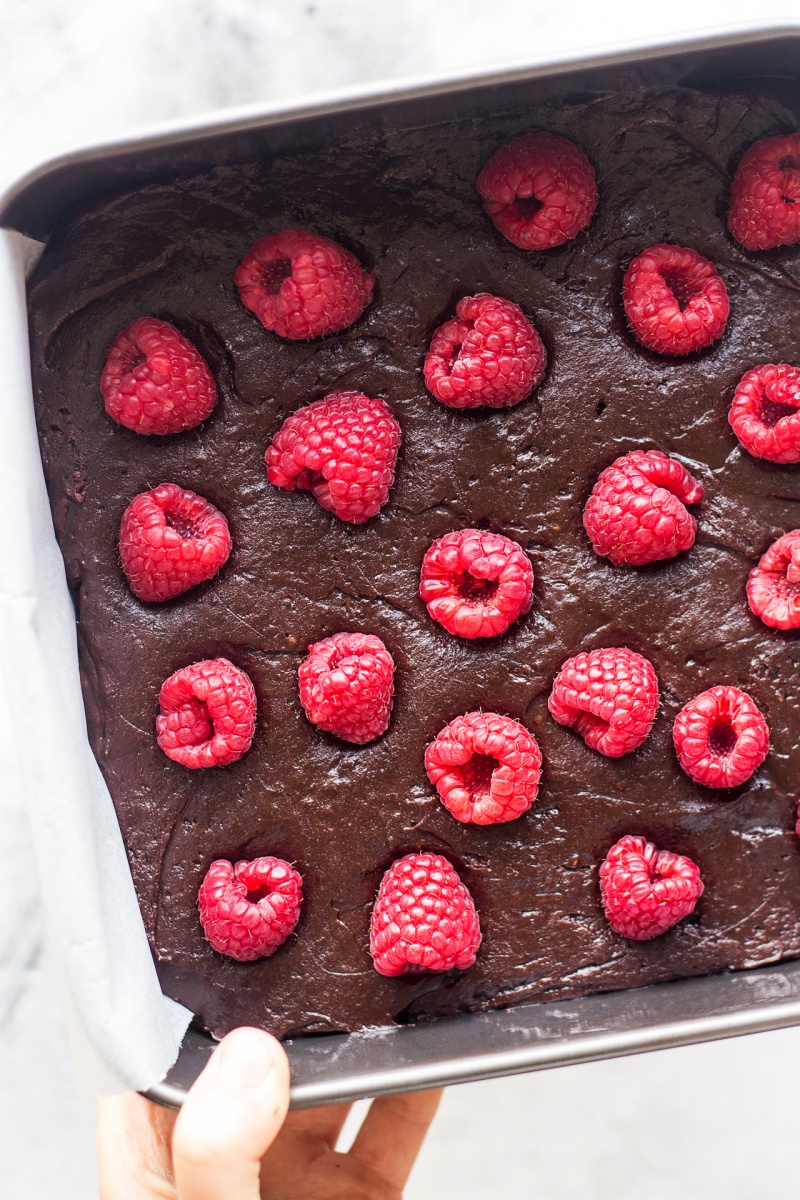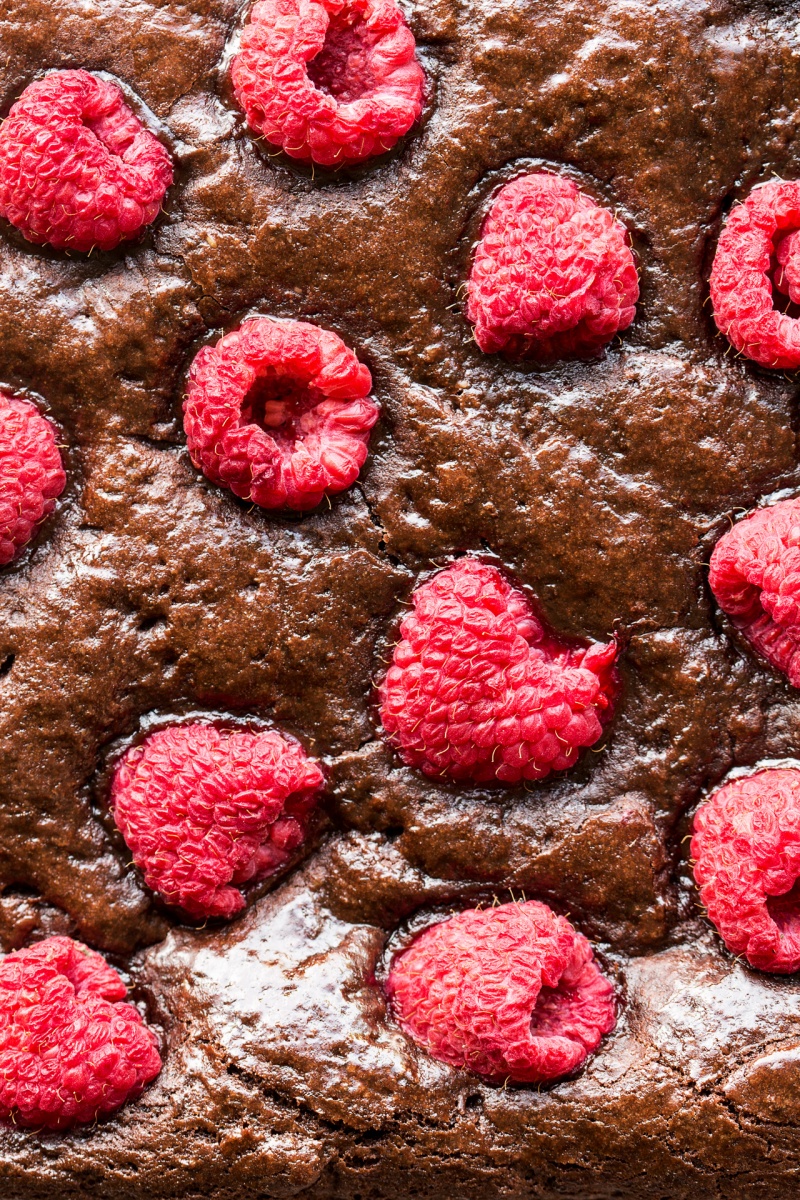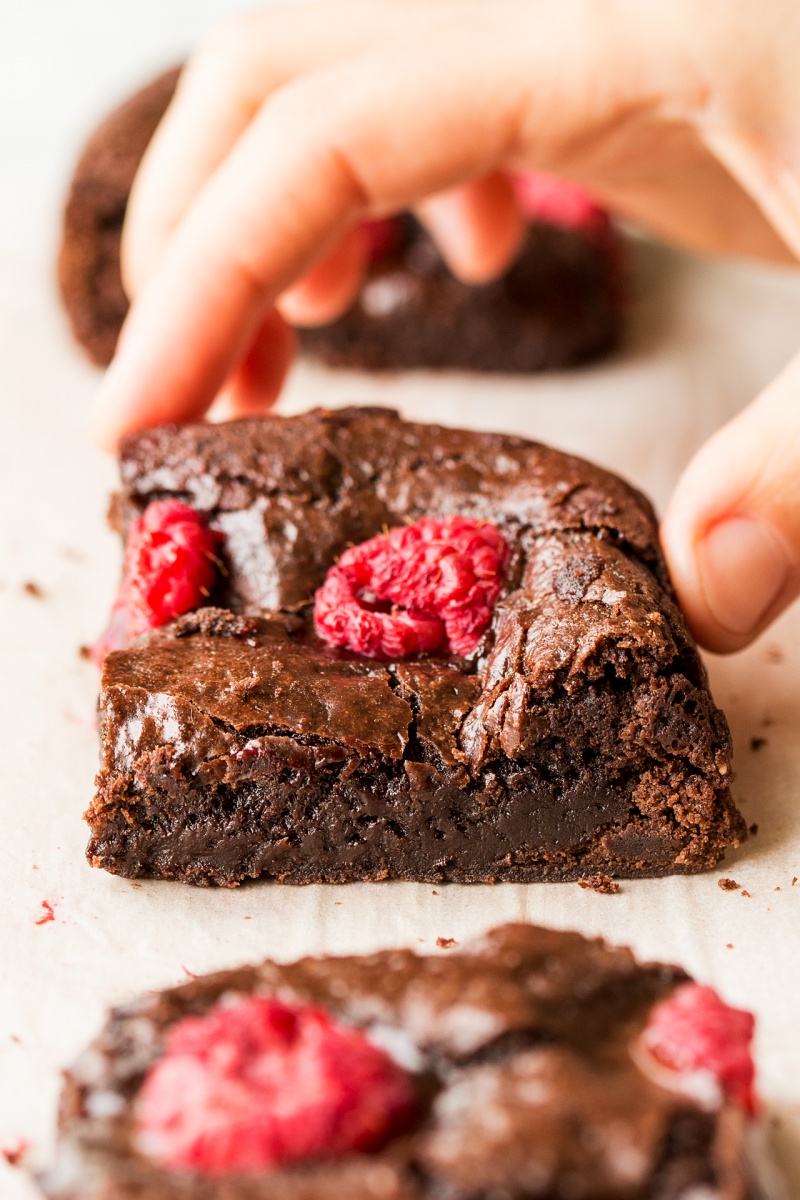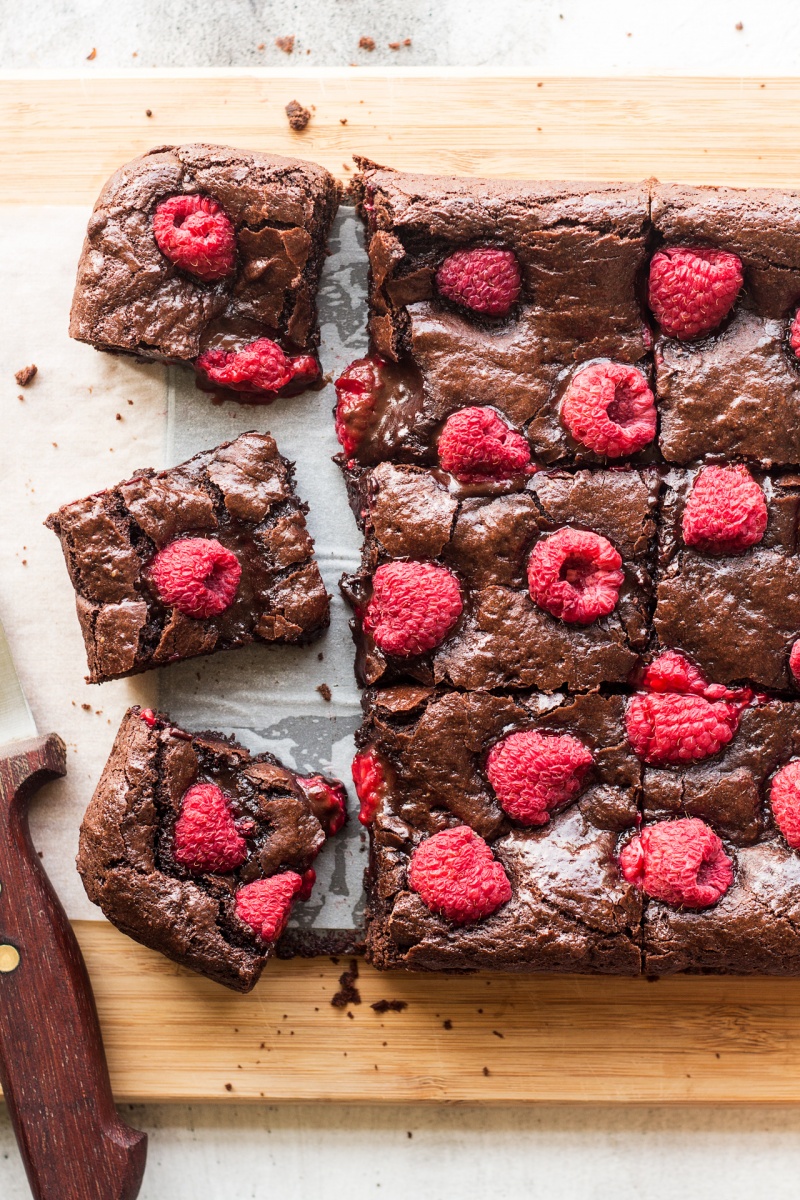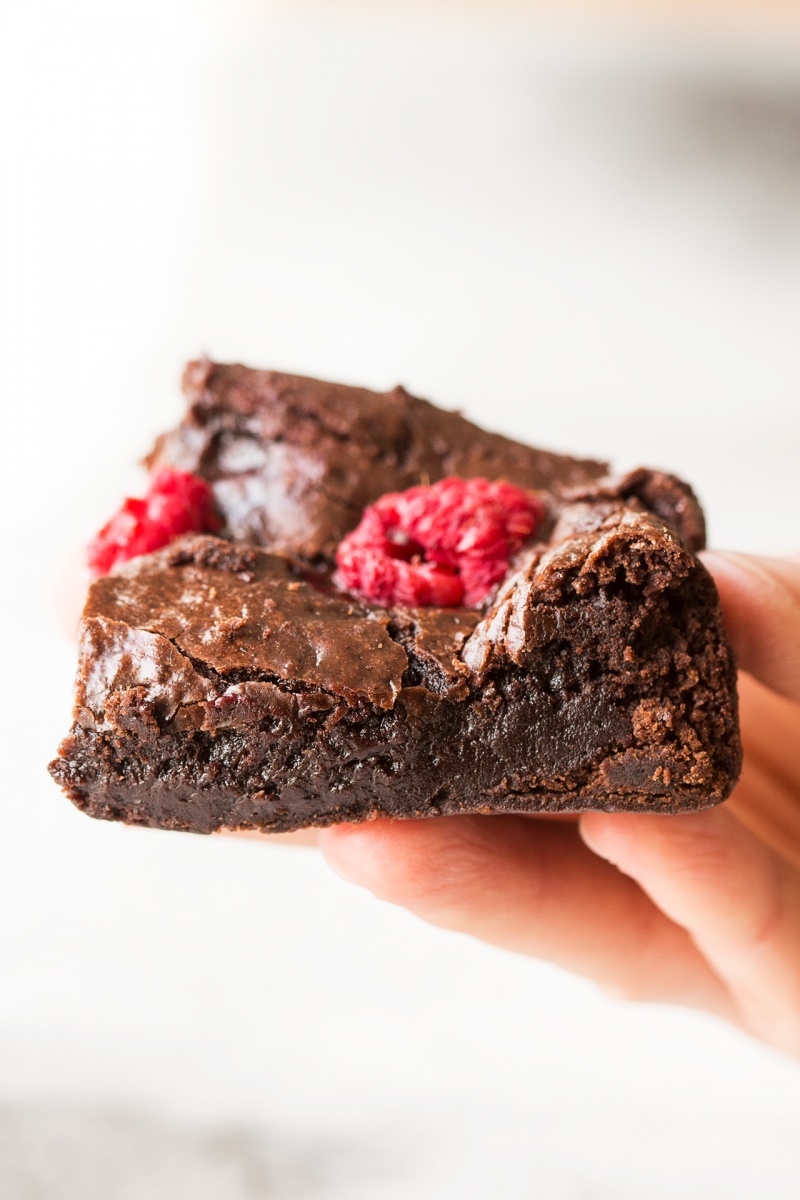 2 tbsp flaxseed meal or chia meal
225 g / 1¾ cup GF flour mix (I used Dove's Farm*)
¼ tsp baking soda
100 g / 3.5 oz vegan 70% cocoa dark chocolate
40 g / heaped 1/3 cup cacao powder (I used raw)
1 tsp instant coffee (optional)
½ tsp salt
100 ml / 1/3 cup + 1 tbsp boiling water
225 g / 1 heaped cup sugar (I used caster sugar**)
90 ml / ¼ cup + 2 tbsp oil (I used melted coconut oil) or melted vegan butter
100 g / 3.5 oz fresh raspberries
METHOD
Prepare chia or flax eggs by mixing ground up seeds with 3 tbsp of water in a small bowl. Set aside to activate.
Pre-heat the oven to 180° C / 350° F. Line a 20 cm x 20 cm  / 8 inch x 8 inch baking tin with baking parchment. Make the baking parchment stick out of the tin so that you're able to remove the brownies from the tin a little easier.
Weigh your flour, add baking soda and whisk the two together with a hand egg whisk. Set aside.
Boil a kettle of water.
While the water is boiling, chop your chocolate very finely. Put it into a big mixing bowl, with cocao powder, instant coffee (if using) and salt. Stir well.
Pour 100 ml / 1/3 cup + 1 tbsp boiling water into the chocolate, cacao powder and salt mixture. Stir with a spoon so that chocolate melts in the hot liquid. Don't add any more water.
Add in the sugar, flax egg (by this time it should have turned all sticky) and oil or melted vegan butter. Using a hand mixer, blend the mixture until it's smooth.
It's time to add the flour and baking soda mixture. Add a little at a time and stir it into the chocolate mixture with a spoon. Do not be tempted to use an electric mixer as it will overwork the batter. If using gluten flour, be extra careful not to overwork the batter or else gluten will develop in the flour and it will affect the texture of the brownies negatively. Stir just enough until there are no flour pockets anymore, but no more than that. The batter will be super thick so you may need to use your hands towards the end.
Transfer the batter into the prepared baking tin. Smooth it with a spatula and decorate with fresh raspberries.
Bake on the middle shelf for about 22-24 minutes (depending on how gooey you like your brownies and on your oven). If you like to keep them gooey, stick them in the fridge once cool and they will become deliciously fudgy after a few hours (tried and tested 😉 ).
NOTES
 *You can use regular gluten flour (all purpose), but I would advise against it. The reason being is that this recipe relies on an extremely high flour to moisture ratio in order to compensate for the lack of eggs. This makes it very difficult to incorporate flour into the wet ingredients and overworking gluten flour carries the risk of developing too much gluten in the dough, which will make these a little bready.
**I have tried this recipe with white caster sugar and raw brown sugar, I suspect coconut sugar may also work, but beware that it is likely to affect the texture of these as it has slightly different properties (it's wetter, less sweet and it's not as good at producing crispy tops, which are so key when it comes to brownies).
This recipe is based on Mattie's (from Vegan Baking) amazing brownie recipe. While I made some changes, all the credit for this magic brownie formula goes to him.
If you are not keen on this recipe for some reason, you can use this one instead and use raspberries instead of orange slices.