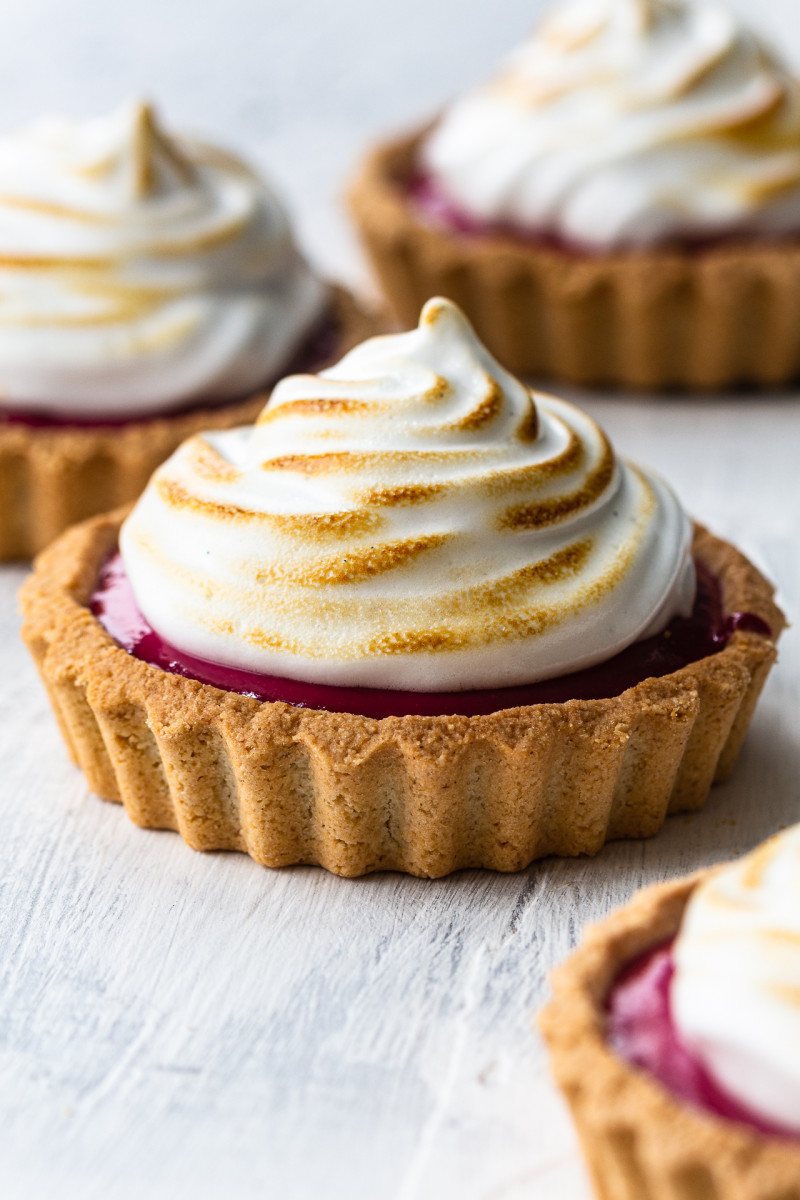 Happy weekend everyone! Apologies for a few days of radio silence and some delay replying to your comments and questions. Duncan and I went down to the Dorset coast for a few days to relax and recharge our batteries.
It was beautiful and we even managed to have two beach days as the temperatures started climbing towards the end of this week. We were a little gutted to leave as the weekend and the entire of next week is meant to be even sunnier, but that's life.
Today's recipe is something I concocted before we left and I hope you'll enjoy it. As I adore raspberries, I made raspberry curd tarts in crispy gluten-free tart shells and topped with an optional layer of meringue. They are not hard to make and delicious to enjoy in the summer shade. I hope you'll agree.
MORE ABOUT THE INGREDIENTS
GROUND ALMONDS – I used dried out leftover pulp from making almond milk for vegan ricotta recipe as I tend to make it on a weekly basis so I always have some ground almonds to use up. If you are not in a similar predicament, use shop bought ground almonds, they work the same.
OAT FLOUR – I used shop-bought oat flour but you could make your own oat flour by pulverising oats in a high powdered blender.
CORNFLOUR / CORNSTARCH – I used a little bit of cornflour (or cornstarch for the US readers) to bind the crust together and some more to thicken the curd. Theoretically tapioca starch and arrowroot powder work in a similar manner, but I have not tried either of them here.
MAPLE SYRUP – I used a little bit of maple syrup to sweeten the crust, but you could use icing (confectioner's) sugar and a little bit of water instead.
COCONUT OIL or VEGAN BUTTER – I used odourless coconut oil to make the crust and to thicken the curd. You could use melted vegan butter (one that comes in a block, like Naturli in the UK) instead.
RASPBERRIES – For the curd, I used frozen raspberries because they are cheaper and more accessible to some. I thawed them over a low heat stirring frequently, then I pressed them through a sieve to separate the pips from the juice as I wanted the curd to be smooth.
I got just under a cup of thick raspberry juice.
AQUAFABA – that's right, here I go again with my favourite bean juice (I love working with it as may you know by now). I used aquafaba from homecooked chickpeas as I always cook chickpeas but you can also just open a tin or a jar of chickpeas and use the brine. Make sure all your utensils, bowl and hands are spotlessly clean as aquafaba and grease hate each other like cats and dogs (that actually is not true as exemplified by numerous 'my cat and my dog are BBFs' videos but you know what I mean 😉 ). To banish grease, use a glass or metal bowl and wash your whisk attachments in soapy hot water carefully.
XANTHAM GUM – those of you who bake gluten-free will be already familiar with this ingredient as it's one of the binders used in gluten-free pastry and dough. It also happens to improve the livespan of a vegan meringue so if you have it to hand, I recommend adding a little.
USE SCALES – pastry work needs precision so I strongly recommend using scales instead of measuring by volume, which is inherently imprecise and may lead to a disappointing outcome. I give US measurements as people ask for them but they are approximations only and when it comes to making desserts like this one being accurate is key.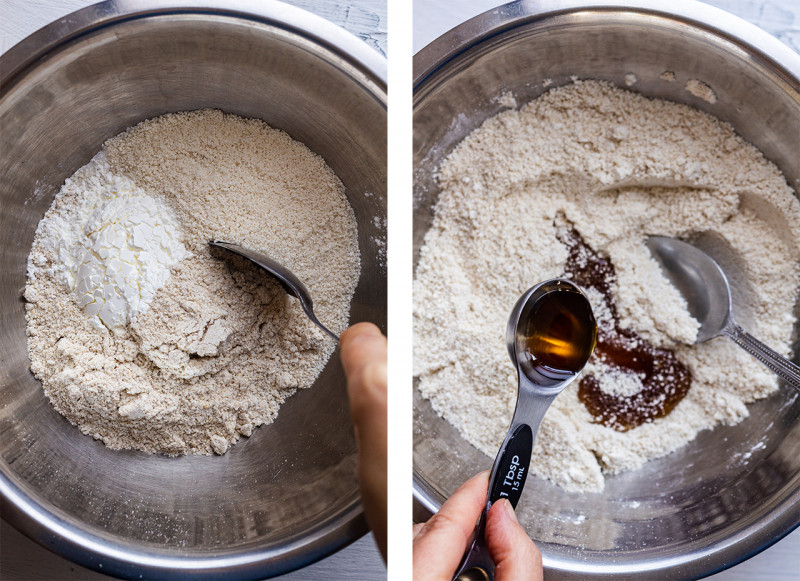 Combine dry pastry ingredients in a mixing bowl. Stir in maple syrup and melted coconut oil, or icing sugar, melted coconut oil and just enough water to bring together.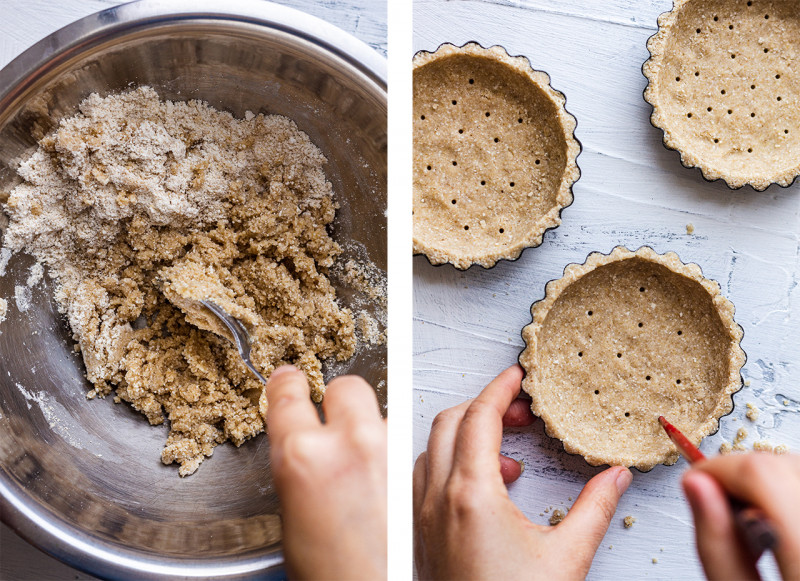 Stir everything well with a spoon first and then your hands until you obtain a uniform dough. Mould the dough to the inside of your tart cases with your fingers. Once neat and well compacted, make a few holes in the base with a chopstick or a skewer.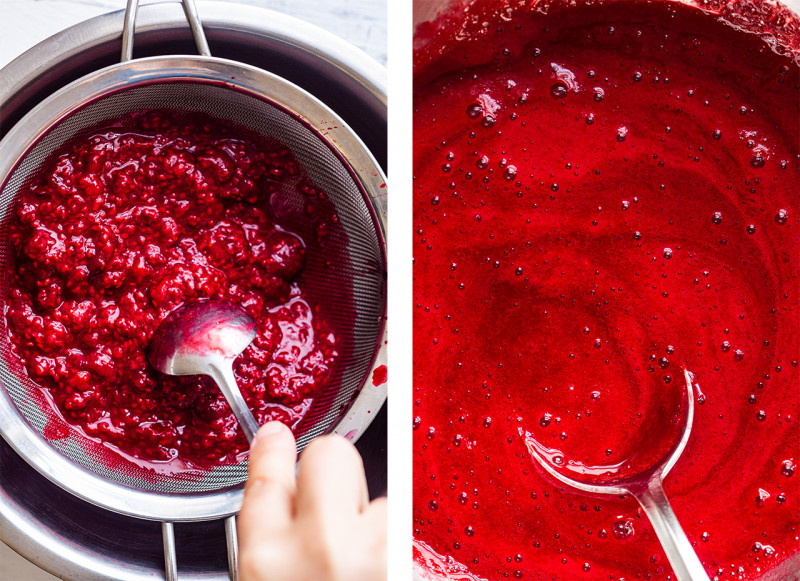 To make the filling, press raspberries through a sieve to get rid of pips. You should end up with just under a cup of raspberry juice.
Add raspberry puree to a blender with drained cashews and blend until smooth. Next, transfer to a pot, sweeten with sugar, thicken with cornstarch and add coconut oil or vegan butter to improve consistency.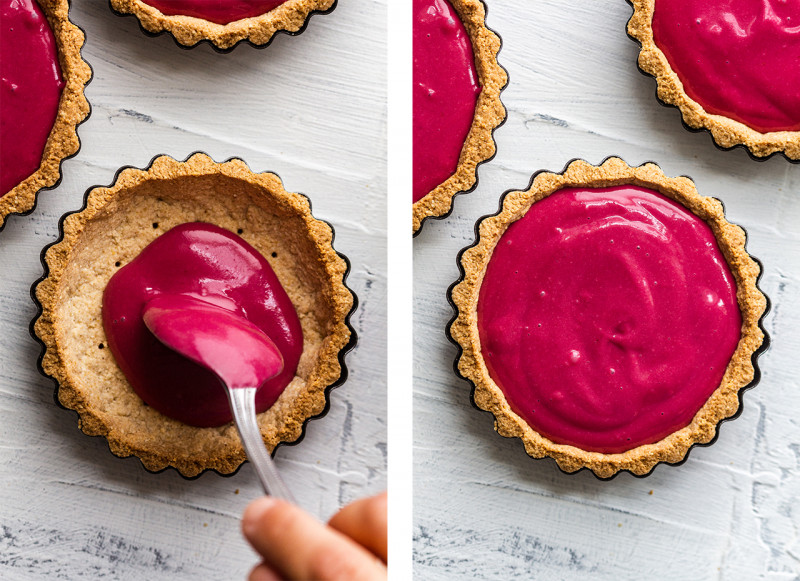 Fill baked tart cases with the filling, refrigerate overnight to set.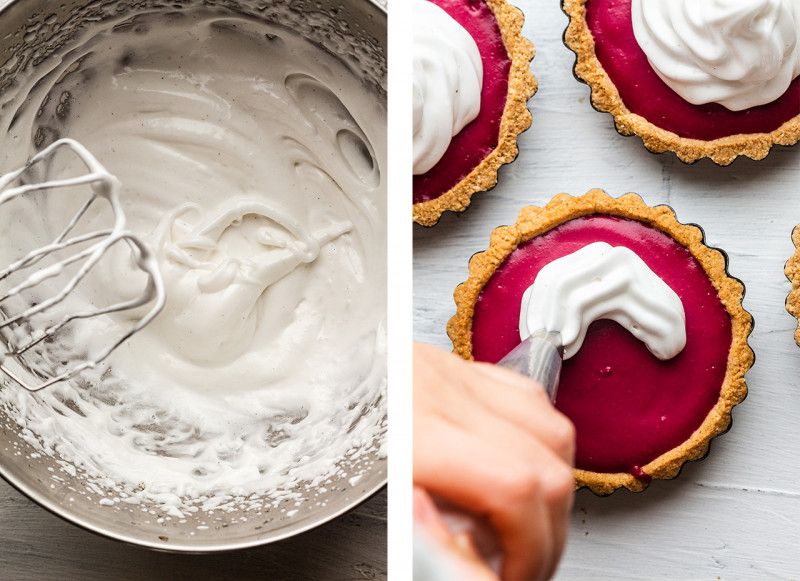 Once set you can decorate the tarts with vegan meringue (or vegan whipped cream), toasting it with a chef's torch or under a grill after piping.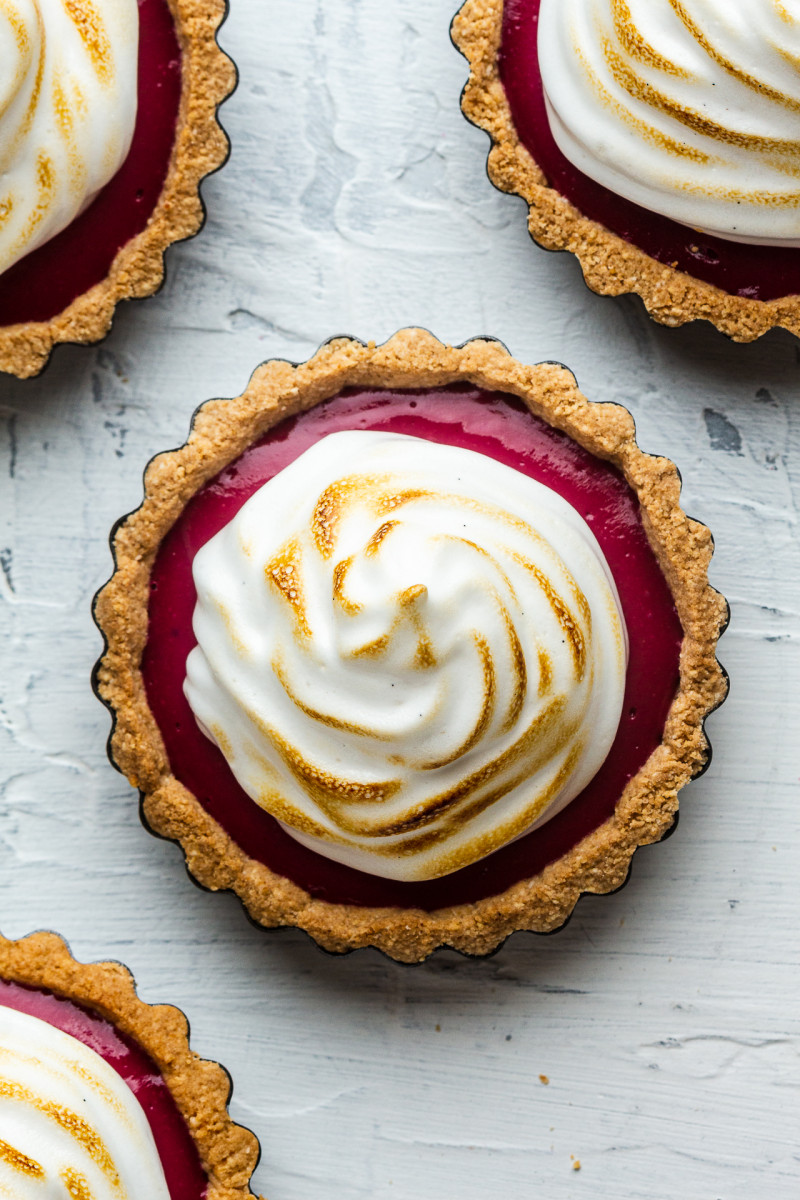 PASTRY (
non-GF pastry here
)
50 g / 1.75 oz (packed ½ cup) ground almonds*
80 g / 2.8 oz oat flour
a good pinch of salt
25 g / 3 tbsp cornflour / cornstarch
30 ml / 2 tbsp maple syrup
45 g / scant ¼ cup odourless coconut oil or vegan butter, melted
RASPBERRY CURD
400 g / 14 oz frozen raspberries*
25 g / 3 tbsp cornflour / cornstarch
50 g / ¼ cup sugar, more to taste if not using meringue
65 g / ½ cup cashews, soaked OR 80 ml / 1/3 cup coconut cream
a good pinch of salt
45 g / scant ¼ cup odourless coconut oil or vegan butter
MERINGUE (optional)
60 ml / ¼ cup aquafaba (homemade or from a can/jar of chickpeas)
a good pinch of fine salt
1/8 tsp cream of tartar or ½ tsp lemon juice
100 g / ½ cup caster (superfine) sugar
¼ tsp xantham gum (optional)
METHOD
PASTRY
Place ground almonds (or dried almond milk pulp), oat flour, salt and cornflour / cornstarch in a mixing bowl.
Drizzle in melted coconut oil (or vegan butter) and maple syrup and work them into the dry ingredients until evenly distributed and the dough clumps together. If the mixture is too dry, add a tiny bit of water.
Mould the dough inside the tart cases using your fingers. Using a chopstick or a skewer, gently make a few holes in the bottom of the tart shells and refrigerate until the oven is ready.
Preheat the oven to 180° C / 355° F (regular, no fan setting).
Bake the pastry cases for 10-12 minutes, until lightly golden. Cool down completely.
RASPBERRY CURD
Thaw raspberries either but just leaving them at room temperature to defrost naturally or by warming them up over low heat, stirring the whole time.
Press thawed raspberries through a fine sieve to separate the pips. Be thorough to extract as much flesh/juice as possible – you should end up with just under a cup of raspberry puree.
Place drained cashews in a small blender (I used my Ninja for this), add raspberry puree and process until the mixture is silky smooth and there are no chunks of cashews left.
Transfer the raspberry mixture to a medium size pot. Place the pot on low heat, add sugar stirring to dissolve completely. Adjust the amount of sugar to your liking, I used only a little to contrast with meringue.
Whisk in cornflour/cornstarch – dilute it in 1 tbsp of the raspberry mixture from the pot first.
Allow the mixture to come to a gentle simmer to activate cornflour/cornstarch in order to thicken the mixture.
Whisk in coconut oil (or vegan butter) into the warm curd mixture and allow it to cool before filling the tart cases.
Divide the curd between pastry cases, refrigerate overnight to set.
MERINGUE (optional)
Combine aquafaba, salt and cream of tartar / lemon juice in a spotlessly clean bowl – even a trace of grease will inhibit aquafaba from reaching stiff peaks.
Whisk on medium speed until you reach stiff peaks (when you invert the bowl, whipped aquafaba should stay put). Depending on your equipment, it may take around 5 minutes (it does for me and I have an old handheld whisk).
This bit is tedious, but necessary! Start adding sugar in 1 tbsp increments whipping well (going around the bowl if you have a handheld whisk) and slowly counting to 20 after each addition. I know, but trust me!
Once all the sugar has been added, sprinkle xantham gum while the whisk is going. By this point you should have a glossy, thick meringue mixture that needs to be used straight away.
Pipe a mound of meringue on top of each tart. Toast the meringue using a chef's torch or by placing the tarts under a hot grill / broiler (you want heat from the top only) for a few minutes – be vigilant as they burn easily.
NOTES
*RASPBERRIES – I used frozen raspberries as they are cheaper and more accessible to some, but fresh raspberries will work just as well.
*GROUND ALMONDS – This is a perfect recipe to use dried almond milk pulp. I like making this vegan ricotta so I always have plenty of it. I air dry it for a few days (less if the sun is shining), then grind it again in a food processer (as it likes to clump up) before storing in a jar.
*TART CASE SIZE – I used four slightly tapered tart tins measuring 9.5 cm / 3.75″ diameter at the top, 8.5 cm / 3.4″ diameter at the base and height of 2 cm / 0.75″.