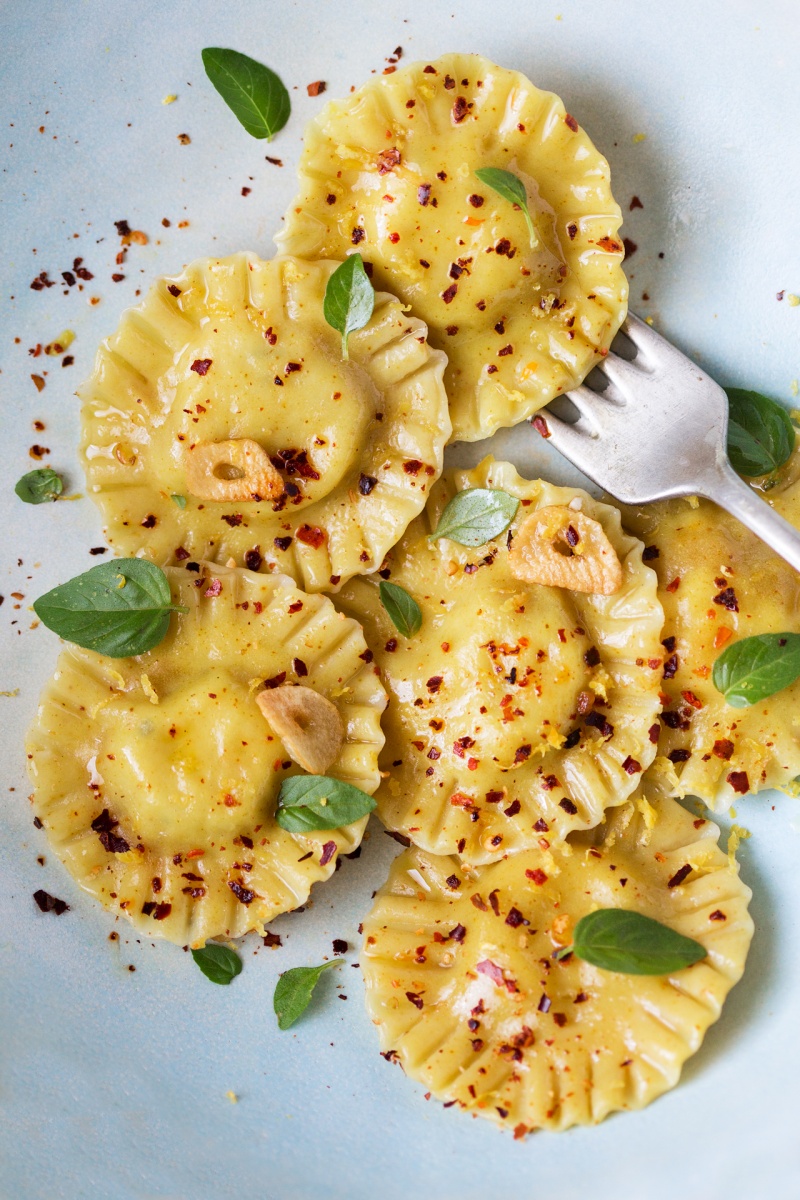 Autumn is here. The fields are heavy with pumpkins, there is a bit of a chill in the air and our cat, hardly ever to be seen in summer, keeps on sneaking into the house in search of a warm place to sleep. It usually ends up being Duncan's jumper lying on a chair or a freshly washed kitchen towel 😉 . Cats, eh? 'What are you so upset about, hooman, it's just a piece of cloth!?'
My autumn thing is making dumplings, my ultimate comfort food. I spent most of my childhood sitting at my gran's kitchen table watching her fingers crimp hundreds of little parcels of deliciousness. She was a dumpling queen and I'm determined to keep this dumpling tradition going.
Today's dumplings aren't what I used to eat as a kid though. They are a bit more refined. I combined my love for dumplings with my love for pumpkin and made a big batch (60 to be exact) of vegan ravioli filled with sweet and spicy pumpkin filling and tangy ricotta cheese I published a few weeks back.
These vegan ravioli are really special and even though, as any dumplings, they require a fair bit of work, they are so worth it! Plate them up for your guests and you'll suddenly find yourself with lots more people asking for their dinner invite…oops…Don't worry, with some practice you can probably pump out 120 of these every hour 😉 …
For vegan AND glute-free ravioli, see THIS RECIPE.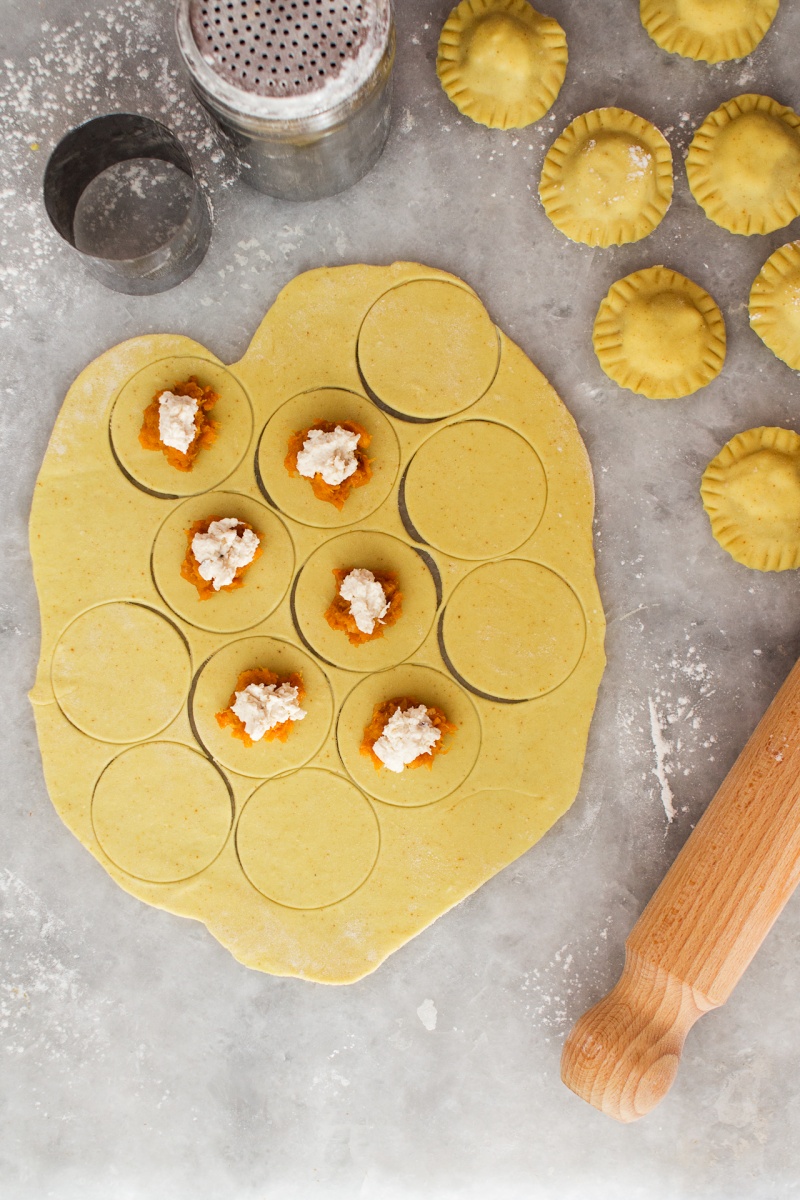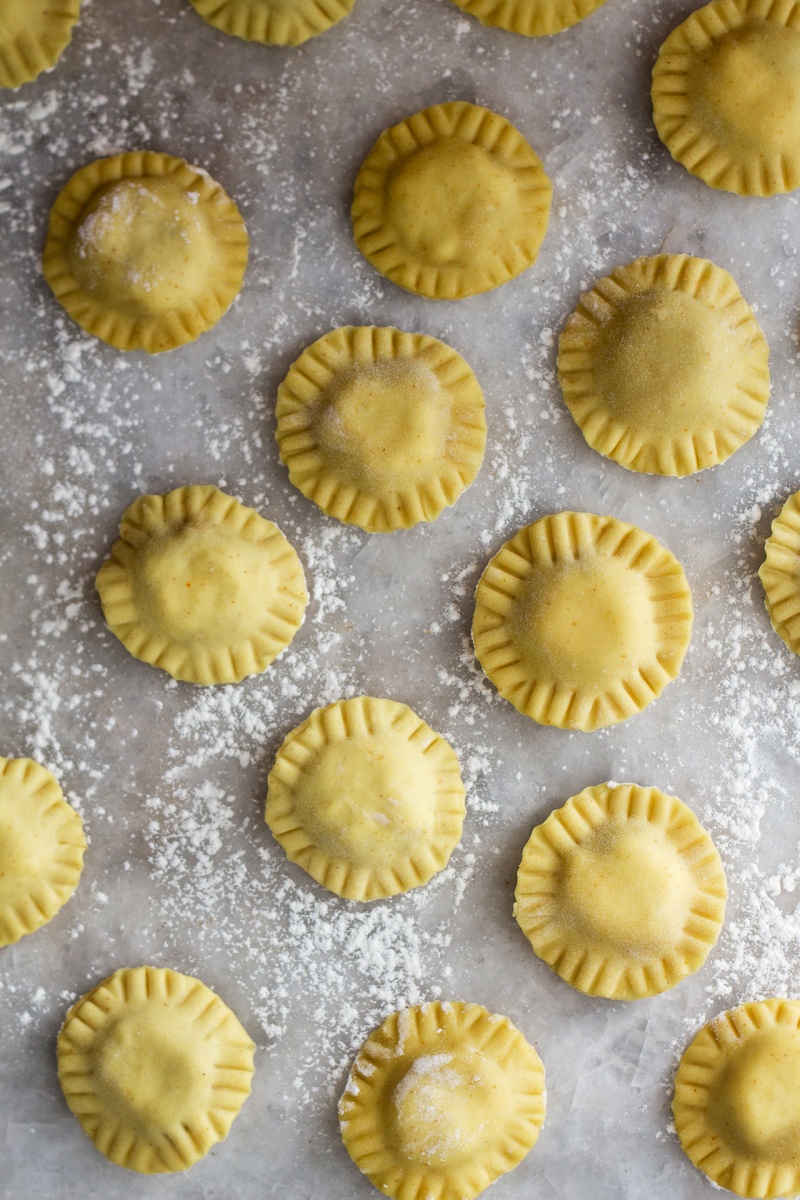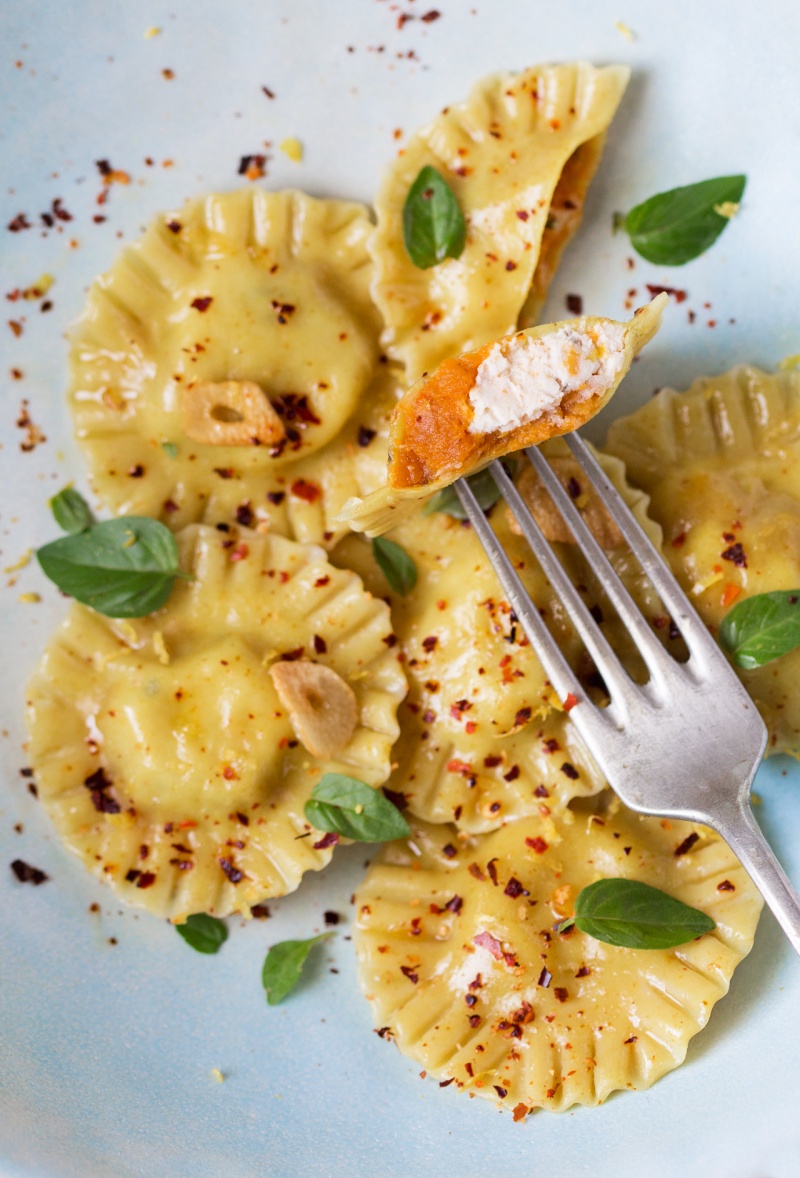 PASTA (for GF dough see THIS RECIPE)
300 g / 10.5 oz 00 flour* (see NOTES)
1/3 tsp turmeric
½ cup + 2 tbsp / 150 ml reduced aquafaba, (see NOTES)
FILLING
2 cups roasted pumpkin cubes (I used butternut pumpkin), 2 lb / 900 g raw
2 tbsp olive oil, plus more for serving
2 garlic cloves, finely chopped
1 tbsp lemon juice / apple cider vinegar, more to taste
chilli flakes, to taste
salt & pepper
½ portion vegan ricotta cheese** (optional, see NOTES)
FOR SERVING (optional)
2 garlic cloves, sliced thinly
1 lemon, zest
chilli flakes
METHOD
In a mixing bowl, combine flour and turmeric. Add aquafaba and mix it into the flour. The dough will need a bit of water to come together (we used 2 tbsp / 30 ml), but be careful not to add too much as this will give you a dough that is too wet. Knead the dough for at least 5 mins and then set aside for 60 minutes under a damp kitchen towel so that the dough doesn't dry up.
Heat up 2 tbsp olive oil in a pan. Saute chopped garlic until soft and fragrant. Chop cooled pumpkin finely or blitz it in a food processor and add it to the garlic. Mix the garlic in well, season the mixture with salt & pepper, lemon juice and chilli to taste. There is no need to cook the filling as the pumpkin has already been roasted, so just make sure the mixture is well seasoned and set aside.
Once the dough has had a chance to rest, take a portion of the dough (1/3 for example) and roll it out with a rolling pin on a lightly floured surface. Roll it out as thin as you can (2-3 mm), the thinner the dough the tastier the ravioli. You can obviously use a pasta machine to roll out your dough if you have one.
Use a 5 cm / 2″ cookie cutter or an upside down glass to cut out circles of the dough. Place about a teaspoon of filling (I used ½ tsp pumpkin filling and ½ tsp of my vegan ricotta) on half of the cut out circles. Place another circle on top and drape it around the filling, taking care not to trap any air pockets inside. Seal the two circles of dough with your fingers. If you want them to look like mine, go around each raviolo and crimp the sealed edges with the end of a fork. Put the finished dumplings on a lightly floured surface and cover them with a kitchen towel while making the rest so that they don't dry out. Continue in the same way until you have used up all the dough and / or all the filling.
Bring a medium pot of water to boil. Once the water boils, place 5-6 ravioli (it's important not to overcrowd the pot) in the boiling water and cook, on a rolling boil, for about 5 minutes. After the time is up, fish cooked ravioli out with a slotted spoon, shaking excess water off gently, and place them on a plate. Cook all the remaining ravioli in this way.
To serve, sauté 2 cloves of garlic in a bit of olive oil. Baste the ravioli in the garlic oil gently. Serve with a sprinkling of salt, lemon zest and some more chilli if you wish.
NOTES
*Ask any pasta master and they will tell you that to make good pasta you need to use 00 flour. We started this recipe off with that very intention UNTIL we opened up a packet of freshly purchased 00 flour and saw little things wriggling in it…yuk…As we had no time to run back to the shops, we had to resort to a regular, all purpose flour for the photographed batch and, guess what, the ravioli still turned out delicious! So if you are in a similar (or other) predicament and cannot get 00 flour, use white all purpose wheat flour instead.
**If you are not using vegan ricotta, you'll not be able to fill as many ravioli with pumpkin filling alone so prepare a double amount of the pumpkin filling.
For this application, aquafaba needs to be reduced to resemble egg whites in consistency. To reduce it simply simmer it (with no lid on) on the stove until excess water content evaporates and remaining liquid becomes thick and ALMOST jelly-like (similar to egg whites). Once reduced, cool aquafaba down completely before using.