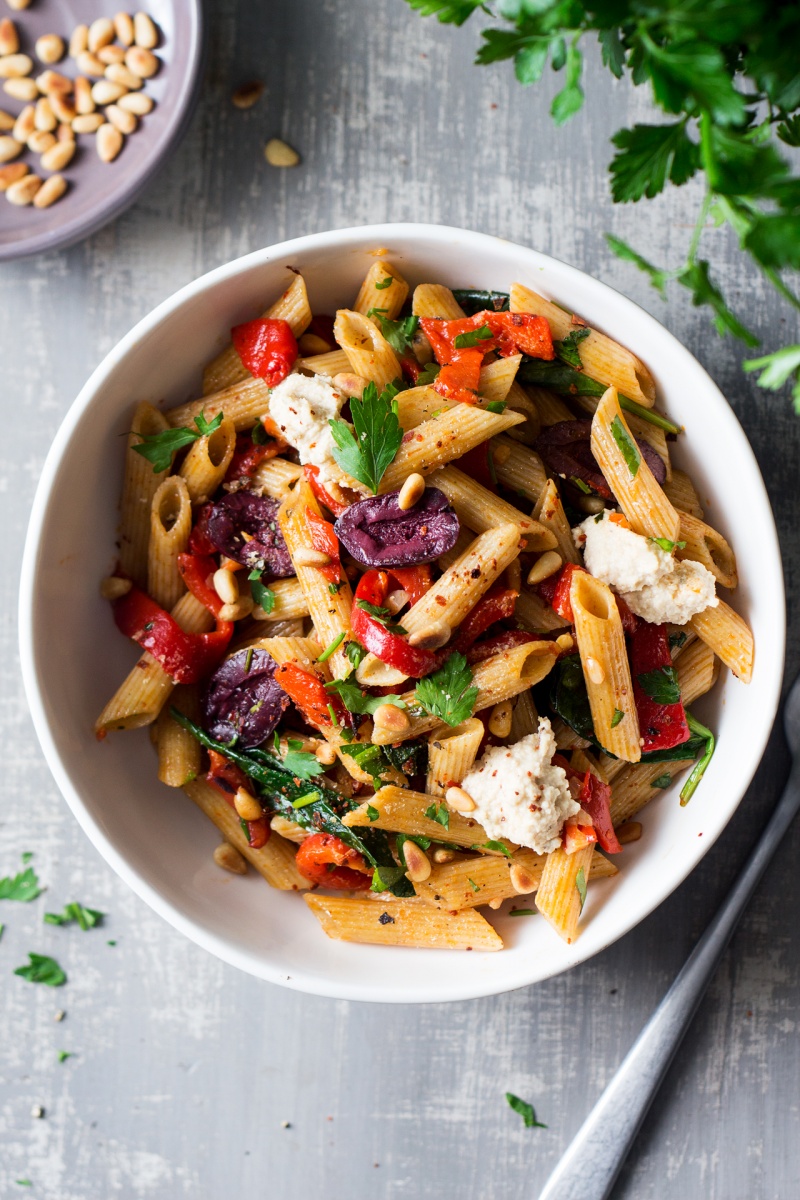 This vegan red pepper pasta will always remind me of Greece. When we first moved here we used to live on a slight variation of this dish as I was smitten with the local combination of red peppers and feta. When we stopped buying dairy I had to come up with other pasta options…
Living on a small Greek island, there was no way I was able to get my hands on any vegan cheese (let alone feta) so the recipe fell from grace. Then, the other day, I had some leftover ricotta (I simplified the recipe actually, you no longer need to use agar to make it – check it out HERE) and I dotted it over a simple cherry tomato pasta we were having for dinner. It was really delicious and it made me think that I should attempt a vegan version of my old favourite.
Even though my cashew ricotta is certainly not a feta replacement as it's much softer, it still has a nice tang and umami flavour, which works so well against sweet red peppers. I jazzed the dish up a bit with some Kalamata olives for added 'Greekness' and fresh baby spinach that my next door neighbour grew in her garden and encouraged me to help myself to some, which I did (thank you Evi! It was great!! 🙂 ).
I realise that those of you who live in big, vibrant cities have a mean selection of vegan cheeses at your fingertips so if you can find vegan feta, it would work really well here. If you are less fortunate though, try my ricotta. It really works a treat.
I'm bringing this dish back to my weekly meal rotation, for sure, especially that it takes less than 20 minutes to prepare. A W-I-N-N-E-R of a dinner or what?! 🙂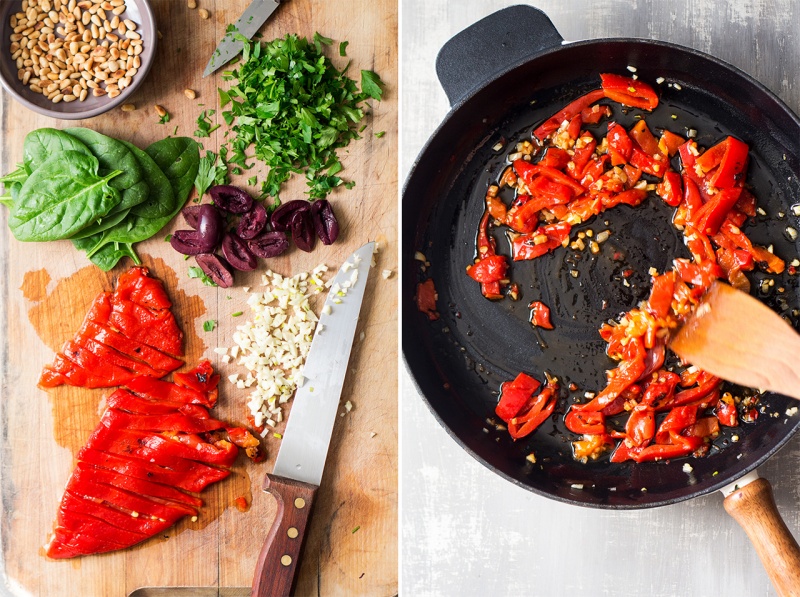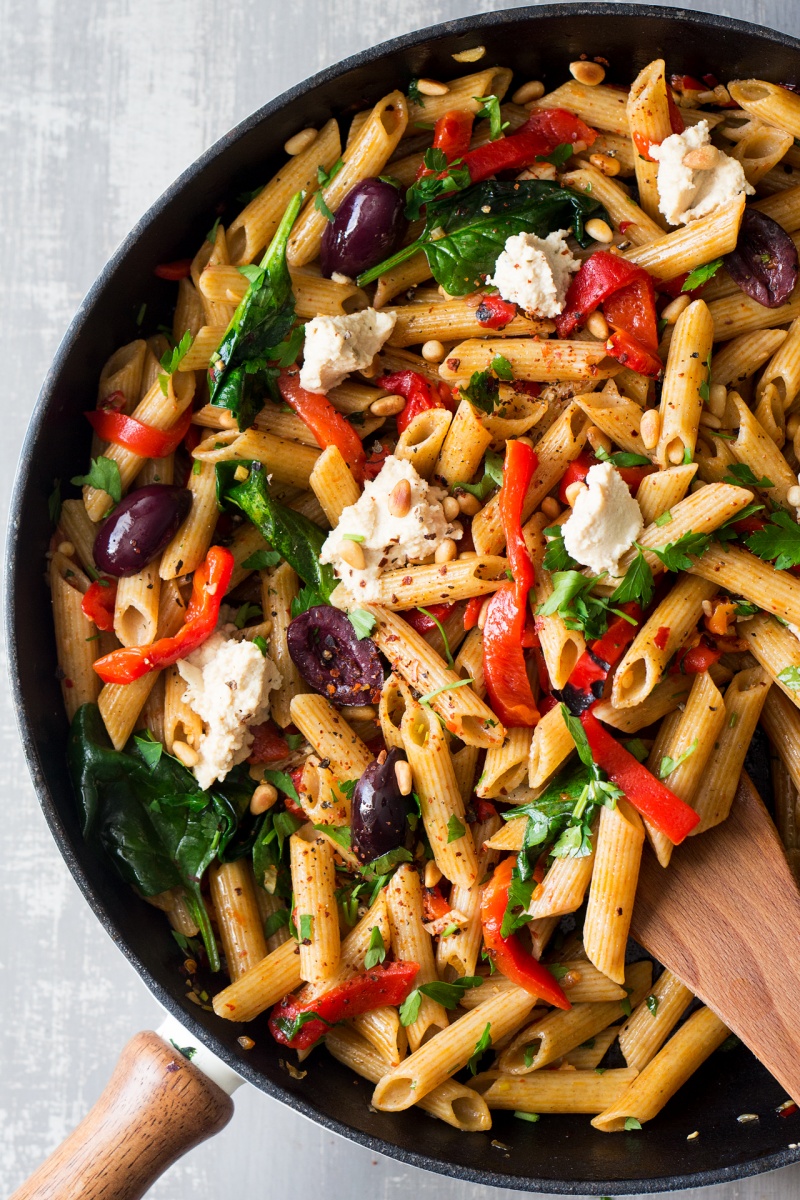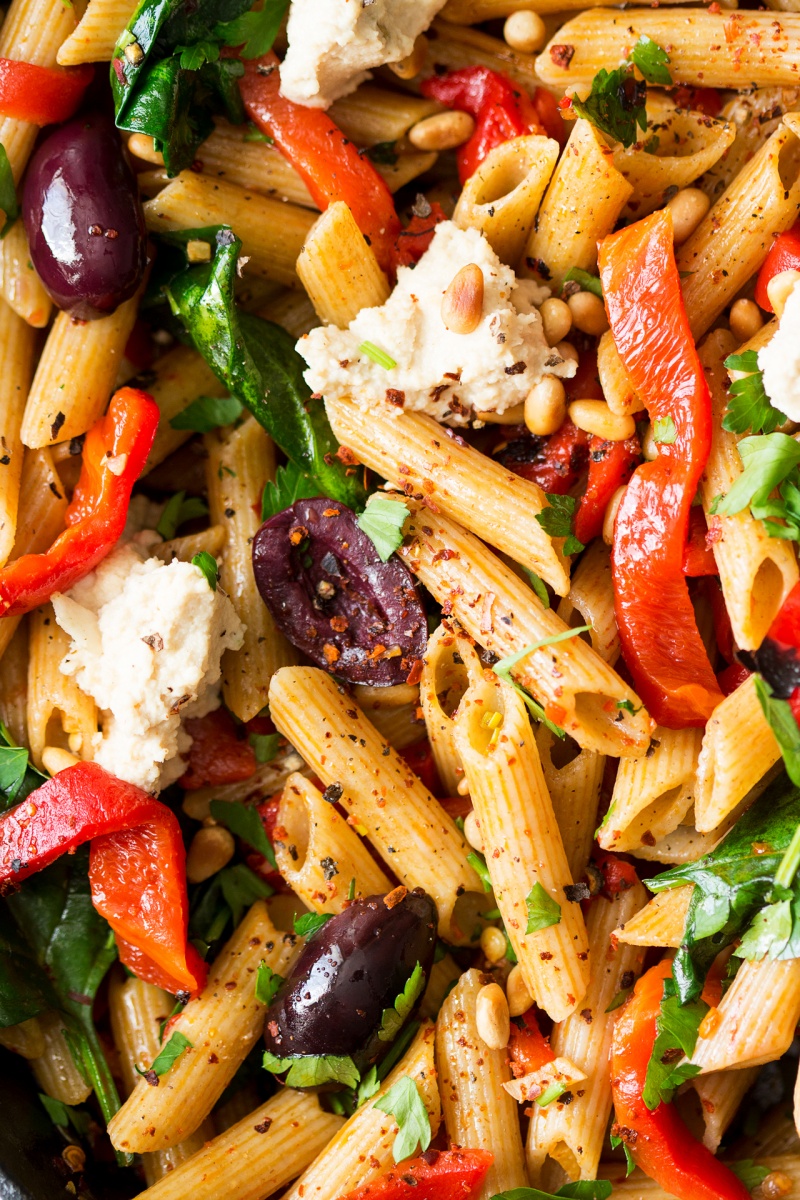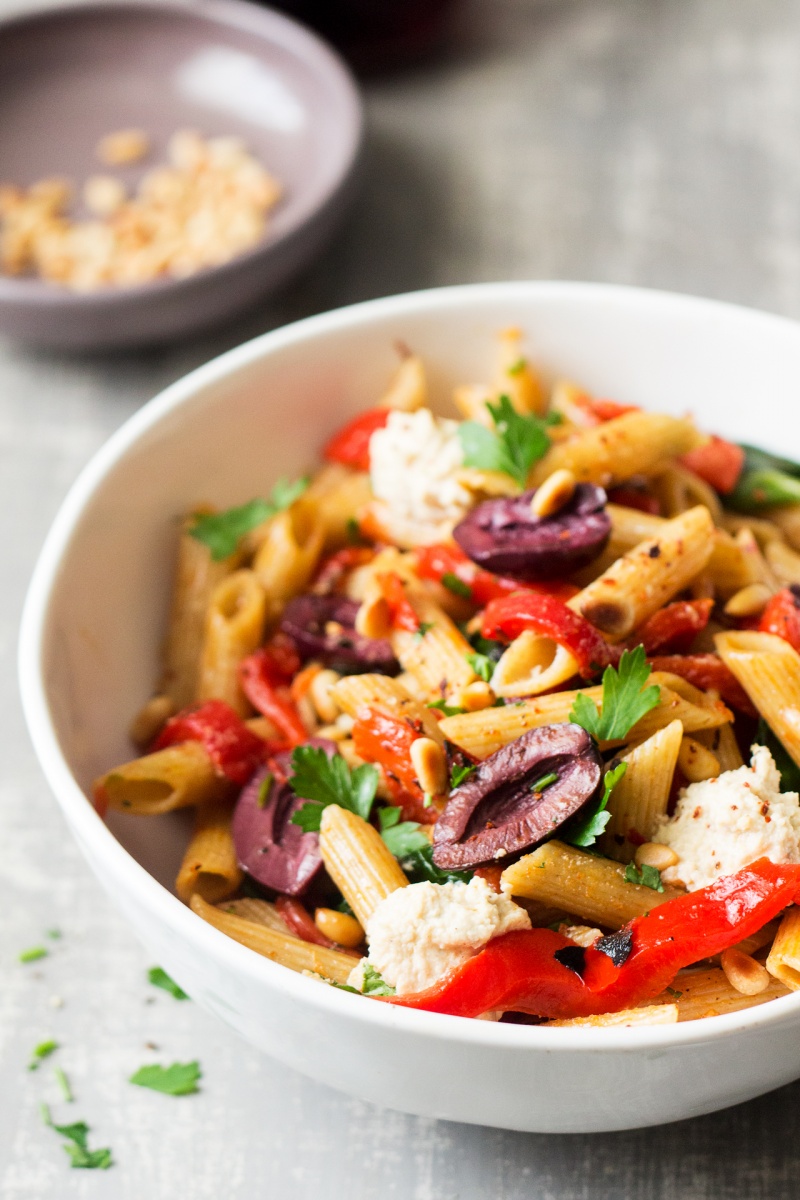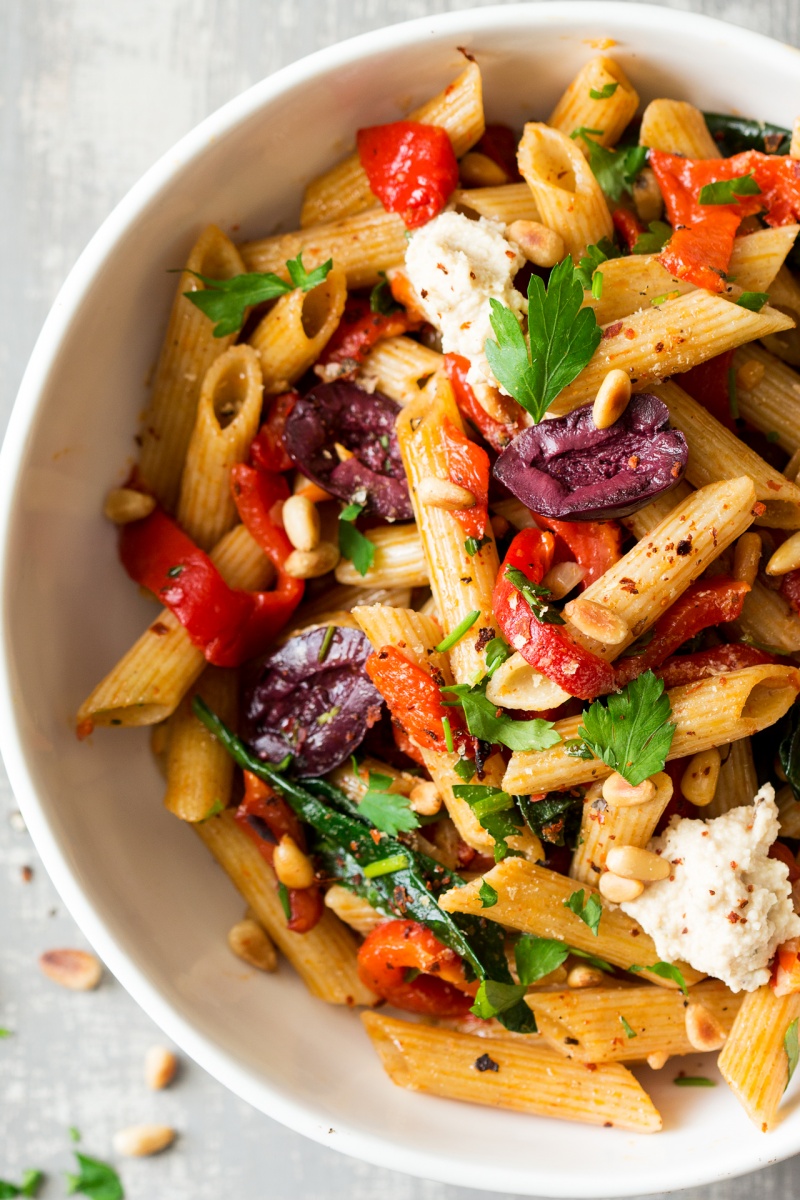 2 tbsp / 30 ml olive oil
2 large garlic cloves, diced finely
1-2 tsp sambal oelek (Indonesian chilli paste) or fresh chilli, finely diced
200 g / 7 oz wholewheat penne (use GF if you are gluten-intolerant)
200 g / 7 oz roasted red peppers*
50 g / 2 oz baby spinach
8 black Kalamata olives, pitted and quartered
1 heaped tbsp pine nuts
¼ cup my vegan ricotta or store-bought vegan feta cheese
fresh parsley, finely chopped
salt and pepper to taste
mild chilli flakes (I used Turkish pul biber), to serve (optional)
2 tsp nutritional yeast, to serve (optional)
METHOD
Put your pasta on to boil. Cook it for 1 minute less than you would normally.
Put a small frying pan on a medium-high heat and dry roast pine nuts until browned and fragrant. Make sure you shake the pan regularly as they burn easily.
While the pasta is cooking, heat up 2 tbsp of olive oil in a heavy-bottomed pan on a low-medium heat. Add finely diced garlic and chilli (if using fresh). Fry, stirring the whole time, on a low heat until garlic becomes soft and fragrant.
Add a teaspoon of sambal oelek (skip if you added fresh chilli instead) and mix it around well. Add sliced red peppers and stir them around so that they warm up.
Add drained pasta, baby spinach and olives. Stir around well so that the pasta gets coated in the pepper and garlic mixture. Allow the spinach to wilt in the hot pan and pasta to finish cooking. Season with salt and pepper to taste.
Divide the pasta between two bowls, dot with small amounts of vegan ricotta (if you are using a sturdier cheese, like vegan feta, you can mix it into the pasta directly before plating).
Serve topped with toasted pine nuts, generous amount of fresh parsley, mild chilli flakes and nutritional yeast (if using).
NOTES
*I used store bought roasted peppers but you can also roast your own, here is
how
.