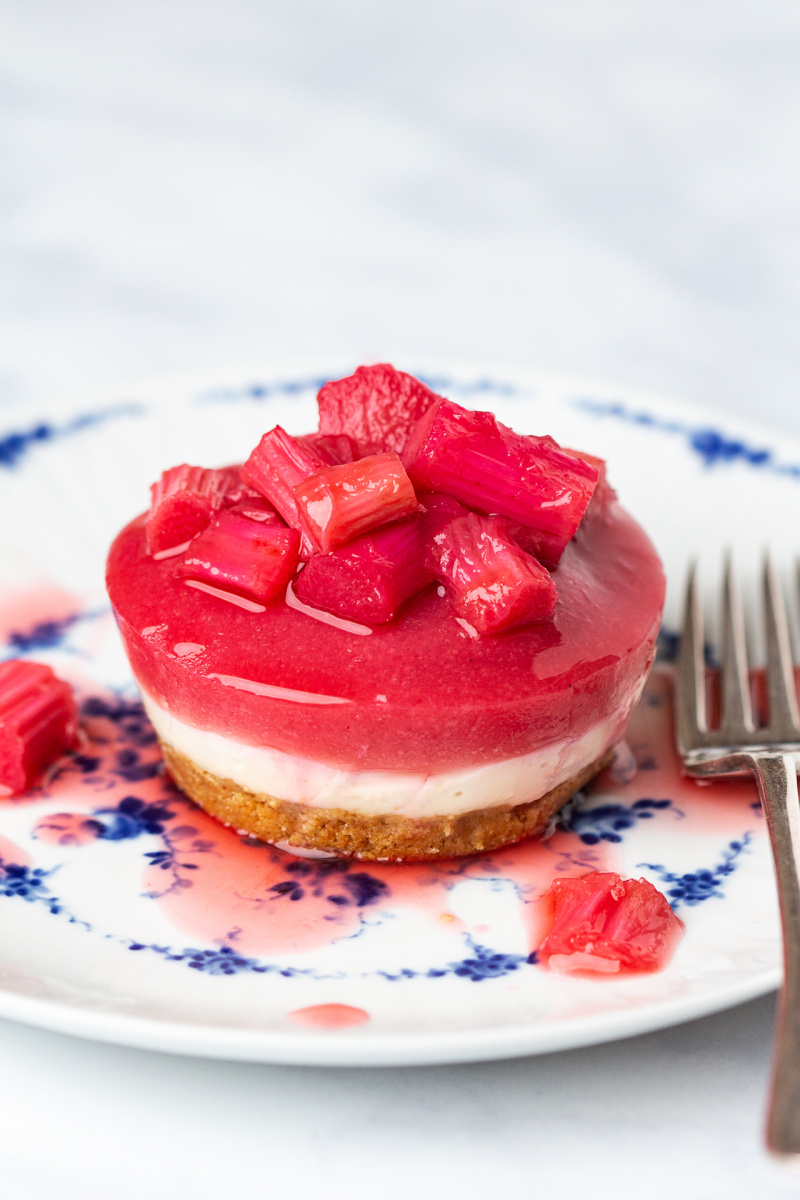 We are at the end of February, spring should be near, but instead I feel like Winter has really dug its heels in. It's wet, gusty and cold and while the sun does muscle out sometimes, it gets easily overpowered by dark, ominous clouds. It's funny but it's kind of similar to how my internal landscape feels right now too.
As I mentioned in my last post, I am going through the most difficult thing I have ever gone through. Yet again (veganism was certainly one of those) my entire world view is undergoing a seismic change. Things are never going to be the same again. They will be better, eventually, I hope… but not the same, ever. It's scary and sometimes I just want to hide and go back to not knowing, not realising. It's so much easier, but, like with veganism, I can't 'unsee' what I've seen. I feel really sad and angry most of the time. I realise that this is a much needed grieving process and I know that this will pass, but it is hard to believe that in the moment.
Since this blog was born out of hope for change, love for animals AND good food, I don't want to make it all about doom and gloom as even now, while I am finding things challenging, I am also filled with a lot of hope for positive changes to occur at some point. I am working towards that change. It has to get worse before it gets better (someone wise told me that once about DIY 😉 but it applies to so many things in life). So to cheer myself up I immersed myself in cooking.
As beautiful, unapologetically pink and delightfully sour forced rhubarb is a common fixture now on my local supermarket's shelves and its short season ends in March, I knew I had to act quick and make a recipe showcasing its qualities. I made ginger cheesecakes topped with a layer of rhubarb jelly and some roasted rhubarb. These baby cheesecakes are delicate, pretty and they would not be out of place on a tray of vegan Afternoon Tea.
If Browns needs a recipe, they are welcome to it. Duncan went there for an Afternoon Tea with his work at some point and what him and a few other vegan workmates were served was downright offensive. While the rest of the group tucked into sandwiches, scones and a selection of fancy French-inspired pastries, their vegan offering was gluten-free (why?) crispbread with margarine and cucumber slices, cut up fruit and a selection of supermarket biscuits, which Duncan later found out were not even vegan. It was so shockingly bad that someone complained but instead of getting decent food, they got plied with more champagne. True story.
These baby cheesecakes are easy to make and they don't require much skill really. The base is made up of ginger biscuits bound together by a small amount of coconut oil. The creamy cheesecake layer is made of cashews and coconut cream and stabilised using agar agar powder, which is a vegetarian (and vegan) alternative to gelatin. It is commonly used in Asian countries and is derived from seaweed. The topping is oven roasted rhubarb also firmed up by agar agar powder. It's super easy to make and sets almost instantly. So next time you see gorgeous rhubarb stalks, get some and make these mini cheesecakes and enjoy them with people you love.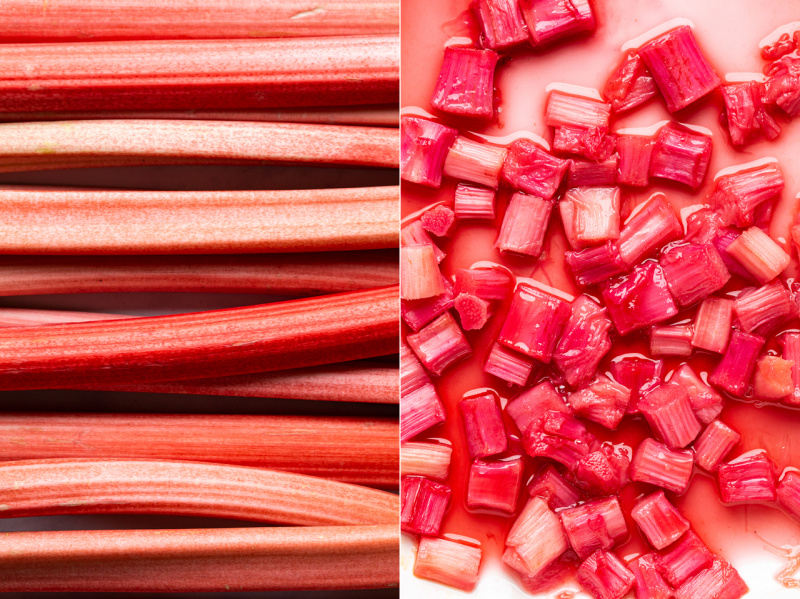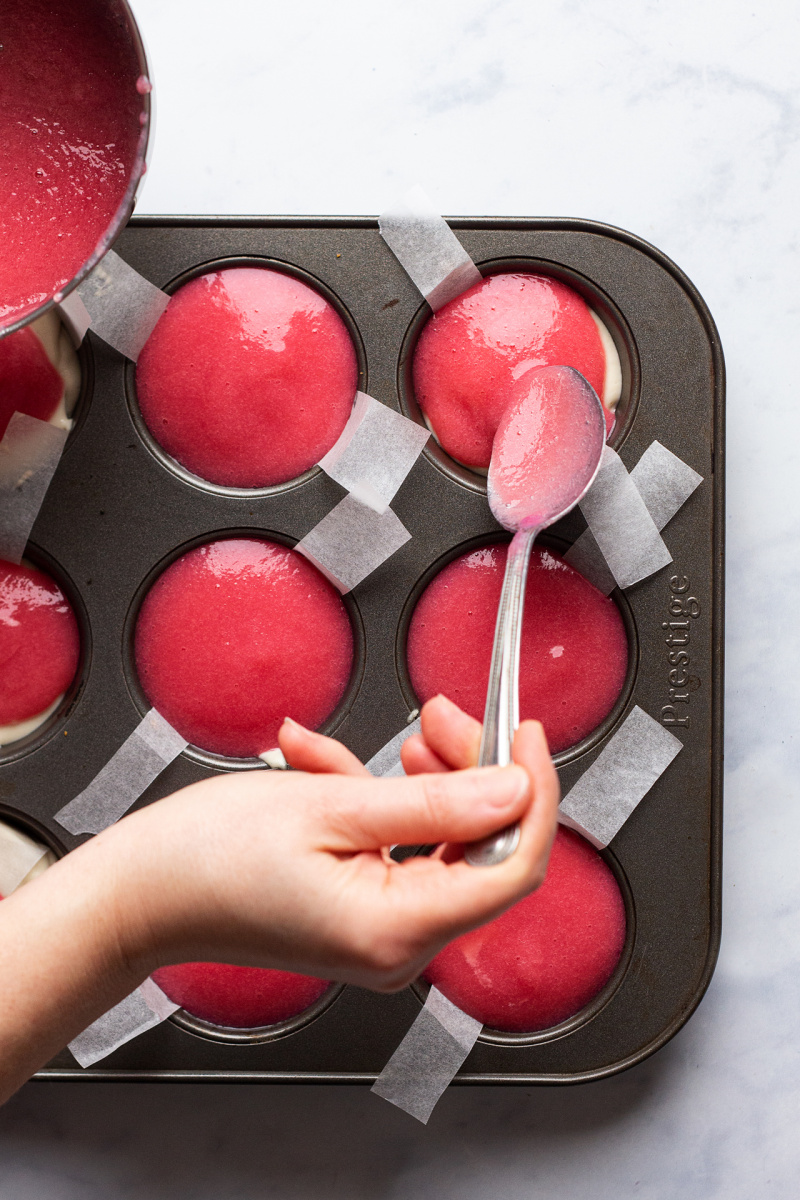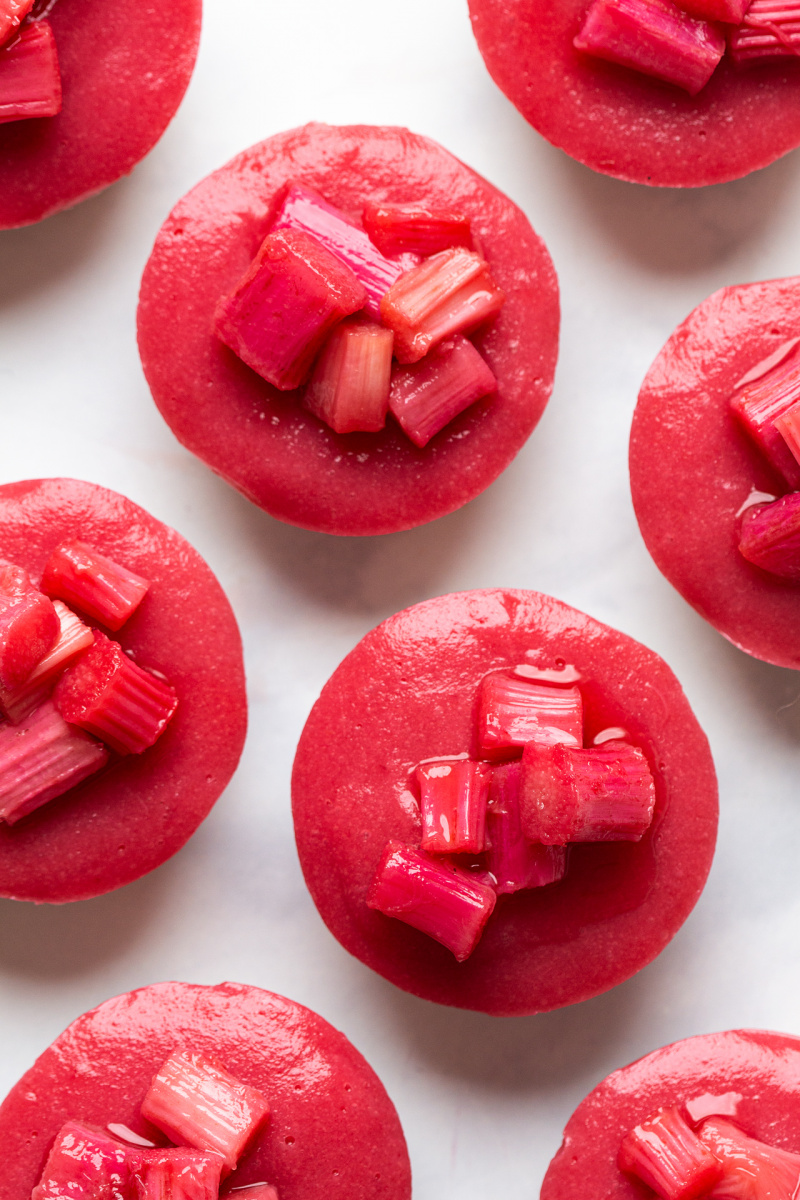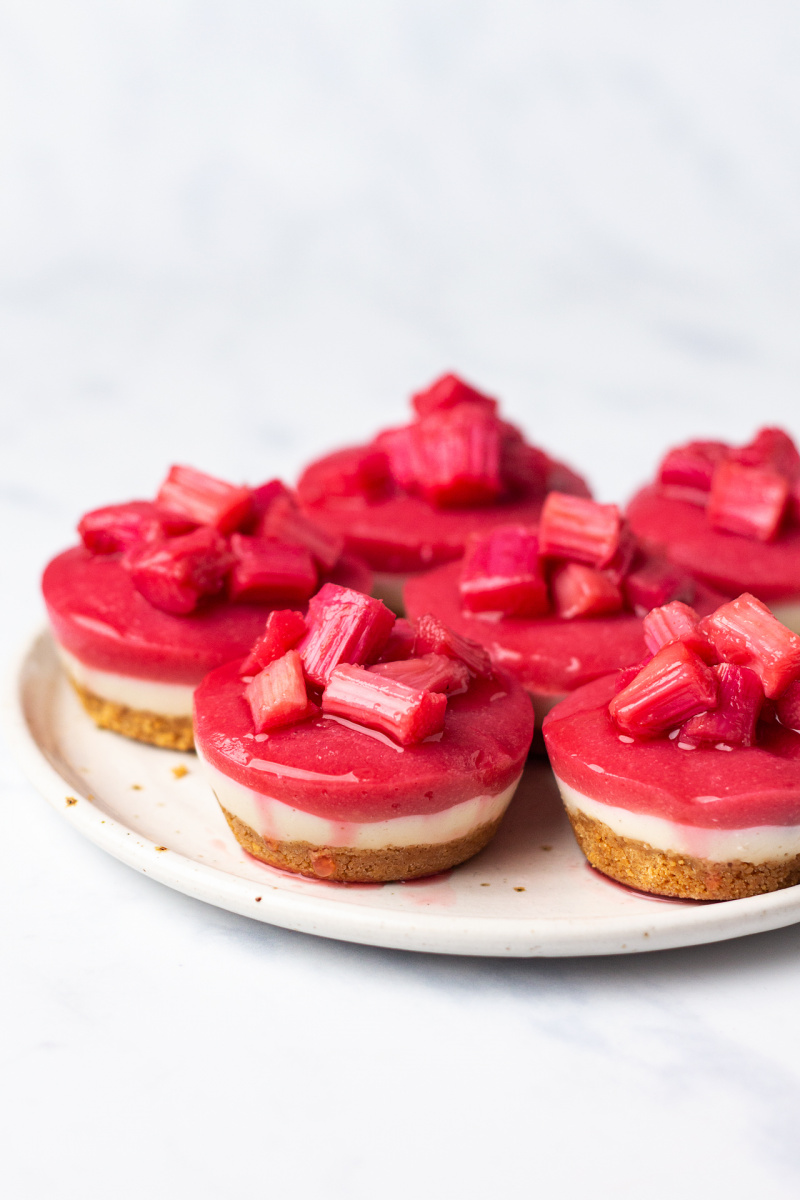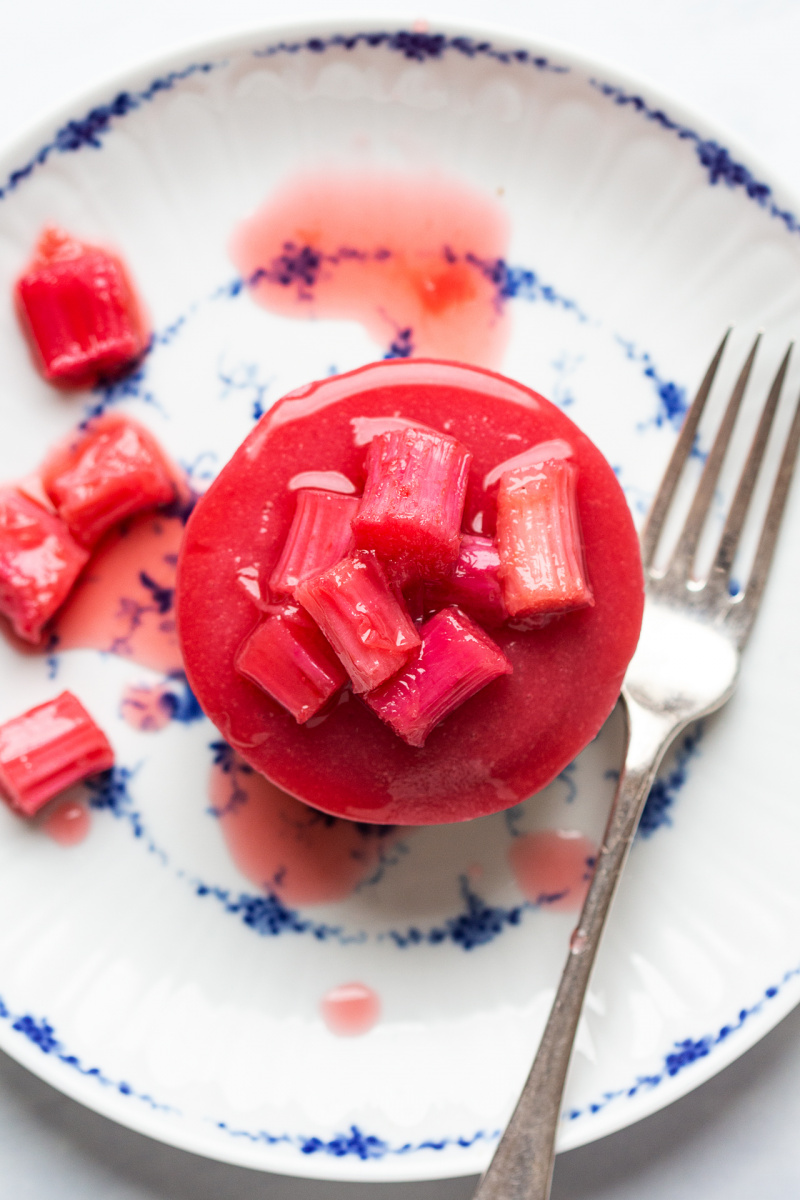 CHEESECAKE BASE
120 g / 4¼ oz vegan ginger biscuits (or GF vegan biscuits if required)
25 g / 2 tbsp coconut oil, melted
CHEESECAKE LAYER
120 ml / ½ cup coconut cream, chilled
30 ml / 2 tbsp lime or lemon juice
60 ml / ¼ cup maple syrup
1½-2 tsp finely grated ginger
1 cup / 130 g raw cashews, soaked in boiling water for 20 min
1¼ tsp agar agar powder (3½ tsp agar agar flakes)
45 ml / 3 tbsp water (to dissolve agar in)
RHUBARB LAYER
METHOD
Cut out 9 circles out of baking paper to cover the bottoms of the muffin tin (I used a standard 12-hole muffin tin). Line the 9 holes with paper circles. I recommend you also place a 1 inch / 2 cm wide paper strip under each circle as it will make removing these puppies much easier.
CHEESECAKE BASE
Grind ginger biscuits finely in a food processor.
Add in melted coconut oil and mix well.
Place 2 tsp of the base mixture at the bottom of each muffin hole, press down with a spoon until a compact base forms and place in the fridge while you make the remaining two layers.
CHEESECAKE LAYER
Place coconut cream, lemon juice, maple syrup and ginger at the bottom of the blender and blend until smooth.
Add half of the cashews and blend until smooth, then add the other half of the cashews and blend until smooth.
Just before you are ready to assemble the cheesecakes, activate agar agar in 45 ml / 3 tbsp of water, according to the instructions on the packet. Beware that powder and flakes activation are very different from each other.
Once activated, add agar agar straight to the blender, blend until smooth and then divide quickly between between 9 cheesecakes. Place in the fridge while you make the rhubarb layer.
RHUBARB LAYER
Heat up the oven to 200º C / 390º F.
Toss the rhubarb pieces in sugar, add 1 tbsp of water (skip if using maple syrup) and bake until soft – depending on the thickness, it will take between 10-15 minutes.
Transfer most of the rhubarb into a blender and blend until super smooth. You'll need 240 ml / 1 cup of the rhubarb puree to top the cheesecake, leave the rest whole for decoration.
Activate agar agar in 45 ml / 3 tbsp of water, according to the instructions on the packet. Beware that powder and flakes activation are very different from each other.
Once activated, stir 240 ml / 1 cup of rhubarb puree into the pot with activated agar. Mix very very well and then divide quickly between 9 cheesecakes.
SERVING
To remove cheesecakes from the moulds, run a sharp knife around each cheesecake, grab both ends of the paper strip and slowly ease the cheesecake out of the mould.
Serve with leftover baked rhubarb.
NOTES