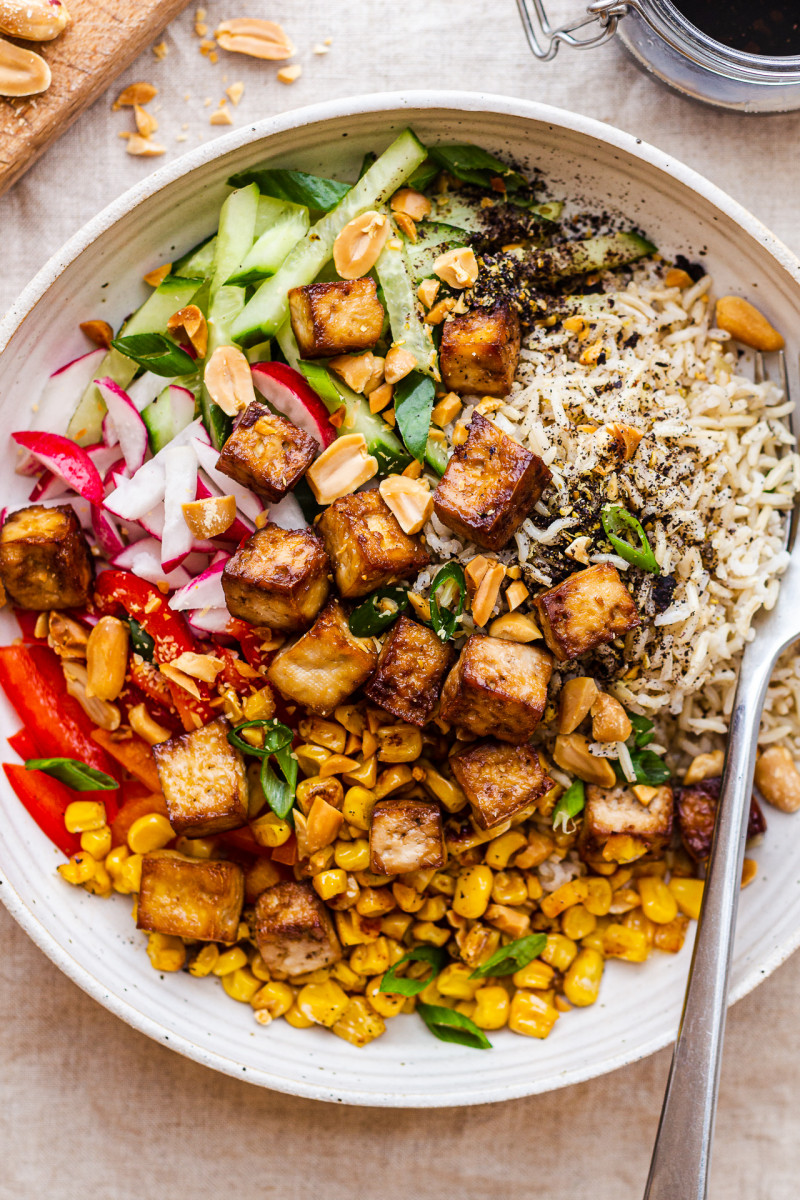 As wind gusts are whipping the rain against my windows, I am sharing this simple yet nourishing vegan rice bowl that I came up with during an intense heatwave! As recently as a few weeks ago we were all sweltering in heat over here, but for the last two weeks it feels like summer is over. Oh well. I do hope it will return soon. I know that it's very much present on the continent so I hope this simple, heat friendly recipe will come in handy.
It's essentially a simple Asian inspired salad with heaps of fresh vegetables, some cooked rice and soy marinated tofu. I came up with it when it was unbearably hot over here a month or so ago. I would make a massive batch of tofu and roasted peanuts in advance at the beginning of the week, a big jar of the dressing and chop vegetables and cook rice on the day. I've made it for my mum and my brother when I was visiting home and they enjoyed it a lot too.
What I love about this vegan rice bowl is how satiating it is thanks to plant protein rich tofu and brown rice (you can use white rice too of course!) and an abundance of vegetables in every colour possible. It's filling and hydrating, substantial yet light at the same time. It's perfect for batch prep and can totally be made without any oil too if you follow no oil style of eating.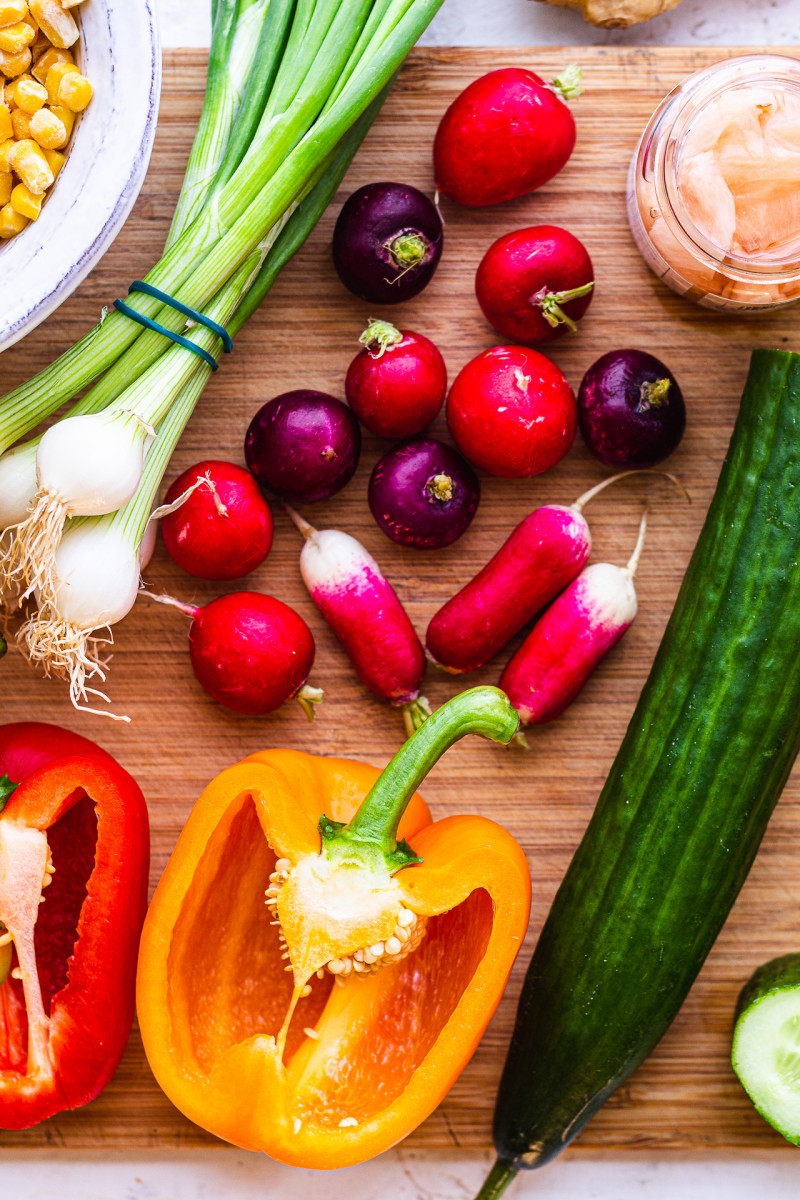 MORE ABOUT THE INGREDIENTS
TOFU: To make this simple bowl satiating and rich in plant protein, I used extra firm tofu which I marinated just in soy sauce for ease. I then baked in the oven and stirred a bit of oil through it at half way point for better texture, but you can skip it if you prefer. You can also pan fry the tofu in a hot skillet if you'd rather. I recommend lifting the tofu out of the marinade, dusting it in cornstarch / cornflour on all sides and arranging on a thin layer of pre-heated oil.
FRESH VEGETABLES: This part is very flexible, use any fresh, seasonal vegetables you like and have access to. Aside from the ones I've listed, I also made this bowl with sugar snap peas, edamame, carrots, young cabbage and avocado.
RICE: Rice is what renders this bowl extra satiating. I tend to us brown rice in this kind of meal for extra plant protein and fibre, and therefore satiety, but any rice you enjoy will work just as well.
PEANUTS: Peanuts are an optional element, but I recommend adding them as I am a firm believer in a variety of textures and flavours when creating a truly satisfying meal. You can buy ready roasted (preferably not salted) peanuts or roast them at home, in the oven or on a hot pan. As they keep for ages, I recommend roasting a big batch at once and keeping them on hand when cooking dishes that call for a sprinkling of roasted peanuts. If you cannot have peanuts, sub them with cashews or sunflower seeds.
NORI: A sprinkling of crushed nori – toasted seaweed that is traditionally used to create sushi rolls – delivers taste of the ocean and lots of good nutrients too. I tend to grind my nori sheets in my spice grinder or pestle & mortar and make it into a spice mix, but you can simply just use ground up nori on its own.
SPRING ONIONS / SCALLIONS: Spring onions add flavour, I like to use little spring onions as they are milder in flavour and cut them really finely.
SOY SAUCE I use all purpose soy sauce to marinate the tofu and to create a simple dressing. If you want to keep these vegan rice bowls gluten-free, use tamari instead.
RICE WINE VINEGAR I like to use a little acidity to the dressing by adding a splash of rice wine vinegar, but you can also just use a squeeze of lime instead.
SUGAR I use a small amount of maple syrup to have a counterpoint to the acidity in the dressing, sugar will work just as well.
TOASTED SESAME OIL A small amount of toasted sesame oil gives the dressing a bit of viscosity and beautiful nutty flavour. You can omit it if you'd rather not use oil or replace it with a spoonful of tahini (or peanut butter) and a splash of water.
GINGER & GARLIC A small amount of both ginger and garlic add a lot of flavour and aroma to the dressing. I sometimes garnish with finely chopped sushi ginger and skip fresh ginger in the dressing.
CHILLI SAUCE I like a little kick in my dressing so I add a but of chilli sauce to the dressing, but you can skip it if hot food isn't your thing.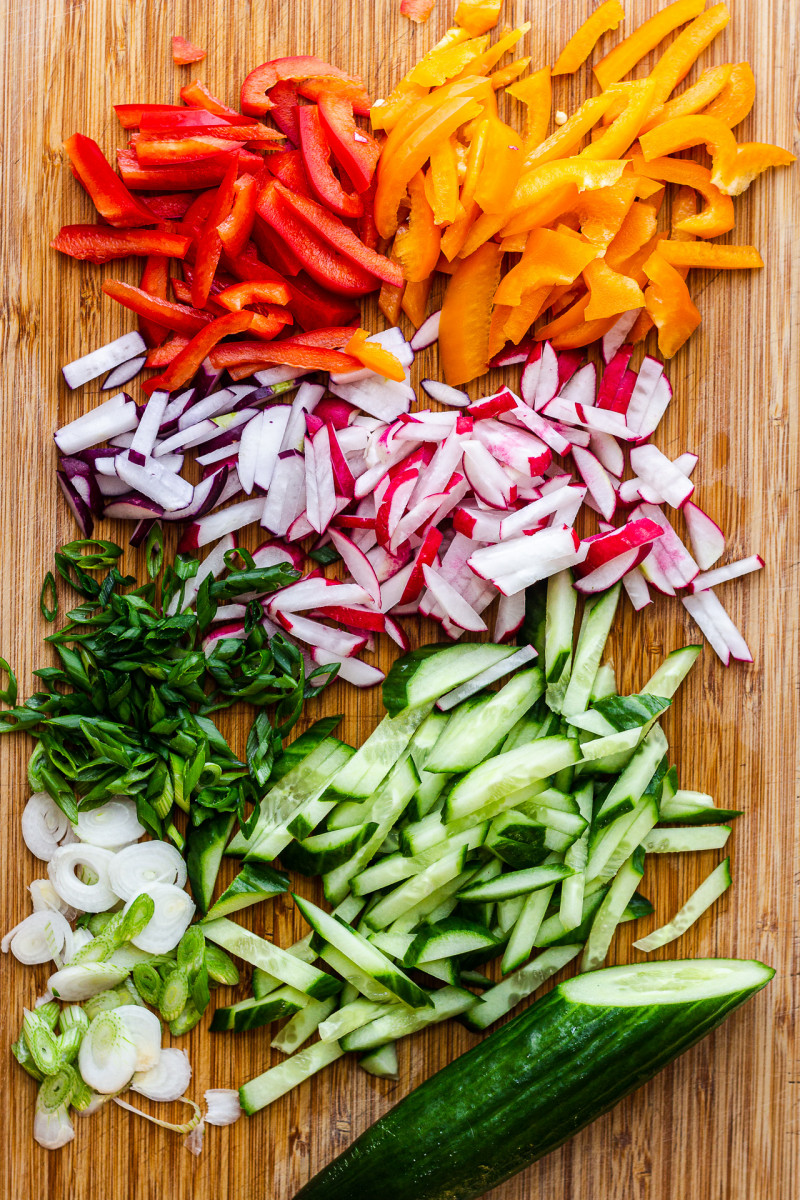 CAN I PREP THIS VEGAN RICE BOWL AHEAD?
You can make the DRESSING in advance and store it in the fridge in a jar – it will keep well for at least 2 weeks. You can bake peanuts and tofu in advance too. Roasted PEANUTS will keep for months in an air-tight jar in a cupboard. Baked TOFU will keep for a few days in the fridge or it can be frozen.
VEGGIES can be cut a day ahead and kept in an air-tight container in the fridge. There is some concern about cooking large amounts of RICE in advance due to a risk of food poisoning but if you understand the risks and take the necessary precautions you should be safe.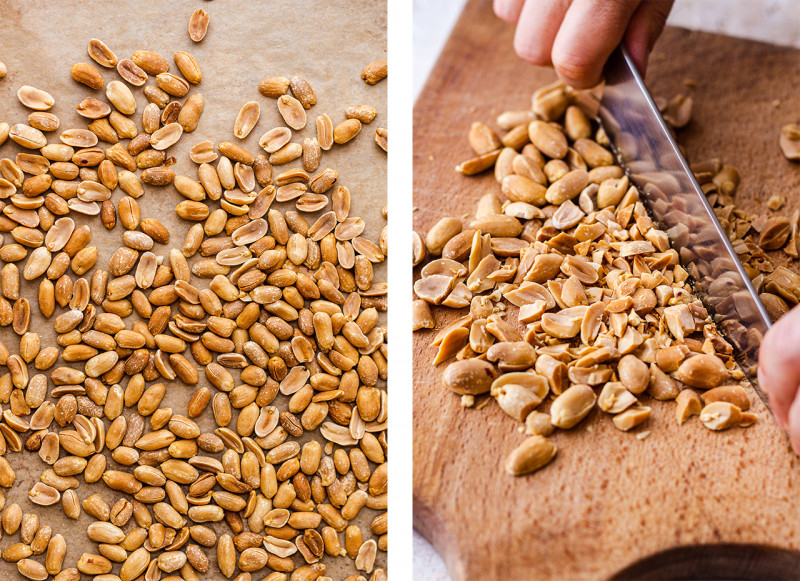 CAN I MAKE THIS VEGAN RICE BOWL WITHOUT AN OVEN?
Yes, you can fry the tofu in a little oil instead of baking it and roast the peanuts on a skillet too. To pan-fry the tofu, lift it out of the marinade, coat it in a thin layer of corn starch / cornflour and arrange on a preheated oil. Make sure to turn the cubes regularly so that they brown evenly on all sides. Arrange fried tofu on a paper towel to get rid of excess grease.
CAN I MAKE THIS VEGAN RICE BOWL OIL-FREE?
Absolutely, you totally can. Sesame oil in the dressing is mostly added for flavour – you could take it out and, if you want to keep sesame taste, add a tablespoon of toasted and crushed (in a pestle & mortar) sesame seeds. You could also use a little bit of tahini for sesame flavour and some added richness.
HOW MANY PEOPLE DOES IT SERVE?
This is the portion I usually make for two and it feeds me – a regular human – and my always running, always hungry husband – let's just say I pay for way more food than I consume in this house 😉 .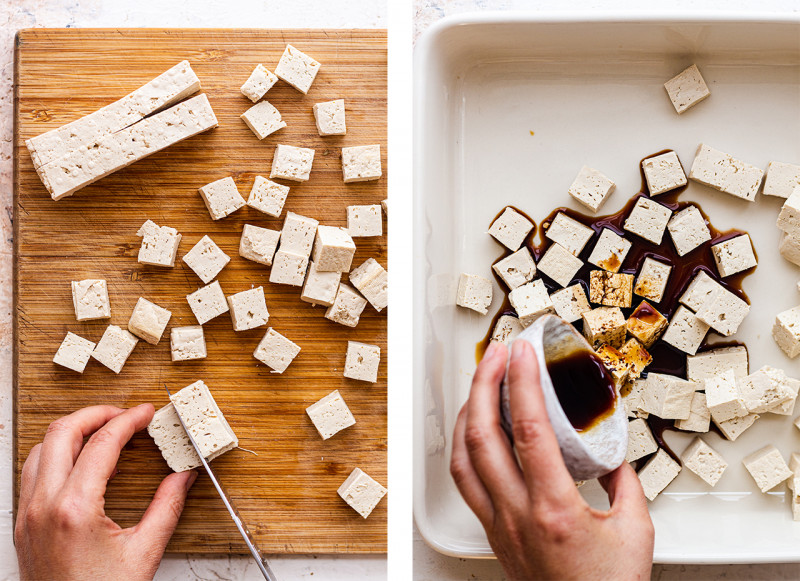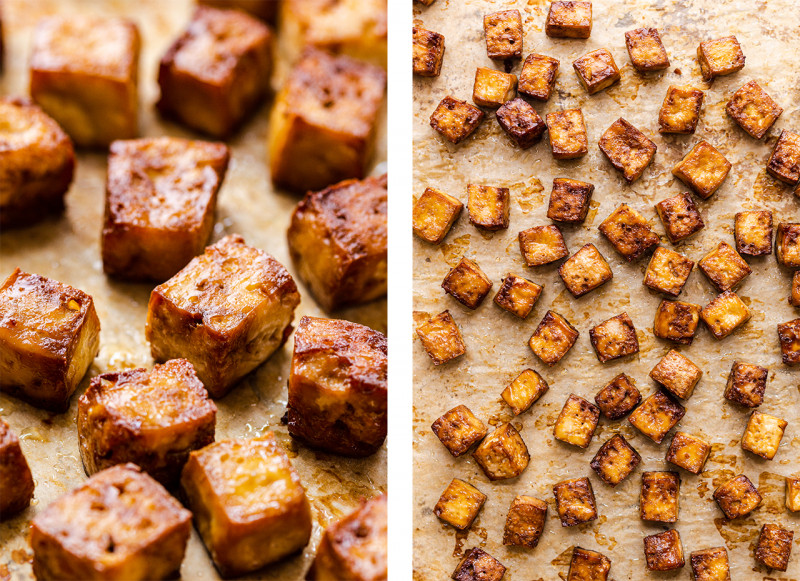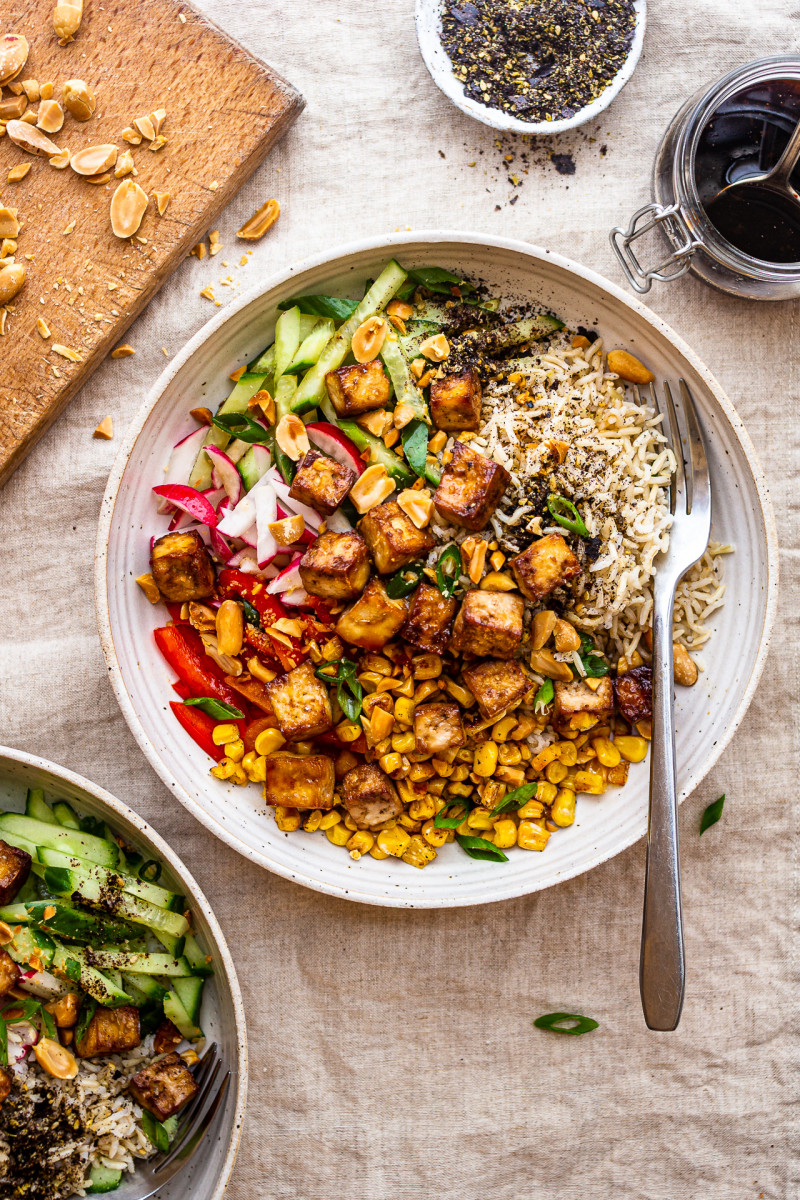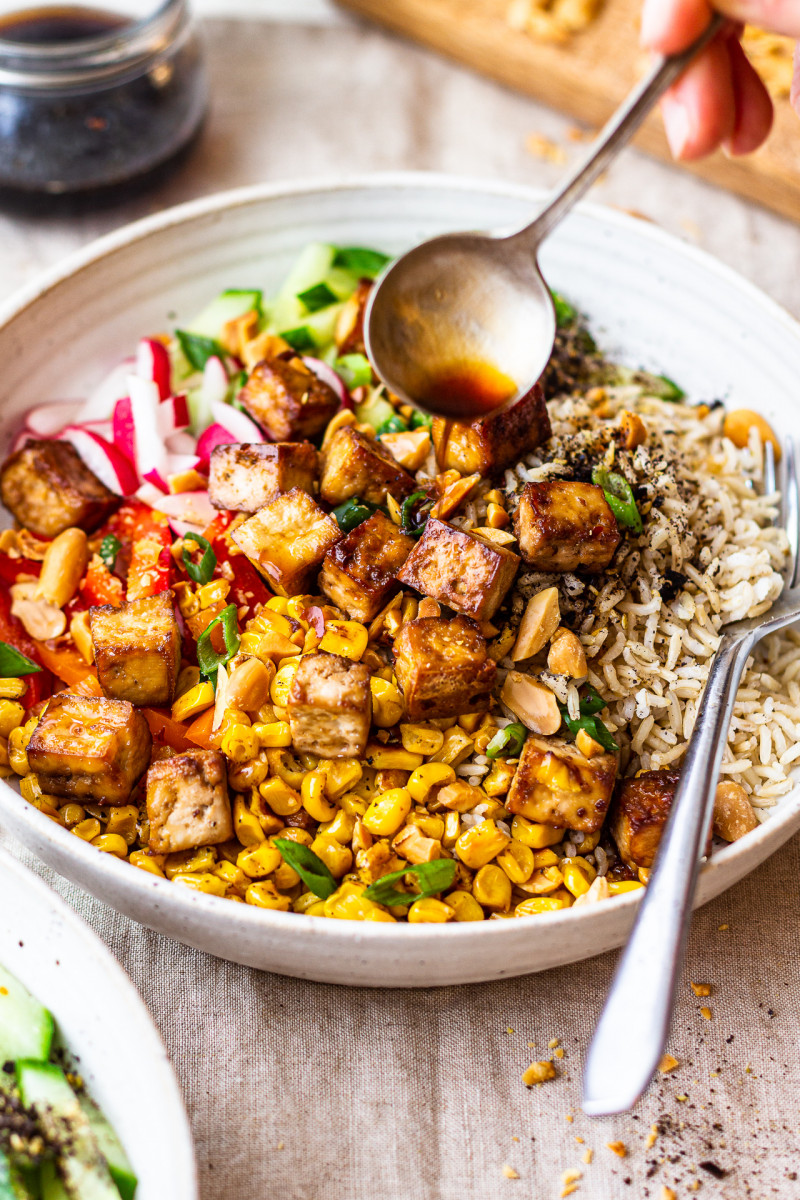 TOFU
300 g / 10.5 firm tofu (I use smoked tofu but regular works well too), pressed
20 ml / 1½ tbsp soy sauce (or tamari if GF)
10 ml / 2 tsp oil (optional)
SOY DRESSING
30 ml / 2 tbsp soy sauce (or tamari)
20 ml / 1½ tbsp rice wine vinegar
10 ml / 2 tsp maple syrup (or sugar), adjust to taste
10 ml / 2 tsp toasted sesame oil (optional, you can use tahini or PB)
1 garlic clove, finely grated
2.5 cm / 1″ ginger, finely grated
5-10 ml / 1-2 tsp chilli sauce (like Sriracha), more to taste
BOWL INGREDIENTS
½ English cucumber
8 radishes
½ bell pepper
1-2 spring onions / scallions
1 corn on the cob or ½ cup tinned (or frozen) kernels (optional)
40 g / ¼ cup roasted peanuts*, chopped
300 g / 1½ cups cooked rice* of choice (I used brown)
nori seasoning or a crushed sheet of nori (optional)
METHOD
TOFU
Cut pressed tofu into 1.25 cm / 0.5″ cubes. Combine soy sauce and 1 tbsp (15 ml) of water in large, flat bottomed dish and coat tofu cubed in the liquid. Allow to marinate for at least 1 hr, stirring every now and then.
Heat up the oven to 200° C / 390° F (or 180° C / 355° F with fan) and grab a large baking tray. Lift tofu out of the marinade and arrange it on a lined baking tray, bake for about 15 minutes.
Stir oil through the tofu and return to the oven for another 15 minutes (if using an already pressed brand of tofu, like Tofoo, 5-10 minutes is enough).
DRESSING
Place all of the ingredients in a jar, screw the lid on and shake well to emulsify. Leftovers keep well in the fridge for 1-2 weeks.
SALAD
Chop the first three vegetables really finely – I like to julienne them (see the photo in the post) and slice spring onion thinly.
If using corn on the cob, grease it with a little oil and char on hot skillet/griddle on all sides. If using defrosted corn kernels, fry them in a small amount of oil until charred or use raw tinned corn if you'd rather.
Divide cooked rice, prepped vegetables and baked tofu between bowls, top with nori seasoning and crushed peanuts and drizzle with the dressing (you may not need all of it).
NOTES
*PEANUTS: if you only have raw peanuts, you can either roast them in the oven or on a hot skillet. To roast them in the oven, spread 150-300 g (1-2 cups) of peanuts on a paper lined baking tray and roast them at 180° C / 355° F (no fan) until golden – about 10 minutes depending on the amount of peanuts. To roast them on the hob, place a single layer of peanuts on a pre-heated dry pan and toss them frequently until charred and fragrant. Allow to cool after roasting.
If you are allergic to peanuts
, replace them with cashews or sunflower seeds.
*RICE: I don't salt my rice when I make this dish, if you do you may want to use a little less soy sauce.