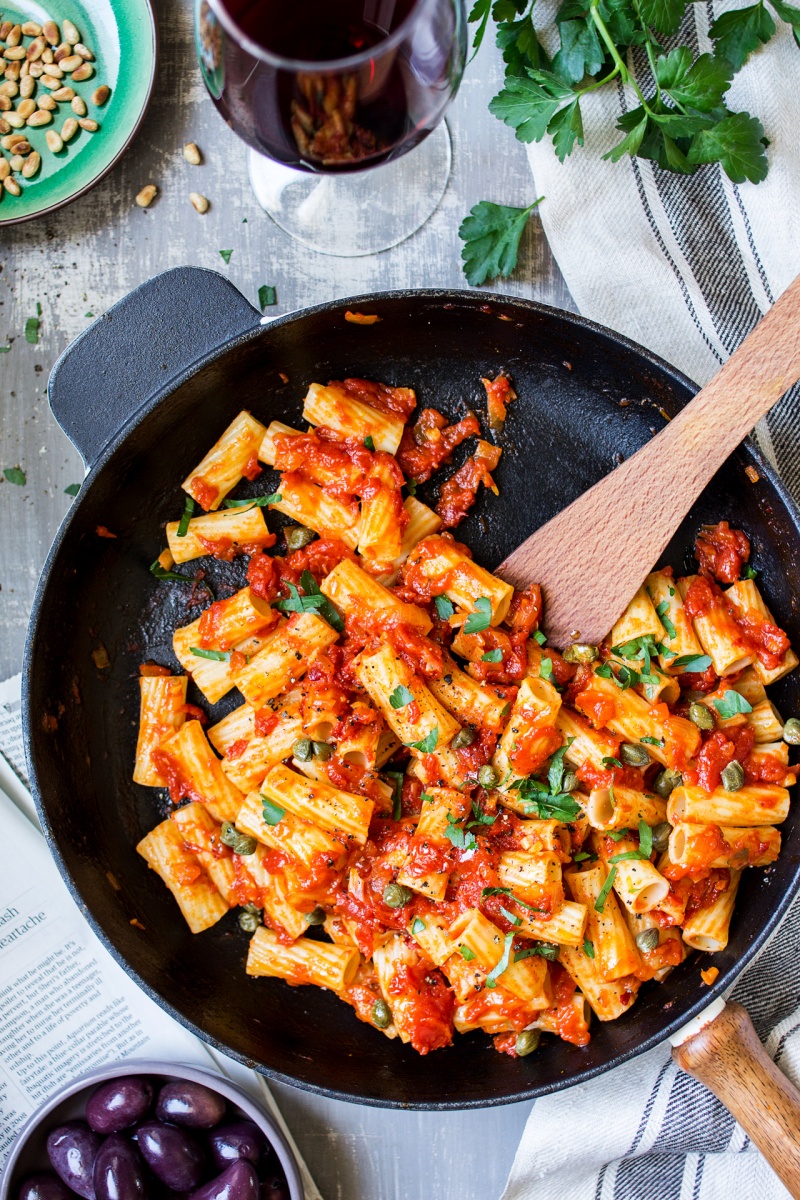 When we returned home from our holiday last week, my empty fridge, which I was so pleased with when we were leaving, became a bit of a bleak dinner prospect. I couldn't face going food shopping so I rummaged through my cupboards and decided to make something out of what I had: a sad onion, some garlic cloves, a jar of Indonesian chilli paste, 2 tins of plum tomatoes, a bag of capers (which I buy in almost wholesale quantities 😉 ) and pasta.
It all sounded pretty workable, but in need of some pazzaz. Then I remembered that a friend gave me some Greek saffron a while ago and I haven't yet had a chance to use it. That's exactly what I needed to 'lift' the sauce a bit.
As Greece is a bit ahead of everybody else in Europe in terms of weather, pretty decent tomatoes started piling up in my local veggie shop so I also tried making the same dish with fresh tomatoes. The sauce was even nicer!
The beauty of this dish is that it's pretty straightforward. Apart from some quick chopping, all you need to do is to give the sauce a bit of a stir now and then. It doesn't need too much 'babysitting' and comes together in about one hour. It goes really well with some fresh parsley and a cheeky glass of red won't go amiss either 😉 .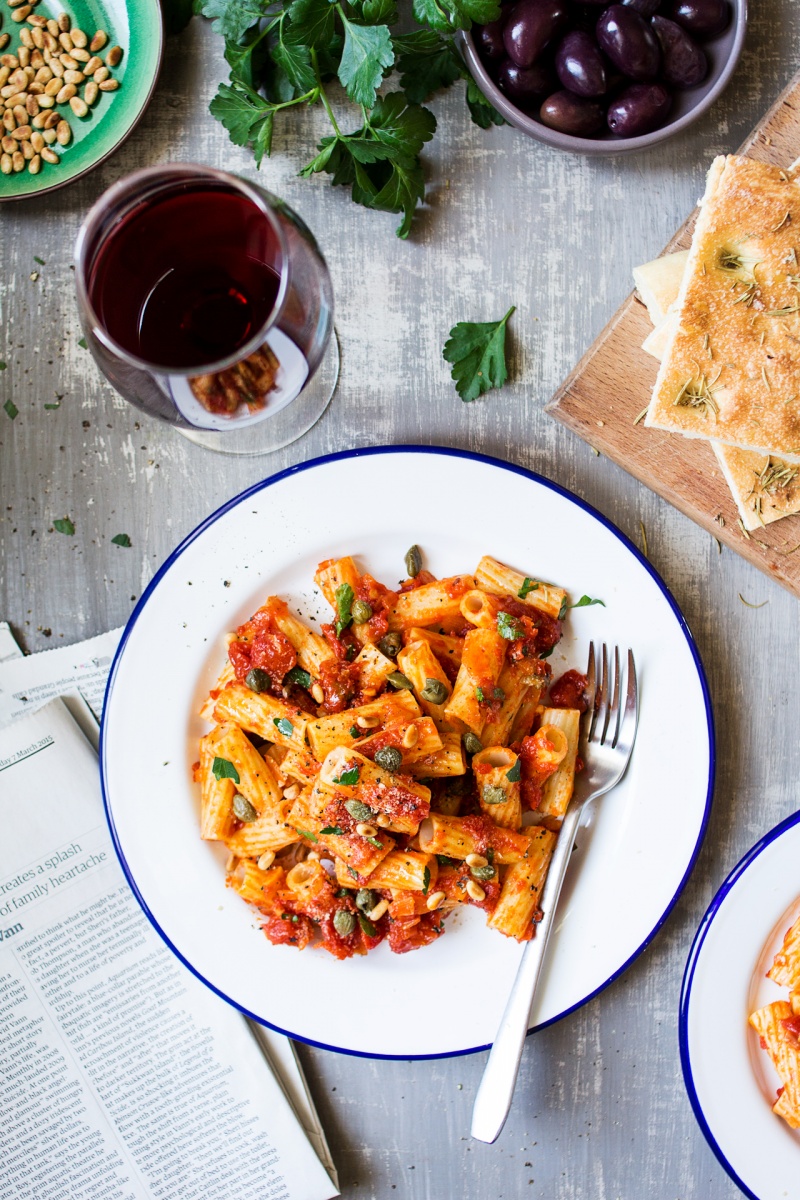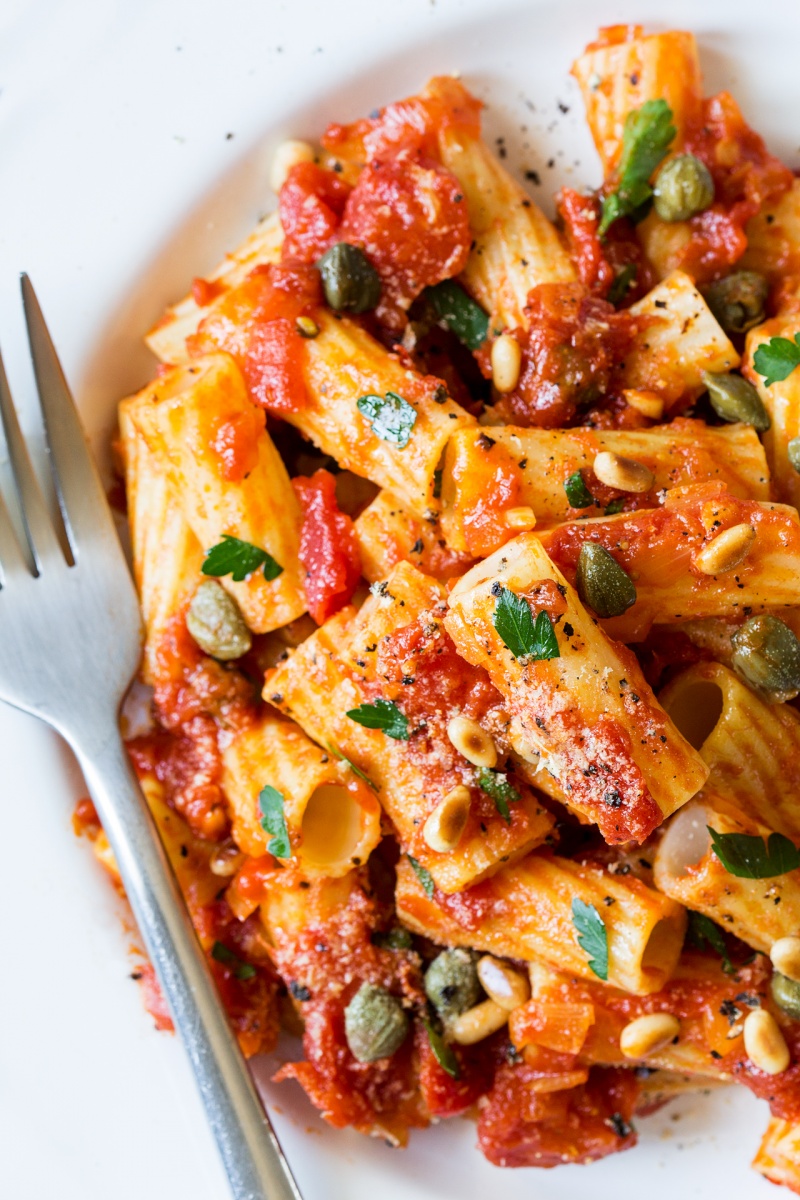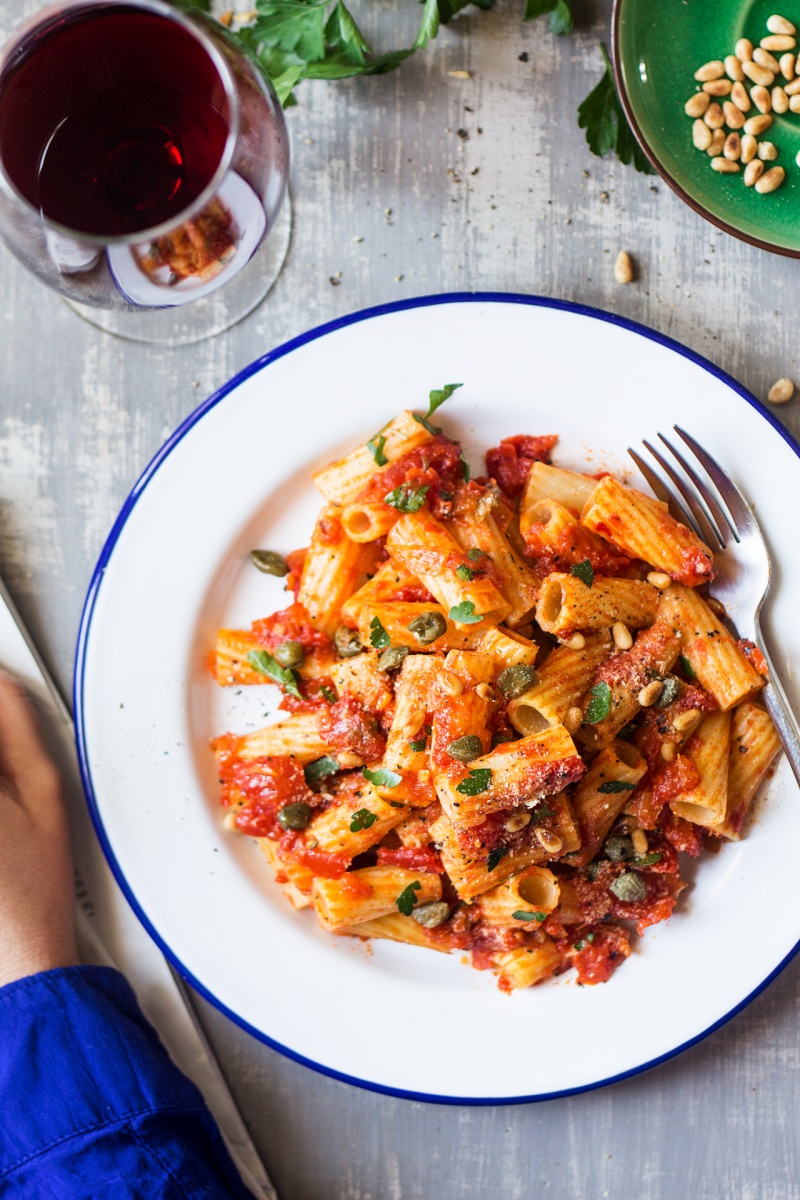 SAFFRON AND CAPER TOMATO SAUCE
2 tbsp / 30 ml olive oil
1 small red onion, finely diced
3 garlic cloves, finely diced
½-1 tsp sambal oelek (or hot chilli flakes, adjust to taste)
1 tbsp tomato paste
6 medium tomatoes, peeled and chopped OR 2 x 400 g / 14 oz tins of peeled plum tomatoes
1-2 small pinches of saffron
2-3 tsp brown sugar or maple syrup
½ tsp sea salt (go easy as capers also add saltiness!)
2 heaped tbsp capers, chopped coarsely
black pepper, to taste
REMAINING INGREDIENTS
handful pine nuts or walnuts, toasted
nutritional yeast (this is the brand I use)
fresh parsley or basil, to garnish
320 g / 11 oz rigatoni pasta (gluten-free for GF version)
METHOD
Heat up olive oil in a large frying pan.
Throw in chopped onion and sauté it on a low-medium heat for a few minutes until it softens and becomes almost translucent.
Add in chopped garlic and fry off for a minute or two until soft and fragrant.
Mix sambal oelek (or chilli flakes) into the onion and garlic mixture. Now add in tomato paste.
Chuck in chopped tomatoes. If using plum tomatoes gently squash them with a fork once in the pan. Now add about 120 ml / ½ cup vegetable stock or water and ½ tsp of salt. Simmer (without a lid) on a low heat for about 45-60 minutes giving it a good stir every 10 minutes or so. You want the tomatoes to break down fully and the sauce to thicken so that it coats your pasta nicely. If the tomatoes haven't yet broken down and the sauce is looking dry, add another splash of water.
About 15 minutes before your sauce is ready, boil a large pot of water and cook your pasta al dente.
Towards the end of sauce cooking time, season with saffron to taste, sugar (to add sweetness and neutralise the citric acid used to preserve the tomatoes) and freshly ground black pepper.
Finally, add in chopped capers and check if the sauce needs any extra salt (mine didn't as the capers were quite salty).
Coat cooked pasta in the sauce. Divide between 4 plates and serve sprinkled with toasted pine nuts, fresh parsley and nutritional yeast.