Today, I have a simple midweek dinner idea for you – a vegan roasted pepper pasta. Its a perfect dish for these colder autumn nights – although its ingredients and therefore smells are still very summery – the dish itself is filling and satisfying like a cold weather dish should be.
It's inspired by muhammara – the beautiful Syrian red pepper and walnut dip. When I made it for the first time, I incorporated ground walnuts into the actual sauce and while the taste was really good, I wasn't too keen on the texture as it was a bit bitsy.
If that does not bother you or, even better, you happen to have some walnut butter to hand, feel free to incorporate some into the sauce at the blending stage. It will give the sauce more creaminess and a pleasant earthy flavour that offers a great counterpoint to the sweet and smoky red peppers.
This sauce is really pretty easy to make and it lends itself extremely well to making a double portion. As I've been a bit busy lately, I took an easy way out and simply used a jar of fire-roasted peppers to speed things up as they are so easily available here, in Greece.
You could roast the peppers yourself if you like (here is how), but it's a slightly messy and fiddly business so taking a shortcut is absolutely fine in my opinion. I used a fresh tomato as there are piles of ripe, late summer tomatoes in my local veg shop, but tinned tomatoes will work just as well!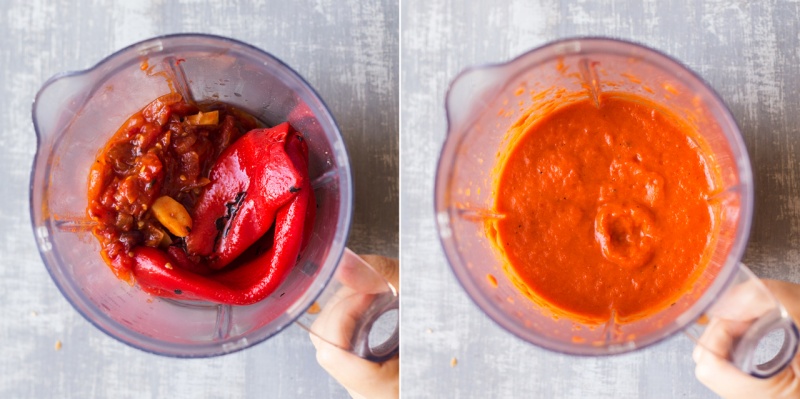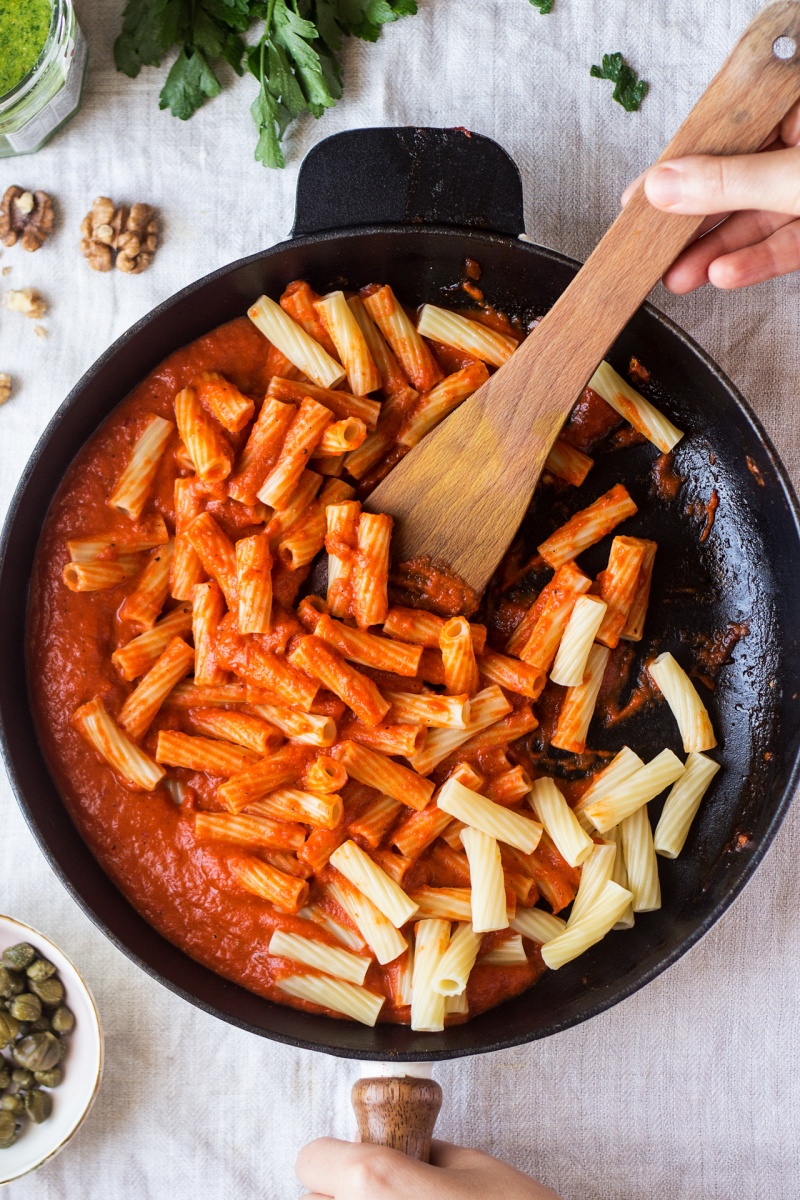 300 g / 10 oz rigatoni (GF if needed)
2 tbsp / 30 ml olive oil
1 small red onion, diced
3 garlic cloves, sliced
1 large tomato (approx. 325 g / 0.7 lb), peeled and diced
½ tsp sambal oelek or a pinch of chilli flakes
½ tsp smoked paprika
black pepper, to taste
½ tsp salt, more to taste
150 g / 5 oz (2 medium) roasted red peppers
2 sun-dried tomatoes
1-2 tsp sugar, adjust to taste
3 tbsp walnut butter, optional*
4 tbsp / ¼ cup capers (in salt, not vinegar), chopped
4 tbsp / ¼ cup chopped walnuts, optional
METHOD
Boil a large pot of water and cook your pasta just short of al dente (so that it doesn't overcook once it hits a hot pan), following the instructions on the packet.
Once the water comes to the boil, take away 60 ml / ¼ cup to soak (in order to soften) the sun-dried tomatoes. If your tomatoes are preserved in oil, there is no need to soak them.
Heat up a heavy frying pan over a low-medium heat. Add 2 tbsp of olive oil to the warm pan and swivel it around the pan. Once the oil heats up and starts to shimmer lightly, add the diced onion and fry on a low medium heat until softened and lightly caramelised (about 5 minutes).
Add finely chopped garlic and fry until softened and fragrant (about 2 minutes), stirring frequently so that the garlic doesn't burn.
Add chopped tomato and a good splash of water. Cook (stirring from time to time) until tomato softens, mostly falls apart and excess water cooks out.
Season with chilli, smoked paprika, pepper and salt. Go easy on the salt if you are topping the dish with capers.
Transfer to a blender or a food processor (a blender will give you a smoother finish). Add roast peppers and softened sun-dried tomatoes. Process until smooth. Taste and adjust seasoning to taste, including adding a bit of sugar if the sauce is too tangy.
At this point, feel free to add some walnut butter if you have any on hand. It's not necessary though so don't worry if you don't have any – you can also just simply top the pasta with chopped walnuts instead.
Return the sauce to the pan just to heat it up briefly. Add pasta and stir everything through.
Serve topped with chopped capers and walnuts (if not using them in the sauce). It's also delicious with a light drizzle of rocket / arugula pesto.
NOTES
*If you have walnut butter on hand, it is worth adding it to the sauce for extra creaminess and a nutritional boost. You could also add finely ground walnuts, but I found that it makes the sauce less silky smooth.