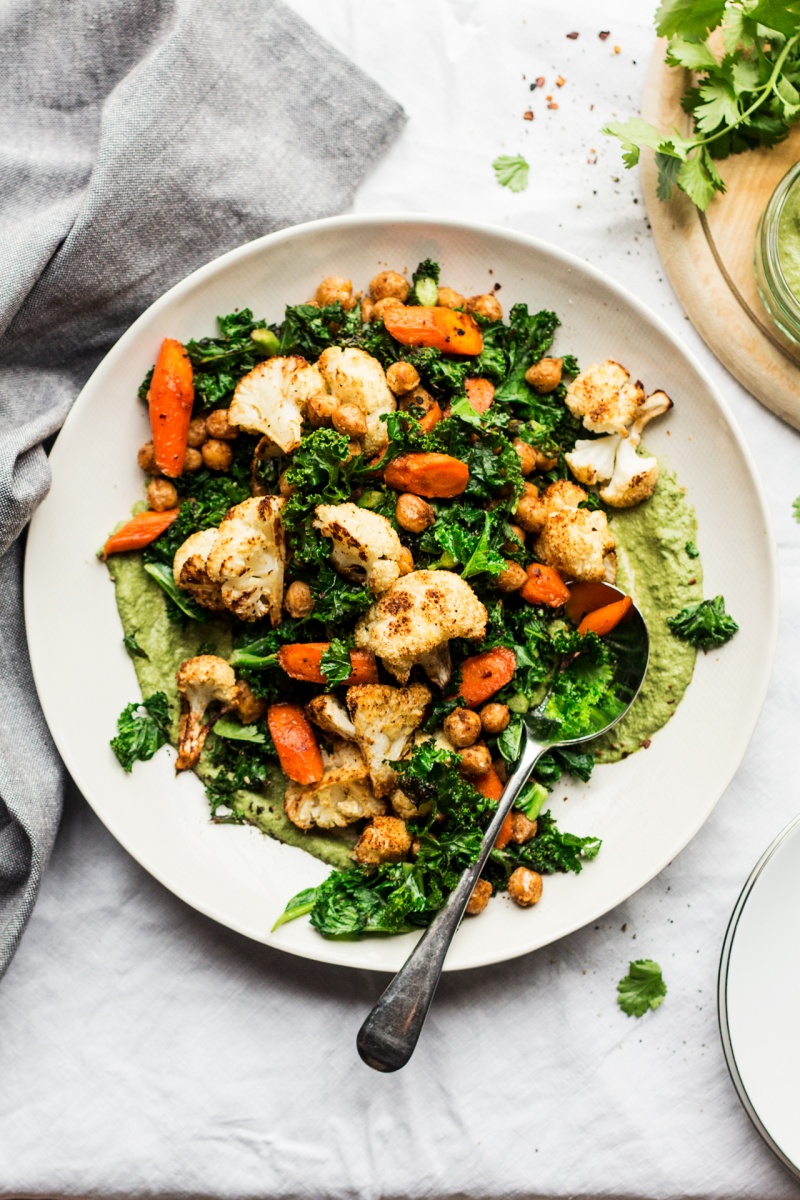 Hope you guys have had a nice weekend? Ours was a bit boring, to be honest. We are sort of mid-move as the estate agent has let us down – what a surprise! – so we haven't been able to fully move into our new place just yet. They told us that we will have a new oven and extractor fan installed by the time we move in on Friday, which for obvious reasons was a very important thing for us.
When we saw that no work has even commenced on it, we realised that it was just a ploy to get us to sign the contract without them having to add a clause about the offer being subject to these two things being done. We were not impressed!
We also still don't have any of our stuff as the shipment from Greece is still in a warehouse somewhere and we haven't been able to get an ETA on it for the past few days. So we decided to stay at Duncan's cousin's house a few more days or else I would not be able to bring you any new recipes – there is not much you can do with a mug and a microwave – I guess there is, but that's not my style of cooking.
We have therefore spent the weekend shopping for house necessities, which was kind of lucky as we managed to get a few Black Friday deals in the process. Neither of us enjoy shopping very much, but it had to be done and shopping for house stuff is by far the most enjoyable, especially that we seem to have a fairly similar taste in furnishings. Shame we cannot scrap the current decor and do it all up to our taste as this is a project we are very much looking forward to taking on. Still, we got a few bits and pieces that will definitely make the place feel more homely and more 'us'.
Today's recipe has been designed in collaboration with my best friend of late – Biscuits (Duncan's cousin's bunny rabbit whom you might have seen in our Instagram stories). She is super keen on kale, carrots and coriander so she has been making lots of approving murmurs as I was running the recipe idea past her… I am sad to leave tonight as I think she has enjoyed having two resident vegans in the house and a constant supply of their crunchy off-cuts.
This bunny-approved, warm roasted vegetable salad with a delicious and completely oil-free coriander cream is exactly what the doctor has ordered in this cold weather. And if you are not in the mood for it now, it will make a great vegan side to your Xmas table so make sure you keep it safe.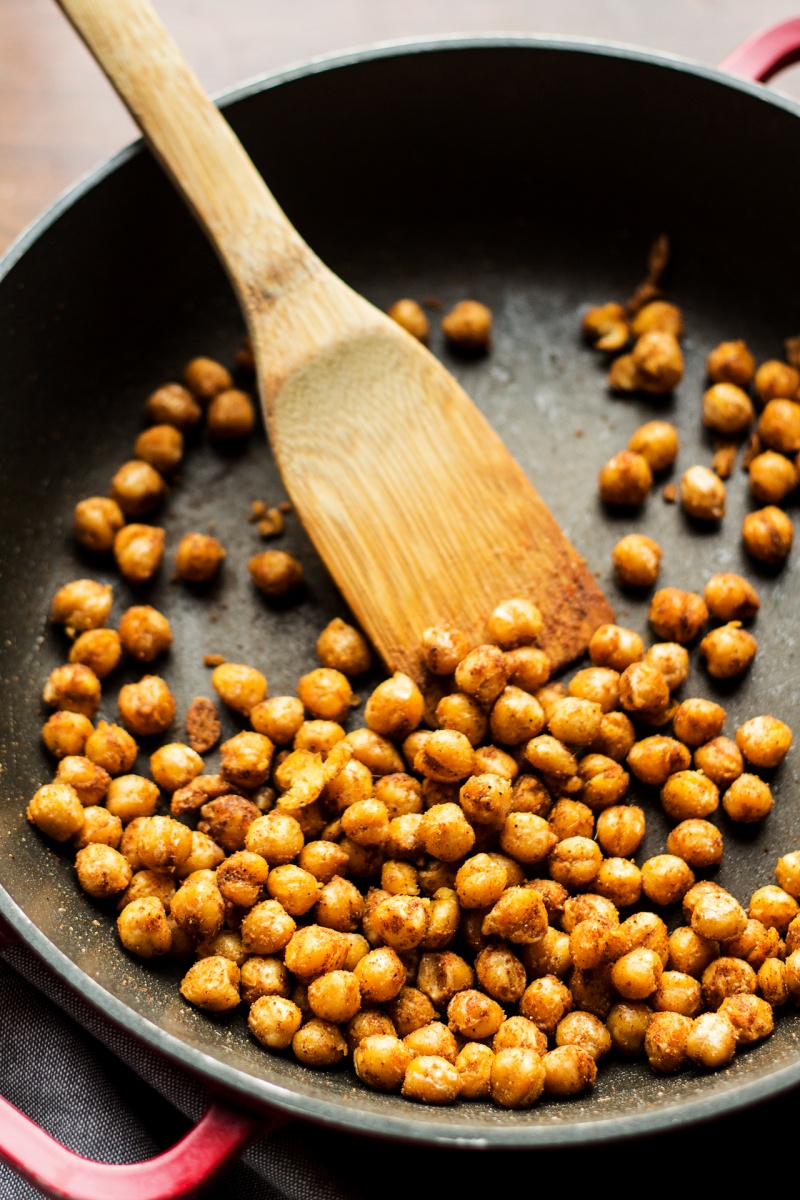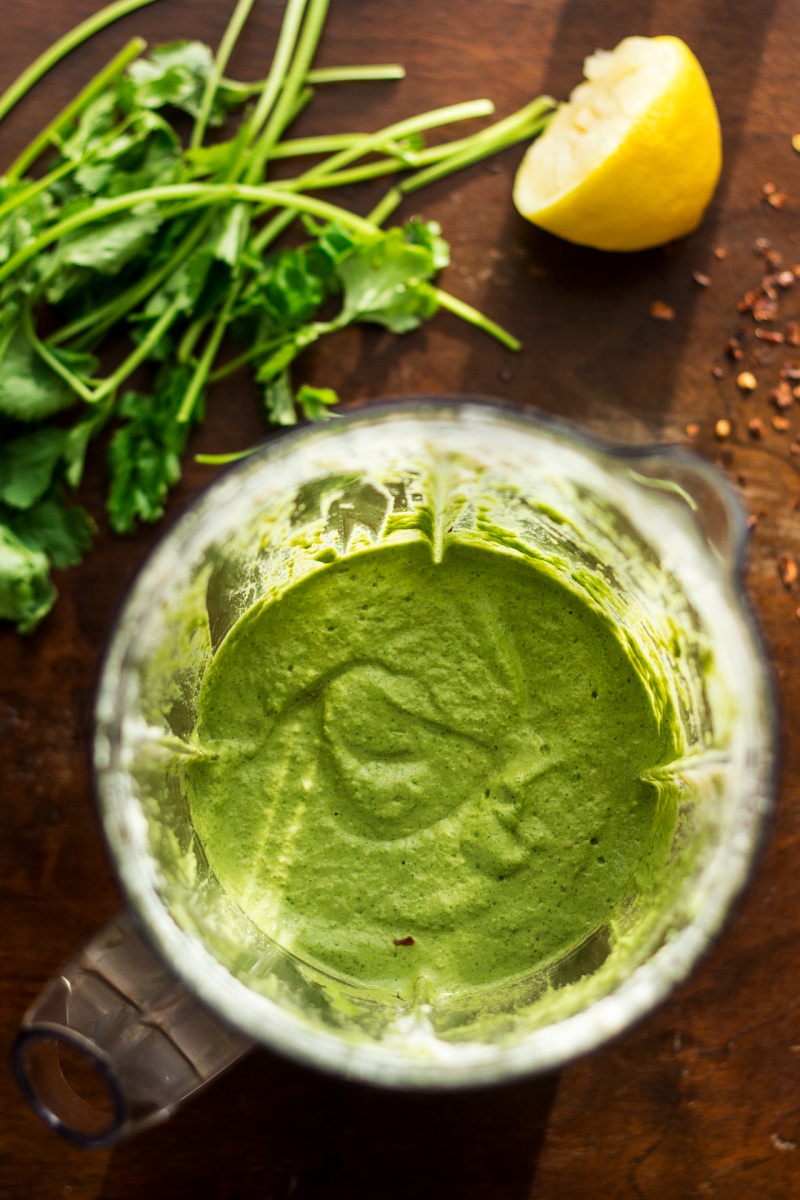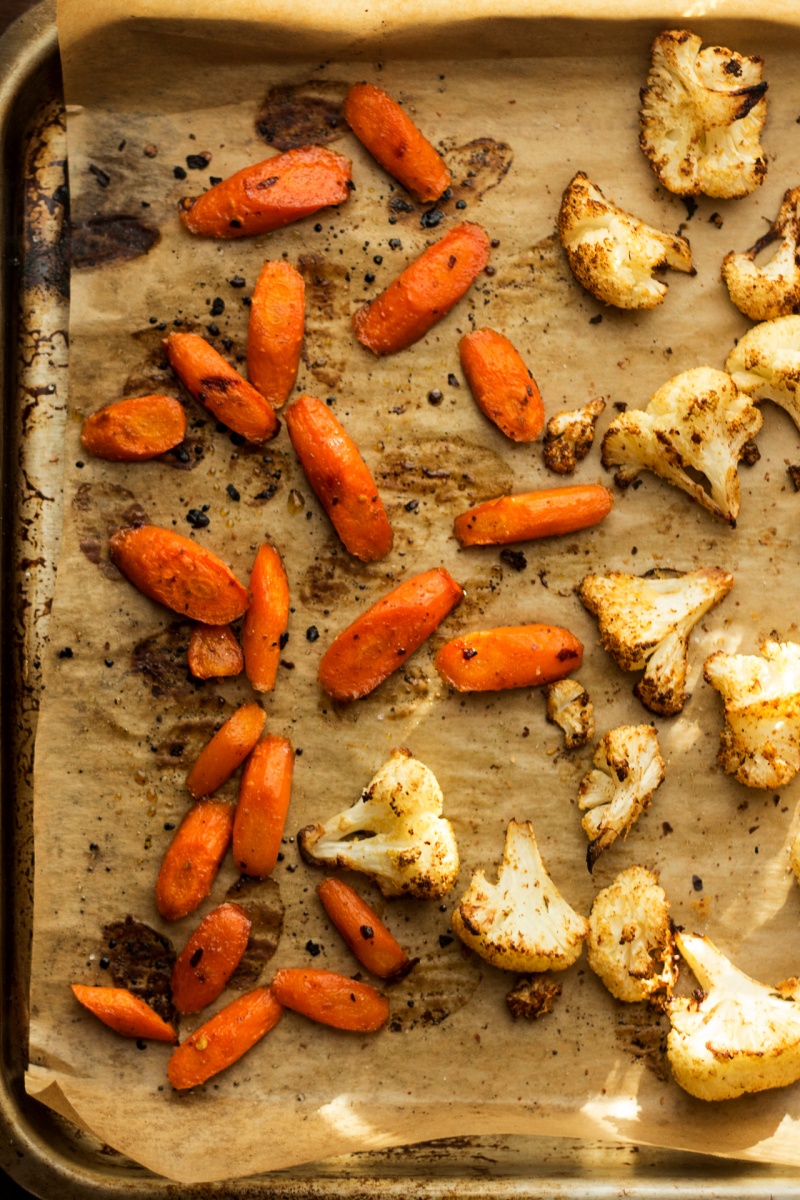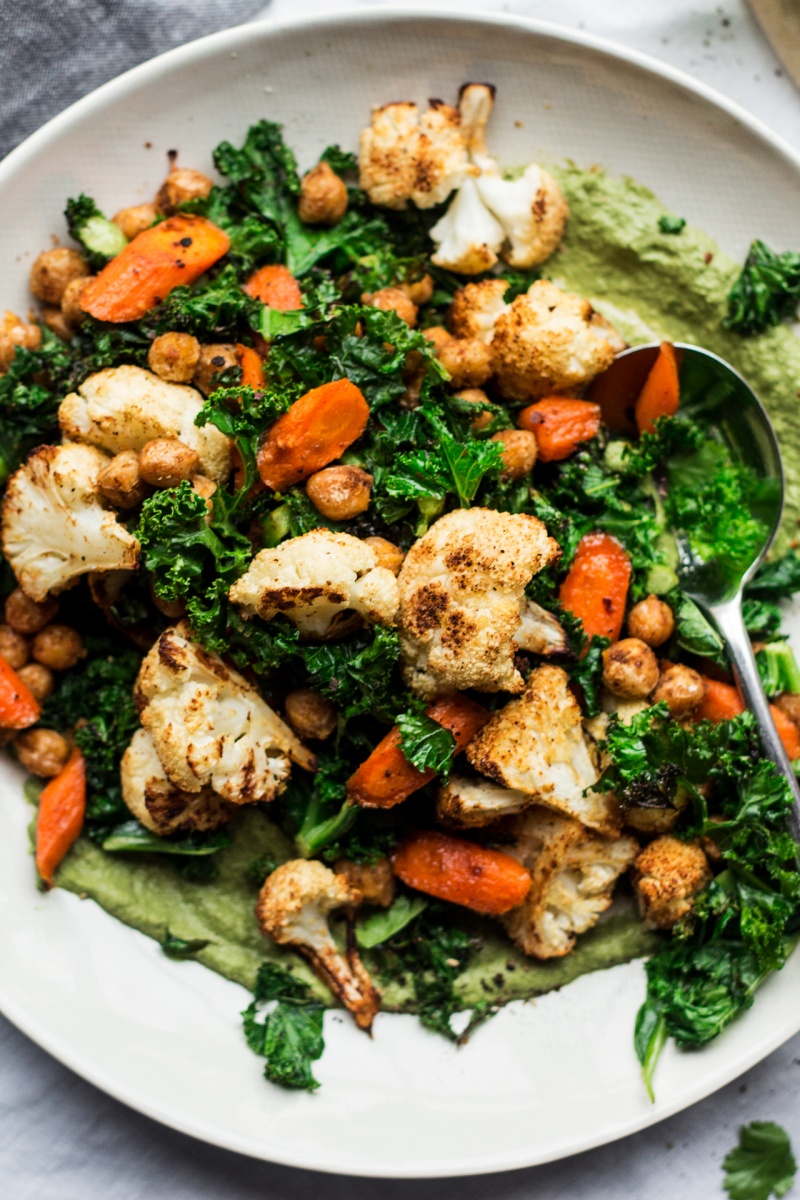 ROASTED VEGETABLES
1 x 400 g can chickpeas (about 1½ cups cooked)
½ cauliflower head (approx. 500 g / 18 oz)
approx. 20 ml / 1½ tbsp olive oil
1 tsp fine sea salt
1½ tsp cumin
1½ tsp coriander
2 tsp nutritional yeast
½-1 tsp chilli powder, adjust to taste
2 long carrots
2 tsp maple syrup
approx. 20 ml / 1½ tbsp high smoke point vegetable oil (I used peanut)
200 g / 7 oz curly kale, tough stems removed and chopped small
½ tsp smoked paprika
CORIANDER CREAM
6 tbsp (husked) sunflower seeds, soaked overnight
1½ tbsp freshly squeezed lemon or lime juice
2 small garlic cloves
½ tsp salt, more to taste
black pepper, to taste
a pinch of cumin, to taste
a pinch of chilli flakes, to taste
½-1 tsp maple syrup
approx. 50 g / 2 oz coriander / cilantro leaves
METHOD
Drain your chickpeas really well. If you have time, leave them on the sieve for a few hours (you may want to save the liquid for one of these delicious vegan desserts). If you are in a rush, simply drain the chickpeas for 10 minutes or so and then pat dry with a kitchen towel.
Heat up the oven to 200° C / 395° F (or 180° C / 355° F fan forced). Line a large baking tray with a piece of baking paper.
Divide the cauliflower into same-size florets. Place them in a mixing bowl. Toss in about 2 tsp of olive oil and season with salt, ¼ tsp cumin, ¼ tsp coriander, 2 tsp nutritional yeast and a good pinch of chilli powder. Lay out on the half of the prepared baking tray, making sure individual pieces do not overlap.
Place the carrot chunks in the same bowl. Toss in 1-2 tsp of olive oil and 1-2 tsp of maple syrup. Sprinkle with salt, ¼ tsp cumin and ¼ tsp coriander and a good pinch of chilli if you wish. Arrange on the other half of the baking tray, making sure individual pieces do not overlap.
Bake the carrots for about 20 minutes, flipping to the other side half way through. Once they are done, remove them from the tray and cook the cauliflower pieces for a further 10-15 minutes, until charred in places.
While the veggies are roasting in the oven, heat up a heavy-bottomed frying pan (or a wok). Once the pan comes to temperature, add 2-3 tsp of high smoke point oil. Once the oil heats up, chuck the chopped-up kale in. Stir-fry on a medium-high heat for about 3 minutes. Season with a good pinch of salt at the end, transfer to a plate and set aside.
Wipe the pan clean and heat it up again. Add 2 tsp of high smoke oil and once the oil becomes hot, chuck the dry chickpeas in. Toss them in the hot oil and let them char, stirring from time to time. Mix ½ tsp cumin and smoked paprika, ¼ tsp coriander and chilli, plus about ¼ tsp salt in a small bowl. Once the chickpeas are charred in places, take the pan off the heat and tip all the spices into the pan. Toss the chickpeas in the spices quickly, letting them roast in the residual heat.
Swipe a generous layer of coriander cream at the bottom of the plate, pile kale, chickpeas and roasted veggies on top. Serve with leftover coriander cream on the side.
CORIANDER CREAM
Rinse the soaked sunflower seeds well and place them in a blender together with 60 ml / ¼ cup of water. Put the lid on but leave the little opening at the top open. Switch the blender on, trickling enough water (about 2 more tablespoons) for the sunflower seeds to turn into a smooth cream. Add lemon juice, garlic, salt, pepper, cumin and chilli and a touch of maple syrup.
Pick most of the leaves of the coriander. It's okay to include some of the stems, but they do tend to taste a little bitter so I would recommend keeping most of them for a curry base instead. Wait with blending in the coriander until just before serving, if you can, as the cream will lose some of its vibrant green colour if it sits around for too long.
Just before plating, blend the coriander in. Taste and adjust the seasoning if required.