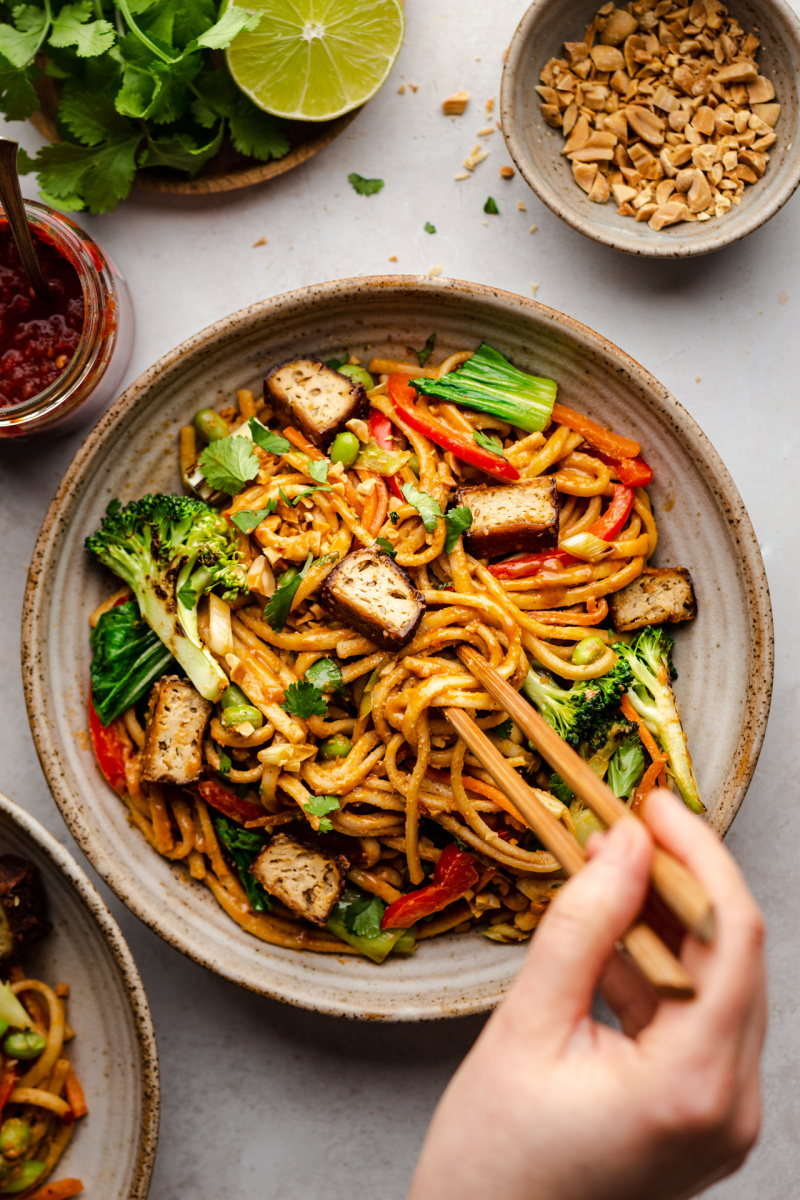 Happy Wednesday guys! How are you all doing? I'm still buried in my Photoshop files most of the time, but the design is coming along nicely, so it's all good. From other highlights, this past weekend we've managed to move our living room redecoration one step further as after almost 6 months of waiting, our window shutters have finally arrived.
We were both a bit apprehensive as we chose the self installation (and measurement) route and if you don't measure windows for a living, there is always a risk that you've measured something wrong and the shutters won't fit. It turns out that we must have done an okay job as they did fit, whoop whoop, and we breathed a collective (including Tina – who was supervising from the other side of the room) sigh of relief. They fit and they look pretty good too – much much better than the curtains left behind by the previous owners. Now the only other thing we need to sort out is to find a rug and art for the walls and we can finally pronounce our living room finished. The bathroom is up next…
Recipe-wise, I'm thinking that even though spring seems to want to come through the door, evenings are still really chilly and Bristol at least has been extremely windy these past couple of days, so a bit of comfort would not go amiss, right? I made a bowl of peanutty udon noodles that makes for a perfect midweek feast as it's quick and easy to prepare. It's filling, creamy, with a warming hit of ginger and, if you are that way inclined, it can be made oil-free too by simply steaming the vegetables instead of stir-frying them. I hope you'll enjoy and if you do, please be so kind as to review this recipe on here – it helps my work reach more people.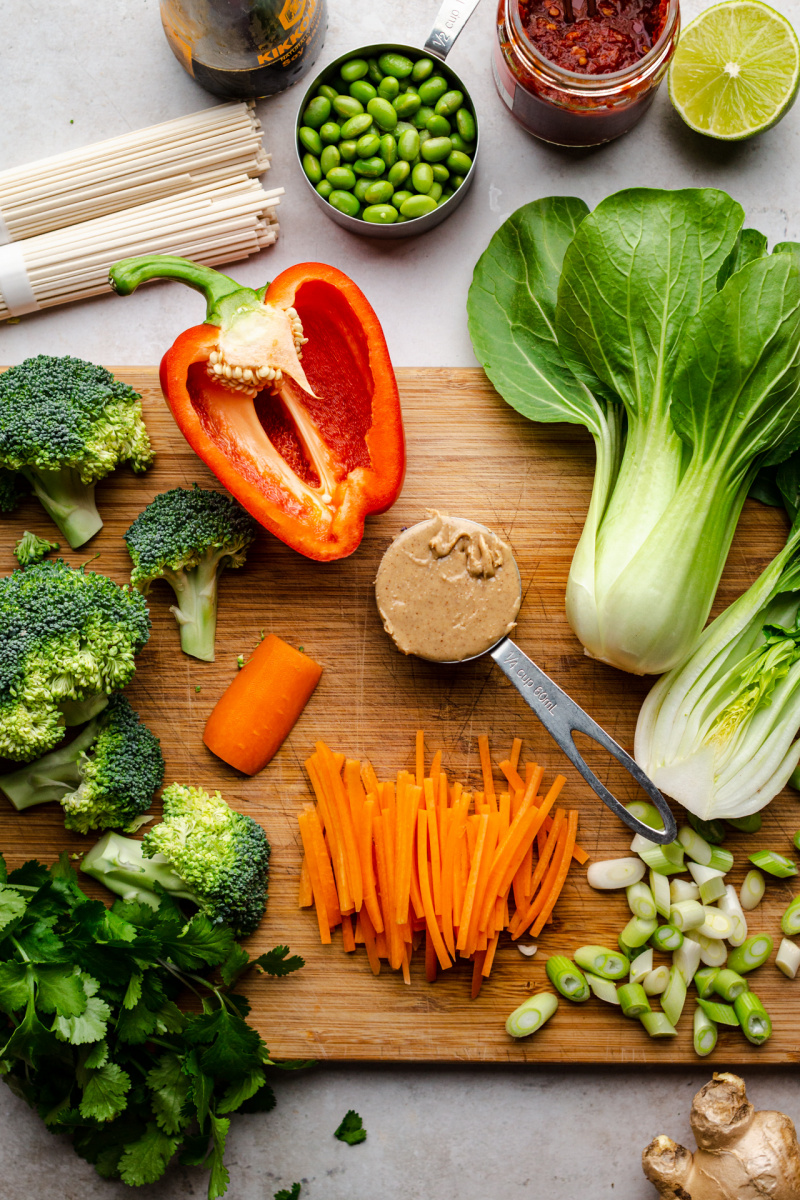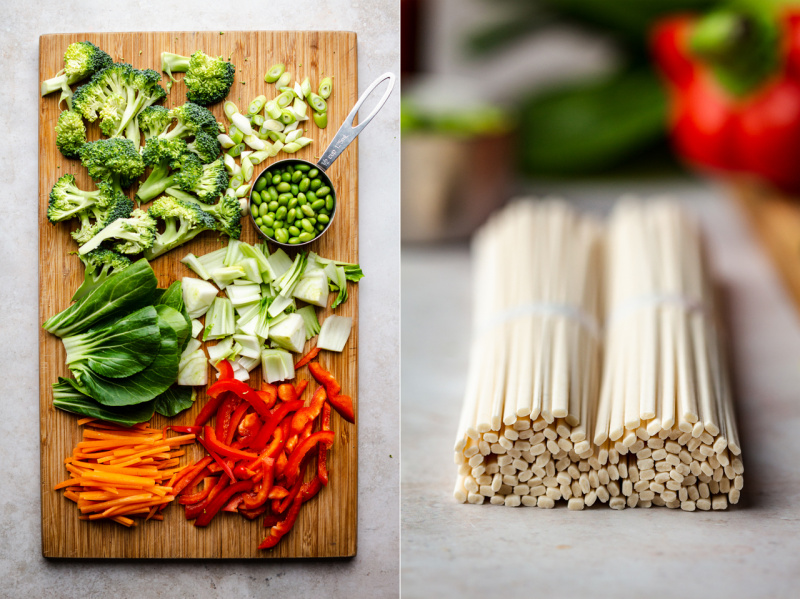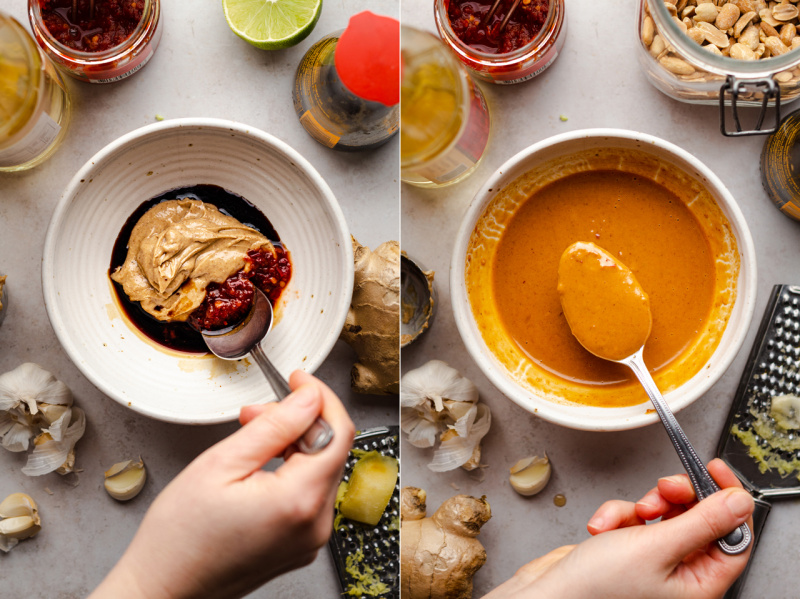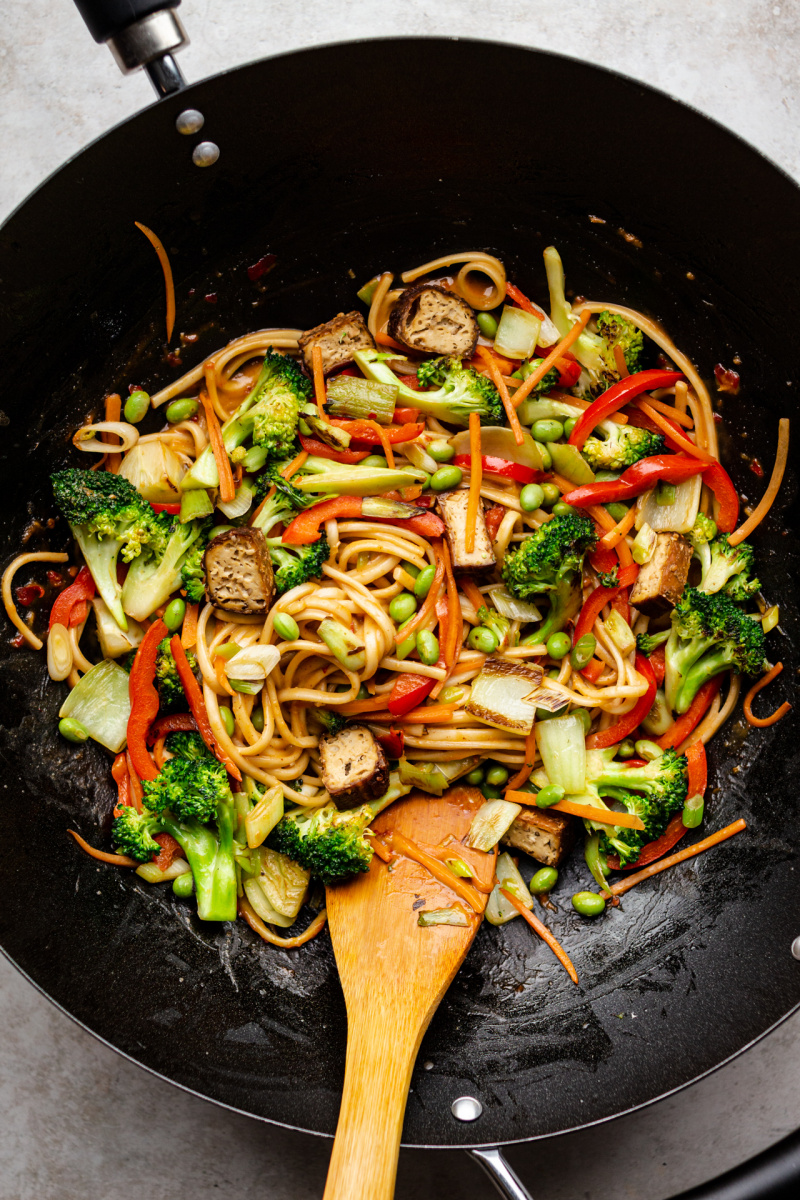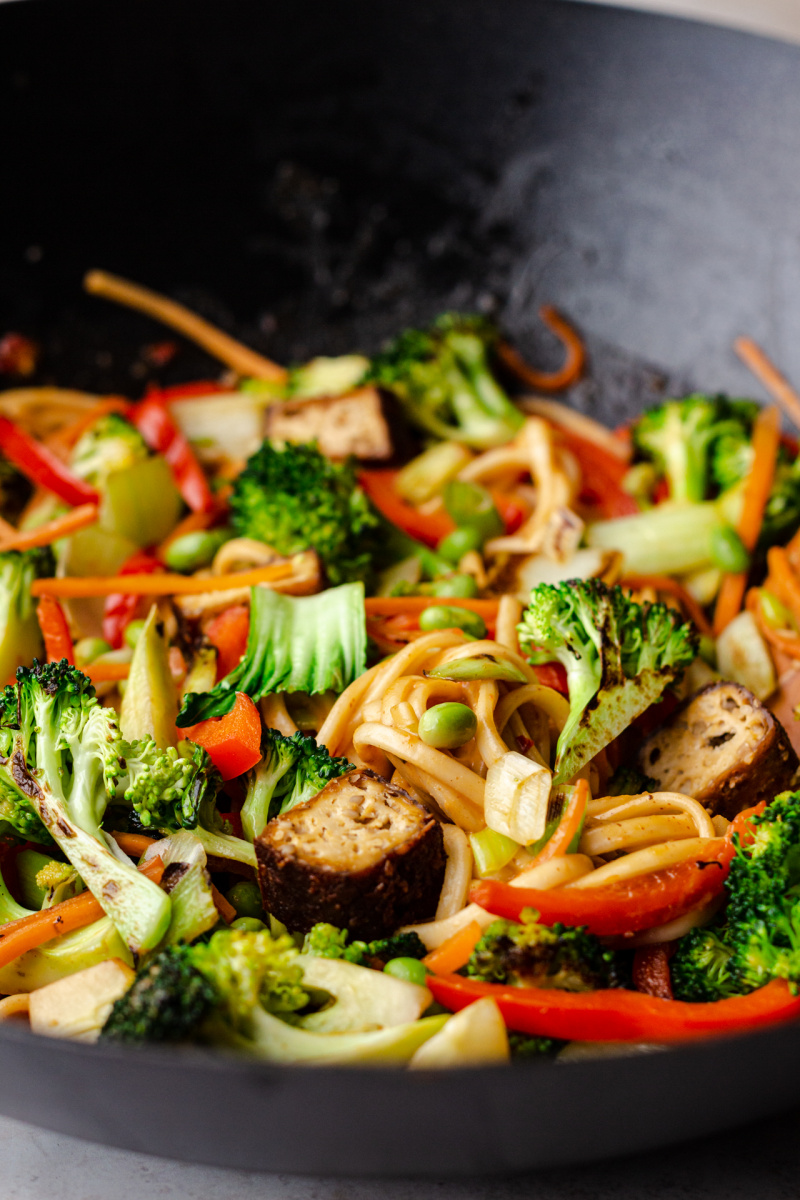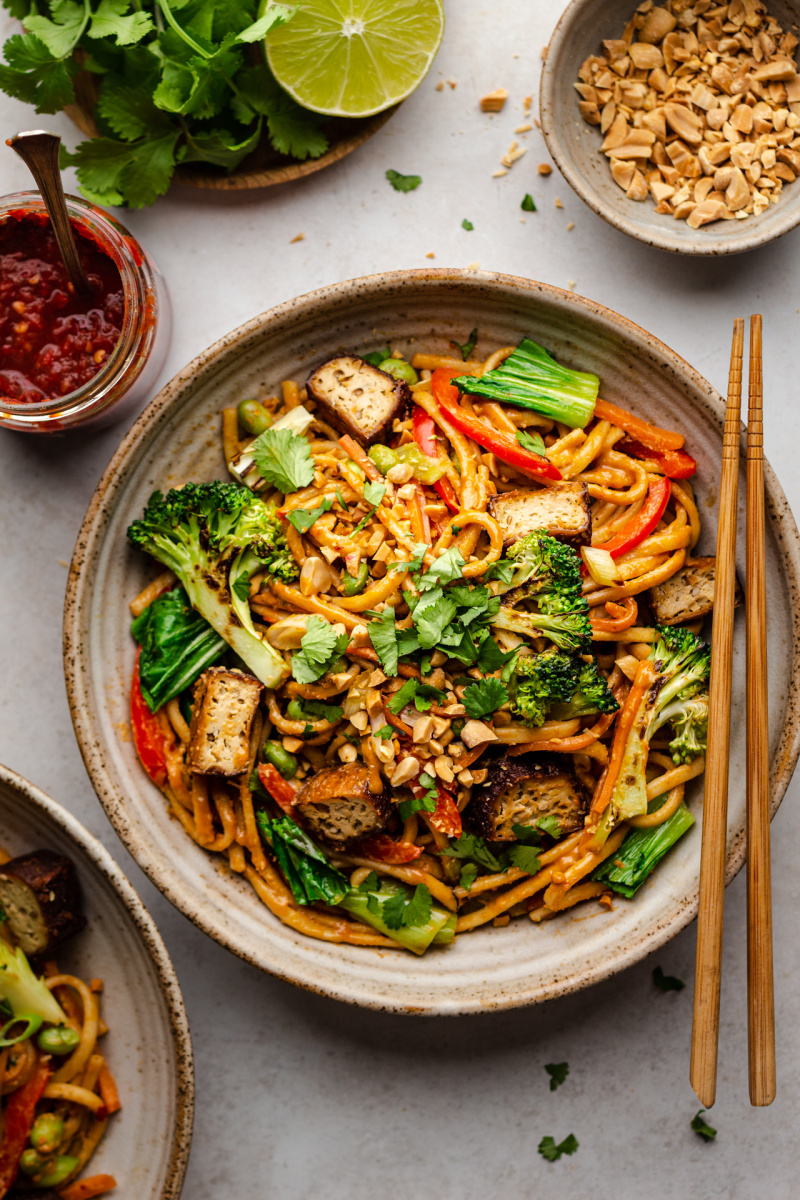 SAUCE
60 g / ¼ cup peanut butter (smooth ideally)
35 ml / 2½ tbsp all purpose soy sauce (or tamari for GF version)
20 ml / 4 tsp rice wine vinegar or lime juice
15 ml / 1 tbsp maple syrup
1-2 tsp finely grated ginger
1 large garlic clove, finely grated
1-2 tsp Sriracha, sambal oelek or other chilli paste
REMAINING INGREDIENTS
200 g / 7 oz dry udon noodles* or flat rice noodles (for GF option)
200 g / 7 oz your favourite marinated tofu (optional)
20 ml / 4 tsp stir-frying oil** (I use rice bran)
100 g / 3½ oz broccoli, cut into same size florets
1 bok choi, chopped small
1 bell pepper, julienned
1 small carrot, julienned
75 g / ½ cup edamame beans, fresh or frozen
2 tbsp crushed toasted peanuts, to garnish (optional)
3 spring onions / scallions, thinly sliced
chopped coriander, to garnish (optional)
METHOD
Mix all the sauce ingredients and 30 ml / 2 tbsp of water together in a small bowl until smooth, set aside.
Bring a pot of water to the boil, cook your noodles according to the instructions on the packet. Drain your noodles 60 seconds before they are fully cooked so that they don't overcook in the wok later.
Heat up your tofu (if using). I used an already marinated, shop-bought packet of tofu, which I baked in the oven while preparing the noodles.
Heat up a wok on a medium heat until just smoking. Add 2 tsp of oil and allow it to get really hot – until it starts shimmering.
Add in broccoli and stir-fry for 1-2 minutes, next add in white parts of bok choi and stir-fry for another minute.
Push broccoli and bok choi to a side, add in a little more oil followed by red pepper, carrot and add white parts of spring onions (save the tops for garnish). Stir-fry for another minute or two.
Finally, add in fresh edamame (if using frozen add them in the earlier step) and bok choi leaves. Stir-fry for another 30 seconds.
Transfer the veggies on to a large plate. Add a small splash of water and peanut sauce into the wok, allow it to bubble for 15 seconds before adding in cooked noodles. Coat the noodles in the sauce, return stir-fried veggies and tofu into the pan. Stir to combine.
Divide between bowls, garnish with chopped peanuts, sliced spring onion tops and coriander.
NOTES
*If using ready-cooked udon noodles, soften them in the wok in a splash of water BEFORE adding the sauce in.
**You can easily make this dish oil-free, to do so steam all of the veggies instead of stir-frying them.
NUTRITIONAL INFO
*per 1 out of 3 portions (without tofu)