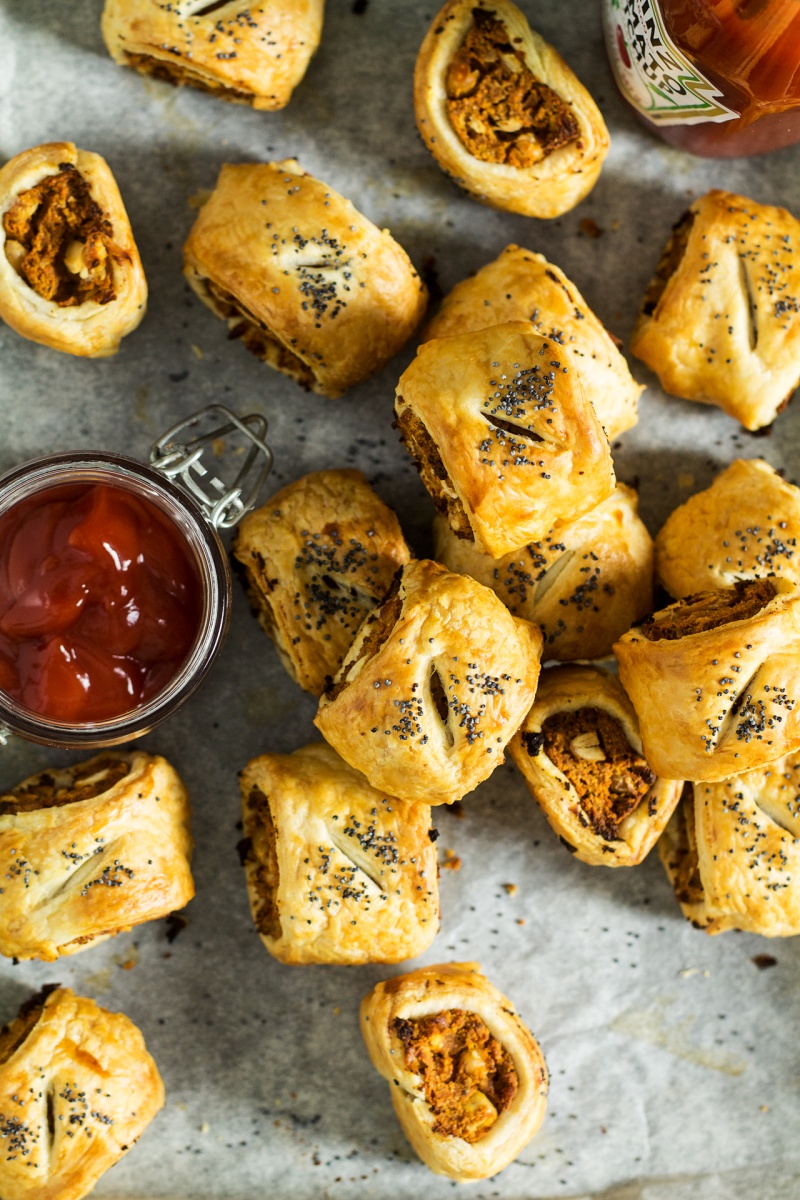 How are you guys doing post Xmas overindulgence? Have you vowed not to eat anything ever again? Have you started a new health kick yet or are you waiting for New Year's Eve to roll around first 😉 ?
That's exactly my plan, although I have started running again (after a break of almost a year) to offset one too many of Duncan's delicious sticky toffee puddings with vegan ice-cream 😉 . I've only done 3 short runs so far, but I was dreading them (returning to running after such a long break is never easy for me) so I am happy they are done and dusted. They weren't too bad actually. I'm planning to stick to 4 km for another two sessions and then add another 1 km loop next week. Hopefully, I will be able to run 8 km again in a few weeks.
So while I have started a bit of cardio again, I am still stuffing my face until after New Year's Eve. I have a friend visiting us for a few days and I figured she won't be that impressed if I serve a plate of veggie crudities for New Year's Eve. I am planning to make lots of not-so-healthy nibbles including these vegan sausage rolls.
They may be small in stature but they are big on flavour. As I used to be a fan of the Spanish sausage 'chorizo', I flavoured my homemade 'sausage meat' with chorizo spices and I'm really pleased with how they turned out.
They also got a big thumbs up from Duncan (no surprises there) and his vegan-curious cousin – Sydney – who has kindly volunteered to taste test them for us! As they make perfect New Year's Eve finger food, I hope the recipe will come in handy and you and your New Year's Eve party guests will enjoy them as much as we did. Happy New Year, guys!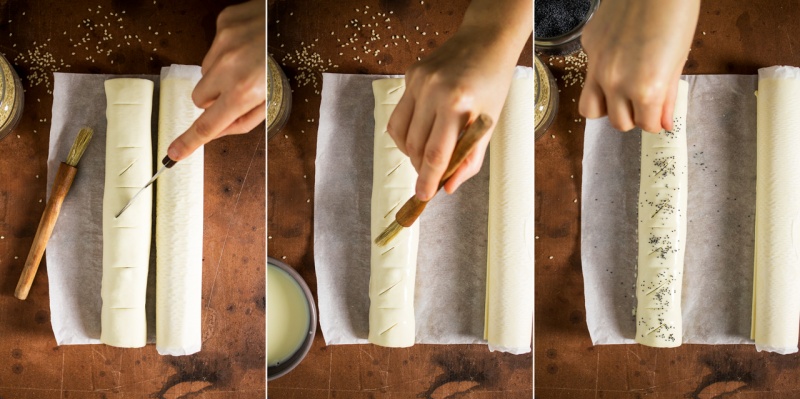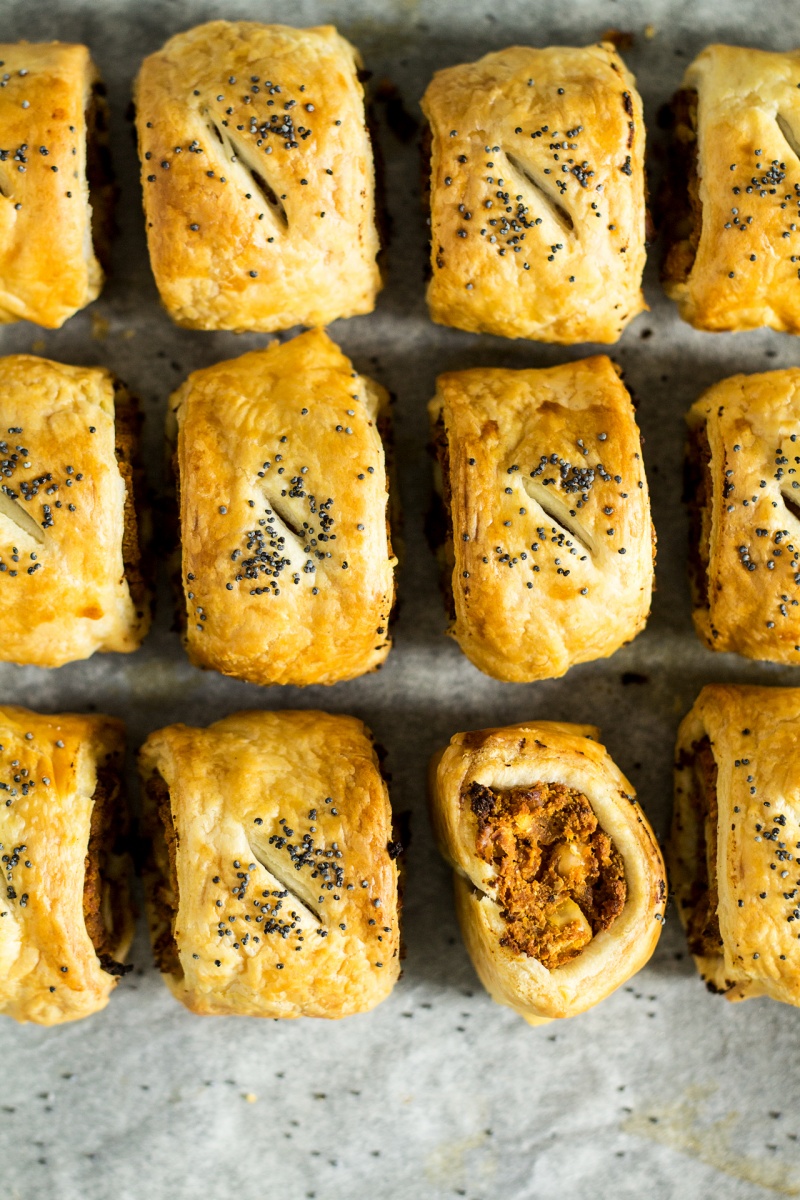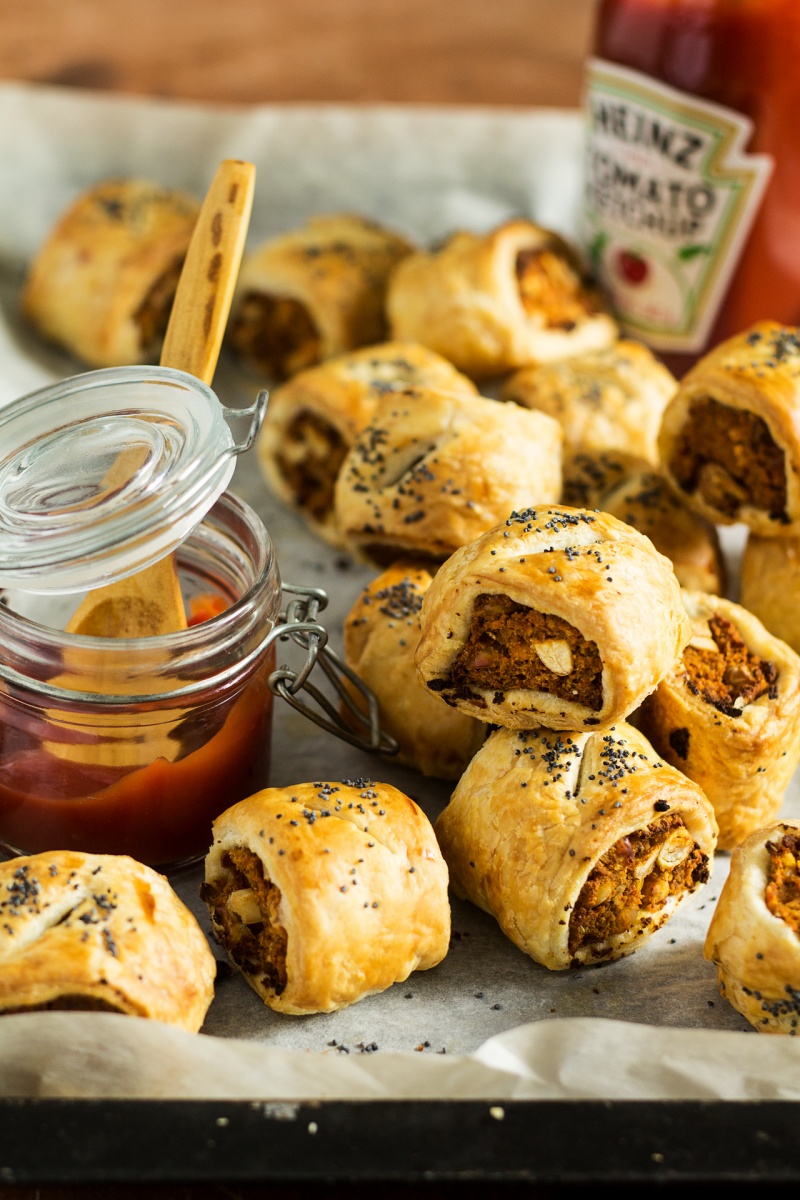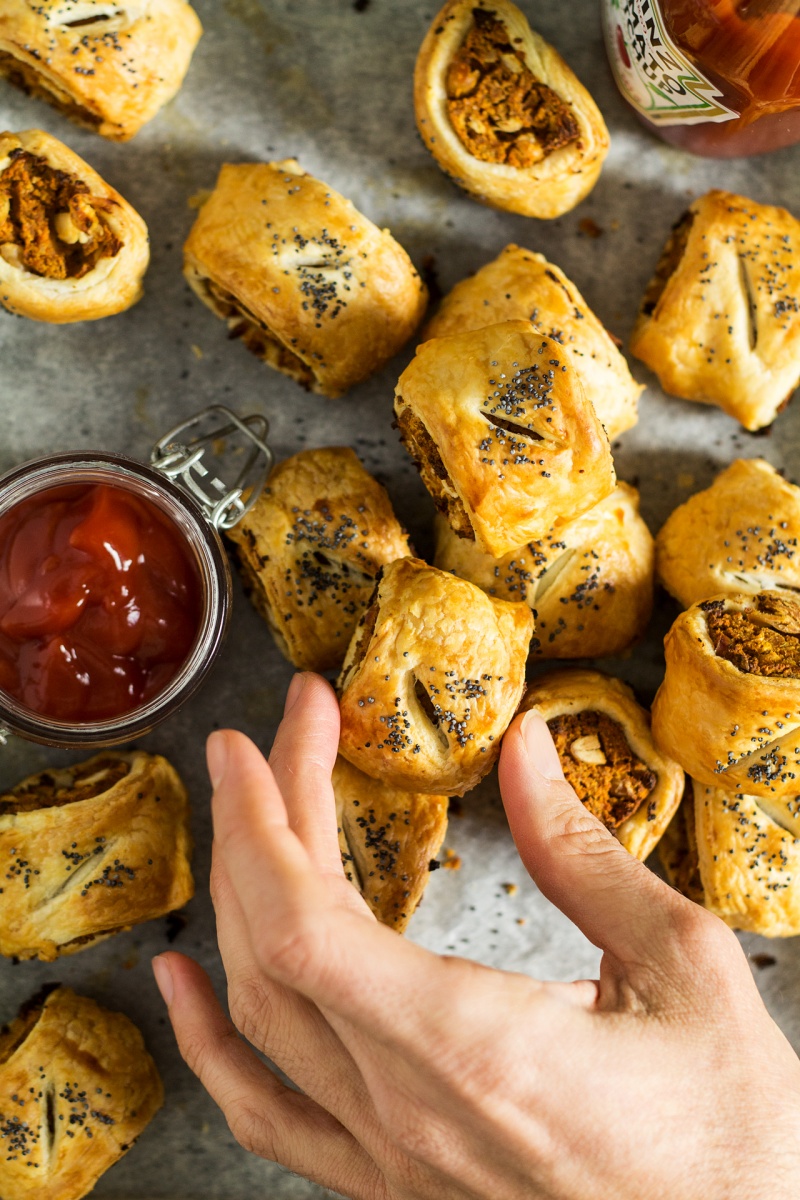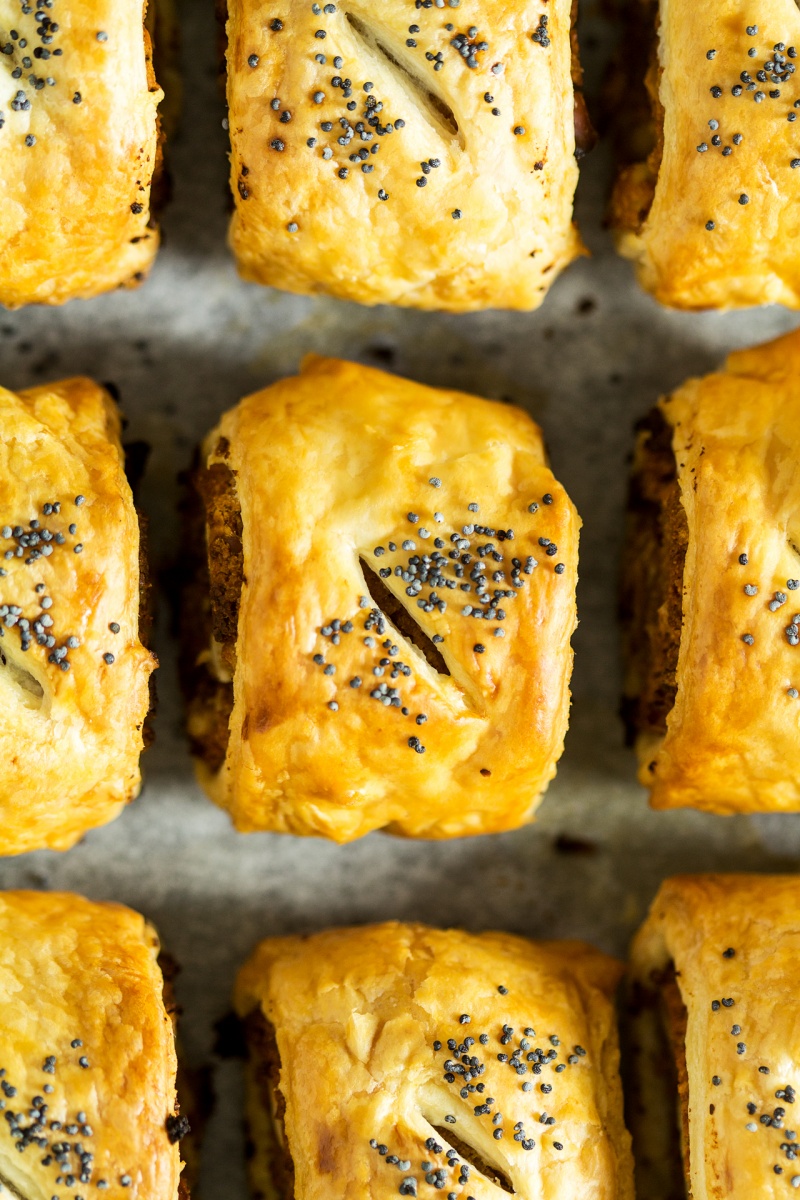 300 g / 0.65 lb sweet potato (1 medium)
200 g / 0.45 lb smoked firm cotton (not silken) tofu*
1 garlic clove
½ tsp ground cumin
¼ tsp ground coriander
¼ tsp smoked paprika (more if using natural tofu)
¼ tsp dried thyme
¼ tsp cayenne pepper or chilli, adjust to taste
2 pinches of ground cloves
a pinch of ground cinnamon
½ tsp salt, adjust to taste
generous grind of black pepper
4 tsp nutritional yeast
1-2 tsp apple cider (white or red) vinegar
2 tsp tomato concentrate
1 heaped cup drained cooked (but not overcooked) chickpeas or cannellini beans (you can take them from a tin)
1 sheet of vegan (gluten-free if needed) puff pastry**
1-2 tbsp unsweetened soy or almond milk, to glaze
1-2 tbsp sesame or poppy seeds, to decorate
METHOD
Heat up the oven to 200° C / 390° F (180° C / 355° F fan) and line a baking tray with a piece of baking paper.
Peel the potato and slice it into 1.5 cm / 0.5″ slices. Place on a baking tray and bake for about 30 minutes (until cooked through), flipping the pieces half way through the baking time. There is no need to brush the potatoes with oil, dry potato works very well for the overall texture of the filling. Let them cool down completely after baking.
Place baked potato in a food processor and process it until it is roughly mashed. Use a spatula to bring any stray, large pieces back into the fold.
Add broken up (drained but not pressed) tofu, garlic clove, most of the spices (go easy on the chilli at first), salt, pepper, nutritional yeast, vinegar and tomato concentrate. Process until all the spices are well incorporated, but the mixture is not perfectly blended and smooth. The mixture should be pliable, but not overly wet.
Make sure your beans are dry (use a paper towel if needed) and chop them up roughly.
Place the tofu and sweet potato mixture in a large mixing bowl and incorporate the beans gently so that they don't get squashed.
Now, how you form your 'sausage meat' depends on the dimensions of your pastry sheet. I used Jus Rol, which is 23 cm / 9″ by 35 cm / 14″. I split my mixture into three equal portions and formed three 23 cm / 9″ long sausages on a paper-lined baking tray. Bake the sausages for about 25-30 minutes until they have firmed up a bit. Allow them to cool down completely before moving – they will be fragile straight out of the oven.
Take the puff pastry out of the fridge for about 10 minutes before assembling the rolls so that it's more pliable.
If you are using a sheet of similar dimensions to mine, cut your pastry into 3 equal portions widthwise – you should end up with 3 rectangles of roughly the dimensions 23 cm / 9″ by 12 cm / 4.75″.
Place one vegan sausage in the middle of the first rectangle of pastry, flat side (the side that was resting directly on the baking tray) up . Fold the pastry over the sausage so that the seam runs alongside the flat base of the sausage. Make sure the seam is well sealed, trim any excess pastry if necessary, then flip the roll to the other side.
Cut the roll into roughly 3 cm / 1″ portions. With a sharp knife make a little slit on the top of each sausage roll so that the steam has an opening to escape through during cooking.
Glaze each sausage roll with soy or almond milk and sprinkle with sesame or poppy seeds.
Proceed in the same way with the two remaining sausages and leftover pastry.
Arrange sausage rolls on a paper lined baking tray and bake for about 25 minutes, until the pastry has puffed up and become golden brown.
NOTES
 *If you cannot find smoked tofu, natural is fine too – just increase the amount of smoked paprika or add a few drops of liquid smoke if you have any to hand.
**I know that Jus-Rol and Pepperidge Farm are definitely vegan and that Dufour definitely isn't. If in doubt, check the packet for more details. Jus-Roll also has a vegan and gluten-free puff pastry.