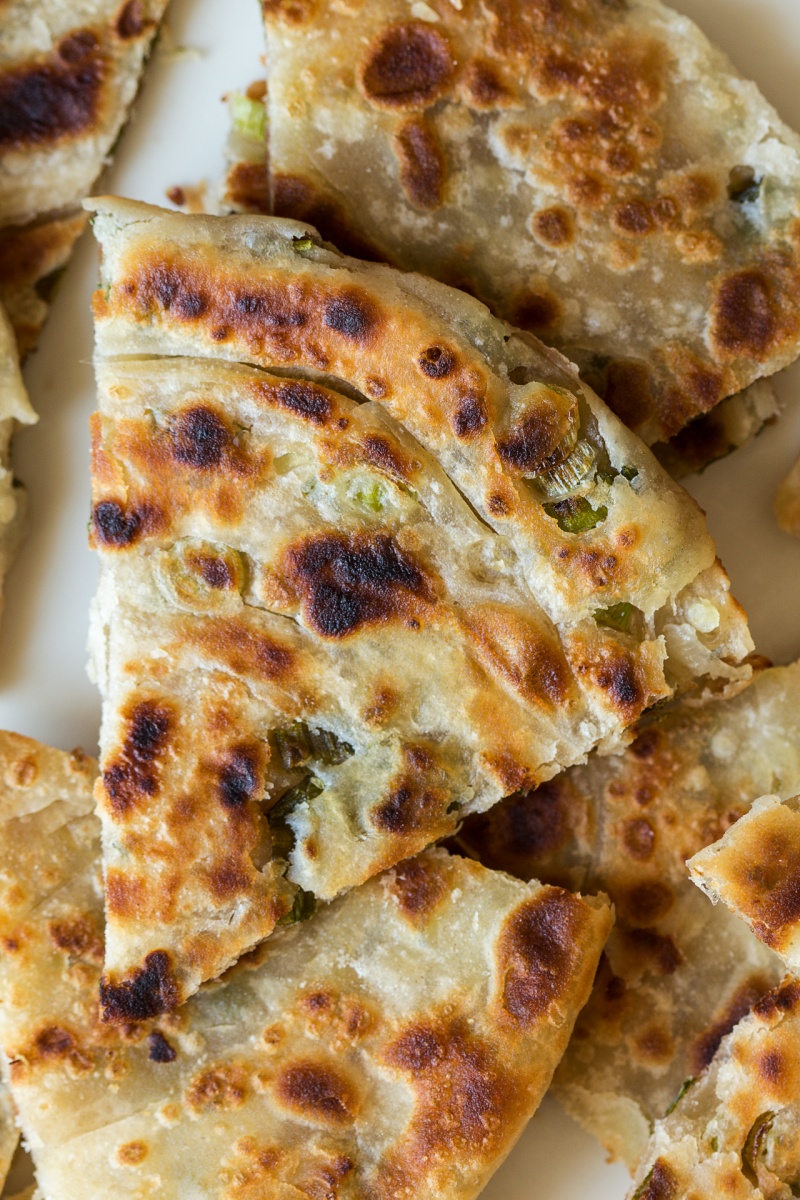 This recipe happened because I ended up with way too many spring onions (scallions) that were threatening to die on me and I needed to put them to good use. Quick research revealed that the simplest thing to do is to make some scallion pancakes.
As I love working with dough – I grew up seeing my gran create some beautiful dishes with just flour and hot water – and I love Asian flavours, I was all over this idea.
These addictive scallion pancakes ended up being the snack of the week in our house and both of us ended up consuming insane amount of my test runs and it showed on the scales too. Despite their humble ingredients, these little pancakes are mightily addictive, so, on the day you attempt these, make sure there are people around willing to help you out a bit 😉 .
Now, these pancakes aren't the type of dish where you can be stingy with the oil without compromising on flavour. I found that you need a minimum of 2 tsp of oil per pancake to fry, plus another teaspoon to brush the dough with. Don't go crazy, but if you don't get on with oil, don't waste your time making these as chances are that you will be really underwhelmed.
They are flaky and crispy on the outside and deliciously chewy on the inside. Spring onions add a bit of umami and sweetness and I really liked the addition of Chinese five spice, it feels like it 100% belongs in this dish. They are particularly delicious warm, dipped in a soy sauce, rice vinegar and chilli (or toasted sesame) oil dipping sauce.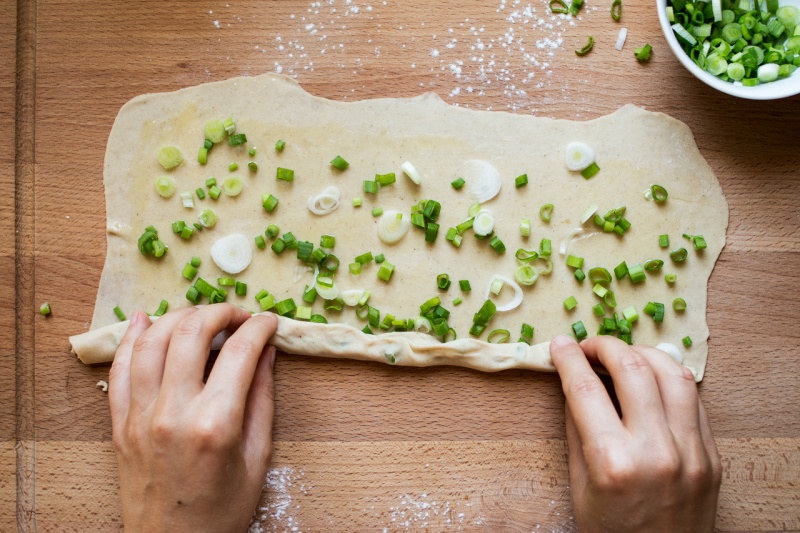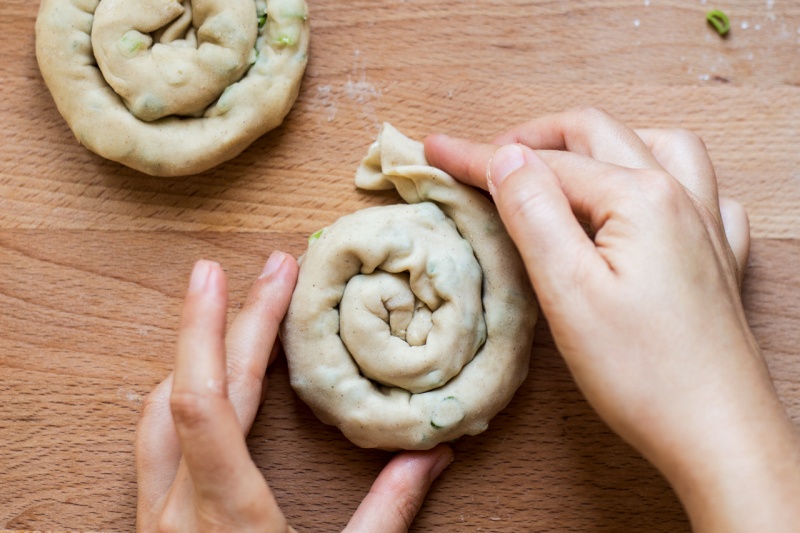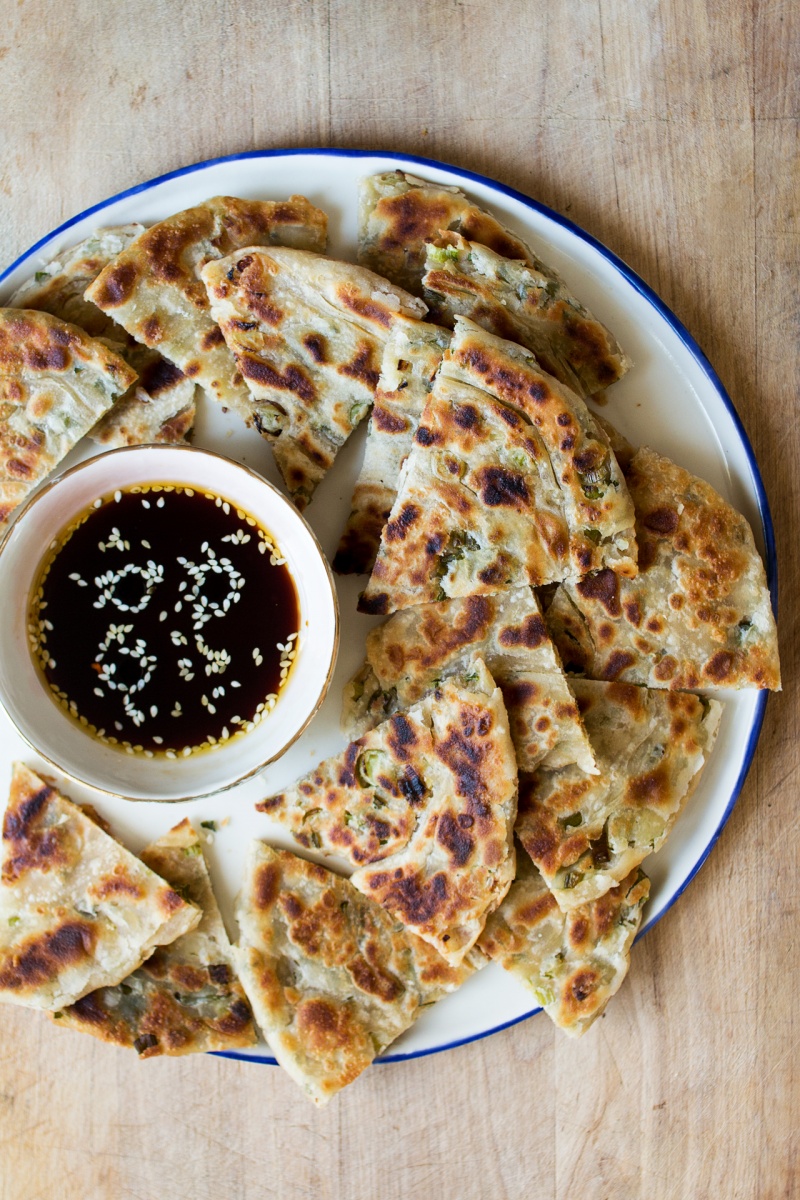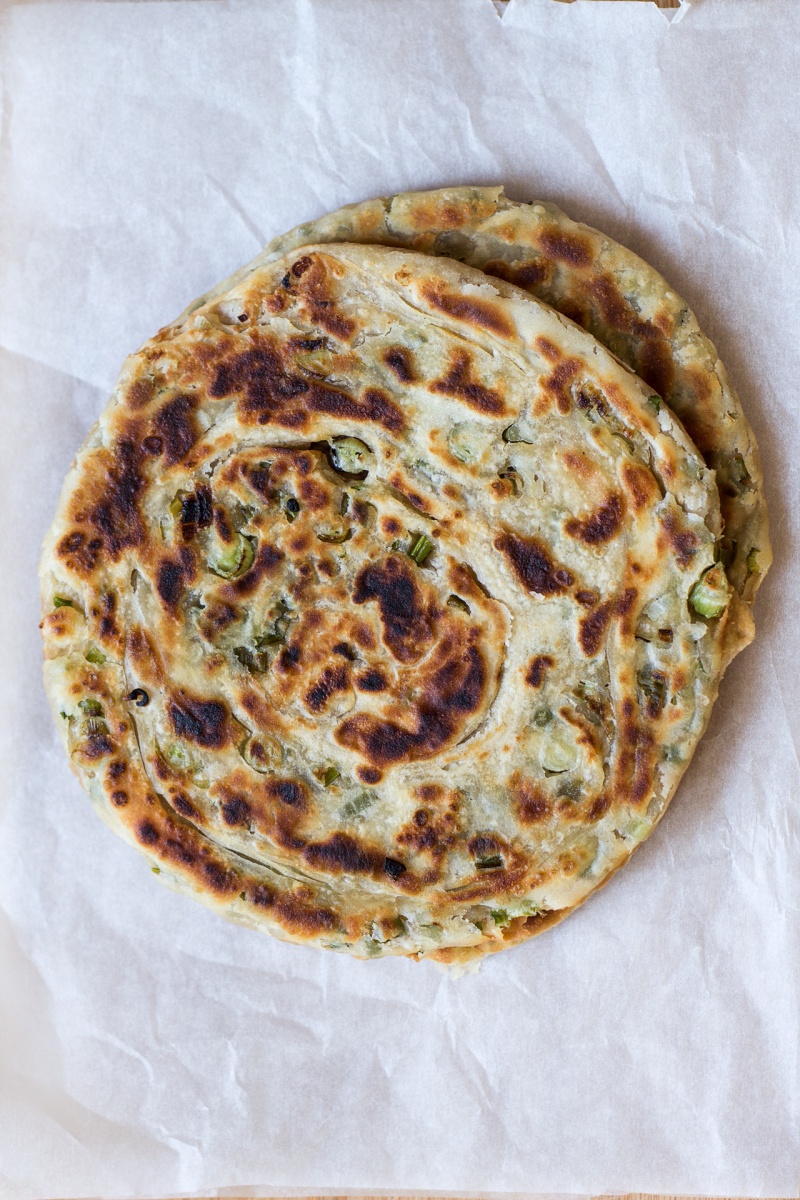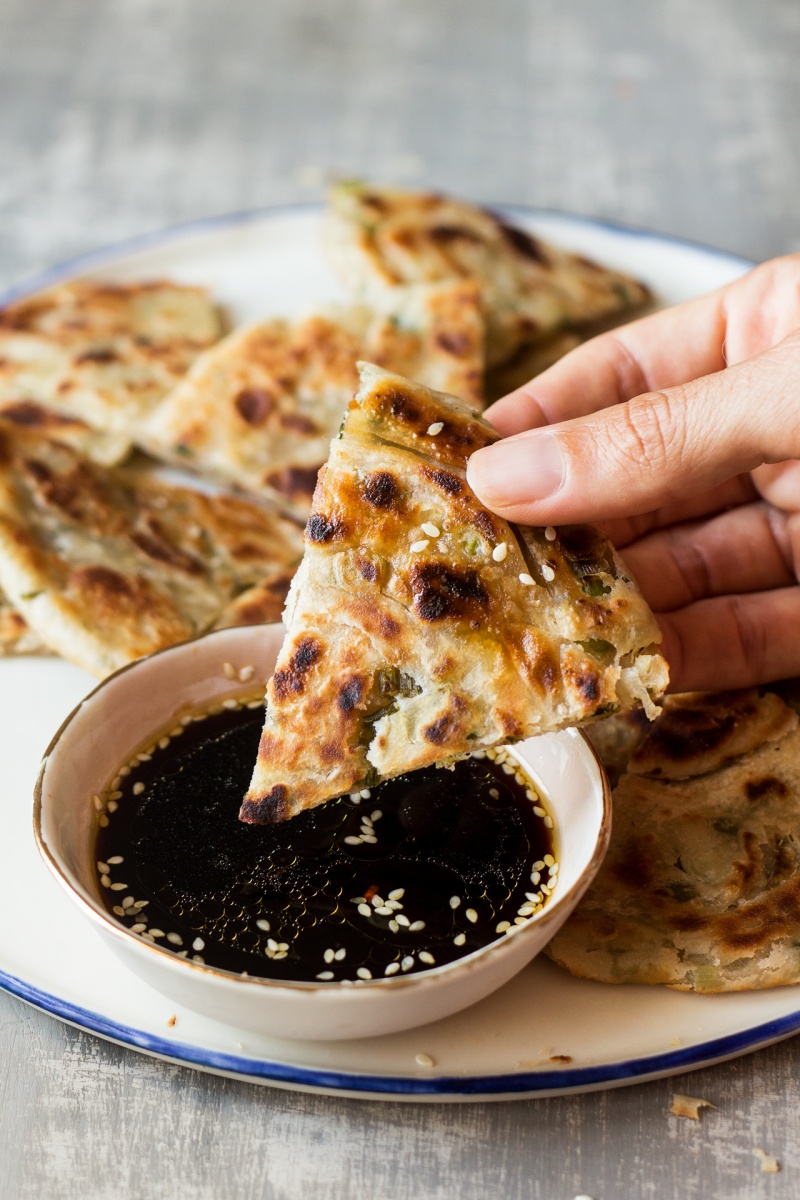 250 g / 2 cups all purpose white flour
2 tbsp any vegetable oil
½ tsp fine sea salt
½-¾ tsp Chinese five spice
4 scallions / spring onions (approx. 1 heaped cup sliced), finely sliced
3 tbsp peanut oil or other high smoke point oil for frying
DIPPING SAUCE
METHOD
In a mixing bowl, combine flour, salt and Chinese five spice. Add 1 tbsp of vegetable oil and about ¾ cup (180 ml) of very hot water, mix well with a spoon. Once combined roughly, start bringing the dough together with your hands. If the dough isn't holding together after a little bit of kneading (initially it's supposed to be a bit dry to the touch but hold together), it may need a touch (1-2 tsp) more hot water. Knead it for about 5 minutes with your hands until the dough becomes elastic and smooth and then set aside for 30 minutes under a damp kitchen towel so that the dough doesn't dry up.
Divide rested dough into four equal size portions.
On a lightly floured work surface, roll the first portion of the dough into a long rectangle. Roll it out as thinly as you possibly can.
Brush rolled-out dough with a little bit of vegetable oil and sprinkle with about ¼ cup of sliced scallions / spring onions.
Roll the dough into a long snake away from yourself and then coil it gently (see photos in the post above). Set aside to rest while you tackle the remaining 3 portions of the dough in the same manner.
After the first coil has had a chance to rest, roll it out into a circular pancake on a lightly floured surface. Sprinkle the top of the pancake with a bit of flour (before you start rolling) to stop the scallions getting stuck to the rolling pin. Don't roll the pancake out too thin as it will become dry and brittle after cooking, make it just under 1 cm / 0.4 " thick. It's okay if some scallions start poking out through the dough or if there are small tears in the dough.
Heat up 2 teaspoons of peanut oil in a medium, non-stick frying pan on a low-medium heat. Once the oil gets hot, gently place the pancake on the pan. Allow it to cook for about 3 minutes, then flip over to the other side using a spatula. After another 2 minutes, flip again. Continue flipping every 2 minutes to ensure the scallions poking through do not burn and the pancake gets evenly browned on both sides and cooks through inside – it takes about 8-10 minutes to for each pancake to cook.
Mix all the sauce ingredients in a small bowl.
Cut each pancakes into 6 triangles using a pizza cutter or a sharp knife. Serve warm with the dipping sauce on the side.
NOTES