Happy Friday, guys! Hope you've had a peachy week and are ready to put your feet up? We certainly are! We've had a busy week but a good one…Well…Apart from an infuriating visit to an Apple store where we've been told that there is nothing wrong with a £400 device dying on us 2.5 years in. Oh well, this was the final purchase from Apple that I will ever make, I tell ya!
On a more positive note, we found a house for our Princess Tina (currently curled up in a pretzel on a chair next to me) and us. Yes, we come second! The house was chosen with Tina in mind. It has a decent size garden backing onto a small wood, where Tina is likely to roam at night and a sunny conservatory where she is likely to sleep during the day and where, I may be able to take some food photos if Her Majesty allows it 😉 .
We need to wait two more weeks before we are able to move in, but it is a huge load off our minds. Other than that we've been enjoying Bristol immensely and we haven't even started exploring in earnest. The weather has been fairly good too with the exception of one or two days so we are not hankering for the Greek weather that much yet.
Duncan has started interviewing for jobs and he is very excited about it (he is one of these rare people who has always loved his original career choice) and I cannot wait to start cooking for the blog again as I have bucket loads of ideas simmering in my head already. Meanwhile, we continue to cook dinners for Duncan's family who are so kindly putting up with our vegan ways and they are also very willing taste testers. They made our transition so painless we cannot thank them enough!
Today's recipe is my vegan take on a classic – potato dauphinoise / scalloped potatoes (for those that can't spell "dolphinoise"). My plant-based version isn't bound to give you a heart attack 😛 , which is always a bonus, isn't it? And you know those people who think that being vegan is a bit sad…? Well, there is nothing sad about this dish, let me tell you. It's pure comfort and indulgence – very appropriate for the cold winter months ahead. If you are frantically preparing for Thanksgiving, this dish would love a spot on your table, otherwise bookmark it for Xmas or any other family celebration where eating oneself into a food coma is the order of the day 😉 .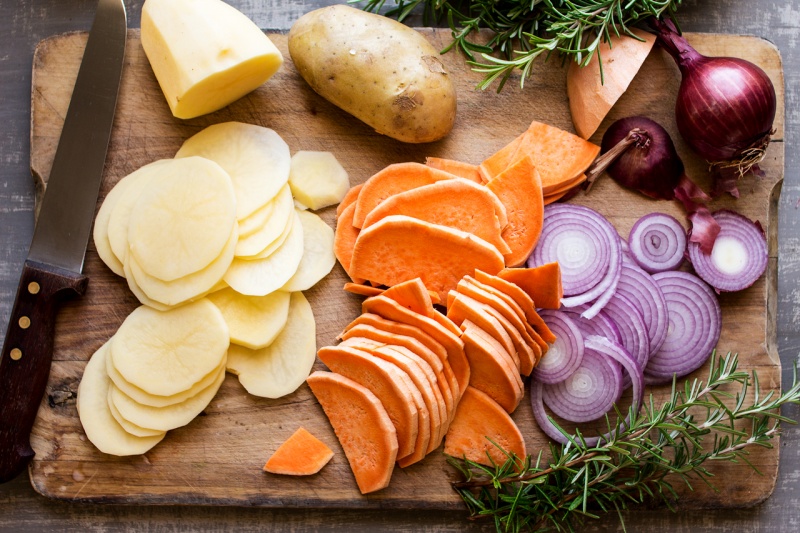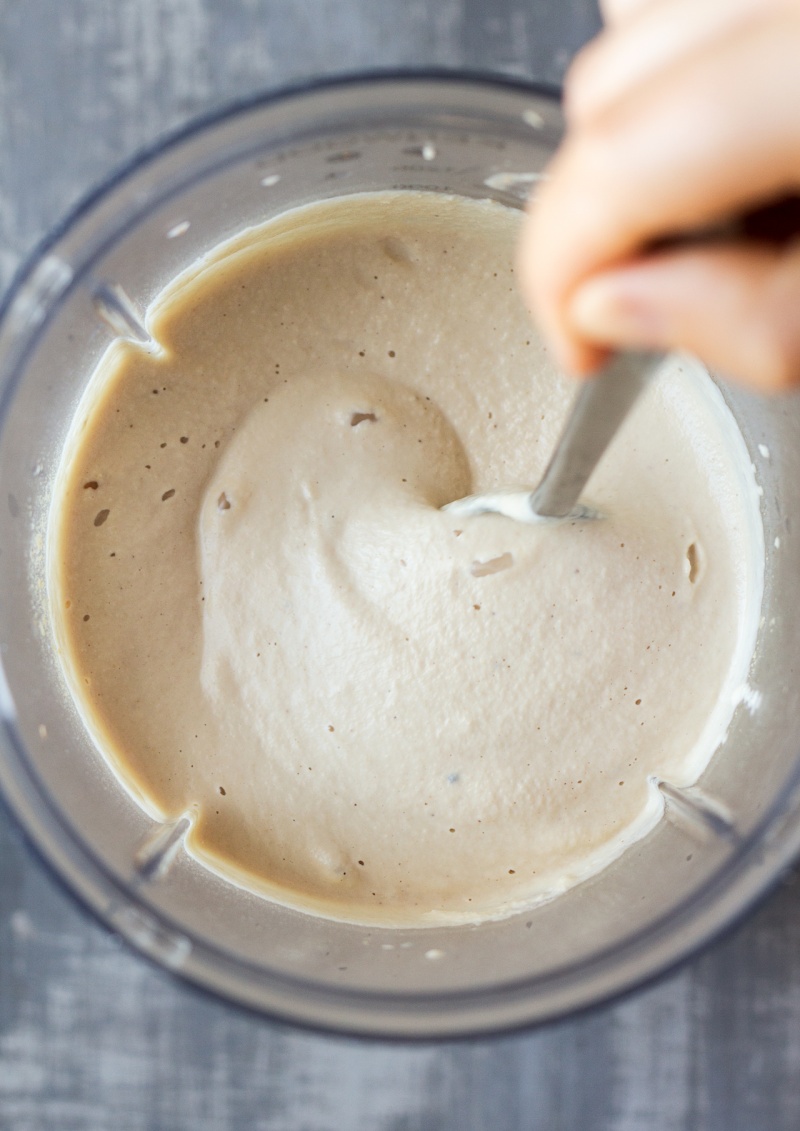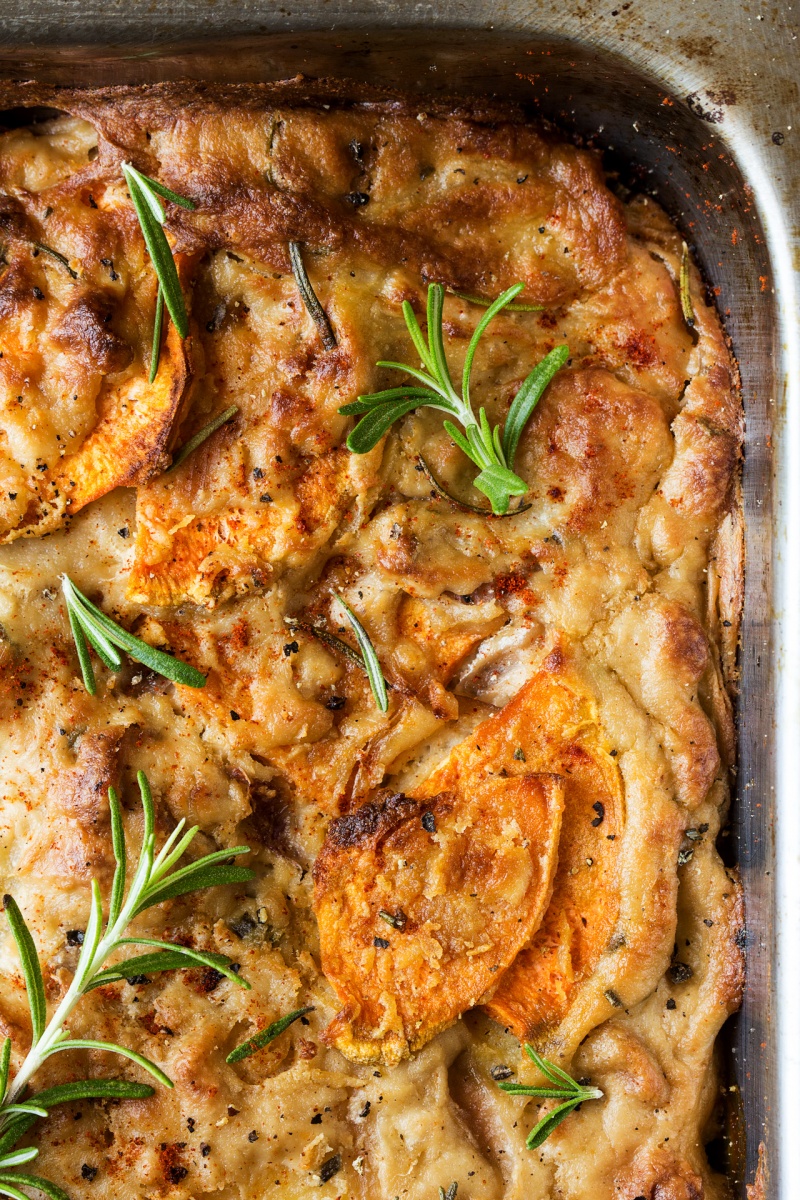 SAUCE (makes about 750 ml / 3 cups)
300 g / 2 cups raw cashews (soaked overnight OR in boiling water for 1 hr)
3 tbsp lemon juice, adjust to taste
2 large garlic cloves
1 heaped tbsp white miso paste
4 tbsp nutritional yeast
grated nutmeg, to taste
½ tsp salt, adjust to taste
1 tbsp tapioca starch*
REMAINING INGREDIENTS
500 g / 1 lb sweet potato
750 g / 1½ lb regular (starchy) potatoes
30-45 ml / 2-3 tbsp olive oil
1 large onion, finely diced
2 fat garlic cloves, finely diced
2 sprigs of fresh rosemary
generous amount of black pepper, adjust to taste
salt
sweet paprika or chilli powder, optional
METHOD
SAUCE
Place rinsed cashews in an upright blender with approximately 300 ml / 1¼ cup water. Blend until smooth and creamy.
Season with garlic, lemon juice, miso paste, nutritional yeast, nutmeg, salt and pepper and process until super smooth and creamy.
Transfer 2 cups of this sauce to another bowl. Add a level tablespoon of tapioca starch to the remaining sauce left in the blender, process until smooth.
POTATOES
Cut peeled (or unpeeled if their skins are in good condition) potatoes into 3 mm / 0.1″ thin slices. You can use a mandoline slicer, a food processor with a relevant attachment or a very sharp knife.
Heat up 2-3 tbsp of olive oil in a very large frying pan. Add diced onion and fry until softened (about 5 minutes).
Follow up with chopped garlic and chopped rosemary (you could also layer small rosemary sprigs in between potato layers during assembly) and cook for another 2-3 minutes.
Add 2 cups of cashew cream to the pan and regular potatoes. Toss them together and simmer for about 7 minutes. If the mixture happens to feel dry, add a good splash or two of water.
Add sweet potatoes and toss them in the cream mixture gently.
Pre-heat the oven to 150° C / 300° F fan forced (or 170° C / 340° F regular setting).
Brush a baking dish** with a little bit of olive oil and set aside.
ASSEMBLY
Transfer pre-cooked potatoes into the prepared baking tray. Arrange them in layers, sprinkle with a little bit of chopped rosemary (or place small rosemary sprigs – that will need to be removed before eating – in between potato layers), salt and pepper between layers.
Cover the top with the sauce thickened with tapioca starch. Sprinkle with paprika or chilli powder.
Bake for 50 minutes, then switch the oven fan on and bake for another 5-10 minutes until the top is nicely browned. If the top is browning too rapidly, cover it with a piece of kitchen foil to stop it from browning any further.
NOTES
You could make this dish with 100% regular or 100% sweet potatoes. Sweet potatoes do not need pre-boiling in the cream, they are quite sweet though (doh! 😉 ) so make sure you balance the dish by adding a bit more acidity.
*If you don't have tapicoa starch, use regular wheat flour or corn starch.
**The dish I used had the following dimensions: 26 cm x 19 cm x 5 cm (10″ x 7.5″ x 2″)