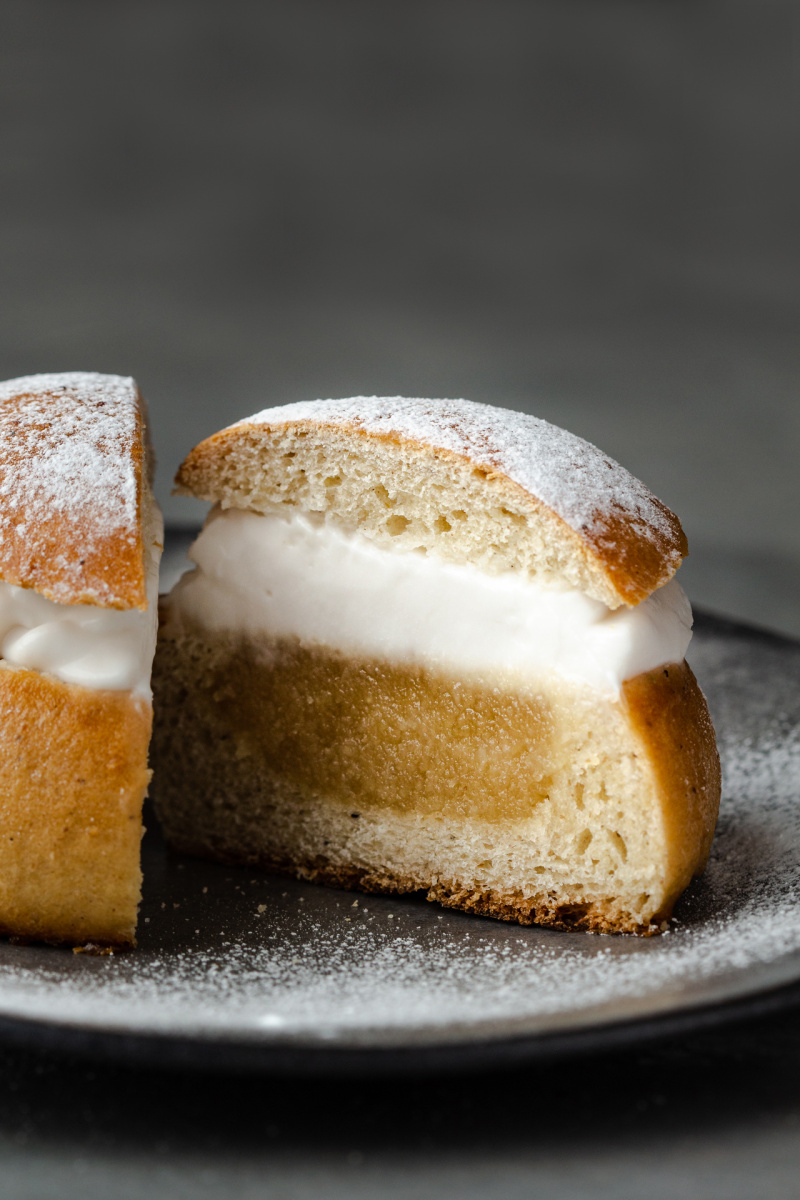 I'm so excited about today's recipe as I've been meaning to tackle it for a while and I never quite got to it in time, in time for Shrove Tuesday (which falls, a little early this year, on the 16th of February) as this is when these beautiful cardamom buns get very very popular in Sweden, Denmark, Finland, Norway, Iceland and Estonia! That's right, while the UK gorges itself on pancakes, the Scandinavian lot stuff their faces with marzipan filled cream buns. I know which camp I am in!
These photogenic little buns are very far from being vegan traditionally so I've decided to rectify this and offer my fellow vegans a plant-based take on these beauties. The dough is traditionally enriched with butter and milk, which I simply swapped out for almond milk and a smidge of fragrance free coconut oil but vegan butter works just as well. Once baked, the buns are carved and filled with marzipan (Duncan is a very happy bunny these days and he loves marzipan and he has already had a bunch of these), which often contains raw eggs and topped with a generous amount of whipped cream, which is as unvegan as it gets.
My initial idea was to create a cashew-based cream to top these beauties with but it's a bit of a faff and while it's creamy it doesn't have the lightness of whipped cream. So I've also decided to experiment with a much simpler topping and as we found them both satisfying, take your pick. My easy option is to use thick vegan coconut yoghurt as it's much lighter and while it does taste of coconut, something I was trying to avoid initially, I don't actually find it jarring with the flavour of cardamom and marzipan. If you cannot get hold of one, you can always make whipped coconut cream yourself from a well chilled can of full fat coconut milk. Failing that, I've included a recipe for cashew coconut cream stiffened with agar agar, which is creamy, indulgent and with a more neutral taste.
I've opted for making these guys quite small as I love small things and my rationale is that they are already really indulgent and if you really want to go into a semla-induced food coma, you can certainly have more than one. I hope you'll give these buns a crack and enjoy them as much we have.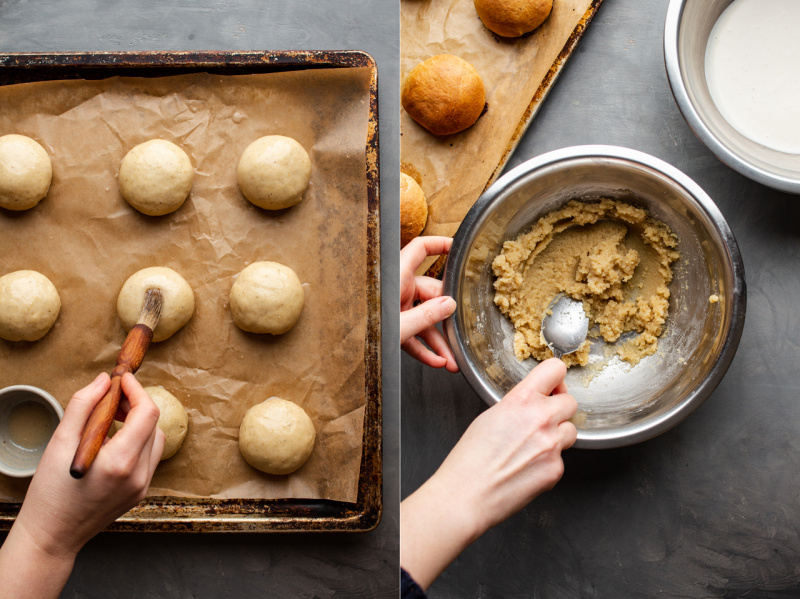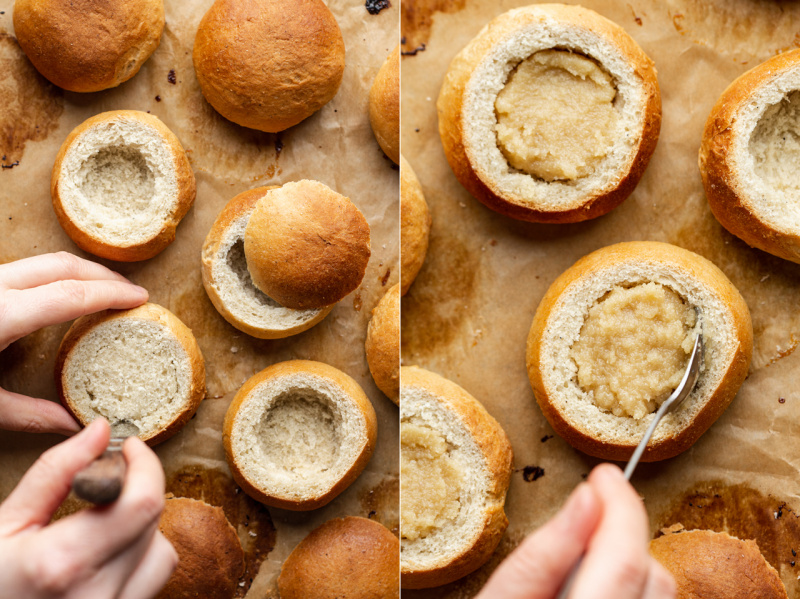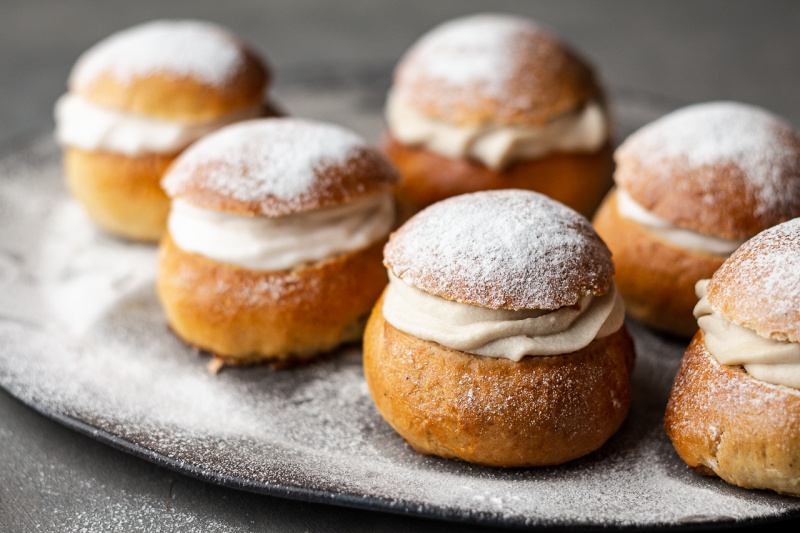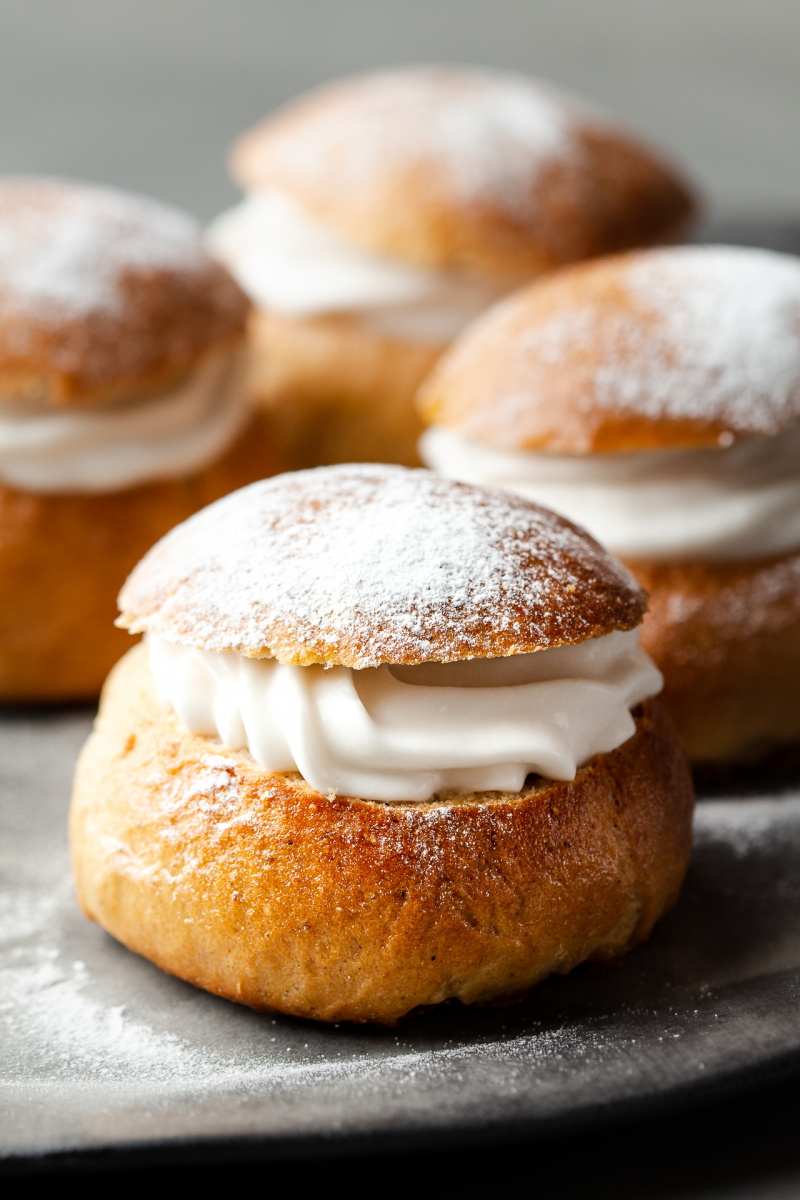 DOUGH
ALMOND FILLING
CREAM simple version
CREAM
METHOD
DOUGH
Mix the flour, salt, cardamom, instant yeast and sugar in a large mixing bowl.
Pour in lukewarm (around 40° C / 105° F) plant milk. Bring all the ingredients together with a wooden spoon.
When the mixture has mostly stuck together, turn the mixture out on to a work surface.
Knead the mixture by holding one end of the dough in one hand and stretching it out with the other hand. Reform the dough, turn it 90 degrees and start again. Repeat this for about 5 minutes, then work the coconut oil into the dough. To begin with the dough will be slippery and it will tear easily, it will look like it's been ruined. Keep working it and eventually all the fat will get absorbed by the dough and it will become elastic and smooth (it takes about 10 minutes).
Put the dough in a large clean bowl, coat it in a thin layer of oil and cover the bowl with a clean kitchen towel. Set aside, in a warm (but not too warm) place until the dough doubles in size (2 hrs or more). Proceed to make the filling and the cream.
Once the dough has doubled in size, punch all the air out of it and divide it into 8 identical portions.
Form each portion of dough into a ball, making sure the seam is at the bottom. Place on a baking tray, cover with a kitchen towel and set aside for another 45-60 minutes for the buns to proof for the second time.
Towards the end of the proofing time, preheat the oven to 180° C / 355° F (no fan).
Bake the buns for about 20 minutes, or until golden brown. Remove the tray from the oven and cover the pans with a damp kitchen towel to prevent the hard crust from forming. Allow them to cool completely.
Once cool, cut off 1/3 of each bun and set aside. Scoop a bit of crumb out to make some room for the almond filling. The scooped out crumb can be incorporated into the marzipan filling, but I've decided against doing that.
ALMOND FILLING
Put all of the filling ingredients in a mixing bowl. If using icing sugar instead of maple syrup, add enough plant milk (approx. 60 ml / ¼ cup) to loosen up the consistency.
Using a silicone spatula or back of a spoon rub all of the ingredients into each other until you get a thick paste. If the paste seems too dry, add a small amount of plant milk to help it along.
CREAM simple version
If you want to sweeten the cream (I don't think it's necessary), sift icing sugar over the yoghurt and fold it in using a gentle folding motion. Refrigerate for at least 30 minutes until you are ready to pipe.
CREAM
Blend coconut cream, drained cashews and sweetener (if using) until super smooth in a blender. If your blender has trouble catching on, warm up a portion of the coconut cream to make it more liquid and return to the blender.
Transfer the mixture to a medium pot. Sprinkle 2 tsp of agar agar powder (not flakes) over the mixture and allow it to rehydrate for 10 minutes.
After 10 minutes, bring the mixture to a gentle boil whisking the entire time so that there are no lumps. Simmer for a minute or so and the mixture should visibly thicken. If it thickens too much, add a splash of plant milk to loosen it up.
Refrigerate for a few hours to thicken, whisk well and adjust the consistency if needed before transferring to a piping bag.
ASSEMBLY
Fill the scooped up buns with almond filling so that it's level with the cut.
Pipe cold cream over the top and cover with the cut off bun top. Sprinkle with icing sugar if you wish.
NOTES
*The solid part that floats to the top of a can of
full fat coconut milk
after prolonged chilling (at least 48 hrs in the fridge, to be sure I recommend a few days). For this to work you need a brand that does not contain gums or stabilisers as they inhibit the naturally occurring separation process.