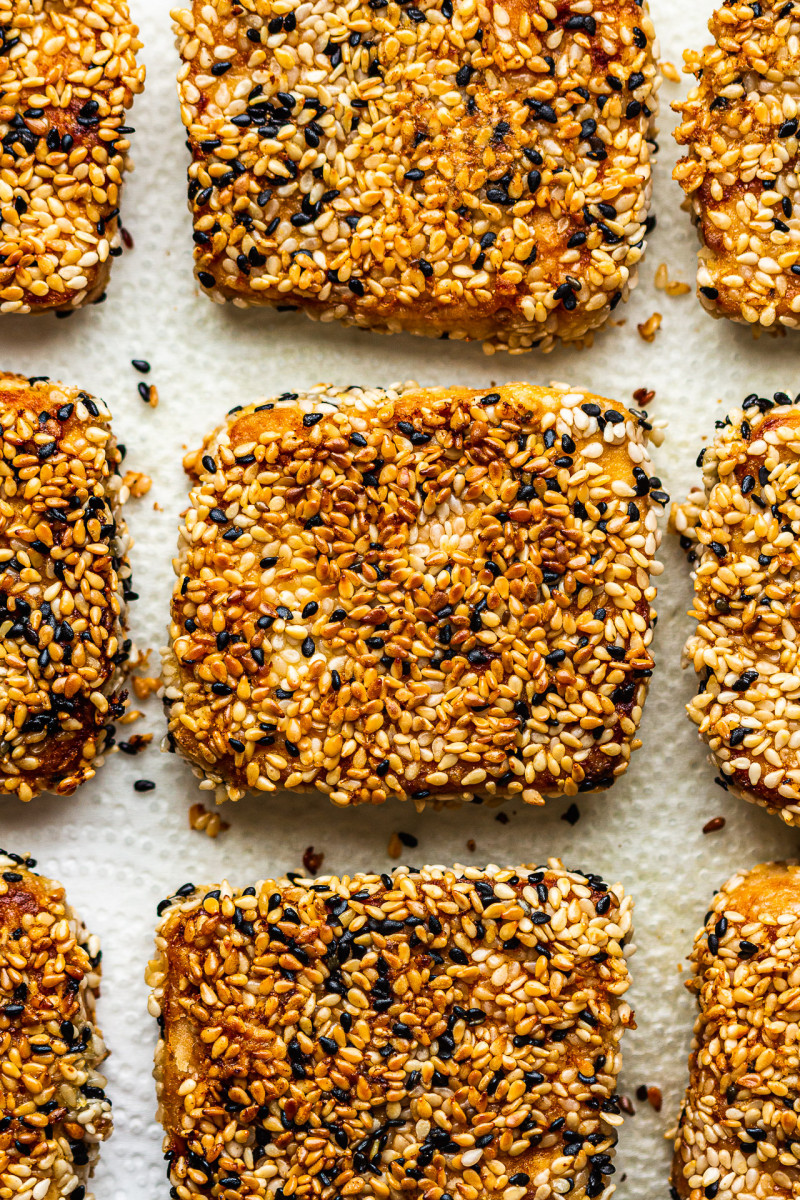 I'm having a bit of a tough week if I am honest so I will keep this intro short. I am experiencing lots of negative emotions and while my regular routine of mediation, yoga and running is helping, they are winning for the moment. I'm about to head out for a run to clear my head and get some relief, but before I do let me tell you about this new recipe, which I hope you'll love and want to incorporate into your dinner rota.
I was planning on sharing something else with you today, but I could not find one of the key ingredients I needed anywhere so it will have to wait till next week, hopefully. Meanwhile, I made a stack of juicy, sesame and ginger flavoured steaks of tofu, beautifully encrusted in nutty sesame seeds and pan-fried (or baked like here) until golden and crispy. They are the most delicious straight off the pan so please be mindful when making these as you are bound to hoover up some straight off the pan (and burn your tongue in the process) if you are not careful 😉 .
They are easy to make and super satisfying to eat and I challenge anyone who says 'I don't like tofu' not to like these. When paired with plain rice and your favourite Asian (or broccoli) greens, they make a beautiful and plant protein-rich main meal. They also make yummy finger food, a sandwich or onigirazu filler. However you choose to have these, I hope you'll give them a go and that you will enjoy them as much as we did.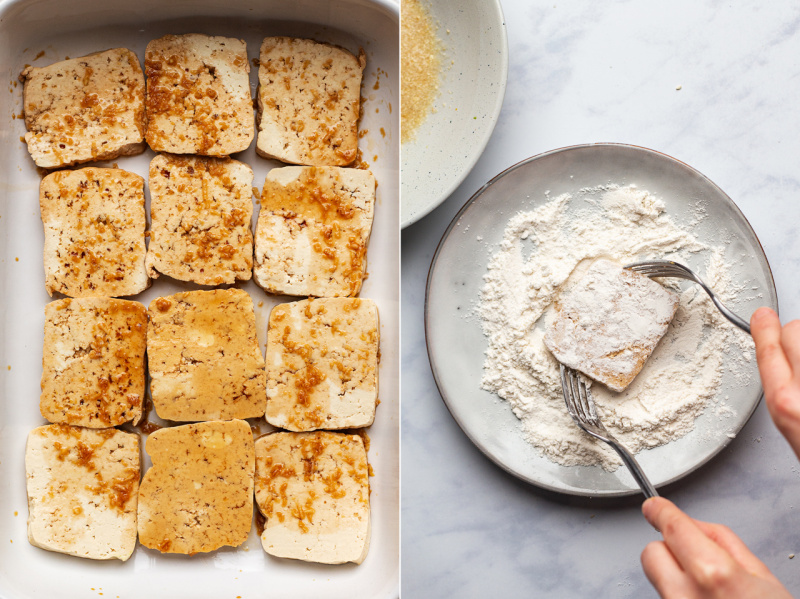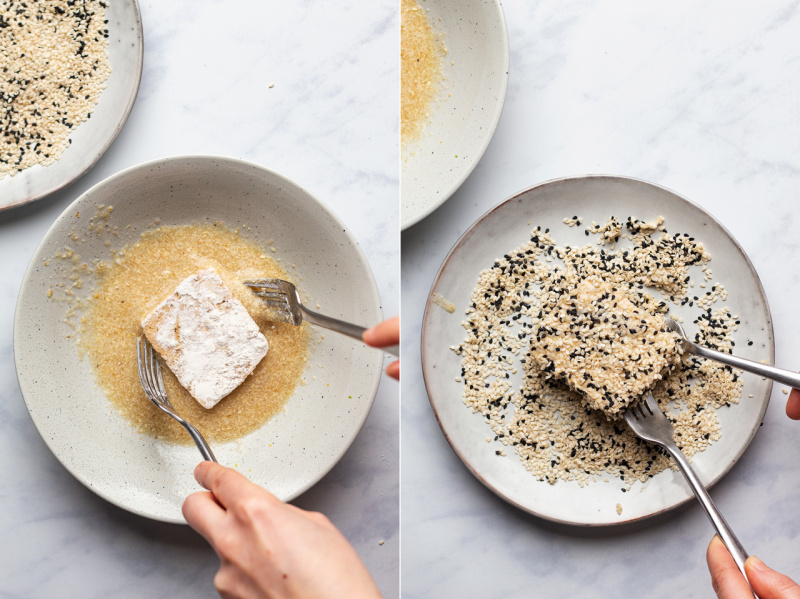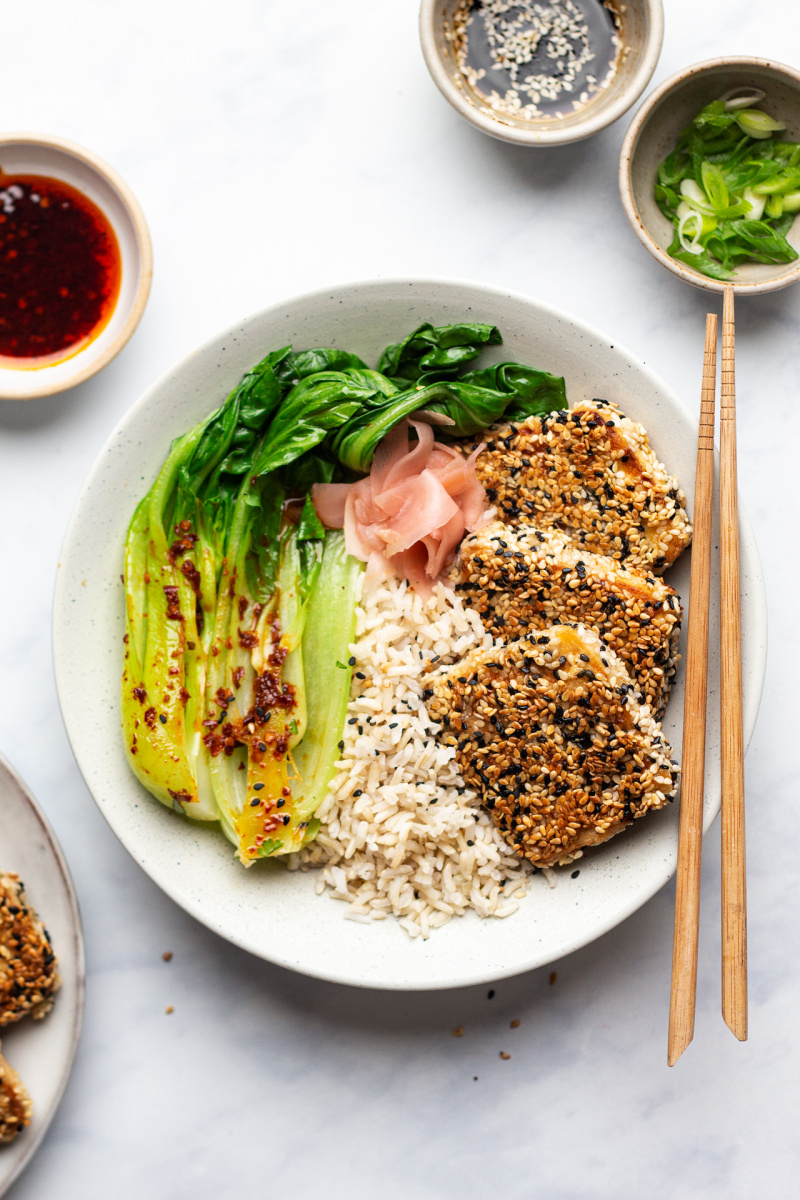 TO SERVE WITH, OPTIONAL
cooked brown rice
2 steamed pak choi, 1 per person
Asian chilli oil
scallions / spring onions, green part finely sliced
METHOD
Drain the tofu and press it well, until all the excess moisture is squeezed out so that it is primed for absorbing the marinade. This is the tofu press I use.
Mix ground up flax or chia seeds with 60 ml / ¼ cup water and place in the fridge for the mixture to jellify.
Make the marinade / dressing by combining soy sauce (or tamari), rice vinegar, maple syrup, toasted sesame oil, minced ginger and garlic together.
Cut the pressed tofu into thick slices and place at the bottom of a baking dish. Pour 2/3 of the marinade you've prepared in the previous step over the tofu and allow it to soak in. Save the rest for dressing.
Place flour and sesame seeds on two plates and jellified flax in a shallow bowl.
Lift a piece of tofu out of the marinade, press it into the flour to coat it lightly, then dip it into the flax egg (allow any excess to drip off) and finally press it into the sesame seeds making sure the entire surface is tightly packed with them. Place on a clean plate and proceed to coat the rest of the tofu in the same manner.
Heat up a small frying pan or a wok. Once hot, cover the bottom of the pan (or wok) with frying oil and let the oil heat up. You could also bake it like in this recipe.
Once the oil heats up (the tofu should sizzle as soon as it hits the pan), fry each piece of tofu for about 3 minutes on each side – until the coating becomes golden brown. Place the freshly fried pieces on a plate lined with a kitchen towel to get rid of the excess oil.
Serve with cooked rice, steamed greens and a smattering of dressing on top or use it as a sandwich or onigirazu filler.
NOTES
*See alternatives to flax / chia seeds
here
.