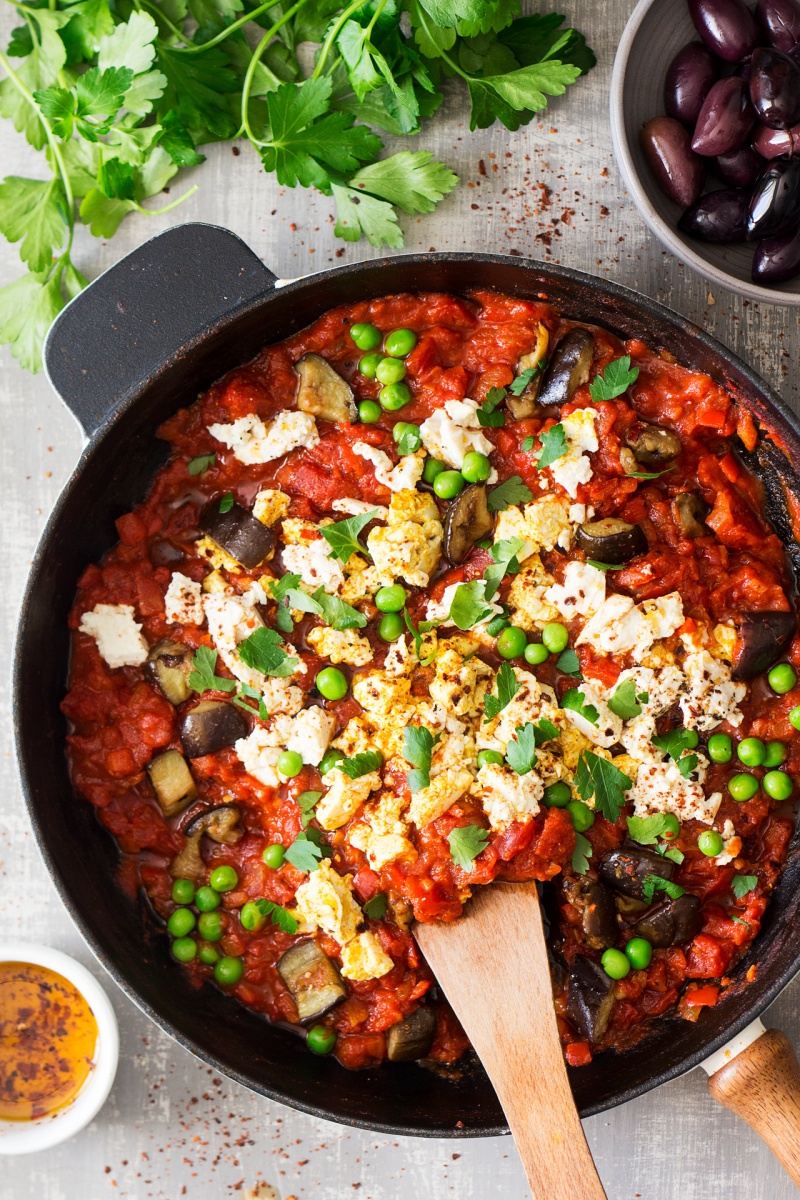 After the chocolate mousse craze over the weekend, it's time for something healthy and savoury, peeps! In case you've taken time off social networks (good on you if you did!), we launched a 2 ingredient chocolate mousse recipe video (you can watch it HERE) showing how to make an indecently decadent chocolate mousse with just two basic ingredients: glorious aquafaba and dark chocolate 🙂 .
Making a good food video isn't a trivial task and in an effort to failproof the shoot, you end up making A LOT of extra portions. It wouldn't be an issue if I didn't hate food waste so much and didn't feel compelled to eat all of the leftovers (Duncan helped, of course).
I make it sound like it was a horrible chore, it wasn't and I take the full responsibility for my chocolate mousse bonanza, but to regain a semblance of dietary balance I am only doing healthy recipes for the next two weeks, starting with this beautifully colourful vegan shakshuka!
Even as an omnivore, I was never one who ate eggs very often, but shakshuka (eggs poached in a spicy and smokey tomato sauce) totally stole my heart and I do miss it sometimes!
Today's recipe is my attempt at bringing these flavours back. I realise tofu is not eggs, but I swear, if you season your silken tofu with black salt it does taste like eggs (thanks to the salt's high sulphur content). Try it! If you close your eyes, your tastebuds will be fooled!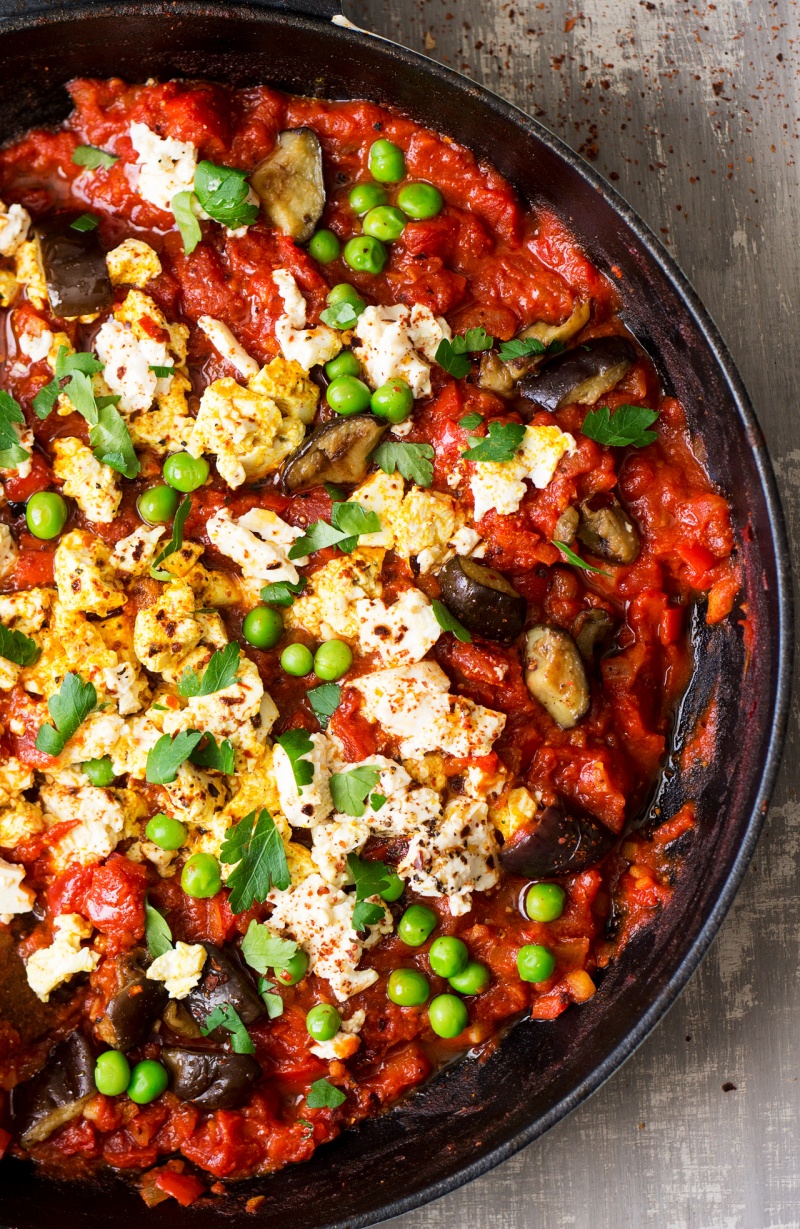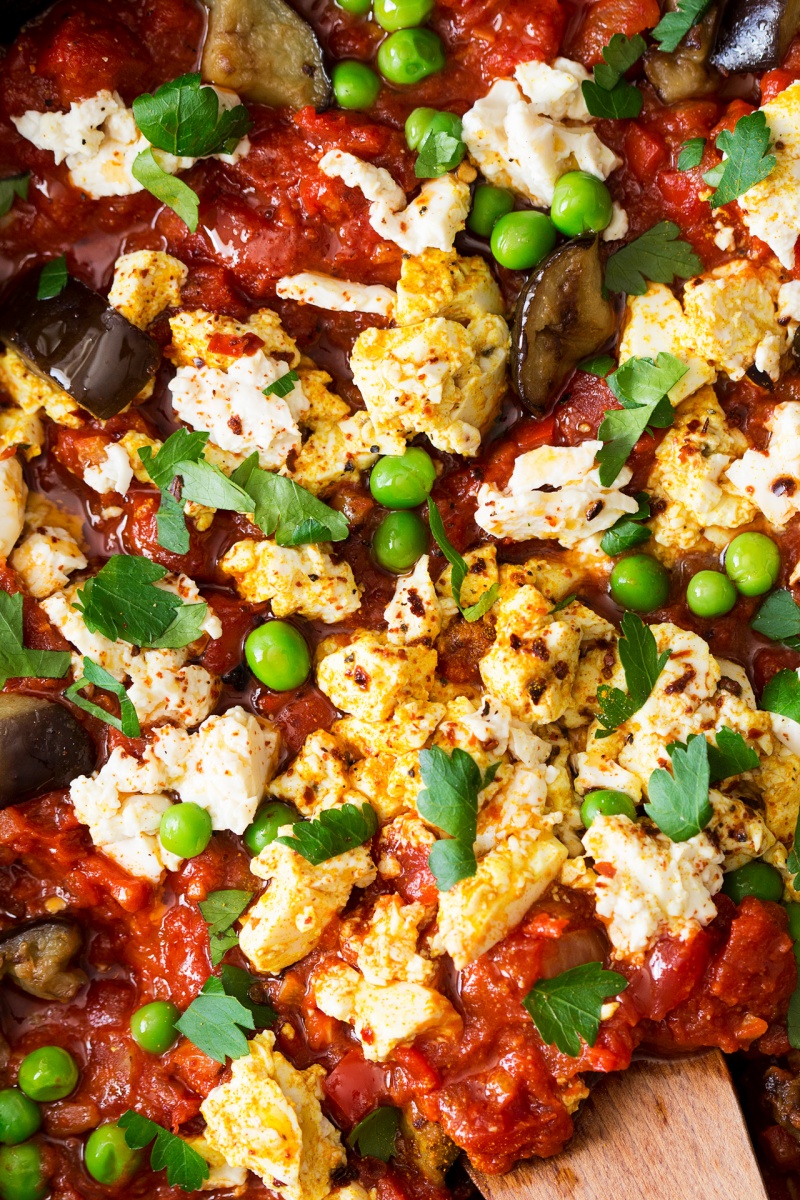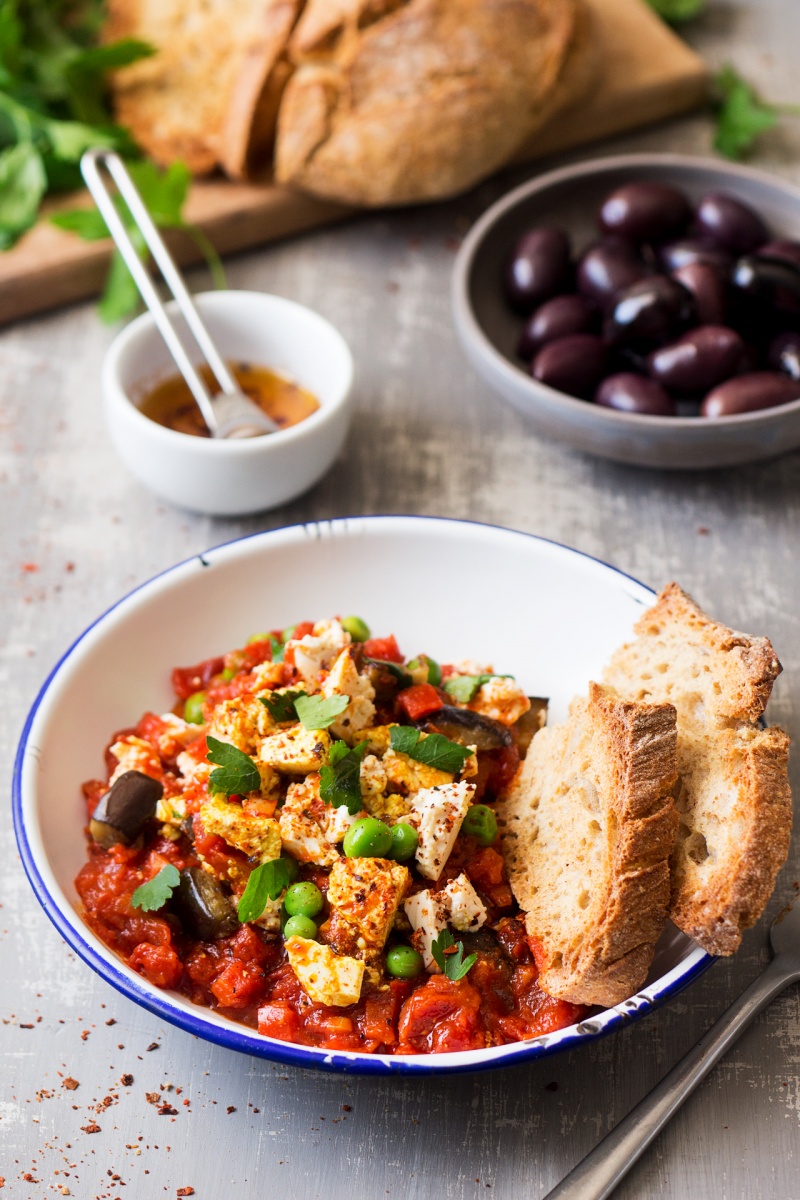 2 tbsp olive oil
1 medium onion, diced finely
3 garlic cloves, diced finely
1 red pepper, diced finely
2 x 400 g / 14 oz cans chopped, skinned tomatoes (OR 5 medium ripe tomatoes)
1 tbsp tomato paste
1 tsp cumin
1½ tsp smoked sweet paprika
½ tsp ground chilli
½ tsp salt, adjust to taste
2 tsp brown sugar (optional), adjust to taste
175 g / 6 oz firm silken tofu (I use this one)
½-1 tsp kala namak* (black Indian salt)
½ tsp turmeric
black pepper, to taste
fresh parsley, chopped finely
chilli oil, recipe here (optional)
1 small aubergine, diced (optional)
¼ cup frozen green peas (optional)
METHOD
Heat up 2 tbsp of olive oil in a large pan, on low-medium heat. Add chopped onion and fry, stirring frequently, until it softens and becomes almost translucent.
Add chopped garlic and fry for another 2 minutes, stirring frequently, until the onion becomes translucent and the garlic softens and becomes fragrant.
Add chopped red pepper and fry it until it softens. If using aubergine, you could add it to the pan at the same stage as the red pepper and let it cook in the sauce or you could stir-fry it separately (like I did) in 2 tbsp of olive oil to get a nice char on it and to be able to control its 'doneness' better.
Now stir in all of the spices: cumin, smoked paprika and chilli. Fry them off gently for about a minute, stirring the whole time.
Stir tomato paste into the mixture and add chopped tomatoes and about half a cup (120 ml) of water. Season with ½ tsp salt and let the tomato sauce thicken by cooking it on a low-medium heat for about 45 min. Make sure you give it a stir every now and then.
Drain tofu and cut it up into a rough dice. Season it with black salt and a few pinches of turmeric and set aside.
Once the sauce has thickened, taste it and season with a bit more salt and some black pepper. If your tomatoes are tangy, you may want to balance the flavour with a little sugar (I used 2 tsp).
Place seasoned tofu on the sauce and pop frozen peas into the pan too. Decrease the heat to low, pop a lid on to allow the peas to defrost and the tofu to warm up. Add fried aubergine in at the last minute.
Serve with some fresh or toasted bread on the side, sprinkled with fresh parsley and drizzle with some chilli oil.
NOTES
*
Black salt
(kala namak) is a type of salt used in Asia/India (so look for it in Asian greengrocers). It has quite a pungent smell and a distinctive flavour due to its high sulphur content. It makes tofu taste and smell like scrambled eggs. I used finely ground black salt (which actually is dusty pink in colour) and I found it to be much less salty than regular sea salt.