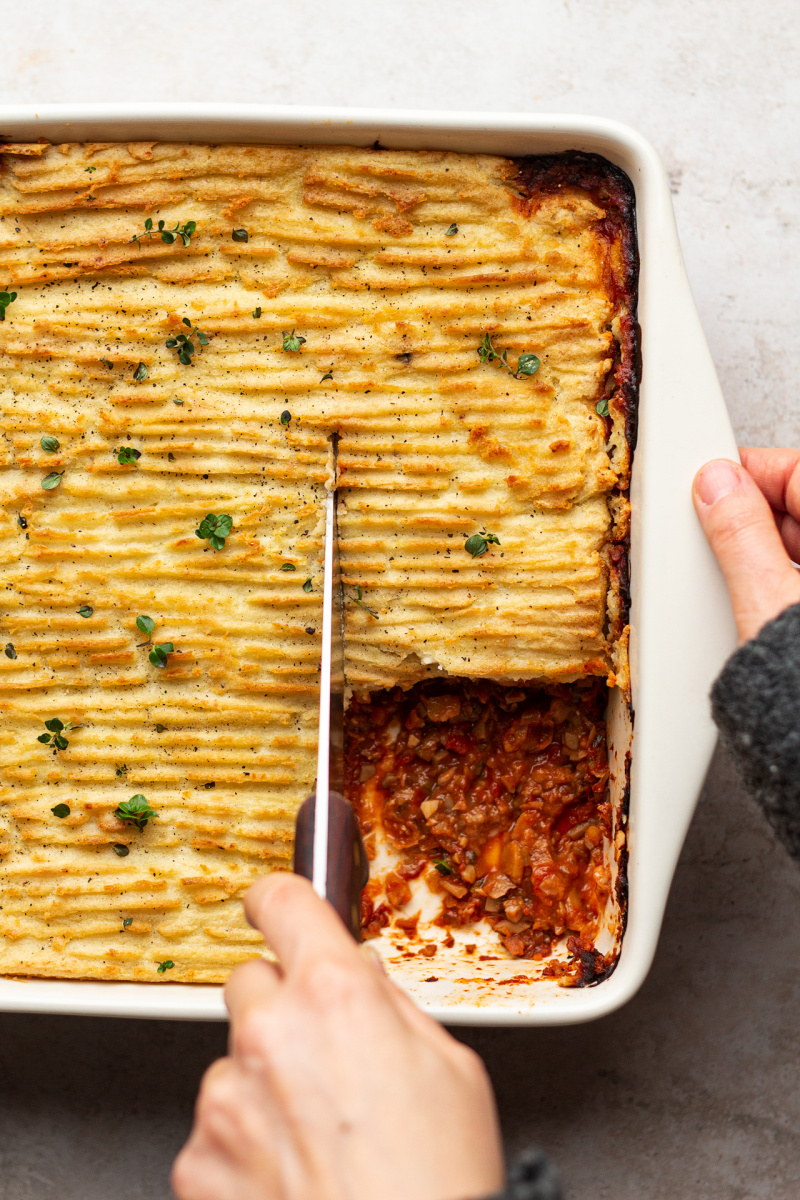 This weekend, we are finalising our paint choice for the living room as builders will start knocking down the dividing wall on Monday. I realise that I have made some bold claims about painting the room dark teal, then I moved on to just middle of the road (known as midtone in paint speak 😉 ) blue or blue-green and now I've done the exact opposite and retreated to safe greys. Yup, I am not proud! I will tell you why – cos I don't have the courage to paint my essentially north facing (although a bit east facing too) living room any of the cold colours I so love. I will need to wait with that till I move to the sunnier part of the house, AKA the kitchen and my future office.
For now, it's all about warm grey, i.e. grey without any blue or green in it and with a touch of pink or yellow instead. Not my favourite colour on its own by any means – in fact, I find it a bit dull, but when you put it in the actual living room it sort of comes to life, it suddenly becomes a bit cooler yet still inviting. It's possibly a touch darker than I would like and a touch lighter than Duncan would like so we settled on that happy medium. It will create a soft contrast with the cornice and will hopefully bounce the light around the room a little and won't jar with the newly opened kitchen-diner. Time will tell if this vision comes to fruition, but we are hoping that a funky sofa, good lighting, nice window dressing and some artwork should hopefully banish any 'greige' (grey beige) dullness we are so afraid of.
Foodwise, I continue my need for comfort food with a quintessentially English bake – vegan shepherd's pie (also known as cottage pie to some, I think). As opposed to an actual pie, it is actually really easy to make as making decent mashed potatoes isn't anywhere near as challenging as making good pastry. I made it for my lovely Scottish cousin Thea (whom I last saw 8 years ago, unforgivable!) and her two boys a few weeks ago and it went down a storm. I tinkered with the recipe a bit more and here it is.
The original Shepherd's pie features meat mince but since we no longer consider animals food in this household, I've swapped up mincemeat for ground up chickpeas so that not one more "gunning for vegans" person can ask me where I get my protein from…I used raw, soaked overnight chickpeas and allowed them to cook in the sauce, but if that doesn't appeal to you for whatever reason, feel free to use cooked chickpeas (undercooking them a little is a good idea as you don't want them overcooked by the time the bake comes out of the oven) or small, firm (not mushy) lentils like Puy or speckled brown lentils or good soy mince. Lots of options here so use whatever takes your fancy.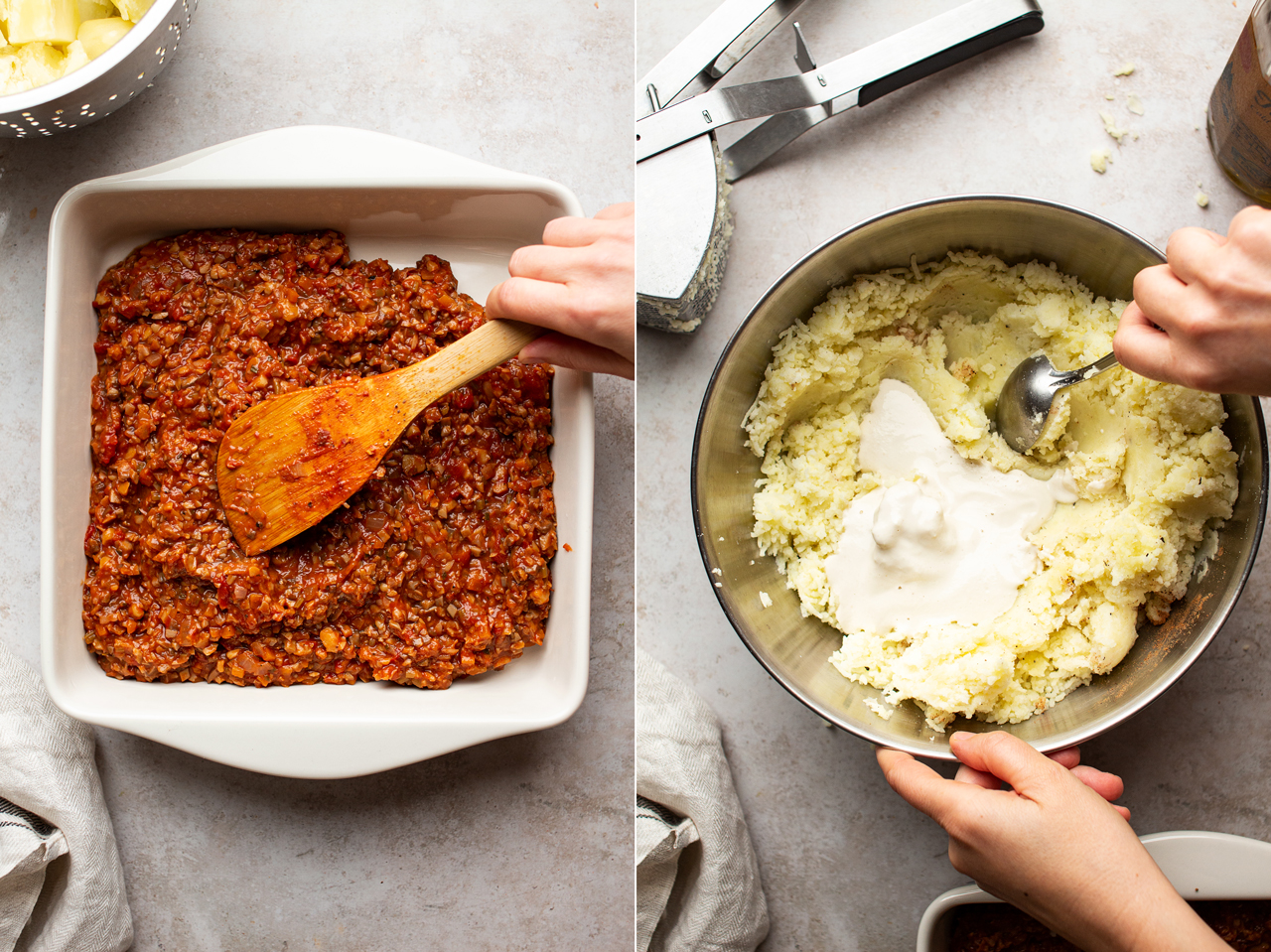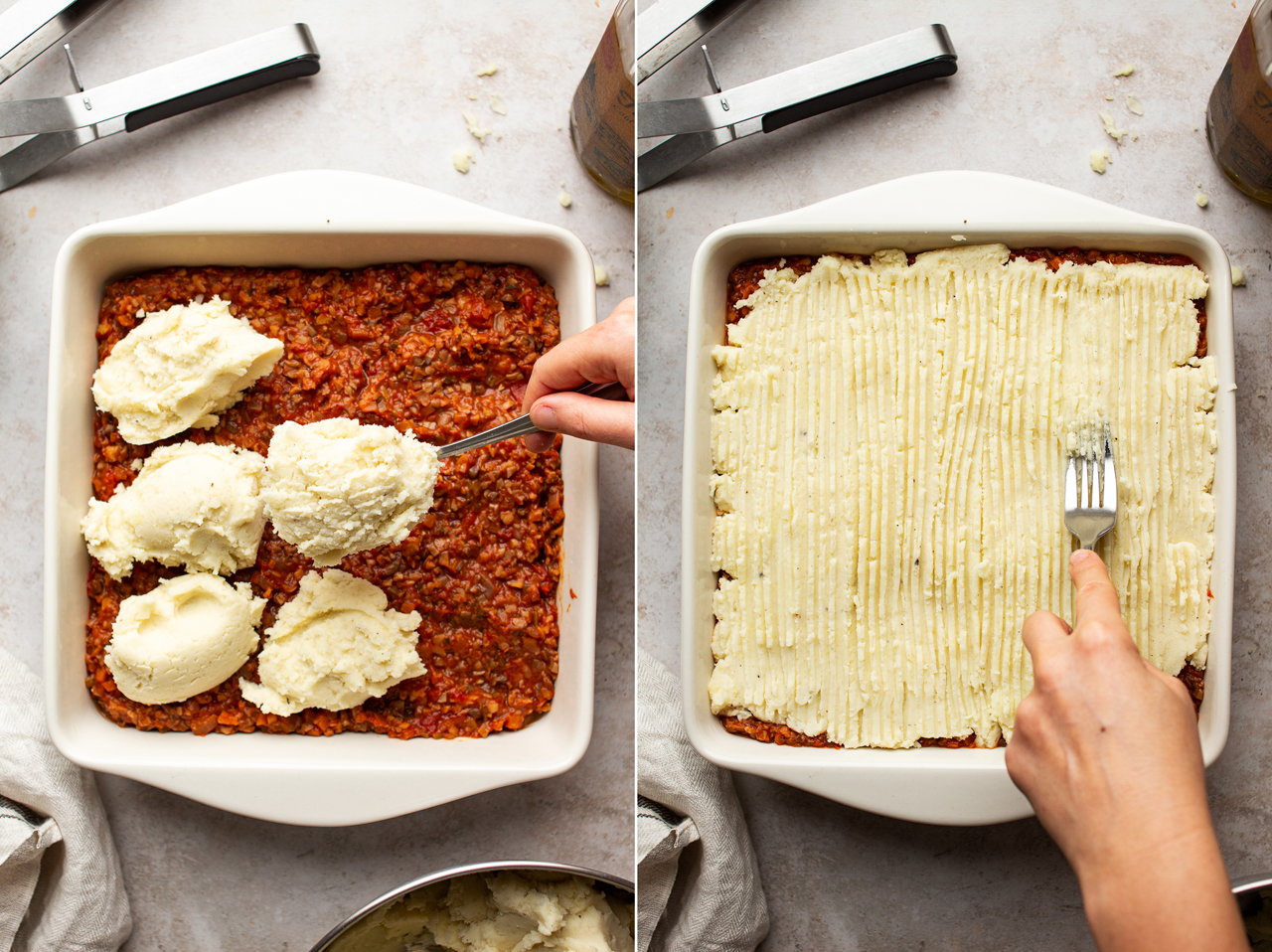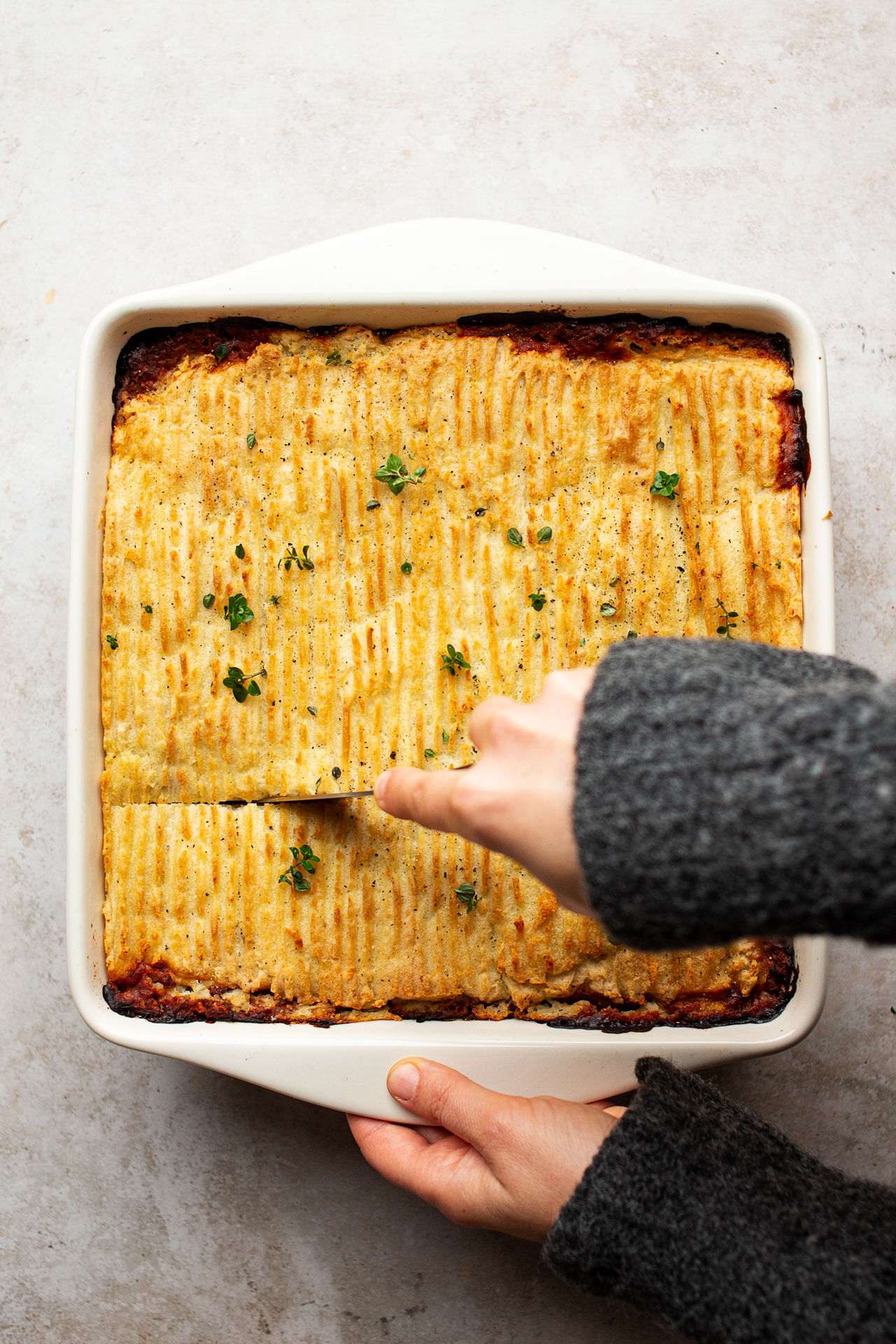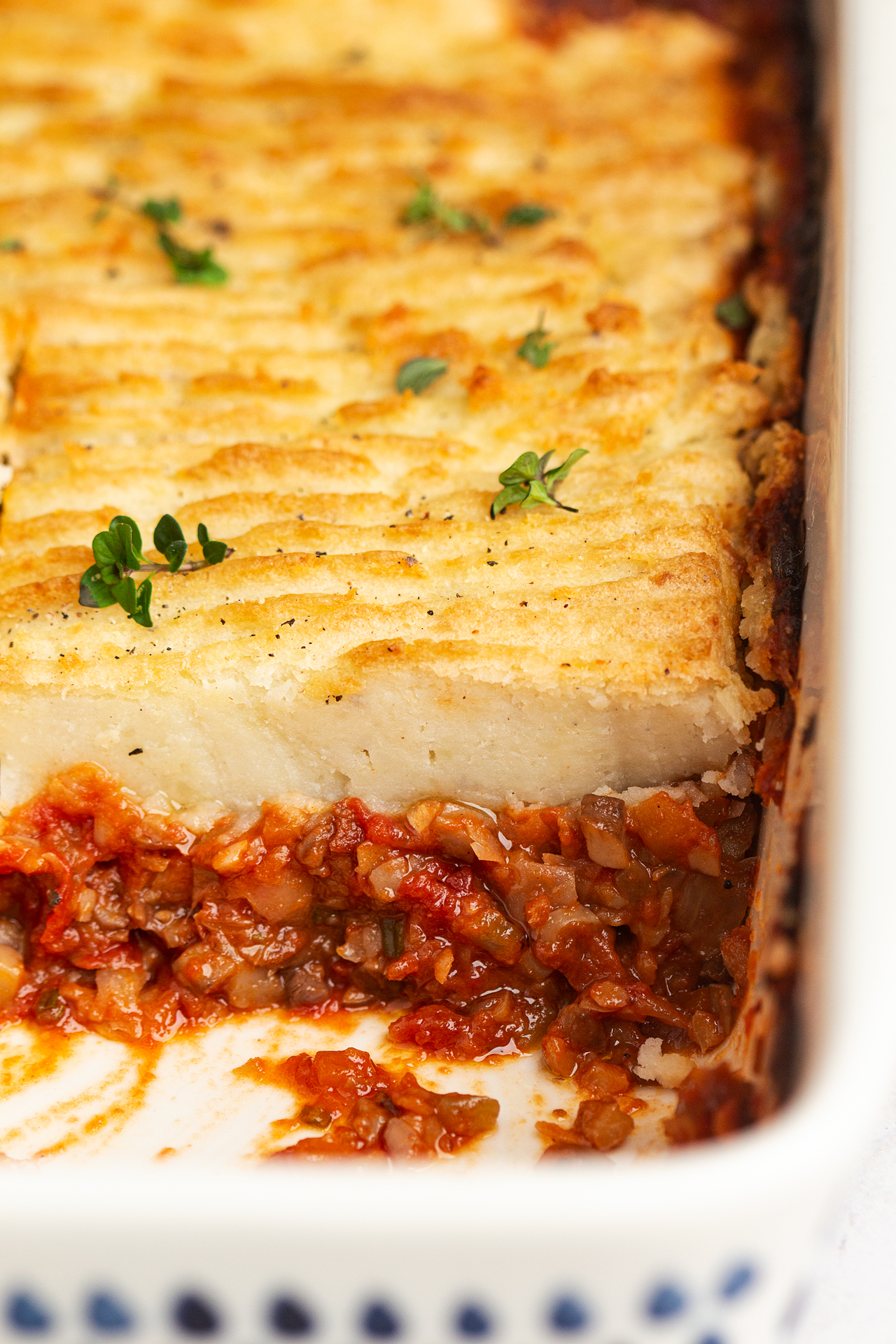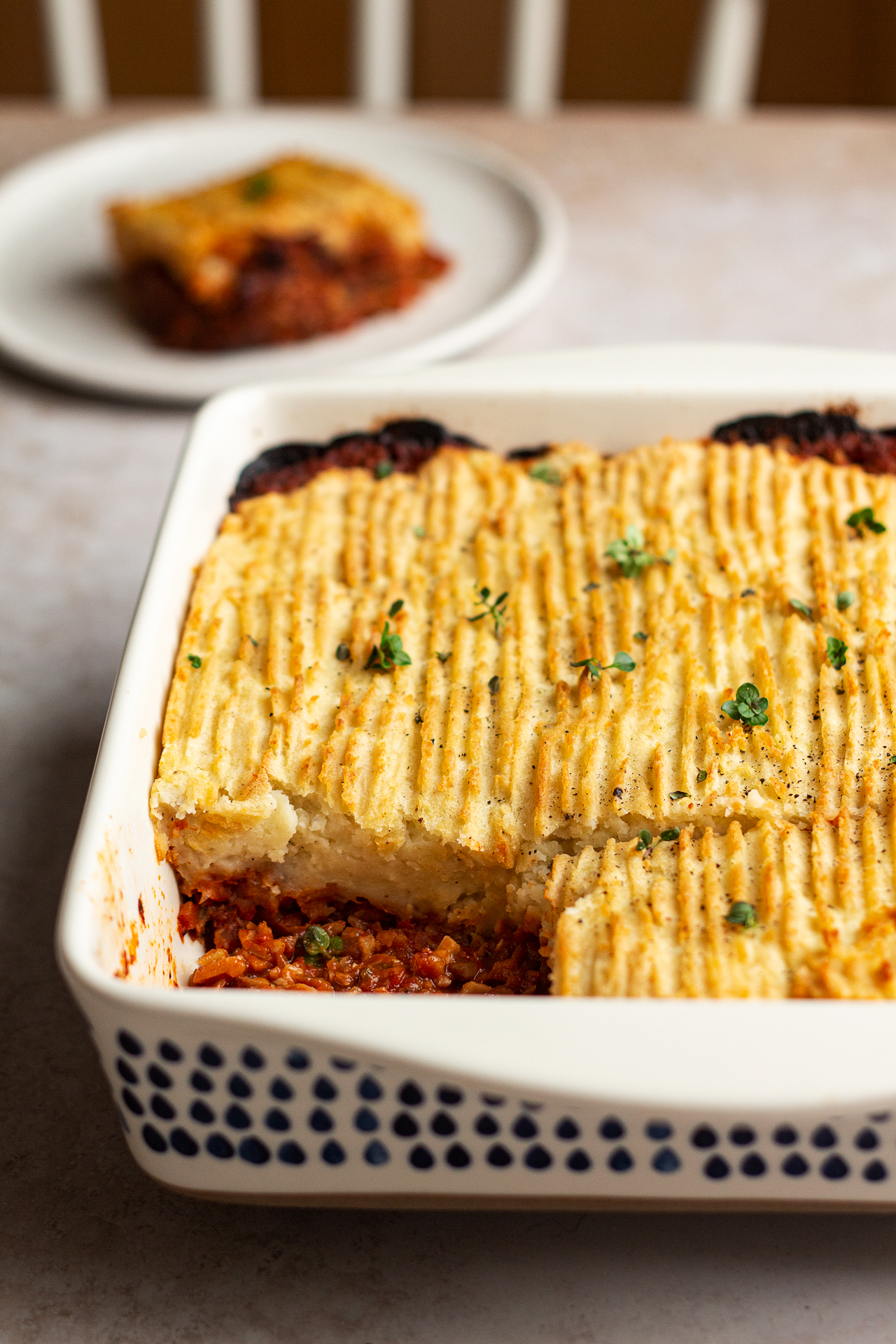 MINCE LAYER
12 g / 0.4 oz dried porcini mushrooms (optional, but recommended)
2 tbsp / 30 ml olive oil
1 medium onion, finely diced*
3 large garlic cloves, finely diced*
2 celery stalks, very finely diced*
1 large carrot, very finely diced*
250 g / 10 oz chestnut mushrooms, finely diced*
2 sprigs rosemary, leaves chopped finely
2 sprigs thyme
2 bay leaves
1 heaped tsp smoked paprika
1/3 tsp grated nutmeg
a good pinch of chilli (optional)
approx. 1 tsp salt, adjust to taste
120 ml / ½ cup vegan red wine (or vegan stock)
2 cups soaked overnight (raw) chickpeas or cooked chickpeas (I recommend undercooking a touch)**
2 x 400 g / 14 oz tins quality peeled plum tomatoes
1 tsp date syrup or sugar (optional, adjust to taste)
black pepper, to taste
POTATO LAYER
1.2 kg / 42 oz starchy potatoes, I used Maris Piper
4 tbsp extra virgin olive oil or vegan butter, plus extra to drizzle
approx. 240 ml / 1 cup unsweetened almond milk or cashew cream*** (for extra indulgence)
approx. ½ tsp salt, more to taste
a good pinch of grated nutmeg, adjust to taste
black pepper, to taste
METHOD
MINCE LAYER
Rinse the dried mushrooms well to get rid of any grit and place them in a small bowl. Cover with boiling water.
Heat up the olive oil in a heavy-bottomed pan. Add the diced onion and sauté on a low heat for a few minutes, until the onions are almost translucent, but not coloured.
Add the chopped garlic and sauté for another 1-2 minutes.
Finally add the diced celery, carrot and chestnut mushrooms. Sauté, stirring frequently, for another 5 minutes or so.
Meanwhile, chop the rehydrated dry mushrooms (do not throw the liquid away) very finely.
Add the diced dry mushrooms to the pan, together with the chopped rosemary leaves, whole thyme sprigs, bay leaves, smoked paprika, nutmeg, chilli (if using) and 1 tsp of salt. Stir everything around for a minute or so.
Add the mushroom stock, being careful not to tip over the grit that sometimes gathers at the bottom of the dish.
After the mixture comes to a gentle simmer, add the wine and allow it to bubble gently for a few minutes so that the harsh taste of alcohol cooks out, for about 10 minutes.
Grind your chickpeas in a food processor until their texture resembles mince. Be careful not to overprocess.
Add both tomato cans and about 1 cup (240 ml) of water (I like to rinse my cans with it first).
If you used plum tomatoes, like I did, break them up with a spoon first. Put the lid on and allow the sauce to bubble on a low-medium heat until the tomatoes have broken down (about 30 minutes). If using raw, soaked chickpeas, throw them in now and allow them to cook in the sauce, topping up with extra water if the pan is starting to look dry. If using cooked chickpeas add them in at the very end.
Once the tomatoes have broken down, take the lid off and start reducing the sauce on a low-medium heat. If the pan is starting to look a bit too dry, add another cup of water and cook until you achieve the desired consistency. Remember to give the sauce a good stir from time to time to ensure that the middle of the pan does not burn. Leave the 'mince' on a wetter side as it will lose some further moisture in the oven.
Season with more salt if needed, date syrup or sugar (if needed) and black pepper.
POTATO LAYER
Cook your potatoes in plenty of water until tender.
Mash hot potatoes with a potato ricer (recommended) or masher until smooth.
Work fat (olive oil or vegan butter), almond milk and seasoning into the potatoes until smooth and fluffy. Adjust the consistency to your liking by adding less or more almond milk, but remember that the potatoes will dry out while baking so make sure your mash is moist.
ASSEMBLY
Preheat the oven to 225° C / 435° F.
Spread mince layer at the bottom of a baking dish and dot with the mashed potato mixture. Spread the potato mixture evenly, brush the top with an extra tablespoon of olive oil and then using the back of a fork, make grooves all over the potato layer in whatever pattern you see fit (no rules here).
Bake for about 30 minutes, until the top gets a little crispy and golden-brown. For neater-looking slices allow the bake to cool a little before cutting.
NOTES
*If you want to speed things up, use a food processor to chop all your veggies, but take care not to overprocess, especially when it comes to the mushrooms. I found that the best way is to chop them into chunks first and then watch them, larger bits are preferable to soggy mush.
**Alternatively, you could use 2 cups of cooked firm lentils (like Puy lentils, for example) or 100 g / 1½ cups non-GMO soy mince (also known as textured vegetable protein or TVP) rehydrated in water or stock for at least 30 minutes.
***Cashews soaked in boiling water for 30 minutes, drained and blended with cold water until creamy and smooth. I would go for ¾ cup cashews to 1¼ cup of water for thick cream.