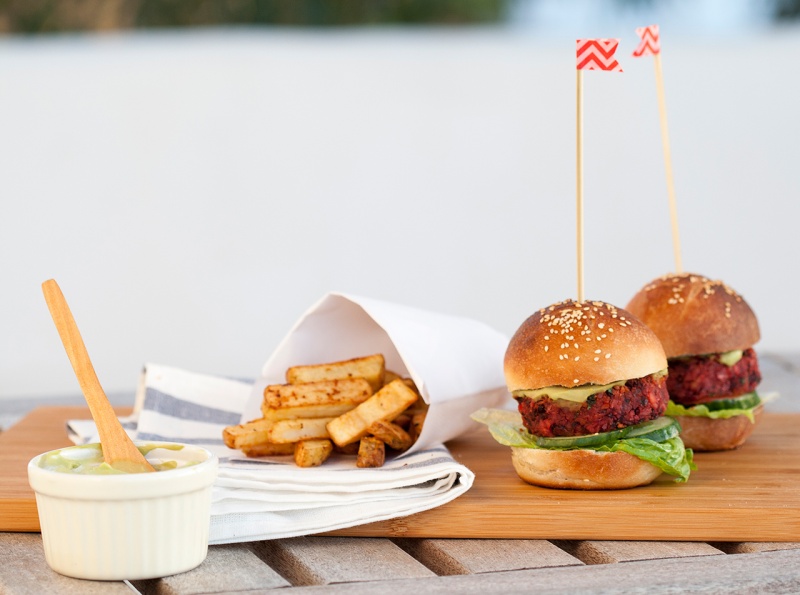 As I'm a woman true to my word, I've got another beetroot recipe for you today. This time the beetroot gets a bit of kick from Sriracha and some gentle pan-frying action. It gets served in a delicious brioche bun, and with a side of seriously good homemade fries. What's not to like?
The texture of these patties took a few attempts to get right. Due to the fact that these vegan sliders are made up of veg, they are far less fatty than regular burgers, which is great for the waistline but not so great for making them hold together. While an average lean beef pattie contains about 20 grams of fat, one of these pink beauties contains only about 6 grams, which is good news if you are trying to keep healthy. They are really satisfying, but they don't render you unable to hold down a conversation 'cos you've eaten too much and really need to lie down. They are super easy to make too – just throw a few things into a bowl and get messy shaping these bad boys. Once shaped, they need to chill in the fridge for a bit so that they get a bit firmer and then they are ready for the pan or the oven (whichever cooking method you choose). They pair up nicely with a tub of crispy fries straight from the oven and a simple avocado cream.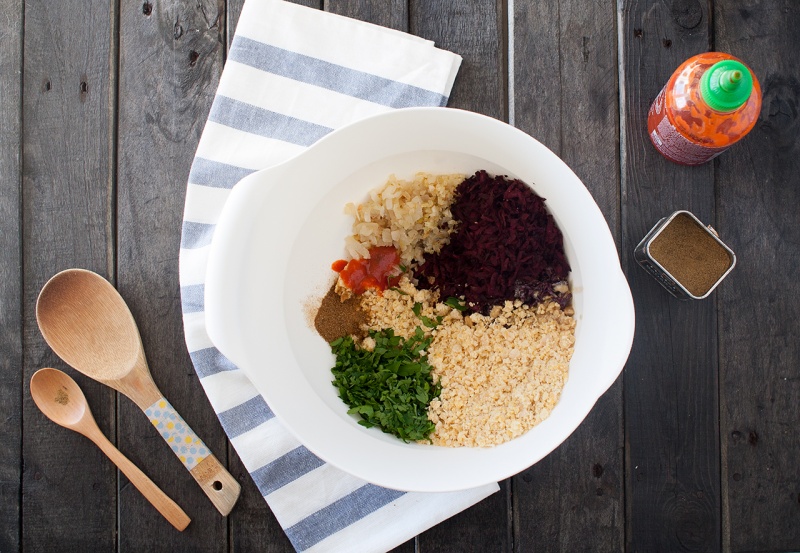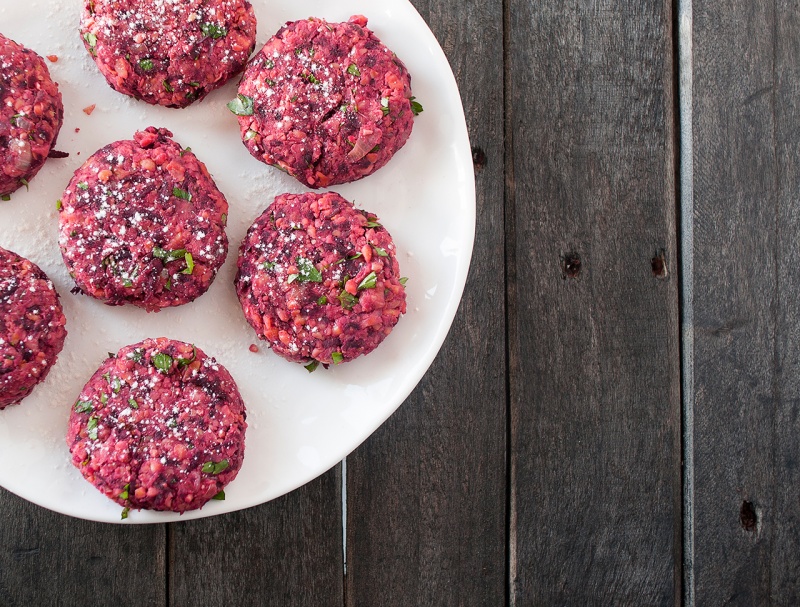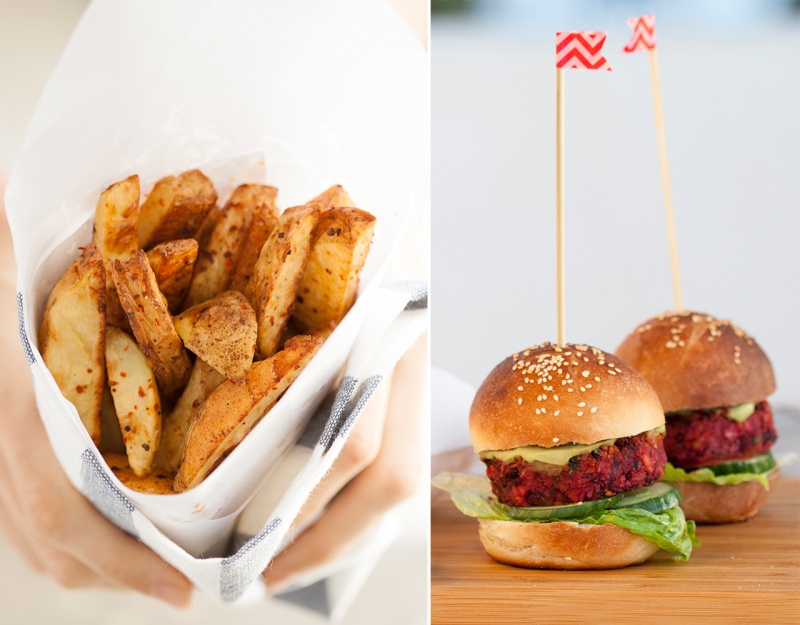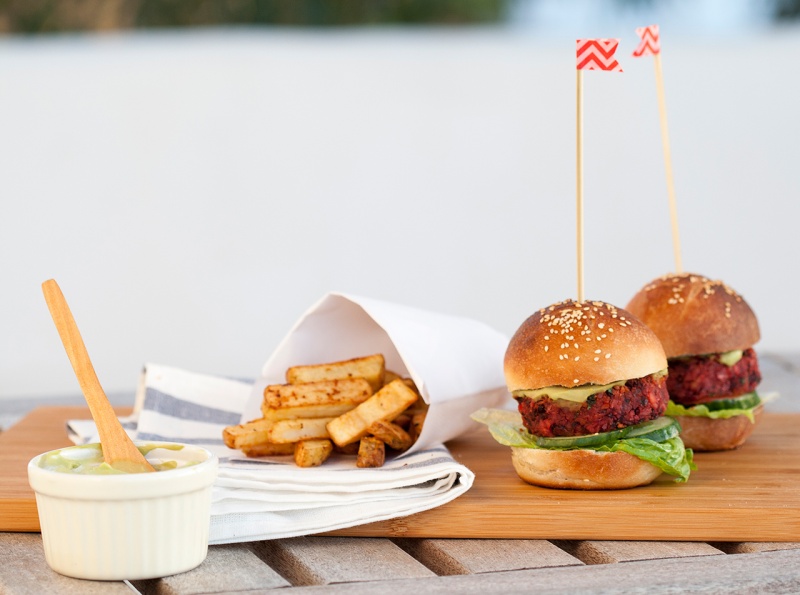 BURGERS
2 cups of cooked chickpeas*
1 large beetroot
1 small onion, finely diced
1½ garlic clove, finely diced
2 tsp cumin
1 tsp fine sea salt
2 tsp Sriracha (or chilli flakes, about 1tsp)
2 tbsp tahini
a handful of fresh (or dried) parsley, finely chopped
oil for frying
a little flour
brioche buns to serve
CHIPS
4 large potatoes
3-4 tbsp olive oil
a few grinds of sea salt
a few pinches of pul biber (or paprika)
CONDIMENTS
lettuce leaves
avocado blended with lime juice, garlic, salt and pepper
cucumber slices
ketchup
METHOD
First, prepare your flax eggs and refrigerate until ready.
Mash the chickpeas in a food processor, or with a fork. Peel the beetroot and grate it coarsely. Fry your onion and garlic until translucent.
In a mixing bowl, combine all the burger ingredients apart from oil and flour. Mix well and form into patties with slightly wet hands. If the mixture is too wet add a bit of flour (1-2 tbsp). If the mixture is too dry, add a tiny amount of water. Sprinkle the patties with flour on both sides and refrigerate for a minimum of 20 min so that they firm up a little.
Set the oven to 225° C. Wash potatoes thoroughly, peel (if they aren't new potatoes) and remove any blemishes. Chop into chips, coat in olive oil, sprinkle with salt and pul biber or paprika. Brush a baking tray with a bit of olive oil and scatter the chips on it. Make sure they have plenty of room or else they won't crisp up that easily. Bake for 25-30 min.
Fifteen minutes after you've put chips into the oven, heat up a bit of olive oil in a pan and fry patties gently on both sides. You can also bake them (in the 190° C oven for about 30 min, flipping them once half way through) although this may be tricky if you are making fries at the same time as fries need a hotter oven.
NOTES
*If using dry chickpeas, soak 1 cup of chickpeas overnight. Next day, bring to boil in plenty of water. Simmer for about 75 min (until tender).