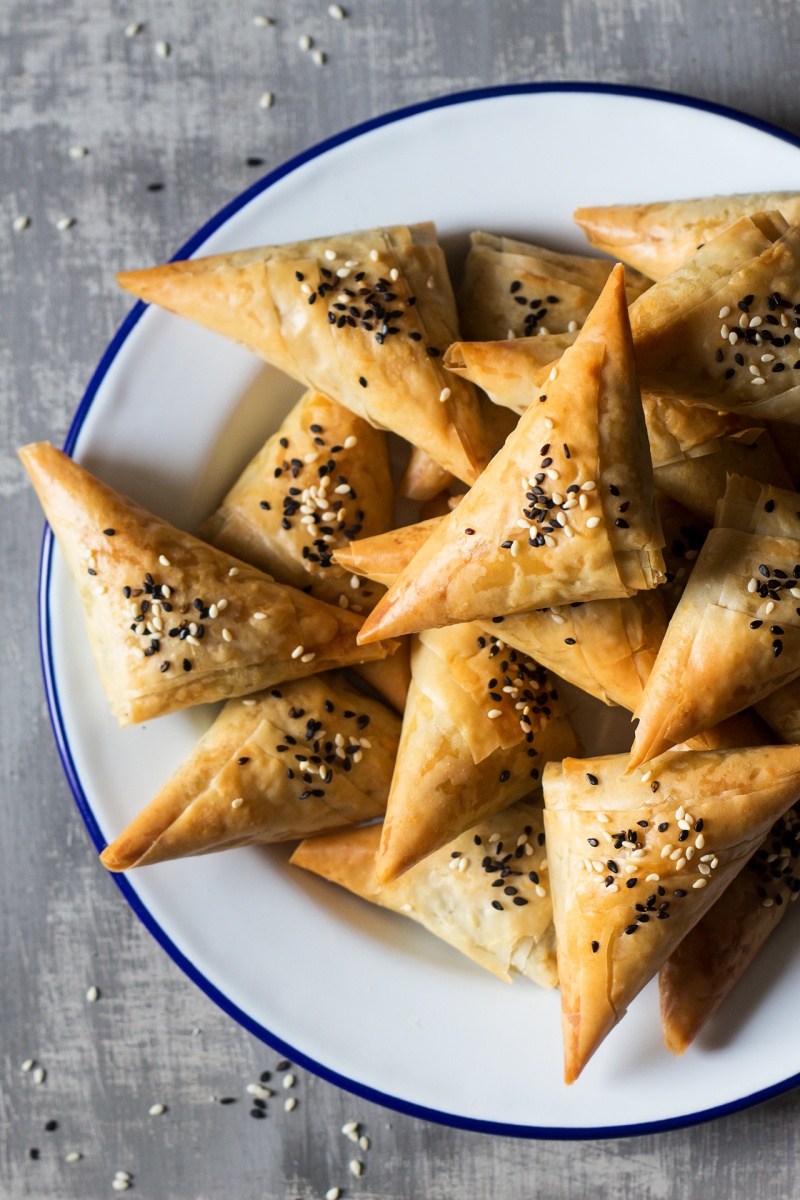 I bet that when you think of Greek food, spanakopita is one the first dishes that springs to mind. Greeks make all sorts of delicious pies, but spanakopita is world famous for a reason – it has flaky and crispy golden pastry with a spinach and feta cheese filling seasoned with nutmeg and herbs. When made with love and care, it is the stuff of dreams.
On Paros, there is one pie shop in particular, run by a charming Giorgios that has become something of a local institution. Its appearance may be unassuming but the pies are out of this world – made with homemade pastry with well balanced filling and always fresh (often made on request while you wait and chat to the owner – that's the Greek way! 🙂 ). We take all our guests there to make sure they have a quality Greek pie experience before they leave the island.
Whilst Giorgios is lovely and very accommodating, I am pretty sure that asking him to make me a vegan pie would blow his mind, as a traditionally made pie contains a prolific amount of butter, some egg to bind the filling mixture and feta cheese.
Turning vegan has motivated me to learn how to make vegan spanakopita myself to satisfy my cravings. It really isn't that hard provided you use a shop-bought pastry as I would not dream of making my own. I'm not Giorgios 😉 and don't make pies for a living.
I made my filling with my vegan ricotta that I posted a while back (recipe here) and even though it isn't feta it works very well in this recipe – Duncan wolfed these down, one after another, going on about how great the filling was. I recommend making the ricotta for the filling, but if you are short on time, you could also use a very well seasoned crumbled tofu instead (see NOTES).
Today's recipe is for vegan spanakopitakia (or mini pies) but I will be posting a grown up version soon too 😉 . These cute vegan spanakopita triangles make a perfect appetiser, are great for dinner parties and potlucks so I thought the recipe may come in handy in the pre-holiday season. Kalí órexi (enjoy!) to you all! 🙂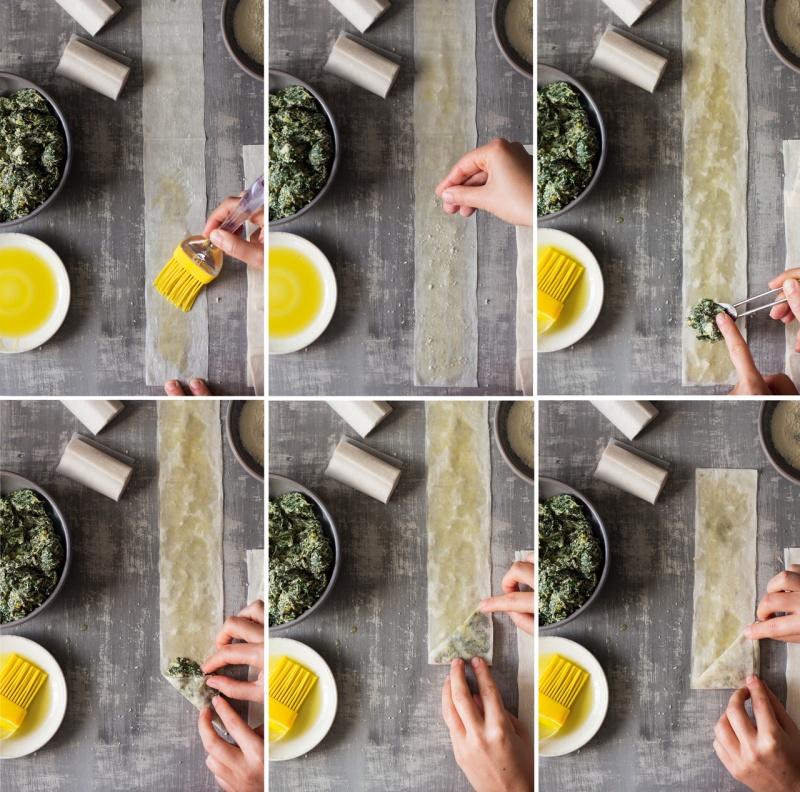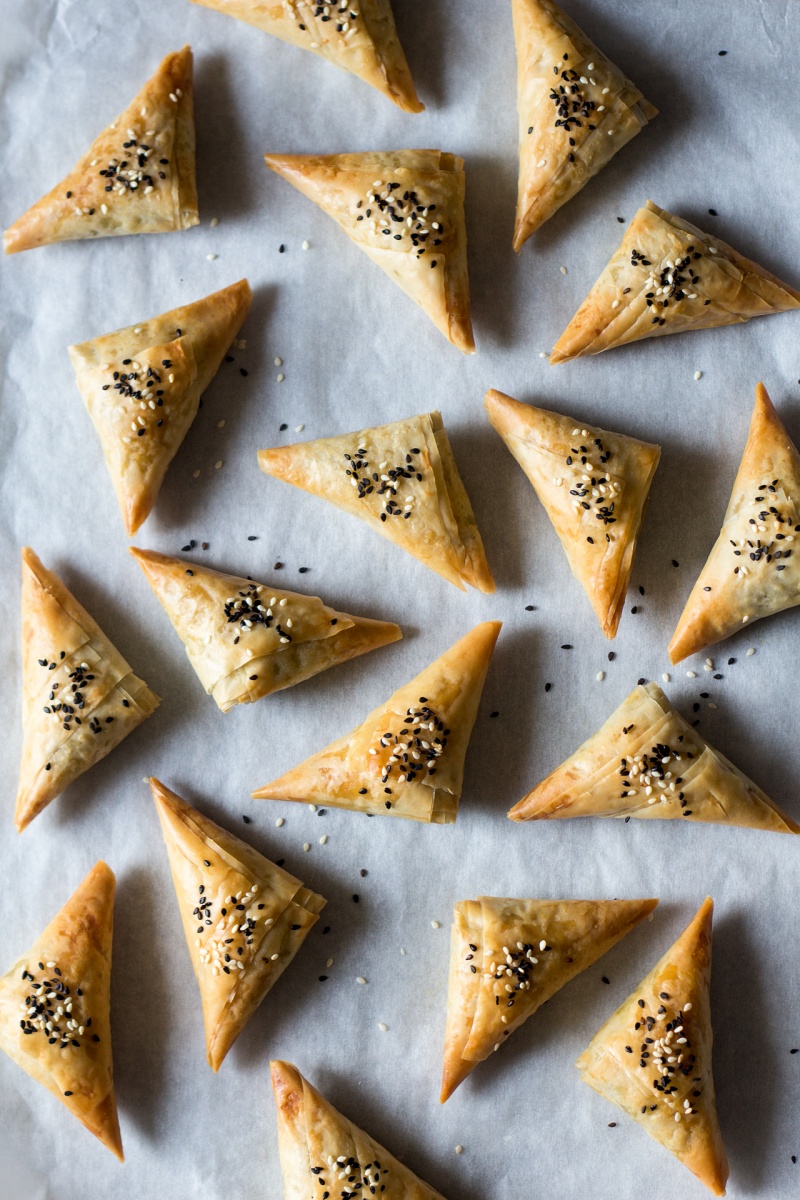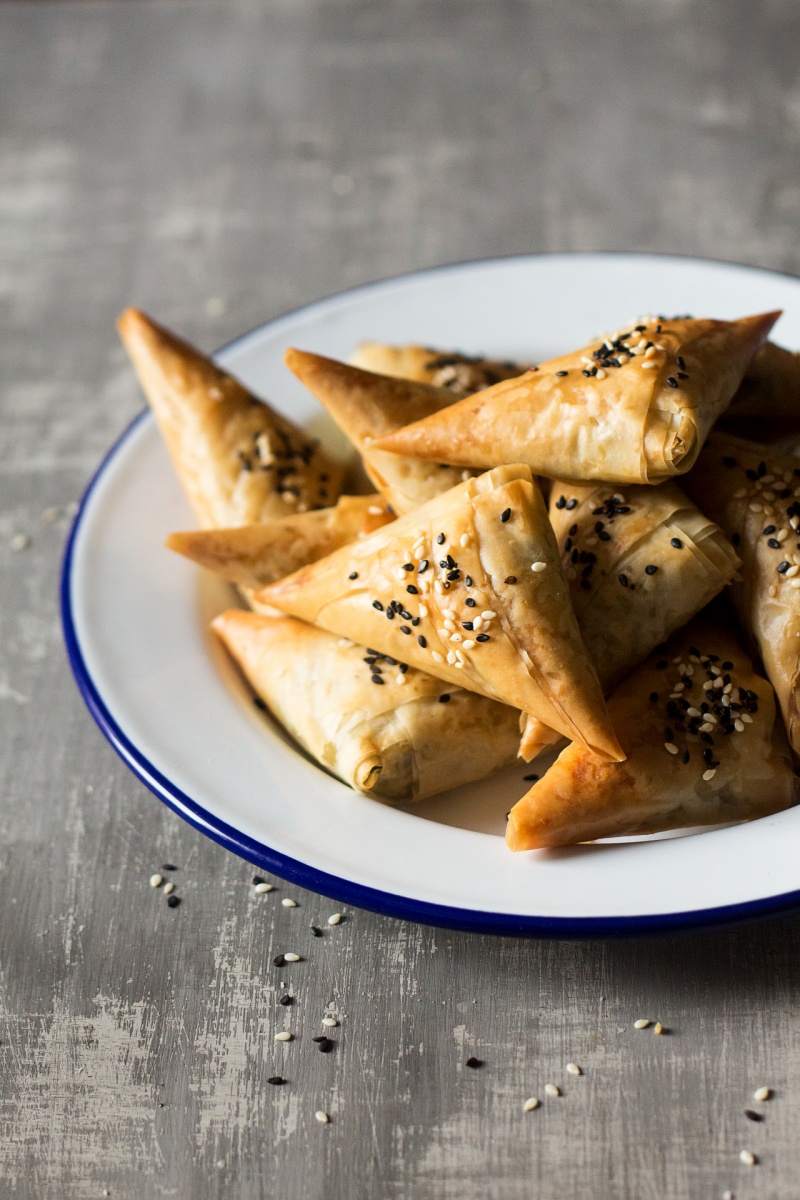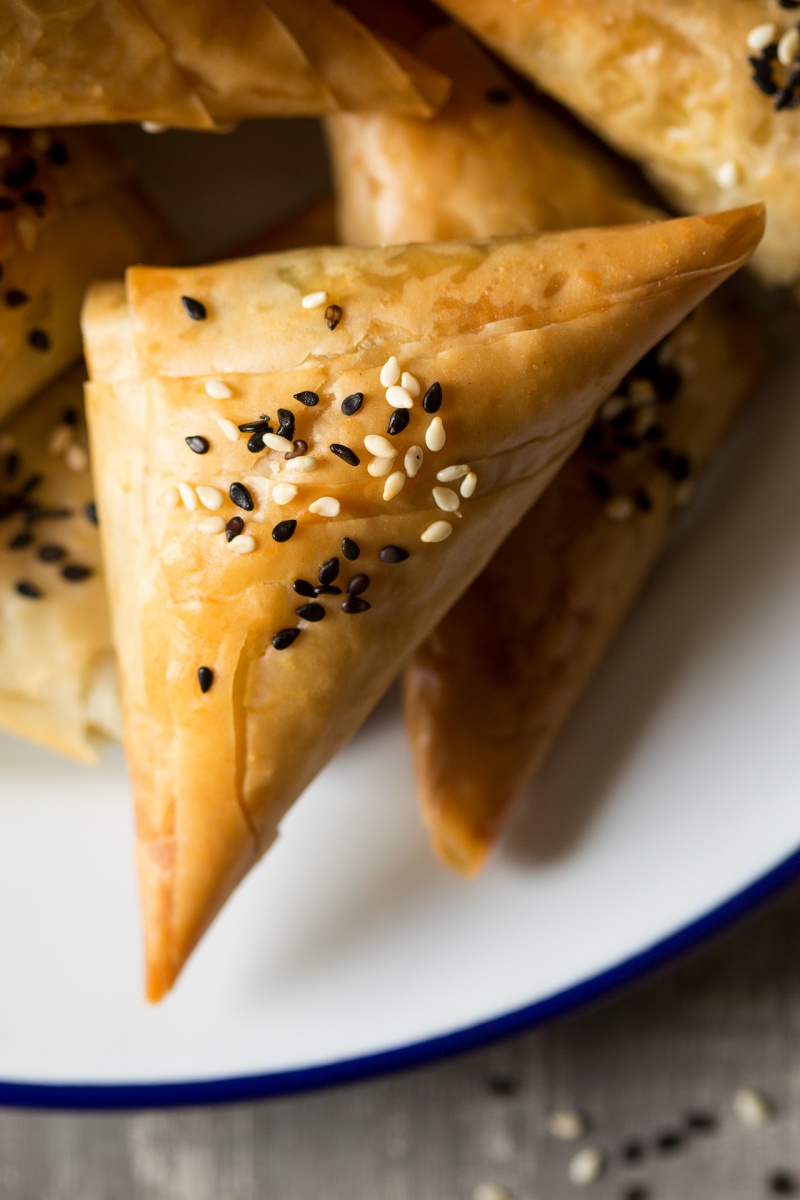 2 tbsp olive oil + more for brushing
300 g / 10 oz fresh spinach
4 spring onions, finely sliced
2 garlic cloves, finely diced
3 tbsp (loosely packed) dill
½ cup my vegan ricotta cheese (SEE NOTES)
1 tsp dried mint (or approx. 1 tbsp fresh)
¾ tsp fine sea salt* (SEE NOTES)
¼ tsp freshly ground black pepper
½ tsp freshly grated nutmeg
¼ cup fine breadcrumbs
zest of 1 lemon
2 tbsp lemon juice
1 tbsp nutritional yeast (optional)
10 sheets vegan (a lot of them are!) phyllo pastry, defrosted
2 tbsp reduced** aquafaba
black and white sesame seeds, for decorating
METHOD
Blanch clean spinach in a pot of boiling water (see how here). Immerse in ice cold water (optional) immediately after to preserve the beautiful green colour.
Heat up 2 tbsp of olive oil in a large frying pan. Add sliced spring onions and fry gently, until soft. Add diced garlic and fry on a low-medium heat until translucent and fragrant.
Squeeze the water from the blanched spinach really well using your hands. Go over the spinach twice or even three times to get it as dry as possible. Chop it and add to the pan.
Season with pepper, lemon zest and juice, nutmeg, nutritional yeast (if using) dried mint and dill. Let the mixture cool down completely before adding vegan cheese.
Add vegan cheese to the mixture and stir around well. Season with salt depending on whether you used my ricotta or the tofu option (below). I used ¾ tsp of salt in mine.
Heat up the oven to 175° C / 350° F.
Prepare a small bowl with olive oil, a pastry brush, a bowl of breadcrumbs, a bowl with aquafaba and one with sesame seeds (if using).
Before you roll out the pastry, measure the length of the roll. Trim ends off as they tend to be dry and therefore brittle and divide the entire roll into as many 6.5 cm / 2.5 in wide segments as you can. Use a pencil to make the markings on the paper that is wrapping the pastry. Cut off the first segments (no need to peel the paper off before cutting) and keep the rest covered with a damp kitchen towel as phyllo pastry dries up and cracks easily.
Unwrap the first segment and place the first strip on a table ahead of you, keep the rest under the damp towel. LIGHTLY brush it with olive oil (you don't want the pastry to be oily), sprinkle with a bit of salt (optional, but I found that necessary) and a little of the breadcrumbs so that the pastry layers do not stick to each other and the pastry stays crunchy. Now, place another strip on top of the first one and brush it lightly with oil again.
Place a heaped teaspoon (do not overfill the triangles) of filling at the bottom of each strip and then start folding the pastry around the filling as per the photos in the post.
Seal the triangle with a dab of olive oil. Place on a baking tray (no need to grease it) under a damp kitchen towel. Continue until you use up all of the filling or pastry sheets.
Brush the tops of the triangles with reduced aquafaba and sprinkle with sesame seeds. Bake for 20-22 minutes, until golden.
NOTES
* If you don't want to make my vegan ricotta cheese for the filling, you could use firm tofu instead. The best way to do that is to drain 200 g tofu, freeze it for a day and defrost it first – this will make the tofu more crumbly. Crumble the tofu into a bowl, season with plenty of soy sauce, lemon juice, some white miso and pepper. It will produce a less creamy texture but it tastes nice too and requires a bit less effort.
With regards to salt, please judge it yourself as the 'vegan cheese' you use will affect how much salt is needed. I used my vegan ricotta (recipe here) and felt that the mixture needed an additional ¾ tsp of salt.
** Reduced aquafaba simply means simmered, without a lid on, until excess water evaporates and aquafaba becomes like an egg white. Please cool it down completely before using as an egg wash.