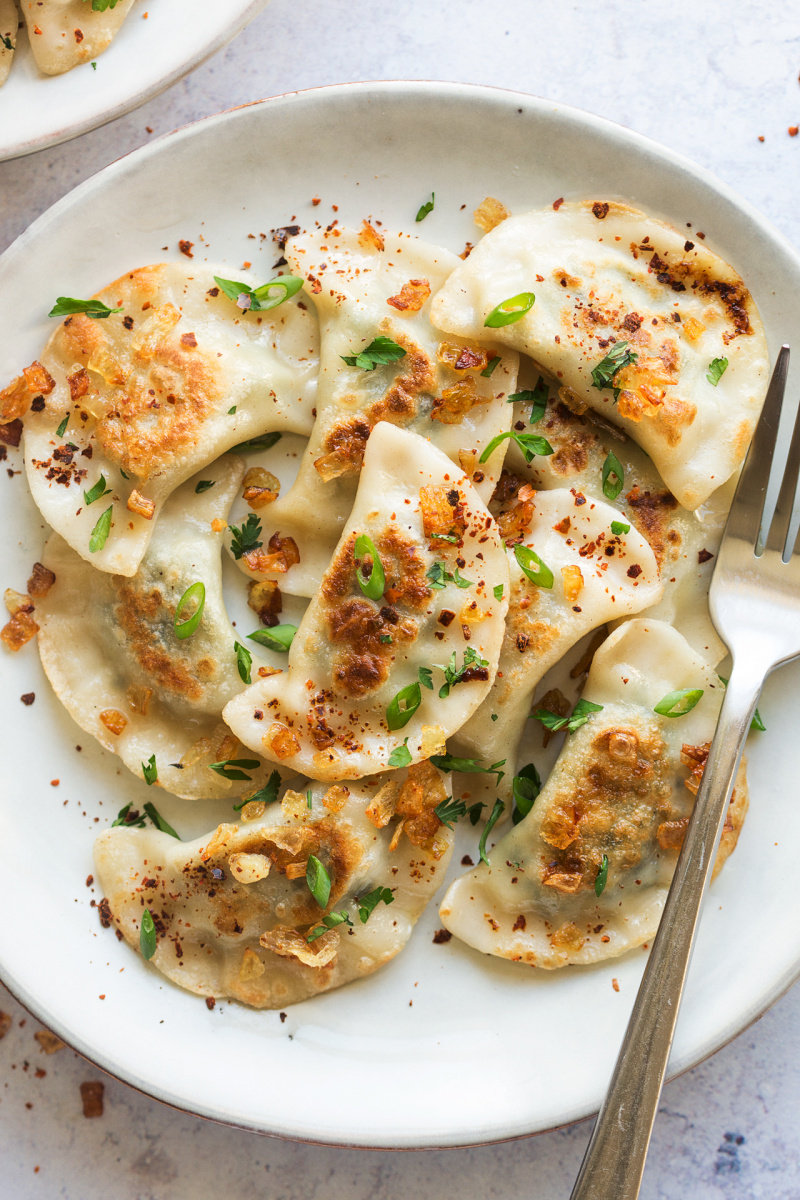 I've had several requests for another pierogi recipe and, while I was dragging my feet a bit, I finally rolled up my sleeves (metaphorically and literally) and made a mountain of spinach and tofu ricotta pierogi. They are not difficult to make, just a bit time consuming.
As I get to watch how quickly a massive plate of pierogi disappears down Duncan's mouth with seemingly limitless appetite for more, I realise that it's both a compliment and a nuisance. I guess it's the realisation how long it took me to make them versus how few meals (i.e. just ONE meal unusually) they translate into is what puts me off making them more often.
If I still lived in Krakow, I don't think I would ever bother to make pierogi at home as there are so many takeout places that specialise in every flavour of pierogi possible that it would be just plain silly. Not all of them are good, of course, but if you know where to go you've got your pierogi cravings covered for the rest of your life!
Having said that, nothing beats well made pierogi at home and being vegan narrows down the choices available to you quite drastically, so sometimes homemade is indeed best. Plus, when I am not rushing and there is a good podcast or music going on in the background and sunshine peaking through my kitchen window, like today, pierogi making can be quite therapeutic actually.
These spinach and vegan ricotta pierogi (it's not 'pierogis', btw as 'pierogi' is already plural) combine wilted and dried out spinach and a quick, vegan take on ricotta into a delicious filling. I served mine with some crisped up shallots, a pinch of mild chilli (just because) and a smattering of fresh, minced parsely. If you are after a healthier version, have them straight after they've been boiled, but I love my savoury (for some reason sweet ones do not benefit from the same treatment) pierogi pan fried in a little olive oil after they've been cooked and cooled (that's important). It's makes them look and taste a whole lot nicer!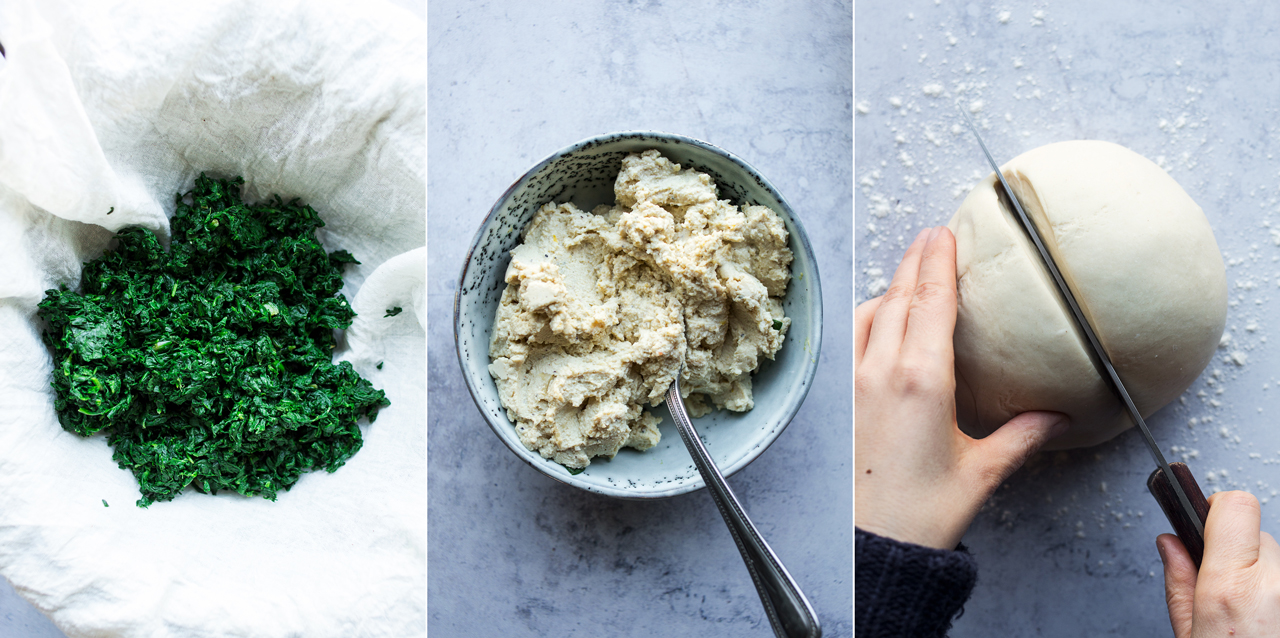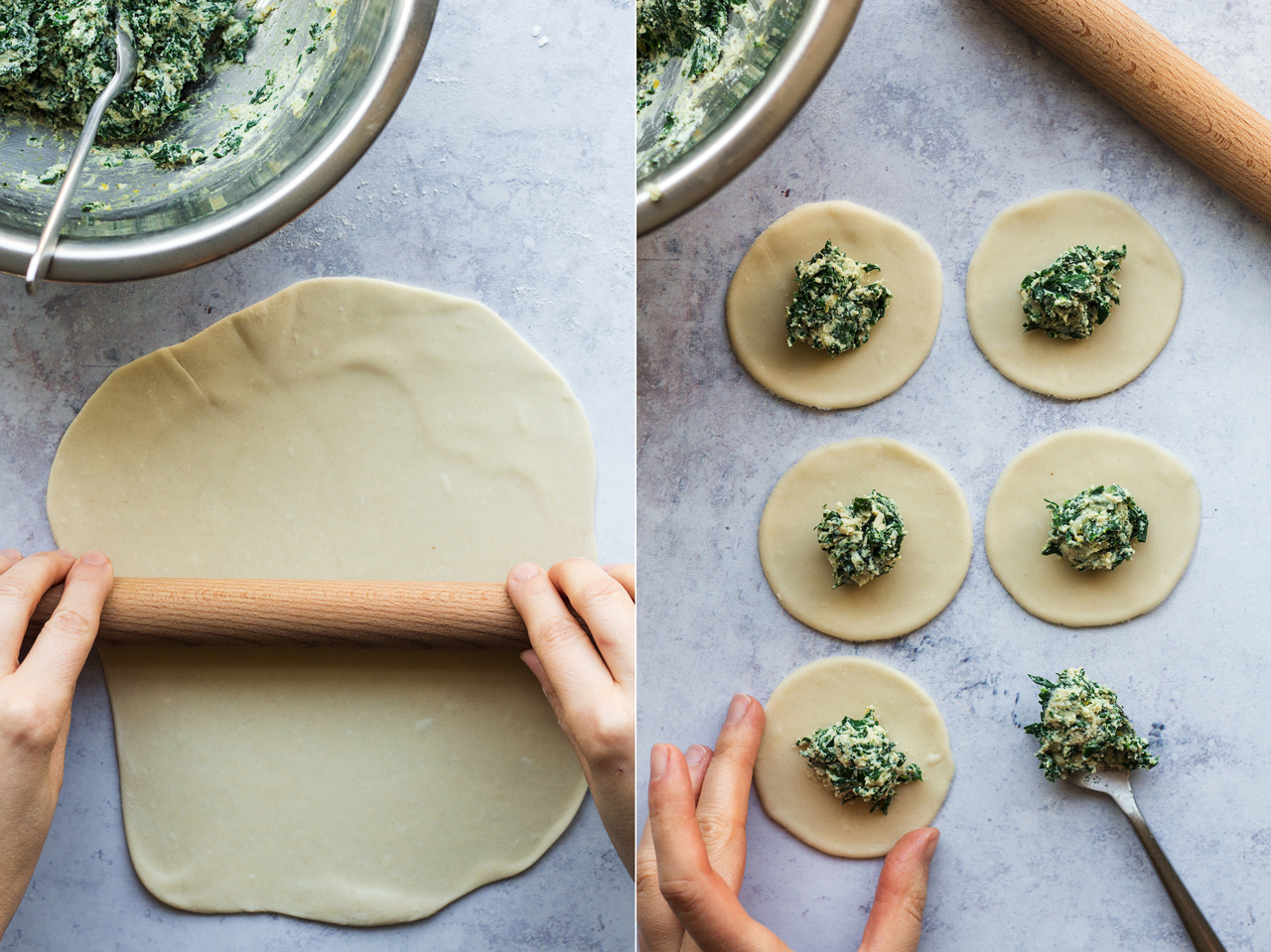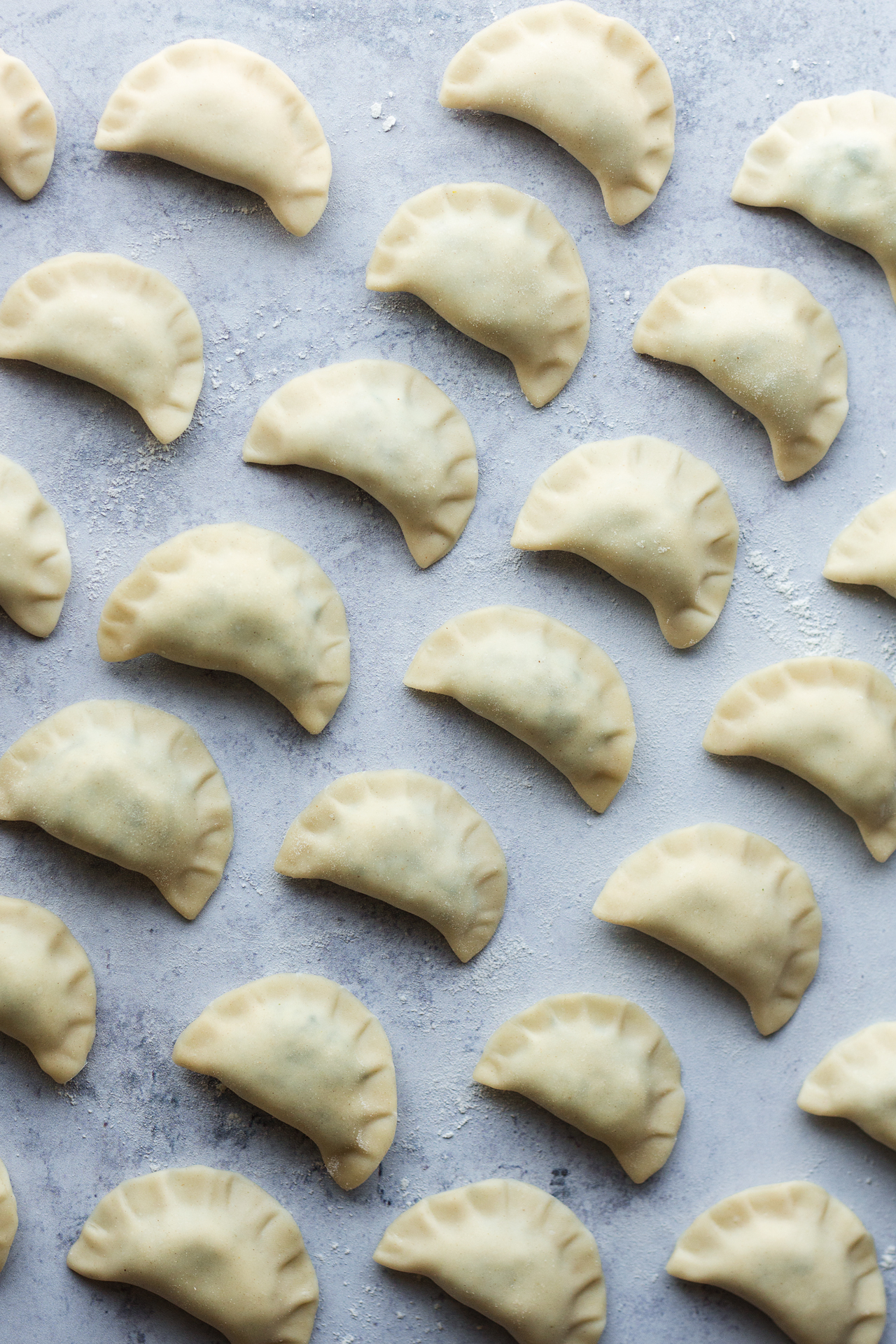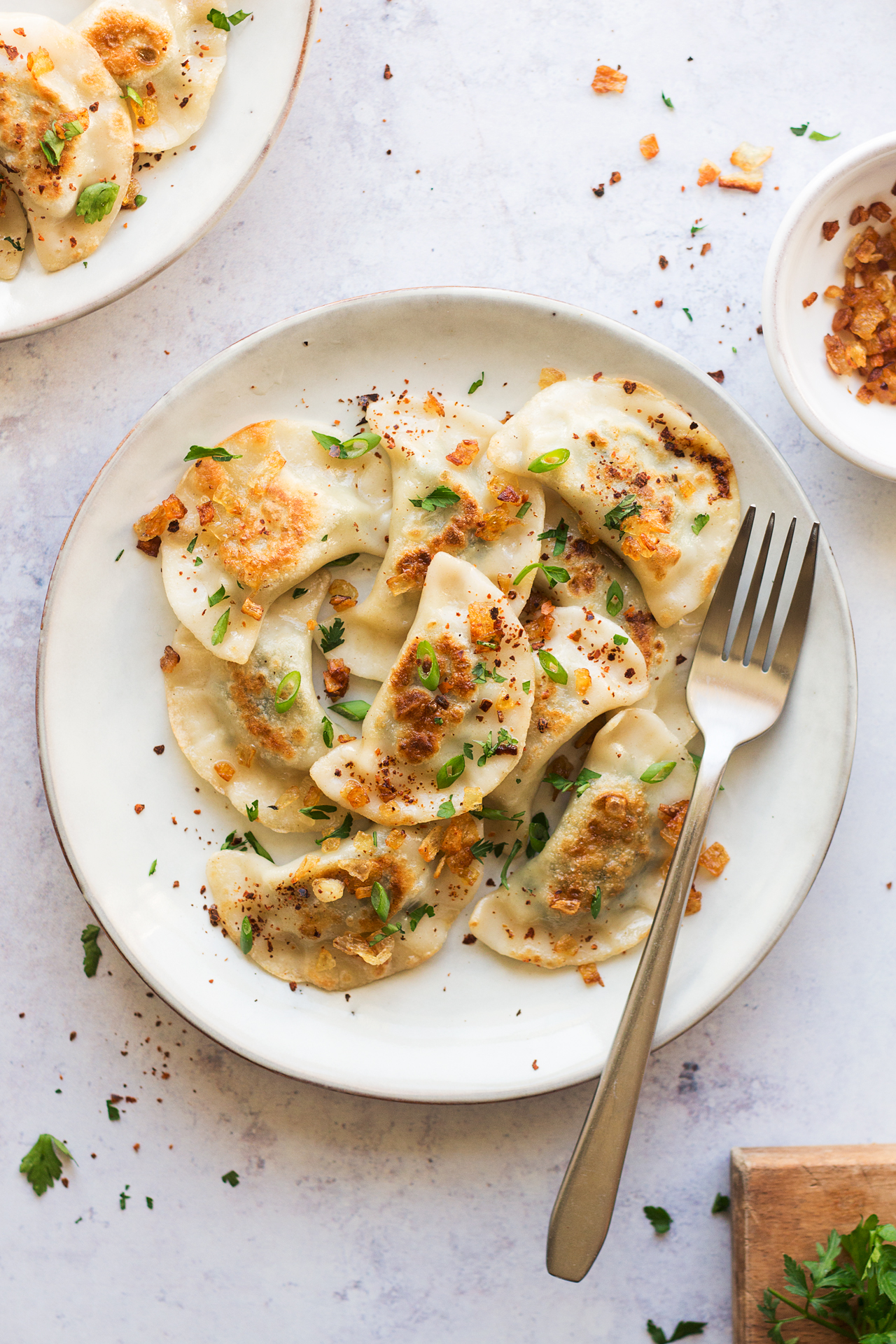 FILLING
olive oil
1 medium shallot (+ 2 more for serving if desired), diced finely
2 garlic cloves, diced finely
300 g / 10.5 oz fresh spinach
200 g / 7 oz firm (cotton) tofu
2 tbsp lemon juice
zest of 1 unwaxed lemon
1 tbsp nutritional yeast
½ tsp salt, adjust to taste
¼ tsp ground nutmeg
black pepper, to taste
DOUGH
250 g / 2 cups all purpose flour
1 level tsp sea salt
30 ml / 2 tbsp reduced aquafaba* (optional)
15 ml / 1 tbsp olive oil
120 ml / ½ cup hot water
METHOD
FILLING
Heat up the olive oil in a medium pan. Gently fry diced shallots until translucent and lightly caramelised. Some of them will go into the filling and the rest will be used as topping. If using 3 shallots, remove 2/3 of the fried shallots and set aside for the topping.
Next add in garlic cloves and fry on a gentle heat for a few minutes, stirring the whole time.
Remove the aromatics from the pan, fill the pan with a cup of water and add washed spinach. Allow the spinach to wilt, moving it around frequently. Once wilted, lift it off the pan with tongs and place it on a sieve to cool.
Meanwhile, place tofu in the food processor together with aromatics, lemon juice, lemon zest, nutritional yeast, salt, nutmeg and pepper. Process until smooth, adjust seasoning to taste remembering that spinach that will get mixed into the 'ricotta' does not have any salt in it. Place the ricotta in a mixing bowl, but don't wash your food processor yet.
Once the spinach is cold, squeeze all the water out it it – I find that placing it in the middle of a muslin cloth and squeezing the water out gives the best result. Go over it more than once if necessary to ensure that it's a dry as possible.
Place dry spinach in the food processor and mince it well.
Add minced spinach to the ricotta and mix the two really well.
DOUGH
In a mixing bowl, combine flour and salt. Add aquafaba (if using) and olive oil. Mix well and add about 120 ml / ½ cup of hot water. Once combined roughly with a wooden spoon, start bringing the dough together with your hands. If after a little bit of kneading the dough isn't holding together (initially it's supposed to be a bit dry to the touch but hold together), it may need a bit more hot water. It is very important to add the water in very small amounts as too much water will negatively affect the dough. Knead it for about 5-10 minutes with your hands (after kneading, the dough should become very smooth and elastic, but not sticky) and then set aside for 30 minutes under a damp kitchen towel so that the dough doesn't dry up.
Once the dough has had a chance to rest, grab ¼ of the dough and roll it out with a rolling pin on a lightly floured surface. You want it to be about 1-2 mm thin; the thinner the dough, the tastier the dumplings. With a cookie cutter or an upside down glass, cut out circles in the dough. Place less than a teaspoon of the filling in the centre of each circle, fold the circle in half and press the edges of the semi-circle together with your fingers. Go over each dumpling twice to make sure everything is sealed completely. Put the finished dumplings on a lightly floured surface and cover them with a damp kitchen towel while making the rest so that they don't dry out. Continue in the same way until you've used up all of the dough or the filling.
Bring a medium pot of water to boil. Once the water is boiling, throw in 10 dumplings at a time and from the moment the water comes to the boil again cook for 5 minutes (depending on how thick your dough is). Once the time is up, fish them out with a slotted spoon and place on a clean plate. Put a new batch in until you have cooked them all.
OPTIONAL STEP: Heat up a little olive oil in a pan and place the cooled-down (they should be cold!) dumplings in the pan. Turn them after they've browned on one side. Make sure you don't overcrowd the pan and do not turn the dumplings too early as they may start falling apart.
Whilst you are frying your dumplings, warm up the rest of your sauteed shallots, season them with salt and pepper and serve with your dumplings.
NOTES
*This is totally optional, I prefer my pierogi dough with it as it's a bit more tender, but feel free to sub with more water.